April, 29, 2013
4/29/13
11:37
AM ET
At Football Perspective, Chase Stuart has created a new
draft pick trade calculator
. He's also got a calculator based on the older
Jimmy Johnson-style trade chart
.
Let's look at the trades made by AFC South teams on both calculators to see how teams did based on the historical value of the picks involved:
Trade:
Titans dealt picks 40, 216 and a third-rounder in 2014 to San Francisco for pick 34.
(A future year pick is generally one round higher than would have been accepted in this year's draft. So for the 2014 third-rounder, I used an average-value pick.)
Football Perspective: Titans got 75.625% value.
Jimmy Johnson: Titans got 102.321 % value
The players: The Titans took Tennessee receiver
Justin Hunter
, while the 49ers selected Florida State defensive end Tank Carradine and used the second pick in another trade.
Trade:
Jaguars dealt pick 98 to Philadelphia for picks 101 and 210.
Football Perspective: Jaguars got 107.407%
Jimmy Johnson: Jaguars got 95.74%
The players: The Jaguars took South Carolina receiver
Ace Sanders
and Appalachian State cornerback Demetrius McCoy, while the Eagles selected USC quarterback
Matt Barkley
.
Trade:
Texans dealt pick 160 to St. Louis for picks 184 and 198.
Football Perspective Texans got 100%
Jimmy Johnson: Texans got 109.489%
The players: The Texans traded pick 184 and took Bowling Green defensive tackle
Chris Jones
, while the Rams selected Vanderbilt running back Zach Stacy.
Trade:
Texans dealt picks 184 and 233 to Oakland for pick 176.
Football Perspective: Texans got 117.241%
Jimmy Johnson: Texans got 108.808%
The players: The Texans took San Jose State offensive tackle
David Quessenberry
, while the Raiders selected Tennessee tight end
Mychal Rivera
and Missouri Western defensive end
David Bass
.
April, 25, 2013
4/25/13
5:11
PM ET
If the
Jacksonville Jaguars
don't draft a quarterback at all in the next three days, I'll be just fine with that.
I certainly hope they won't be using the second overall pick on one tonight.
I've not done intensive research on the top guys, but I have developed a strategy I'd employ if I were the Jaguars and I was determined to come out of the draft with a signal-caller.
I'd draw a line after the first four guys --
Geno Smith
,
Ryan Nassib
,
Matt Barkley
and
EJ Manuel
. I want to draft one of those guys and add him to my team.
I'd let the first three get drafted, and then I'd make a move to trade up to get the one who's left. He would be the cheapest in terms of draft cost, he would be the cheapest in terms of contract and I think he'd have roughly the same odds of panning out.
That's a safe route. A miss wouldn't do a great deal of damage. A hit could produce a solid reward. In a year where there are no guarantees, it's a way to admit as much and still be a player.
April, 17, 2013
4/17/13
2:51
PM ET
Mel Kiper Jr. goes three rounds deep in a mock draft today, just eight days removed from the start of the real thing.
You can peruse the
team-by-team results

or follow his draft
in order
.

Jacksonville Jaguars

Rd. 1 (2) OT
Luke Joeckel
, Texas A&M
Rd. 2 (33) QB
Matt Barkley
, USC
Rd. 3 (64) CB
Johnthan Banks
, Mississippi St.
Kiper's analysis:
I know this isn't the biggest need on the board, but given where Jacksonville is from a personnel standpoint, if the best player in the draft is available at the No. 2 pick -- and my current left tackle is potentially gone after this year -- I'm taking the guy. This is a franchise that has taken the guy it wants and eschewed great value too many times in recent years, but that's not the case here. Take Joeckel, get better at tackle, do a better job of protecting the QB and whether I stick with
Blaine Gabbert
or let the next guy take over, I've at least given him a reasonable chance to succeed. That next guy might be the second-round pick.
My thoughts:
Kiper has Detroit moving up to No. 1 for cornerback
Dee Milliner
, which leaves Joeckel available for the Jaguars. The Jaguars need a sure thing, and this is a tackle rated as a sure thing, so I don't think you factor
Eugene Monroe
into it too much.
Tennessee Titans

Rd. 1 (10) G
Jonathan Cooper
, North Carolina
Rd. 2 (40) WR
Justin Hunter
, Tennessee
Rd. 3 (70) DE
Alex Okafor
, Texas
Rd. 3 (97) DE
John Simon
, Ohio St.
Kiper's analysis:
The way the board breaks, Cooper becomes the best value at a need spot. With (
Ezekiel) Ansah
going to Buffalo at No. 8, I look to improve my other guard position. With Cooper and free-agent acquisition
Andy Levitre
, I could have one of the better guard tandems in the league.
Shonn Greene
is on the roster because there's going to be more of an emphasis on power running, and Cooper helps accomplish that.
My thoughts:
I don't believe they'd prefer Cooper to
Chance Warmack
if both are on the board as they are here. Cooper may rate as more athletic, but the Titans got their athletic, pulling guard in Levitre. If they go guard I think they'd like a power tandem in pairing Warmack with right tackle
David Stewart
. Hunter seems like good value and can help them get past
Kenny Britt
after his contract runs out. I don't expect two of the four top picks to be spent on one position as Kiper does here in the third-round at defensive end.
Indianapolis Colts

Rd. 1 (24) CB
Desmond Trufant
, Washington
Rd. 3 (86) OLB
Trevardo Williams
, Connecticut
Kiper's analysis:
Vontae Davis
is a decent starter at CB when he's playing up to his full capability, but
Greg Toler
is a fringy starter. If the board breaks this way, I'd be getting below average value at outside linebacker and guard right here, and
Cordarrelle Patterson
and
Tavon Austin
are off the board. (Also, wide receiver is a need, but not a desperate one.) Where I end up is with Trufant, a cornerback with a diverse skill set. He can work in man or zone and offers defenses some flexibility.
My thoughts:
Versatility is good, but ultimately if they have sufficient man corners, the ability of their DBs to play zone shouldn't matter a great deal in Chuck Pagano's system. Davis, Toler and
Darius Butler
are not enough as the top three so if they can land a top corner at No. 24 that will be great. Kiper sees Williams as a guy who can help the pass rush quickly and they need that badly, too.
Houston Texans

Rd. 1 (27) OT
Menelik Watson
, Florida St.
Rd. 2 (57) WR
Quinton Patton
, Louisiana Tech
Rd. 3 (89) LB
Steve Beauharnais
, Rutgers
Rd. 3 (95) FB
Lonnie Pryor
, Florida St.
Kiper's analysis:
The Texans need a right tackle, and Watson's grade fits this draft range for me. He's a great athlete, and could certainly challenge to start early. I know some NFL personnel folks who think he could move inside, but in either instance I'm looking for help up front. This offensive system starts there, and you need a nimble guy for the scheme.
My thoughts:
I wouldn't object to these first three picks, though I do not expect the Texans to go offensive line in the first round. As for Pryor, Kiper says part of the rationale for putting him in Houston is that
Greg Jones
"isn't a true fullback." I respectively disagree with that so long as Jones is healthy.
April, 11, 2013
4/11/13
4:56
PM ET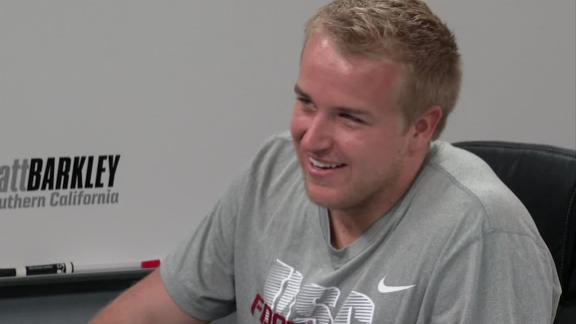 Before or after you watch Jon Gruden talk to USC's
Matt Barkley
, read this
excerpt from an Insider article

by Gruden as told to NFC South blogger Pat Yasinskas.
"One NFL QB I'd compare him to is Matt Schaub. In Houston, they run a ton of play-action, and while they don't ask Schaub to utilize the threat of a run, they do ask him to move. Barkley isn't going to help you with read options and the pistol, but he throws well on the run. ..[O]n designed roll-outs the guy has been off the charts at a 69 percent clip and a 16-0 TD-INT ratio. I think what you'll get from him is a measure of consistency, enough arm strength and good timing.

"And one other quiet asset Barkley has is a ton of experience under center -- not a lot of college quarterbacks have that these days. Look at Geno Smith, who, based on the numbers, worked out of the shotgun on about 19 of every 20 snaps. Even if we see more and more shotgun, any coach can tell you that you want a guy who can operate under center. (And a lot of the shotgun use is because coaches lack QBs with more experience under center.)"
The Jaguars' new offense is going to have similarities to Houston's. So if Barkley is somewhat comparable to Schaub, perhaps he'd be a fit for the Jaguars if they decide to draft a quarterback.
April, 8, 2013
4/08/13
2:54
PM ET
The
Tennessee Titans
have serious crushes on the top quarterbacks in this draft.
They love
Geno Smith
; they don't see how a team can pass on him.
Matt Barkley
? He's tremendous. The Bills would be crazy not to draft
Ryan Nassib
, and the Titans aren't thinking second round, though that would be OK.
No, the Titans aren't in the market for themselves.
At No. 10, Tennessee could take a guard or a pass-rusher. Of course, the Titans can surprise us with something else entirely. To maximize what they have to choose from, they want stuff coming off the board ahead of them that they aren't interested in.
And they are completely behind
Jake Locker
as their starter -- whether you think that's a smart judgment or not.
So the Titans surely hope their division rival
Jacksonville Jaguars
find an alternative to
Blaine Gabbert
and
Chad Henne
, that Cleveland's new regime lacks confidence in
Brandon Weeden
, that Buffalo isn't so big on
Kevin Kolb
and that even with
Mark Sanchez
and
David Garrard
the Jets fall in love with another quarterback at No. 9.
I still feel like the most likely scenario is that only one quarterback goes in the top 10, maybe none. Tennessee prefers the over.
The Colts (at No. 24) and the Texans (at No. 27) don't need the top quarterbacks to disappear quite so soon, but as they aren't looking for signal-callers, they'd be happy with an early run on the position, too.
March, 28, 2013
3/28/13
2:17
PM ET
By
ESPN.com staff
| ESPN.com
ESPN's Todd McShay has
unveiled his latest mock draft

, this one covering the first two rounds. Here's a quick peek at the players McShay has projected for the AFC South teams:
Jacksonville Jaguars
No. 2:
Dion Jordan
, DE
No. 33:
Matt Barkley
, QB
Tennessee Titans
No. 10:
Sharrif Floyd
, DT
No. 40:
Damontre Moore
, DE
Indianapolis Colts
No. 24:
Xavier Rhodes
, CB
Houston Texans
No. 27:
DeAndre Hopkins
, WR
No. 57:
Jesse Williams
, DT
December, 23, 2011
12/23/11
1:52
AM ET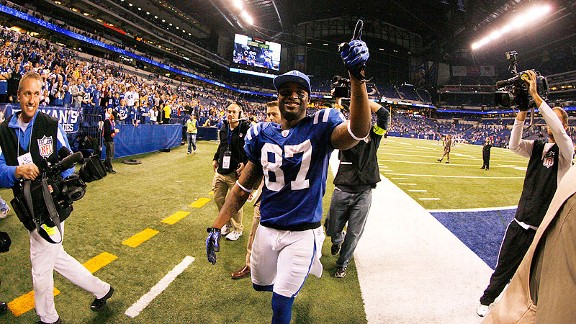 Brian Spurlock/US PresswireReggie Wayne caught eight passes for 106 yards and the game-winning score with 19 seconds left.
INDIANAPOLIS -- It's inexplicable, really.
Lose 13 in a row and look terrible while doing so. Then, follow it up with two wins in five days.
What the Colts have done is write just the sort of improbable storyline that makes us love the league.
Playing as they so often have with
Peyton Manning
engineering end-of-game magic, Indianapolis forged a penalty-aided 12-play, 78-yard touchdown drive in just 1 minute, 37 seconds that resulted in a
19-16 win
over the Texans. The new AFC South champions from Houston had their best chance ever to win in this city, and they had a lead until the clock showed 19 seconds.
"I couldn't be prouder of the way the men on this team played," Colts center
Jeff Saturday
said. "You start out spotting them seven points, they're the AFC South champions, they've got everything to play for and people would think we've got nothing. But the men on this team just kept fighting. We knew if we kept it close we'd have a chance late."
Saturday, defensive end
Robert Mathis
and receiver
Reggie Wayne
played what could have been their last game as Colts in Indianapolis. Mathis had two sacks, forcing and recovering a fumble on one. And Wayne pulled in eight passes for 106 yards, including the 1-yard touchdown pass from
Dan Orlovsky
that won it.
It leaves Houston, 0-10 on the road against the Colts, in need of a good bit of help to fare better than the third seed in the AFC playoffs.
[+] Enlarge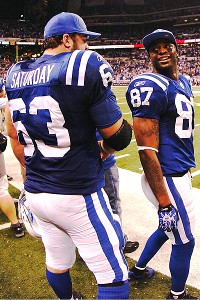 Brian Spurlock/US Presswire"I couldn't be prouder of the way the men on this team played," center Jeff Saturday, left, said of Reggie Wayne and his Colts teammates.
"We get some time here to regroup and go back home," Texans tight end
Owen Daniels
said. "One more game left here and hopefully we can get some momentum back. It's not a good feeling. There were a lot of opportunities for us to seal the game up offensively."
"It's a loss," defensive end
J.J. Watt
said. "It's a very, very tough loss. But at the end of the day, we're still in the playoffs. We're still going to make a very, very strong push in the playoffs. It's tough. We're going to learn from it. And then we're going to move forward. It's all we can do."
The result may scramble the top of April's draft order, and could have implications around the league for more than a decade if it helps St. Louis or Minnesota gain the first overall pick -- expected to be used on Stanford quarterback Andrew Luck. The Colts sit at 2-13, while the Rams and Vikings are at 2-12.
Before the game, owner Jim Irsay said on the NFL Network that provided Manning is healthy, he will be playing for the Colts in 2012. The team will also not hesitate to select a great young quarterback in the draft, Irsay said.
If they fall out of the first pick and lose their chance at Luck, the Colts will likely also miss out on Matt Barkley, who announced Thursday he'll play his senior year at USC.
Saturday said he was glad to know Irsay said Manning would be in Indianapolis, health willing. Beyond that, all the speculation will come from beyond the Colts' locker room.
"I ain't worried a bit about the draft or any of it," Saturday said. "I'll let the Polians worry about that, that's their job. My job is to win football games, that's all I care about and that's all they tell us to care about. I've never heard one person in this organization ever talk about what our draft is going to be the next year. Those guys plan for it, they're going to do their best to get the best players in here. You'll see what you get."
Colts vice chairman Bill Polian talked in the last week about needing an infusion of young playmakers.
In a second consecutive game, this defense looked like it already has some of them.
Though the Colts allowed
Arian Foster
to romp for 158 rushing yards on 23 carries, including four runs of 18 yards or more, they did well bottling a lot of other things up. The Texans converted only 1 of 10 third downs, when just one more might have iced the game or positioned them to put it out of reach.
That one conversion was a fluke, too. Rookie quarterback
T.J. Yates
threw behind intended receiver
Kevin Walter
, who reached back for it but couldn't pull it in. It bounced off safety
Antoine Bethea
's back or shoulder not once, but twice, before
Jacoby Jones
plucked it for a 5-yard gain with less than 3 minutes remaining.
As it did in its 27-13 win over Tennessee, Indianapolis' defense benefitted from overly conservative play-calling. The Colts saw a division opponent wary of their pass rush. Houston tried to win by playing it safe, and the Colts blew up that plan.
"The whole season we've kept on fighting, there was never a sense of giving up or a sense of backing down," cornerback
Jacob Lacey
said. "We've rallied around each other."
Big changes are still ahead, even if the Colts go to Jacksonville and win another game on New Year's Day. With Christmas weekend free thanks to the schedule-makers, they can savor this one before thinking about that one and all that's beyond it.
"I hope it's not, but you never know," Saturday said about the possibility it was his last game as with the Colts at home. "What a great night tonight with those guys. You don't get many like this. So I'm treasuring it."