December, 19, 2013
Dec 19
10:00
AM ET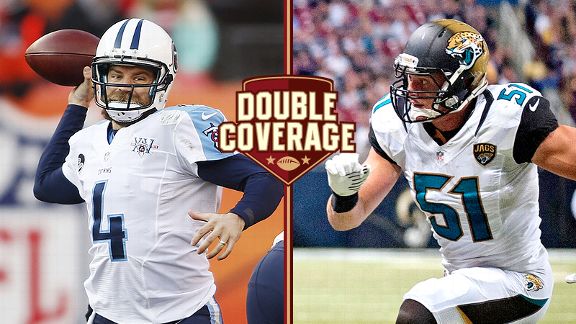 USA Today SportsPaul Posluszny and the Jags are aiming for a season sweep of Ryan Fitzpatrick and Tennessee.
JACKSONVILLE, Fla. -- Maybe
Delanie Walker
shouldn't feel so bad now.
The Titans tight end said he was embarrassed after the Jaguars won 29-27 in Nashville on Nov. 10 to pick up their first victory. Since then, the Jaguars are 3-2 with victories over Houston (twice) and Cleveland. The Titans are 1-4 with a victory over Oakland.
There seems to be much more stability in Jacksonville, too, because of the uncertain status surrounding Tennessee coach Mike Munchak.
Jaguars reporter Michael DiRocco and Titans reporter Paul Kuharsky break down Sunday's matchup at EverBank Field.
DiRocco
: Some Titans players were pretty vocal about being embarrassed due to becoming the first team to lose to the Jaguars. Is that something that still stings, and how have they rebounded from that loss?
Kuharsky
: It definitely left a mark. They are only 1-4 since then. It kind of set a bar for how bad they can be and re-established their propensity to lose to teams that are really struggling. The Jaguars are on an upswing since that game, and the Titans are on a downward spiral. If Tennessee losses to the Jaguars again, the Titans will be in line to finish in third place in an awful division, which is well short of their goals and expectations. The Titans are a better team than they were last year. But losing closer isn't a really big difference in the really big picture.
Let's turn that around. How has life changed for the Jaguars since that Nov. 10 breakthrough?
DiRocco
: I could go into a lot of stats that show how much better the Jaguars are playing, but that's not what's really important. The past six games have been more about the validation of the process, establishing the foundation of the franchise's rebuild, and confidence in the new regime. Coach Gus Bradley never wavered from the plan that he and general manager David Caldwell established. His message stayed the same throughout the eight-game losing streak to start the season: trust in the process, work hard, and focus on improving and not victories, and the victories will eventually come. Because that has happened, the players appear to have completely bought into what Bradley and Caldwell want to do, and there's a confidence in the locker room that the franchise is headed in the right direction.
We talked about
Jake Locker
the last time these teams met, but that was before he suffered a season-ending injury to his foot. How does that change the Titans' outlook on him and are they in the market for a quarterback in the offseason, too?
Kuharsky
: Locker is certain to be on the 2014 Titans. His fourth year isn't that costly and it's guaranteed. But they can't execute a spring option for his fifth year that would line him up for over $13 million. A lot of his fate depends on whether Munchak is back as the head coach. It's possible they go forward with Locker,
Ryan Fitzpatrick
and just-signed
Tyler Wilson
as their quarterbacks. It's also possible they'd draft a new guy, and depending on how high of a pick he could land in competition to start. I think it's less likely they chase a free agent like
Jay Cutler
if he comes free, but they have to assess all the possibilities. How can they completely commit to Locker based on his injury history?
One side effect of the Jaguars' surge is they aren't going to be in position to draft the first quarterback taken. What's your sense of what Bradley and Caldwell want in a quarterback and do you expect one to arrive in the first round?
DiRocco
: Offensive coordinator Jedd Fisch said something interesting last week. He said he wants his QB to scramble around, take off running to get yards and take some chances throwing the football. To me, that sounds like a pretty accurate description of Johnny Manziel. I'm not sure how that reconciles with the ideas of his bosses. Bradley comes from Seattle, which has the mobile
Russell Wilson
. Caldwell comes from Atlanta, which has the considerably less mobile
Matt Ryan
. My sense is that Bradley and Caldwell probably lean more toward the Wilson end of the spectrum. People think that eliminates Teddy Bridgewater, but that's not the case. He's not a runner but he can run if needed. If he's around, I'd expect them to take him. If not, then I would still expect them to go quarterback. It's their most glaring need.
You mentioned Munchak's job status. What's your take on whether he will be back next season -- and should he be?
Kuharsky
: He's shepherded improvement, but his team lacks an ability to finish. He's 0-4 in the worst division in football, 1-9 in the past two years. His teams have lost to the previously winless Jags in 2013 and the previously winless Colts in 2011. He's 4-18 against teams with winning records when the Titans played them and 2-19 against teams that finished the season with a winning record. To me, three years is a sufficient sample size to know what you've got and those numbers are the most telling thing on his resume. Keep him and they deal with all the limitations connected to a lame duck coach. I don't know what Tommy Smith, the head of the new ownership, will do. But the fan base overwhelmingly wants change, if that's worth anything. People still pay for tickets because they've got investments in personal seat licenses they do not want to throw away. But a lot of people are staying home on Sundays now.
Cecil Shorts
is done and
Maurice Jones-Drew
is uncertain. How can the Jaguars threaten on offense without their two best weapons?
DiRocco
: They were able to put up 20 points and post their second-highest yardage total of the season, including a season-high 159 rushing, in last Sunday's loss to Buffalo. Running back
Jordan Todman
stepped up big time and ran for 109 yards (Jones-Drew cracked 100 only once in the first 13 games) and tight end
Marcedes Lewis
was more involved in the passing game than in previous weeks (four catches for 54 yards and a touchdown). But I'm not sure that is sustainable. Teams will certainly concentrate on stopping Lewis and make quarterback
Chad Henne
move the ball with three receivers who have a combined 75 career catches. Todman doesn't scare anyone, either. The Jaguars will have to be creative on offense (they've run gadget plays the past three weeks) and capitalize on every opportunity they get.
September, 7, 2009
9/07/09
10:22
AM ET

Posted by ESPN's Paul Kuharsky
Houston Texans
Indianapolis Colts
Jacksonville Jaguars
Tennessee Titans
LenDale White doesn't regret stomping and would stomp again, he said in a discussion of the Terrible Towel controversy of 2008. Jim Wyatt and Terry McCormick both wrote it. Warped logic from White that he can buy whatever house he's in. Unless he got a bonus I don't know about, I'm pretty sure he couldn't afford Heinz Field.
Chris Hope doesn't know what to expect in his first trip back to Pittsburgh, says Gary Estwick.
Quinton Ganther's injury was significant, says Wyatt.
September, 7, 2009
9/07/09
8:50
AM ET

Posted by ESPN.com's Paul Kuharsky
Here's a team-by-team look at what happened on waivers that touched the four teams of the AFC South:
Houston Texans:
Claimed defensive back
Anthony Smith
(Syracuse) from Green Bay, but he was awarded to St. Louis.
Indianapolis Colts:
Claimed and were awarded linebacker Glenn Cody (Nebraska) from Washington. To make room for him, waived defensive back
Matt Giordano
.
Jacksonville Jaguars:
Claimed defensive back Anthony Smith (Syracuse) from Green Bay, but he was awarded to St. Louis.
Claimed defensive back
Marcus McCauley
(Fresno State) from Minnesota, but he was awarded to Detroit.
Waived linebacker
Tim Shaw
was claimed by Dallas, but Dallas was awarded a different player under the priority claim system.
Waived running back
Chauncey Washington
was claimed by Dallas, but Dallas was awarded a different player under the priority claim system.
Tennessee Titans:
Waived defensive lineman
LaJuan Ramsey
was claimed by and awarded to St. Louis.
Waived punter
A.J. Trapasso
was claimed by and awarded to the Jets.
Waived tight end
Matthew Mulligan
was claimed by and awarded to the Jets.
September, 4, 2009
9/04/09
12:00
PM ET
August, 22, 2009
8/22/09
11:41
AM ET
Posted by ESPN.com's Paul Kuharsky
Don Banks ranks backup quarterbacks.
Houston Texans
Indianapolis Colts
Jacksonville Jaguars
Tennessee Titans
July, 22, 2009
7/22/09
10:59
AM ET
Posted by ESPN.com's Paul Kuharsky
Matt Bowen runs through issues in the division as camps draw near.
Chase Stuart's All-Decade Team of the 70s: Part I and Part II.
Houston Texans
A video report on the Texans' outlook at quarterback, with John McClain.
Travis Johnson had surgery to repair a sports hernia three weeks ago, reports Mark Berman.
Indianapolis Colts
Read of the morning: KC Joyner considers 10 reasons Peyton Manning isn't as revered as he should be.
Will Bob Sanders stay healthy? John Oesher examines it as part of his 20 Questions.
Mike Chappell says the Colts generally don't crank up contract negotiations for draft picks until about 10 days before camp.
A breakdown of safety Matt Giordano from Oehser.
Marvin Harrison's accuser is reportedly shot again, says the AP.
"There are not 32 backs out there who are better than me," Edgerrin James tells David Dorsey.
Jacksonville Jaguars
Aaron Schatz considers whether backs who get a big increase in carries like Maurice Jones-Drew will stand to drop off.
KC Joyner thinks offensive line injuries masked other issues for the Jaguars last year and became a blanket excuse.
Tennessee Titans
A preview of the Titans offensive line from Jim Wyatt.
A quick Q&A with Michael Roos.
April, 21, 2009
4/21/09
8:12
AM ET
Posted by ESPN.com's Paul Kuharsky
Houston Texans
Indianapolis Colts
Jacksonville Jaguars
Tennessee Titans
April, 20, 2009
4/20/09
11:17
AM ET
Posted by ESPN.com's Paul Kuharsky
Mike Silver's annual ultimate mock draft allows teams to pick anybody.
Houston Texans
Indianapolis Colts
Jacksonville Jaguars
Tennessee Titans
March, 6, 2009
3/06/09
12:40
PM ET
Posted by ESPN.com's Paul Kuharsky
Our NFC West ace Mike Sando has been keeping track of free-agent movement by division and put together this excellent chart, which doesn't factor in any deals that may have been completed Friday morning.
| | | | |
| --- | --- | --- | --- |
| Division | Starting UFA | Current UFA | Percent Still Unsigned |
| NFC North | 40 | 33 | .825 |
| AFC West | 34 | 28 | .824 |
| NFC West | 58 | 45 | .776 |
| NFC East | 33 | 25 | .758 |
| AFC North | 46 | 32 | .696 |
| AFC South | 39 | 26 | .667 |
| AFC East | 45 | 28 | .622 |
| NFC South | 41 | 22 | .537 |
Who's still out there from the AFC South teams?
The most significant names by team, with asterisks denoting players still believed to be of interest by their current clubs:
Cornerback DeMarcus Faggins, safety Nick Ferguson*, defensive tackle Jeff Zgonina*, fullback Cecil Sapp*.
Safety Matt Giordano, linebacker Tyjuan Hagler, cornerback Keiwan Ratliff, running back Dominic Rhodes*, punter Hunter Smith, defensive end Josh Thomas.
Tackle Khalif Barnes, guard Chris Naeole, linebacker Mike Peterson, safety Pierson Prioleau, safety Gerald Sensabaugh, receiver Reggie Williams.
Corner/returner Chris Carr*, punter Craig Hentrich*, cornerback Reynaldo Hill, tackle Daniel Loper*, receiver Justin McCareins.
January, 16, 2009
1/16/09
2:15
PM ET
Posted by ESPN.com's Paul Kuharsky

A look at the members of the Colts who are heading toward unrestricted free agency, in rough order of importance and standing.
Center Jeff Saturday: He'll be 34 next season, but continues to be a crucial cog for Peyton Manning and the offense.
Cornerback Kelvin Hayden: With Marlin Jackson coming off knee surgery, Hayden is even more valuable. There have been indications they think they can get him back and he still has upside.
Running back Dominic Rhodes: Reunion was good, he's not going to be real expensive and Bill Polian has expressed confidence the team can re-sign him.
Punter Hunter Smith: Solid guy. They'd like back, but his future could depend on the market.
Linebacker Tyjuan Hagler: Didn't really break back into lineup after missing first six games on PUP. Would be nice to have, but he's the kind of guy they are good at replacing.
Defensive tackle Darrell Reid: Time on defense only came when they were thinned, but he was top special teams tackler.
Cornerback Keiwan Ratliff: Did some good work when called on, but he's only depth.
Safety Matt Giordano: Also quality secondary depth, but the fourth guy at his position at best.
Defensive end Josh Thomas: They'd like to upgrade, but he could be back late for a minimum deal if he's still out there.
December, 28, 2008
12/28/08
11:56
AM ET
Posted by ESPN.com's Paul Kuharsky
INDIANAPOLIS -- You'll find the inactives from Titans-Colts at our league-wide link.
But here are the resulting lineup changes as a result of inactives we didn't know before this morning:
TITANS
COLTS
September, 19, 2008
9/19/08
3:59
PM ET
Posted by ESPN.com's Paul Kuharsky
Injury interpretation as Week 3 games approach:
DT Travis Johnson (knee) is out, which means 16-year man Jeff Zgonina will start and Frank Okam will get some work.
TE Mark Bruener is out, but Joel Dreessen is viewed by the team as a capable second tight end behind Owen Daniels.
---
C Jeff Saturday (knee) and TE Dallas Clark were not listed on the injury report all week, so they should be good to go.
The two question marks are DT Keyunta Dawson (ankle), who was a full participant on Friday, and safety Matt Giordano (back), who was out Thursday and Friday.
If Dawson is out, the Colts would have lost their two starting interior linemen in two weeks -- Ed Johnson was cut before the second game because he got in trouble off the field. It's hard to imagine the Colts without Sanders, Johnson and Dawson. In such a scenario, Raheem Brock would surely shift inside from end.
Giordano is the lone backup safety on the roster with Melvin Bullitt filling in for Bob Sanders (ankle/ knee). Look for the team to promote Jamie Silva from the practice squad, but it's unknown where they'd gain the roster spot.
---
LB Justin Durant (groin) is out which means Clint Ingram will start. That could have a ripple effect on special teams.
WR Troy Williamson (thigh) is out, but Jerry Porter (hamstring) is questionable. Jack Del Rio said Friday that Porter is not likely to play. If he doesn't, look for him to be designated as the team's third quarterback for a second week in a row. If David Garrard and Cleo Lemon both get hurt, Matt Jones shifts under center and Porter might be able to help a unit without Jones.
RB Maurice Jones-Drew (ankle) is listed as probable, as are RB Fred Taylor (toe) and S Brian Williams (toe). They are all going to play.
---
WR Justin Gage (groin) is a game-time decision. I don't think he plays, which means Brandon Jones starts and Chris Davis and Lavelle Hawkins likely see action.
LB Colin Allred (ankle), a key special-teamer, is also questionable and a game-time decision.