August, 10, 2013
8/10/13
1:07
AM ET

Any chance to tighten a hold on the
Jacksonville Jaguars
' starting quarterback job disappeared on
Blaine Gabbert
with a miserable stat line against Miami.
Five completions in 10 attempts for 19 yards isn't going to make anyone feel like Gabbert rose to the occasion or staked a claim in a 27-3 preseason loss at EverBank Field.
That's 1.9 yards per attempt and 3.8 yards per completion. The Jaguars averaged 4.8 yards a carry when they ran the ball.
For comparison, Miami quarterback
Ryan Tannehill
also completed five passes. His were good for 75 yards.
All the disclaimers for the Jaguars' passer in one paragraph: Gabbert was without the team's top two receivers,
Cecil Shorts
and
Justin Blackmon
, and its top two running backs,
Maurice Jones-Drew
and
Justin Forsett
. He got sacked early when
Cameron Wake
beat rookie right tackle
Luke Joeckel
. He suffered as a result of a drop by rookie receiver
Ace Sanders
and the lack of a play on a pass to
Mike Brown
that was probably catchable. On an early third-and-12 the Jaguars ran a screen pass with no chance of extending a drive. The interception he threw hit fullback
Will Ta'ufo'ou
in the hands and he failed to pull it in.
Even with all that context, a starting NFL quarterback needs to make more of his chance than Gabbert did.
Chad Henne
was far better: 8-for-11 for 87 yards for a 95.6 passer rating compared to Gabbert's 16.7.
Henne deserves the start in the second preseason game.
A few other thoughts:
Defensive tackle Sen'Derrick Marks was active, with a sack on the second play from scrimmage and at least one more disruptive play. Working from the left end spot, Tyson Alualu also had one very nice early pressure.
Dustin Keller pulled in the game's first score, a 22-yard TD from Tannehill. Safety Chris Prosinski was all over the tight end but didn't have the awareness to find the ball so it didn't matter.
Sanders' second punt return went for 22 yards and showed some nice shake.
Denard Robinson had one very nice change-of-direction play that went for a 7-yard gain, but in his first game action as a running back the production was poor as he averaged 3.6 yards. He got smashed in the backfield on a Wildcat keeper midway through the second quarter. The story of the run game was Jordan Todman, who turned six carries into 45 yards and seemed to get into his top gear pretty quickly.
Rookie cornerback Dwayne Gratz took advantage of a somewhat off-target throw from Matt Moore to confidently collect an interception.
Jaguars quarterbacks combined to complete six passes that were good for 2 yards or fewer: two 2-yard passes, two 1-yard passes, one pass for no gain and one completion that resulted in a 3-yard loss.
March, 7, 2012
3/07/12
6:43
PM ET
What kind of scheme will fit
Peyton Manning
best?
One that's a lot like what he ran while he was with Indianapolis.
We can do a lot of speculating about what's most important to Manning going forward. My belief is a guy who is a creature of habit and loves routine and repetition will be most inclined to go somewhere where he gains a good measure of control. Where the coach and offensive coordinator will be willing to bend things to him. Where he can continue to do the things he's been honing for years.
That's why I don't see Washington as a good fit at all.
[+] Enlarge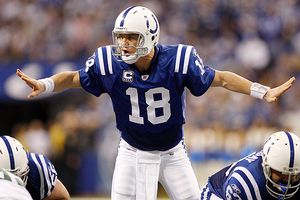 Jerry Lai/US PresswirePeyton Manning would likely do best in an offense that's similar to the one he ran in Indianapolis.
Mike Shanahan is a control freak and his son and offensive coordinator, Kyle, is a chip off the old block. Toss Manning into that mix and there isn't enough control to go around.
Ken Whisenhunt in Arizona has shown a willingness to fit a scheme to a signal-caller. Joe Philbin in Miami is just starting out and would surely be willing to tilt things. Pete Carroll in Seattle seems to be a flexible guy when dealing with big personalities and stars. Romeo Crennel in Kansas City is a defensive guy.
John Fox is intense, but he and John Elway wouldn't jump in unless they would mold things for Manning. And we certainly know they are willing to move away from the offense
Tim Tebow
was running.
"In the end, the chances are that whichever team Manning lands with will incorporate its present offensive system intertwined with what Manning did with the Colts,"
writes Matt Williamson of Scouts Inc

. "Manning's offense in Indy included a zone run-blocking scheme that featured athletic, movement-based linemen, limited personnel groupings and formations, a ton of pre-snap reads, and a timing-based passing attack that thrived after hours and hours of practice time."
I can't give away the store of the Insider piece, so I won't share the order Williamson lists the matches in. We'll go alphabetical as we share some snippets. As a bonus, my blog network brethren have chimed in with a flexibility rating for the coach/staff/scheme. A "10" means the team would hand over the keys to Manning and a "1" means he'd be expected to run precisely what the coaching staff wanted.

Arizona
Williamson:
"This is the offense I would expect to change the most for Manning. Ken Whisenhunt is a very good offensive mind, but his philosophies have changed dramatically in his tenure as head coach, depending on the quarterback he's had at his disposal."
Flexibility index from Mike Sando:
7

Denver
Not on Williamson's list.
Flexibility index from Bill Williamson:
10

Kansas City
Williamson:
"Adding Manning should make the team the clear favorite to win the AFC West, if not more. But, without a quarterback of the future on the roster, if Kansas City swings and misses on this acquisition, it could cost it dearly. Cassel is mediocre, and probably always will be, which could make the Chiefs too complacent in terms of finding a replacement or successor. It's time for them to be aggressive."
Flexibility index from Bill Williamson:
10

Miami
Williamson:
"With Joe Philbin taking over in Miami, the team will be installing an offense very similar to the one in Green Bay, which would fit Manning with all the pre-snap reads it requires. Also, limiting some of the injury risk of signing Manning and putting all the eggs in that basket is that Miami has
Matt Moore
returning. Although Moore is far from elite, you could do much worse as backups go."
Flexibility index from James Walker:
7

New York Jets
Williamson:
"I don't think Manning would put New York over the top because it has problems at right tackle, No. 2 wide receiver and possibly at running back on offense. On defense, the Jets have a hole at safety, at outside pass-rusher and with an inside linebacker who excels in coverage."
Flexibility index from Walker:
10

San Francisco
Williamson:
"Manning wouldn't have to put the entire team on his shoulders in San Francisco. The wide receiver position certainly needs upgrading, but Manning could have a reduced role from his time in Indianapolis -- which might be best for him now -- and consistently get his team into strong play choices at the line of scrimmage."
Flexibility index from Sando:
3.5

Seattle
Williamson:
"With a power ground game, an improving offensive line and some young receiving weapons to work with, Manning might be able to accomplish quite a bit with this offense. If Seattle signs Manning, it definitely could make a run."
Flexibility index from Sando:
8

Washington
Williamson:
I also have some concerns about how well Mike Shanahan would be able to -- and how willing he would be to -- alter his offense, which stresses a move-oriented quarterback, to fit Manning's cerebral skill set.
Flexibility index from Dan Graziano:
3
July, 7, 2011
7/07/11
2:45
PM ET
Kerry Collins
always hovered. In the worst-case scenario, the Titans surely expected they could get him back to man the fort while
Jake Locker
took a crash course in NFL quarterbacking.
Who knows what the worst-case scenario is now, after Collins announced his retirement in this statement released through his agent, David Dunn:
After 16 fulfilling years of playing quarterback in the NFL, I am officially announcing my retirement from professional football. The past several months have brought on much introspection, and I have decided that while my desire to compete on Sundays is still and always will be there, my willingness to commit to the preparation necessary to play another season has waned to a level that I feel is no longer adequate to meet the demands of the position.

I feel very fortunate to have played with and to have been coached by some of the greatest the game has ever seen. I feel especially fortunate to have played under some of the true patriarchs of the modern game: Joe Paterno, the late Wellington Mara, Al Davis and Bud Adams. I would like to thank all of those coaches, players and other team personnel along the way who have shaped me both personally and professionally. I want to wish Mike Munchak and the Tennessee Titans the best of luck in the future. I have had a fantastic five years here, and my family and I look forward to remaining part of the Middle Tennessee community that has been extremely gracious towards us and an honor to play for.

I owe a huge debt of gratitude to my family, especially my wife Brooke and daughter Riley, for their support. I would also like to extend special thanks to my agent Dave Dunn and the entire staff at Athletes First for their guidance throughout my career. Most of all, I would like to thank the fans who have supported me during my time at Penn State and my tenure in the NFL. It has been a wonderful journey, one that I will look back upon with the fondest of memories.

Kerry Collins
Matt Hasselbeck
's value just went up. If the Titans don't land him, who are the possibilities?
The list isn't a good one. It's headlined by
Marc Bulger
,
Trent Edwards
,
Matt Leinart
and
Matt Moore
.
Locker needs a full training camp to have a chance to be effective if he's the team's best option come its opener.
None of the scenarios beyond Hasselbeck look very good, and he could have much better options.