January, 26, 2014
Jan 26
11:50
PM ET
Indianapolis Colts
quarterback
Andrew Luck
was on the same team as his coach, Chuck Pagano, but it was linebacker
Robert Mathis
and long snapper
Matt Overton
who were on the winning Pro Bowl team that earned a $53,000 check compared to the $26,000 for the losing team.

Mathis' team, Team
Jerry Rice
, beat Luck's team, Team
Deion Sanders
,
22-21
in Honolulu.
Luck was the No. 1 overall pick in the Pro Bowl draft and started at quarterback over Carolina's
Cam Newton
, who had more votes than him. But it's understandable that Luck started since he was playing for his head coach.
Luck was 5-of-7 for 80 yards, a touchdown and an interception. His lone touchdown pass came on a flea flicker play where Kansas City's
Jamaal Charles
tossed the ball back to Luck, who launched a pass to Philadelphia's
DeSean Jackson
that looked like it would be intercepted . Jackson went up into double coverage and hauled the pass in.
Luck's interception happened when St. Louis'
Robert Quinn
tipped his pass and Cincinnati's
Vontaze Burfict
picked it off. It's a good thing Luck won't have to see Quinn anytime soon again. Quinn sacked the Colts' quarterback twice during the regular-season meeting that St. Louis won 38-8.
The NFL did away with the traditional AFC-NFC Pro Bowl teams in favor of a draft. That meant there would be opportunities for teammates during the regular season to go against each other on Sunday.
Mathis didn't get an opportunity to sack Luck. Mathis, who led the league in sacks with 19.5, finished with four tackles.
January, 22, 2014
Jan 22
10:00
PM ET
Sorry,
Matt Overton
. It'll be your starting quarterback, linebacker and the entire coaching staff on one side. And you'll be on the other side during the Pro Bowl this weekend.
Indianapolis Colts
quarterback
Andrew Luck
and linebacker
Robert Mathis
will see a bunch of familiar faces when they play for Chuck Pagano and the rest of the coaching staff as part of Team
Deion Sanders
in the Pro Bowl in Hawaii.
Overton, the team's long snapper, will play for Team
Jerry Rice
.
Luck is used to being the top player chosen in a draft. He was the No. 1 overall pick in the 2012 NFL draft and he was the No. 1 overall pick in Day 2 of the Pro Bowl draft over players like Carolina's
Cam Newton
and San Diego's
Philip Rivers
. This is the first year that the Pro Bowl did away with the traditional AFC-NFC teams, instead choosing to have a draft.
Having Luck and Mathis on the same team means the NFL's sack leader doesn't have to worry about being in the awkward position of sacking his teammate.
Luck will have plenty of offensive weapons to turn to, as he has Kansas City running back
Jamaal Charles
to hand the ball off to and pass to and Cincinnati's
A.J. Green
and Dallas'
Dez Bryant
at receiver.
Luck was 12-of-19 for 205 yards, two touchdowns and an interception in his first Pro Bowl last year. Mathis, voted to six straight Pro Bowls, had five tackles and a sack in last year's game.
January, 22, 2014
Jan 22
7:30
AM ET
Matt Overton
of the
Indianapolis Colts
is in the NFL because of his ability to be a long snapper on field goals, extra points and punts.
If NFL Commissioner Roger Goodell has his way, Overton won't have to be worry about snapping on extra points anymore. Goodell told NFL Network that the competition committee may consider getting rid of extra points because of such high success rate.
Overton, who is in Hawaii to play in the Pro Bowl this week, went to Twitter to
give his opinion
over the possibility of having extra points taken away.
"From a specialist standpoint I'd rather see the extra point remain in the game simply because it's a traditional part of a scoring drive," Overton wrote.
January, 5, 2014
Jan 5
12:03
AM ET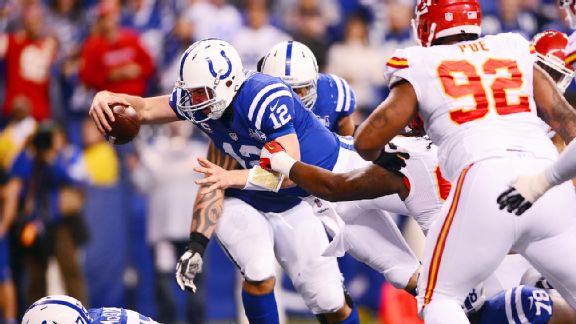 Andrew Weber/USA TODAY SportsColts QB Andrew Luck recovers a fumble to score a fourth-quarter touchdown from 5 yards out.
INDIANAPOLIS -- Indianapolis quarterback coach Clyde Christensen and backup quarterback
Matt Hasselbeck
, with the urging of offensive coordinator Pep Hamilton, gathered with starter
Andrew Luck
at the team hotel on the eve of their wild-card game against the
Kansas City Chiefs
.
This wasn't one these meetings where they gathered in a dark room to watch some more game film. It was more of a heart-to-heart talk between the quarterback coach, the veteran quarterback and the franchise player.
Christensen wanted to make sure Luck wasn't too amped up for his second career playoff game.
"Clyde compared it to the Indianapolis 500," Hasselbeck said. "Don't come out too fast and do something stupid early in the game that takes us out of the race. Ironically, we started well. Then things changed for a little bit."
The Colts looked like they were going to crash out early and have their season end in embarrassment at Lucas Oil Stadium. Luck, the kid who never gets rattled, lost some of his composure as the interceptions increased and the deficit grew.
Then he reverted back to the quarterback who all too often told his teammates not to think about losing because they wouldn't stop playing until the clock had all zeroes on it.
In what's become the norm for Luck during his young career, he shook off his three interceptions and did something that's happened only one other time in playoff history, leading the Colts back from a 28-point deficit to beat the Chiefs
45-44
.
"He's a second-year guy, so technically he's still a kid in the league, but he plays like a grown man," Colts linebacker
Robert Mathis
said. "As long as we have 12, we have a chance."
As crazy as it might sound, the fact Luck led the Colts to the come-from-behind victory isn't surprising. The Colts have won seven games in which they've trailed by double-digits in 34 games as Luck as their quarterback.
It's the 28-point deficit they came back from that's surprising. That's the second-largest comeback in playoff history. Luck finished 29-of-45 for 443 yards, four touchdowns and three interceptions.
He capped off the comeback when he took a step up in the pocket and found receiver
T.Y. Hilton
streaking downfield for a 64-yard touchdown with less than five minutes left in the game.
"He kept telling us, even at 38-10, 'We're going to win this game,'" offensive tackle
Anthony Castonzo
said.
Luck has never been one to show much emotion when things go wrong during the game. But there he was, slapping both hands on the ground as he lay there after one of his interceptions and slapping his hands together as he ran off the field after throwing his third interception.
That's how bad things were going for the Colts and their franchise player. They looked like they were on their way to another one-and-done in the playoffs.
"Yeah, I was disappointed in myself, angry," Luck said. "Really felt like I was letting the team down, especially after I think we got a little momentum on some of those, then I go up there and throw a pick and sort of set everything back. I was angry. You got to flush it. You got to forget about it."
You would have never known Luck made those mistakes when he told his teammates to stay calm because they still had a chance to win the game, despite the large deficit.
As crazy as it sounds, it was all about patience despite the 28-point hole.
"He's not giving you a bunch of bulls--- when he says that stuff," Castonzo said. "At no point does he not believe we're not going to win. He's led us on a lot of comebacks for a reason. The guy does not freak out."
There was some luck involved in this comeback. After running back
Donald Brown
fumbled, the ball bounced off of center
Samson Satele
's helmet, Luck picked it up and ran in from 5 yards out.
"I sort of set Donald up for failure a little bit there," Luck said. "It was a loaded box and I called a run. I was hoping Donald would do one [of] his amazing plays like he'd been doing all game. It didn't happen. Sort of saw the ball there and I think you revert back to playground whatever. Pick it up and try to score."
That was the indication that it was meant to be on this night for Luck and the Colts.
"Andrew kept saying, 'Stay with me, stay with me,'" Colts tackle
Gosder Cherilus
said. "He willed us to this win."
Or as long snapper
Matt Overton
put it, "An ESPN Instant Classic."
October, 7, 2013
10/07/13
12:30
PM ET
INDIANAPOLIS -- A review of three topics from the
Indianapolis Colts
'
34-28 victory
over the
Seattle Seahawks
.
[+] Enlarge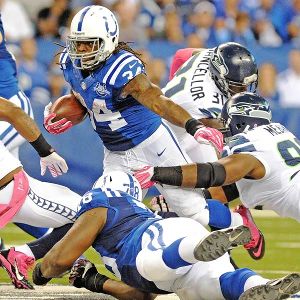 Thomas J. Russo/USA TODAY SportsColts RB Trent Richardson finished Sunday's game against Seattle with 56 yards on 18 carries.
DPOY:
You should have Colts linebacker
Robert Mathis
on your defensive player of the year list if you didn't have him on there before. Mathis has made any thoughts about him not being able to be a force without former teammate
Dwight Freeney
vanish. Mathis leads the league in sacks with 9.5 after picking up two Sunday. He also became the 30th player in league history to reach 100 career sacks when he recorded a strip sack on the final play of the first half. "I can appreciate it and never take it for granted because it is a big milestone," Mathis said. "Appreciate it and I'm very blessed."
Finding a rhythm:
Running back
Trent Richardson
had a brutal first half -- and that's being polite -- when he ran for 2 yards on six carries. But things changed for him in the second half when he averaged 5.4 yards on his 12 carries. You had a feeling Richardson would have a better second half when he took off for 16 yards, his longest run of the season, on his first carry. His best run came when he went off the left tackle for a 10-yard gain on third-and-5 to keep a drive alive in the fourth quarter.
Adam Vinatieri
later made a 49-yard field goal to put the Colts up 34-28. Richardson is still working to find a rhythm, with his play in the second half being a step in the right direction. "Everything is starting to slow down for me," he said. "At first, you know it was pretty fast, trying to learn. Now I've played three games. With that, I'm still a professional, so at the same time I got to be on my P's and Q's. I've got to know what's going on."
Special teams were special:
It was a rough start on special teams. The normally reliable
Pat McAfee
shanked his first punt -- 34 yards -- giving the Seahawks the ball near midfield. Then the Seahawks overloaded the middle and ran a pick-and-roll (excuse the basketball terminology) on snapper
Matt Overton
, allowing
Jermaine Kearse
to block McAfee's punt.
Jeron Johnson
couldn't gather the ball before it went out of the back of the end zone, giving Seattle a safety. The Colts countered the Seahawks' blocked punt when defensive lineman
Lawrence Guy
blocked Steven Hauschka's 48-yard field goal attempt. Safety
Delano Howell
picked up the loose ball and returned it 61 yards for a touchdown, barely outrunning Seattle holder
Jon Ryan
. "He was kind of quick," Howell said. "I wasn't expecting that. Respect to him. I heard he was a wide receiver at one point." Sunday marked the fourth time in team history that the Colts have returned a blocked field goal for a touchdown.
August, 30, 2013
8/30/13
10:45
AM ET
Here's my projection at what the Colts' 53-man roster will look like:

Quarterback
Andrew Luck
,
Matt Hasselbeck
Comment:
The Colts are in good hands with Luck and Hasselbeck.
Running back
Ahmad Bradshaw
,
Vick Ballard
,
Donald Brown
,
Kerwynn Williams
Comment:
Williams locked in his spot as the fourth running back by rushing for 92 yards against Cincinnati. He'll also likely return kicks.
Fullback
Stanley Havili
,
Dominique Jones
Comment:
Havili proved that he can be another option for Luck to throw to out of the backfield against Cleveland last weekend.
Wide receiver
Reggie Wayne
,
Darrius Heyward-Bey
,
TY Hilton
,
LaVon Brazill
,
Griff Whalen
,
David Reed
Comment:
Colts are set with Wayne, Heyward-Bey and Hilton, but depth is still a concern at receiver.
Tight end
Dwayne Allen
,
Coby Fleener
,
Justice Cunningham
Comment:
You have to cross your fingers that Fleener's preseason problems were just that and they won't linger into the regular season.
Offensive line
Anthony Castonzo
,
Donald Thomas
,
Samson Satele
,
Mike McGlynn
,
Gosder Cherilus
,
Hugh Thornton
,
Joe Reitz
,
Khaled Holmes
, Jeff Linkenbach
Comment:
The Colts' scoring success depends heavily on how well this unit protects Luck
Defense
Defensive line
Cory Redding
,
Josh Chapman
,
Ricky Jean Francois
,
Aubrayo Franklin
,
Montori Hughes
,
Lawrence Guy
,
Drake Nevis
Comment:
The defensive line has to prove it can stop the run.
Linebackers
Robert Mathis
,
Erik Walden
,
Bjoern Werner
,
Caesar Rayford
,
Pat Angerer
,
Jerrell Freeman
,
Kavell Conner
,
Mario Harvey
,
Kelvin Sheppard
Comment:
Rayford is the surprise name on this list, but the 27-year-old former Canadian and Arena League player earned a roster spot by having a very strong training camp.
Cornerbacks
Greg Toler
,
Vontae Davis
,
Darius Butler
,
Cassius Vaughn
,
Josh Gordy
Comment:
The Colts are in good hands if Davis and Butler play like they did during the preseason.
Safeties
LaRon Landry
,
Antoine Bethea
,
Joe Lefeged
,
Larry Asante
Comment:
Asante made a strong case to make the roster with an interception against Cleveland and 13 tackles against Cincinnati. Don't count out
Sergio Brown
, though.
Special teams
Adam Vinatieri
,
Pat McAfee
,
Matt Overton
Comment:
No comment necessary
Mike Chappell of the Indianapolis Star made his
53-man roster projection earlier this week
.
Conrad Brunner of 1070 The Fan
did the same
.
November, 11, 2012
11/11/12
1:13
PM ET
Greetings from Chicago, where we're reading the coverage ...
Houston Texans
"At some point this season, if Houston is indeed going to host a Super Bowl parade in February, the Texans will have to play well and beat a team as good as the Chicago Bears
in prime time
. This would be a good time to prove they can do it," writes Jerome Solomon of the Houston Chronicle.
Indianapolis Colts
Long-snapper Matt Overton thinks the best sushi in America is served in Omaha, Neb. But even a teammate from the state doesn't give him credit for a great find. Phillip B. Wilson looks at
the crazy stuff
that can come up in locker room chit-chat.
Jacksonville Jaguars
The Jaguars need brooms, mops and garbage cans to clean up what they've done in the first half of the season. Four of six midterm grades from Florida Times-Union's columnist Gene Frenette are Fs. "Mike Mularkey was hired specifically to jump-start an anemic offense, but there's
no evidence
of the Jaguars being an improved product."
Tennessee Titans
Karl Klug was a rookie surprise a year ago. Now, he's
hardly seeing the field
, says John Glennon of The Tennessean. Mike Martin's dented his playing time, and with the Titans trailing so often, they find themselves gearing up to stop the run rather than rushing the passer.
November, 7, 2012
11/07/12
9:32
AM ET
Reading the coverage ...
Houston Texans

Danieal Manning is set on
a businesslike visit
Sunday when the Texans play in Chicago against his old team, says Tania Ganguli of the Houston Chronicle.
Gary Kubiak has had a close-up look at just
how dangerous
Brandon Marshall is for the Bears, says John McClain of the Houston Chronicle.
Duane Brown and J.J. Watt are Pro Football Weekly
Midseason All-Pros
, says McClain.
The Bills threw at Johnathan Joseph nine times, and he allowed just five catches and registered a pass defense. "What was most impressive was the way he
limited yardage
even when he allowed the ball to be completed into his coverage. " John Maney of Pro Football Focus re-examines the Bills-Texans game.
Indianapolis Colts

Among the players who
shaved their heads
to show support for Chuck Pagano: Punter Pat McAfee, defensive lineman Cory Redding, kicker Adam Vinatieri, safety Antoine Bethea, running back Donald Brown, wide receiver Nathan Palmer, cornerback Darius Butler, linebacker Kavell Conner, tackle Anthony Castonzo, guard Joe Reitz and long-snapper Matt Overton. Mike Chappell's story from the Indianapolis Star.
Jerraud Powers (toe)
is out
for Thursday night's game in Jacksonville along with the other starting cornerback, Vontae Davis (knee), says Chappell.
Vick Ballard is taking on
more responsibility
in the Indianapolis backfield, says Phil Richards of the Star.
While Andrew Luck threw for a rookie record 433 yards,
he lost an additional 77
because of drops. Sam Monson of Pro Football Focus looks at Dolphins-Colts.
Jacksonville Jaguars

Jaguars owner Shad Khan told Action News 47: "
It's embarrassing
, but there are better days ahead. I'm deeply grateful to the fans for supporting us. They've done their part. Now we have to do our part. Whether it's a football team or an auto parts company, you need three things: Right people in the right spots, processing and decision making that's right and you need support from fans, sponsors or owners. We have to finish the season. You can't be rushing to judgment. I wish life was that simple, that you could hire and fire people and things would change. I am committed to building a sustainable, winning organization." Ryan O'Halloran of the Florida Times-Union has more.
After concussion-related layoffs, receiver Laurent Robinson is
shaking the rust off
, says Ryan O'Halloran of the Florida Times-Union.
The Jaguars and Colts are going in
opposite directions
, says Vito Stellino of the Times-Union.
"While the rest of the Jaguars offensive line did a relatively good job of holding their own in pass protection, it was Mike Brewster who
really let them down
. Beaten routinely by Sammie Lee Hill and Corey Williams, he finished the game having allowed two hits and four hurries from 42 snaps in pass protection." Gordon McGuinness looks at Lions-Jaguars.
Tennessee Titans

Jake Locker
got good news
from his most recent MRI and could return to action Sunday in Miami, says Jim Wyatt of The Tennessean. Mike Munchak said on his weekly radio show that Locker and Matt Hasselbeck will split reps early in the week as they assess Locker's progress.
A recent history of Bud Adams'
calling out the Titans
and how the team has responded, from Wyatt.
Adams
deserves his share of blame
too, says David Clime of The Tennessean. "Bud says the Titans were outcoached. OK, who hired the coach? Bud says the Titans were outplayed. OK, who hired the front office personnel who acquired the players?"
In the past two weeks Akeem Ayers has recorded seven pressures (two sacks, two hits, three hurries) on only 13 pass rushes. "The Titans need to
find ways
to get Ayers more involved in the pass rush to give them an extra weapon attacking the QB, and remove a weakness from their pass coverage." Ben Stockwell of Pro Football Focus looks at Dolphins-Colts.
August, 31, 2012
8/31/12
8:33
PM ET
Click
here
for the complete list of
Indianapolis Colts
' roster moves.

Most significant move:
I didn't expect they were doing anything with
Dwight Freeney
, but his $19 million salary had stirred up a new round of rumors that the Colts could let him go. He's on the team, and there were no real cuts of note aside from the team's most senior player, long-snapper
Justin Snow
. It's not as if they were so deep there was no room, but the Colts held on to several players who weren't drafted -- tight end
Dominique Jones
, offensive tackle
Ty Nsekhe
, linebackers
Mario Addison
and
Mario Harvey
and long-snapper
Matt Overton
.
Onward and upward:
The Colts kept both
Drew Stanton
and rookie
Chandler Harnish
as backups to
Andrew Luck
. I understand that Stanton's been with the Colts through Bruce Arians' installation and there is value in that. But last season showed the value of a decent backup quarterback. If Luck gets hurt and the Colts need an alternative, I suspect there are some guys who just became available who qualify as more talented. General manager Ryan Grigson should have insight into one of them,
Mike Kafka
, who was released by Philadelphia. Grigson was hired by the Colts from the Eagles personnel department.
What's next:
Every player who is not a vested veteran is subject to waivers. And as the worst team in the NFL last season, the Colts still retain the first pick in the waiver order. That means they will get anyone they claim, so long as the claim comes with a corresponding roster move. That means guys who are feeling good tonight might still be in position to turn in their playbooks Saturday, or in the days to follow. Grigson could do a lot of work to upgrade the last five spots on his roster. Or more. I'd expect some turnover on the offensive line, in the secondary and perhaps at linebacker and quarterback.