AFC South:

Matt Williamson
May, 27, 2010
5/27/10
4:03
PM ET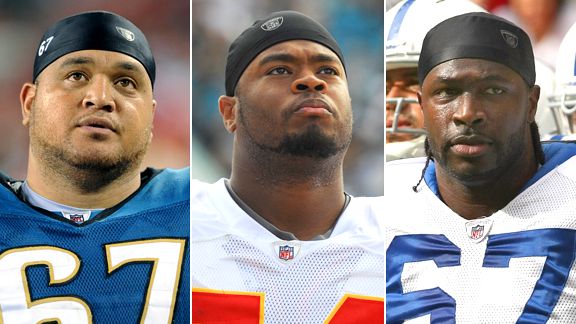 Getty ImagesVeteran offensive linemen Vince Manuwai, Wade Smith and Tony Ugoh are expected to take on different roles or positions this season.
Be it running up the middle or stifling pass-rushers coming that way, the AFC South's looking for change on interior offensive lines heading toward the 2010 season.
The
Tennessee Titans
, who blocked for just the sixth 2,000-yard rusher in league history, have made an alteration. The
Indianapolis Colts
, the defending AFC champs who allowed a league-low 13 sacks, are auditioning interior candidates. The
Houston Texans
and
Jacksonville Jaguars
both identified the interior line as an area in need of improvement, too.
Yet of 32 draft picks by the four teams, just two were used on offensive linemen -- a fourth-rounder by the Colts for guard
Jacques McClendon
and a sixth-rounder by the Texans for guard
Shelley Smith
. And only three veteran additions seem like they can influence the mixes --
Justin Smiley
in Jacksonville,
Wade Smith
in Houston and
Andy Alleman
in Indianapolis.
Said Matt Williamson of Scouts Inc.: "Didn't
anyone
in this division address the interior offensive line during the draft with any pick of substance? That seems odd."
So here's a team-by-team look at what's going on inside, with some thoughts from Williamson:
Jacksonville
The Jaguars appear willing to have true competitions to hash things out.
Last year's interior trio of left guard
Vince Manuwai
, center
Brad Meester
and right guard
Uche Nwaneri
is back. But the team is willing to shuffle, and at least two others are in play now as well -- Smiley, a guard acquired recently from Miami in a trade for an undisclosed draft pick believed to be a conditional seventh, and
Kynan Forney
, a backup guard last year.
At minicamp the weekend following the draft, Jags head coach Jack Del Rio and offensive line coach Andy Heck had flipped Manuwai to the right side, figuring he and right tackle
Eben Britton
are the team's best run-blockers. With the aid of tight end
Marcedes Lewis
and fullback
Greg Jones
, the Jaguars could send
Maurice Jones-Drew
that direction and dare people to stop it.
But at organized team activities (OTAs) this week, Manuwai wasn't working with the starters and Del Rio was talking about how the torn ACL the guard suffered back in the season opener of 2008 was still a factor for him.
"I think he's still a little bothered by that but at some point you've got to get beyond that and go and he knows that," Del Rio said. "I think Vinny still has a ways to go. I think Vinny's working at it. He's got his weight down. He's trying but he needs to play better. I think he knows that. He's working hard it and trying …
"We clearly [come] out of last year saying, 'Look, we've got to have better play with our line, period,' and our two young tackles [
Eugene Monroe
and Britton] we know are going to grow and get better but our interior line needs to pick it up as well. And they are working at it and they are challenging and competing and we expect them to play at a much higher level for us."
I honestly think it's wide open, but I'd be very surprised if Manuwai, who can be a very effective run-blocker, isn't in the starting lineup for the opener against Denver.
Williamson says:
"Adding Smiley could pay dividends, as this offensive line (especially on the interior) really was a problem area last year. Their protection up the gut was really poor. While I have some real doubts any more about Meester, I do like Manuwai quite a bit and expect more from him this year."
Houston
The Texans' run troubles were in large part because of their backs. But they lost guards
Chester Pitts
and
Mike Brisiel
early and it's a tough order for any team to replace 40 percent of its line and keep plugging.
Steve Slaton
had a miserable year as he tried to deal with a neck injury, couldn't hold onto the ball and wound up on injured reserve.
Pitts is a free agent who won't be back and Brisiel has been working as a backup so far in OTAs. The team's lined up with
Kasey Studdard
at left guard,
Chris Myers
and at center and
Antoine Caldwell
at right guard. But Smith's been rotated in some early at center.
With offensive line guru Alex Gibbs gone, the team will still be using his principles. But the three remaining coaches who oversee the position -- John Benton, Frank Pollack and Bruce Matthews -- may have fresher eyes and a willingness to shuffle. And odds are it's second-round pick
Ben Tate
getting many of the carries behind that line.
We should see some real competition for all three slots. I've repeatedly hear good things about Myers. And because Caldwell was a third-rounder, I expect the team would probably like to see him stake a claim.
Gary Kubiak said Studdard and Caldwell have earned the right to say they are starters "right now."
"We are as competitive in there as we've ever been as a team," Kubiak said. "It's going to be hard to hold a job, and it's going to be very competitive to get one. So that makes the team better."
Williamson says:
"I thought Myers played real well and he is an excellent fit in this system. Their interior offensive line is loaded with no-name guys, but overall they are well coached and effective enough. Still, an upgrade at one of the starting guard spots would have been a real nice addition. … Smith is an ideal sixth guy, but not a liability as a starter."
Indianapolis
The Colts paid him a bonus, but still cut
Ryan Lilja
who seemed pretty effective to me at left guard last season. Team officials have worked hard to deflect the idea the Colts made the move because they want to be bigger on the line. But it's a sensible time for a change with Pete Metzelaars taking over for Howard Mudd as line coach and the team looking to be more effective in clutch third-and-short situations and the like.
Tony Ugoh
, who lost out at left tackle, has worked at left guard in recent offseason practice sessions.
Jeff Saturday
is entrenched as
Peyton Manning
's guy at center.
Kyle DeVan
is the incumbent right guard, who came out of nowhere last season.
Presuming no other tackles are shifted inside and that left tackle remains
Charlie Johnson
's job, Ugoh and DeVan face their competition from Alleman, McClendon and 2008 second-rounder
Mike Pollak
.
Bill Polian has talked about throwing everybody out there and seeing what happens. With a new position coach, the fight for roles may not start with any true favorites. While they have to continue to favor pass blocking above all else, I do think it's in their best interest to be a bit more determined to be able to call for and execute runs in key situations with more success.
Williamson says:
"Saturday is obviously the leader and his symbiotic relationship with Peyton carries a ton of weight. He is smart and very technically sound. I do think his game is falling off ever so slightly though. I was shocked that they let Lilja go and thought he was far and away their best guard. Now, they really need to count on youngsters and those youngsters still have a lot to prove."
Tennessee
[+] Enlarge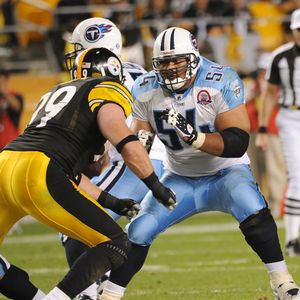 George Gojkovich/Getty ImagesEugene Amano will be taking over at center for Kevin Mawae.
The Titans had the least concern here as they considered their roster, but with
Kevin Mawae
getting older and
Leroy Harris
on the bench and ready to play, they decided to go with youth and size. So last year's left guard,
Eugene Amano,
is replacing Mawae at center, with Harris taking over at left guard.
Tennessee loses leadership and experience in the equation, but gains significant strength. Harris is very much an interior guy, but he's athletic and smart enough that he played effectively at right tackle in a win at San Francisco last season.
A Hall of Famer as a player, line coach Mike Munchak knows when a guy is ready, and he's fully endorsed this plan or the Titans wouldn't be going with it. Whether
Chris Johnson
or someone like
LeGarrette Blount
is running up the middle, I think they'll find a bit more daylight. And
Vince Young
should feel less inside rush closing in on him.
Williamson says:
"You have to wonder how much Mawae will be missed. It isn't that he played great -- and clearly he isn't what he once was -- but just from the standpoint of making the calls and especially from a leadership perspective. So, this interior line is in transition. Right guard
Jake Scott
probably hasn't quite lived up to what Tennessee was expecting to get from him when they signed him in free agency, but he is a quality starting guard. I think Harris has a good amount of ability and could surprise with more playing time."
March, 25, 2010
3/25/10
2:16
PM ET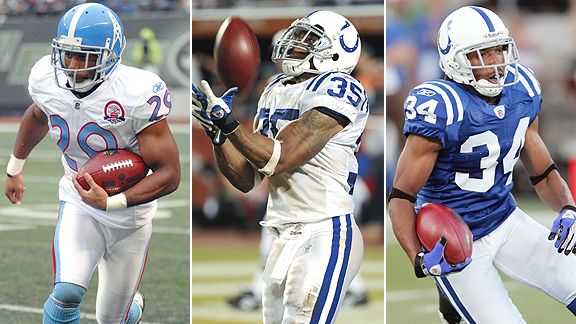 Icon SMIAFC South return men Ryan Mouton of the Titans and Chad Simpson and TJ Rushing of the Colts failed to get their teams the yards they needed.
The Titans' 2009 search for a returner was a failure. In recent years, the Colts haven't shown a lot of interest in finding a dynamic one.
Universal thinking is each team can solve the issue in the upcoming draft, though it would take a change in Indianapolis' approach for the Colts to focus on it.
So what does it take to unearth a quality return man?
I set out this week to address this from several angles, and I'm going to let some smart people with informative takes carry the day.
So without further ado…
Baltimore Ravens coach John Harbaugh
has a big background in special teams.
What's he want to see out of a prospective returner?

"Punt and kickoff return are completely different. In punt return, the bottom line is he's got to be a natural catcher. So catching a punt is a unique thing. If they can't catch, you can forget about it. Kick return is a little easier to catch, but some of these guys struggle to catch kicks. To me, a kick returner has to be a north-south runner. He's got to have a burst of acceleration and/or power, and he's got to have vision. It's usually more of a running back-type guy who can read the hole and cut off blocks. Punt return is a guy that can catch the ball naturally, has great body control and he can do two things at once. He's got to be able to catch the ball and feel the pressure around him. Make the guy miss, whether it's make or miss with the body control to slip through there, or be able to change speed and change angles."

Does he need to see a college player do that or can he project it?

"It's a good question. You'd rather see it because then you know. But if you don't see it, you can project it. But you've got to go work the guy out and see if he can catch. So you can take a guy that maybe wasn't a college punt returner, and maybe turn him into a pro punt returner. Maybe you find out that he has been catching punts every day but they didn't put him back there because he was their primary receiver or whatever. It's pretty rare to see a great pro punt returner who wasn't a pretty good college punt returner."

Matt Williamson of Scouts Inc. says he wants to see courage and toughness in a return man:

"It's funny. When looking/reading prospect reports on draft prospects this time of year, many scouts rightfully put something along the lines of, 'Also can contribute as a return man' as part of a young man's scouting report. That is all well and good, but like kickers and punters, is he one of the best 32 (or so) at this skill in the world? It is not for the faint of heart and while speed, elusiveness and vision are all paramount for either punt or kickoff returns, I think guts/fearlessness/toughness is maybe the most important. If you are going to keep a pure returner, he had better be outstanding-by NFL standards. Otherwise, he has to do something else. Be the fourth cornerback or wide receiver or be a core special teams player on coverage teams."

Keith Hawkins of ESPN Stats & Information took a look at some of the best returners in league history and some of the most productive guys in recent history to see if there were any commonalities:

"The one 'similarity' of the best returner historically (Brian Mitchell) and the best return man in 2009 (Joshua Cribbs) is that they were both college QBs.

"The other common denominator is that of the players below, only three were defensive backs in college: Darrien Gordon, Devin Hester, Deion Sanders.

"Another common denominator (with the exception of the 6-foot-1 Cribbs) is that they are all under six feet tall."
Finally,
Kevin Weidl of Scouts Inc
. was kind enough to run through the best return prospects in the draft:
Return Specialists

These guys will either be drafted or signed as free agents strictly for their return skills. Due to lack of size, they will need a creative offensive coordinator to contribute offensively at the next level.

Brandon Banks, Kansas State (5-7, 159) -- Banks is the top pure returner in this years' class. He possesses a nice combination of vision, quickness, speed and elusiveness to consistently set offenses up with favorable field position.

Brandon James, Florida (5-6, 176) -- James possesses great vision to locate and the short-area burst to quickly get through first line of defense. He also displays a quick stop and start and is very reliable tracking and fielding punts. Questionable overall long speed to outrun defenders when they have favorable angle in pursuit.

Trindon Holliday, LSU (5-5, 172) -- World-class track speed, and has the ability to exploit even the slimmest of creases. He is shifty but lacks elite elusiveness to make defenders miss in confined areas.

Other prospects that bring added value as returners (sorted by position);

Running backs

C.J. Spiller, Clemson -- The most dynamic and versatile offensive weapon in this year's class. Explosive short-area burst and elite top-end and long speed give him ability to rip off a big gain at any point in both phases of the return game.

Dexter McCluster, Ole Miss -- McCluster is pint sized (5-8) but shows great versatility and quickness to contribute as a change-of-pace back and wide receiver at the next level. Elite open-field capabilities make him dangerous as a punt returner.

Other RBs with returning experience: Joe McKnight, USC; Ben Tate, Auburn; Andre Dixon, UConn

Cornerbacks

Javier Arenas, Alabama -- Instinctive and tough football player who should step in and contribute immediately as a sub-package nickel back. Despite lack of elite top-end speed, Arenas is one of the more effective returners in this year's class. I love his vision, balance and quick stop and start as a returner.

Kyle Wilson, Boise State -- Physical press corner who shows great anticipation and ball skills out on an island. Wilson brings added value as a reliable punt returner with good speed and open-field capabilities.

Devin McCourty, Rutgers -- Not many holes in McCourty as a cornerback. Easy change of direction, strong overall ball skills, plays bigger than size indicates and not afraid to get jersey dirty in run support. McCourty is one of the most versatile special teams prospect in this year's class, an effective kick returner and outstanding gunner with punt coverage.

Akwasi Owusu-Ansah, IUP -- Possesses a nice combination of size, speed and ball skills teams covet as either a press corner or free safety at the next level. Owusu-Ansahis a strong open-field runner who has experience as both a kickoff and punt returner.

Other cornerbacks with returning experience: Perrish Cox, Oklahoma State; Syd'Quan Thompson, Cal; Walter Thurmond, Oregon; Dennis Rogan, Tennessee

Wide receivers

Golden Tate, Notre Dame -- Aggressive, savvy and sure-handed and should develop into at least a strong No. 3 WR at the next level. Reliable punt returner with good vision, balance and deceiving top-end speed.

Damian Williams, USC -- Smooth athlete and one of the most polished route runners in this year's receiver class. Despite lack of top-end speed, Williams will consistently field punts cleanly and has enough elusiveness to pick up positive yardage.

Mardy Gilyard, Cincinnati -- Instinctive and passionate playmaker on the field who should develop into a solid No. 3 WR. By no means a burner, but a difference-maker as a returner in both phases as he shows elite body control and never slows down out of cuts.

Jacoby Ford, Clemson -- World class track speed and should be a nice vertical threat at the next level. Elite top-end speed gives him ability to hit the home run at any point as both a kick and punt returner.

Antonio Brown, Central Michigan -- Quicker than fast, and should contribute working out of the slot at the next level. Brown brings added value as both a kick and punt returner with his open field capabilities and overall elusiveness.

Other receivers with returning experience: Jordan Shipley, Texas; Emmanuel Sanders, SMU; Andre Roberts, Citadel; David Reed, Utah

And a bonus
link
to a Pro Football Weekly story on the best special teamers in the draft, including three return specialists.
Final thoughts from me having taken all this in: Things always get twisted up with return guys. If the Colts or Titans draft a guy they intend to be a contributor as a cornerback or running back or receiver, there is a point at which they won't want to overload them with the extra job or expose them to injury on special teams. How long would we see Spiller or Wilson or McCourty or Tate be a special teamer? First-round receiver
Kenny Britt
returned kicks for the Titans late last season, but the team can't want him there much longer.
So I'd like to see both teams commit a pick to a return specialist, dedicating a roster spot to him.
Consistent fielding of punts and kicks was an issue for the Titans last year, and it's time for the team to actually have bigger expectations for its returner than an ability to fair catch.
Ryan Mouton
couldn't even do that reliably when things were at their worst.
The Colts have always seemed to figure they'd simply get the yards the return game doesn't provide from
Peyton Manning
and the offense. Their issues on special teams extend beyond the returners -- primarily
T.J. Rushing
on punts and
Chad Simpson
on kicks in 2009 -- and their blocking, and got magnified in the Super Bowl loss to New Orleans. But with offensive line and depth at corner and linebacker as the major needs in a draft where the Colts have eight picks, it appears a good time to try to add a dynamic piece.
March, 1, 2010
3/01/10
4:17
PM ET
LaDainian Tomlinson
and
Brian Westbrook
were quick nos for me when I lined them up with the Texans.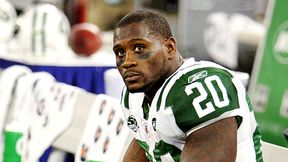 Jerome Davis/Icon SMIRecently-released running back Thomas Jones could be a good fit for the Texans.
Tomlinson's simply
worn down
and Westbrook's injury-prone and more of a dual threat than the goal-line short yardage banger the Texans covet.
But
Thomas Jones
I'm not so sure about.
Yes, everyone is wary of a back over 30 and Jones will be 31 in August. But the guy
about to be released
by the Jets is a sculpted. He's coming off a season with the most carries of his career, averaging 4.2 yards a carry, the third best number of his 10-year career. In 148 NFL games over 10 years, he's averaged 17.4 touches on offense, a significantly smaller number than LT's 24.2.
"I like him more than Westbrook and a lot more than LT, for anyone," Matt Williamson of Scouts Inc. told me. "Yes, he still has juice left and would be best in a tandem with a dynamic type (like a healthy Slaton). He isn't flashy, but he has a very professional approach to playing the position. He runs hard and doesn't make many bad decisions. It is a different scheme that what he ran in New York, but I do think Jones could be successful against unstacked boxes in Houston. Would say he is an above average goal line runner."
Ahman Green
was a failed attempt at getting a veteran running back for Houston, but they were looking for a primary back then.
Chris Brown
was a failed attempt as getting a veteran complimentary back, but he was cheap and miscast.
Jones could be a different deal if the price is right.
I believe the Texans would like to draft a back.
But after letting
Dunta Robinson
walk, their need list is pretty lengthy: corner back, running back, interior offensive lineman, interior defensive lineman, free safety. Go into the draft with five needs, the odds of filling them all sufficiently with first-year players seems slim.
So I'd say they need to fill one or two of them in free agency -- by landing an unrestricted or by luring away a restricted with an offer sheet or through a trade.
Given that, they have to seriously examine Jones, especially if no one else pounces on him when free agency opens Friday.
"He's a beast," says Tim Graham, my sworn enemy who works this job on the AFC East. "Known for being a freak in terms of his physique. He will be a good complementary back anywhere he doesn't have to shoulder the whole load. Not just goal line, either. He broke some long runs this past season."
February, 25, 2010
2/25/10
4:41
PM ET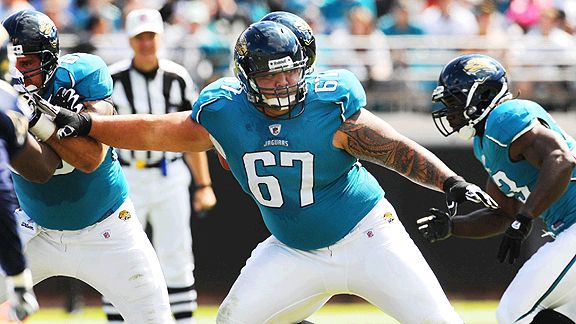 Al Messerschmidt/Getty ImagesIf the Jaguars' offense is to become more balanced next season, Vince Manuwai and the offensive line have to be better pass-protectors for quarterback David Garrard.
The most unbalanced offensive line in the AFC South belongs to the
Indianapolis Colts
.
But it's a group whose superiority in pass protection fits with the AFC champion's design, which is first and foremost "do no harm to
Peyton Manning
."
Following similar logic, Jacksonville's offensive line could understandably be very good run-blockers and below average pass-protectors, considering that
Maurice Jones-Drew
is the Jaguars' centerpiece.
But as the Jaguars broke in two rookie tackles in 2009, the melding of the group wasn't always smooth and the line's play sometimes felt disjointed.
Yes, Jones-Drew had an excellent season with 1,391 rushing yards and 16 total touchdowns. But the Jaguars still had six games in which their run game averaged less than the league average of 4.2 yards per carry. And
David Garrard
was sacked 42 times, more than any quarterback in the league besides
Aaron Rodgers
,
Ben Roethlisberger
,
Jason Campbell
and
Matt Cassel
.
For a team that craves a physical identity, it wasn't good enough.
Offensive line coach Andy Heck has installed his offseason theme, and it's "finishing."
[+] Enlarge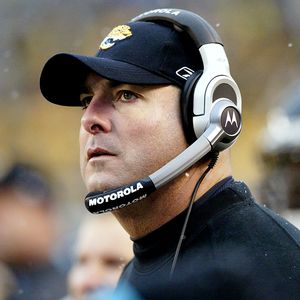 George Gojkovich/Getty ImagesOffensive line coach Andy Heck wants his players to improve on finishing their blocks.
"All the guys in our line are tough guys. I think we can all work to finish better," Heck told me this week. "Play to the whistle. Our run game is something we've taken a lot of pride in down here, and while our blocking has been good, we can't just assume because it's been good it's going to continue to be good."
And the pass protection must be significantly better.
All offensive linemen would like to be equally good in both departments. Heck estimated 70 to 80 percent of starting linemen in the league can say they are, with young players or players in an offense that overemphasizes the run or pass accounting for the others who are not as balanced.
His left guard,
Vince Manuwai
, said he thinks 70 percent of NFL linemen are better run-blockers than pass-protectors.
At Farrington (Hawaii) High School, Manuwai was in a run-heavy scheme. At the University of Hawaii, he was part of a pass-happy team. So he felt like he came into the league well-versed in both and ready to be versatile. He still rates himself as a better run-blocker.
"Run blocking is a lot easier," he said. "With run blocking, a lot of the time you just have to move the guy maybe a couple inches, a couple feet and if you have a good running back, he makes you look good. You can miss a block and a lot of times he will break arm tackles from the guy you're blocking. Pass blocking is a lot tougher. …You've got to be so patient, you've got to be prepared for so many moves. You can't really be aggressive trying to dominate on the line. Run block, you can be aggressive and go full speed and come out looking good."
Manuwai said the finishing theme is often a matter of "football awareness," starting with quicker adjustments as things unfold.
Said Heck: "Being a good pass-blocker you've got to have some God-given talents, some agility, some foot quickness and athleticism. To be a good run-blocker, it's good to have all those things, but really all you need is the right mindset. And to be a really good run-blocker, you need strength and leverage and all that. But you can be a decent run-blocker if you've got the right mindset, in other words the drive to finish."
For the Jaguars to make a jump next season, they need to keep Garrard far cleaner. Coach Jack Del Rio talked about how the team needs to be good around Garrard for him to be good. That starts with him having better protection more often.
The one change could come at center, where 32-year old
Brad Meester
slipped and the team can use a talent upgrade at the cost of leadership and experience.
Here is our look at Jacksonville's starting five. Heck, Scouts Inc.'s Matt Williamson and
ProFootballFocus.com
, a site that grades a player on a scale of minus-2 to plus-2 on every play and offers totals based on his cumulative play over the season, provide assessments.

Monroe
Left tackle Eugene Monroe
Heck:
"I see him doing some things athletically and in terms of balance that few people in this world can do. He had unbelievable God-given talent to be a great pass-protector. Things that will help him as a young player will be more awareness of defenses and situations, which comes with experience. Especially as a tackle it's a process. In pass protection, he's off to a great start. In run blocking, I know that's an area he's looking to improve, and I think I can help him with some leverage things and always working to finish."
Williamson:
Far better run-blocker.
ProFootballFocus.com:
Minus-12.4 in pass blocking, plus 7.1 in run blocking.

Manuwai
Left guard Vince Manuwai
Heck:
"This year he came off a knee injury. Just before his injury, I think it would have been hard to find many guards who run blocked as well as he did. He's got so much leverage and strength. I look forward to getting a healthy Vince back, not that he wasn't healthy last year, but he was working his way back. I think he can be a dominant run-blocker. Vince can be a very capable pass-protector. He's got one of the strongest punches that you'll find anywhere."
Williamson:
Better run-blocker.
ProFootballFocus.com:
Minus-3.1 in pass blocking, plus-7.1 in run blocking.

Meester
Center Brad Meester
Heck:
"We got strong veteran leadership from him. I've never been around a player that was more dedicated to his craft than he is. He's really outstanding at communicating and getting us all going in the right direction and is the leader of our group. I'd say Brad is a very well-balanced player. The thing that he has that the young tackles don't have is the benefit of a lot of experience. There is not a lot that he hasn't seen. He's able to sort out difficult looks and play smart football."
Williamson:
Better pass-protector, "but he was a liability in all regards this past season."
ProFootballFocus.com:
Minus-3.0 in pass blocking, minus-13.7 in run blocking.

Nwaneri
Right guard Uche Nwaneri
Heck:
"He's shown some steady improvement in all areas of his game. I think that he can be a very good run-blocker and is athletic enough and smart enough that he can be good as a pass-protector as well. At times he's looked very good at both, and at times you can see where he needs to improve."
Williamson:
Slightly better pass-protector.
ProFootballFocus.com:
Plus-4.0 in pass blocking, minus-2.6 in run blocking.

Britton
Right tackle Eben Britton
Heck:
"He's a guy that's got great heart and desire. He's similar to Eugene as a young player. He's going to look to improve his awareness. Every one of those games from the personnel to the looks he's going to see, all those things will help him kind of sort out some gray areas. I think that will help him in his pass protection as well, an area I think he can improve and will improve."
Williamson:
Far better run-blocker.
ProFootballFocus.com:
Minus-14 in pass blocking, plus-3.0 in run blocking.
February, 22, 2010
2/22/10
5:06
PM ET
With
LaDainian Tomlinson
released by San Diego, I know I'm about to get a lot of notes from Houston asking if I think he'll wind up a Texan.
The Texans are the one team in the AFC South in need of running back help.
They've gone the veteran route in recent history with little success, not that
Ahman Green
or
Chris Brown
had anything close to LT's résumé.
My sense is Houston will look for a young guy to try to divide up the backfield work, pairing him with
Steve Slaton
.
I asked Matt Williamson of Scouts Inc. about LT in Houston, and he told me he's working on a piece on Tomlinson which will be turned in soon.
"I think he is done, I really do," Williamson said. "Including the upcoming draft, I could probably name 50 RBs who are better football players than him right now. But, Houston is slightly interesting for one reason. I think that is a team that is really lacking veteran leadership and he might fit that bill."
I agree on the lacking-in-veteran-leadership thing. Beyond
Andre Johnson
on offense, they could use a big-time presence. But you don't use up your money or your roster spots for presence if it doesn't come with production.
Houston courting LT would surprise me.
January, 7, 2010
1/07/10
4:57
PM ET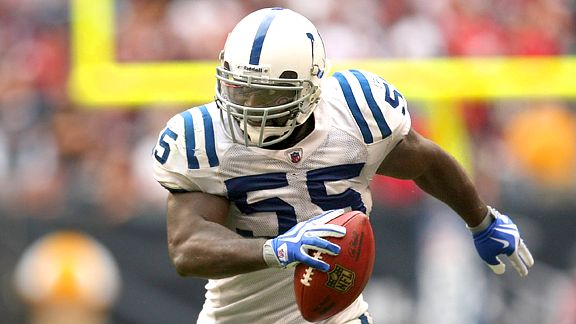 Stephen Dunn/Getty ImagesClint Session emerged this season as one of the Colts' steadiest defenders, racking up 104 tackles, two interceptions and a forced fumble.
It's easy to be anonymous on the Colts' defense.
You've got pass-rushers extraordinaire
Dwight Freeney
and
Robert Mathis
. You've got oft-injured spark-plug strong safety
Bob Sanders
, who played in only two games this year and is on IR.
And to many folks, you've got everyone else.
It's a star-studded team with
Peyton Manning
,
Reggie Wayne
,
Dallas Clark
, Freeney, Mathis,
Jeff Saturday
and the clutch
Adam Vinatieri
, the kicker who's been injured much of the season.
Perhaps that's about the saturation point. And perhaps that's a good thing when it comes to a player such as
Clint Session
, the third-year linebacker in his first season on the weak side.
In many ways, he's a textbook Colt.
Indianapolis drafted him in the fourth round in 2007 out of Pitt and he was a guy that fit their linebacking mold: not especially big, but with the kind of speed to cover ground and run with a top tight end and with the physicality to deliver big pops.
Matt Williamson of Scouts Inc. was assistant recruiting coordinator at Pitt while Session played for the Panthers.
"And I watched him in Miami as a high school player," Williamson said. "Very intense, fast and extremely explosive. He is a perfect fit for Indy's run and hit defense. This year, I think he just adjusted to the speed of the NFL game and with reading his assignment."
Sessions was so productive in the team's road win at Houston and home win over Tennessee that the Colts brought him to the postgame interview podium.
He's hardly a media darling. I wouldn't call him shy. Although he's willing, he strikes me as more interested in doing his work than talking about it.
He ranks third on the Colts with 104 tackles and had two picks, a forced fumble and half a sack this season.
And he's worked well with middle linebacker
Gary Brackett
and strongside 'backers
Tyjuan Hagler
and
Philip Wheeler
, a group that blitzed much more often this season under new defensive coordinator Larry Coyer.
His production was peaking as the regular season slowed for Indianapolis. In the five games before the Colts shut things down in the third quarter of the Week 16 game against the Jets, he had four games with double digit tackles and 57 tackles total.
An AFC personnel man I spoke to this week praised Session as a pass-rusher and coverage defender.
"I thought he really came on. He's a heck of a young player," the personnel man said. "He's got good instincts. He's physical. He's a good blitzer, he times his blitzes out. He's a short, compact guy.
"He and Brackett, you can barely see the guys they are so short and compact and quick and explosive. I think that tandem has really solidified their linebacking corps. He's done a really good job for them."
The Colts don't play again until a week from Saturday night. If Session does in the playoffs what he did during the regular season, more recognition will come. The Colts' roll call of stars could have no choice but to grow by one.
December, 3, 2009
12/03/09
2:08
PM ET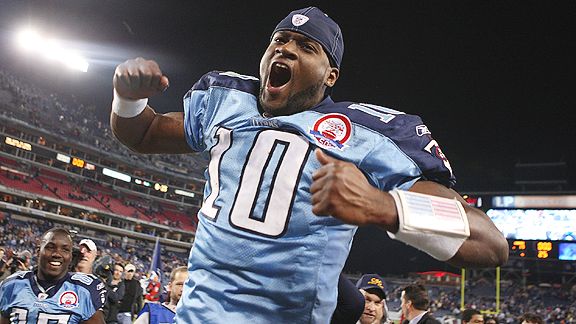 Streeter Lecka/Getty ImagesThrough five games as a starter this season, Vince Young has played like the quarterback the Titans thought they were drafting in 2006.
NASHVILLE, Tenn. -- Three days after what
could be a career-defining win
and what qualified as a reputation-restoring drive,
Vince Young
found himself surrounded by a bigger crowd than usual Wednesday after practice.
The Titans' quarterback still doesn't understand some of the questions about how things have changed for him, but he's gotten very good at talking about how he likes his fans and critics all the same, and I believe he means it.
It's a lot easier, of course, for him to like the critics -- and it's no secret
I've been one
-- when you're doing so much to quiet them down.
This Vince Young has shown he can stand in the pocket and throw with touch just as easily as he can take off and run for a first down. He has shown a willingness to study. He has shown an ability to let go of the bad and move on. He has shown a confidence that had disappeared when he lost his job at the start of the 2008 season.
He has shown a lot, but he's not finished yet and he knows it. A five-game sampling has been great, but the competition hasn't been tremendous, the supporting cast has played very well and he knows people want more. Heck, he wants more too.
"I'm still working, still working, still working," he said. "This is my fourth year. I've got a long way to go."
Halfway through Young's 10-game season, he's certainly on track to make Jeff Fisher's longstanding coachspeak about being the quarterback of the future turn true.
Let's check in on where he stands in several areas that were issues for him while he was benched and forced to serve an apprenticeship while
Kerry Collins
started 22 games.
October, 26, 2009
10/26/09
9:33
AM ET
Posted by ESPN.com's Paul Kuharsky
For those of you who didn't notice I was gone, please skip this post. Rather than have my feelings hurt, I took it as a compliment about my ownership of this page. I couldn't help but see some of your comments on
my Facebook
status reports generated by posts others did in my absence and some reaction to
my Twitter feed
.
For those of you who did notice, I appreciate your understanding as I hit pause to get a new family member settled in at Chez Kuharsky.
A quick thanks to bosses John Banks and Sheldon Spencer for allowing me to save and use vacation in-season, to Matt Williamson of Scouts Inc. who spent 10 days doing a lot more monitoring of the AFC South than usual and to the team of blog editors -- Matt Lee, Jon Hudec, Brett Longdin, Emily Schaible and Steve Fox -- who also did extra work on my behalf.
I don't expect I will be able to catch up on
my mailbag
, so please hit me with fresh stuff starting now and we will go from there.
OK, we dive right back in. Here comes a "Reading the Coverage" installment.
June, 1, 2009
6/01/09
3:27
PM ET
Posted by ESPN.com's Paul Kuharsky
Many of you saw our initial power rankings of 2009 and wrote me asking for an explanation of Matt Williamson of Scouts Inc. placing the Titans at No. 17.
I touched on it Saturday in a mailbag, and have since swapped e-mails with Matt.
So here's his rationale:
Two factors for me against the Titans...their passing game (especially Kerry Collins actually) and the loss of Albert Haynesworth.

I don't know if Haynesworth is going to be a huge success in Washington, but I am sure that he will be drastically missed in Tennessee. I do like their young D-Linemen and I am not taking anything away from the guys who will see action, but no one is like Haynesworth during the past two seasons. He just demands so much attention, is incredibly disruptive in both the run and pass game and makes the other 10 defensive players' job much easier.

So, in turn, I expect the defense to drop off a bit. The running game should be as good as ever and I am a big believer in Chris Johnson and the offensive line, but can they win close, low-scoring games still? Can they grind out victories? I am unsure.

More than ever, defenses are going to make Collins throw -- and that is what worries me. I do think that his group of pass-catchers will be better and there certainly is more potential in that department than in recent seasons. But Collins worries me. This is a guy who has turned the ball over quite a bit over his career and while that wasn't the case last season, if/when he reverts back to his old ways -- this isn't the type of team that can overcome such mistakes. He is going to have to throw more than a dozen touchdowns this year. Maybe I am wrong on Collins and he finally turned the corner in his advanced career, but remember what everyone thought of Collins just one year ago? He was just a guy -- he still might be. I just can't say that I trust him and I don't see the ability to put his team on his shoulders.

Also, the Titans are not going to sneak up on anyone this year and now play a first-place schedule including a brutal opening game in Pittsburgh. Out of the division, Tennessee also plays San Diego and the AFC East, which is no easy chore. Plus, I see Houston and Jacksonville being better teams this year than last.
May, 30, 2009
5/30/09
5:55
PM ET
Posted by ESPN.com's Paul Kuharsky
You write. I reply. A simple process. You may have to deal with my shortcomings here, but you won't get more personal service when it comes to mailbag replies. I try to reply to everything I get, either here, with an e-mail, or both.
Howitzer36 from Nashville writes: Whattup "Kuh?!" Just read your article about Madden NFL 10. Now I haven't bought a Madden game since the Eddie George cover, but when you say there was "nada" for running backs or defense from the AFC South are you saying AFC South teams are not worthy or you don't have that info yet? Hopefully it's the latter. Keep up the good work by the way!
Paul Kuharsky: I'm saying in the top-10 lists of their running backs and defenses they didn't include anyone from the division. They use some complex formula that gives a guy his skills in their game. AFC East gamesman (read: geek) Tim Graham told me he doesn't believe playing time factors in, so I'm confused as to how Maurice Jones-Drew, Chris Johnson and Steve Slaton aren't on there.
---
Nate in Indy writes: You know, it's really interesting the way this "lack of communication" thing is unfolding with Peyton Manning and the Colts. We all know he is (arguably) the best QB in the game right now. And sure, it may puzzle many to hear that he's been kept out of the loop on the whole Moore and Mudd retirement thing. But honestly, I can't imagine Tom Brady complaining openly about anything with Bill Belichik, and the reason is that Brady is a player, and Belichik is his boss, and can call the shots with or without Brady in the know (whether or not he would is a different question). Polian, Caldwell, and Manning better iron out exactly what Manning's role is in the organization. One would think that if Peyton really wanted to know, he could just speed dial Polian to ask. But then again, maybe Polian intentionally operates at a distance from even his best player.
Paul Kuharsky: Different strokes for different folks.
I think it's completely understandable that, when Manning felt like he wasn't getting as much accomplished in organized team activities (OTA) sessions because of the missing coaches and some new guys, he got frustrated. And I will never, ever hit a guy for being candid. I spend a good share of my life asking players and coaches to be forthright. I generally applaud them when they are.
Polian does not operate at a distance from Manning. The two talk regularly -- I've seen them huddled up in the locker room immediately after games, even. I think Polian explained the current situation pretty well in a recent radio appearance I linked to here.
---
Josh in Nashville writes: Any chance at all the Titans hire Rod Smith as assistant WR coach? His track record with Brandon Marshall and Eddie Royal has been pretty good.