AFC South:

Maurcie Jones-Drew
January, 17, 2013
1/17/13
12:26
PM ET
When new GM David Caldwell decided not to retain Mike Mularkey and set off on a search for a head coach, he spoke of looking for a co-builder of the
Jacksonville Jaguars
.
Caldwell's guy is hired, and Gus Bradley will be introduced Friday.
Now the two will embark on the toughest job in the league: roster-building for a team that doesn't have much talent.
[+] Enlarge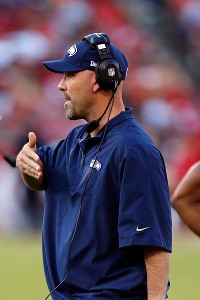 AP Photo/Paul SpinelliNew coach Gus Bradley inherits a roster with a dearth of playmakers and an upgrade needed at quarterback.
The Jaguars were technically the second-worst team in the league in 2012. They and the
Kansas City Chiefs
were 2-14, but Kansas City played an easier schedule and thereby qualified for the No. 1 pick in the draft.
Caldwell and Bradley will be looking to add a blue-chip player at No. 2, a building block.
The list of guys under contract whom I consider pieces they can fill in around isn't very long:
On offense: Receivers Cecil Shorts and Justin Blackmon, left tackle Eugene Monroe, tight end Marcedes Lewis (though he's overpriced), running back Maurice Jones-Drew (who could be dealt with one year remaining on his deal).

On defense: Ends Jeremy Mincey and Jason Babin, middle linebacker Paul Posluszny, safeties Dwight Lowery and Dawan Landry.
That's not a lot, and we don't know whether all those guys fit what Caldwell and Bradley will want to do systematically.
While a lot of teams have turned things around quickly, the Jaguars need a major infusion of talent. A quality free-agency class and a good draft can do a lot to help the team make a jump. But this roster needs major revamping, and it'll take more than a year to turn the Jaguars into a playoff-caliber team.
The one element that can accelerate a turnaround -- a big-time quarterback -- does not appear to be available. The Colts went from 2-14 to 11-5 with a new regime, but the central player in the turnaround was No. 1 pick
Andrew Luck
. There is no Luck to be brought in here.
Blaine Gabbert
and
Chad Henne
are under contract.
Perhaps the Jaguars find a quarterback who's a revelation like third-rounder
Russell Wilson
in Seattle, where Bradley comes from. Perhaps they deal for
Matt Flynn
(also in Seattle) or
Alex Smith
(San Francisco), and the new veteran is a big upgrade.
But the odds on either scenario are long.
More likely the leadership duo look to build all other areas of the roster while waiting for a chance at a quarterback in a year or two. Caldwell's contract is for five years. We don't know the length of Bradley's deal yet.
But their co-build is very likely going to take time.
June, 20, 2012
6/20/12
12:23
PM ET
Eighty-seven running backs in NFL history have gained at least 5,000 ground yards and at least 7,500 yards from scrimmage.
Chase Stuart at the Football Perspective blog crunched the numbers to come up with a
weighted average winning percentage
, and Mike Sando over at NFC West headquarters
wrote about
how
Steven Jackson
of the Rams has the worst at .292.
The next-worst active back?
Maurice Jones-Drew
at .444, which is 76th overall.
Though he'd dispute it, I love Jones-Drew and think he's an incredibly valuable back. But the fact of the matter is, the 2011 Jaguars could have lost 11 games without him. Even a great running back who has carried an offense, as Jones-Drew has been doing for the Jaguars, can't carry a team. Once upon a time he could. Today's league doesn't allow for it.
It's a passing game. You have to be able to throw it and to stop people from throwing it. And if you can't do both of those things, or at least one of those things really well, it'll be very difficult to produce results and playoff runs.
These are some of the realities the Jaguars are facing as Jones-Drew stays away from the team with two years remaining on his current deal, wanting to tear it up and get another one.
He's the face of the franchise and in many ways he's the team's best player. He's rugged and determined. He plays hard. He has leadership qualities. He sets a standard for taking care of your job.
And there is great value in all of that, and in leading the league in rushing as he did last season.
But on the financial scales, it's not worth as much as it has been in the past and it's not worth as much as
Chris Johnson
got. It might be worth what Jones-Drew wants, though we don't know that number. But in my eyes, he's not so underpaid that he should be offended.
Does he need more help? Sure. And they've worked to get it for him.
Measure his workload against the Jaguars' record, and you get .444. There are a lot of paths you can take to get to .444. There are proven paths you can take to be better than that which don't include a high-priced running back, too.
June, 16, 2012
6/16/12
10:27
AM ET
LX from Chuco, Texas, writes:
You are soooooo defensive about the Texans' org and especially about the lunch-money-victim coaches (Kubes and Phillips). You wrote that "General manager Rick Smith and coach Gary Kubiak crafted and fielded a team that made a major breakthrough last season: the Houston Texans' first trip to the playoffs." ...Well, isn't that what was expected of them last year. The entire division played horrible, Manning's injury exposed the Colts, Arian proved he wasn't a one-hit-wonder, and the Texans' Def improved (because history showed it would in Philips' 1st yr). Kubes and his people show you just enough each year to say that they improved, but they have yet to beat PHI, SD, BAL, or NYJ ever; win at IND (even if Peyton wasn't playing); or sweep the division. Speaking of history,
Matt Schaub
will not finish the season-again, both he and
Kareem Jackson
will hinder late-game comebacks, most of the rookies will be broken by the time the season starts, Phillips' D will struggle, and a guaranteed loss awaits them in Indy (possibly lose the other Colts game because they tend to drop games to rookie QBs).
Paul Kuharsky:
So by your thinking, if a team is expected to win its division and does, it doesn't count as an accomplishment because it only did what was expected?
You and I have different qualifications for being good.
Mine is that you get to and advance in the playoffs.
Houston's defense was better because history shows it would be under Wade Phillips in his first year? So what, it was better. If you're going to say they won it in part because
Peyton Manning
wasn't playing, then are you giving them a pass for all the years they didn't make the playoffs because he WAS playing?
C'mon.
You play the schedule you're given and if you win your division, guess what? You were its best team. The Texans also beat Cincinnati in the playoffs, so guess what? They were also better than at least one playoff team.
And please don't pretend like you know Schaub's health future. He played two straight healthy seasons before a freak injury last year. Any QB who had his leg twisted by
Albert Haynesworth
the way Schaub did was likely suffering that injury.
---
Travelz from Rio de Janeiro writes:
Paul, ... you're joking right??!!??......... MJD is the entire Jags O, plus heart and soul of team!! And, as a Jax fan, I think I am ready to email ESPN and ask them to get you to submit a drug test, if you think Ras Jennings is ready to handle the load solo, and get weak weaky Gabby a nice level of comfort !!!! You have limited tape or stats at pro level to support the Jennings claim at all !!! Injured most of last year, over his head the year prior, thus he has shown that he is feature back.
Paul Kuharsky:
I don't think I said
Rashad Jennings
is an NFL feature back on the level of
Maurice Jones-Drew
. I do think the Jaguars would hand him the ball and be OK with it so long as MJD isn't around. And trust me, when it comes time to start missing paychecks, he'll be back. They all are.
He's not the boss.
Why be mad at the team and not mad at him for not anticipating that the deal he signed just two years ago would be out of sync with running backs in just two seasons? And is being the eighth-best paid back really a crime for one of the league's top five backs? (Please don't reply with he's the best because he led the league in rushing.) Players take their turns -- when you sign, you're at the top. In subsequent years, you fall down the list at your position.
It's called life in the NFL.
Boo hoo.
---
@indydadof3 writes:
How will
Dwight Freeney
and
Robert Mathis
handle the new defensive scheme?
Paul Kuharsky:
Chuck Pagano is a smart guy and he knows those two guys are premier pass-rushers. He's not going to ask them to spend a lot of time doing stuff they aren't good at. They will move around and it will make them less predictable and create some confusion. But I envision an adjustment like the one
Mario Williams
was making last year before he was hurt in Houston. He was surrounded by better players, but had five sacks in five games when he got hurt.
---
Kevin Cunningham from Portland, Ore., writes:
The Texans have four top flight players coming to free agency this summer all at premium positions. Of the four (
Duane Brown
,
Connor Barwin
,
Brian Cushing
, Matt Schaub) which one is the most vital to what the Texans do? I think Brown is one of the best LT in the league, and Barwin is going to cost a ton due to his sack totals and we all know Cushing and Schaub are the leaders on their respective sides of the ball. Can the Texans keep all four?
Paul Kuharsky:
Cushing is under contract for 2013 -- due a base salary of $2.193 million. He'll be in line for a new deal, but he won't be heading for free agency just yet.
---
LX from CHUCO, TX writes again:
A popular phrase around the NFL is "If you have two starting QB, you have no QB"; shouldn't the same apply to Kareem Jackson and the HOU CBs? Joseph, as you pointed out, seems to agree by saying ??They drafted him here in the first-round to be a fulltime corner, not to be a split-time corner." If you draft a player in the first round, he should be held to a higher standard and be expected to hold the position w/o the aid of a tag-team. This arrangement burns-up an extra spot on the ROSTER and SALARY CAP space (common excuses for cuts in HOU).
Jason Babin
showed early promise and was cut,
Dunta Robinson
and Mario Williams were used until they needed a raise, and the defensive CAPTAIN (not a 1st rounder, but just as important)
DeMeco Ryans
was tossed away like a soiled diaper; with such disregard for high-draft-choices (that actually did their job solo), why is Kareem so well liked? Why doesn't HOU spend a high pick on another CB? They drafted RB Tate when
Arian Foster
was emerging and hoard TEs as if prepping for an Apocalypse; why not invest in a caliber CB if available?
Paul Kuharsky:
They aren't burning a roster spot by having a
Jason Allen
or an
Alan Ball
. They need that cornerback depth no matter how well or how much Jackson plays. It's just a matter of how much that third guy plays.
I agree, Jackson should be an every down guy. But if he's not good enough to be an every down guy, then they have to do something else. It's better than leaving him out there when he's not good enough when they have a better alternative.
Jason Babin was ages ago and was terrible in Houston, miscast as a 3-4 OLB. They changed to a 4-3 and back to a 3-4 since then. Robinson wasn't worth what they would have had to pay, and neither was Williams.
And it's time to get over the Ryans trade. He played less than half the snaps last year and didn't do a lot. He didn't fit the system. If you like
J.J. Watt
and
Brooks Reed
, who are great in the 3-4, then you have to accept collateral damage like Ryans.
He did. You can.
Finally, having
Ben Tate
is hardly a bad thing. You seem to be anti-depth. That's a bad stance, because the Texans won the division last year because of their depth.
---
@TitanSizedJason writes:
In two years time, who will be the better LB for the Titans:
Akeem Ayers
or
Zach Brown
?
Paul Kuharsky:
I'm not much for such forecasts, but it's important to note they are very different players. The Titans used to allow for their two outside linebackers to be very similar players. Not these two.
Ayers is a big, strongside guy who should be able to manhandle some tight ends and be an effective rusher. Brown is keyed around his speed and will drop to cover far more than he will go forward to get near the quarterback.
Let's see them both work in Jerry Gray's system before a big comparison. Ayers was limited last year as Gray didn't install a whole lot as a first-year Titans coordinator without offseason work.
***
Thanks to everyone for the questions.
You can send more via the
mailbag
or
Twitter
. Follow me
here
, too.
August, 15, 2011
8/15/11
9:24
AM ET
Reading the coverage ...
Houston Texans
Rookies want to make their
first action
count even if the game doesn't, says John McClain.
Connor Barwin's
second chance
comes at a new position, says Craig Malveaux.
The preseason is
about hope
, says Richard Justice.
The Jets' starters will play the
whole first quarter
, says Jeffrey Martin.
Mario Williams is
answering all the questions
about the shift to linebacker, says Pat Kirwan.
Indianapolis Colts
Jim Caldwell coaches a bad preseason team, and therefore
cautions
against a rush to judgment, says Phil Wilson.
Isn't it time for Curtis Painter to show he can
handle the job
, asks Bob Kravitz.
Additional review
of the Colts' play in St. Louis from Evan Reller.
It doesn't count, but that
doesn't mean
it doesn't matter, says Laura Calaway.
Jacksonville Jaguars
Rashean Mathis knows he
can't be average
, says Tania Ganguli.
Maurice Jones-Drew reports
a pain-free knee
, though he still won't play in the next preseason game, says Vito Stellino.
Cecil Shorts continues to
look good
, says Ganguli.
Blaine Gabbert talks
improvement
, from John Oehser.
Tennessee Titans
The Titans
were encouraged
by Jake Locker, but Matt Hasselbeck is entrenched as the starter, says Jim Wyatt.
Mike Munchak isn't picturing Chris Johnson pouring over
the playbook
, and doesn't think that's a big deal, says John Glennon.
The defense was
penalty-free
against the Vikings, says John Glennon.
January, 14, 2011
1/14/11
11:40
AM ET
A life-sized
Vince Young
to stick on your wall isn't what it used to be. But, the Internet says, neither is a life-sized
Maurice Jones-Drew
. (He's smaller than Young, for sure, but not changing teams anytime soon.)
Inspired by a tweet I saw about a discounted MJD Fathead, I hit the web like I was a 13-year-old AFC South fanatic looking to decorate a large bedroom.
A Young Fathead, initially $89.99, is
now $17.99
.
A Jones-Drew Fathead, initially $89.99, is also
now $17.99
. Perhaps an older uniform has a bearing here; I'm not sure.
I'd be insulted if I was either Young or MJD considering
Shawne Merriman
as a Charger is only down from $119.99 to
$99.99
and one site is still asking
$69.99
(down from $99.99) for a Steelers'
Willie Parker
. Heck,
Joseph Addai
in an LSU uniform is listed at
$99.99
.
But hey, the biggest complaint should be from
Brian Urlacher
, whose Bears host the Seahawks this weekend for a slot in the NFC Championship Game. You can buy him now on eBay for just
$29.74
.
I'd love to do some semi-regular entry on memorabilia, so if you come across anything weird or oddly priced, please
send me word
.
December, 22, 2010
12/22/10
1:47
PM ET
FALLING
1. Jacksonville's execution at a critical time
: Down four points in the third quarter, you can't go for it on fourth-and-1 in your own end and not convert. I didn't like Jack Del Rio's call. But fact is, if
David Garrard
snuck it, there was room, and if
Maurice Jones-Drew
didn't fumble the pitch he had room to convert it too.
2. The Texans' perspective
: Explain it away all they like, but the
Brian Cushing
-
Antonio Smith
on field scuffle looked horrible. It almost matched Bob McNair's weak praise of his team last week for the comeback against the Ravens. Never mind they lost in overtime. McNair shouldn't follow the instructions of his team's fans, but he also can't be that disconnected. And after he shared that enthusiasm about the team's direction, it rewarded him with a dud in Nashville.
3. Don Carey and Sean Considine, Jaguars safeties
: Angles, tackling and reliability have been an issue for the team from the safety position all season. In the Jaguars' biggest game of the year, the two starters were glaringly poor. Gene Smith couldn't fix all the personnel problems at once.
Courtney Greene
may be OK at one spot going forward, but this team needs to add at least two safeties in the offseason.
RISING
[+] Enlarge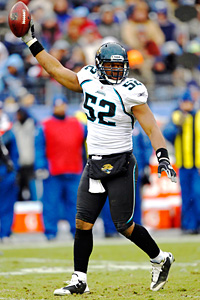 AP Photo/Paul SpinelliJaguars linebacker Daryl Smith is flying under the radar and making plays.
1. Daryl Smith, Jaguars linebacker:
He was all over the place against the Colts, and if it came in a win, I think it may well have been an AFC defensive player of the week worthy performance. Smith's backers have touted him as one of the most underrated players in the league. He was the best linebacker in the AFC South on Sunday.
2. Fernando Velasco, Titans center
: Subbing for
Eugene Amano
, who went on IR last week, Velasco got high praise from Jeff Fisher and was part of the team's best offensive line effort in recent memory. He's a strong guy who seemed ready to perform, just as he did in a spot start for
Leroy Harris
against Dallas. Velasco could be injecting himself into the mix for a front-line spot in 2011.
3. The Colts' run-blocking
:
Donald Brown
was our High Energy Player of the Week Tuesday, but we failed to give enough credit to the guys in front of him. It was a quality game plan which was well-executed and stopped the more powerful Jaguars. Holding up a couple times when the Jaguars needed only a yard was impressive work.
June, 17, 2010
6/17/10
1:56
PM ET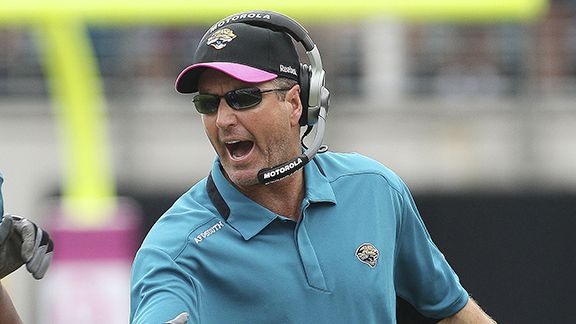 AP Photo/Phil CoaleWith two strong-willed assistants gone, Dirk Koetter may be more assertive but says he still has to tailor things to the strengths of his players.
He's heading into his fourth season. Two strong-willed veteran offensive assistants have departed. His team needs to make a leap with several second-year guys in key roles.
So
Jacksonville Jaguars
offensive coordinator Dirk Koetter, regarded as a creative offensive mind as a head coach at Arizona State and Boise State, is about to show us how clever he is, right?
While the coordinator is aware of the labels he might have carried when he came into the league in 2007, he's even more aware of the realities of the NFL.
"Shoot, when I was a college coach, I was supposedly one of the most innovative college coaches there was," Koetter said. "In the NFL, you're not showing defensive coaches and defensive players something they haven't seen before. So that whole creativity thing -- it's not like you're going to break out the veer and go up to Tennessee and fool Jeff Fisher because he's never seen it before.
"I think the best teams in the NFL are more about execution than they are about creativity."
Koetter said he never felt overshadowed by the departed assistants. He values the time he gets with good coaches and that he learned a lot from Kennedy Pola, who handled running backs, and Mike Tice, who oversaw tight ends. Their replacements, Earnest Byner and Rob Boras, respectively, won't rank as weaker members of the offensive staff.
Koetter feels the Jags have a valuable asset in improving execution: experience.
Last season, he had six rookies on the field at once during the team's 41-0 loss at Seattle .
But now, players like tackles
Eugene Monroe
and
Eben Britton
and receivers like
Mike Thomas
,
Jarett Dillard
and
Tiquan Underwood
and tight end
Zach Miller
all have a better understanding of what they are being asked to do and how the league works.
"Am I saying to Dirk, 'Hey, let's put the pedal down, let's be as good as we can be and be yourself and do things you want to do?'" head coach Jack Del Rio said. "I think he naturally feels a little more free to do that because we had a couple strong coaches, really good coaches, that were here before he got here in Kennedy Pola and Mike Tice and they're both gone.
"He probably deferred to them a little bit more. Now that they're not here, he's not going to defer to them. I think he'll work closely with [offensive line coach] Andy Heck and the rest of the staff and put together a plan. But I think he'll have a chance to push some of his thoughts to the forefront and I've encouraged him to do that."
September, 7, 2009
9/07/09
10:22
AM ET

Posted by ESPN's Paul Kuharsky
Houston Texans
Indianapolis Colts
Jacksonville Jaguars
Tennessee Titans
LenDale White doesn't regret stomping and would stomp again, he said in a discussion of the Terrible Towel controversy of 2008. Jim Wyatt and Terry McCormick both wrote it. Warped logic from White that he can buy whatever house he's in. Unless he got a bonus I don't know about, I'm pretty sure he couldn't afford Heinz Field.
Chris Hope doesn't know what to expect in his first trip back to Pittsburgh, says Gary Estwick.
Quinton Ganther's injury was significant, says Wyatt.
AFC SOUTH SCOREBOARD
Thursday, 12/18
Sunday, 12/21