AFC South:

Mercury Morris
December, 28, 2009
12/28/09
1:42
PM ET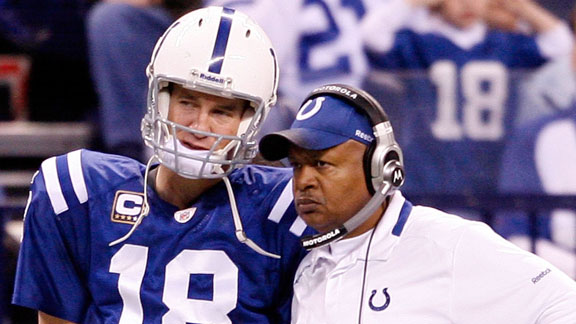 Don Shula's comment was gracious. I can't say I expect the same from Mercury Morris, and pledge to flip the channel anytime he is coming on.
Here's the sad fact for the 1972 Dolphins -- undefeated doesn't matter any more. When a good team like the Colts predetermines a plan that allows for a loss when they are just two games away from regular season perfection, the jig is up.
It seems like Miami has mellowed on this. If they think that result is worth popping champagne over, they strike me more than ever as sad old men clinging to the past.
November, 18, 2009
11/18/09
1:43
PM ET
Chris Johnson
's pace is a big topic, and if he keeps it up he'll finish with 1,940 yards. Eric Dickerson set the league record with 2,105 yards in 1984 with the L.A. Rams.

Johnson
Here are the current standings of the rushing defenses CJ will face the rest of the way:
Houston: 14 (tied)
Arizona: 8
Indianapolis: 14 (tied)
St. Louis: 28
Miami: 7
San Diego: 23
Seattle: 11
According to ESPN Stats & Information, he's also on pace for the highest yards per carry for a primary running back with at least 100 carries in NFL history.
And his 631 yards in his last three games rate as the fifth-best three-game rushing binge in league history: Deuce McAllister had 665 in 2003, Marshall Faulk and Priest Holmes each had 643 in 2001 and Tiki Barber has 641 in 2005.
A sleepy Johnson told Dan Patrick he doesn't get caught from behind, after a game he hurts all over, he thought Bud Adams' salute reflected the Titans' attitude and Vince Young's brought the Titans some swagger.
Here's
a link
to the interview courtesy of Sports Radio Interviews.
October, 22, 2008
10/22/08
4:57
PM ET
Posted by ESPN.com's Paul Kuharsky
I'm sure Mercury Morris is a fun guy to talk to. I've seen and heard enough of him to know he's an interesting character.
I've also seen and heard enough of him.
Here's an e-mail I got from his publicist or someone pumping him up as available to talk about the league's last undefeated team, an annual event as ridiculous as the one centered around Punxsutawney Phil. (At least Groundhog Day gave us an entertaining movie and the unforgettable Ned Ryerson).
Paul,

WILL THE TITANS GO UNDEFEATED? TALK TO LEGENDARY RUNNING BACK MERCURY MORRIS OF 1972 UNDEFEATED MIAMI DOLPHINS

In the last 35 years, over 1000 teams have fallen by the wayside in pursuit of the 1972 Miami Dolphins undefeated record. Only 7 games into the season this year and there remains one lone unbeaten team, the Tennessee Titans.

Just last year, the New England Patriots tore through the regular season and playoffs with a bold arrogance that turned off many spectators, including members of the undefeated 1972 Miami Dolphins, namely legendary running back Mercury Morris.

This year, Mercury Morris is singing a different tune, actually hoping the Titans join his 1972 Dolphins in Perfectville. Considered the most outspoken member of the 1972 Dolphins, Morris had this to say:

"I'll be watching the Tennessee Titans and I hope to see them go unbeaten," Morris said. "We'd like a little company.

"I see many similarities in our two teams especially in the diverse running game, the fact that we were both playing with backup quarterbacks, the fierce defenses, and the great head coach at the helm.

"Every year, each team has just as much chance to win every game as it does to lose every game. It's called quantum physics and the laws of chance and probability. Thirty-one other teams have already gone down in flames, but the Titans have a 50-50 chance each week to win, and those chances never improve beyond 50-50 because on any given Sunday, anyone can win. As long as you keep that in perspective, you have a chance to win every game."

Is Morris a changed man or is this reverse psychology? If you want to speak to Mercury Morris directly, please respond to this e-mail and we can set something up.
After a few days of consideration -- OK, a few days of not cleaning up my inbox -- I've decided to take a pass. He's done an about face and now wants another undefeated team? Please.
Next year and every year I cover the league henceforth, I hereby pledge to root for every team in the league to be 1-1 after Week 2.
Then what will Mercury Morris do?
October, 17, 2008
10/17/08
8:13
AM ET
Posted by ESPN.com's Paul Kuharsky
Houston Texans
Indianapolis Colts
Jacksonville Jaguars
Tennessee Titans