AFC South:

Miami Dolphins
December, 19, 2013
Dec 19
10:00
AM ET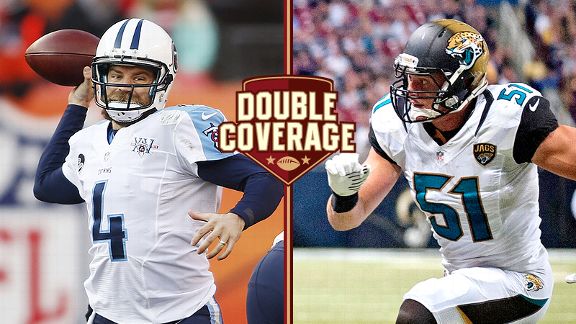 USA Today SportsPaul Posluszny and the Jags are aiming for a season sweep of Ryan Fitzpatrick and Tennessee.
JACKSONVILLE, Fla. -- Maybe
Delanie Walker
shouldn't feel so bad now.
The Titans tight end said he was embarrassed after the Jaguars won 29-27 in Nashville on Nov. 10 to pick up their first victory. Since then, the Jaguars are 3-2 with victories over Houston (twice) and Cleveland. The Titans are 1-4 with a victory over Oakland.
There seems to be much more stability in Jacksonville, too, because of the uncertain status surrounding Tennessee coach Mike Munchak.
Jaguars reporter Michael DiRocco and Titans reporter Paul Kuharsky break down Sunday's matchup at EverBank Field.
DiRocco
: Some Titans players were pretty vocal about being embarrassed due to becoming the first team to lose to the Jaguars. Is that something that still stings, and how have they rebounded from that loss?
Kuharsky
: It definitely left a mark. They are only 1-4 since then. It kind of set a bar for how bad they can be and re-established their propensity to lose to teams that are really struggling. The Jaguars are on an upswing since that game, and the Titans are on a downward spiral. If Tennessee losses to the Jaguars again, the Titans will be in line to finish in third place in an awful division, which is well short of their goals and expectations. The Titans are a better team than they were last year. But losing closer isn't a really big difference in the really big picture.
Let's turn that around. How has life changed for the Jaguars since that Nov. 10 breakthrough?
DiRocco
: I could go into a lot of stats that show how much better the Jaguars are playing, but that's not what's really important. The past six games have been more about the validation of the process, establishing the foundation of the franchise's rebuild, and confidence in the new regime. Coach Gus Bradley never wavered from the plan that he and general manager David Caldwell established. His message stayed the same throughout the eight-game losing streak to start the season: trust in the process, work hard, and focus on improving and not victories, and the victories will eventually come. Because that has happened, the players appear to have completely bought into what Bradley and Caldwell want to do, and there's a confidence in the locker room that the franchise is headed in the right direction.
We talked about
Jake Locker
the last time these teams met, but that was before he suffered a season-ending injury to his foot. How does that change the Titans' outlook on him and are they in the market for a quarterback in the offseason, too?
Kuharsky
: Locker is certain to be on the 2014 Titans. His fourth year isn't that costly and it's guaranteed. But they can't execute a spring option for his fifth year that would line him up for over $13 million. A lot of his fate depends on whether Munchak is back as the head coach. It's possible they go forward with Locker,
Ryan Fitzpatrick
and just-signed
Tyler Wilson
as their quarterbacks. It's also possible they'd draft a new guy, and depending on how high of a pick he could land in competition to start. I think it's less likely they chase a free agent like
Jay Cutler
if he comes free, but they have to assess all the possibilities. How can they completely commit to Locker based on his injury history?
One side effect of the Jaguars' surge is they aren't going to be in position to draft the first quarterback taken. What's your sense of what Bradley and Caldwell want in a quarterback and do you expect one to arrive in the first round?
DiRocco
: Offensive coordinator Jedd Fisch said something interesting last week. He said he wants his QB to scramble around, take off running to get yards and take some chances throwing the football. To me, that sounds like a pretty accurate description of Johnny Manziel. I'm not sure how that reconciles with the ideas of his bosses. Bradley comes from Seattle, which has the mobile
Russell Wilson
. Caldwell comes from Atlanta, which has the considerably less mobile
Matt Ryan
. My sense is that Bradley and Caldwell probably lean more toward the Wilson end of the spectrum. People think that eliminates Teddy Bridgewater, but that's not the case. He's not a runner but he can run if needed. If he's around, I'd expect them to take him. If not, then I would still expect them to go quarterback. It's their most glaring need.
You mentioned Munchak's job status. What's your take on whether he will be back next season -- and should he be?
Kuharsky
: He's shepherded improvement, but his team lacks an ability to finish. He's 0-4 in the worst division in football, 1-9 in the past two years. His teams have lost to the previously winless Jags in 2013 and the previously winless Colts in 2011. He's 4-18 against teams with winning records when the Titans played them and 2-19 against teams that finished the season with a winning record. To me, three years is a sufficient sample size to know what you've got and those numbers are the most telling thing on his resume. Keep him and they deal with all the limitations connected to a lame duck coach. I don't know what Tommy Smith, the head of the new ownership, will do. But the fan base overwhelmingly wants change, if that's worth anything. People still pay for tickets because they've got investments in personal seat licenses they do not want to throw away. But a lot of people are staying home on Sundays now.
Cecil Shorts
is done and
Maurice Jones-Drew
is uncertain. How can the Jaguars threaten on offense without their two best weapons?
DiRocco
: They were able to put up 20 points and post their second-highest yardage total of the season, including a season-high 159 rushing, in last Sunday's loss to Buffalo. Running back
Jordan Todman
stepped up big time and ran for 109 yards (Jones-Drew cracked 100 only once in the first 13 games) and tight end
Marcedes Lewis
was more involved in the passing game than in previous weeks (four catches for 54 yards and a touchdown). But I'm not sure that is sustainable. Teams will certainly concentrate on stopping Lewis and make quarterback
Chad Henne
move the ball with three receivers who have a combined 75 career catches. Todman doesn't scare anyone, either. The Jaguars will have to be creative on offense (they've run gadget plays the past three weeks) and capitalize on every opportunity they get.
September, 15, 2013
Sep 15
9:55
AM ET
By
ESPN.com staff
| ESPN.com
Join our ESPN.com NFL experts as they break down the Miami Dolphins' visit to the Indianapolis Colts. Contribute your thoughts and questions beginning at 1:00 p.m. ET. See you there.
September, 12, 2013
Sep 12
12:01
PM ET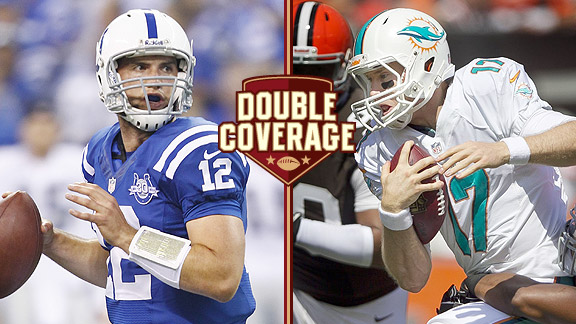 Getty ImagesSecond-year quarterbacks Andrew Luck and Ryan Tannehill face off in Indianapolis on Sunday.
The
Miami Dolphins
and
Indianapolis Colts
are two undefeated teams trying to establish themselves in the AFC. Both have young quarterbacks with promise and solid second-year head coaches.
Indianapolis beat Miami last year, 23-20, in an exciting matchup in which quarterbacks
Andrew Luck
and
Ryan Tannehill
both played well.
But who will win this season's matchup? ESPN.com Colts reporter Mike Wells and ESPN.com Dolphins reporter James Walker weigh in.
Wells:
Sunday will come down to which quarterback from the Class of 2012 -- Luck or Tannehill -- can limit his mistakes. And I'm sure we'll talk about them before we end this conversation, but before that, James, we have to address the
Mike Wallace
situation. It seems like Wallace was being selfish by making Sunday's win over Cleveland all about him because he only had one catch. For a Dolphins team that's had only one winning season since 2006, Sunday should have been about getting a nice road victory to open the season. Not about Wallace. I know Wallace cleared up his comments Monday, but it shouldn't have gotten to that point. Is that a sign of things to come out of Wallace, the $60-million man?
Walker:
The situation was not ideal, but I thought the Dolphins did a masterful job putting the Wallace issue to bed during the week. Miami's coaches supported Wallace's competitiveness and desire to make an impact. Wallace also clarified that he was more upset at himself, and I expect he will be extra motivated to have a big game. Speed kills in domes, and I don't think there will be a faster player in Sunday's game than Wallace. Look for Miami to find more creative ways to get him the football in the event the Colts consistently double Wallace, which was Cleveland's strategy. Speaking of strategy, I was surprised to see how much Indianapolis struggled last week with the
Oakland Raiders
. The Colts trailed Oakland at home with less than 6 minutes left in the game. Was this first-game jitters and what needs to be fixed?
Wells:
You weren't the only one surprised. I think most people were, especially when you look back at the Colts' first two offensive series. They scored with ease and all indications pointed to Luck having a special day after he started 11-of-11 with two touchdowns. But you have to give credit to Oakland quarterback
Terrelle Pryor
. He did an excellent job creating with his feet. He kept the Colts off balance and his team in the game until Luck became the hero. Tannehill is a more traditional quarterback. Luck,
Robert Griffin
III and
Russell Wilson
are the quarterbacks everybody talks about from 2012 -- and they should be talked about after they led their teams to the playoffs -- but do you get a sense down there in South Florida that Tannehill has the tools and work ethic to close gap on the three QBs I just mentioned?
Walker:
I really like Tannehill's tools, Mike. He can make all the throws, has good mobility and feet as a former college wide receiver, and he doesn't get rattled often. Those are all qualities you want in a quarterback. He looks the part, but I still need to see him win consistently. What was interesting about last week's win over Cleveland is Tannehill took over the game in the third and fourth quarters. Last year Tannehill played not to lose games. Last week Tannehill went out and won the game. That's probably the biggest thing that separates Tannehill from Luck and other members you mentioned from the 2012 quarterback draft class. Tannehill can certainly learn from Luck and his fourth-quarter comebacks. Mike, where is Luck in his development in Year 2?
Wells:
Everybody talks about sophomore slumps with players. You should go ahead and look elsewhere because that won't be the case with Luck. He refuses to settle. The only thing he wants to talk about is getting better. That's what you like to hear from your franchise player. Luck likely won't pass for as many as yards this season because the Colts are putting an emphasis on the running game with
Vick Ballard
and
Ahmad Bradshaw
. Those two players should take a significant load off Luck's shoulders. But it won't be easy for Luck this weekend. Miami's defense looked pretty good last week against the Browns. Six sacks and three interceptions. What makes the defense so dangerous?
Walker:
The Dolphins focused in the offseason and training camp on forcing turnovers and pressuring the quarterback. The work clearly paid off with the stats you mentioned. But perhaps the most impressive stat is Miami hit Browns quarterback
Brandon Weeden
16 times, which included the six sacks. The Dolphins' front seven is both fast and physical. They have a deep rotation on the defensive line. For example, No. 3 overall pick
Dion Jordan
is a backup who only gets limited snaps. Dolphins defensive coordinator Kevin Coyle has done a good job and really likes the group he has. I think the best way for Miami to beat the Colts is the rattle Luck, force turnovers and try to make it a low-scoring game.
March, 10, 2012
3/10/12
11:27
AM ET
GMAC from Nashville writes:
Offering our
20th pick
for
[Dwight] Freeney
? Are you kidding me? I hope Ruston Webster doesn't read you. You didn't even mention the botched trade, when we sent our first to the Rams for Kevin Carter in 2001. He made the probowl one year and was gone after his fourth... and he was 28 at the time. You think he wanted to play here? C'mon man. I'd rather have a top 20 prospect, who is committed to the team that drafted him than watch Freeney (32), who probably bleeds colt blue, be injured for most of the duration of his contract here. A third at most. I won't make this any longer because you probably won't respond anyway. Keep up the good work.
Paul Kuharsky:
Yeah, I won't respond. I am known for hiding.
People are overly protective of draft picks. Who's this great pass rusher they will get at 20? Will he be as good as
Michael Griffin
's been as a safety after being the 19th pick?
They need a special pass-rusher. Freeney is one. There aren't many, if any, in this draft. They are gone by 20. Seven of the last 21 defensive ends drafted BEFORE 20th rate as busts at this point to me.
I said start off by offering a second-rounder.
Kevin Carter wasn't great, but he was a pretty effective player for the Titans. Absolutely he wanted to play for the Titans. Why wouldn't he have?
Ron from Murfreesboro, Tenn., writes:
Any chance the Titans pursue the Saint's
Carl Nicks
. He's a great player at a position of need for the Titans. Not sure what his price range would be like. If we go out and get him then I think we can focus the rest of the offseason on improving the defense. What are some other offensive line candidates the team will look at both in free agency and the draft?
Paul Kuharsky:
Nicks will be the costliest guard in the league. Someone other than the Titans will very likely be writing those checks. A mid-range free agent or draft pick is most likely. Can't tell you names.
Garrett from Missoula, Mont., writes:
If
Peyton Manning
goes to Miami, what are the chances
Reggie Wayne
joins him? It seems like a perfect fit with Miami's roster and the history Wayne has there, especially if Manning goes.
Paul Kuharsky:
With or without Manning, I would think Miami would be a favorite to land Wayne. He could be great for another QB too.
Larry Dorsch from Pittsburgh writes:
Where do you see
Tommie Campbell
"fitting it" with the Titans?
Paul Kuharsky:
He will compete for third corner. He will be the third, fourth or fifth corner and a key special-teamer.
Amy Hamilton from Indianapolis writes:
It makes no difference how long we had to prepare. It is profoundly depressing. Sure, it's only a game. I keep telling myself that to no avail. There is no comparison to Favre or Montana. Peyton revolutionized the game and put us on the map. I really don't care if
Andrew Luck
is the right choice - you stick with Peyton until he's ready to be done. Maybe we Hoosiers are unusual in that respect.
Paul Kuharsky:
Revolutionized the game? A bit strong, I think. He's a fantastic player and unique. Others can't do what he does (or did) in terms of altering plays at the line. But for that to be a revolution, we'd have to see more guys starting to do it. And they aren't.
And Joe Montana won four Super Bowls. I know it's about the team, not just the quarterback, but you needn't be dismissive of Montana in order to be complimentary of Manning.
It was not my sense that most Hoosiers said the Colts had to stick with Manning given the circumstances, just that he deserved to go out gracefully.
Aaron from Jacksonville, Fla., writes:
Hey Paul, why is everyone thinking that Miami is "close to a championship" and ideal for Manning? Do they not remember that just last season the Dolphins won only 6 games and also fired their head coach? Sure coaching may be a FACTOR but you have to figure the fault lies with the players as well. Just curious.
Paul Kuharsky;
I am with you. I think they are being over-rated – in large part because, while I like Joe Philbin, I know nothing of how he will be as a head coach.
Gavin from Fairmont, W.Va., writes:
I am a long time Colts fan and come often to your blog. I keep seeing that Luck is the most NFL ready QB, and I wanted to know your thoughts on this. Doesn't that, being the most NFL ready QB, mean he has little to no room to improve so you are basically getting what you see.
Paul Kuharsky:
No, it doesn't mean that at all. NFL-ready means ready to play in the NFL. It means he'll be better at the beginning.
It doesn't mean has maxed out or won't have room to learn and get better.
September, 12, 2008
9/12/08
9:40
AM ET
Posted by ESPN.com's Tim Graham
DAVIE, Fla. -- While many pundits are yelling at troubled Tennessee Titans QB Vince Young to man up, there's another deep thinker from the University of Texas who advocates otherwise.
Miami Dolphins RB Ricky Williams, who starred for the Longhorns years before Young, is no stranger to introspection. Williams hopes Young remains a sensitive being, even though it has opened Young to national criticism over the past week.
"I think being thick-skinned is dangerous," Williams told Palm Beach Post columnist Greg Stoda on Thursday afternoon. "The ability to feel something keeps us safe."
Williams frequently has discussed the difficulty in rationalizing his passion for football with his contempt for being a football player. He loves to play, but he loathes the idolatry.
He wouldn't comment directly on Young's situation because he said he hadn't spoken to him this week. Speculation abounds that Young is battling depression.
"If you're not depressed after losing a football game, you're not healthy," Williams said.