December, 9, 2013
12/09/13
2:55
PM ET
INDIANAPOLIS -- Cornerback
Greg Toler
's groin injury was originally expected to keep him out the
Indianapolis Colts
' lineup 2-4 weeks.
Four weeks came and went. So did Week 5. The same can be said for Weeks 6 and 7.
It's gotten to the point now where you wonder if he'll be back to help the defense this season.
"I want to be back out there helping my teammates," Toler said. "Some dudes can play with their bodies being off a little. I can't. The training staff told me they want me to be 100 percent before I go back out there."
[+] Enlarge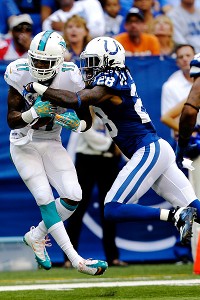 AP Photo/Michael ConroyThe groin injury suffered by cornerback Greg Toler (right), has weakened the Colts' secondary.
Where is Toler at health-wise?
"I'd say I'm about 90-95 percent," he said. "I need a great full week of practice of not having to be limited at all. They want to know that if a guy gets by me, I can turn it on and catch him. I respect that. This is one of those situations where I have to be completely healed first."
The time it has taken Toler to try to overcome his groin injury, which happened in the third quarter of the Oct. 20 game against Denver, is somewhat alarming.
He said there is a backstory behind it. Toler, who also had injury problems during his four seasons with Arizona, said he made the mistake of trying to play through injuries when he was younger.
He doesn't want to make the same mistake again.
Toler suffered a setback with his groin while working out about three weeks ago. He practiced on a limited basis last week but knew the odds of playing against the
Cincinnati Bengals
were slim, because he faced the risk of aggravating his groin with the game was played outdoors in the cold.
"I'm ready and confident that I'll be back out there with the guys," Toler said. "They want me to be at my best. I don't want to hurt the team. The cold doesn't play in your favor, because it doesn't allow your body warm up the way you want to."
Toler's absensce isn't the only reason behind the recent demise, but the secondary has struggled since he was injured. Receivers like Houston's
Andre Johnson
(229 yards), St. Louis'
Tavon Austin
(138 yards) and Arizona's
Michael Floyd
(104 yards) have had big games against the Colts.
"When you've got a player of his caliber that can play, that's why we signed him, and for him not to be in the lineup does hurt a little bit, don't get me wrong," Colts defensive coordinator
Greg Manusky
recently said. "If something happens to other players that are Pro Bowl type players, you're going to have a letdown. But we pick it up and next guy in line, we go out there and we roll."
November, 24, 2013
11/24/13
9:30
AM ET
GLENDALE, Ariz. -- Here are four storylines (outside of the Chuck Pagano-Bruce Arians reunion) to pay attention to in Sunday's game between the
Indianapolis Colts
-
Arizona Cardinals
.


Start fast
: This has been an area of concern for the Colts most of the season. It's really been a problem the past three games. They've been outscored 66-9 in the first half of their past three games. Yes, the Colts won two of those games, but relying on a strong second half isn't the right way to go about things, especially since that approach won't work in the playoffs. Offensive coordinator Pep Hamilton scripts the first 15-20 plays. The Cardinals have outscored their opponents 49-37 in the first half of their current three-game winning streak. The Colts don't have the offensive weapons outside of quarterback
Andrew Luck
and receiver
T.Y. Hilton
to come back against a team like the Cardinals, who have two dangerous receivers in
Larry Fitzgerald
and
Michael Floyd
.
Pressure Palmer
: Cardinals quarterback
Carson Palmer
threw for 419 yards against Jacksonville on Nov. 17. He threw for that many yards because the Jaguars allowed him to sit back in the pocket and pick them apart. Put pressure on Palmer and it's a different game. Memo to Colts linebacker
Robert Mathis
, the league leader in sacks: The Cardinals have an atrocious offensive line. Palmer has been sacked 27 times and he's thrown 15 interceptions. The Colts will be without starting linebacker
Erik Walden
(suspended) and cornerback
Greg Toler
(groin) on defense.
Play with urgency
: Win Sunday and the Colts will be able to wrap up their first AFC South title since 2010 with a victory over the Tennessee Titans at Lucas Oil Stadium on Dec. 1. The Colts will likely still win the division if they stumble against the Cardinals, but the sooner they win it, the better their odds will be to get one of the top two seeds -- likely the second seed -- and a first-round bye in the playoffs.
Chris Rainey
: The
David Reed
experiment at returning kicks has to stop at some point, right? Reed has been more of a disaster than an impact player in that area this season. Reed is 12
th
in the league in kickoff returns at 23.8 yards, but what's not accounted for is how many times he's attempted to return kicks 7 or 8 yards deep in the end zone. So why not give Rainey, who the Colts signed last week, a shot? He possibly can't do any worse. Pagano said late last week that no decision had been on if Rainey will be active for the game. But Rainey did have a good first week of practice. "He's very explosive for a guy being out for the amount of time that he's been out," Pagano said. He's really been amazing, to be honest with you. He's a great athlete. He's got tremendous quickness, speed, acceleration, burst, football instincts. Catches everything -- punts and kickoffs, catching balls out of the backfield, running the card team, the look team for us. Didn't miss a beat. It looked like he'd been playing for somebody for the last whatever, so he looked good."
November, 21, 2013
11/21/13
5:35
PM ET
INDIANAPOLIS – The good news for the
Indianapolis Colts
is that they know Bruce Arians'
Arizona Cardinals
will throw the ball downfield a lot in Sunday's game. The Colts did the same thing under Arians last season.
The bad news is that Indianapolis' secondary has a tendency to give up big plays.
Houston's
Andre Johnson
had nine catches for 229 yards and three touchdowns against the Colts on Nov. 3. St. Louis'
Tavon Austin
had two catches for 138 yards and two touchdowns the following week.
Vaughn
Davis
Now the Colts get to face Arizona receivers
Larry Fitzgerald
and
Michael Floyd
and quarterback
Carson Palmer
, who threw for 419 yards against Jacksonville last weekend.
"Run it and throw it down the field as far as you can and complete a lot of them," Colts coach Chuck Pagano said about Arizona's offense. "[Arians has] been doing it a long time. He's a great playcaller. We all know that. You see a lot of similarities in there and he's utilizing their talent very well."
The struggling secondary may be without one of its starting cornerbacks for the fourth straight game.
Greg Toler
hasn't practiced this week because of a groin injury. He wants to play Sunday because he spent his first four seasons with the Cardinals, but he tweaked his groin while working out Monday. Safety
LaRon Landry
also hasn't practiced this week because of a toe injury, although he said he believes he'll play Sunday.
Vontae Davis
and
Cassius Vaughn
, who started in place of Toler in his absence, will be matched up on Fitzgerald and Floyd, who have combined for 1,211 yards and nine touchdowns this season. The Cardinals became the first team since 1971 to have touchdown receptions of at least 80 and 90 yards in a season when Floyd scored on a 91-yard pass against Jacksonville.
"He's a future Hall of Famer and he's still playing at a high level and making plays, 45 catches and six touchdowns," Pagano said about Fitzgerald. "Floyd and the rest of the guys, they got a bunch of skill guys, they got a bunch of playmakers. Carson's doing a good job of spreading the wealth and getting the ball out to them."
The Colts have to take advantage of Arizona's weak offensive line and put pressure on Palmer. He's thrown for 2,573 yards this season, but he's also been picked off 15 times and sacked 27 times.
Colts linebacker
Robert Mathis
leads in the league with 13.5 sacks. Only three quarterbacks – Miami's
Ryan Tannehill
, Denver's
Peyton Manning
and Houston's
Case Keenum
– have thrown for more than 300 yards against Indianapolis this season.
"A heck of a quarterback who can throw the ball downfield," Colts defensive lineman
Cory Redding
said. "Again, back end we got to challenge. And they're up for it. Our guys, we don't back down from a fight. We stand up, and even when everybody points us down and says we're not going to do anything, that's when we rise up the best and we go out there and showcase it. I believe my guys on the back end, our defensive unit, our DBs are going to step up and rise to the occasion. Everybody on the defense is going to rise up and play the ball game."
November, 18, 2013
11/18/13
8:00
AM ET
JACKSONVILLE, Fla. -- A review of four hot issues from the
Jacksonville Jaguars
' 27-14
loss
to the
Arizona Cardinals
:
[+] Enlarge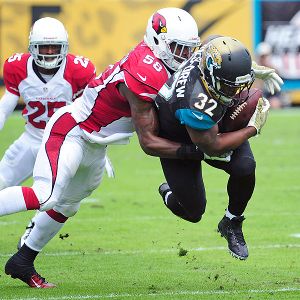 Scott Cunningham/Getty ImagesThe Cardinals limited Maurice Jones-Drew to just 23 yards on 14 carries.
Aggressive approach:
Coach Gus Bradley wants his team to take some chances. They won't always work, but being conservative doesn't make much sense for a team that entered the game 1-8, either. That's why he went for it on fourth down from his own 38-yard line less than three minutes into the game and allowed kicker
Josh Scobee
to attempt a 60-yard field goal just before the half. We will see more of those decisions, Bradley said. "No one wants to [lose]," he said. "We'll work hard to avoid it, but what I think what I liked is we weren't afraid to fail. We were bold in our decisions. The fourth-down call, trying the 60-yard field goal, there was many situations where I felt like we were bold and I told our team that we need to take that personality on and reflect it. We'll continue to build in that direction."
Anger management:
Punter
Bryan Anger
kept the Jaguars in the game in the second half while the offense was sputtering by pinning the Cardinals deep in their own territory. Arizona started four consecutive drives at its 9, 10, 2 and 10 in the third and fourth quarters following Anger punts. In all but one case the Cardinals ended up gaining fewer than 7 yards. The only exception came on
Michael Floyd
's 91-yard catch-and-run that was helped by three missed tackles. Anger averaged 47.8 yards on eight punts and put six inside the 20.
Ground struggles:
Running back
Maurice Jones-Drew
continues to struggle. He ran for 41 yards on 21 carries in last week's game against Tennessee and had 23 yards on 14 carries against Arizona. Part of the issue is the offensive line, which is starting its Nos. 3 and 4 offensive tackles and hasn't had starting left guard
Will Rackley
since the San Francisco game on Oct. 27. However, the line hasn't played well when it was completely healthy, either. Jones-Drew, who missed the final 10 games last season with a Lisfranc injury and has battled ankle and knee issues this season, looks a half-step slow and doesn't seem to have the burst he did throughout his career. The Cardinals did come into the game with the NFL's No. 3 rush defense, but the Jaguars need a better showing than 23 yards. "They loaded the box and wanted to make sure that we couldn't run the ball," Jones-Drew said. "Sometimes you have to keep fighting that uphill battle and hopefully things will break."
Pressure:
The Jaguars didn't have much luck getting to
Carson Palmer
with a four-man rush, so they went with some different pressure packages that included linebackers or defensive backs rushing. Bradley had challenged the front four to get more pressure because the defense has been vulnerable when blitzing because the secondary hadn't been able to hold the coverage until the pressure got to the quarterback. That's what happened again Sunday. The Cardinals' two biggest pass plays -- the 91-yard touchdown and a 37-yard pass to Floyd -- came when the Jaguars sent extra rushers and the Cardinals picked it up.
November, 18, 2013
11/18/13
7:00
AM ET
INDIANAPOLIS -- Six games remaining and a three-game lead in the AFC South.
That's where things stand for the
Indianapolis Colts
. They should win the division for the first time since 2010 unless they completely collapse down the stretch. And even then, they still may win it when you think about the rest of the teams in the division.
I predicted that the Colts would go 10-6 when the season started. They're currently 7-3 with half of their remaining games on the road.
There's a chance the Colts could match their win total from a year ago -- 11 -- because only three of their remaining games are against teams with a winning record. The three games are all on the road. The Colts still have issues with slow starts; they've been outscored 66-9 in the first half of their past three games. They'll be fine if they can get that fixed. If not, there could be a lot of suspense in the remaining games.

Nov. 24: at Arizona
Cardinals quarterback
Carson Palmer
threw for 419 yards in their victory over Jacksonville on Sunday. The Colts are 18th in the league in pass defense at 239 yards a game. That's not a good thing when the Cardinals have
Larry Fitzgerald
at receiver. Fellow receiver
Michael Floyd
had six catches for 193 yards against the Jaguars. Colts cornerback
Greg Toler
should be back in the lineup to face his former team after missing the past three games with a groin injury.

Dec. 1: Tennessee
The Titans -- more specifically tight end
Delanie Walker
-- seem to be more worried about getting even with Colts linebacker
Erik Walden
than getting the victory. Walker told the Tennessee media after last week's game that he'll see Walden in "two weeks and I'm going to whoop his butt again" after the Colts linebacker head-butted him in the game last week.

Dec. 8: at Cincinnati
This has been a toss-up game with me all season. It's still a toss-up. The Bengals have victories over Green Bay (with
Aaron Rodgers
playing), New England and they beat the
New York Jets
by 40 points. It's been well documented this season that the Colts have a tendency to step up to the challenge against teams with a winning record.

Dec. 15: Houston
From Super Bowl contender to benching quarterback
Matt Schaub
to now counting down the days until the season ends. The Texans are on an eight-game losing streak. The good news -- for Texans fans at least -- is that they play Jacksonville twice over the next three weeks.

Dec. 22: at Kansas City
The Colts have to hope that quarterback
Andrew Luck
has found a rhythm with his receivers and they're still running the ball well heading into this game because the Chiefs have a top-10 defense.

Dec. 29: Jacksonville
The only suspense for the Jaguars will be whether or not they need to lose the game to lock up the No. 1 overall pick in next year's draft.
Do you think the Colts will match, surpass or finish below last season's win total?
November, 17, 2013
11/17/13
8:00
PM ET
JACKSONVILLE, Fla. -- Defensive tackle
Sen'Derrick Marks
has said for a while that it would be pretty simple to fix the Jaguars' porous rush defense.
Everyone just needed to do their job. Stay in their assigned gap. Quit freelancing. Just do what you're supposed to do on each play.
Turns out he was correct.
[+] Enlarge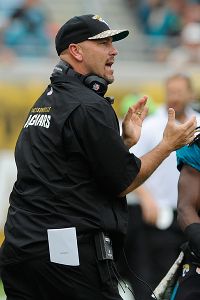 AP Photo/Stephen MortonGus Bradley and the Jaguars held the Cardinals to 14 rushing yards on Sunday, but were burned for several big plays through the air.
The Jaguars held Arizona to just 14 yards on the ground in a 27-14 loss at EverBank Field. That's the second-lowest single-game total in franchise history, behind only the 10 yards the Jaguars yielded to Kansas City in 2007.
It also is pretty much the only positive thing you can say about the defense on Sunday.
Carson Palmer
threw for 419 yards and two touchdowns, including a 91-yarder to
Michael Floyd
in which three players missed a tackle, and the Cardinals controlled the ball for nearly 36 minutes. But the defensive front -- which was without middle linebacker and leading tackler
Paul Posluszny
(concussion) -- showed up.
"Just like I've been saying the whole year, every time we've had runs get out on us, we have a guy out of a gap," Marks said. "Our thing was after the bye we had to hold everybody accountable. We've been doing it ever since we came off the bye week. We've got guys in the right gaps, and everybody is where they're supposed to be.
"Everybody's been accountable, and when you do that you tend to stop the run."
Rashard Mendenhall
gained 14 yards on 13 carries. One of which was a 5-yard touchdown run, which means he managed just nine yards on his other 12 carries.
Andre Ellington
, a speedy breakaway threat, managed just 3 yards on eight carries. The Jaguars entered the game giving up an average of 153.0 yards per game rushing.
"We were aware of the run game, and we did not want that to get going," head coach Gus Bradley said. "We did a good job attacking the run and controlling Ellington."
The defense certainly felt the loss of Posluszny, who is by far the team's best defensive player. He has two interceptions, eight pass breakups, two forced fumbles, and one fumble recovery. Posluszny didn't practice all week, and was finally ruled out on Saturday morning.
Russell Allen
, who normally starts at outside linebacker, filled in and made seven tackles, but failed to deliver a big play.
Actually, he made one but it didn't count. He stepped in front of Palmer's pass to
Larry Fitzgerald
inside the Jacksonville 20-yard line in the third quarter, but officials announced that the Cardinals had called timeout before the snap.
"I think you grow to appreciate Poz and what he's all about, but for Russell to step in and manage the defense like he did ... then he had the interception that would have helped out," Bradley said. "He did a nice job managing the defense. If he got more reps [during the week] we would see even better."
The Jaguars were certainly better against the run than in stopping Palmer, Fitzgerald, Floyd, and whichever tight end happened to be in the game at the time. Floyd caught six passes for 193 yards, including a 91-yard catch-and-run in which Allen, safety
Josh Evans
, and cornerback
Will Blackmon
missed tackles.
Fitzgerald caught a modest six passes for 61 yards and one touchdown, but tight ends
Jim Dray
,
Jake Ballard
and
Rob Housler
combined to catch nine passes for 117 yards -- continuing the trend of tight ends taking advantage of the Jaguars' rookie safeties (Evans and
Johnathan Cyprien
).
Things could have been even worse had cornerback
Alan Ball
not broken up four passes in the first half.
The
Tennessee Titans
had similar trouble on the ground (83 yards) and success through the air (288 yards, two TDs) last week. The biggest difference is the Jaguars forced the Titans into four turnovers. They didn't get any against the Cardinals.
"We feel good about how we played against the run, and we felt like it was something we were going to be able to do going in, but unfortunately we gave up too many big plays in the passing game," Allen said. "Any time we can give our offense a short field it's important, giving them an opportunity to put points on the board. Getting some breaks ... would have helped a lot."
April, 26, 2012
4/26/12
2:45
PM ET
Thoughts on the Titans' draft from two people involved in evaluating personnel for NFL teams:
Guy No. 1:

"If guys like
David DeCastro
, a third offensive tackle and
Ryan Tannehill
go before 20, that will help push someone the Titans like a lot to 20."
"They could like
Michael Floyd
, they could like
Kendall Wright
. But I don't think a receiver is going to outweigh a defensive player."
"
Dre Kirkpatrick
could be there for them. He's a playmaker. He's been coached hard. He can help them."
"There may be a lot of options for them at defensive end and defensive tackle, and I wouldn't dismiss linebacker, either."
Guy No. 2:
"Last year their big thing was 'stop the run, stop the run, we don't like these little defensive linemen.' Every time I hear something now it's, 'We've got to rush the passer, put heat on the passer.'
"They'd take Kirkpatrick if he's there. I don't think he will be there. Then I don't think there is a corner that's attractive at 20."
"It's too soon for a guard or center, but if DeCastro fell, I could see them taking him."
"I'm talking myself into
Dontari Poe
for them. Jerry Gray has had
Pat Williams
and
Sam Adams
. Poe will give some push and chase some sacks to
Kamerion Wimbley
and
Derrick Morgan
. Last year they liked
Nick Fairley
. Poe has a similar profile to
Albert Haynesworth
but better football character. He hustles, he tries hard. He's only played five seasons of football."
April, 23, 2012
4/23/12
3:31
PM ET
The first six picks of
ESPN's Blogger Mock Draft
unfolded pretty much as expected.
That's when James Walker, our AFC East representative, put out the word: "I'm willing to make a trade back with Buffalo at No. 10."
Before anyone could respond, AFC South representative Paul Kuharsky announced he'd swung a deal with Dan Graziano of the NFC East. The Jaguars had traded the seventh overall choice and a sixth-rounder to Philadelphia for the 15th, 88th and 153rd selections.
The Eagles took defensive tackle
Fletcher Cox
at No. 7.
"By the way," I wrote in an email to the group, "Seattle would love to trade back from 12."
Then came the word from Walker, sent only to me, the NFC West rep: "Don't make your pick at No. 12 yet. I have an offer from New England coming. Working out the point chart. First, I have to figure out Buffalo's pick at No. 10."
A few seconds passed before the AFC West's Bill Williamson, unaware Walker had already made contact regarding the 12th pick, reached out to me in another email.
"If
Melvin Ingram
is on the board at 12," Williamson wrote, "I might have San Diego come up from 18."
This was intriguing. Seattle's actual leadership had swung a deal with San Diego for quarterback Charlie Whitehurst a couple of years ago, so trade talks for the 12th pick seemed realistic. But the Seahawks also have a working relationship with the Patriots, having traded Deion Branch to them not all that long ago.
"Sounds good," I replied to Bill. "James might also make an offer here."
The potential deal with Williamson and San Diego was fleeting. Walker executed a trade with himself, allowing the
New York Jets
to move into Buffalo's spot at No. 10. The Jets took Ingram, the player Williamson had wanted for San Diego.
The fun was only beginning.
Our eight divisional bloggers made four trades involving the seventh, 10th, 12th, 15th, 16th, 27th, 31st and 32nd overall choices, plus later considerations.
Five of our first-round selections in this mock failed to appear in our previous one.
Jerel Worthy
,
Kevin Zeitler
,
Chandler Jones
,
Shea McClellin
and
Coby Fleener
pushed out
Rueben Randle
,
Andre Branch
,
Peter Konz
,
Kendall Wright
and
Mike Adams
.
Courtney Upshaw
,
Dontari Poe
and
Stephen Hill
made double-digit drops from then to now.
Michael Brockers
,
Cordy Glenn
,
Stephon Gilmore
and Cox climbed at least eight spots since last time.
We drafted seven defensive ends/outside linebackers, six offensive linemen, five defensive backs, four defensive tackles, three receivers, three quarterbacks, two inside linebackers, one tight end and one running back.
Mostly, we had some fun with the process. Thanks for coming along.
***
ESPN.com's NFL bloggers went through one final mock draft leading up to Thursday's start of the NFL draft. Here is how
#ESPNbloggermock
played out.
April, 2, 2012
4/02/12
11:14
AM ET
The NFL's transformation into a pass-happy league has sent teams scrambling for ways to keep up defensively.
Perhaps that explains why defensive linemen and 3-4 outside linebacker types dominated ESPN.com's first NFL Blog Network mock draft for 2012.
AFC West blogger Bill Williamson snapped up three of them for the division he covers. Six other defensive linemen and 3-4 outside linebackers found homes elsewhere in the first round.
Offensive linemen (seven), defensive backs (five) and wide receivers (five) accounted for most of the remaining first-round selections.
In keeping with the pass-oriented theme, Alabama's
Trent Richardson
was the lone running back selected, landing in Cleveland with the fourth overall choice.
And, of course, we kicked off the mock with a couple of quarterbacks.
March, 2, 2012
3/02/12
7:25
AM ET
Our chat suffered a technical interruption Thursday. Thought we still go a lot of good stuff in, I'll pay back an extra 15 minutes sometime soon.
If you were there at the right time, you still got quality stuff like this:
Kyle (Ottawa, Ontario)
What do you do if your Jacksonville? Sign
Vincent Jackson
and draft
Melvin Ingram
or sign
Mario Williams
and draft
Kendall Wright
/
Michael Floyd
?
Paul Kuharsky
I LOVE Vincent Jackson. But if you can get Mario Williams, I think you have to go that direction. Very good question. You have the lead.
2ToneBlueBlood (murfreesboro tn)
I've seen you mention a few times that you think the Titans should pursue
[Robert] Mathis
or
[Dwight] Freeney
. Chances you think it will actually happen?
Paul Kuharsky
Freeney is under contract. If he's released they'd have to look. And they have to look at Mathis. They know they need a guy with special rush skills and that there are few of them. But if someone is giving them crazy money, it probably won't be Tennessee.
Awayne (Indy)
Colts go 3-4 what do you do with
[Drake] Nevis
, good potential but doesn't fit in 3-4 probably doesn't have much trade value?
Paul Kuharsky
Which is why it's a gradual shift, not a one-year overhaul.
Tyler (Duval)
Your thoughts on Gene Smith saying the Jags won't be as active in free agency this year as we were last year. Kind of upset me. I understand building through the draft but free agency is a very nice tool you can use.
Paul Kuharsky
Don't like it. Hope it's not a set up for a reveal that [new Jaguars owner Shahid] Khan won't spend all that money. Two big guys and a draft, that'd be fine.
Richard (Knoxville)
You can revoke a franchise tag up until July 15.
Paul Kuharsky
Not if he signs it.
For all that and much, much more, move directly past go and click
right here
.
February, 13, 2012
2/13/12
3:49
PM ET
It'll be a gigantic surprise if the Colts don't draft Stanford quarterback
Andrew Luck
with the No. 1 overall pick in the NFL draft in late April.
We shouldn't forget that their second-round pick, 34th overall, isn't far off where they've drafted a lot in the first round in recent years.
They should get a top-flight player leading off the second round, and Kevin Weidl of Scouts Inc. has written an
interesting piece

highlighting some of the possibilities.
Weidl knows some of these guys will go in the first round, but as he matches needs with prospects, he sees as possibilities: defensive tackle
Dontari Poe
of Memphis; defensive ends
Nick Perry
of USC and
Andre Branch
of Clemson; receivers
Kendall Wright
of Baylor,
Michael Floyd
of Notre Dame or
Alshon Jeffery
of South Carolina; Guard/tackle
Cordy Glenn
of Georgia.
Colts fans, I'd love if you read the piece and consider those names, the others he mentions and chime in with your thoughts below.