AFC South:

Michael Jenkins
October, 7, 2012
10/07/12
7:44
PM ET
Thoughts on the Titans'
30-7 loss
to the
Minnesota Vikings
at Mall of America Field:
What it means:
The 1-4 Titans are a mess, and they were inferior in every way against a team they should be on pace with as they rebuild. They couldn't move the ball against the Vikings and they couldn't stop the Vikings from moving the ball, and the result of this blowout was never in doubt.


What's hard to fathom:
The Titans have now given up 34, 38, 41, 38 and 30 points in their games this season. Nothing they've done on defense has stopped the bleeding and the return of middle linebacker
Colin McCarthy
from a high ankle sprain had no bearing.
Bad hit:
Safety
Michael Griffin
was penalized for a helmet-to-helmet hit of defenseless receiver
Michael Jenkins
at the end of the second quarter. Defensive coordinator Jerry Gray called for more toughness and ownership of the middle of the field last week, and suggested players shouldn't operate in fear of fines. But this was a foolish play by Griffin, who was in position to easily aim lower and make a big hit minus the penalty or the fine that is sure to follow.
A sampling of the badness:
Matt Hasselbeck
's first-down scramble was challenged in the first quarter and re-spotted for a fourth down that prompted the Titans to punt. Hasselbeck absolutely telegraphed a second-quarter interception to
Antoine Winfield
. Defensive end
Jared Allen
was inexplicably unblocked on one of the Vikings' sacks. Cornerback
Alterraun Verner
was a beat late to
Percy Harvin
on a wide receiver screen and saw it go for a significant gain. McCarthy failed to bring down tight end
Rhett Ellison
, slipping off the rookie to allow a big play.
Another awful injury:
The Titans saw return man
Marc Mariani
suffer a grotesque leg injury in the preseason. They saw another one Sunday, as running back
Javon Ringer
was bent awkwardly on a tackle and carted off with a left leg injury.
One good thing:
Rookie receiver
Kendall Wright
didn't stretch the field at all, but he was far more sure than a week ago, when he had several drops, as he caught a game-high nine passes, though he took them only 66 yards.
What's next:
The Titans have a quick turnaround with the Steelers coming to Nashville on Thursday night.
June, 11, 2012
6/11/12
10:42
AM ET
LX from Chuco, TX: writes:
"...
Kareem Jackson
makes me question the Texans' sanity. In the chat you said "Kareem Jackson looked fine" and "Yes, (Alan) Ball is in line to be (Jason) Allen. Good addition, I think." Those seem to be contradictory statements; If Kareem was really "fine" then the response to the Ball question should be that Jackson is the starter and that Ball is a backup. As much as the Texans love Kareem (or at least hate to admit an error) do you think they will ever get rid of him?"
[+] Enlarge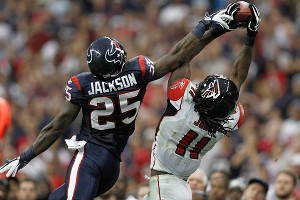 Brett Davis/US PresswireHouston CB Kareem Jackson played in 15 games in 2011, netting 42 tackles, one FF and one INT.
Paul Kuharsky:
Their feeling about Jackson and yours (and many fans') are certainly far different. They are not anywhere close to getting rid of him, nor should they be. You don't cut guys because they affect the sanity of someone in Chuco.
And I don't believe my statements were contradictory. It's completely possible for Jackson to look good at OTA practices and for the team to still decide to help him with Ball.
That's not going to be sorted out now, but will be sorted out in camp.
I'm not big on splitting a starting job in half, but the Texans made the Jackson-Allen combo work. Allen moved on to Cincinnati as a free agent, and Houston was wise to find a veteran from the outside who can take Allen's role if the Texans need him to.
Defensive coordinator Wade Phillips and the team's top player in the defensive backfield,
Johnathan Joseph
, both said good things about Jackson during OTAs. (They also said good things about Ball.)
Said Phillips: "(Jackson) was a better zone guy than he is man. The other guy was better man/press than zone. That was last year. I think Kareem is getting better at man. He played man, I don't mean he couldn't play man. But Jason was a good press guy, but he had trouble playing off.
"(Joseph) will play the best receiver, whoever he is, zone or man, we'll put him on the best receiver. I don't know if we'll substitute for Jackson or not. But we've got some other guys who look like they can play.
"We have several guys that are pretty good at (man) and that's why we brought in Alan Ball, too. Because he can play, he can play either one. When I was in Dallas, my last half year, he was one of our best players. We said, 'OK, we'll just put him at safety.' He was playing corner and he was playing real good but we couldn't get him on the field because (Michael) Jenkins and (Terence) Newman had played real good and we almost led the league in scoring defense.
"So we put Ball at safety and then Jenkins and Newman didn't play worth a d--- and I wish I would have kept Ball at corner for those guys that half a year, because they just played terrible for a while."
Jackson's widely regarded as the weak link in the Texans' defense, including by me. He got a lot better last year, in large part because of defensive backs coach Vance Joseph.
The big question is whether he will be the best option in man coverage or if the Texans will still feel safer with a platoon where someone else, like Ball, comes in for press situations.
Said Joseph: "They drafted him here in the first-round to be a fulltime corner, not to be a split-time corner. I know he understands that. I look at a player who progressed from Year 1 to Year 2, and in OTAs I've noticed him progressing and we expect it from Year 2 to 3 in training camp.
"He's a smart football player overall, you can put him in man or zone. He has responded well. We don't have any doubt in our mind at all about Kareem."
June, 7, 2012
6/07/12
9:12
AM ET
It's understandable that
Jerraud Powers
has tired of the negative talk regarding the Colts' cornerbacks.
I've been among those banging that drum, though I've tried to consistently say that my concerns are about who will play corner beyond Powers, who is a quality player and leader.
Provided he stays healthy, I think the Colts have their lead guy. It's the rest of the cast who qualifies as my primary concern for the franchise heading into the 2012 season.
Kevin Thomas
has been working as the second starter. And like most of the guys beyond Powers, he's got minimal experience.
Chuck Pagano said this week that position will get sorted out far more easily once pads are on and training camp practices are underway.
Powers told Mike Chappell the corners are anxious to shut people up.
"I kind of get pissed off every time I see an article or someone talking that the Colts' secondary is this or that," he said after the Colts concluded their ninth of 10 organized team activities (OTAs) Wednesday. "(Critics) aren't in the building every day seeing how these guys work at their craft or how they conduct themselves.

"Going into this year, we're definitely going to have that chip on our shoulder. I feel like that every year. But this year as a group, guys are eager to go out there and show people what we can do and what we're all about in the secondary."
As Chappell points out, the Colts continue to address the spot. They recently traded for
Cassius Vaughn
and claimed
Korey Lindsey
off waivers and reports said they inquired about
Michael Jenkins
when it appeared Dallas could deal him.
There will be far more man-to-man in the new scheme. The former architect of the team, Bill Polian, recently said Powers was the only guy there who could play that style. Polian was presumably talking only of the holdovers, not the newcomers.
The spot is a concern. Powers is reacting the way you'd want the leader of a group under fire to react.
But I won't be surprised if the Colts are still shopping for a corner at the end of training camp when players come free around the league at cutdown day.
March, 11, 2010
3/11/10
4:41
PM ET
Everyone wants their team to trade down.
[+] Enlarge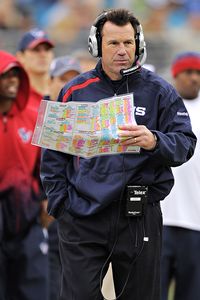 Scott A. Miller/US PresswireTexans coach Gary Kubiak said that trading down in the draft is "a hell of a lot easier said than done."
I get more
e-mails
at this time of year asking me about the possibility of the Jaguars trading out of the No. 10 spot in the NFL draft in hopes of getting more. The same kinds of questions come from Titans fans hoping their team will opt out of selecting 16th overall. Texans fans (No. 20) and Colts followers (No. 31) aren't averse to the idea of trading down, either.
So I am here to tell you, while trading up is often too expensive, trading down is often overrated.
For starters, to get down, you need a team that wants to move up.
"Sitting in the draft room for many years, I think those are conversations that always come up: 'Well, wouldn't it be nice to move back and pick up a couple other picks?'" Texans coach Gary Kubiak said. "Well in that 10 minutes or whatever you have before that pick, if you're not a hot commodity at that time and nobody wants to talk to you, you better be ready to do business.
"I think it's probably a hell of a lot easier said than done."
Said Jacksonville GM Gene Smith in a recent conference call with season-ticket holders: "My mindset is to acquire picks. If we're able to do that, I'll have a smile on my face."
But even if you have a lot of needs, like Smith, is that the right route?
Let's look at the recent trade-down history of our four teams and then assess. We're considering just picks-for-picks trades, not moves that include veteran players.
In the last six years, with the help of Jason Vida of ESPN Stats & Information and
prosportstransactions.com
, here are first-round trade-downs in the division.
Houston
2008
-- Traded with Baltimore
Gave: No. 18 in first round (quarterback Joe Flacco)



[+] Enlarge

Aaron M. Sprecher/Getty ImagesThe Texans drafted Duane Brown after trading down in the first round of the 2008 draft.

Got: No. 26 pick in first round (offensive tackle Duane Brown), a third-round pick (86th overall, running back Steve Slaton) and a sixth-round pick (173rd overall, defensive back Dominique Barber)

Value chart says: Ravens, 900-883.2 points

Assessment: Baltimore got its quarterback and Flacco is clearly the most valuable player of all of these. The Texans got their left tackle (Brown), a skill player who's had one great year and one terrible season (Slaton) and some shaky secondary depth (Barber).
2005
-- Traded with New Orleans
Gave: No. 13 in first round (offensive tackle Jammal Brown)

Got: No. 16 in first round (defensive tackle Travis Johnson) and a third-round pick in 2006 (66th overall, offensive tackle Eric Winston)

Value chart: Texans, 1,260-1,150. (That link is to an NFL-style draft value chart like the ones teams use to measure trade values.)

Assessment: Brown has been a Pro Bowler twice and an All-Pro once. Johnson underachieved and was traded. Winston is a very solid starter, but the Saints got more bang here, I think.


Indianapolis
Sidenote: The Colts gave up their 2008 first-rounder and their 2007 fourth-rounder to get the 2007 second-rounder from San Francisco they used to draft offensive tackle
Tony Ugoh
. That can be classified in different ways. I see it more as the Colts going up to get Ugoh, so I don't use it as a trade-down scenario here.
2004
--Traded with Atlanta
Gave: No. 29 in the first round (wide receiver Michael Jenkins) and a third-round pick (90th overall, quarterback Matt Schaub)

Got: No. 38 in the second round (traded to Steelers for a second-round pick, 44th overall, Bob Sanders and fourth-round pick, 107th overall, linebacker Kendyll Pope), a third-round pick (69th overall, linebacker Gilbert Gardner), and a fourth-round pick (125th overall, cornerback Jason David)

Value chart says: Colts, 845-780

Assessment: A double-trade down netted the Colts Sanders. He may miss way too many games due to injuries, but he won a defensive player of the year award and keyed a Super Bowl team. But Schaub sure proved to have value for Atlanta when Houston came calling a couple years later.


Jacksonville
2007 -- Traded with Denver

Gave: No. 17 in first round (defensive end Jarvis Moss)



[+] Enlarge

Scott A. Miller/US PresswireThe Jaguars' Reggie Nelson had a disappointing sophomore season.

Got: No. 21 in first round (safety Reggie Nelson); a third-round pick (86th overall, traded to Baltimore for a fourth-round pick, 101st overall , a fifth-round pick, 166th overall, and a sixth-round pick 203rd overall); and a sixth-round pick (198th overall, traded to Atlanta as part of package for a fifth-rounder, 149th overall, guard Uche Nwaneri). Punter Adam Podlesh and defensive tackle Derek Landri came out of that trade with Baltimore, with the 203rd pick also going to Atlanta in the trade that got Jacksonville Nwaneri

Value chart says: Jaguars 973.2-950 (not factoring in trades of other picks involved)

Assessment: They did OK, but if Nelson continues on his current course, we'll remember them failing with another first-rounder.


Titans
2004
-- Traded with Houston
Gave: No. 27 in the first round (defensive end/outside linebacker Jason Babin) and a fifth-round pick (159th overall, traded to Jacksonville)

Got: No. 40 in the second round (tight end Ben Troupe), a third-round pick (71st overall, defensive tackle Randy Starks), a fourth-round pick (103rd overall, defensive end Bo Schobel), and a fifth-round pick (138th overall, guard Jacob Bell)

Value chart says: Titans, 860-708.8

Assessment: On draft day, it looked like a monster win for Tennessee and in time, because Babin busted, it still leaned their way. But for the Titans, only Bell was a consistent performer. It's easy to look back on drafts and play what if, I know, but what if the Titans or the Texans had used No. 27 on Sanders or Karlos Dansby or Chris Snee?


Conclusions
:
Let's emphasize this is not scientific and it's not a very big sample size.
Still, these five deals produced just one player we'd rate as stellar, and Sanders has major injury issues. They also yielded AFC South teams a left tackle who still has to prove himself (Brown), a defensive tackle who busted (Johnson), a free safety whose second year was very poor (Nelson) and a tight end who's out of the league (Troupe).
Trading down doesn't always produce the yield everyone imagines. One very good player is better than a couple who rank a notch below. The chance at that player is typically better where you are, not lower than that.
So if the Jaguars see someone they like a lot at 10 or if the Titans see someone they like a lot at 16, they should jump, not dump.