AFC South:

Michael Toudouze
October, 25, 2011
10/25/11
6:24
PM ET
Through seven games the Colts have used four different starting offensive line combinations.
Sunday in Tennessee, we'll see number five.
The team announced
Joe Reitz
, who has started every game at left guard, is out for an unspecified amount of time after arthroscopic knee surgery.
Indianapolis has signed two familiar players to restock the line: guard
Jamey Richard
and tackle
Michael Toudouze
. The team has also placed quarterback
Kerry Collins
and fullback
Chris Gronkowski
on IR.
That means the Colts' offense belongs to
Curtis Painter
as long as he can stay healthy, with
Dan Orlovsky
as the backup. Of course there remains the possibility that
Peyton Manning
re-emerges late in the season.
Reitz is likely to be replaced by
Seth Olsen
, who filled in after Reitz was hurt during the blowout in New Orleans on Sunday night.
The health of two other starters is also in question. Left tackle
Anthony Castonzo
has missed the last three games and right guard/tackle
Ryan Diem
has missed four of the last five.
Both are dealing with ankle injuries.
It's likely the end for Collins, who had retired from the NFL before the Colts lured him back just before the season, concerned about Painter's readiness with Manning out.
Collins suffered a concussion Sept. 25 against Pittsburgh and hadn't played since.
October, 6, 2011
10/06/11
9:18
AM ET
Reading the coverage ...
Houston Texans
The Texans are confident they can
forge ahead
without Andre Johnson for a while. Kevin Walter says the rest of the receiving crew isn't a bunch of "slappies," writes John McClain of the Houston Chronicle.
My take:
We've heard all about how they're equipped to survive without Johnson. I'm buying it, but I'm ready to see whether or not it's true.
Indianapolis Colts
Michael Toudouze had a feeling the Colts
would be calling
. On a day of roster shuffling, he's back on the team, says Mike Chappell.
My take:
The line is a mess, with Ben Ijalana gone for the year, Anthony Castonzo expected to miss some time and Ryan Diem still hurting.
Jacksonville Jaguars
The Jaguars are still high on receiver Cecil Shorts but he's got
a long way to go
to become a steady contributor, says Tania Ganguli of the Times-Union.
My take:
It's hard to expect a lot from a guy like Shorts at such an early stage. But the Jaguars sure could use a growth spurt based on how little they have beyond Mike Thomas.
Tennessee Titans
The Titans have been great in
short-yardage defense,
and that serves as a major confidence booster, writes John Glennon of The Tennessean.
My take:
It's a major attitude/confidence booster and it absolutely deflates an offense to get stuffed on a third-and-1.
October, 5, 2011
10/05/11
8:27
AM ET
Indianapolis' offensive line and interior defensive line are so thinned out by injuries that
Jeff Saturday
joked with Mike Chappell of the Indianapolis Star about
deviating
from the team's next-man-up mantra.
"We (are) going to have to start bringing in some next men," Saturday said.
Monday night in a loss at Tampa Bay, defensive tackle
Eric Foster
dislocated his right ankle. Tuesday he had season-ending surgery. Starting left tackle
Anthony Castonzo
left the stadium with a boot on his left foot and walking with the aid of crutches and his replacement,
Ben Ijalana
, had to be helped off the field in the fourth quarter after damaging his left knee, Chappell says.
According to the report, Ijalana could be out for the season with ACL damage.
The team is expected to elevate one of the defensive tackles from its practice squad, Ricardo Matthews or Ollie Ogbu.
The Colts were already thin on the offensive line before Monday night's game, with
Ryan Diem
out and
Joe Reitz
hurting. They signed offensive tackle Mike Tepper from the practice squad Monday afternoon. He wound up playing right tackle after Castonzo and Ijalana went down.
We'll learn more about the offensive linemen today.
But things are certainly a mess on the injury front. Again.
UPDATE, 12:15 p.m.:
The Colts put Ijalana and Foster on IR and waiveed linebacker Nate Triplett. They signed offensive tackles Michael Toudouze and Quinn Ojinnaka as well as Mathews.
August, 26, 2011
8/26/11
11:55
PM ET
With
Kerry Collins
on the roster and poised to take over as the primary backup to
Peyton Manning
,
Curtis Painter
fared much better working with the Colts' offense.
In a
24-21 loss
to Green Bay at Lucas Oil Stadium on Friday night, the Packers utilized one defensive element Manning typically helps Indianapolis avoid: the blitz.
Manning is masterful at making teams pay when they subtract from coverage to add to the rush. But Green Bay rolled out a steady stream of blitzes, many of which featured cornerback
Charles Woodson
, with no fear of such repercussions from Painter.
[+] Enlarge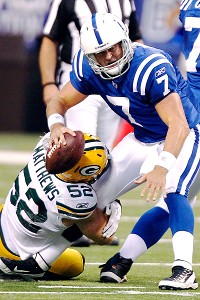 AP Photo/Michael ConroyWithout Peyton Manning, the Packers blitzed again and again on Curtis Painter.
Indy's offensive line is still being sorted out, and the group didn't do particularly well or get particularly good help in minimizing the pressure. Painter didn't get hit so much as he had to hurry, and he was hardly at his best in such circumstances.
Desmond Bishop
got flagged for roughing on one blitz, and Painter threw a ball away when Woodson looped between left tackle
Anthony Castonzo
and left guard
Joe Reitz
untouched. Another time, the quarterback made a nice throw to
Reggie Wayne
, who had a favorable matchup as Woodson came untouched.
No. 2 running back
Donald Brown
actually did reasonably well in blitz pickups, I thought, managing to keep himself between rushers and the quarterback on a couple of occasions. Still that rusher frequently contributed to a closing pocket.
The right side of the starting line, guard
Ryan Diem
and tackle
Jeffrey Linkenbach
, struggled with
Clay Matthews
, whose speed was more than they could handle.
Not every team is equipped to blitz the way the Packers are. But if it's Collins instead of Manning on Sept. 11 in Houston, odds are the Texans will blitz more often and with less fear. And the Colts and Collins will have to be prepared to handle it.
Some other thoughts on what was nearly a rare Colts preseason win:
November, 30, 2010
11/30/10
12:17
PM ET
The Colts could have some big players back in the mix for Sunday's home game against the
Dallas Cowboys
.
Mike Chappell reports
that Colts president Bill Polian said on his radio show that linebackers
Gary Brackett
and
Clint Session
, as well as running back
Mike Hart
, could be back.
Others, including
Joseph Addai
and
Bob Sanders
, are likely further off.

But as Chappell points out, while Hart and Addai could provide a boost to the run game, none of the injury returnees is going to help the offensive line, which has been insufficient as a run-blocking group and increasingly leaky in pass protection. (Sacks remain low, but pressure is up.)
"I think oftentimes, you guys are driven by what you see on TV," said coach Jim Caldwell at a news conference Monday. "They can highlight a certain couple of areas, and you think that was the way the entire game went. I think they can sort of prejudice your opinion a little bit.
"What we do is we take a look at it. We think we have the right people in there, but we are always trying to jostle it around, trying to make adjustments, trying to make certain that not only do we have the right people, but also are we doing the right things with the folks that we have in there? That's up for critique, and we challenge ourselves in those areas and we try to find a way to improve. That's the important thing."
Polian identified the offensive line as a position of concern after last season, really singling out the effort in the Super Bowl. They were comments several players bristled at. (Greg Easterbrook hit on some of this
here
in his weekly Tuesday Morning Quarterback column.)
Longtime line coach Howard Mudd was known for molding players who were not high draft picks or top free agents into effective contributors. He retired and passed the torch to Pete Metzelaars, a transition that seemed smooth.
But in a move that was a stunner then and is baffling now, Polian let right guard
Ryan Lilja
go. Lilja has received good reviews for his play in Kansas City, while the Colts have played two ineffective right guards.
Mike Pollak
was benched in favor of undrafted rookie tackle
Jeff Linkenbach
three games ago.
Left guard's hardly been solid either, with
Jamey Richard
getting displaced by
Kyle DeVan
.
There should be more options.
After Lilja was released, the Colts brought in a couple low-level free agents in
Andy Alleman
and
Adam Terry
. Neither stuck. Fourth-round rookie
Jacques McClendon
has been inactive or worked on special teams.
Polian and the Colts identified a problem, but they really didn't do anything to fix it, unless we count the
Tony Ugoh
resolution and release as addition by subtraction.
In the past five drafts, the Colts have taken eight offensive linemen, five in the fifth round or later.
Charlie Johnson
is a scrappy left tackle who's been better than many expected but still might be ideal as a third, swing tackle. Ugoh,
Michael Toudouze
and
Steve Justice
are gone. Pollak has been benched. McClendon is a reserve as are seventh-rounders
Jaimie Thomas
and Richard.
However this season plays out, the offensive line must be the primary concern in the offseason.
It's time to hit on value picks -- plural. Quality guys and the team's draft slots may not line up. The Colts may need to maneuver to change that.
It's critical to
Peyton Manning
's chances for another Super Bowl in his remaining years.
February, 7, 2010
2/07/10
5:17
PM ET
Inactives are out and the Colts include no surprises:
So much for Cloherty's long shot MVP hopes we examined
here
.
January, 24, 2010
1/24/10
1:59
PM ET
INDIANAPOLIS --
Jerraud Powers
is out with a foot injury suffered in last week's win over Baltimore and the Colts will turn to another rookie,
Jacob Lacey
, in his place.
Lacey's played extensively, and the Colts have plenty of confidence in him.
The issue, if one arises, would be with
Tim Jennings
as part of the nickel package. But the Jets may not have enough firepower in the passing game to take advantage.
The rest of the Colts inactives:
January, 16, 2010
1/16/10
7:00
PM ET
December, 17, 2009
12/17/09
7:12
PM ET
JACKSONVILLE -- The Colts starting defensive ends are active and in the starting lineup. How much dinged up
Dwight Freeney
(abdomen) and
Robert Mathis
(quad) play against the Jaguars remains to be seen.
I expect
Raheem Brock
and
Keyunta Dawson
will get a lot of early-down action. That would be a smart way to scale back work for their stars, who would benefit from less contact with
Maurice Jones-Drew
.
Only three inactive Colts were left to be determined after the team declared the status of its injured players on Tuesday. Because five guys were already declared out, there could be guys eligible or dressed tonight who hardly play -- that will be one of the story lines we'll try to follow for you after kickoff.
For the Jaguars,
Russell Allen
will start at outside linebacker for
Clint Ingram
(shoulder) and Attiyah Ellison will move ahead of
Quentin Groves
for the start at defensive end. As expected,
Montell Owens
is the starting fullback with
Greg Jones
(ankle) placed on injured-reserve.
Here's the full list for both teams.
Colts:
Jaguars:
December, 13, 2009
12/13/09
11:53
AM ET
INDIANAPOLIS -- The Colts' biggest injury concerns didn't affect their inactive list, as starting left tackle
Charlie Johnson
and right tackle
Ryan Diem
are active and expected to start.
Here are the inactives from Lucas Oil Stadium:
Colts
Broncos
September, 5, 2009
9/05/09
9:19
PM ET
AFC SOUTH SCOREBOARD
Thursday, 12/5
Sunday, 12/8