AFC South:

Michael Turner
September, 15, 2011
9/15/11
12:17
PM ET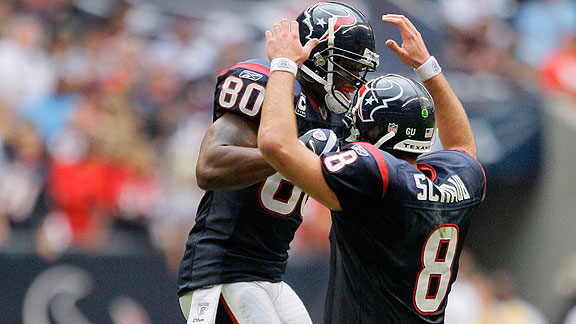 Bob Levey/Icon SMIAndre Johnson and Matt Schaub help lead a Texans team that has a clear path to the division title.
It's a bit easy to say the AFC South should belong to the
Houston Texans
this season.
But I'm joining the chorus and saying it anyway: If this team can't win this division, it'll be time for owner Bob McNair to crumple up the plan and aim it for the closest trash can.
The Texans have a championship-caliber quarterback, receiver, tight end and running back (maybe two or three of those) all working with a smart and skilled offensive line that understands how it needs to work.
Mindset is the only question mark on offense, starting with
Matt Schaub
's ability to rise to big moments. Even if he's only average in that category, with
Peyton Manning
out for at least the bulk of the season, Schaub is the best signal-caller in the division by a wide margin.
The Schaub-
Andre Johnson
-
Arian Foster
combination is among the league's best. Who has a better trio?
Philadelphia perhaps, with
Michael Vick
-
LeSean McCoy
-
DeSean Jackson
. Maybe
Matt Ryan
-
Roddy White
-
Michael Turner
in Atlanta. If we sub tight ends for running backs, San Diego with
Philip Rivers
,
Antonio Gates
and
Vincent Jackson
is in the conversation as is Green Bay with
Aaron Rodgers
,
Greg Jennings
and
Jermichael Finley
.
[+] Enlarge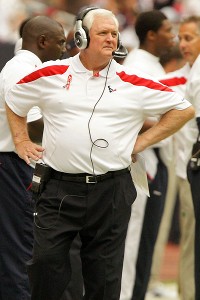 Troy Taormina/US PresswireThe Texans' defense had an outstanding performance in its first game under coordinator Wade Phillips.
The revamped Houston defense was outstanding in the opener. Sure, much of that had to do with the Colts' offense in its first game with
Kerry Collins
playing in place of Manning. But we saw all the elements of a defense that can win games -- stout run defense, consistent pressure on the quarterback, quality coverage, the ability to cope with sudden-change situations.
One can see swagger and confidence in the body language of guys thrilled to be working under defensive coordinator Wade Phillips. I think he's too low key, but it can clearly work for him as a coordinator. He has a way of keeping things simple and keeping the mood light, and players have bought in. I never sensed a similar feeling when Richard Smith or Frank Bush manned the post, though they obviously didn't have the same quality of personnel Phillips will enjoy.
On special teams,
Neil Rackers
has a big leg that will make a lot of touchbacks and long field goals.
Jacoby Jones
and
Danieal Manning
can provide a jolt in the return game. Rookie punter
Brett Hartmann
isn't proven yet but has a big leg.
The schedule is hardly a breeze, but look at the quarterbacks they could face: Collins twice,
Chad Henne
,
Matt Hasselbeck
twice (or maybe rookie
Jake Locker
),
Luke McCown
twice (or maybe rookie
Blaine Gabbert
),
Colt McCoy
,
Andy Dalton
and
Cam Newton
.
Houston's been called a soft team, a finesse franchise. Not too many soft teams produce the NFL rushing champion the way this team produced Foster last season.
If the Texans' offensive blocking scheme amounts to a finesse one, so be it. The Colts have won the division eight times in nine seasons with a lot of finesse. They're fine with you insulting them over it while admiring their success.
The Texans can show their toughness this season in how they stand up to Pittsburgh on Oct. 2 and at Baltimore on Oct. 16 and in how they fare in their games with the Jaguars.
The Colts' issues should be a huge assist for the Texans, as will the fact that the Titans and Jaguars are trying to stay afloat with temporary quarterbacks while developing top-10 draft picks in Locker and Gabbert. Although both teams may be ascending, their talent doesn't match Houston's.
If the Texans can make it through the first three-fourths of the season with a good record and in good health, they should be golden with a home stretch against Cincinnati (away), Carolina, Indianapolis (away) and Tennessee.
It sets up for success.
If this team folds under the expectations, if it cannot go get what's so attainable, it's going to have to be dismantled. It will require no more Mr. Nice Guy from McNair, who will have to part ways with a lot of nice guys he truly admires, starting with GM Rick Smith and coach Gary Kubiak. McNair will have no choice but to look for a different tone after a house cleaning.
I don't think that's how things will play out. I think Manning's injury is a big break that opens the door, a door the Jaguars and Titans are not ready to approach. The Texans are more than talented enough to storm through it if they don't complicate things. Run the ball. Work the play-action and bootleg game off of it. Rush the passer. Build from there as the season goes on and finish strong.
Watch pundits pick you to be a team that can do damage in the playoffs, and respond to it.
It sounds simple.
It just might be.
May, 31, 2011
5/31/11
11:27
AM ET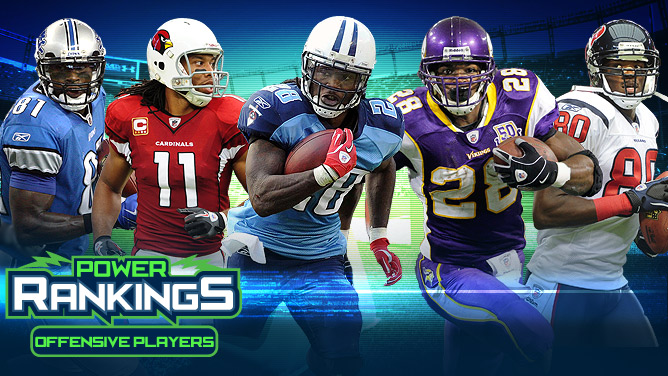 ESPN.com IllustrationChris Johnson (center) and Adrian Peterson (center-right) share the top honors in our Offensive Player Power Rankings.
ESPN.com's NFL writers rank the top 10 offensive players (non-quarterbacks) in the league today.
Next week: Toughest venues to play in.
We've evaluated running backs, assessed receivers, tackled tight ends and critiqued quarterbacks.
Our next assignment for ESPN.com's Power Rankings: Rate the top 10 offensive players in the NFL, taking signal-callers out of the equation.
It's a difficult task, considering we've not addressed the offensive line. (I believe that left tackles are on the long-term agenda, but that is not my department.)
Nobody else took my route. I simply put a giant premium on explosiveness and passed on O-linemen entirely. I didn't do it because I downgraded their importance. Backs, receivers and tight ends couldn't qualify for consideration here, obviously, without quality line-blocking.
I did it for three reasons.
Like virtually every football writer, I am least good at evaluating offensive linemen with my own eyes.

Although conventional wisdom says to build inside-out, if I could select 10 offensive football players with whom to start a team, I'd load up on playmakers and feel good about the potential to build a good line starting with my 11th choice. (I'd have an excellent offensive line coach.)

We're not in the prime of Jonathan Ogden or Walter Jones or Alan Faneca. And although some great linemen got votes here, none is so good he HAD to be here. Right now, we might be more about units than superior individuals.
But my logic is easily disputed by someone who took a completely different tack. NFC North blogger Kevin Seifert voted linemen fifth and sixth with
Joe Thomas
and
Jake Long
, respectively.
"It's definitely harder to measure the impact of a singular offensive lineman versus skill players, but to me you're fooling yourself if you either subordinate their role or don't consider the best linemen to be just as important as the best running backs or receivers," Seifert said in an email laced with compliments of the AFC South blog's content. "Linemen don't touch the ball, so their impact on any given play is more limited than, say, when
Adrian Peterson
gets a handoff.
"But over the course of a game, an elite offensive lineman can contribute to a victory just as much. And, more obviously to most people, a sub-par performance from an offensive lineman can lead to defeat. I made sure to rank my top running backs and receivers ahead of any offensive lineman in this ranking, but I thought the two best guys in the league -- Joe Thomas and Jake Long -- deserved to be ranked over the second tier at the other positions. So that's how I went about it."
And so here's the buried lead:
Tennessee's
Chris Johnson
edged Minnesota's Adrian Peterson in our Running Back Power Rankings, but the two finished dead even here, sharing the No. 1 slot.
They are ahead of Houston receiver
Andre Johnson
by six points, while two more receivers rounded out the top five: Arizona's
Larry Fitzgerald
and Detroit's
Calvin Johnson
.
AFC West blogger Bill Williamson cost Peterson the outright No. 1 spot by voting him seventh, just as he cost Peterson a tie in
the running backs poll
by putting him third.
"I think Chris Johnson is the best running back and I think
Jamaal Charles
is right behind him," Williamson said. "I see Charles often. The guy is the goods. So, that leaves Peterson just a tad below. I stuck to my running back power rankings, which cost Peterson. Seems like it happened again. But I'm comfortable with it."
Atlanta receiver
Roddy White
is sixth, Jacksonville running back
Maurice Jones-Drew
seventh, Long eighth, Thomas ninth and Charles tied for 10th with San Diego tight end
Antonio Gates
.
Jones-Drew caused a bit of a divide. He wasn't named on five of our eight ballots, but NFC East newbie Dan Graziano and NFC South maven Pat Yasinskas had MJD in their top four.
"He's the every-down back, he's the goal-line back, he catches the ball," Graziano said. "I just think his overall contributions to the offense set him apart. He may not be as good or skilled a back as Peterson or Johnson, which is why I ranked those guys higher.
"But for me he has more to do with how his team's offense runs and succeeds than does a receiver like a Fitzgerald or White. And while I think Jamaal Charles has more talent, the fact that he doesn't play as much as Jones-Drew plays moves him further down the list for me."
Said Yasinskas: "I look at Maurice Jones-Drew as more than just a running back. He's an all-around weapon."
As usual, the reasoning of my colleagues makes me secretly second-guess some of my decision-making. Wait, did I say that out loud? Then not so secretly.
It's hard to go wrong, obviously, with an entire pool of offensive players (minus quarterbacks) to choose from.
Guys who got votes and finished 12th through 19th --
Reggie Wayne
,
Jason Witten
,
Michael Turner
,
Arian Foster
,
DeSean Jackson
(thanks to my vote, talk about big plays),
Nick Mangold
,
Greg Jennings
and
Steven Jackson
-- qualify as an All-Star team on their own merits.
Here's hoping the lockout doesn't leave us writing columns off imaginary games between teams featuring our first- and second-strings.
March, 15, 2011
3/15/11
1:00
PM ET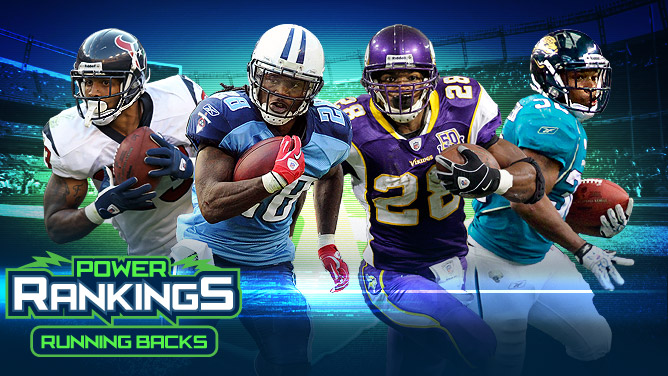 ESPN.com IllustrationThe voting for the NFL's top running back was a tight one between Tennessee's Chris Johnson and Minnesota's Adrian Peterson.
ESPN.com's NFL writers rank the top 10 running backs in the league today. Next week: Top 10 pass-rushers.
When it came to deciding who we think is the NFL's best running back, everyone representing the NFL Blog Network chose between
Chris Johnson
and
Adrian Peterson
at the top of the ballot.
Everyone except AFC West blogger Bill Williamson, that is.
Williamson's second-place vote for Kansas City's
Jamaal Charles
bumped Peterson to third on his ballot. So instead of Peterson splitting the top spot with Johnson, he came in second by a mere point -- 76 to 75.
Johnson joins Houston receiver
Andre Johnson
as
tops at his spot in our positional power rankings
.
"I squeezed Charles in between Johnson and Peterson because I think Charles may be rising some and Peterson may be falling just a tad," Williamson said. "We all know running backs have short shelf lives, so any little indication of slippage could be significant.
"I know Johnson slipped some in 2010, but this is still a highly productive player who has plenty left in the tank. I think Johnson gives defensive coordinators more Tuesday night headaches than any tailback in the league right now. I get to see Charles quite a bit, and he is simply explosive. He truly can score any time he touches the ball."
Full disclosure: I very nearly put Charles second, too, though had I made the move it would have pushed back Johnson, not Peterson -- and given us that tie. Ultimately, I put Peterson first because I think he's largely resolved his biggest issue, fumbling, while Johnson regressed in 2010 as a pass-catching threat. I think Charles is fantastic, but he hasn't approached the workload of AP or CJ yet, so I put him third.
The overall ballot created a tie for third between two other top-flight backs, Jacksonville's
Maurice Jones-Drew
and Houston's
Arian Foster
, giving the AFC South three of the top four backs in the poll.
Foster was dinged by an eighth-place vote by me (love him, but one year is not a big enough sample size for a lead back), while Jones-Drew was hurt by an eighth-place vote by NFC North blogger Kevin Seifert.
"Maybe next time MJD will think twice about crossing an NFC North player," Seifert said. "Seriously, his Twitter criticism of
Jay Cutler
played no role in my decision. As I did last week with Andre Johnson, I'll plead unfamiliarity. I don't have anything against Maurice Jones-Drew. As an NFC North divisional blogger, I haven't had many opportunities to see him play. First-person observations tend to have a bigger impact on your judgment. Plus, I wanted to give the Jaguars' fan something to get upset about."
Charles finished fifth, with the second-place vote from Williamson and No. 10 vote from NFC South blogger Pat Yasinskas, who also cast the lone vote for Charles' backfield partner,
Thomas Jones
.
Yasinskas put Jones, who was with the
New York Jets
in 2007-09, two spots ahead of Charles.
Yasinskas said he didn't want to give too much weight to flavor-of-the-year candidates and still wants to see more from Foster and Charles before really anointing them.
[+] Enlarge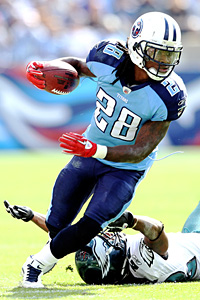 Andy Lyons/Getty ImagesTennessee's Chris Johnson rushed for 1,364 yards and 11 touchdowns last season and topped the list of four of our eight panelists.
"That's why I based my ballot mainly on looking independently at combined rushing totals of the last two years and the last three years and then drawing conclusions," Yasinskas said. "Foster's had one good year and Charles has had two. I tried to focus on guys who have been consistently productive for at least two years and preferably the last three years.
"That thinking led me to cast the lone vote for Thomas Jones, who didn't make our top 10. I've got no regrets about that vote. Jones' numbers dipped last season and there is no doubt he's nearing the end of his career. But his numbers in the previous two seasons were outstanding, and when you combine them with his numbers from last year he still stacked up well compared to most running backs over two- and three-year spans, which were the time periods I tried to focus on."
Jones, 32, and
LaDainian Tomlinson
, 31, were the oldest backs to draw votes. Seifert placed Tomlinson 10th.
Otherwise the panel leaned to youth.
Among the 12 backs who made our top 10 list, based on ties,
Michael Turner
(29),
Steven Jackson
(27) and
Frank Gore
(27) rank as the old men. The other nine are 25 or younger.
Turner edged Jackson for sixth, making every ballot. AFC East blogger Tim Graham didn't include Jackson in his voting.
"I couldn't bring myself to vote for Jackson because he averaged only 3.8 yards a carry, scored six touchdowns and had little impact in the passing game," Graham said.
Ray Rice
has a big cushion for eighth while
Rashard Mendenhall
finished ninth, with two seventh-place votes but three voters not including him.
Gore,
LeSean McCoy
and
Darren McFadden
finished tied for 10th, while Jones,
Peyton Hillis
and Tomlinson got votes but didn't make the final list.
I found it tough to pass on Gore, but he played in only 11 games in 2010 before landing on IR with a hip injury. There was such stiff competition, so I leaned on guys who were more durable.
"Gore has certainly played at a high level longer than Rice, Turner or McFadden," NFC West blogger Mike Sando said. "He's produced across systems for a team that has had a different offensive coordinator every season of his career.
"He's never had a quarterback to take pressure off him. Defenses have known what was coming, and Gore has kept coming anyway. It's bitten into his production and taken a toll on his body, but he has produced."
October, 14, 2010
10/14/10
9:00
AM ET
By
Scouts Inc.'s Matt Williamson
| ESPN.com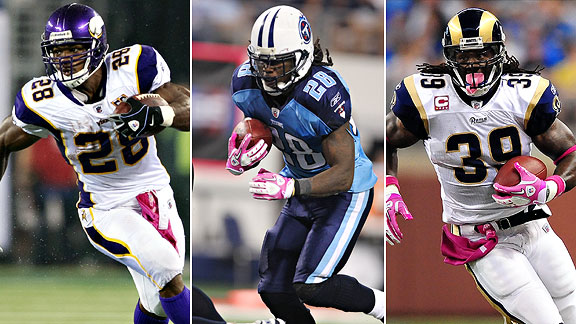 US PresswireAdrian Peterson, Chris Johnson and Steven Jackson lead a pack of talented running backs.
The majority of these decisions were clear-cut for me, including deciding between the top two. But after
Michael Turner
, this list became very difficult to compile.
I was torn between
Rashard Mendenhall
,
Jamaal Charles
and
LeSean McCoy
for the last two spots. For me, a true barometer when judging a running back's greatness is consistency over a long stretch of time -- though I realize that running backs' life spans are very short. And Mendenhall, Charles and McCoy have not demonstrated that consistency. I left Charles off the list because he isn't the clear lead dog on his team -- although he certainly should be.
Two other backs I'm very high on,
Jonathan Stewart
and
Beanie Wells
, obviously have no case for being on this list, but they do have the skill sets to be among the best in the league.
An all-time great who I thought was washed up,
LaDainian Tomlinson
, could very well convince me that he belongs back on this list if he continues to perform as well as he has for an extended stretch. What Tomlinson is doing is pretty remarkable, but I also think we need to keep it in perspective. He is in the ideal offense to succeed, with a hammer lead-blocking fullback, the best center in football, outstanding overall blocking, a quarterback who needs the safety blanket check-down receiver that Tomlinson provides and a playcaller dedicated to the run. Just look at how different
Thomas Jones
has been in Kansas City instead of New York. Still, Tomlinson has completely blown me away.
It's too early to include Houston's
Arian Foster
among the top 10 running backs, but what he has done in 2010 is very impressive. I must see more from him, however, to put Foster with the big boys. Foster, the leading rusher in the NFL with 564 yards, has durability concerns and looks to be nicked up. He isn't special enough to be the type of guy who can be counted on week to week, but his downhill, no-nonsense running style is exactly what Gary Kubiak wants in his zone-blocking scheme. (Check out
Jeffri Chadiha's Hot Read
on Foster.)
Here are my top 10 running backs.
1. Adrian Peterson, Vikings:
He is noticeably better than he was a year ago in all phases of his game. And he was the best back in the league last year. I said it then, and I will say it now. Peterson is an all-time great and clearly the best overall running back in football.
2. Chris Johnson, Titans:
Johnson has been up and down this year, but some of that has to do with his supporting cast. He did look like the 2009 version of himself in Week 5. There isn't a more dangerous player in the game.
[+] Enlarge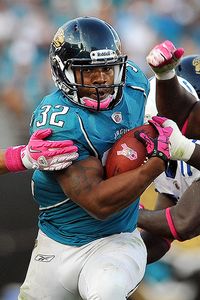 AP Photo/Stephen MortonMaurice Jones-Drew has only rushed for one touchdown this season after rushing for 13, 9, 12 and 15 in his first four seasons, respectively.
3. Steven Jackson, Rams:
Jackson recently eclipsed the 7,000 rushing yards mark. Just think how many he would have on another team. Jackson contributes in every way possible.
4. Maurice Jones-Drew, Jaguars:
I actually worry that MJD might, just might, be showing the very first signs of decline to his lofty game. I hope I am wrong about that, because he is a joy to watch and is remarkably consistent. Jones-Drew is a touchdown machine who can beat you as a runner or receiver.
5. Frank Gore, 49ers:
The only knock I have on Gore is durability, as he seems like a lock every year to miss a game or three with a lower-body injury. But he is a very special talent who can put a football team on his shoulders. It looks like he is going to have to for the 49ers to rebound.
6. Ray Rice, Ravens:
This past week, we finally saw the Rice of 2009. He really does everything well at the running back position. If anything, he should move up this list soon.
7. DeAngelo Williams, Panthers:
Wow, do I wish that we all could see Williams in Green Bay this year. Instead, he is in an absolutely dismal situation on one of the worst offenses in the league. Since Williams should be a free agent after this season, next year I might just get my wish. I bet he wouldn't complain either.
8. Michael Turner, Falcons:
Turner is a perfect fit for Atlanta's power running game and they tend to go as he goes. For a big back, he breaks a lot of long runs, but he offers little in the passing game.
9. LeSean McCoy, Eagles:
McCoy has come into his own. He is now stronger and understands the NFL game much better. Remember, last year he was one of the youngest players in the league. He's a dual threat with rare elusiveness. And he really fits the Eagles' offense. I am a believer.
10. Rashard Mendenhall, Steelers:
Mendenhall has not been spectacular during the first four games this season, but he has gotten a ton of attention from opposing defenses because the Steelers didn't have a quarterback to speak of. Prediction: The next 12 games will justify this ranking. He is quietly coming into his own and dripping with natural gifts.
December, 20, 2009
12/20/09
8:39
PM ET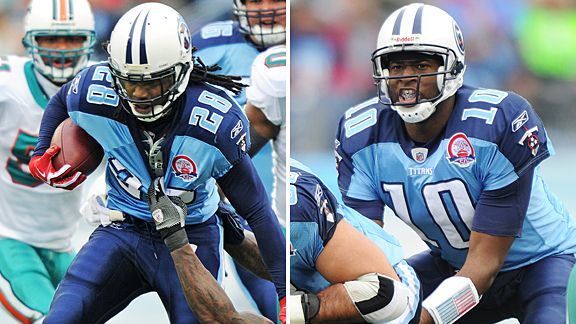 US PresswireChris Johnson and Vince Young have resurrected Tennessee's hope for a playoff berth.
NASHVILLE, Tenn. -- They have two more games to win and need a heaping portion of assistance to clinch a playoff spot.
Still, the Tennessee Titans' climb from 0-6 to 7-7 has been an impressive journey engineered by a quarterback-running back tandem that might be the most electric, dynamic duo in the NFL.
"I'll take our quarterback-running back combination any day," said Titans defensive end
Kyle Vanden Bosch
after Tennessee's
27-24 overtime win
over Miami at LP Field. "We've been doing some good things on defense, today we did some good things on special teams. But VY and CJ have been carrying this team."
There is no lack of competition for
Vince Young
and
Chris Johnson
in any debate on the topic and no clear winner: Solid cases can be made for
Brett Favre
-
Adrian Peterson
,
Peyton Manning
-
Joseph Addai
,
Philip Rivers
-
LaDainian Tomlinson
,
Carson Palmer
-
Cedric Benson
,
Drew Brees
-and whichever running back the Saints have going and
Matt Ryan
-
Michael Turner
when they are healthy. All are contenders to me.
But in the case of each of those pairs, we've seen the best of at least one of the tandem, haven't we? Young and Johnson both can, and will, play better. And 14 games into their first season of extensive work together, they both appear freshly topped off with rocket fuel.
"I have great confidence," Johnson said. "So I feel like we're the best tandem."
Sunday's combined effort was excellent, though the Titans' defense tried to undo it and made for a much more complicated ending than should have been necessary.
Young had the first three-touchdown game of his career, completing 14 of 27 passes for 236 yards. A bobbled ball got intercepted early. He also ran twice for 24 yards, though he has knee and hamstring issues and got out of danger ASAP.
Of all the areas in which he's showed significant improvement since taking over as the starter on Nov. 1 -- maturity, resiliency, decision-making, defense-reading -- none has impressed or surprised me more than his touch.
It was not long ago that he regularly threw screen passes at his target's feet or over their heads. Now he is putting balls in small windows, with just the right arc, right pace and to the right effect.
Justin Gage
was well covered on his first touchdown catch, a 22-yard ball that dropped neatly over the head of
Gibril Wilson
and arrived just before Nathan Jones. Gage was covered even better than that on his second scoring reception, a 21-yard pass that beat the tight marking of rookie
Vontae Davis
.
"I don't want to play [Young] in darts right now, because he's putting the ball on the money," tight end
Alge Crumpler
said. "…It all started with Vince putting the ball exactly where it needed to be so that only our guys could make a play on the ball."
Offensive coordinator Mike Heimerdinger has attributed the heightened accuracy and touch to Young's feet and to him holding the ball closer to his body as he surveys the field. Young echoed that when asked about it after beating the Dolphins.
"It's all about knowing where your guy's at and preparation," Young said. "It's not always about the arm, it's the lower body, the core, something I've worked on a lot. That's something Heimerdinger's preached to me. Make sure your feet are set, are underneath you.
"…I really feel like that's how defenses are going to play us, try to take CJ away and make me win the game with my arm."
Johnson topped 100 yards rushing for the ninth consecutive game, with 29 carries for 104 yards against a physical defense hell-bent on slowing him. He also had two catches for 55 yards.
His 41-yard catch and run on a screen might have been a 71-yard TD if Johnson hadn't slowed to see if leading offensive lineman
Eugene Amano
would be able to throw a block on Wilson, who ultimately dragged him down.
The league's leading running back needs 270 yards for 2,000 and still intends to get there.
"You never know what type of game I'll have," he said, emphasizing that wins are more important. "I might have a 200-, 300-yard game."
"We talk about it," veteran center
Kevin Mawae
said. "We'll know how many more yards we need to get to 2,000. It would be a great accomplishment for him, for this team and for the offensive line."
Marshall Faulk's NFL record for scrimmage yards is in even better range. Faulk went for 2,429 yards in 1999. Johnson's at 2,176 and his current pace would get him to 2,487.
Johnson wasn't with the team in 2006, but Young put together an offensive rookie of the year campaign after an 0-5 start.
Those Titans went into the final Sunday needing three results elsewhere plus a home win over New England to make the playoffs. The Steelers, Chiefs and Niners all gave them the assists, but they lost to the Patriots 40-23 and finished 8-8.
Titans coach Jeff Fisher has offered reminders of that, as well as some predictions -- forecasts that Young said must remain confidential.
Tennessee hosts San Diego Christmas night and finishes in Seattle. To do their part, the Titans know they'll have to get vintage Young and Johnson performances as the two continue to create defensive nightmares.
"We'll focus on winning and I'll let my mom pray for everybody else to lose," Crumpler said. "It keeps working that way."
November, 2, 2009
11/02/09
5:16
PM ET
Posted by ESPN.com's Paul Kuharsky
With
Owen Daniels
lost for the season to a torn ACL, Gary Kubiak and Kyle Shanahan will need to tinker with their offense.
And Sunday in Indianapolis, one of the players they'd like to look to to help offset the loss won't be available either. Rookie tight end
James Casey
has a torn meniscus repaired with a scope early Monday, Gary Kubiak said at his afternoon press conference.
("The surgery went really well and I will be back in no time ready to rock and roll," Casey tweeted from
@jamescasey86.)
It's hardly ideal to go forward without Daniels -- who is second on the team with 40 catches and tops with five touchdown receptions -- but it shouldn't be a death blow either.
The Texans will be able to get something out of Daniels' replacement,
Joel Dreessen
. And they can do more with receivers beyond
Andre Johnson
. I've touted No. 2 wideout
Kevin Walter
, who's had a semi-quiet year and can produce more than roughly the 3.5 catches a game he's averaging now.
Other players they can try to look to more: receivers
David Anderson
,
Andre Davis
and
Jacoby Jones
and Casey once he's healthy, hopefully after the bye week for a Nov. 23 "Monday Night Football" game against the Titans.
"The production of catching the football and those types of things have got to continue to come from some place," Kubiak said. "Does it come from Joel? Does it get spread out amongst the receivers? We'll see. But it's another adjustment period for us as an offensive coaching staff."
Dreessen played 52 plays of offense and about 80 total in the win in Buffalo, Kubiak said. He will continue to work as the long snapper, but likely have his other special teams obligations scaled back.
Because Daniels is so good, the Texans haven't had to rely on Dreessen in the passing game, but it doesn't mean they've not looked to him. In their Week 2 win at Tennessee,
Matt Schaub
threw to Dreessen to convert a key fourth-and-2 on a drive that tied the game in the fourth quarter.
"He' does a little bit of everything," Kubiak said. "He's a guy who can play a lot of football with limited [practice] reps. ... He's just very flexible. He can do a little of both as a tight end on the line of scrimmage, as a receiver. Big opportunity for him in his career, we've got to use him the right way and he's got to step up."
Kubiak said with replacement guards filling in and
Kasey Studdard
and
Chris White
gradually improving after season-ending injuries to
Chester Pitts
and
Mike Brisiel
and Ryan Moats' stellar performance against the Bills after
Steve Slaton
was benched, the Texans are looking for the next round of players to rise to the opportunity.
Another rookie tight end,
Anthony Hill
, was brought in largely because of his abilities as a blocker. The team will likely look at tight ends and long snappers this week as they consider how to fill Daniels' roster spot.
As for the running back situation, Kubiak was non-committal. He said only Slaton can fix the fumble problems that led to his benching.
They will consider both and
Chris Brown
as they prepare for Indy. Kubiak said that Moats is roughly the same as Slaton in pass protection, but while he has good hands less equipped to line up wide and run routes as Slaton can.
The Texans could play backs by down, meaning work on first and second down for Moats and maybe some chances for Slaton on third down when his versatility is more appealing.
They shouldn't be quick to move away from Moats after such a great fill-in performance. A lost Slaton fumble won't likely be something they can survive at Lucas Oil Stadium.
One note on Moats, who scored three TDs in the fourth quarter in Buffalo, from the Elias Sports Bureau: In the last seven seasons (2003-09) the only other NFL player to score three touchdowns in the fourth quarter of one game was
Michael Turner
for the Falcons -- last year against Carolina.
January, 7, 2009
1/07/09
10:30
AM ET
Posted by ESPN.com's Paul Kuharsky
Overdo for a dive into the mailbag, so here you go. Titans followers, please pay careful attention to item No. 2 from Eric in Seattle.
Want to be part of the next mailbag entry? Send comments, questions, complaints or savings bonds here.
Kevin in Portland, OR writes: Paul- I understand that the AP offensive player of the year award is usually going to go to a quarterback, but is there any logical reason that Andre Johnson didn't receive a single vote? He onlt averaged 98.4 yards per game and lead the league in both receptions and yards, on the third best (by yardage) offense in the NFL. If a quarterback from an 8-8 team can win the award, why the snub for the best receiver in the NFL, even if his club is 8-8?
Paul Kuharsky: That is a great question, Kevin, and I don't have an explanation for you. A QB is going to trump a receiver virtually every time. But Johnson had a great case for at least getting a couple votes. My understanding is that there is a voter from each NFL market, though I don't believe there is one in Nashville. I wonder what the Houston voter did.
---
Eric in Seattle writes: What does ESPN have against the Titans? Don't give me the run around answer either. I mean seriously though, how can a team have the best record in the league and get so little press. Even the pages today there isn't one spotlight story on the Titans. Did stepping on the horrible ugly yellow towels do it. And yes I'm also a Seahawk fan that knows we got robbed by the refs in XL super bowl. What gives?
Paul Kuharsky: Attention Titans supporters: Here is the blanket answer on the disrespect angle. You are certainly welcome to continue to flood the mailbag with messages like Eric's. But in the interest of doing a good job writing about the very team you are complaining gets no attention, I hereby will stop spending time answering the individual notes.
Why not enjoy your team's success instead of worrying about what you see as some sort of disrespect? Why is perceived attention so important? If an analyst thinks Baltimore is going to win, should he lie and say otherwise to appease you? I work for ESPN and write about the Titans constantly, so do we really think I am the right guy to harp on this with.
---
Duane from North Hills writes: I did some research on Manning for you and here it is. In his postseason losses he's averaged 13.9 points a game. He put up 18 points or less in 7 of his 8 losses. He's had only 4 multiple TD games and half of his TDs came from 3 of his 15 games. That means he's averaged less than 1 TD per game for his remaining 11 games. He's never had more than two good consecutive games in the postseason. He's a VERY BIG reason why the Colts continue to fail in the postseason.
Paul Kuharsky: I don't disagree that he is a big reason, though I would say it's their offense in its entirety and not Manning exclusively that has produced the limited points. I don't think Manning is in the top five reasons why the Colts lost this time.
January, 5, 2009
1/05/09
2:45
PM ET
Posted by ESPN.com's Paul Kuharsky
A number of readers had a similar reaction following the Colts' loss in San Diego Saturday night.
Allow me to paraphrase:
"Peyton Manning should give the MVP back,"

"Some MVP."

"That's the MVP?"
PEYTON MANNING
Quarterback Indianapolis Colts



2008 Season Stats

Att
Cmp
Yds
TD
Int
Rat
555
371
4,002
27
12
95.0
I am compelled to reply.
First off, the Colts didn't lose because of Manning. Yes, the playoff record of one of the two best quarterbacks of his era should be better than 7-8. Yes, Manning's Colts have bowed out in their first game four times too often. But while Saturday wasn't Manning's best game and while his one big pass play came on a busted coverage, his work was sufficient for a win. He deserves a share of the blame, but he's not responsible for the insufficient run game, the Colts' struggles slowing Darren Sproles, the failed block by Gijon Robinson on a crucial sack that killed Indianapolis' chance to ice it or a number of other issues.
Secondly, the MVP Award is for the regular season. If you thought Manning didn't play MVP football against the Chargers, so be it. But that game doesn't erase the work he did from September through December that earned him the award in a landslide vote.
This is the reverse of something I see constantly. Player X, let's say he's a receiver, will have played poorly for a month and then he has a breakout game. He says, "That was for everyone who gave me all the grief. Take that. See?" And his supporters and emotional fans pick that up and run with it, calling in for hours on talk radio and firing e-mails to bloggers.
But while he may have had a wonderful game, guess what? He still had a lousy month before that. He didn't change history.
| | |
| --- | --- |
| | |
| | NFL.com Video |
| | Re-live the sights and sounds from the Colts' 2008 regular season. |
Neither did Manning in San Diego.
A performance that may not have met the high standards he's set for himself in the playoff opener was a disappointment. It didn't all of a sudden make someone else worthy of MVP.
And if you think Manning was disappointing, how about we take a close look at the guys who tied for second in the MVP vote? Chad Pennington threw four picks as Miami lost while Michael Turner averaged 2.3 yards a carry as the Falcons lost.
One e-mailer suggested the MVP voting be moved until after the postseason.
Bad idea.
The 16-game grind of the regular season deserves an MVP. There is already a second award for a guy who leads his team to the Lombardi Trophy. It's called the Super Bowl MVP.
November, 19, 2008
11/19/08
1:25
PM ET
Posted by ESPN.com's Paul Kuharsky
The Titans did it gradually. The Jets had a big swoop.
But the two teams that square off Sunday in Nashville share a quality that has helped set them apart from a lot of teams in the NFL: They have hit on veteran free agents who have been productive and helped shape their team's culture.
The Jets are getting good production out of guard Alan Faneca as well as linebacker Calvin Pace. Right tackle Damien Woody has been OK. (Trades for Brett Favre and Kris Jenkins have obviously been big too, but we're sticking to free agents here.) The Titans are better on the offensive line with Jake Scott at right guard, and made solid additions in the last few years with cornerback Nick Harper and linebacker David Thornton.
Other hits so far from the 2008 free agent class include running back Michael Turner in Atlanta, defensive end Travis LaBoy in Arizona, defensive end Justin Smith in San Francisco, linebacker Kawika Mitchell in Buffalo and center Jeff Faine in Tampa Bay.
But plenty of other teams have swung and missed with significant deals for players they hoped would be cures -- Jacksonville with receiver Jerry Porter and cornerback Drayton Florence, Cleveland with Donte' Stallworth, Miami with defensive tackle Randy Starks and receiver Ernest Wilford and Oakland with receiver Javon Walker.
When a team brings in a guy with a big contract and high hopes and he fails to pan out early on, it hurts a team in multiple ways. A club misses the production, obviously, but can also be deflated by having failed in an attempt to get an immediate upgrade. It's a whiffed tackle or dropped pass that can haunt a team.
Both the Titans and the Jets have put a premium on personalities as they've brought guys in.
"When you bring in free agents it's also a function of how well they fit into the group that's already there," Jets coach Eric Mangini said. "How quickly they can stop being free agents and start being Jets? One of the things that has always been important to us is core characteristics with the people that we bring in and that's smart, tough, hard-working guys, guys that are competitive and selfless, and guys that football is important to."
"That's the draft, that's free agency and those are characteristics that we target before we even talk about their ability to play football."
That could have just as easily been Jeff Fisher talking about what the Titans have managed to do as they've shopped for veteran help.
Do it well as these two teams have and you might end up in one of the best games of Week 12, pitting a 10-0 team against a 7-3 division leader.