May, 8, 2012
5/08/12
11:08
AM ET
We're often Doubting Thomases by nature, and that's kind of where I fall on
Matt Schaub
's foot.
I'll believe he's ready for training camp when I see him looking 100 percent at the start of camp.
[+] Enlarge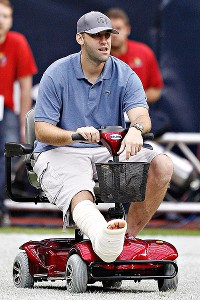 Bob Levey/Getty ImagesTexans quarterback Matt Schaub says his injured foot is healing "right on schedule."
But Gary Kubiak and Schaub himself said again Monday that the quarterback will be fine for camp. His 2011 season ended Nov. 13 when Tampa Bay's
Albert Haynesworth
twisted up Schaub's right foot, causing a serious lis franc injury that needed to be repaired surgically.
"Doing great," Schaub said at the team's golf tournament. "Feeling real good. Making a lot of progress with rehab, so things are right on schedule ..."
"It's just a matter of time. There's no more major milestones, it's just staying with the program, staying true to the plan, and really the next milestone is training camp in my opinion. That's when everything really gets going."
Kubiak said the team will have to hold Schaub back through OTAs and minicamp.
"If we're not paying attention, he'll do everything, but we're not going to let him do that," Kubiak said. "We're going to put the reins on him, so to speak. He will do drill work, could throw some 7-on-7, but he will not be put in a team environment where he might get tripped up or something like that happens. He's ready to go. It's us being cautious with him right now."
I think the Texans would have been a big part of the conversation about AFC favorites before cap troubles and free agency stripped out some key guys, particularly the right side of the offensive line, where guard
Mike Brisiel
hit the jackpot with Oakland in free agency, and
Eric Winston
was released to cut costs.
Still, this is a team that endured a ton of injuries last season, including losing Schaub for six regular season and two playoff games.
A healthy version of the Texans in a division where the competition isn't particularly strong might not be in position to get a bye and home-field advantage, but would certainly qualify as the favorite to win the AFC South.
"Well, it's great to be in that [Super Bowl contender] conversation," Schaub said. "We've made a lot of strides, it's been a lot of hard work and blood, sweat and tears put into this over the years. To finally be there is great.
"But they're just words, and we need to go out and prove it year-in and year-out. So we need to turn around and go and be right back there at the end of the season this year."
March, 26, 2012
3/26/12
2:04
PM ET
Gary Kubiak conceded the early stages of free agency
were rough
on the
Houston Texans
.

They re-signed running back
Arian Foster
before he got to restricted free agency, and managed to keep center
Chris Myers
after he saw some interest from outside.
But gone through free-agent losses, cuts or trades are eight players of note.
Let's take a look at each departure:
OLB Mario Williams (free agent, signed with Buffalo)
The team knew it was highly unlikely it would be able to keep him, and he got a giant contract from the Bills.
The glass-half-full side points out how well the Texans rushed the passer without Williams in the final 11 games and the playoffs last year and points out that he was always banged-up.
On the other side,
Connor Barwin
and
Brooks Reed
need to be part of a three-man gang at the position, and the odds of the pass rush just picking up where it left off aren't high.
Bryan Braman
is an interesting player and could be a factor in his second year. Look for another outside backer in the draft.
RT Eric Winston (cut, signed with Kansas City)
A strong and technically sound right tackle who was a big piece of a line that may have been the team's best unit and ranked among the league's best last season.
This move was the biggest surprise of all that's unfolded, and Winston was courted heavily before landing in Kansas City.
The team could go with backup swing tackle
Rashad Butler
, who missed much of last season with an arm injury. But he didn't fare great when subbing for left tackle
Duane Brown
on the left side for four games a year earlier.
ILB DeMeco Ryans (traded to Philadelphia)
A beloved member of the team, Ryans hasn't returned all the way to form after a serious Achilles injury. Plus, in the 3-4, he was barely a two-down player until
Darryl Sharpton
got hurt.
The Texans may not have gotten quite enough in the deal and they may have to smooth things out in the locker room, but a healthy Sharpton is a capable second inside guy to go with
Brian Cushing
.
RT Mike Brisiel (free agent, signed with Oakland)
The team played better with him in the lineup than when he was out and
Antoine Caldwell
filled in. Brisiel did tend to miss a couple games a year. The spot should be Caldwell's to lose now and he should still be getting better.
TE Joel Dreessen (free agent, signed with Denver)
He seriously considered Houston's offer before leaving to play with
Peyton Manning
. He was a valuable player for the Texans, the kind of smaller piece that glues together a team while being overlooked by many.
James Casey
is the lone fullback now, but he's technically more of an H-back and can do tight end things. Depending on how he's deployed along with
Owen Daniels
and
Garrett Graham
, Houston could be OK.
FB Lawrence Vickers (cut, signed with Dallas)
He only played 31.06 percent of the Texans' plays. Are they dead set on being a fullback team? Call Casey a fullback if you want, but you can run out of anything with Foster and shouldn't feel desperate to restock.
CB Jason Allen (free agent, signed with Cincinnati)
An unsung player who the team counted as a co-starter with
Kareem Jackson
, a first-round draft pick who has not lived up to his draft status. They lost a security blanket with Allen, and need to ensure they have a fallback for Jackson on the team, whether it's a veteran later, second-year man
Brandon Harris
or a draft pick.
QB Matt Leinart (cut)
T.J. Yates
flew by him on the depth chart with his performance down the stretch, and the Texans couldn't afford Leinart as a third.