October, 29, 2010
10/29/10
4:00
PM ET
»
NFC Final Word
:
East
|
West
|
North
|
South
»
AFC
:
East
|
West
|
North
|
South
Five nuggets of knowledge about Week 8: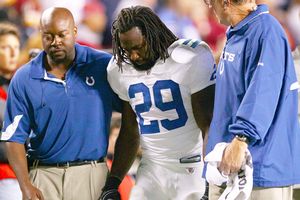 Win McNamee/Getty ImagesJoseph Addai has played a large role in protecting Peyton Manning.
Blitz pick up:
If RB
Joseph Addai
(shoulder) is out for the Colts against the Texans, Indy loses a big piece of its pass protection. Addai is superb at pickups.
Donald Brown
, also hurt, is not nearly as good. And
Mike Hart
and
Javarris James
have not played enough for us to know. It might be a spot for Houston to try to attack, but can the Texans afford to blitz much considering their coverage issues and
Peyton Manning
's tendency to find the open guy?
Yes, they're the Chargers:
The Titans spent the week saying how this Chargers team is not the same one they have lost seven straight to, including a 42-17 pounding in a game the Titans needed to stay in playoff contention on Christmas last season. But they are enough of the same team, and San Diego absolutely has Tennessee's number. The talented Chargers have lost three in a row, seem overdue and match up well.
Filling multiple roles:
The absence of
Pat McAfee
, the punter who's suspended for the game, goes beyond him being replaced for a game by
Jeremy Kapinos
. McAfee is also the kickoff man, and
Adam Vinatieri
won't hit them as deep. McAfee is the holder too, so Kapinos or
Jacob Tamme
or
Curtis Painter
will replace him there. One bad play by a replacement can really shine the spotlight on his absence, and the alleged drunken canal swim that created the suspension scenario.
Talent gap:
The Cowboys are largely regarded as a collection of talented players that has been unable to play well together as a team and thus find themselves at 1-5. They certainly view themselves as more talented than the rebuilding Jaguars, who are struggling but have a 3-4 record that the Cowboys would love to call their own. If
Aaron Kampman
and the young defensive linemen he's working with can rattle
Jon Kitna
, Dallas could sink even further.
Concentrating on their jobs:
When
Arian Foster
ran wild against the Colts on opening weekend, Indianapolis defenders got caught out of their lanes. There was a good deal of over-pursuit and a general lack of discipline. Both teams are coming off a bye. The Colts surely spent time discussing those problems and working on them. The Colts' defense has the people to play much better than it has so far. I suspect the Texans will have to balance things out offensively this time around, something
Matt Schaub
is fully capable of helping them do.
March, 4, 2009
3/04/09
5:47
PM ET
Posted by ESPN.com's Paul Kuharsky
Larry from parts unknown: Hey PK. You have spoken (or included links to articles, i cant remember which) about the colts needing to re-sign Dominic Rhodes. With Edge asking for his release from the Cards and the seeming lack of available places for him to go, do you think it is possible that he could return to Indy on the cheap (comparable to what it would take to bring back Rhodes)? I'm not sold at all on Mike Hart (probably because i just dont like U of Michigan. Thanks. -Larry
Paul Kuharsky: That's an interesting question. Possible, but unlikely. Rhodes is old, but Edge is older and has more wear and tear. Going and re-signing Rhodes was a kind of rare circumstance for the Colts. Never say never standard disclaimer, but a return for James seems unlikely to me. And I think they like Hart much more than you do.
---
Martin in SLC writes: Do the Titans even have Hayward-Bay on their radar or does the loss of Albert place more need for defense in the draft? I know they drafted Jones last year and Tony Brown had a good seaon, but knowing the Titans, I have a feeling that isn't good enough up front. Look forward to see what you think.
Paul Kuharsky: Sure, Darrius Heyward-Bey is on their radar. I think he will be gone before 30, but I think they will look closely at him, Hakeem Nicks and Kenny Britt.

I don't think defensive line is the concern -- I didn't think so even before they signed Jovan Haye. They've got no corners under contract beyond Cortland Finnegan and Nick Harper (and nickel Vincent Fuller), so right now I see them leaning cornerback and waiting on receiver.
---
Dennis from parts unknown writes: couldn't the colts add two big d tackles and still be qick evrywhere else
Paul Kuharsky: How about one? They could have one real big and one bigger than the rest, but still they'd need them to be able, at least, to move quickly laterally.
---
Matthew in Washington, D.C., writes: Do you think that Maurice jones-Drew can handle being the main running back? I think if he gets a bit more work he can continue to be effective, but that he will benefit from being paired with another guy who's got some of the skills Taylor had...
Paul Kuharsky: I think he can. But I think they need a better guy to work with him than Greg Jones. That's two power runners. MJD benefited big-time from having a creative guy like Fred Taylor as the counter, and I think the Jaguars would benefit from attempting to pair Jones-Drew with someone Taylor-like.