January, 3, 2012
1/03/12
3:53
PM ET
We know Jeff Fisher is in play for Miami and St. Louis. Indianapolis Star columnist Bob Kravitz
told PFT
he believes Fisher is in the mix in Indianapolis too.
[+] Enlarge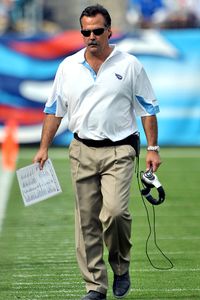 Jim Brown/US PresswireJeff Fisher is a candidate for the head coaching job in Miami and St. Louis, but could also be in play in Indianapolis.
Indications are Fisher will listen to everyone. But coaching code says you don't talk about a job that's not vacant, so I don't think he'd go beyond backchannel communication while Jim Caldwell remains in place.
At any rate, Fisher is the hot veteran coaching candidate and until he's coach somewhere, he still qualifies foremost as the Titans former head coach and falls under our purview. He said last week in an interview on Nashville's 104.5 The Zone that a GM and a quarterback were the two biggest factors for him as he explores job opportunities.
So some thoughts on his eventual re-emergence in the coaching ranks.
Power:
There can be a misperception he'd want general manager powers. He won't. He wants to work with a GM he gets along with and can build consensus with. Fisher will want control of his 53-man roster. And he won't want a situation where a GM is forcing free agents or draft picks on him that he and his staff don't want. But wanting a voice is a lot different from wanting to be a de facto GM. He believes in the value of a traditional coach-GM split and has no desire to work the scouting end of things as a fulltime GM.
General manager friends
: Fisher's got strong relationships with Rich McKay of the Falcons and Bill Polian, just let go by the Colts, as he served with both on the NFL's competition committee. McKay's in an administrative capacity now, but could he want back into football? He wouldn't come cheaply. Polian is probably too strong a personality. I have no feel for the relationship between Fisher and Chris Polian, who was also let go.
When the Titans replaced Floyd Reese in 2007 it was largely because Fisher and Reese's relationship had frayed. Among the replacement candidates Fisher helped interview before the Titans hired Mike Reinfeldt were: Ruston Webster (now with Reinfeldt in Tennessee), Reggie McKenzie (Green Bay's director of football administration), Ron Hill (NFL VP of football operations), Mike Ackerley (now a Texans scout) and Charles Bailey (former Jaguars pesonnel executive). The Titans wanted to talk to Randy Mueller, then with Miami, but didn't get permission. He's now with San Diego as "senior executive."
Maybe Fisher hit it off with one of those guys and would like to work with them. At years of league meetings and functions, he's likely formed friendships we don't know about with other, future-GM types.
If Fisher lands in a situation where he comes in hand in hand with a GM or in advance of a GM, he'll have a guy or two to put forward and be open to forming a new relationship if he hits it off with an existing GM or an owner's candidate.
Assistants:
His primary assistant coaches may be hard to predict.
His top defensive lieutenants from Tennessee are booked up. Gregg Williams is the coordinator in New Orleans and may be a head coaching candidate himself. If he was free, Fisher could pounce. Jim Schwartz is head coach in Detroit. (Brandon Fisher works on Schwartz's staff.) Chuck Cecil may be radioactive as he was a central figure in things coming apart for Fisher with the Titans. He could return to the league as a defensive backs coach, but Fisher would have to answer for a lot if he wanted to make Cecil coordinator. He'd certainly take recommendations from Williams and Schwartz about up-and-comers from the defensive staffs with their teams. Detroit linebacker coach Matt Burke was a young assistant on Fisher's staff who went with Schwartz for a promotion.
Fisher's top offensive friend and long-time coordinator, Mike Heimerdinger, died recently after a battle with cancer. Fisher could look to his former running backs coach Sherman Smith, who's now in the post with Seattle. But Smith's lone stint as an offensive coordinator didn't include play-calling duties under Jim Zorn in Washington. Titans quarterback coach Dowell Loggains is a bright young mind, but like Burke he may not be ready yet.
While Fisher spent time away from the game in a year off, he certainly has lists of coaches he would pursue and could get. But he'd be going with people he's not worked with before at a lot of spots -- like on the offensive line, where his former position coach, Mike Munchak, and his best line player, Bruce Matthews, are not available.
Markets:
He can be a star behind those shades. But don't think he'll take the bright lights of Miami over more low-key St. Louis or Indianapolis if he's choosing.
Fisher enjoyed the ability to be anonymous at times in Nashville and the willingness of the population to allow him a large degree of privacy. He's a Southern California guy who loves spending time at his Montana cabin.
He's not desperate for a beach, or television lights.
April, 23, 2009
4/23/09
5:12
PM ET
Posted by ESPN.com's Paul Kuharsky
NASHVILLE -- A while back, a reader asked about whether the high salaries attached to the earliest picks of the draft had altered the draft value charts around the league. Teams use such charts, which assign a point value to every pick, to weigh and balance trades. GMs and coaches like to talk about how theirs are different, but the general construct is similar.
I asked Titans GM Mike Reinfeldt this week if he's got a new chart and if he thought most teams had altered theirs.
"Some of the trade charts have changed addressing the trade value of those top picks and it has gone down," he said. "What those picks were, it's not that way anymore. I think it's there is a burden associated with having those top 10 picks.
"...But you have two sets of charts -- depending on which way you're going, up or down, you pull out the appropriate one," he added as we laughed.
The early phone check-ins are usually 50-50 with teams talking about expecting to look to move up or back, Reinfeldt said. This time more people are talking about moving back.
Here are a few highlights from the Titans' pre-draft news conference Thursday:
National supervisor of college scouting C.O. Brocato said USC linebacker Rey Maualuga can play inside or outside, and he thinks his college teammate Brian Cushing, an outside backer by trade, can play inside. He said he views the third USC linebacker, Clay Matthews, as strictly an outside guy.
Brocato likes the crop of linebackers and tight ends but said running backs have fallen off.
Scouting coordinator Blake Beddingfield said there "is a value on every player" and that the Titans hadn't taken anyone off the board. But he joined the laughter when asked if Florida receiver Percy Harvin was a seventh-rounder on the Titans' board.
I believe the Titans will steer clear of Harvin because of the issues surrounding him. But director of college scouting for the Eastern region Mike Ackerley said Harvin is "the most explosive player in this draft by far," that he has no doubt Harvin can run routes and be a top receiver who can also work as a return man and that "he can play wherever he wants."
Reinfeldt said a number of receivers have grades that would make them worthy of the 30th pick, and such grades mean those players should be able to be productive early.
Weight gained by Hakeem Nicks after the combine was not a concern, Ackerley said. So much of a premium is put on 40 times at the combine, everyone drops weight for that, then gets bigger and stronger by the time pro days arrive.
Malcolm Jenkins, Vontae Davis and Alphonso Smith have separated themselves into the first tier of corners, but there is not that much space between them and the next group, Ackerley said.
Reinfeldt was coy when asked questions that were clearly aimed at getting him to show if the Titans have any real interest in trading for Anquan Boldin or Braylon Edwards. He said at some point the Titans would like to add a veteran receiver to the mix, which made it sound like it wasn't going to be a top name. He mentioned that after the draft some veterans would shake free. Asked if the team has to have another veteran wideout, he said: "It would be nice; I don't think it's a necessity."
Brocato gave a rave review of Kansas State quarterback Josh Freeman. "He's got everything you want for a quarterback," he said.