September, 1, 2014
Sep 1
4:45
PM ET
INDIANAPOLIS --
Mike Adams
heard the rumblings about his future with the
Denver Broncos
at the end of last season.
Adams
The safety tried to stay optimistic by maintaining communication with the coaching staff and working out at the Broncos' facility. But the reality was the Broncos were going in a different direction at safety.
"After the Super Bowl there was more talk about how bad the defense played. How we need a safety. We need linemen, we need this and we need that," the safety said. "It kind of trickled down. Once [the media] get hold to it, that thing spreads like wildfire and usually it's the truth and that's what happened."
Adams will be back in the starting lineup in Denver on Sunday, but this time as the starting safety for the
Indianapolis Colts
when they face the Broncos.
The Colts spent the entire offseason looking for a starting safety after
Antoine Bethea
signed with San Francisco in March. Indianapolis, obviously not feeling comfortable with the personnel it had at the position, signed Adams in the middle of June to compete with
Colt Anderson
,
Sergio Brown
and
Delano Howell
for the starting spot alongside of
LaRon Landry
.
Howell looked like he was the front-runner most of the offseason until the Colts signed Adams. A neck injury took Howell out of the competition and eventually landed him on injured reserve, which ended his season for the second straight year. The 33-year-old Adams beat out Brown and Anderson for the job.
Adams, who spent the past two seasons with Denver, will spend the week leading up to the game answering questions from his coaches, teammates and the media on how to figure out future Hall of Fame quarterback
Peyton Manning
.
"I don't snitch," Adams said, jokingly. "Just doing what you do. Basically Peyton Manning, he's a smart guy. He changes up every week and I know that, the Colts know that. Obviously the Colts got the formula. They beat [the Broncos] last year. They're not asking me for too much information; personnel, how guys are. Basic stuff like that."
July, 18, 2014
Jul 18
11:00
AM ET
Examining the
Indianapolis Colts
' roster:
QUARTERBACKS (2)
This is the safest position on the roster for the Colts. They plan to always keep a veteran backup if Luck ever goes down with an injury.
RUNNING BACKS (4)
The Colts will have a solid running combination if -- and we're saying
if
until proven wrong -- Richardson can bounce back from a poor first season in Indianapolis and Bradshaw and Ballard can stay injury-free. Havili, a fullback, gets the edge over
Mario Harvey
, who switched from linebacker to fullback during offseason workouts.
RECEIVERS (5)
The final receiver spot will come down to Rogers and
Griff Whalen
. If the Colts want to play it safe, Whalen is the guy because he's familiar with Luck and offensive coordinator Pep Hamilton, but Rogers has the size and speed the team likes. There's also the possibility of the Colts keeping six receivers.
TIGHT ENDS (4)
Allen, who missed all but one game in 2013, and Fleener have the potential to be one of the top tight end duos in the league. Doyle and Saunders are both familiar with the system after backing up Fleener in Allen's absence last season.
OFFENSIVE LINEMEN (9)
There are plenty of questions surrounding the offensive line outside of tackles Castonzo and Cherilus. The one thing general manager Ryan Grigson wanted with this group is depth. The Colts have plenty of it.
DEFENSIVE LINEMEN (6)
Like the offensive line, the Colts want depth on the defensive line so they can constantly rotate in players, so come the fourth quarter they still have fresh legs to get after the opponent. Jones was the key offseason acquisition for the Colts. Chapman showed flashes last season; now he needs to do it every snap that he's on the field.
LINEBACKERS (10)
All eyes will be on outside linebacker as the Colts look to find a replacement for Mathis, who is suspended for the first four games of the season. Werner gets the first crack at starting in Mathis' spot. McNary is a player for whom Grigson has high expectations. It'll be up to defensive coordinator Greg Manusky on how he uses McNary.
DEFENSIVE BACKS (10)
It's anybody's guess how the secondary will perform. It's anybody's guess who will start alongside Landry at safety. It looked like it would be Howell for most of the offseason, but the Colts signed the veteran Adams in June. Can Toler finally remain healthy? Can Davis live up to his contract? So many questions with no answers at the moment.
SPECIALIST
This only changes if an injury occurs.
July, 17, 2014
Jul 17
10:00
AM ET
»
NFC Preview:
East
|
West
|
North
|
South
»
AFC:
East
|
West
|
North
|
South
NFL Nation's Mike Wells examines the three biggest issues facing the
Indianapolis Colts
heading into training camp.
Khaled Holmes:
Colts general manager Ryan Grigson took a big gamble in the offseason by not heavily pursuing a veteran center. He signed Phil Costa, who was beaten out by a rookie in Dallas, only to have the veteran suddenly retire before ever playing a snap for the Colts. Even with Costa on the roster, the plan all along for the Colts was for Holmes to start. This is the same Khaled Holmes who managed to play a total of 12 snaps as a rookie, despite poor play by Samson Satele at the position last season. Grigson has constantly defended Holmes ever since, pointing out that the second-year player would be his starter. The goal is for Holmes to team with franchise quarterback
Andrew Luck
for years to come. Holmes needs to have good chemistry with Luck and control the line of the scrimmage, all while making sure the rest of the offensive linemen know the correct calls. That's a lot to put on the shoulders of a player who is basically a rookie, especially when you think about the expectations the Colts have this season.
Safety:
Similar to his decision at center, Grigson didn't look far outside the organization to address a position of need. Veteran
Antoine Bethea
left Indianapolis to sign with San Francisco, and it appeared
Delano Howell
was the frontrunner to start alongside
LaRon Landry
at safety. Things seem to change in the middle of June, when the Colts signed veteran
Mike Adams
. Adams has started 73 games in his 10-year NFL career, but even though he says he feels like he's 26 years old, he's actually 33. Howell has started only four games in his career. And speaking of Landry, he didn't exactly ease anybody's mind about whether he'll be able to rebound from a disappointing first season with the Colts. He didn't attend any of the voluntary offseason workouts, then showed up at the mandatory minicamp with what was described as a soft-tissue injury. While the offseason workouts are voluntary, it would have helped Landry if he had at least attended a few of the sessions. Grigson and Colts coach Chuck Pagano didn't criticize Landry for not showing up, but they did point out their preference of wishing he was in attendance. If anything it would have showed that Landry cared about working on chemistry with the rest of his defensive teammates. There are too many questions surrounding the safety position on a defense that was way too inconsistent last season.
Trent Richardson:
The excuses are no longer available for Richardson in the Colts organization. The ready-made line of, "Richardson is still learning the offensive system," is in the trash on the curb. Richardson, who the Colts acquired from Cleveland just days before Week 3 last season, has had an entire offseason to learn the playbook. Now he can use his natural instincts when he's on the field, instead of constantly trying to remember the plays. The Colts clearly are trailing the Browns in the who-got-the-better-of-the-trade race. Cleveland turned the No. 26 pick into hotshot quarterback
Johnny Manziel
after using it to trade up to No. 22. The Colts? All Richardson gave them was 2.9 yards a carry and a demotion to the second unit last season. Richardson and the Colts have to hope this season is different. The pressure is on Richardson, because Grigson said earlier this year he would make the trade again if put in the same position. Richardson, the No. 3 overall pick in 2012, had offseason shoulder surgery and will head into training camp as the starter, with
Ahmad Bradshaw
ready to take some snaps from him if he struggles.
June, 21, 2014
Jun 21
11:30
AM ET
Here's Part I of the Colts Mailbag. Part II will run Sunday
@MikeWellsNFL who's playing safety? Will Mike Adams start?....

- tomthebomb0609 (@tommystallion37) June 20, 2014
Mike Wells
:
Delano Howell
appeared to be the frontrunner -- and he still may be -- the entire offseason until the Colts signed Adams to take
Corey Lynch
's spot on the roster. The Colts could have easily gone out and signed a young player, but they didn't. They signed a proven veteran, one who was on the roster of a team -- Denver -- that played in the Super Bowl last season. Howell lacks starting experience. The Colts aren't handing the starting spot to Mike Adams, but don't be surprised if he ends up starting alongside
LaRon Landry
at safety.
@MikeWellsNFL biggest impact from a rookie this year?

- Nate Walton (@realnatewalton) June 20, 2014
Wells
: Second-round pick
Jack Mewhort
. The offensive lineman is capable of playing all five positions on the line. A positive for Mewhort is that he moved ahead of
Lance Louis
and was working with the first unit by the end of offseason workouts. The competition for that starting spot will intensify in training camp once
Donald Thomas
starts practicing. It'll be Louis and Thomas as the two primary players pushing Mewhort for that starting spot.
@MikeWellsNFL his cap space do Colts have left #ColtsMailbag

- Dustin Kelso (@DKelso78) June 20, 2014
Wells
: The Colts have about $13.7 million in salary cap space left. Colts GM
Ryan Grigson
said a number of times earlier in the offseason that they didn't plan to use all their salary-cap space because they'll have to pay players like
Andrew Luck
and
T.Y. Hilton
at some point down road.
@MikeWellsNFL What is the likelihood that we see Daniel Adongo playing on defense this season?

- Steve Mosley (@SMosley21) June 20, 2014
Wells
: That's strictly up to
Daniel Adongo
. Practice well and play well in the preseason and he'll have a chance to get on the field in a game. The opportunity will definitely be there early in the season when linebacker
Robert Mathis
is serving his four-game suspension. Playing time at Mathis' position is far from set. It's up to Adongo to prove he deserves to get snaps.
@MikeWellsNFL Is Bradshaw taking any steps to increase his odds of staying healthy? #ColtsMailBag

- John Krause (@krause_john) June 19, 2014
Wells
: It's way, way too early to tell if
Ahmad Bradshaw
can stay healthy. Teams don't wear pads during offseason workouts, and even then, Bradshaw joined the quarterbacks and fellow running back
Trent Richardson
by wearing a red non-contact jersey. Bradshaw's health was the only thing that stopped him from being the Colts' starting running back last season. Bradshaw and Richardson were the only two running backs of three expected to push for the starting spot to take part in offseason workouts.
Vick Ballard
, the third, is still working his way back from a torn ACL.
June, 17, 2014
Jun 17
2:35
PM ET
INDIANAPOLIS -- New
Indianapolis Colts
safety
Mike Adams
was part of the
Denver Broncos
team that reached the Super Bowl last season.
But there Adams sat, waiting for a team to sign him during the offseason. He waited. Waited some more. He waited so long that anxiety started to set in. Adams, 33, had never been out of work this long during his 10-year NFL career.
Adams' phone finally rang last week when the Colts put safety
Corey Lynch
on injured reserve.
[+] Enlarge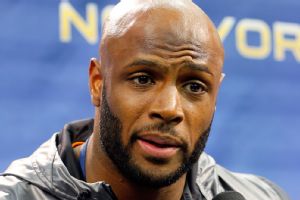 Adam Hunger/USA TODAY SportsVeteran safety Mike Adams has started 73 games in his 10-year career.
"The pieces are in place and we have a chance to hoist (the trophy) at the end," Adams said. "That's my goal. I came here to win. That's Chuck Pagano's philosophy and that's what they want to do here. That's what it all boils down."
Adams has gone from being unemployed to having a chance to be one of the Colts' starting safeties when they take on his former team, the Broncos, in the season opener on Sept. 7.
"Bottom line is I want to compete for a job," Adams said. "I want to earn these guys' respect. I'm going in (Year 11). Its' a different locker room, new system I have to learn. I want to earn that. I don't want it given to me. I told coach and I told the (general manager Ryan Grigson), 'I appreciate you telling me I don't have the job. I appreciate that.' I was the underdog my whole career. I love competing and proving people wrong."
Safety has been a legit concern for the Colts since long-time fixture
Antoine Bethea
signed with San Francisco on the first day of the free agent signing period in March.
The Colts didn't address the position during free agency or the draft. They constantly talked about having confidence in
Delano Howell
, who has been working with the first team during the offseason workouts.
But Howell lacks experience on a defense that was too inconsistent last season. The same goes for
Sergio Brown
,
David Sims
and
Colt Anderson
.
Enter Adams.
He has started 73 games in his 10-year career. The question about Adams is how much does he have left in his tank at the age of 33. He admits his age might have caused teams to shy away a little bit.
"I feel like I'm 26," he quickly says. "You're going to see the way I move. Once guys see my film. I was talking to the GM and he said, 'I had to watch your film' and he said, 'You're 33?' and I was like, 'yeah I am 33,' but when you watch the film it doesn't look like I'm 33."
Adams is versatile. He can also play cornerback, nickelback or be the dime.
Now he has to see if he's versatile enough to get the number he wants. Adams, who currently has No. 42, has worn No. 20 throughout his career, but cornerback
Darius Butler
has that number.
"I'll have to sweet-talk him," Adams said. "Have to take him out to dinner; wine and dine him."
June, 16, 2014
Jun 16
1:45
PM ET
INDIANAPOLIS -- The final significant days of the offseason for the
Indianapolis Colts
(outside of when commissioner Roger Goodell disciplines owner Jim Irsay) starts Tuesday at the team's facility when they begin the first of three days of mandatory minicamp before breaking up for the final time prior to reporting for training camp July 23.
Let's take a look at several things to pay attention to during the camp:
[+] Enlarge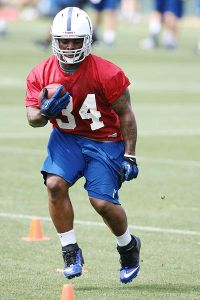 Brian Spurlock/USA TODAY SportsThe competition at running back, including Trent Richardson, won't be decided in this week's mandatory minicamp.
Offensive line battle:
You can go ahead and put
Khaled Holmes
down as the starting center, but with
Donald Thomas
(quad, bicep) still working his way back, the starting guard positions could end up taking some time.
Hugh Thornton
, who took Thomas's spot after he was injured last season, has been working with the first team at right guard during organized team activities.
Lance Louis
had been working with the first team at left guard, but rookie
Jack Mewhort
, the Colts' second-round pick, moved ahead of him last week. The competition will intensify during training camp.
Running back competition:
Just like the battle for the starting guard position, we won't get full competition for the starting running back position because
Vick Ballard
(knee) isn't expected to take part, as he's still working his way back from ACL surgery.
Trent Richardson
and
Ahmad Bradshaw
, the other two primary candidates, both wore red non-contact jerseys during OTAs. So this is another competition that won't pick up until training camp. All three players will get playing time, but keep in mind that coach Chuck Pagano said earlier in the offseason they want a workhorse in the backfield.
Landry sighting:
Safety
LaRon Landry
has been the most significant healthy player missing during OTAs. It's not required for players to attend OTAs and Landry prefers to work out on his own during the offseason. But it still would have been good if he would have popped in for some of the workouts because of the need for improvement for the defense, the transition from a seasoned veteran in
Antoine Bethea
to possibly
Delano Howell
, who lacks significant experience, and Landry simply didn't have a great first season with the Colts. The offense, as long as
Andrew Luck
is the quarterback, will be fine. He's shown he can be effective even without good blocking. The same can't be said about a defense that finished 20th in the league last season.
The Bjoern factor:
The fact linebacker
Robert Mathis
(suspension) won't be with the Colts the first four games of the season has definitely sunk in. Now it's up to second-year player
Bjoern Werner
, who gets the first shot to start in Mathis's absence, to prove he was worth the Colts selecting him in the first round after an inconsistent rookie season. "This year it's just knowing the defense and to feel comfortable in the defense," Colts defensive coordinator Greg Manusky said. "Now it's just his ability to get to the passer, which it's kind of you want him to do that in these OTAs, but he's never really going to get there because you don't have the pads on. But he's been doing a great job at least from the calls and signals and getting everything lined up and knowing exactly what he's supposed to do. It's a great situation for him."
Can Adams help:
The Colts signed veteran safety
Mike Adams
over the weekend to take
Corey Lynch
's spot on the roster after placing him on injured reserve. Howell is leading the race to start, but Adams has started 73 games in his career. The question about Adams is: Does he have enough left in his 33-year-old body to help the Colts and possibly supplant Howell as the starting safety alongside Landry?
Who won't be there:
Barring a sudden change of events, here are the players -- not including those on injured reserve -- you won't see taking part in minicamp. Receiver
Reggie Wayne
(knee), Ballard (knee) and Thomas (quad, bicep).
September, 5, 2013
9/05/13
1:00
PM ET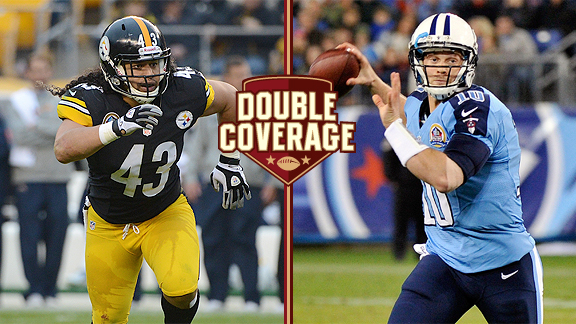 Getty ImagesJake Locker will have to face a fresh Troy Polamalu and one of the league's top defenses.
Pittsburgh is a tough place to play. The
Pittsburgh Steelers
don't often stay down long. The
Tennessee Titans
will bring a lot of unknowns to Heinz Field.
It's an intriguing opening day matchup for two teams looking to bounce back from seasons that didn't meet standards and fell short of expectations.
ESPN.com Steelers' blogger Scott Brown joins me for his first edition of Double Coverage, and I know he'll understand if we skip the pleasantries and dive right in.
The Titans' rebuild is centered around their offensive line. They'll be way more physical with a new interior of
Andy Levitre
,
Rob Turner
and
Chance Warmack
.
Scott, I know the offensive line has been an issue in Pittsburgh, too. What's the status of things there, and how much better can we expect the Steelers to be up front?
Scott Brown:
Paul, that is one of the biggest questions facing the Steelers. The offensive line is one of the youngest and most inexperienced the Steelers have assembled in decades. But the group is athletic and has plenty of what coach Mike Tomlin likes to call "pedigree."
Two of the starters are first-round draft picks. Two others are second-round selections. The Steelers have clearly made a big investment in the offensive line, and they need a major return on that investment for this team to return to the playoffs.
I think the interior of the line with Pro Bowl center
Maurkice Pouncey
and guards
David DeCastro
and
Ramon Foster
has a chance to be really good. I'm not as sold on tackles
Marcus Gilbert
and
Mike Adams
, who will protect
Ben Roethlisberger
's blind side.
The Titans, I'm sure, will test that line with plenty of blitzes, as the first-team offensive line struggled with pass-blocking in the preseason.
Speaking of blitzes, Titans quarterback
Jake Locker
will see his share with the ageless wonder Dick LeBeau still calling defenses in Pittsburgh.
How is Locker progressing, and is he the long-term answer at quarterback in Tennessee?
Paul Kuharsky:
The verdict on whether Locker is the guy for the long haul won't come until after we see this season.
He steadily improved in camp and the preseason and has reason to feel good about the state of things. I don't think he's going to have many games in his career in which he throws for 300 yards, but the Titans aren't built to ask that of him. They'll get him on the move to make simple throws and decisions, especially early, when he often needs to settle down and find a rhythm.
That line will give him time and be far better at creating space for
Chris Johnson
and newcomer
Shonn Greene
. If the Titans run effectively -- and the preseason suggested that's one thing they are definitely good at -- they can build play-action off that and Locker will be in a perfect setting to succeed.
The two big questions are about his accuracy and how he will react to new, unforeseen circumstances. You know, the kind of stuff Lebeau has designed for this game especially for him.
Does LeBeau have the pieces to do the sort of things to confuse a young quarterback?
Brown:
He has one of the most valuable pieces of all in
Troy Polamalu
. The dynamic strong safety allows LeBeau to do so much because he plays all over the field and opposing quarterbacks don't know where he is going to be from snap to snap.
Polamalu missed nine games last season because of a recurring calf injury, but he looked like his old self in training camp and the preseason. In that sense, the timing isn't good for the Titans to play the Steelers because Polamalu is at full strength. Outside linebacker
LaMarr Woodley
also seems poised to bounce back from an injury-plagued season in which he registered just four sacks.
With those two and other players such as inside linebacker
Lawrence Timmons
and rookie outside linebacker
Jarvis Jones
, LeBeau won't hold back -- particularly against a relatively inexperienced quarterback who is still finding his way in the NFL.
Paul, the Steelers have never lost at Heinz Field in September under Tomlin. My question for you is what will it take for the Titans to pull off the upset on Sunday?
Kuharsky:
I think it's possible. They'd have to show poise, withstand the bad moments, minimize mistakes. You know the drill.
This is a team that has been run on by lesser running backs in the recent past, so it can't take
Isaac Redman
lightly, and we'll find out fast if
Sammie Hill
and
Ropati Pitoitua
are going to help answer the run-defense deficiencies.
The Titans must get Roethlisberger to the ground when they have the chance. After an offseason talking of press coverage, they haven't changed at all at cornerback, and I imagine Roethlisberger will find things to attack. He knows Titans strong safety
Bernard Pollard
from his time in Baltimore. I won't be surprised if the Steelers plot to get Pollard in coverage situations they feel they can exploit.
The other big question here, the elephant in the room: Your first game for ESPN.com? You ready?
Brown:
To help myself to some Tomlinisms: This is where the rubber meets the road, but this is not my first rodeo. I believe I have sharpened my pen (does that still apply in the dot.com world?) for battle, but I will have to pay attention to detail. Ultimately, it comes down to making plays (or deadline in this case) inside stadiums with the lights on (yes, I know it is a 1 p.m. start, but gray days in Pittsburgh are as noteworthy as grass on a golf course). Such is life in the National Football League (and ESPN.com), and I embrace the challenge.
April, 26, 2012
4/26/12
12:30
PM ET
Thoughts on the Texans' draft from two people involved in evaluating personnel for NFL teams:
Guy No. 1:

"I know they want [Baylor receiver]
Kendall Wright
. He's a slot guy who can work underneath and take pressure off
Andre Johnson
. Wright's a playmaker. If he's gone, there isn't another receiver who will step right in.
Rueben Randle
and
Alshon Jeffery
are like Johnson, big and physical. Wright is different."
"They have to consider offensive line. I couldn't believe they let
Eric Winston
go. He's a good player. Who can you get at 26 that can come right in and play at right tackle? They could go out and make a pick like they did with
Duane Brown
, a second-round guy in the first.
Jonathan Martin
maybe? Or trade back."
"To me, the biggest question to be answered by this draft in that division is replacing the leadership and production lost with the trade of
DeMeco Ryans
and the release of Winston. Those are two main leaders and they did nothing in free agency. That's hard to replace in a draft."
"Outside linebacker would be a luxury pick.
Courtney Upshaw
would be nice for them.
Shea McClellin
is another of what they have -- a versatile, solid football player. Inside, they could like
Dont'a Hightower
. I don't think
Darryl Sharpton
or
Bradie James
can replace Ryans."
Guy No. 2:
"Coming up with a tackle in the late first is pretty tough.
Cordy Glenn
really doesn't fit their profile, though he could be a right tackle.
Mike Adams
if you get past the combine test. Martin could be in that range."
"You can never have enough rushers. McClellin is a lot like
Brooks Reed
. Upshaw would be good there."
"Unless you take
Janoris Jenkins
, you can't get a good corner at 26. You'd have to hold your nose, but he's better than
Kareem Jackson
."
April, 23, 2012
4/23/12
3:31
PM ET
The first six picks of
ESPN's Blogger Mock Draft
unfolded pretty much as expected.
That's when James Walker, our AFC East representative, put out the word: "I'm willing to make a trade back with Buffalo at No. 10."
Before anyone could respond, AFC South representative Paul Kuharsky announced he'd swung a deal with Dan Graziano of the NFC East. The Jaguars had traded the seventh overall choice and a sixth-rounder to Philadelphia for the 15th, 88th and 153rd selections.
The Eagles took defensive tackle
Fletcher Cox
at No. 7.
"By the way," I wrote in an email to the group, "Seattle would love to trade back from 12."
Then came the word from Walker, sent only to me, the NFC West rep: "Don't make your pick at No. 12 yet. I have an offer from New England coming. Working out the point chart. First, I have to figure out Buffalo's pick at No. 10."
A few seconds passed before the AFC West's Bill Williamson, unaware Walker had already made contact regarding the 12th pick, reached out to me in another email.
"If
Melvin Ingram
is on the board at 12," Williamson wrote, "I might have San Diego come up from 18."
This was intriguing. Seattle's actual leadership had swung a deal with San Diego for quarterback Charlie Whitehurst a couple of years ago, so trade talks for the 12th pick seemed realistic. But the Seahawks also have a working relationship with the Patriots, having traded Deion Branch to them not all that long ago.
"Sounds good," I replied to Bill. "James might also make an offer here."
The potential deal with Williamson and San Diego was fleeting. Walker executed a trade with himself, allowing the
New York Jets
to move into Buffalo's spot at No. 10. The Jets took Ingram, the player Williamson had wanted for San Diego.
The fun was only beginning.
Our eight divisional bloggers made four trades involving the seventh, 10th, 12th, 15th, 16th, 27th, 31st and 32nd overall choices, plus later considerations.
Five of our first-round selections in this mock failed to appear in our previous one.
Jerel Worthy
,
Kevin Zeitler
,
Chandler Jones
,
Shea McClellin
and
Coby Fleener
pushed out
Rueben Randle
,
Andre Branch
,
Peter Konz
,
Kendall Wright
and
Mike Adams
.
Courtney Upshaw
,
Dontari Poe
and
Stephen Hill
made double-digit drops from then to now.
Michael Brockers
,
Cordy Glenn
,
Stephon Gilmore
and Cox climbed at least eight spots since last time.
We drafted seven defensive ends/outside linebackers, six offensive linemen, five defensive backs, four defensive tackles, three receivers, three quarterbacks, two inside linebackers, one tight end and one running back.
Mostly, we had some fun with the process. Thanks for coming along.
***
ESPN.com's NFL bloggers went through one final mock draft leading up to Thursday's start of the NFL draft. Here is how
#ESPNbloggermock
played out.
April, 12, 2012
4/12/12
12:23
PM ET
Todd McShay's got a new
scenario-based mock draft

out.
I think he's mostly on target for two AFC South teams. I think he's a bit off target on a third, and misses the mark by a great degree on the fourth.
1) Indianapolis Colts
Andrew Luck
, QB, Stanford
Scenario 1:
(Andrew) Luck is a once-in-a-generation prospect, and adding him is the best option for a team that is starting over in the post-
Peyton Manning
era.
Scenario 2:
The Colts could pull one of the all-time draft surprises and take Baylor QB Robert Griffin III instead, but that doesn't seem likely after Griffin declined to work out for the team.
Kuharsky's thoughts:
Don't understand why Jim Irsay is being coy? Why not? What's to be gained by saying it's Luck? The contract part is simple with the new CBA.
7) Jacksonville Jaguars
Melvin Ingram
, DE/OLB, South Carolina
Scenario 1:
If (Justin) Blackmon should fall this far the Jaguars have to pull the trigger. They've gone far too long without a true No. 1 target in the passing game, and it's hard to fully evaluate second-year QB
Blaine Gabbert
without proper weapons around him.
Scenario 2:
Jacksonville would certainly like to take advantage of a team looking to get ahead of the
Miami Dolphins
to draft (Ryan) Tannehill. Moving back and adding picks would help a team that has plenty of needs.
Scenario 3:
If stuck here, the Jags go with the best available defensive end. General manager Gene Smith likes safer, more proven prospects, so Ingram fits better than North Carolina's
Quinton Coples
. Ingram is versatile, explosive and shows a knack for making big plays, while Coples has impressive tools but faces questions about his motor and work ethic.
Scenario 4:
If he falls in ahead of Ingram on their board, the Jaguars could take (Riley) Reiff and shore up their offensive line.
Kuharsky's thoughts:
I am in line with scenarios one, two and three and if I am a Jaguars backer I'd be happy with any of the three. Shoring up the offensive line? I don't love the depth, but if
Eben Britton
is healthy, they should have enough.
20) Tennessee Titans
Dre Kirkpatrick
, CB, Alabama
Scenario 1:
Cornerback is the team's top need and the Titans would take (Stephen) Gilmore if he were available.
Scenario 2:
Kirkpatrick is a good fit in Tennessee's zone-heavy scheme with his size, toughness and instincts.
Scenario 3:
Alabama ILB
Dont'a Hightower
is a possibility. The Titans have a need at the position, and while they like 2011 draft pick
Colin McCarthy
there is no other inside linebacker worth taking here.
Scenario 4:
Take the highest-rated available tackle offensive tackle on their board, whether that's (Jonathan) Martin or (Mike) Adams.
Kuharsky's thoughts:
I completely disagree that corner is the team's top need. Losing
Cortland Finnegan
doesn't automatically create a need as they have people to step up. They'd take one if they think he's the best player because other areas have dried up. They Titans don't like Colin McCarthy, they love him, just like they love their tackles,
Michael Roos
and
David Stewart
. I see a defensive lineman or maybe a value if
Mark Barron
or
David DeCastro
somehow lasts.
26) Houston Texans
Stephen Hill
, WR, Georgia Tech
Scenario 1:
The Texans would like nothing more than to see (Kendall) Wright fall to them and add a dynamic playmaker opposite
Andre Johnson
.
Scenario 2:
Hightower would also be an attractive option if he were available as a replacement for the departed
DeMeco Ryans
.
Scenario 3:
Hill offers a big, fast option who is raw but could form a dangerous tandem with Johnson.
Scenario 4:
Take the best available offensive tackle, in this case Adams, to fill the void left by the release of
Eric Winston
.
Kuharsky's thoughts:
I don't know how they stack Wright, Hill and Reuben Randle but another weapon is certainly a need. The inside spot vacated by Ryans is a part time spot that doesn't require a first-round pick. I'd take a receiver first, but if there is a run, tight end
Coby Fleener
would be attractive. Offensive tackle wouldn't be objectionable.
April, 2, 2012
4/02/12
11:14
AM ET
The NFL's transformation into a pass-happy league has sent teams scrambling for ways to keep up defensively.
Perhaps that explains why defensive linemen and 3-4 outside linebacker types dominated ESPN.com's first NFL Blog Network mock draft for 2012.
AFC West blogger Bill Williamson snapped up three of them for the division he covers. Six other defensive linemen and 3-4 outside linebackers found homes elsewhere in the first round.
Offensive linemen (seven), defensive backs (five) and wide receivers (five) accounted for most of the remaining first-round selections.
In keeping with the pass-oriented theme, Alabama's
Trent Richardson
was the lone running back selected, landing in Cleveland with the fourth overall choice.
And, of course, we kicked off the mock with a couple of quarterbacks.