December, 19, 2013
Dec 19
10:00
AM ET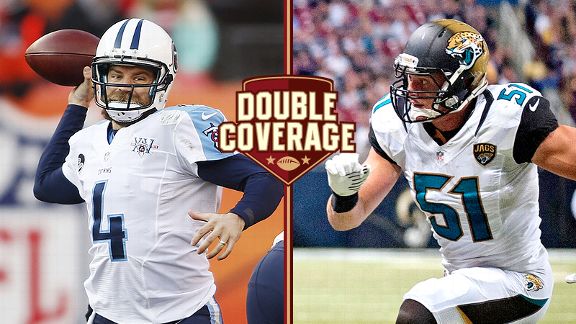 USA Today SportsPaul Posluszny and the Jags are aiming for a season sweep of Ryan Fitzpatrick and Tennessee.
JACKSONVILLE, Fla. -- Maybe
Delanie Walker
shouldn't feel so bad now.
The Titans tight end said he was embarrassed after the Jaguars won 29-27 in Nashville on Nov. 10 to pick up their first victory. Since then, the Jaguars are 3-2 with victories over Houston (twice) and Cleveland. The Titans are 1-4 with a victory over Oakland.
There seems to be much more stability in Jacksonville, too, because of the uncertain status surrounding Tennessee coach Mike Munchak.
Jaguars reporter Michael DiRocco and Titans reporter Paul Kuharsky break down Sunday's matchup at EverBank Field.
DiRocco
: Some Titans players were pretty vocal about being embarrassed due to becoming the first team to lose to the Jaguars. Is that something that still stings, and how have they rebounded from that loss?
Kuharsky
: It definitely left a mark. They are only 1-4 since then. It kind of set a bar for how bad they can be and re-established their propensity to lose to teams that are really struggling. The Jaguars are on an upswing since that game, and the Titans are on a downward spiral. If Tennessee losses to the Jaguars again, the Titans will be in line to finish in third place in an awful division, which is well short of their goals and expectations. The Titans are a better team than they were last year. But losing closer isn't a really big difference in the really big picture.
Let's turn that around. How has life changed for the Jaguars since that Nov. 10 breakthrough?
DiRocco
: I could go into a lot of stats that show how much better the Jaguars are playing, but that's not what's really important. The past six games have been more about the validation of the process, establishing the foundation of the franchise's rebuild, and confidence in the new regime. Coach Gus Bradley never wavered from the plan that he and general manager David Caldwell established. His message stayed the same throughout the eight-game losing streak to start the season: trust in the process, work hard, and focus on improving and not victories, and the victories will eventually come. Because that has happened, the players appear to have completely bought into what Bradley and Caldwell want to do, and there's a confidence in the locker room that the franchise is headed in the right direction.
We talked about
Jake Locker
the last time these teams met, but that was before he suffered a season-ending injury to his foot. How does that change the Titans' outlook on him and are they in the market for a quarterback in the offseason, too?
Kuharsky
: Locker is certain to be on the 2014 Titans. His fourth year isn't that costly and it's guaranteed. But they can't execute a spring option for his fifth year that would line him up for over $13 million. A lot of his fate depends on whether Munchak is back as the head coach. It's possible they go forward with Locker,
Ryan Fitzpatrick
and just-signed
Tyler Wilson
as their quarterbacks. It's also possible they'd draft a new guy, and depending on how high of a pick he could land in competition to start. I think it's less likely they chase a free agent like
Jay Cutler
if he comes free, but they have to assess all the possibilities. How can they completely commit to Locker based on his injury history?
One side effect of the Jaguars' surge is they aren't going to be in position to draft the first quarterback taken. What's your sense of what Bradley and Caldwell want in a quarterback and do you expect one to arrive in the first round?
DiRocco
: Offensive coordinator Jedd Fisch said something interesting last week. He said he wants his QB to scramble around, take off running to get yards and take some chances throwing the football. To me, that sounds like a pretty accurate description of Johnny Manziel. I'm not sure how that reconciles with the ideas of his bosses. Bradley comes from Seattle, which has the mobile
Russell Wilson
. Caldwell comes from Atlanta, which has the considerably less mobile
Matt Ryan
. My sense is that Bradley and Caldwell probably lean more toward the Wilson end of the spectrum. People think that eliminates Teddy Bridgewater, but that's not the case. He's not a runner but he can run if needed. If he's around, I'd expect them to take him. If not, then I would still expect them to go quarterback. It's their most glaring need.
You mentioned Munchak's job status. What's your take on whether he will be back next season -- and should he be?
Kuharsky
: He's shepherded improvement, but his team lacks an ability to finish. He's 0-4 in the worst division in football, 1-9 in the past two years. His teams have lost to the previously winless Jags in 2013 and the previously winless Colts in 2011. He's 4-18 against teams with winning records when the Titans played them and 2-19 against teams that finished the season with a winning record. To me, three years is a sufficient sample size to know what you've got and those numbers are the most telling thing on his resume. Keep him and they deal with all the limitations connected to a lame duck coach. I don't know what Tommy Smith, the head of the new ownership, will do. But the fan base overwhelmingly wants change, if that's worth anything. People still pay for tickets because they've got investments in personal seat licenses they do not want to throw away. But a lot of people are staying home on Sundays now.
Cecil Shorts
is done and
Maurice Jones-Drew
is uncertain. How can the Jaguars threaten on offense without their two best weapons?
DiRocco
: They were able to put up 20 points and post their second-highest yardage total of the season, including a season-high 159 rushing, in last Sunday's loss to Buffalo. Running back
Jordan Todman
stepped up big time and ran for 109 yards (Jones-Drew cracked 100 only once in the first 13 games) and tight end
Marcedes Lewis
was more involved in the passing game than in previous weeks (four catches for 54 yards and a touchdown). But I'm not sure that is sustainable. Teams will certainly concentrate on stopping Lewis and make quarterback
Chad Henne
move the ball with three receivers who have a combined 75 career catches. Todman doesn't scare anyone, either. The Jaguars will have to be creative on offense (they've run gadget plays the past three weeks) and capitalize on every opportunity they get.
December, 19, 2010
12/19/10
9:38
PM ET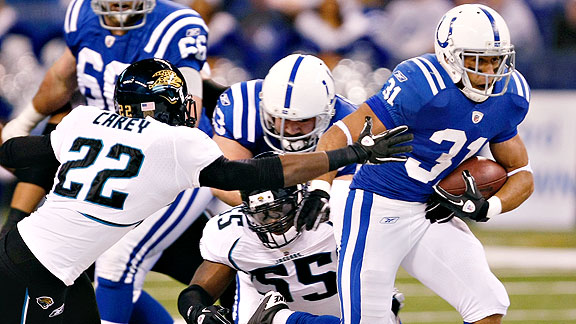 Scott Boehm/Getty ImagesDonald Brown had the best game of his season Sunday when he rushed for 129 yards on 14 carries.
INDIANAPOLIS -- Sunday's
34-24 win
over Jacksonville put the Colts back in control.
Win at Oakland and against Tennessee, and the Colts will be AFC South champs.
Though both teams are 8-6 and they split the season series, Jacksonville would lose a common-opponents tiebreaker if they both finish 10-6. The Jaguars could win a division-record tiebreaker if the two teams knot at 9-7 with the Colts' loss coming to Tennessee and the Jaguars' win coming at Houston.
Five things I learned while watching the big AFC South showdown unfold:
The Colts can stop a physical run game, and Donald Brown can be an effective running back.
I believe even the Colts expected they'd give up more than 67 rushing yards. In honest moments, they would have expressed doubts about cranking out 155 yards on just 24 carries -- a good share starting up the middle against a physical Jags' front.
Joseph Addai
and
Mike Hart
have been out hurt, but Brown had been tentative as their replacement. In the win at Tennessee, Brown pirouetted more than once in the backfield, costing himself valuable time and faking out no one.
He was much more efficient this time, particularly on his fluid 43-yard touchdown run.
"[The Colts] heard all week how they couldn't stop our run game and they did a pretty good job," Jags coach Jack Del Rio said. "...They've had issues stopping the run against us and against others. They got it done [Sunday], you've got to give them credit."
Brown praised his blocking: "When you are in the secondary and it is the first time you are getting touched, that makes for a great day."
Jags tailback
Maurice Jones-Drew
said it was the best run-stopping work he could remember from the Colts against his team. He rushed 15 times for 46 yards, ending his streak of consecutive 100-yard games at six with his worst game ever against Indy.
"They were at their gaps all the time and they tackled well," he said.
Austin Collie is an absolute difference-maker.
The Jaguars had no answer for the Colts receiver while he was in the game.
Peyton Manning
found him eight times for 87 yards and two touchdowns before a hit by
Daryl Smith
left Collie with another concussion in the second quarter.
If
Dallas Clark
or Addai was around, Collie might be less vital. But without either of them available, Collie simply gives Manning a prime target who is reliable and has great instincts. That's a quality otherwise missing.
"He was good in the first half, I don't know if we stopped him," Del Rio said. "He certainly gave them a life and they were excited to have him back, I think. He must have something going there. He came back slowly over a long period of time and there was a good shot and he's down again. That's usually not good for a guy."
The Colts need two wins to assure themselves of the division title. They'll have a harder time getting them without Collie.
"He said it wasn't as bad as the last one, so that's good news,"
Reggie Wayne
said. "But they are all bad."
The Jaguars' issues at safety are too difficult to overcome until they get to add new talent.
[+] Enlarge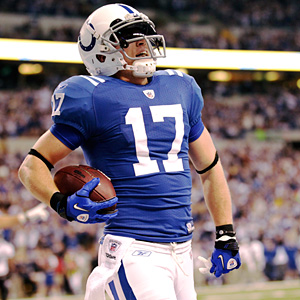 AP Photo/AJ MastAustin Collie scored two touchdowns against Jacksonville before leaving the game with a concussion at the end of the first half.
At least they'd built some continuity with six games of
Don Carey
and
Courtney Greene
side-by-side. But Greene sprained a shoulder at Tennessee. Indy took advantage of Greene replacement
Sean Considine
's relative lack of speed and tackling abilities.
Both Carey and Considine were unable to get to the middle of the field on Collie's second touchdown, when he ran away from Smith. Carey couldn't catch up to the receiver and Considine didn't arrive in time from the other side of the field.
"There were a few times, yeah, where we had shots in the middle of the field," Colts tight end
Jacob Tamme
said. "That second touchdown to Austin, they were taking away certain things and the middle of the field was there, it was a great call, a really nice throw by Peyton."
Jags cornerback
Rashean Mathis
said not to point too much at Considine, who let Brown hold him off with a hand-to-hand stiff arm and got beat by Collie on the first touchdown -- to point to just a couple plays.
"I actually felt Sean had a very good game," Mathis said. "We all could have made more plays. I don't think he actually gave anything up. What looked like his fault it probably wasn't. I know it's a busted coverage and he was the main guy that was back there, but it wasn't his fault."
David Garrard was one big mistake away from a potentially fantastic game.
He made some very good throws and really did well to pick up for what the run game could not do.
He averaged 12.3 yards per completion, compared to 7.9 for Manning.
But then came the game's crucial moment. Garrard drove Jacksonville to the touchdown that closed Indy's lead to 24-17 with 3 minutes, 54 seconds left in the third period. The Jags' defense forced a Colts' punt about two minutes later. But from the Colts' 38, Garrard overthrew
Jason Hill
and got picked off by
Antoine Bethea
. The Colts drove for a
Adam Vinatieri
field goal and had a 10-point cushion with 9:57 to play.
"It was a little high," Garrard said of the throw, after which he got crushed by
Dwight Freeney
. "Pressure or no pressure, I still have to be able to make that throw. I have to be able to stand in there and deliver."
Given a chance to clarify things, referee Mike Carey didn't, did he?
It was not a good day for Carey and his officiating crew. The non-fair catch call on the Jags'
Mike Thomas
prior to his 78-yard punt return for a touchdown was a judgment call. The Colts thought it was a signal, Thomas said it wasn't and the officiating crew agreed with him.
But other stuff took too long to sort out and was not sufficiently explained.
On a Jacksonville third-and-3 from the Indy 40-yard line in the first quarter, the Jaguars ran a play and
Rashad Jennings
got stuffed. There was a flag, Carey announced there was no foul and Jacksonville was allowed to replay third down.
"I blew it dead for a false start and we picked up that flag," Carey told a pool reporter. "That means there was no play. So I shut it down, a dead ball foul."
Was it an inadvertent whistle?
"No," he said. "It was just a foul that wasn't there."
If you follow that, you're doing better than I am.
The muffed punt call where the Colts recovered it was ultimately hashed out correctly. The Colts didn't technically interfere with a fair catch as
Taj Smith
was blocked in the back by the Jags'
Derek Cox
and that pushed him into Thomas. The Jags' returner failed to make the catch as a result of a penalty against his own team. The Colts'
Kavell Conner
had recovered, so they declined the penalty. But the play helped put the Colts into position to expand their lead to 24-10 with a field goal in the third period.
Carey and crew got it right, which is most important. But it took entirely too long to sort it out. (More on officiating
here
.)
December, 19, 2010
12/19/10
4:11
PM ET
INDIANAPOLIS -- Thoughts on the
Colts' win over the Jaguars
at Lucas Oil Stadium.
What it means:
The Colts have caught the Jaguars at 8-6 and have gained control of their own destiny. If Indianapolis wins its final two games, it's assured of the AFC South crown. Jacksonville had such control but lost it late in the season for the fourth time in seven years.


What I liked:
Indianapolis ran it with a good deal of success against a run defense that's been quite stout. The Colts found the Jaguars' weakness and abused it, making plays against the Jaguars' safeties, particularly
Sean Considine
, who struggled against both the run and the pass.
Tyjuan Hagler
did great work to ice it, snatching a weak onside kick with 1:47 remaining and sprinting to a 41-yard touchdown.
What I didn't like:
Far too many confusing calls by referee Mike Carey and his crew. Two of them in the first half benefited the Jaguars.
Decisive moment:
Marcedes Lewis
made a great play to pull in a high
David Garrard
pass on a big touchdown drive late in the third quarter. But Garrard's next too-high pass couldn't be saved. It sailed over
Jason Hill
and was intercepted by
Antoine Bethea
. The Colts drove to a field goal that gave them a two-score lead.
Injury concern:
Austin Collie
provided a huge boost to the Colts' offense while catching two touchdown passes, but
Daryl Smith
delivered a hard hit in the second quarter. Smith's arm banged Collie's helmet. The team announced the receiver had a concussion. It's his second of the season and he had just made it back from the first.
What's next:
The Colts head to Oakland to face the Raiders. The Jaguars host the
Washington Redskins
.