January, 1, 2013
1/01/13
11:00
AM ET
Happy New Year! We're reading the coverage:
Houston Texans

If you have to crawl before you walk, then the Texans are
perfectly positioned
, says John McClain of the Houston Chronicle.
Brooks Reed is "
touch-and-go
" with his groin injury according to Gary Kubiak, says John McClain,
To which I say:
You sure hope he doesn't suffer a setback Saturday against Cincinnati.
Young players have been
making a difference
for the Cincinnati Bengals, and nine other things to know about the Texans playoff opponent, from Ganguli.
Five problems
the Texans have to fix, starting with penalties, from Dave Zangaro of CSN Houston.
Indianapolis Colts

Ignorance
can be bliss
for the Colts as they head to Baltimore, since 28 of their players have never participated in the postseason before, says Mike Chappell of the Indianapolis Star.
With all the head coaching openings around the league, Bruce Arians may be about to become a
hot commodity
, says Phil Richards of the Star. Bill Williamson of our AFC West blog thinks San Diego and Kansas City should
seriously consider Arians
.
How Andrew Luck and T.Y. Hilton broke the Texans' back
on third-and-23
. A breakdown of the 70-yard touchdown from Zak Keefer of the Star.
Jacksonville Jaguars

While general manager Gene Smith was fired, coach Mike Mularkey is
in limbo
and his fate could be decided by Smith's replacement, says Ryan O'Halloran of the Florida Times-Union.
To which I say:
When Mike Holmgren got to Cleveland, he inherited Eric Mangini and stuck with him. It turned out to be a largely wasted year.
O'Halloran runs through some
potential candidates
. Two the team is definitely interested in: Tom Gamble of the 49ers front office per Adam Schefter and
Dave Caldwell
of the Falcons front office, per Jay Glazer.
Smith had
a lot more misses
than hits, says Vito Stellino of the Times-Union.
"Just because the maligned Smith is
an ex-Jaguars employee
, that doesn't mean this franchise will be printing playoff tickets anytime soon," says Gene Frenette of the Times-Union.
"Over four years, Smith made a series of
ill-fated
draft and personnel decisions that ultimately resulted in a 2-14 record, tied for the worst in the NFL. Since Smith became the top dog in Jacksonville, the Jags went 22-41 and were outscored by 413 points." Dunlevy's thoughts on Smith's departure.
Tennessee Titans

Mike Munchak wants to prove Bud Adams
right
for keeping him in place, writes Jim Wyatt of The Tennessean. Said Jake Locker: "He's a great football coach and we're a lot closer (to turning things around) than everyone might think we are."
To which I say:
Please, please, please don't let Locker and the Titans actually think that they are close. They aren't close. All those blowout losses? Not close.
We don't yet know the fate of
Titans assistants
, says John Glennon of The Tennessean.
Free-agent-to-be tight end Jared Cook said the Titans
should be well ahead
of where they are, says Glennon.
Where did it go wrong
for the Titans? Dunlevy shares his thoughts.
December, 20, 2012
12/20/12
1:43
PM ET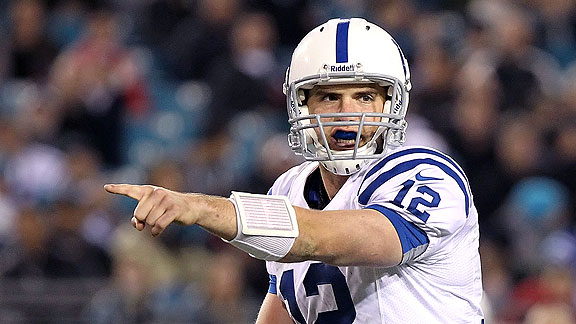 Kim Klement/US PresswireRookie Andrew Luck of the Colts is among the QBs asked to call the bulk of his team's protections.
A young quarterback breaks the huddle and steps to the line. There is much to assess staring at him from across the line of scrimmage.
What's the coverage? Is it better to run or pass against it? Is that safety really coming at me or is he disguising before backing off to be part of a Cover 2? I need to send that receiver in motion. How would the cornerback across from him react to that? Who's hot here if someone comes free at me?
On top of all of that, in some systems, the quarterback is also setting the protections.
Is asking him to manage the blocking scheme putting too much on his plate?
Some teams think so, leaving those decisions mostly to the center and giving the quarterback power to make a simple switch. Other teams want their quarterback to control everything, and ask him to assess what needs to happen up front, not just downfield.
"Personally, I think it ties the quarterback into everything," said Colts offensive coordinator and interim coach Bruce Arians, who asks rookie
Andrew Luck
to call protections most of the time. "I don't think the center can see what the quarterback can see. When the center depends on the [middle linebacker] because of safety locations, he gets fooled too many times.
"The quarterback can see everyone's body language and everything else. That's his job. He's got to know who the 'Mike' is, where the safeties are for him to know his hots and sights. There are a lot of offenses that the center does it because the quarterback doesn't throw hots or sights, they don't have them in their offense. I'm not one of those people."
In Jacksonville, meanwhile, the Jaguars rely heavily on 13-year veteran center
Brad Meester
.
"It starts with the center, but everybody's had the ability to get us in the right protection to obviously make us more sound," coach Mike Mularkey said. "I think it's a very user-friendly offense. I think because of players having to come in and learn the system yearly, you've got to be careful just how much you put on their plate. But I think our guys can handle it pretty well."
In Tennessee,
Jake Locker
doesn't have the responsibility Luck does in the Colts' offense.
The linemen sort out the protections, with the center serving as the key communication person. Veteran backup quarterback
Matt Hasselbeck
said there is typically one guy whose interpretation serves as the default if there is any confusion. Once left guard
Steve Hutchinson
became comfortable in his new team's system and before a knee injury knocked him out, he was that guy for Tennessee.
With Tennessee's offensive line now stocked with backups, the lone remaining original starter, left tackle
Michael Roos
, surely has a louder voice.
The Titans lost
Eugene Amano
in the preseason and plugged
Fernando Velasco
in at center. When Hutchinson went down, they settled on Velasco shifting to left guard and
Kevin Matthews
as center. In Week 15, Matthews was lost for the remainder of the season with an ankle sprain. Third-stringer
Kyle DeVan
played the bulk of that game as the pivot. He could be there again Sunday in Green Bay, or the Titans could put Velasco back in the middle and play recent waiver claim
Mitch Petrus
at guard.
Got all that?
Whoever is doing the decision-making up front and whoever is communicating it, Locker has veto power. If he sees something he believes isn't right for what the Titans are intending to run, he is expected to alter it.
The case for a quarterback setting protections starts with the view. Linemen in three- or four-point stances don't see things as clearly as the quarterback, who can stand upright and scan the field before getting under center.
"They might start somewhere, we see where they start and we might say, 'No, no, no, let's do this' or 'Yeah, yeah, yeah let's do that,'" Hasselbeck said. "Or if a team blitzes, we have different words that mean 'same protection other side' or whatever it is."
The Texans and the Jaguars work in a similar fashion, where the line and quarterback work in conjunction. Both teams have veteran centers who typically get things started,
Chris Myers
in Houston and Meester in Jacksonville.
A couple of weeks ago when the Titans prepared for the Texans, offensive line coach Bruce Matthews made the quarterbacks aware of three especially difficult looks. If the center saw one of those, he'd take the lead and tell Locker what to check into.
At other times, the quarterback's ability to recognize things he wasn't advised about is very important.
"One thing that is big with me and veteran players in general is, you develop problem-solving skills," Hasselbeck said.
On the bus or plane after the game, he might talk with a lineman or a blocking tight end who says he knew a certain play wasn't going to work.
"The coaches don't care if you change the play if you're getting them out of a bad play," Hasselbeck said. "They care if you change the play and you are getting them out of a decent or good play.
[+] Enlarge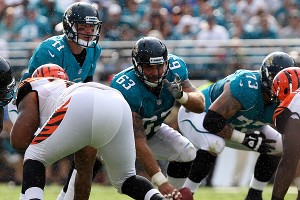 Rob Foldy-USA TODAY SportsThe Jaguars rely on veteran center Brad Meester to make the majority of their protection calls.
"My advice to guys is just to scream 'this play is not going to work' or 'check it.' Something. I don't need to know everything about why. I just need to know that someone along the line isn't feeling good about their assignment. I can always get us into a decent play. Always."
Some quarterbacks don't want to be real involved in sorting out protections.
Mike Munchak was the Titans' offensive line coach while Steve McNair quarterbacked the Titans. He said McNair didn't want to be concerned with setting protections. His safety blanket receiver, tight end Frank Wycheck, recalled McNair asking weekly what his "emergencies" would be against an opponent and making sure he had a solution in mind or was ready to freelance when he saw those.
But Hasselbeck thinks most coaches want it on the quarterback, at least to some degree. He was responsible for calling protections in Mike Holmgren's scheme in Seattle. He likes not having to do it all when he's playing in Tennessee.
"It's partly 'best seat in the house,' it's partly you're expected to be the guy who spends the most hours at the facility watching the most amount of film," he said. "You're the coach on the field. You're the guy that talks in the huddle."
Still, there are situations where he's been told in meetings that top offensive linemen would just "feel it" when it came to certain stuff from a defense, and that the line would "just pick that up," Hasselbeck said.
"That's not a world I've ever lived in," he said. "I've lived in a world where you use your cadence to try to get a tip. You move the protections. You tell the running backs exactly where to block. And if you have to throw hot, you have to throw hot. And that's a hard way to live on the road or against certain guys."
Munchak said the center can be fooled more easily, so the quarterback needs to be involved, but he doesn't want Locker making constant protection decisions at the line.
A quarterback like
Peyton Manning
, who controls everything, can handle it. Munchak played with Warren Moon, who did the same during some of the run-and-shoot era.
"But for the most part, I don't think a lot of quarterbacks are comfortable doing that," Munchak said. "I don't think they want to do it. I think it's too much for them. And then all of a sudden they're not making the throws and doing the things you want them to do. I think there is a place for a percentage of doing it, but not all the time."
Some athletic quarterbacks wind up in situations where they have no real idea of where a protection might break down, but can make guys miss when they come free. Hasselbeck's seen this year's top three rookie quarterbacks -- Luck,
Robert Griffin III
and
Russell Wilson
-- as well as
Ben Roethlisberger
do it this season.
When Hasselbeck was a backup behind Brett Favre in Green Bay, he saw it to an extreme.
"He knew how to pick things up, and he was very, very good at it," Hasselbeck said. "But sometimes he just wouldn't care. He was like, 'Ah, I can get it off.' And he'd get it off and take a shot in the chin. There is a price to be paid sometimes when you do it.
"I would lean on coaching it up."
The Titans clearly hope Locker comes to buy himself time in the fashion that Roethlisberger, Luck, RG III and Wilson can and do.
Myers is a key leader for the Texans, and he carries a lot of responsibility for calling protections. He likes working with a veteran quarterback, in
Matt Schaub
, who participates in the process, and he likes having other offensive linemen who are capable of making calls or adjustments, too.
While Myers welcomes the play here and there when he doesn't have to figure out the equation and solve it before the snap, he's always ready and willing to do so.
"We have the quarterback do it, have a tackle do it sometimes when we have to fan out in certain play-actions," Myers said. "So the responsibility isn't solely on one guy, and I think that's a great thing. We have the ability and the leadership and the people who have played long enough, we're able to put it on everyone's shoulders as opposed to just one guy."
April, 21, 2010
4/21/10
9:00
AM ET
»
NFC Draft Tale
:
East
|
West
|
North
|
South
»
AFC
:
East
|
West
|
North
|
South
Mike Reinfeldt's cautionary war room tale is the same as many executives who were involved with picks anywhere in close proximity to Minnesota at No. 7 in 2003.
"I have one good story of chaos," said Reinfeldt, who classifies most draft rooms he's been in as
relatively serene
. "The year that
Kevin Williams
got taken by Minnesota, they didn't get their card in."
The Vikings insisted they drafted at No. 9 the same player they would have taken seventh if draft talks didn't bog them down and allow both the Jaguars to draft quarterback
Byron Leftwich
and the Panthers to take offensive tackle
Jordan Gross
before they got their card in for Williams, a defensive tackle.
Reinfeldt was an executive in Seattle, which had the 11th pick.
"It's Ted Thompson and Mike Holmgren and Bob Whitsett and everybody kind of froze, nobody really knew what to do," said Reinfeldt, now GM of the Titans. "And Ted Thomson was great, because he said 'Write Marcus Trufant's name down right now and be ready to turn it in.'
"Those moments never really happen but all of a sudden this moment did happen and Ted knew exactly what he wanted to do. As it turned out, they got their pick in and we still got Trufant, he was the guy that we wanted, we felt we would have taken him at sixth if we had sixth."
It was a Boy Scout moment in terms of always be prepared.
"You've got to be ready for the unexpected," he said.