December, 19, 2013
Dec 19
10:00
AM ET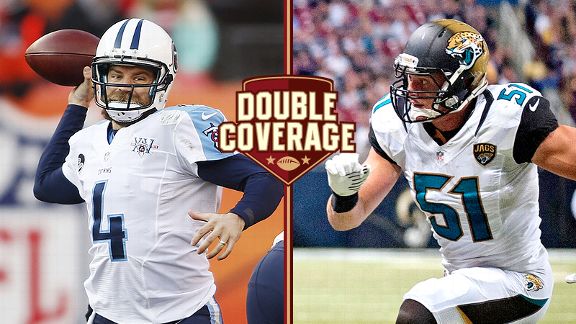 USA Today SportsPaul Posluszny and the Jags are aiming for a season sweep of Ryan Fitzpatrick and Tennessee.
JACKSONVILLE, Fla. -- Maybe
Delanie Walker
shouldn't feel so bad now.
The Titans tight end said he was embarrassed after the Jaguars won 29-27 in Nashville on Nov. 10 to pick up their first victory. Since then, the Jaguars are 3-2 with victories over Houston (twice) and Cleveland. The Titans are 1-4 with a victory over Oakland.
There seems to be much more stability in Jacksonville, too, because of the uncertain status surrounding Tennessee coach Mike Munchak.
Jaguars reporter Michael DiRocco and Titans reporter Paul Kuharsky break down Sunday's matchup at EverBank Field.
DiRocco
: Some Titans players were pretty vocal about being embarrassed due to becoming the first team to lose to the Jaguars. Is that something that still stings, and how have they rebounded from that loss?
Kuharsky
: It definitely left a mark. They are only 1-4 since then. It kind of set a bar for how bad they can be and re-established their propensity to lose to teams that are really struggling. The Jaguars are on an upswing since that game, and the Titans are on a downward spiral. If Tennessee losses to the Jaguars again, the Titans will be in line to finish in third place in an awful division, which is well short of their goals and expectations. The Titans are a better team than they were last year. But losing closer isn't a really big difference in the really big picture.
Let's turn that around. How has life changed for the Jaguars since that Nov. 10 breakthrough?
DiRocco
: I could go into a lot of stats that show how much better the Jaguars are playing, but that's not what's really important. The past six games have been more about the validation of the process, establishing the foundation of the franchise's rebuild, and confidence in the new regime. Coach Gus Bradley never wavered from the plan that he and general manager David Caldwell established. His message stayed the same throughout the eight-game losing streak to start the season: trust in the process, work hard, and focus on improving and not victories, and the victories will eventually come. Because that has happened, the players appear to have completely bought into what Bradley and Caldwell want to do, and there's a confidence in the locker room that the franchise is headed in the right direction.
We talked about
Jake Locker
the last time these teams met, but that was before he suffered a season-ending injury to his foot. How does that change the Titans' outlook on him and are they in the market for a quarterback in the offseason, too?
Kuharsky
: Locker is certain to be on the 2014 Titans. His fourth year isn't that costly and it's guaranteed. But they can't execute a spring option for his fifth year that would line him up for over $13 million. A lot of his fate depends on whether Munchak is back as the head coach. It's possible they go forward with Locker,
Ryan Fitzpatrick
and just-signed
Tyler Wilson
as their quarterbacks. It's also possible they'd draft a new guy, and depending on how high of a pick he could land in competition to start. I think it's less likely they chase a free agent like
Jay Cutler
if he comes free, but they have to assess all the possibilities. How can they completely commit to Locker based on his injury history?
One side effect of the Jaguars' surge is they aren't going to be in position to draft the first quarterback taken. What's your sense of what Bradley and Caldwell want in a quarterback and do you expect one to arrive in the first round?
DiRocco
: Offensive coordinator Jedd Fisch said something interesting last week. He said he wants his QB to scramble around, take off running to get yards and take some chances throwing the football. To me, that sounds like a pretty accurate description of Johnny Manziel. I'm not sure how that reconciles with the ideas of his bosses. Bradley comes from Seattle, which has the mobile
Russell Wilson
. Caldwell comes from Atlanta, which has the considerably less mobile
Matt Ryan
. My sense is that Bradley and Caldwell probably lean more toward the Wilson end of the spectrum. People think that eliminates Teddy Bridgewater, but that's not the case. He's not a runner but he can run if needed. If he's around, I'd expect them to take him. If not, then I would still expect them to go quarterback. It's their most glaring need.
You mentioned Munchak's job status. What's your take on whether he will be back next season -- and should he be?
Kuharsky
: He's shepherded improvement, but his team lacks an ability to finish. He's 0-4 in the worst division in football, 1-9 in the past two years. His teams have lost to the previously winless Jags in 2013 and the previously winless Colts in 2011. He's 4-18 against teams with winning records when the Titans played them and 2-19 against teams that finished the season with a winning record. To me, three years is a sufficient sample size to know what you've got and those numbers are the most telling thing on his resume. Keep him and they deal with all the limitations connected to a lame duck coach. I don't know what Tommy Smith, the head of the new ownership, will do. But the fan base overwhelmingly wants change, if that's worth anything. People still pay for tickets because they've got investments in personal seat licenses they do not want to throw away. But a lot of people are staying home on Sundays now.
Cecil Shorts
is done and
Maurice Jones-Drew
is uncertain. How can the Jaguars threaten on offense without their two best weapons?
DiRocco
: They were able to put up 20 points and post their second-highest yardage total of the season, including a season-high 159 rushing, in last Sunday's loss to Buffalo. Running back
Jordan Todman
stepped up big time and ran for 109 yards (Jones-Drew cracked 100 only once in the first 13 games) and tight end
Marcedes Lewis
was more involved in the passing game than in previous weeks (four catches for 54 yards and a touchdown). But I'm not sure that is sustainable. Teams will certainly concentrate on stopping Lewis and make quarterback
Chad Henne
move the ball with three receivers who have a combined 75 career catches. Todman doesn't scare anyone, either. The Jaguars will have to be creative on offense (they've run gadget plays the past three weeks) and capitalize on every opportunity they get.
August, 30, 2013
Aug 30
7:45
PM ET
Click
here
for a full list of
Jacksonville Jaguars
roster moves.

Most significant move:
The Jaguars' No. 3 quarterback has yet to practice with the team.
Matt Scott
and
Mike Kafka
were among the 21 players the Jaguars cut on Friday, meaning the team will begin preparations for the Sept. 8 season opener against Kansas City with
Blaine Gabbert
,
Chad Henne
and
Ricky Stanzi
as the quarterbacks. Neither Kafka nor Scott played well in the preseason: Kafka completed 13 of 29 passes with one touchdown and one interception while Scott completed 18 of 40 passes with one interception. Scott also had a fumble returned for a touchdown.
The Jaguars signed Stanzi on Tuesday after he was released by the Chiefs and cleared waivers. The former fifth-round draft pick in 2011 spent the past two seasons on the Chiefs' active roster. He never appeared in a regular-season game, but Jaguars coach Gus Bradley said he got a good report on Stanzi from Jaguars scout Kyle O'Brien, who spent the 2012 season with the Chiefs.
"We liked what we saw on film of him, I can tell you that," Bradley said. "We really did. We liked him. We were evaluating him out in warm-ups [on Thursday night], you know, when he was throwing the ball. So we did like him, and one of our scouts was with Kansas City and was intrigued by him and I think it passed on to us."
It's still unclear whether Gabbert (hairline fracture in his right thumb) will be able to start the season opener. If he can't, Henne would get the start and Stanzi would be No. 2. If Gabbert can play, Stanzi would likely be inactive.
One extra spot:
The Jaguars will receive a roster exemption on Saturday for receiver
Justin Blackmon
, who will serve a four-game suspension for violating the NFL's substance abuse policy. That allows the Jaguars to keep a 54-man roster, but it also means that the Jaguars have only five receivers on the roster right now: Blackmon,
Cecil Shorts
,
Mike Brown
,
Ace Sanders
and
Jordan Shipley
. That's an area that the Jaguars likely will address this weekend from the waiver wire.
Onward and upward:
CB
Marcus Trufant
is an 11-year veteran who played well in the preseason, but he doesn't fit into the Jaguars' youth movement in the secondary. Plus, the signing earlier this week of
Will Blackmon
made him expendable because of Blackmon's age (28, four years younger than Trufant) and special-teams ability. Still, Trufant is an experienced, heady player who could find himself on a roster. The Jaguars liked defensive end
Pannel Egboh
but his production didn't match his measurables (6-foot-6, 277 pounds). It wouldn't be surprising if he ended up on another roster within the next few days. The Jaguars' roster may be one of the thinnest in the league, so it's unlikely that there will be much interest in most of the players cut.
What's next:
The Jaguars certainly aren't anywhere close to being done with cutting and adding players. Bradley and GM Dave Caldwell have both said they plan on continuously scouring the waiver wire in an effort to improve the bottom part of the roster, so expect more moves over the weekend. Most of the impending signings will likely center around their ability to help on special teams. The units have struggled during camp and in the preseason, which is why linebackers
Brandon Marshall
, Michael Zimmer and
Julian Stanford
were released. The Jaguars added linebacker
Andy Studebaker
in mid-August and linebacker
Kyle Knox
and cornerback Blackmon, both of whom were released by Seattle, earlier this week. Blackmon was signed on Wednesday and played well in the Jaguars' 20-16 victory over Atlanta on Thursday night, returning a punt for 21 yards.
August, 30, 2013
Aug 30
7:00
AM ET
JACKSONVILLE, Fla. -- Three things that stood out in the
Jacksonville Jaguars
'
20-16 victory
over Atlanta on Thursday night:

1. Running back
Jordan Todman
showed again not only why he deserves to make the team but to probably be No. 2 on the depth chart behind
Maurice Jones-Drew
. The former UConn standout ran for 60 yards and a touchdown on nine carries, giving him a team-high 223 yards on 29 carries in the preseason.
Todman, who scored on an 18-yard run against the Falcons in the first quarter, is a patient runner who quickly gets north and south when he makes a decision. He has been the offense's best player throughout the preseason.
The Jaguars signed
Justin Forsett
to be the top option behind Jones-Drew, but he has yet to play this preseason because of a sprained toe on his right foot. He hasn't even practiced since he suffered the injury during the first live period of training camp.
Forsett is hoping for a Week 1 return, but even if he does, Todman has been so impressive that it wouldn't be a surprise to see him get more work.
2. Cornerback
Demetrius McCray
had his best game of the preseason: five tackles, two pass breakups and a sack. One of those tackles came with a group of other defenders on a fourth-down stop inside the 5-yard line to preserve the victory.
The Jaguars drafted McCray with their second pick in the seventh round of this year's draft. He's a bigger corner (6-foot, 185 pounds) and plays the physical style coach Gus Bradley wants out of his corners.
McCray had been having a relatively anonymous preseason (just two tackles), but he solidified his spot on the roster with his performance against the Falcons. He jarred a pass loose from receiver
Kevin Cone
and then made a leaping deflection of another pass to Cone in the first half. He also made a solid open-field tackle on fullback
Jason Snelling
on a screen pass.
3. Quarterback
Matt Scott
did some nice things, but they were wiped out by two terrible plays: a fumble that was returned for a touchdown and an interception on back-to-back series in the second quarter.
Scott's first turnover came when he failed to secure the ball when he turned on a bootleg and was confronted by defensive end
Jonathan Massaquoi
, who poked the ball free and returned it for a 9-yard touchdown. It's not an unusual occurrence for a quarterback to whip around into the bootleg after the fake and see a defender in his face. Sometimes the smartest thing a quarterback can do is realize the play has been blown up and just secure the ball and keep the negative play from becoming even worse.
On the interception, Scott stared down intended receiver
Mike Brown
, and cornerback
Desmond Trufant
, the Falcons' first-round draft pick, stepped in front of the pass. There may have been some miscommunication on the route, but it was an easy interception for Trufant.
Scott was battling
Mike Kafka
for the No. 3 quarterback spot. Scott completed 6 of 12 passes for 67 yards. Kafka completed 6 of 15 passes for 46 yards, but he did hook up with
Jeremy Ebert
on a 13-yard touchdown pass that put the Jaguars ahead for good.
August, 29, 2013
Aug 29
1:15
PM ET
JACKSONVILLE, Fla. -- The Jaguars wrap up the preseason in Atlanta against the Falcons tonight (7:30 p.m. ET). Here are three things to watch:


The quarterbacks:
With starter
Blaine Gabbert
out with a hairline fracture of his right thumb,
Chad Henne
gets the start. But he and the rest of the team's starters will play only 10-15 snaps. That leaves
Mike Kafka
and
Matt Scott
to play the majority of the game.
The two are battling for the No. 3 quarterback spot. Neither has been particularly impressive in the preseason. Kafka has completed 7 of 14 passes for 27 yards and one interception while Scott has completed 12 of 28 passes for 103 yards. They've played in every game.
The team claimed former Kansas City QB
Ricky Stanzi
off waivers on Tuesday, but that move appears to be more about picking his brain about the Chiefs (whom the Jaguars play in the regular-season opener) than anything else.
So it's Scott versus Kafka for the third quarterback spot. It's a critical competition, at least for the early part of the season. There's some doubt that Gabbert will be ready to go in Week 1, in which case Henne would start and the Kafka/Scott winner would be the No. 2.
Jonathan Cyprien:
Coach Gus Bradley has said several times this week that he wants Cyprien to get more reps against the Falcons. The second-round draft pick missed the first two weeks of training camp because of a hamstring injury.
The 6-foot, 217-pound safety is a better option in the secondary than
Chris Prosinski
, who was picked on by Miami in the preseason opener, including a play in which he got turned around on a touchdown pass. Cyprien seemed to be unsure of himself at times in last Saturday's game against the Eagles and the extra playing time will certainly help.
Cyprien will be one of two rookie starters in the secondary (cornerback
Dwayne Gratz
is the other). They're going to make mistakes but the best way to limit those is to get as much time on the field as possible.
The battle at WR:
Justin Blackmon
,
Cecil Shorts
,
Ace Sanders
and
Mike Brown
are set, which leaves five players competing for two spots. The top two candidates are
Jordan Shipley
and
Tobais Palmer
, with
Jeremy Ebert
,
Toney Clemons
and
Charly Martin
likely on the outside.
The 5-11, 178-pound Palmer is intriguing because of his speed, but he has fumbled two punts in the preseason and that may be something he can't overcome. Shipley leads the bubble group of receivers with four catches for 48 yards. He also has value on special teams as a punt and kickoff returner, which may be enough to win him one of the final two spots.
August, 27, 2013
Aug 27
5:55
PM ET
JACKSONVILLE, Fla. -- The Jaguars have added a fifth quarterback to the roster after being awarded
Ricky Stanzi
off waivers from Kansas City.
The team also was awarded linebacker
Kyle Knox
from Seattle.
Starting quarterback
Blaine Gabbert
is out for the rest of the preseason with a hairline fracture of his right thumb. Backup
Chad Henne
is expected to play only 10-15 snaps in the Jaguars' preseason finale at Atlanta on Thursday, with
Mike Kafka
and
Matt Scott
expected to receive the bulk of the playing time.
Stanzi was cut by the Chiefs on Sunday after getting beat out for the No. 3 spot by undrafted rookie
Tyler Bray
. Kansas City drafted Stanzi in the fifth round of the 2011 draft. He has never played in a game.
Seattle waived Knox in the final cuts of the 2012 preseason and he spent the final two weeks of last season on the Seahawks' practice squad.
To make room on the roster for Stanzi and Knox, the Jaguars cut tight end
Isaiah Stanback
and running back
De'Leon Eskridge
.
The Jaguars have now made 27 roster moves since training camp began on July 26.
July, 31, 2013
Jul 31
4:32
PM ET
JACKSONVILLE, Fla. -- I got to the
Jacksonville Jaguars
practice fields this morning just three plays into full-team work.
Some quick thoughts on what I saw and heard:

Blaine Gabbert:
The quarterback had his right ankle heavily wrapped and didn't participate in team work. But he said after practice that barring something crazy he'd be back to a full workload tomorrow.
Mike Kafka
worked as the No. 2 behind
Chad Henne
, with
Matt Scott
last.
Wildcatting:
Denard Robinson
ran several Wildcat plays, but didn't throw on any of them, handing off or running.
I am generally anti-Wildcat, but the Jaguars are the right team to be playing with it -- a team without a high-quality quarterback.
Receiver
Mike Brown
did throw a pass on a trick play, after taking a lateral screen pass from Kafka to the left side. Brown threw to the right side of the end zone from about 40 yards out. Running back
Jordan Todman
had linebacker
Julian Stanford
beat, but couldn't corral it. (See this play and some pictures from today on my Instagram account: pkuharsky)
I watched one-on-one pass rush (which was sometimes two-on-two),
Andre Branch
tried to bull rush
Luke Joeckel
and while he gained some ground, Joeckel had control.
Will Rackley
rode
D'Anthony Smith
wide on one snap. And
Jason Babin
slipped under
Eugene Monroe
's left shoulder but then got pinned there and went to the ground.
Tyson Alualu
did some nice work against
Mike Brewster
working on an inside rush. That's a matchup he should win. I'll write more about Alualu and his move to end soon.
Good throw:
One of Henne's best throws was to
Marcedes Lewis
in the middle of the field for a mid-range gain. What made it especially good was that Henne initially looked and pumped left, then came back to find Lewis.
Fumble:
Cecil Shorts
and Henne shared responsibility on an end-around handoff being fumbled.
Well defended:
Undrafted rookie cornerback
Marcus Burley
hasn't been heard from much in camp so far, I am told. But he made a very good play in the end zone. From the 10-yard line, Henne threw a nice pass to
Mohamed Massaquoi
into the right side of the end zone. Burley realized he wasn't going to be able to make a play on the ball, but that he could still prevent the catch and he broke it up even though he wasn't on top of the receiver.
Option:
Henne ran an option play to the left side, pitching to
Maurice Jones-Drew
on a well-executed snap.
Not long later, Henne easily hit Shorts under the goalpost for a red zone TD.
Detente? I was with some other reporters near the end of the open locker room and we had a fun, spirited chat with Jones-Drew, who was hanging out at a new, still net-less ping-pong table in the middle of the locker room. (Not so spirited that young receiver Tobias Palmer needed to check if MJD wanted his assistance to break free of it. But I found it to be charming naiveté.) MJD and I have some history, about which I try to be up front. We seemed to have benefited from a cooling off period. Perhaps we'll have a chance to visit with a tape recorder running on Thursday.
June, 14, 2013
Jun 14
12:00
PM ET
»
NFC Eight in the Box
:
East
|
West
|
North
|
South
»
AFC
:
East
|
West
|
North
|
South
The major question facing each team in the AFC South as summer break looms:

Houston Texans:
Even if
Derek Newton
recovers well from his knee surgery, are they sure he can be good at right tackle? In Newton's first year as the starter there, veteran
Ryan Harris
still got a share of the snaps. Now the team has to see how Newton recovers, will consider rookies
Brennan Williams
and
David Quessenberry
and brought Harris back as veteran insurance. They've surely got comfort in numbers, but you'd much rather have a sure thing at the front of the line. If second-year man
Brandon Brooks
doesn't play well from the start at right guard, right tackle could be an even bigger problem. And the Texans need to be able to send
Arian Foster
both left and right to be unpredictable in the run game. They also need to protect
Matt Schaub
from all angles.

Indianapolis Colts:
The team's biggest defensive moves have been keyed on stopping the run. Outside linebacker
Erik Walden
is an edge-setter, defensive linemen like
Ricky Jean Francois
and
Aubrayo Franklin
should help stop backs and safety
LaRon Landry
is a force in the box when he's healthy. If cornerback
Greg Toler
pans out, he will help the pass rush, and rookie outside 'backer
Bjoern Werner
could be an impact rusher if he transitions quickly from college end. But can this team consistently rush the passer? The only truly proven rusher on the defense is
Robert Mathis
, and for the first time he'll be playing without
Dwight Freeney
drawing some of the blocking attention. To me, the major question is: Can they rush the passer effectively?

Jacksonville Jaguars:
Who is the quarterback?
Blaine Gabbert
had most-favored status from the last regime, because the general manager of the last regime traded up to draft him 10th overall. That doesn't mean anything to new GM Dave Caldwell or new coach Gus Bradley. They are looking for a guy who will give them the best chance to improve. If it's Gabbert, that's fine. But
Chad Henne
has said he believes there isn't a charade element to this competition, and the team is talking as if new addition
Mike Kafka
and even undrafted rookie
Matt Scott
have an equally good chance of winning the job. Odds are very high this team will be looking for its long term-quarterback in next year's draft. In the meantime, opportunity abounds.

Tennessee Titans:
All Titans questions start with the quarterback.
Jake Locker
is now protected by a great offensive line, which should also greatly improve the run game. The new offense will give him a lot of play-action as well as rollouts and bootlegs, which will be threatening because of his extraordinary speed. His short-yardage targets should be dangerous --
Kevin Walter
is super reliable;
Kendall Wright
should blossom;
Delanie Walker
and
Chris Johnson
need to be consistently reliable. The deep guys are a solid bunch if healthy.
Kenny Britt
and
Nate Washington
are capable of making downfield plays, and the team is super high on rookie
Justin Hunter
. The defense will be better, which means the Titans will have the ball more. What can Locker do with it?
June, 13, 2013
Jun 13
2:42
PM ET
JACKSONVILLE, Fla. -- Throwing on the move, by design, should be easier than making plays dropping back.
I generally think that, and the
Jacksonville Jaguars
certainly do too based on what they are doing on offense.
"I think those are easy throws, generally for a quarterback: bootlegs, quick passing game, things like that where he's on the move," coach Gus Bradley said. "Easy, but not simple. They've still got to execute and we've still got to execute things in the protections. But that's one way of getting a quarterback in a rhythm, by executing some of those passes."
[+] Enlarge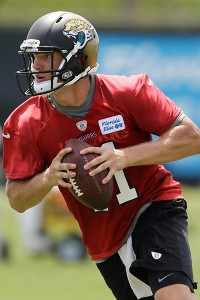 AP Photo/John RaouxQB Blaine Gabbert on throwing on the run: "The more reps you get throwing on the move, the more comfortable you are."
Wednesday at their final practice of minicamp, I paid particular attention to
Blaine Gabbert
on the move. And he wasn't making throws on the run look like simpler plays.
Some of them were throwaways, like a red zone play where he barreled out of bounds right at me and a team staffer and let it fly before he stepped out. You tell a guy to put that one in the stands, and he did the practice equivalent.
"Oh, over the fence," he said matter of factly but loud enough for the people in the first couple rows to hear.
Later he rolled hard to his right and hit
Jordan Shipley
on the right sideline, completing the pass against veteran cornerback
Marcus Trufant
.
Overall though, he struggled on the run just as he did from the pocket.
This week I had the chance to ask Gabbert about throwing on the run.
"The more reps you get throwing on the move the more comfortable you are," he said. "I felt confident going on the move and that's a big part of our offense, being able to run keepers and get the ball outside the pocket. It just boils down to getting reps in practice, feeling comfortable with it, going through your progressions on the run and at the end of the day if nothing's open taking off."
He and the Jaguars need more work at it.
On this day, in this practice, none of the quarterbacks -- Gabbert,
Chad Henne
, rookie
Matt Scott
or newcomer
Mike Kafka
-- looked very good.
Gabbert threw a red zone TD in team drills, and had another dropped. Henne had a pick that would have been a score the other way dropped.
It's still the early stages of a new offense. Gabbert still shows a good arm. He's still got time to get more comfortable.
He is, however, approaching now or never.
June, 13, 2013
Jun 13
9:19
AM ET
Reading the coverage…
Houston Texans

Rookie tackle David Quessenberry's
recent surprises
include a stolen truck and a lot of playing time at right tackle, says Tania Ganguli of the Houston Chronicle.
Like most starters, Danieal Manning isn't participating in minicamp but he offered
a coaching eye
, say Ganguli and John Brannen of the Chronicle.
A couple former Texans -- Connor Barwin and Eric Winston -- are among the 10 players who have
lent their names
to a new line of clothing which is being sold by the NFL Players Association in honor of LGBT Pride Month, writes Ganguli.
Indianapolis Colts

The Colts are sorting through
four players and 1,300 pounds
as they seek to fill their nose tackle position, says Mike Chappell of the Indianapolis Star.
The Colts were an 11-5 playoff team in 2012, but that hasn't stopped general manager Ryan Grigson from a
massive roster overhaul
that could yield nine new starters, says Chappell.
Until they signed Ahmad Bradshaw, the Colts commitment to improving the running game had been
mostly verbal
, says Conrad Brunner of 1070 The Fan.
Jacksonville Jaguars

Veteran Marcus Trufant is
sharing his expertise
with a young group of defensive backs, says Ryan O'Halloran of the Florida Times-Union.
The Jaguars will wrap up minicamp with
a public practice
, says Vito Stellino of the Times-Union.
Mike Mularkey said on SiriusXM NFL Radio that he would start Chad Henne over Blaine Gabbert if he had to pick one right now. (
Audio
.)
Thoughts on how the quarterback situation
could shake out
between Gabbert, Henne and Mike Kafka from Cole Pepper.
Tennessee Titans

The No. 2 cornerback job is open for the taking, partly because Alterraun Verner
doesn't exactly fit
what the Titans now want to do, says Jim Wyatt of The Tennessean.
While the offense is simplifying, is the Titans defense getting more complicated and
too complicated
, asks Music City Miracles.
June, 13, 2013
Jun 13
7:44
AM ET
JACKSONVILLE, Fla. -- The
Jacksonville Jaguars
have no clear No. 1 quarterback, though I still believe
Blaine Gabbert
's going to wind up their best option at the start.
Kafka
Mike Kafka
didn't work in team drills Wednesday, his first session with the Jaguars since they claimed him off waivers from New England after the Patriots let him go to make room for
Tim Tebow
.
But Kafka, 25, will get a fair crack at more than a backup job with a team that is preaching competition and giving everyone at virtually every position a chance.
General manager Dave Caldwell said he considered Kafka early in the offseason, but the quarterback already had committed to the Patriots.
In 2011, when Caldwell was part of the Falcons front office, he saw the best of Kafka's limited NFL work.
Michael Vick
got hurt, Kafka took over for him and the Eagles and hit on 7-of-9 passes for 72 yards in a game Philadelphia lost 35-31.
Caldwell said Kafka's got "just as good an opportunity" to win the job as Gabbert,
Chad Henne
or undrafted rookie
Matt Scott
.
Kafka said very little in a media session I had to miss but got a transcript of. He's happy to be here and excited for the opportunity.
Jordan Rodgers
is also on the team. He's out until camp after recent sports-hernia surgery.
The Jaguars are one of only two teams currently in the NFL with five quarterbacks on the roster. The other is Philadelphia.
June, 12, 2013
Jun 12
10:13
AM ET
Reading the coverage …
Houston Texans

Ed Reed
offered reassurance
that all will be fine with regard to his surgically repaired hip, says Tania Ganguli of the Houston Chronicle. Reed is still not sure precisely when he will be back.
Ganguli points us to
video
of Tom Brady's kick at Reed in the AFC Championship Game that Reed said he thinks caused his hip issue.
Tim Dobbins
stands by his decision
to skip OTAs to work on building his house in Nashville, says Ganguli.
To which I say:
It sounds odd, but voluntary is voluntary and if he proves the team's best option at inside linebacker next to Brian Cushing, the OTA absences won't factor into a decision.
Gary Kubiak
is concerned
about right tackle, but Derek Newton and rookie Brennan Williams are expected to be ready for the start of training camp, says James Palmer of CSN Houston.
Vonta Leach
would like to return
to the Texans, he told Mark Berman of Fox Houston.
To which I say:
Don't know why he'd say it publicly, since the presence of Greg Jones means it can't happen.
Indianapolis Colts

Robert Mathis on LaRon Landry: "
He brings ugly
. He brings a streak to us that we haven't had." Mike Chappell of the Indianapolis Star has this story on Landry, who was not part of OTAs.
Ahmad Bradshaw feels like he will
bring a spark
to the Colts' young offense, writes Chappell. Bradshaw said he looks forward to helping Vick Ballard and the rest of the running backs.
The Colts' offensive tackles, Anthony Castonzo and Gosder Cherilus, have a friendship that
dates back
to Boston College, says
Remembering
a funny slip up
Chuck Pagano made at the combine regarding Leach, who's now a free agent, with Brad Wells of Stampede Blue. (I've been told this morning that they won't pursue Leach).
Pagano said nose tackle Josh Chapman amounts to
an immovable 800-pound safe
on the middle of the field, says Marcus Dugan of Colts Authority.
Jacksonville Jaguars

It's never been an easy ride for Alan Ball, who signed with the Jaguars because of the chance to start, says Vito Stellino of the
Florida Times-Union. Safety Dwight Lowery sees a perfect system for Ball.
To which I say:
Ball really struggled when he had opportunities with the Texans last season, so he'll need a big turn-around to be effective for the Jaguars.
The Jaguars
claimed
former Patriots quarterback Mike Kafka, who they cut to make room for Tim Tebow, says Ryan O'Halloran of the Times-Union.
"(Maurice) Jones-Drew's future with the Jaguars will be
tied to his production
on the field, not his culpability in a bar altercation where somebody is clearly sticking to a bold-faced lie, says Gene Frenette of the Times-Union.
Tennessee Titans

"Seeing (Marc) Mariani on the practice field is
a testament
to modern orthopedic medicine and his dedication," writes David Climer of The Tennessean.
Defensive tackle Jurrell Casey sees Gregg Williams and Jerry Gray
balancing each other out
, says Jim Wyatt of The Tennessean.
Chris Johnson
disputes the notion
that he's selfish, says The Tennessean's notebook.
To which I say:
He sold himself as not just a running back, but a playmaker, when he held out for, and received, a new contract. He has hardly been the guy he said he'd be. Despite his assertion, him getting 2,000 yards isn't the best route for the Titans to get to the playoffs.
Johnson
speaks highly
of Shonn Greene in this piece from Crag Peters of the team's website.
August, 31, 2012
8/31/12
8:33
PM ET
Click
here
for the complete list of
Indianapolis Colts
' roster moves.

Most significant move:
I didn't expect they were doing anything with
Dwight Freeney
, but his $19 million salary had stirred up a new round of rumors that the Colts could let him go. He's on the team, and there were no real cuts of note aside from the team's most senior player, long-snapper
Justin Snow
. It's not as if they were so deep there was no room, but the Colts held on to several players who weren't drafted -- tight end
Dominique Jones
, offensive tackle
Ty Nsekhe
, linebackers
Mario Addison
and
Mario Harvey
and long-snapper
Matt Overton
.
Onward and upward:
The Colts kept both
Drew Stanton
and rookie
Chandler Harnish
as backups to
Andrew Luck
. I understand that Stanton's been with the Colts through Bruce Arians' installation and there is value in that. But last season showed the value of a decent backup quarterback. If Luck gets hurt and the Colts need an alternative, I suspect there are some guys who just became available who qualify as more talented. General manager Ryan Grigson should have insight into one of them,
Mike Kafka
, who was released by Philadelphia. Grigson was hired by the Colts from the Eagles personnel department.
What's next:
Every player who is not a vested veteran is subject to waivers. And as the worst team in the NFL last season, the Colts still retain the first pick in the waiver order. That means they will get anyone they claim, so long as the claim comes with a corresponding roster move. That means guys who are feeling good tonight might still be in position to turn in their playbooks Saturday, or in the days to follow. Grigson could do a lot of work to upgrade the last five spots on his roster. Or more. I'd expect some turnover on the offensive line, in the secondary and perhaps at linebacker and quarterback.