November, 17, 2011
11/17/11
1:37
PM ET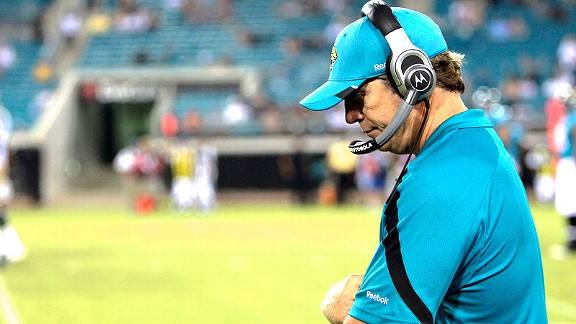 AP Photo/John RaouxIf the Jaguars replace Jack Del Rio, it makes sense to hire an offensive-minded head coach.
Ten weeks into most NFL seasons we have a good sense of head-coaching jobs coming open and the prime candidates for them.
This year feels different.
Jim Caldwell may coach a potential 0-16 team. But to hear Bill Polian talk, the Colts' coach may well survive. In Jacksonville, Jack Del Rio's got one year left on his contract and a lame-duck staff.
It's widely held that Jaguars owner Wayne Weaver will make a change if he judges the team to have shown insufficient improvement this season, and it's hard to envision a giant turnaround now for the 3-6 Jaguars based on how poorly the offense is producing.
As for prime head-coaching candidates, I sense no buzz about the hot, young offensive assistant who's the next big thing. In previous years -- no matter if they panned out or not -- we've seen guys like Josh McDaniels, Jason Garrett, Todd Haley and Ken Whisenhunt tabbed as up-and-comers who were ready.
Who are those guys now?
While Northern Florida might hold out hope that Weaver will want a name and would be able to lure one, I don't see Bill Cowher or even Jeff Fisher heading for EverBank Stadium.
The franchise should re-sign general manager Gene Smith, allow him to decide on Del Rio and make the recommendation on the next coach.
And if Smith's in the market, that next coach should be a young offensive mind who likes
Blaine Gabbert
and has the best shot at developing him. Smith needs to hit a home run finding the next Mike McCarthy, Sean Payton or, this year aside, Andy Reid.
I asked around this week, talking to a couple coaches and an executive about which NFL assistant qualifies as a QB guru who's ready to be a head coach.
Through those conversations, I present this list of possibilities:
Mike Mularkey, Atlanta offensive coordinator
-- Mularkey posted a 14-18 record as Buffalo's head coach in 2004-05. But he's got enough distance from that now that he could be worthy of a second act.
He took over as offensive coordinator in Atlanta in 2008, when quarterback
Matt Ryan
was a rookie. He has a bruiser of a running back in
Michael Turner
to go with Ryan. Ryan became just the second rookie quarterback in NFL history to throw for more than 3,000 yards, and the Falcons won 11 games.
There is a connection to Smith: Mularkey's son, Patrick, is a scouting assistant in Jacksonville's player personnel department.
Jay Gruden, Cincinnati offensive coordinator
-- Gruden's done fantastic work this season with rookie QB
Andy Dalton
. But is one good year enough to vault him to a head coaching job?
He worked on his brother Jon's staff in Tampa Bay from 2002-08, but as an offensive assistant he wasn't a year-round guy. He stacked the work on top of his duties quarterbacking and then coaching the Orlando Predators of the AFL.
Jay Gruden has head coaching experience in the AFL and the UFL, where he led the Florida Tuskers to the 2010 championship game as head coach and GM.
Word is he's different than his brother, calmer with a better presence with his players.
Rob Chudzinski, Carolina offensive coordinator
-- His first tour as an offensive coordinator came in Cleveland from 2007-08. The 2007 Browns won 10 games with
Derek Anderson
shining at quarterback.
Now Chudzinski's been lauded for his work with
Cam Newton
, revising and shaping the offense to feature what the rookie quarterback does best. He's got a strong background with tight ends, too, and is regarded as a rising star by many around the league.
He's also a quieter, unassuming type.
Tom Clements, Green Bay quarterbacks coach
-- Clements worked in the same post for New Orleans (1997-99), Kansas City (2000) and Pittsburgh (2001-03). During those stops he worked with
Tommy Maddox
during his comeback player of the year season in 2002 and with
Kordell Stewart
and
Elvis Grbac
during their best seasons.
He also worked as offensive coordinator in Buffalo in 2004 and 2005.
With Green Bay, Clements guided
Brett Favre
in his final Packers' years while helping prepare
Aaron Rodgers
. He's also had a hand in the progress of highly regarded backup
Matt Flynn
.
But does he have the qualities of a good head coach?
Pete Carmichael, New Orleans offensive coordinator
-- He's in his third year as Payton's top offensive lieutenant after three seasons as the Saints' quarterbacks coach.
Carmichael's been closely involved with an offense that has excelled with
Drew Brees
as quarterback, with a specific role in routes, protection schemes and quarterback responsibilities.
Like Clements in Green Bay, Carmichael works for a strong coach with an offensive background and so he doesn't function as the play-caller. While very smart, he comes across as bland and that could be a big issue for a guy expected to be the face and the personality of a franchise.
April, 5, 2011
4/05/11
1:06
PM ET
Is Jim Caldwell a top-10 coach?

Caldwell
Before you jump to say he is not, consider there are only 24 coaches in the league who've got real résumés to judge -- there are eight new coaches heading into their first seasons.
Here are
the power ranking results and Tim Graham's piece
on how things sorted out.
Bill Belichick is our unanimous No. 1 and Caldwell finished 13th. I rated him eighth and gave Graham this rationale:
"I voted for Caldwell late, frankly, because I was running out of good candidates.
"I do not think he's a particularly good game-day coach. The rationale he had for the late timeouts that helped the Colts lose at Jacksonville and to the Jets in the playoffs was flawed.
"But in terms of delivering a consistent message, setting expectations and holding a team together through an injury-riddled season, he did excellent work. And those are very important elements to the job."
I did not consider Jack Del Rio or Gary Kubiak at all, and Mike Munchak is one of those eight new coaches.
Here is my ballot, not to be confused with the overall results, which you'll find in the link above.
Bill Belichick
Mike Tomlin
Andy Reid
Mike McCarthy
Tom Coughlin
Sean Payton
Rex Ryan
Jim Caldwell
Mike Smith
Ken Whisenhunt
February, 2, 2011
2/02/11
12:30
PM ET
Are the Titans going to look outside the box in their search to replace coach Jeff Fisher?
[+] Enlarge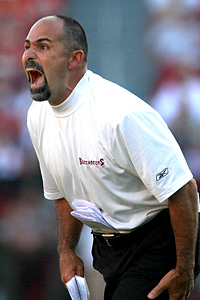 AP Photo/Reinhold MatayRich Bisaccia is the kind of unheralded NFL assistant who could turn into a great head coach.
Many seem to think they won't, and that the elevation of offensive line coach Mike Munchak is a mere formality. Nothing against Munchak at all, but I hope it's not so cut and dried. We don't know their intentions or timetable, though owner Bud Adams indicated it might be just five candidates (we know three of them would be in-house guys, one a Rooney Rule candidate) and a quick decision.
Go more than 16 seasons with one coach, it would be wise to take your time and poke around thoroughly in the search for his replacement.
On the front side, I'll say Rich Bisaccia is a guy first put in front of me by someone who is close with him and wants to see him succeed. I'm not certain he's the guy for the Titans' job. I don't know him.
I do feel certain he's the sort of guy who should get a look, and so ask that we might consider him an example of the kind of guys the Titans can talk to from a league where Raheem Morris and Mike Smith and John Harbaugh and Mike McCarthy have turned out to be great hires.
Bisaccia, who turns 50 on June 3, recently became special teams coach in San Diego, hired to clean up a mess. His contract was up in Tampa, and a change of scenery probably was best for career advancement now. Boost the special teams for a franchise with the NFL's top offense and defense in 2010, and perhaps there is a Super Bowl ring to be had as well.
Before joining the Chargers, he spent nine seasons with the Buccaneers under Jon Gruden and Morris, overseeing special teams, earning an associate head coach title in 2008 and coaching the running backs for a season, too.
It would be hard for him to get in front of the Titans with no connection, but there is one. Tennessee's vice president of personnel, Ruston Webster, is a trusted aide of general manager Mike Reinfeldt. Webster was an executive with Tampa Bay for four years while Bisaccia worked on Gruden's staff there.
Listen to what Gruden (who said he's not been contacted about the Titans' post and is working hard to get better at his ESPN gig) and
Derrick Brooks
, the All-Decade linebacker from the 2000s, have to say about Bisaccia and it's hard not to come away wondering, why not interview him?
"I coached a long time, he's one of the best coaches I've worked with and I'm not just trying to be his agent or publicity manager," Gruden said. "He's a tremendous football coach, great with players, smart, works his butt off. I'd hire him as a head coach. If I was in position to interview people and look for quality candidates and he's certainly one of the best I've been around."
"Special teams guys -- he's not an offensive coach or a defensive coach, he's kind of a wefence guy. He was my running backs coach, special teams coordinator, jack of all trades. He's very good at personnel; he's got a vast amount of experience. I hope he does get an opportunity to present himself. Sometimes that's all people need is a chance to get in front of the people that are making these decisions."
Baltimore broke into the special teams rank to hire John Harbaugh in 2008, finding a coach with special teams' expertise who has dealt with players from most positions. Like Harbaugh, I'm told, Bisaccia has that fiery special teams' personality -- something that sounds to me like a logical change when you're switching course from Jeff Fisher's California Calm.
"He's gotten the best out of everybody, and for me, being around him since 2002, I jumped at the opportunity to play for him on special teams despite being a starter on defense," said Brooks, now an ESPN and Sirius NFL analyst. "I wanted to be part of what he was doing with other guys, I was a little jealous. I even inserted myself in practice as a punt returner. I really did want to be a part of what he had going on with our core group of guys on special teams."
But Bisaccia's not solely a special teams' guy -- he played at Yankton College in South Dakota as a defensive back, and was on the USFL Philadelphia Stars in 1983 where his teammates included Sam Mills, Bart Oates, Irv Eatman and Sean Landeta.
In the college ranks -- at Wayne State, South Carolina, Clemson and Mississippi -- he coached quarterbacks, receivers, defensive ends, tight ends and running backs. What kind of messages would he bring and team would he field?
I didn't talk to him for this post, but there is no doubt that as he begins to line up things for his new job in San Diego he'd welcome the chance to interview for such a big promotion.
Gruden said Bisaccia is charismatic, creative and energetic and qualifies as a "fundamentals freak" who can develop players. (That, to me, should be the Titans' No. 1 objective in this turnover -- player development.)
"I know he has a program and I know he knows it works," Gruden said.
In Tampa Bay, Gruden arranged his team's own rookie symposium and made Bisaccia its "band director." He was charged with mentoring the first-year players, an important assignment from Gruden.
Brooks said Bisaccia's a quality teacher, a straight-shooter and a multi-tasker who would hold players accountable to his message. He'd let his coordinators coordinate and would preach ball-security above all else with one of his favorite messages: "You're carrying the hopes and dreams of the team in your hands."
So Biasaccia's endorsed by a coach who won a Super Bowl and is coveted himself. He's endorsed by one of the best defensive players of his era. I know the Titans could have hundreds of qualified candidates with similar references. I know Gruden and Brooks are speaking in support of a friend -- but you don't put your name on the line for a friend if you don't believe he can succeed.
All it would cost the Titans to talk with him -- or another guy fitting a similar mold -- is the price of a flight and a nice dinner along with a day of their time.
I'm certain Bisaccia will answer his phone. Why not ring him?