October, 11, 2013
10/11/13
4:00
PM ET
INDIANAPOLIS --
San Diego Chargers
quarterback
Philip Rivers
said his team's success against the
Indianapolis Colts
-- 5-1 in the past six games -- can't be taken into consideration anymore because the Chargers have a number of different faces on their roster now.
The roster might be different, but Rivers is still on it, and that's all that matters.
Rivers has thrown for 577 yards and completed 71.8 percent of his pass attempts in three career meetings against the Colts.
[+] Enlarge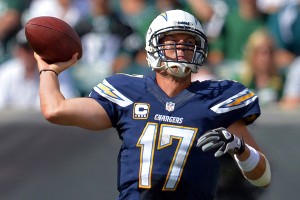 Jeffrey G. Pittenger/USA TODAY SportsChargers QB Philip Rivers has passed for more than 400 yards three times this season.
"Trust me, I know what San Diego, especially Philip Rivers, is capable of," Colts linebacker
Robert Mathis
said. "We've had a lot of battles over the years. Definitely not a team we're sleeping on because they can beat you and they can beat you good. Everybody's prepared, focused and has the task at hand."
Playing a complete game has been a difficult task for the Chargers. That's part of the reason they're 2-3 this season. That hasn't stopped Rivers from putting up very good statistics. Statistics so good that Colts coach Chuck Pagano basically had them memorized during his news conference earlier this week.
"Anytime you're completing 73.8 percent of your passes and you've thrown for 1,610 yards, 13 touchdowns and five picks, you're doing something right," Pagano said. "He's a game-wrecker. He's a winner. He's a Pro Bowler. He gives them a chance every single week to win."
Not bad, Coach, you were nearly perfect. Rivers has actually completed 73.7 percent of his passes this season. That's still pretty impressive.
Pagano knowing Rivers' statistics tells you how dangerous a quarterback he is.
"He's done a great job of just managing the offense and running the system and believing in the system," Chargers coach Mike McCoy said. "Take the short throw. Take the shot."
Indianapolis has faced mobile quarterbacks in three of its first five games. Rivers is completely the opposite of Oakland's
Terrelle Pryor
, San Francisco's
Colin Kaepernick
and Seattle's
Russell Wilson
because he's a pocket passer.
The Colts are sixth in the league against the pass (201.4 yards), and they've sacked the quarterback 15 times this season. But getting to Rivers might be a challenge because he likes to get rid of the ball quickly and the Chargers run a fast-paced offense. He has thrown for at least 401 yards three times this season.
"Regardless if he's not the speed guy we've been going up against at the quarterback position, he's still pretty dangerous," Colts linebacker
Jerrell Freeman
said. "That arm is still as alive as it was when he first got in the league. He's definitely slinging that thing around, got a lot of guys he's starting to become comfortable with."
October, 11, 2013
10/11/13
12:00
PM ET
SAN DIEGO -- The
Indianapolis Colts
travel to the West Coast for the second time in four weeks after an impressive win at home against Seattle. The last time the Colts traveled to California, they thumped last year's NFC champions, the
San Francisco 49ers
, 27-7 on Sept. 22.
Indianapolis quarterback
Andrew Luck
is showing no signs of slowing down in his second season. But he'll face a veteran signal caller in San Diego's
Philip Rivers
, who is playing back at an elite level after a rough, two-year stretch.
ESPN.com Chargers reporter Eric D. Williams and Colts reporter Mike Wells break down the matchup:
Williams:
The national expectation heading into this season was that last year's 11-5 playoff team was a mirage, and the Colts would slide back to .500 this year. That, of course, has not happened, with Indianapolis beating up on NFC West powers San Francisco and Seattle on its way to a 4-1 record. Besides Andrew Luck's impressive play, what has been the key to the Colts' success this season?
Wells:
You can't put it on one player. If you had to pick one organization that's truly a team, you have to look at Indianapolis. Luck is obviously the franchise player, but he's not carrying the offense. The Colts are fourth in the league in rushing and 24th in the league in passing. Nobody would have ever thought that would happen with Luck taking the snaps. You also can't forget about the defense. That unit is 11th in total defense and is only giving up 15.8 points a game. So, credit goes to all areas, including the coaching staff. The same can't be said about the Chargers, it seems. They're sitting at the bottom of the AFC West. What's been their biggest issue this season?
Williams:
Inconsistency. The Chargers play impressively one game, but look sluggish the following week, which is the reason the team is 2-3. In his first season, San Diego coach Mike McCoy's squad has been competitive in all five games. However, the Chargers have had trouble finishing in the final quarter. The Chargers just came out flat against Oakland last week, falling behind 17-0 before rallying in the fourth quarter to make the game close. Good teams play at a high level each week, and San Diego is still working toward that goal. Mike, you mentioned the Colts' surprising ability to effectively run the ball this season. How has the trade for
Trent Richardson
helped in that effort?
Wells:
I wrote earlier this week that general manager
Ryan Grigson
should be getting Executive of the Year votes already, despite it only being Week 6 of the season. It cost the Colts a first-round pick, but acquiring Richardson was an excellent move by Grigson, considering they've lost two starting running backs --
Vick Ballard
and
Ahmad Bradshaw
-- already. Richardson's progress with the Colts has been slow. You can tell he's not completely comfortable yet. He had an impressive second half against the team you used to cover -- Seattle -- rushing for 54 yards on 12 carries. The hope within the organization is Richardson will be able to build off that game. Quarterback Philip Rivers has completed 72 percent of his pass attempts in three meetings against the Colts. He's fourth in the league in passing this season. Can the Chargers continue to build around him?
Williams:
At present, that's the plan. A year ago, you could certainly argue that Rivers was on the downside of his career. He had 47 turnovers through the 2011 and 2012 seasons, second-most in the NFL. But Rivers experienced a rebirth in McCoy's up-tempo offense. As you mentioned, he's fourth in the NFL in passing yards (1,610), second in passing touchdowns (13) and second in completion percentage (73.8 percent) -- proving at 31 years old there's still some tread left on the tires. Tight end
Antonio Gates
is healthy and again playing at a high level.
Danny Woodhead
gives them a high-effort guy who can make plays in the passing game out of the backfield. Young receivers
Keenan Allen
and
Vincent Brown
are making plays and earning Rivers' trust. Other than consistently running the ball, San Diego is clicking on offense. But the defense is a different matter. Speaking of defense, you mention the Colts are 11th in total defense. Indianapolis also has forced 10 turnovers, including seven interceptions. The Colts forced just 15 turnovers all of last season. What's changed?
Wells:
The players are finally comfortable with coach Chuck Pagano's 3-4 defensive scheme after spending most of last season getting used to it.
Robert Mathis
went from playing defensive lineman to being a rushing linebacker. Now he's leading the league in sacks with 9.5 to add to his two forced fumbles. The Colts also have seven interceptions. Cornerbacks
Vontae Davis
and
Greg Toler
are both players who enjoy being aggressive in going after the ball. It started in training camp and it's carried over to the regular season. They'll lose some battles by gambling to make a play, but they've won the majority of their battles this season. Barring a sudden collapse, the Colts are in a good position to win the AFC South and make the playoffs. How realistic is it for the Chargers to be a playoff team?
Williams:
With two undefeated teams leading the AFC West in Denver and Kansas City at 5-0, you would think the Chargers are a long shot to make the playoffs at 2-3. However, if the playoffs were to start today, San Diego would be only a game off the pace for the final AFC wild-card spot. The Chargers still have two games remaining with both the Broncos and Chiefs, along with a home contest against the Raiders in the second half of the season. It's certainly an uphill climb for San Diego to get into postseason contention, but it's doable if they take care of business at home and sneak a couple of wins on the road. Hard to believe we've gone this far without talking specifically about Luck, but how has he improved from his rookie season to this year?
Wells:
This might be a record for how many questions I've gone without talking about Luck in Double Coverage this season. He's improved in all areas, which was expected because he's his own worst critic. You talk to him after a game or during the week, and instead of talking about what he's doing well, he usually points out what areas he needs to improve. You like to hear that because that means he's not getting too full of himself. Luck likely won't pass for as many yards this season, but he's OK with that because the Colts are running the ball so well. One area Luck needs to improve in, though, is learning how to slide. Let's just say you won't see him pop up on any tutorials on how quarterbacks should slide. Speaking of waiting so long to talk about a familiar name, how's linebacker
Manti Te'o
coming along? I have to ask since he's a Notre Dame product.
Williams:
Te'o has a total of eight tackles in two games, after sitting out the first three games of the season with a sprained foot suffered in August. Te'o admitted that he's been tentative and thinking too much on the field. Because of that, he's not made any of the game-changing type of plays that he became known for at Notre Dame. Also, the Chargers have worked him in slowly. Te'o played just 14 snaps his first game and 42 snaps last week against the Raiders. He's a hard worker and serious about his craft, so I expect his play to improve over time. Luck has one of the more underrated receiving units in the NFL with wide receivers
Reggie Wayne
and
T.Y. Hilton
, along with fellow Stanford-product, tight end
Coby Fleener
. Wayne, 34, doesn't appear to be slowing down, while Hilton and Fleener are two emerging, young talents. How does that trio work with Luck to create explosive plays in the passing game?
Wells:
Wayne is Mr. Reliable for Luck. He's always going to come through when his quarterback needs to come up with a play. Hilton is Luck's deep threat. The two connected for two touchdown passes, including a career long of 73 yards for both players, against Seattle last weekend. In fact, Hilton has outplayed
Darrius Heyward-Bey
, who is the team's No. 2 receiver, all season. You probably forgot Heyward-Bey is even on the roster. Fleener hit a rough stretch during training camp, but he's been solid for the most part. He's had to play an increased role because fellow tight end
Dwayne Allen
is out for the season with a hip injury. I see Gates is leading the Chargers in receiving. Are there any signs of him slowing down?
Williams:
Gates has struggled with foot and rib injuries the past few seasons, but is finally healthy and back to playing at a high level. As you mentioned, he leads the team in receiving with 32 receptions for 438 yards and three touchdowns. Among tight ends, Gates is second in the league in receptions behind
Jimmy Graham
(37). At 33 years old, Gates still has enough juice to get deep, and the former Kent State college basketball player remains a matchup nightmare in the red zone.
.
September, 19, 2013
9/19/13
12:00
PM ET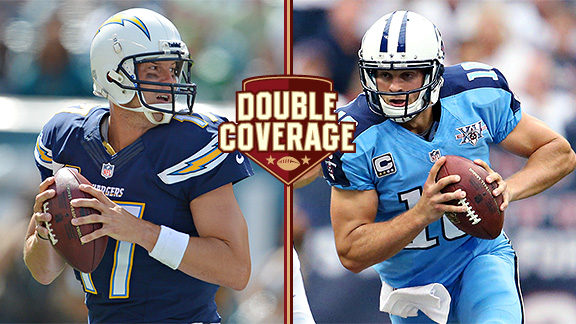 USA TODAY SportsJake Locker, right, will try to keep up with Philip Rivers and the Chargers, who have scored 61 points through two games.
The
San Diego Chargers
are the Tennessee Titans' white whale.
The teams don't play that frequently -- just nine times since 1993, including a wild-card playoff matchup in January 2008. The franchises have undergone all sorts of changes during that span, but one thing has remained consistent when they meet: The Chargers always win.
Bill Williamson, why do you think that is, and what are the odds it continues?
Bill Williamson:
I don't see the Chargers' history with the Titans being a factor. I know in Nashville the word "Chargers" makes fans cringe because of the history. Both teams are rebuilding and trending upward. These are two similar teams, and they will both be in the AFC conversation in the coming years.
The Titans made a lot of changes. This isn't the team the Chargers beat 38-10 last September. What's the biggest difference?
Paul Kuharsky:
The central part of the offseason revamp was the offensive line. The Titans have three new starters on the interior with left guard
Andy Levitre
, center
Rob Turner
and right guard
Chance Warmack
. Turner has been shaky, however, and Warmack is a rookie who is going to take some lumps when he's across from someone like
J.J. Watt
. The group hasn't jelled yet, but the run-blocking has been pretty good.
We've seen the good
Philip Rivers
and the bad Philip Rivers over the years. With the new regime in place, what is your feeling on who he will be now?
Williamson:
I might be the wrong person to ask, Paul. I've always been high on Rivers. Yes, his play sank the past two seasons and he committed 47 turnovers during that span. But it wasn't all on him. The previous regime in San Diego let go of a lot of skill-position talent, and the offensive line was decimated by injuries. Rivers didn't have much help. He was pressing as a result. So far under head coach Mike McCoy, offensive coordinator Ken Whisenhunt and quarterback coach Frank Reich, Rivers has looked re-energized. He has looked relaxed and confident over the first two weeks. He has shown that he is still a high-level player. Stopping him is the main challenge for the Titans.
How's
Jake Locker
coming along?
Kuharsky:
He made a bad throw on a crucial third-and-1 late in regulation in the loss to the Texans. The Titans have hardly turned him loose so far. But since the start of camp, he's shown steady progress. I'm not a complete believer by any means, but I think he has a chance and I didn't always feel that way. We still haven't seen some aspects of the offense that should be featured for him. Maybe this week he'll run around more and we'll see more boots and rollouts.
I'm curious about one of the guys who will be chasing Locker. The Titans have seen a great deal of
Dwight Freeney
over the years. How has he fit in the defensive scheme there?
Williamson:
An old foe, indeed. Freeney is in a tough spot. He was signed (and paid well) to be the Chargers' primary edge pass-rusher after 2012 first-round pick
Melvin Ingram
blew out his knee in May. But at 33, Freeney is best suited as a rotational player. He has half a sack this season. He has been active and will give his best effort, but he needs help. It would be a stretch to think he can still be a premier player. But he knows the Titans, and I'm sure he will be motivated to perform well Sunday.
What can Rivers and the Chargers' offensive line expect from the Titans' pass rush?
Kuharsky:
The best guys so far haven't been the ends.
Derrick Morgan
,
Akeem Ayers
and
Kamerion Wimbley
should key the rush. Ayers moves from stongside linebacker to end on rush downs but has been limited by a bad ankle. Tackle
Jurrell Casey
and weakside linebacker
Zach Brown
have been the best rushers so far. The fronts are less predictable and the blitzes more frequent. That's the influence of defensive assistant Gregg Williams. This defense is far better than I expected.
January, 17, 2013
1/17/13
9:14
AM ET
Before Thursday, the newest members of the NFL head-coaching fraternity -- Doug Marrone in Buffalo, Andy Reid in Kansas City, Mike McCoy in San Diego, Rob Chudzinski in Cleveland, Chip Kelly in Philadelphia and Marc Trestman in Chicago -- all had one important thing in common.
They were offensive guys.
New Jaguars general manager David Caldwell has made his move, and it seems like a countermove.
[+] Enlarge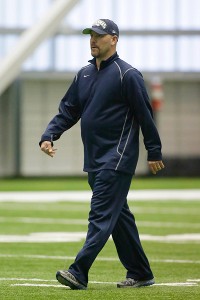 AP Photo/Ted S. WarrenGus Bradley's defense in Seattle finished first in the NFL in points allowed, fourth in yards and tied for fourth in takeaways.
Adam Schefter reports Caldwell has hired Seattle defensive coordinator Gus Bradley as the fourth head coach in Jaguars history (not counting Mel Tucker's interim work in 2011).
I've heard nothing but good things about Bradley, who might have gotten an offer in Philadelphia if Kelly had not re-emerged.
The push around the league with offensive guys comes for obvious reasons. Everyone either wants to rehabilitate a quarterback or find one. And getting a quick impact with a new guy is perceived as easier, fair or not, thanks to the seasons we just saw from
Andrew Luck
,
Robert Griffin III
and
Russell Wilson
.
But defenses have to be developed to stop those guys. And Caldwell basically had his pick of the best defensive people in the league. If he hits with Bradley, he'll look awfully smart for doing so.
In 2012, the Seahawks' defense under Bradley allowed opposing quarterbacks a passer rating of just 71.8. The unit ranked fourth overall, 10th against the run and sixth against the pass. Seattle was just 17th in third-down defense but was No. 1 in scoring defense, allowing an average of 15.3 points a game.
As far as developing a quarterback, the big question is about the staff Bradley can put together. Who's his offensive coordinator going to be?
January, 16, 2013
1/16/13
11:11
AM ET
Two people seemed to make Bruce Arians a great match for two jobs he interviewed for --
San Diego Chargers
quarterback
Philip Rivers
and
Chicago Bears
quarterback
Jay Cutler
.
Those jobs are now filled.
The Chargers hired Mike McCoy and the Bears hired Marc Trestman.
Plenty of folks in Indianapolis were relieved, but the Colts could still lose their offensive coordinator.
Adam Schefter reports that the
Arizona Cardinals
have
requested permission
to talk to Arians.
The Cardinals job is, of course, a less desirable one. Arizona has no Rivers or Cutler. Arians wouldn't be charged with crafting an offense for a quarterback who's shown he can be effective. He would be charged with finding one.
To move from
Andrew Luck
to Rivers or Cutler wouldn't have been nearly as difficult as moving from Luck to the failed quarterbacks the Cardinals have run through.
Perhaps Philadelphia re-emerges as a suitor now as well. The Eagles reportedly had an interview scheduled but it didn't happen and it's unclear if Arians is still on their list and if he'd still be interested.
January, 13, 2013
1/13/13
10:24
AM ET
Reading the coverage from Boston ...
Houston Texans

When he was a kid, Matt Schaub's coach would jab at him by calling him Bubby Brister, writes Randy Harvey of the Houston Chronicle. "He knows now it's
not so easy
to walk a mile in Bubby Brister's cleats."
"Matt Schaub might be a playoff neophyte, but the nine-year veteran quarterback
will not get a pass
for a poor performance on the big stage," writes Jerome Solomon of the Houston Chronicle. "And neither will the Texans."
Learning from losses
is part of what makes Tom Brady a winner, says Tania Ganguli of the Houston Chronicle.
Garrett Graham could be
a key piece
for the offense, says Patrick D. Starr of State of the Texans.
Three keys
for the Texans from Dave Zangaro of CSN Houston.
Indianapolis Colts

The flawed Colts can travel
the free-agency road
while bolstering their roster, says Mike Chappell of the Indianapolis Star.
Bruce Arians has interviews Sunday, Monday and Tuesday, then hopes to have
his future resolved
by Friday, says Chappell.
The Colts and special teams coordinator Marwan Maalouf have
parted ways
.
Jacksonville Jaguars

David Caldwell is regarded as
a grinder
like Indianapolis' Ryan Grigson and Chicago's Phil Emery, says Ryan O'Halloran of the Florida Times-Union.
How many years
will Caldwell need, asks Gene Frenette of the Times-Union. Said owner Shad Khan: "I think we have to absolutely balance hope and expectation. I think we definitely want to be better, but it's going to take a little bit of time."
Is the Jaguars' coaching job
attractive
, asks O'Halloran?
The Jaguars are
interested in interviewing
Denver offensive coordinator Mike McCoy. Jason LaCanfora of CBS reported it, per Adam Stites of Big Cat Country.
Tennessee Titans

Matt Hasselbeck will serve as Jake Locker's
backup
and the Titans' insurance policy at quarterback again in 2013, says Jim Wyatt of The Tennessean.
"
Will this coaching shuffle work
?" asks David Climer of The Tennessean. "I doubt it. Wholesale staff changes often do nothing but buy the head coach one more season. It provides the illusion of a fresh start, but all it really does is put some new faces on the same old problems."
January, 3, 2012
1/03/12
11:22
AM ET
Reading the coverage…
Houston Texans

Bengals-Texans will the first time in NFL history in which rookie quarterbacks
square off as starters
, says John McClain of the Houston Chronicle. Provided T.J. Yates is healthy, he'll go against Andy Dalton.
Twelve reasons
the Texans will beat the Bengals, from Jerome Solomon of the Chronicle.
Indianapolis Colts

Peyton Manning was "
surprised, shocked, disappointed
" upon learning that Jim Irsay dismissed Bill Polian, says Mike Chappell of the Indianapolis Star.
Manning recalls enjoying
playing as a rookie
, which Chappell looks at from the perspective of the same possibility for Andrew Luck.
Jacksonville Jaguars

The Jaguars requested and received permission to interview
five NFL offensive coordinators
on Monday -- Atlanta's Mike Mularkey, the New York Jets' Brian Schottenheimer, Carolina's Rob Chudzinski, sources confirmed. ESPN also reported the Jaguars will interview Denver's Mike McCoy and New England's Bill O'Brien, says Tania Ganguli of the Florida Times-Union.
When can assistants on playoff teams
be interviewed
? Ganguli has the answer.
Tennessee Titans

Mike Munchak defended Chris Johnson's drop off, says Jim Wyatt of The Tennessean. Johnson may have lost a step as a result of wear and tear, but it's
not why the Titans ran poorly
, the coach said.
The Titans are hardly ready to declare
their quarterback for 2012
and Munchak said roles for Matt Hasselbeck and Jake Locker will sort itself out in time, writes Wyatt.
Big changes are ahead
for the Titans, who've got a load of free agents, says David Climer.

AFC SOUTH SCOREBOARD
Friday, 8/22
Saturday, 8/23