November, 30, 2011
11/30/11
8:47
PM ET
Two things buzzed around the Jaguars' offense as things fell apart this season, producing a 3-8 record that got Jack Del Rio fired.
The wide receivers were insufficiently coached by the inexperienced Johnny Cox.
[+] Enlarge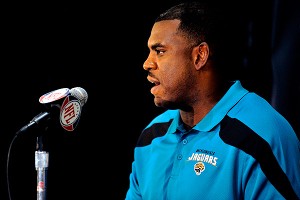 AP Photo/Rick WilsonJaguars' interim coach Mel Tucker made several moves on Wednesday.
Rookie quarterback
Blaine Gabbert
wasn't getting as much quality, hands on coaching from quarterback coach Mike Sheppard as he needed.
Mel Tucker's staff move Wednesday suggests both sentiments were correct. The Jaguars' interim coach let Cox go, and shifted Sheppard to receivers. Offensive coordinator Dirk Koetter will take control of the quarterbacks.
Del Rio didn't really have a lot of options in terms of staff. His assistants only had one year remaining on their contracts. Anyone he added would have had the same, and the best assistant coaches find more security than that.
Quarterbacks coach Mike Shula jumped to Carolina in the offseason, and Del Rio shifted one of his best teaching assistants, Todd Monken, from receivers to quarterbacks. Then Monken bolted for an assistant job at Oklahoma State, and Del Rio had to shuffle again.
Now, Tucker clearly sees the potential for addition by subtraction.
The team also made roster moves at receiver.
Jason Hill
, who's been in the No. 2 role all season, was released. That makes room for more playing time for
Jarett Dillard
, rookie
Cecil Shorts
and
Chastin West
.
The Jaguars also signed running back DuJuan Harris from their practice squad, signed cornerback
Morgan Trent
and put safety
Courtney Greene
on IR.
Perhaps Harris will have a chance to earn touches in front of the struggling backup to
Maurice Jones-Drew
,
Deji Karim
.
Greene is the 18th Jaguars to go on the list, a league high.
February, 12, 2011
2/12/11
8:19
PM ET
Just a wild guess here, but dealing with
David Garrard
and a drafted Jaguars quarterback will prove a lot easier than dealing with
Chad Ochocinco
and
Terrell Owens
.
That's the shift Mike Sheppard gets
as he moves
from overseeing receivers with the Bengals to coaching quarterbacks in Jacksonville.
Jack Del Rio hired Sheppard to replace Todd Monken, who was shifted to quarterback from receivers after Mike Shula left Jacksonville for the same job with the
Carolina Panthers
. Monken left for a coordinator job and long-term deal at Oklahoma State.
Sheppard is connected to both Del Rio and offensive coordinator Dirk Koetter. He and Del Rio were part of the same staff in Baltimore and he coached at Idaho State when Koetter played there.
February, 10, 2011
2/10/11
9:33
AM ET
Todd Monken is a quality teacher and his move from overseeing the Jaguars' receivers to quarterbacks looked to be a positive change for Jacksonville.

Now, however, Jack Del Rio is in the market for a replacement. Monken has found
better job security
as offensive coordinator at Oklahoma State.
That means Del Rio's now lost two quarterback coaches -- Mike Shula left for Carolina, leading to Monken's promotion.
Del Rio will not be able to offer a new guy more than a one-year deal, which means it will be hard to draw a guy with much of a résumé.
Here's one thought: Bump Dirk Koetter's salary up and ask the offensive coordinator to be his own quarterback coach.
January, 22, 2011
1/22/11
8:56
AM ET
That intact staff Jack Del Rio envisioned has not stayed together.

Quarterbacks coach Mike Shula has jumped to Carolina, and assistant defensive line coach Ben Albert is off to Temple,
says Tania Ganguli
.
Shula got good reviews, but I'm sometimes skeptical about quarterback coaches as I think they can be mere extensions of the offensive coordinator, if the offensive coordinator is a good one. Dirk Koetter is a good coordinator.
Albert worked under defensive line coach Joe Cullen, the team's best defensive coach. Again, filling a support role is not nearly as difficult as filling a position coach job with Del Rio's length-of-contract restrictions.
Sources tell Ganguli that realignment on offense is already set:
Receivers coach Todd Monken is now quarterbacks coach, and offensive quality control assistant Johnny Cox has been elevated to receivers coach. Staff assistant Matt Griffin will take over Cox's former position.
Monken is a great teacher and he has experience with quarterbacks from his work on the college level. I've watched him work with the Jacksonville receivers at practices and really have an appreciation for the way he operates. He'll be missed in that group, but if he has the same influence on
David Garrard
and a drafted quarterback, they will be fortunate to work with him.
Cox will have a tall task to do Monken-caliber work with the wideouts.
January, 21, 2011
1/21/11
11:54
AM ET
Reading the coverage…
Houston Texans
Reggie Herring is the Texans new
linebackers coach
, says John McClain.
Brian Cushing had right knee
surgery
.
Indianapolis Colts
PSX's
unit-by-unit
look at the Colts.
Jacksonville Jaguars
Mike Shula isn't under contract with the Jaguars and
interviewed
with the Panthers, says Tania Ganguli.
Tennessee Titans
Jim Washburn says he
enjoyed it all,
says Jim Wyatt.
Craig Johnson
will endorse
Vince Young in Minnesota if his new bosses ask, writes Wyatt.
June, 1, 2009
6/01/09
6:48
PM ET
| | |
| --- | --- |
| | |
| | Al Messerschmidt/Getty Images |
| | Quarterback David Garrard slimmed down for this season and the Jaguars hope the rest of the offense sees similar improvements. |
JACKSONVILLE, Fla. -- Having lost 15-20 pounds,
David Garrard
gets a constant reminder that his diet worked.
"Button downs, suits, jeans, everything is too big," he said Monday after the Jaguars held an OTA practice.
Garrard held nothing back when he talked of the wardrobe alterations he needs.
"Even my drawers, but I'll just buy new ones of those," said Garrard, sporting about 225 pounds on his 6-foot-1-inch frame. "It's time to get more of my stuff done, because I've had very little to wear."
So, about 30 pieces of clothes are in the back of his black Mercedes Benz S Class, ready for a stop at Garrard's tailor.
Jacksonville's general manager Gene Smith and coach
Jack Del Rio
have been doing some tailoring of their own: Their major offseason moves have been intended to reshape the roster and place Garrard in more optimal situations.
Gone are receivers
Jerry Porter
,
Reggie Williams
and
Matt Jones
and left tackle
Khalif Barnes
.
Three new tackles -- veteran
Tra Thomas
and draft picks
Eugene Monroe
and
Eben Britton
-- are here to help protect Garrard and make the running game more effective. Four new receivers -- veteran
Torry Holt
and draft picks
Mike Thomas
, Jarrett Dillard and
Tiquan Underwood
-- were brought into to improve the arsenal.
Since he was elevated to be the team's starting quarterback just before the 2007 season, Garrard's been good (102.2 passer rating in 2007 with 15 more touchdowns than picks) and not-so-good (81.7 passer rating in 2008 with two more touchdowns than picks).
The Jaguars endured an injury-plagued 2008 season. They saw their locker room come apart during a 5-11 campaign that started with legitimate Super Bowl hopes. Garrard's third season as the starting quarterback will go a long way to telling his story, he understands.
Is he a quality, dependable NFL quarterback? Or is the eighth-year veteran a question mark?
David Garrard Fantasy Forecast:
Projected 2009 Stats

Pass attempts: 515
Pass completions: 325
Passing yards: 3,529
Pass TDs: 14
Rush yards: 354
Rush TDs: 4

It's unfair to judge Garrard too harshly for his 2008 numbers. The interior of the Jacksonville offensive line, previously a strength, was pummeled by injury early in the season, leading Garrard to the ignominious crown of most knocked-down quarterback of the year. Despite the heat, Garrard managed a decent completion percentage (61.1) and finished 10th in the NFL in passing yards. The Jags have concerns at tackle for '09 but did use their first two picks on Eugene Monroe and Eben Britton, and they should rely heavily on those rookies. But unless Torry Holt finds the Fountain of Youth or another receiver steps up, Garrard won't be a fantasy starter. However, he's a heady decision-maker and could lead the league in rush yards by a quarterback. He's a bye-week quarterback with a high ceiling.

-- Christopher Harris
Complete '09 QB projections & profiles
"People that doubt Dave just have to look at 2007 film," offensive coordinator Dirk Koetter said. "I mean Dave can do it. We've got to help him, we've got to play better around him. He is a good distributor of the ball, he's good at what people want to call being a game-manager. But Dave can win the game for you too. Dave can make all the throws, he's mobile, he can beat you running. We've got to give him some help and he's got to do his part, which he will."
Having watched the roster reshaping and gained endurance and a quicker first step with the slim-down, Garrard's in a happy place.
"I feel real good right now," Garrard said. "I feel like I can sleep at night."
His job going forward is a simple one, he said: Limit turnovers while getting the ball into the hands of his playmakers, starting with running back
Maurice Jones-Drew
and including Holt, those rookie receivers and the holdovers like receiver
Mike Walker
and tight end
Marcedes Lewis
.
Critics point to two weaknesses in Garrard's game. He doesn't always seem thorough in scanning the field ticking through progressions and, while he's accurate short and intermediate, his deep stuff hasn't been great.
Koetter said the deep-ball question depends on how you define deep. While Garrard might not be the best throwing the ball over the top, he's excellent in another down-the-field department.
"What we call seam throws, throwing the ball in a seam somewhere in an 18- to 25-yard box where you've got to fit it between the linebackers and a safety or in a hole between the safety and the corner, Dave throws those as good as anybody out there," Koetter said. "Throw-it-on-a-line-posts, drive it in there, he throws great and those are really harder throws. He just hasn't had very many chances to throw the big air-it-out over the top throw. He could do better throwing those, but we haven't given him very many chances."
Garrard said he needs to trust that his guys will go up and make a play for him and not be reluctant to take shots, and promises he will do both with the new crew. He said he feels confident he'll connect or be returning to the huddle after an incompletion, not heading to the sideline after a turnover.
March, 11, 2009
3/11/09
2:30
PM ET
Posted by ESPN.com's Paul Kuharsky
Last week I posed this question: What one philosophical tendency, trend, tenet or practice would you like to see the Jaguars change, and why?
As opposed to some previous questions you've encountered here, I wasn't looking to reach any sort of consensus, just to stir some debate. Based on your responses, I think we got that.
So here's the best of what you had to say with some of my thoughts interspersed. Thanks for all the quality responses.
Steve in Jacksonville: The Jaguars need to have a tough competitive camp. For the past two years, Jack has been a little soft on the players. The team paid the price losing in both instances to the Titans. Two years ago, they managed to bounce back and get a little hot at the end of the season. I'd rather see blood, sweat, and tears to get everyone battle ready!
Paul Kuharsky: I really think Jack Del Rio is reassessing everything based on last year's failures. While his camp philosophy has been to keep it somewhat light, I wouldn't be surprised if he turns it up as he looks to help his team re-establish its physical identity.
---
Keith in Jacksonville: Simple: Get Greg Jones back in good health so he can go back to the caliber football he played at Florida State....you only need type his name into youtube to see what I'm talking about. Much love to Mojo and a bittersweet good riddens to the Gator, but now let's give the football to the big double 3 and get the Jags run game back to what it used to be.
Paul Kuharsky: I don't know that Jones at his best is going to fix what ails the Jaguars or qualifies as a change in philosophy, but I appreciate your enthusiasm.
---
Tom in Jacksonville: Magic Wand comment: I would like to see the Jaguars solve the "Houston problem". Even in the years when Jacksonville fields a good team and the Texans do not, they either split or get swept. It just seems the Texans have their number.
Paul Kuharsky: There is no philosophical tenet that's led to Jacksonville's struggles with Houston, I don't think. Nevertheless, this is a big issue they need to figure out. The Jaguars are 6-8 all-time against Houston, have swept the season series only once (2005), have been swept twice and have split four times including last season. The Colts and Titans, meanwhile, have records of 13-1 and 11-3, respectively, against the Texans.
The problem from a Jacksonville angle is this: The Texans are moving from division pushover territory to Serious Threatland.
---
Will in Jacksonville: That's easy. The Jags need to change there Scouting Department. Both Pro and College. Lets look at the evidence, R J Soward, Reggie Williams, Byron Leftwich, etc... Bryce Paup, Hugh Douglas, Jerry Porter, etc... Every team misses but can you think of a team that misses more outside of Detroit than Jacksonville?
Paul Kuharsky: First-round failures and free-agent busts have been issues, of course. The Jaguars have sworn off big free-agent shopping, so that side of things should be less of an issue.
And new GM Gene Smith is now calling the shots, which should provide some hope that the draft strategy and analysis changes in ways that will improve the hit rate at the top. But we'll have to wait and see.
---
JvilleJag2 in Jacksonville: Well since we're talking about the Jaguars and Jack Del Rio is head coach of the Jags I'll say I wish he would hold onto his assistant coaches. I don't think any other head coach since Del Rio's been hired has fired more assistants. I understand some positions are going to underachieve but that doesn't mean the coach has to be canned. I think it's a blemish on Del Rio's record and has damaged the chances the Jaguars organization could have to hire first rate coaches. I also believe Del Rio has let his attitude cloud his judgment on coaches that he's given the pink slip to.
Nelson in Jacksonville:
If I could change a tenet of the jaguars, It'd be the over all coaching staff. There are too many head coaches on one team, It won't be as bad this season with Greg Williams gone, but seeing as how last year Jack Del Rio, Mike Shula, and Greg Williams, all of which are head coaches(Greg Williams' goal is trying to be a head coach), so no true decisions are the whim of Jack Del Rio, he has so many other people to look to before he's able to make an executive decision. I only wish he could do whatever he want with his team.
Paul Kuharsky: Staff stability is definitely an issue. The idea that Del Rio can't make a decision because of who his assistants are, however, is a misguided one. Who do you think hired those assistants? He did.
There is a perception that he relies on his inner circle, which includes running backs coach Kennedy Pola and assistant head coach/tight ends Mike Tice, disproportionately. If the Jaguars don't look like they're on the upswing this year, Del Rio's job security could fall into question. Because of that I think he will be more hands-on with the defense and with new coordinator Mel Tucker.
---
Brian in Jacksonville: Jags tenet...tough one Paul. Considering the lack of talent across the board there are many tenets I'd like to see changed but after application we might find the change didn't offer any real improvement. Not be run first? You need receivers. Blitz more? You need a better front 4 and faster LBs, along with DBs you can trust. I love that Jack gambles on 4th down. I guess I'd like to see Garrard get the TE more involved. I know Lewis had his drops last year but in watching the games (I attended all home games and 1 away), ML is open a vast majority of the time and David simply isn't getting him the ball. If you take a TE in the first round you'd better make him more integral. I would imagine, however, that faster receivers who run better routes would open the field some. Still, the opportunity is there.
Paul Kuharsky: I too have struggled to understand why they haven't found ways to use Marcedes Lewis more consistently and more effectively.
---
Charles in Jax: With regards to your Jags magic wand question: I wish the Jags could change the size of their stadium. Jags fans and the team get a bad rap for not supporting the team and having its share of blackouts (none in 2008 though), but people tend to forget its the league's smallest market in population terms (giving GB Milwaukee) yet it has one of the largest stadiums. It was built this way to accomodate the annual FL/GA game, Gator Bowl, and the one time Super Bowl, but its way too big for the market. Shrink it by 10,000 seats and you'd have year-round sellouts and perhaps a waiting list.
Paul Kuharsky: I wrote about this in my early days on this job.
Jacksonville did a good job supporting the Jaguars in 2008 despite a disappointing season. Anyone who gives the
team and city grief for having to cover some seats to downsize probably isn't aware that Jacksonville Municipal Stadium still seats 5,664 more than Soldier Field.
Have marketing, sales and support always been what you'd hope? No. But should we really expect an expansion team in a small city to average better crowds than a team with the history and population of Chicago?
January, 30, 2009
1/30/09
3:40
PM ET
Posted by ESPN.com's Paul Kuharsky
We asked for your input earlier this week on who you think the Jaguars' best assistant coach is.
Here's a sampling of replies in the comments to the post and in my mailbag:
Charles in Jax: In response to your question, I think Tice is the best assistant on Del Rio's staff. Before the offseason I would've said Joe DeCamillis, but sadly the Jags were not able/willing to renew his contract. Tice brings a wealth of knowledge from experience as a former player, a former position coach, and a former head coach. Although he may be thought of as a TE coach, he spends a great deal of his time assisting Andy Heck with the o-line. Tice also has Del Rio's trust since they've been friends since their playing days in Minnesota. Given the constant turnover in his staff, this is an important and oft overlooked quality. Sorry for the long response.
Dan in Rochester, NY: As far as best assistant for the jags, I would agree Kennedy Pola is a great coach and should win because of his work with Fred and Maurice, but I'd have to give an honorable mention to linebackers coach Mark Duffner. He's done a good job in the development of Daryl Smith and Daryl looks ready to take over the middle linebacker position for good next year, as well as helping Clint Ingram bounce back last year after an underwhelming second season. Linebacker Justin Durant should have a great year next year, and offers the most potential out of the bunch. He is a really fun player to watch.
Jeremy: My vote would go for QB coach Mike Shula. I know any Alabama fans out there are suppressing a gag reflex, but he helped turn David Garrard from backup to Pro-Bowler. Before Shula worked with Garrard, especially on his footwork, David was an interception machine. After Shula, Garrard has greatly improved his accuracy, and rarely turns the ball over.
Anthony in La Jolla: I think the best Jags assistant is coach Pola. The Jags running backs have all produced from Fred and MoJo to Toefield (when he was there) and Chauncey Washington.
Alex in Charleston, SC: Kennedy Pola is the best assistant coach the Jags have. Not only has Pola helped resurrect Fred Taylor's career and groom MJD into the young star he is, but behind the scenes Pola is working extensively with two rising stars in Montell Owens and Chauncey Washington. Pola has also helped Greg Jones become an allstar fullback that balances physicality with finesse. On the other hand Andy Heck, the offensive line coach, must be credited for his recent successes with the front five. Even after losing three starters in the first game and Richard Collier before the 2008 season, Heck built a decent patchwork line that provided sufficient protection. In 2006 and 2007 the Jaguars rushed for the two highest single-season rushing totals in Jags history. Pola and Heck are easily the two best assistants the Jaguars have
GoJags4362seats: The best assistant coach is, in my opinion, Kennedy Pola. But the most IMPORTANT assistant coach this off-season & into next year is Andy Heck, the offensive line coach.
To two of the big mentions: I thought the Jaguars linebackers were a huge disappointment in 2008, so while Duffner may be a good coach, I'm not handing out the title to an assistant who will have guys ready in 2009, but to someone who did well in 2008. This is based more on current standing, though that's hard to garner in a 5-11 season. The same thing goes for Shula. Garrard turned the ball over plenty last season, with 13 interceptions, 10 more than the season before.
Your comments pointed most often to Pola, and I think he's deserving. Yes, he's been given a lot to work with, but he's a coach who's helped groom or maintain productive players, he's said to be in Jack Del Rio's inner circle, and a few years ago Jeff Fisher tried to lure him away when the Titans had an open running back coach spot -- a big compliment.
January, 20, 2009
1/20/09
11:36
AM ET
Posted by ESPN.com's Paul Kuharsky

Houston Texans
Indianapolis Colts
Jacksonville Jaguars
Tennessee Titans