February, 22, 2013
2/22/13
2:31
PM ET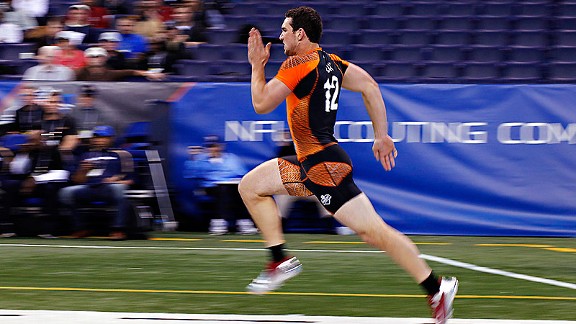 Brian Spurlock/US PresswireWould 40 times be more useful to talent evaluators if players had to run in pads?
INDIANAPOLIS -- Having flying cars chauffeur prospects from meetings with doctors to news conferences and back to their hotel rooms doesn't appear to be on the horizon at the NFL scouting combine.
But as the media's four days here got under way Thursday, I started thinking.
The league's made it clear it wants to continue to grow the event for TV purposes, to get more fans in Lucas Oil Stadium to watch workouts and to continue to take year-round ownership of the sports calendar.
Aside from that sort of growth, what would the talent evaluators want to see added to the combine that could assist them in their jobs?
I've annoyed as many people as I felt was reasonable with that question and got an array of answers.
Ruston Webster, Titans general manager:
"Maybe it'd be nice to see the receivers and the DBs have some one-on-one time or something like that. That won't happen, but some competition would probably be good to see."
Carl Peterson, former Chiefs GM, current chairman of USA Football:
Guys running in pads. Peterson said he would like to see the standard 40s continue to maintain an apples-to-apples comparison over the years, but he would add a second time for players to run in pads. It can be dramatically different and gives a much better indication of football speed. He said if it ever happened, there would be a big issue made of having all players in a common type of pads for their positions.
Rob Rang, analyst for NFL Draft Scout:
"One of the things I've always wished they'd do is take advantage of the technology that we have today and start using some electronic testing as the key way of being able to time not only the 40-yard dash but the three-cone drill, things of that nature. Have electronic testing for the bench press drills. You sometimes hear about when players are doing the bench press and some of the repetitions aren't allowed because he doesn't lock his arms out or whatever the case may be. If you had some laser sighting there, you would be able to know what is the range that a player has to lock his arms out to for that to be considered a repetition."
Bruce Arians, Cardinals coach:
"Pads. Let them play football. I don't think agents would go for that."
Rick Smith, Texans general manager:
"If anything, if you could have more time. I don't advocate that because I think it's set up the right way at this point. But in the grand scheme of things, I think as an evaluator if I had a little more time with a guy it'd probably be good."
Bill Polian, former GM of the Bills, Panthers and Colts, current ESPN analyst:
"I'd cut it back. It's too much now. It stresses these kids way too much." Prospects get wake-up calls as early as 5 a.m. They have days filled with medical appointments, meetings, press sessions and test-taking, and that doesn't even count the actual workouts.
Polian said he would consider cutting out a player's media obligations but that he would look for wherever something could be trimmed. He noted a new intelligence test added to the Wonderlic this year. The new test will take an hour, and he's not sure what he's getting as an evaluator in exchange for 333 hours of test-taking by this year's combine participants.
Mike Smith, Falcons coach:
"Fifteen minutes goes fast in the interviews. If we could have a little bit more time. Maybe cut the numbers down [from 60] and allow us more time to spend with each player."
Ryan Grigson, Colts general manager:
"Put them in pads; that's the only thing. The great thing about this is it's just one more reference point. If you think a guy's a great cover corner, a great athlete, has great speed on film, then if he runs 4.35 you say, 'OK, he's really that guy.' But the play speed and the actual game playing is so huge.
"I've gotten burned on it myself. A lot of times you can go out and watch a player in drills, a corner for instance, he's 6-foot-1, 200 pounds that's a low-rated guy. Then you go out to practice and his movement skills are off the charts. And you get bamboozled into thinking he's a player. Well there is something to be said for how you process information as a football player. That's why I like taking guys who are productive in the actual environment."
At least some drills in pads could make the workouts closer to football and further from something evaluators need to translate into football.
Gil Brandt, pioneering personnel man for the Dallas Cowboys, currently with NFL.com:
"The one thing you could do is put some sort of drill in every year that's foreign to everybody. Let's say the triple jump, for example. Everybody is practicing these things now so they get them down. Do something like the triple jump, which shows your explosion. Then next year come up with something else."
I love this idea.
One challenge would be keeping the secret, but if it were determined late and kept among very few people under lock and key, the element of surprise would be a great addition. Beyond providing more info about a guy's athleticism, personnel men could see how players react to something they have not rehearsed.
January, 10, 2013
1/10/13
8:12
PM ET
The first three names to emerge as candidates to replace Mike Mularkey as head coach in Jacksonville are St. Louis offensive coordinator Brian Schottenheimer, San Francisco offensive coordinator Greg Roman and Atlanta special-teams coach Keith Armstrong.
We knew Roman would be
in the mix
for new general manager David Caldwell, because the two went to college together at John Carroll University in Ohio and worked together early in their careers with the Carolina Panthers.
Schottenheimer interviewed for the Jaguars' head-coaching job last season and lost out to Mularkey. Armstrong works for the franchise where Caldwell spent the previous five years.
[+] Enlarge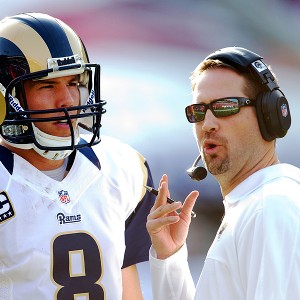 AP Photo/Michael YoungThe Jaguars have asked permission to speak with Rams offensive coordinator Brian Schottenheimer.
"Me coming in here as a first-time general manager and I'm looking for a co-builder of our team," Caldwell said at his introductory news conference. "When I talked to [owner] Shad [Khan] in terms of a culture change along the football side, I felt like it was more of that. I felt like it was an atmosphere of change. I felt like that to do that, you've got to have a fresh start [across] the board."
Prior work as a head coach is not a prerequisite for Mularkey's replacement.
"You guys are all familiar with Mike Smith, who is our current head coach in Atlanta, did not have head-coaching experience and is the all-time leading winner in Atlanta," Caldwell said. "I'm looking for the right person, he obviously has to have certain qualifications. In terms of previous … head-coaching experience, not necessary."
Khan wasn't going to be able to get his man without giving him power to pick his head coach.
Khan cited the team's record getting progressively worse over the past three seasons as a reason for large-scale change.
Mularkey was a victim of bad timing, injuries, a thin roster and a bad year.
Khan bought the franchise toward the end of the 2011 season, and the team fired Jack Del Rio as coach and gave general manager Gene Smith a contract extension.
Khan and Smith hired Mularkey, whose overmatched team went 2-14. Jacksonville hardly had its best offensive player, running back
Maurice Jones-Drew
, and got one game combined out of two projected starting linebackers,
Daryl Smith
and
Clint Session
.
Smith's four-year record as the personnel chief didn't cut it, and Khan parted ways with him the day after the season ended.
He then left Mularkey's fate in the hands of a yet-unnamed GM and ultimately allowed assistants to seek other work. They are still under contract, however, and will require Caldwell's permission to leave.
Caldwell had long terms working in the front offices of two winning teams, Indianapolis and Atlanta.
"The common thread is the relationship between the head coach and the general manager and obviously the quarterback," he said. "The type of people we bring in as players. They have to be good football players but they have to be positive, passionate, physical and I think you see that."
He needs a coach first, and then they'll assess what they will do offensively. Quarterbacks
Blaine Gabbert
and
Chad Henne
are under contract and will be part of things.
Tim Tebow
won't be
, even if he is released by the Jets.
"I have others in mind and I'm comfortable with what's here," Caldwell said.
Adam Schefter reports that the Jaguars have already asked for permission to talk with Schottenheimer.
Because the 49ers and Falcons are still in the playoffs, Caldwell will have to wait to talk to Roman or Armstrong. If their teams lose, he will be allowed to interview them if they are interested. If they win this weekend, they are off-limits until after the NFC title game. If one goes to the Super Bowl, there is an interview window in the week leading up to the weekend off before the Super Bowl.
With a lot of turnover around the league, Mularkey could resurface as a coordinator. He did good work with
Matt Ryan
in Atlanta, though after he helped the quarterback reach a certain level in his first four years, the team was ready to go in a different direction when he got hired in Jacksonville.
Several teams in need a solid teacher for a young quarterback could benefit from adding Mularkey.
January, 10, 2013
1/10/13
4:48
PM ET
Put the
Tim Tebow
-to-Jacksonville talk to rest, America.
New Jaguars general manager David Caldwell surely knows that talking about a player under contract to another team is technically tampering. Nevertheless, he felt compelled to snuff out that story line immediately, addressing Tebow during his introductory news conference.
"I can't imagine a scenario where he'd be a Jaguar, even if he's released," Caldwell said.
I'd long maintained that even if owner Shad Khan was intrigued by Tebow, he wouldn't force a new GM to take on a player he didn't want.

Caldwell has worked for teams with
Peyton Manning
and
Matt Ryan
at quarterback, and Tebow wouldn't help him get the Jaguars anywhere close to those kinds of quarterback situations.
Though Caldwell emphasized positivity and passion, he knows it will take more than those to win.
A couple other notes from the news conference:
Caldwell said he feels like the team needs a fresh start and that was the primary reason for dismissing Mike Mularkey as head coach. The wheels have started turning in a search for a new coach, but Caldwell set no timetable for the hire. He used Atlanta's Mike Smith as an example of the kind of guy the team might find, indicating the new guy doesn't have to have a head-coaching background. Caldwell and the coach will be involved in "co-building" of the team. The coach will be the primary voice of the team.
Caldwell sees a role for analytics as a supplement to evaluations and he sees a role for Shad Khan's son, Tony Khan, is that regard.
Khan pushed Caldwell to visit the Jets for a second interview so as to be sure what he wanted, so he followed that advice and it became clearer to him that the Jacksonville job was the one he wanted.
Gene Frenette of the Florida Times-Union reports Khan said Caldwell's is a five-year deal.
December, 4, 2011
12/04/11
8:35
PM ET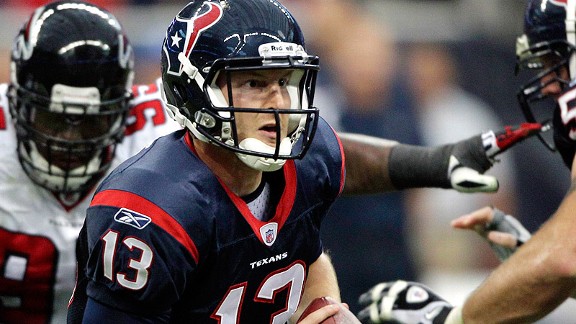 AP Photo/David J. PhillipThird-string quarterback T.J. Yates was prepared and made enough plays to keep Houston rolling.
HOUSTON -- When Gary Kubiak issued his weekly quarterback quiz on Saturday night,
T.J. Yates
gave a gold-star performance.
After which the excited proctor shared details with the full class room.
"When I tested him I was so impressed and I went in there and told the whole team, 'I wish you could have been in there, he's ready to play,'" Kubiak said.
"If anybody was skeptical," right tackle
Eric Winston
said, "that stopped it right there."
The prepared rookie third-string quarterback helped propel Houston to a
17-10
win against Atlanta, a team that came to Reliant Stadium with wins in five of its past six games.
The quarterbacks have changed, from
Matt Schaub
to
Matt Leinart
to Yates, but the Texans' results have stayed the same. The win was their sixth in a row and kept them entrenched as the favorite to win the AFC South and in line to capture one of the conference's top seeds.
"It's three weeks, it's three different quarterbacks," Kubiak said. "But it's the same team."
Beyond the nice quarterback play, that team showed a piece of just about every element you want as you head toward the playoffs: An ability to grind out rushing yards, mental and physical toughness, a swarming pass rush that made a good quarterback uncomfortable, resiliency following tough moments (and injuries) and a propensity for finding enough plays on both sides of the ball.
"That's by far, here of late, the best team that we've played," Atlanta coach Mike Smith said.
Yates threw for 188 yards and a touchdown, posting an 86.8 passer rating and displaying calm, moxie and mobility. I asked him about where the cool composure comes from, and he said it's not so much a football things as just his personality extending into the game. He's not particularly excitable, but that doesn't mean he can't send a big message.
Not long after
Andre Johnson
dropped a great pass, Yates went back to the well-covered star, who muscled a 50-yard reception away from the defender. When
John Abraham
flew past Winston and buried Yates with a quick, hard sack, the quarterback bounced up quickly to make it clear he wasn't hurt and wasn't going to flinch.
For all the home team's good work, the Falcons pulled even at 10-10 late in the third quarter and it looked like the game might turn their direction. But the Texans responded with a massive drive: 19 plays that covered 85 yards, ate up 10 minutes and 41 seconds, and provided the winning margin.
Kubiak called for an
Arian Foster
run on a fourth-and-1 from the Atlanta 9-yard line, reasoning he had just the right play and it was going to take more than a field goal to win. Foster gained 7, and was in the end zone two plays later.
That drive's big plays were a 13-yard run by
Ben Tate
, a 12-yard run by Foster and a 12-yard catch by
Kevin Walter
.
"The offensive line did a good job to allow us to keep pounding them and pounding them," Tate said. "In games like this, you know the other team will stay stout -- second quarter, still stout, third quarter [still stout]. At the end we saw a little wearing down. By the end we knew it was a matter of time before we could break the big runs off."
The defense then made two very solid stands after the Falcons advanced as far as the Houston 20-yard line on the first foray and the 25 on the second.
"The pressure was on our team in the fourth quarter and they came through," Houston defensive coordinator Wade Phillips said.
At 9-3 three-quarters of the way through the season, the Texans are a win away from the highest win total in franchise history and seem destined for the city's first NFL playoff berth since the Oilers were in the 1993 postseason.
Several players admitted that -- new starting quarterback or not -- they felt disrespected by being cast as underdogs for this game.
"I thought it was a little bit ridiculous, but you know, Vegas does their thing and we do our thing," Winston said. "The skepticism that was going around the city? I guess a people that aren't close to football and hear 'third-string quarterback' and know a lot of teams can't win with their second-string quarterback right now."
In previous seasons when they felt like they had a playoff team, the Texans might have looked too far ahead at the win total it would take to get there and not have been able to handle biting off such a big chunk.
Now expectations are all about more sensible portions. They've got a cliche that works for them -- they just try to go 1-0 each week -- and focus exclusively on more immediate goals.
"For the first time since I've been here, we're not trying to win five games in one week," Winston said.
Then he shushed playoff talk.
"Don't say it," he said. "It's like a no-hitter, don't even talk about it. We're not even going to talk about until it happens. Then you can douse me in Gatorade if you want."
April, 5, 2011
4/05/11
1:06
PM ET
Is Jim Caldwell a top-10 coach?

Caldwell
Before you jump to say he is not, consider there are only 24 coaches in the league who've got real résumés to judge -- there are eight new coaches heading into their first seasons.
Here are
the power ranking results and Tim Graham's piece
on how things sorted out.
Bill Belichick is our unanimous No. 1 and Caldwell finished 13th. I rated him eighth and gave Graham this rationale:
"I voted for Caldwell late, frankly, because I was running out of good candidates.
"I do not think he's a particularly good game-day coach. The rationale he had for the late timeouts that helped the Colts lose at Jacksonville and to the Jets in the playoffs was flawed.
"But in terms of delivering a consistent message, setting expectations and holding a team together through an injury-riddled season, he did excellent work. And those are very important elements to the job."
I did not consider Jack Del Rio or Gary Kubiak at all, and Mike Munchak is one of those eight new coaches.
Here is my ballot, not to be confused with the overall results, which you'll find in the link above.
Bill Belichick
Mike Tomlin
Andy Reid
Mike McCarthy
Tom Coughlin
Sean Payton
Rex Ryan
Jim Caldwell
Mike Smith
Ken Whisenhunt
February, 2, 2011
2/02/11
12:30
PM ET
Are the Titans going to look outside the box in their search to replace coach Jeff Fisher?
[+] Enlarge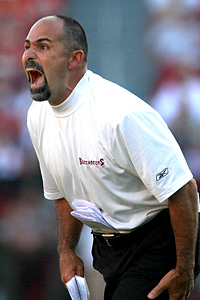 AP Photo/Reinhold MatayRich Bisaccia is the kind of unheralded NFL assistant who could turn into a great head coach.
Many seem to think they won't, and that the elevation of offensive line coach Mike Munchak is a mere formality. Nothing against Munchak at all, but I hope it's not so cut and dried. We don't know their intentions or timetable, though owner Bud Adams indicated it might be just five candidates (we know three of them would be in-house guys, one a Rooney Rule candidate) and a quick decision.
Go more than 16 seasons with one coach, it would be wise to take your time and poke around thoroughly in the search for his replacement.
On the front side, I'll say Rich Bisaccia is a guy first put in front of me by someone who is close with him and wants to see him succeed. I'm not certain he's the guy for the Titans' job. I don't know him.
I do feel certain he's the sort of guy who should get a look, and so ask that we might consider him an example of the kind of guys the Titans can talk to from a league where Raheem Morris and Mike Smith and John Harbaugh and Mike McCarthy have turned out to be great hires.
Bisaccia, who turns 50 on June 3, recently became special teams coach in San Diego, hired to clean up a mess. His contract was up in Tampa, and a change of scenery probably was best for career advancement now. Boost the special teams for a franchise with the NFL's top offense and defense in 2010, and perhaps there is a Super Bowl ring to be had as well.
Before joining the Chargers, he spent nine seasons with the Buccaneers under Jon Gruden and Morris, overseeing special teams, earning an associate head coach title in 2008 and coaching the running backs for a season, too.
It would be hard for him to get in front of the Titans with no connection, but there is one. Tennessee's vice president of personnel, Ruston Webster, is a trusted aide of general manager Mike Reinfeldt. Webster was an executive with Tampa Bay for four years while Bisaccia worked on Gruden's staff there.
Listen to what Gruden (who said he's not been contacted about the Titans' post and is working hard to get better at his ESPN gig) and
Derrick Brooks
, the All-Decade linebacker from the 2000s, have to say about Bisaccia and it's hard not to come away wondering, why not interview him?
"I coached a long time, he's one of the best coaches I've worked with and I'm not just trying to be his agent or publicity manager," Gruden said. "He's a tremendous football coach, great with players, smart, works his butt off. I'd hire him as a head coach. If I was in position to interview people and look for quality candidates and he's certainly one of the best I've been around."
"Special teams guys -- he's not an offensive coach or a defensive coach, he's kind of a wefence guy. He was my running backs coach, special teams coordinator, jack of all trades. He's very good at personnel; he's got a vast amount of experience. I hope he does get an opportunity to present himself. Sometimes that's all people need is a chance to get in front of the people that are making these decisions."
Baltimore broke into the special teams rank to hire John Harbaugh in 2008, finding a coach with special teams' expertise who has dealt with players from most positions. Like Harbaugh, I'm told, Bisaccia has that fiery special teams' personality -- something that sounds to me like a logical change when you're switching course from Jeff Fisher's California Calm.
"He's gotten the best out of everybody, and for me, being around him since 2002, I jumped at the opportunity to play for him on special teams despite being a starter on defense," said Brooks, now an ESPN and Sirius NFL analyst. "I wanted to be part of what he was doing with other guys, I was a little jealous. I even inserted myself in practice as a punt returner. I really did want to be a part of what he had going on with our core group of guys on special teams."
But Bisaccia's not solely a special teams' guy -- he played at Yankton College in South Dakota as a defensive back, and was on the USFL Philadelphia Stars in 1983 where his teammates included Sam Mills, Bart Oates, Irv Eatman and Sean Landeta.
In the college ranks -- at Wayne State, South Carolina, Clemson and Mississippi -- he coached quarterbacks, receivers, defensive ends, tight ends and running backs. What kind of messages would he bring and team would he field?
I didn't talk to him for this post, but there is no doubt that as he begins to line up things for his new job in San Diego he'd welcome the chance to interview for such a big promotion.
Gruden said Bisaccia is charismatic, creative and energetic and qualifies as a "fundamentals freak" who can develop players. (That, to me, should be the Titans' No. 1 objective in this turnover -- player development.)
"I know he has a program and I know he knows it works," Gruden said.
In Tampa Bay, Gruden arranged his team's own rookie symposium and made Bisaccia its "band director." He was charged with mentoring the first-year players, an important assignment from Gruden.
Brooks said Bisaccia's a quality teacher, a straight-shooter and a multi-tasker who would hold players accountable to his message. He'd let his coordinators coordinate and would preach ball-security above all else with one of his favorite messages: "You're carrying the hopes and dreams of the team in your hands."
So Biasaccia's endorsed by a coach who won a Super Bowl and is coveted himself. He's endorsed by one of the best defensive players of his era. I know the Titans could have hundreds of qualified candidates with similar references. I know Gruden and Brooks are speaking in support of a friend -- but you don't put your name on the line for a friend if you don't believe he can succeed.
All it would cost the Titans to talk with him -- or another guy fitting a similar mold -- is the price of a flight and a nice dinner along with a day of their time.
I'm certain Bisaccia will answer his phone. Why not ring him?
September, 7, 2009
9/07/09
10:22
AM ET

Posted by ESPN's Paul Kuharsky
Houston Texans
Indianapolis Colts
Jacksonville Jaguars
Tennessee Titans
LenDale White doesn't regret stomping and would stomp again, he said in a discussion of the Terrible Towel controversy of 2008. Jim Wyatt and Terry McCormick both wrote it. Warped logic from White that he can buy whatever house he's in. Unless he got a bonus I don't know about, I'm pretty sure he couldn't afford Heinz Field.
Chris Hope doesn't know what to expect in his first trip back to Pittsburgh, says Gary Estwick.
Quinton Ganther's injury was significant, says Wyatt.
July, 30, 2009
7/30/09
2:00
PM ET
| | |
| --- | --- |
| | |
| | Chris Gardner/US Presswire |
| | Jack Del Rio plans to be more of a teacher during training camp this season. |
Posted by ESPN.com's Paul Kuharsky
Jack Del Rio's on everyone's list of coaches on the hot seat. But sit down with him and you realize that he's not spending time pondering that position.
His 2008
Jacksonville Jaguars
crumbled, first from injuries, then from locker-room division. Out went vice president of player personnel James "Shack" Harris, and owner Wayne Weaver promoted Gene Smith to general manager, giving him final say over all personnel matters.
Together, Smith and Del Rio combed through the roster, emphasizing character and leadership. In a division with three strong teams that finished ahead of them last year, the Jaguars can improve a lot and still have trouble getting out of last place.
But when they hit tough stretches, the odds that Del Rio's players will continue to hear him, to follow his voice, to give him what he asks, stand to be a lot higher.
"Two years ago we had the best locker room I've ever been around, and then last year it kind of spoiled on us," Del Rio said. "We'll get it back. That's coaching. I've talked to a few coaches and they say, 'Hey, there are years like that. Sometimes it all clicks and you've got a rabbit's foot in your pocket, and some years you have tough sledding.'"
Del Rio's early messages will come in the context of a tougher camp when players hit the field Monday morning. His training camps in years' past haven't been especially difficult, but the reviews this time around might be different as he tries to mold a team loaded with new, young players.
"I think there will be a little more edge to it; that comes with having a rough year," he said. "Do it right, do it light. And we've got some work to do. We've got a young team, we've got a lot that we need to work through. At the same time, we've got some veteran guys we know we've got to take care of.
"If I grind Torry Holt through a camp like I will with the young receivers, then he's not going to have much juice for us when we get out of camp. So we'll be smart about it, but this team needs to work. We've got a team that needs to really get back and resharpen, refocus and have a good, hard, tough camp."
November, 21, 2008
11/21/08
1:41
PM ET
| | |
| --- | --- |
| | |
| | Jimmy DeFlippo/US PRESSWIRE |
| | The loss of defensive tackle Marcus Stroud through free agency is one reason for Jacksonville's regression on defense. |
Posted by Scouts Inc.
What a difference a year makes. A year ago at this time, the Jacksonville Jaguars were rolling at 7-3 and headed for the playoffs, where a deep run may have been prevented only by one of the most dominant teams in NFL history (New England). This season: a 4-6 record, losses in four of their last six and lots of problems with no obvious solutions.
One of the most glaring problems has been the play of the Jaguars' defense. The team's rushing yards allowed and completion percentage allowed have risen significantly, while the sacks have all but dried up. The main difference between this year's unit and the borderline-dominant 2007 version? A gaping hole where defensive tackle Marcus Stroud used to be. Stroud's offseason departure for Buffalo has proven costly, with a once-physical Jacksonville defense having turned uncharacteristically soft. Drawing up game plans against the Jags has become far easier for opposing offensive coordinators now that Stroud and fellow defensive tackle John Henderson aren't forcing them to pick their poison. With that tandem no longer absorbing multiple blockers and crumbling the interior pocket, the Jaguars' linebackers are getting less protection in the run game and the defensive ends receive more blocking attention on the pass rush.
But the rocky transition from coordinator Mike Smith (who took the head-coach position in Atlanta) to Gregg Williams also shouldn't be overlooked. Smith occasionally mixed coverages, but he mostly played things close to the vest, featuring a lot of four-man rushes and two-deep shells. Though Williams also favors a 4-3 front, his schemes couldn't be more different. Williams is an aggressive playcaller who puts a premium on pressure and loves to blitz. His philosophy, however, isn't in sync with Jacksonville's personnel, including (and maybe especially) the team's offseason moves.
By signing cornerback Drayton Florence and trading up to acquire defensive ends Derrick Harvey and Quentin Groves on draft day, the Jaguars believed they could turn up the heat on opposing quarterbacks while matching up better with their receivers. But the team overestimated Florence's matchup ability -- he fares better in zone and probably should be a No. 3 corner -- and likely overdrafted Harvey, who lacks ideal quick-twitch athleticism for the edge and clearly has suffered from missing training camp in a holdout. And from the start, the investment in edge-rushers didn't make sense for a team that hired a blitz-happy coordinator. Williams' five- and six-man blitzes haven't clicked because the Jaguars' linebackers aren't gifted pass-rushers. But the front four alone isn't creating enough pressure, so opposing quarterbacks are wisely avoiding cornerback Rashean Mathis (Jacksonville's best cover man by far) and picking apart the secondary.
The ill-advised personnel moves, coordinator switch and even the chemistry issues caused by linebacker Mike Peterson's demotion have contributed to the slippage of Jacksonville's defense. But the most surprising change has been this unit's attitude. It isn't there. The Jags used to ooze toughness. Opponents hated playing them, because they knew getting out of bed Monday was going to hurt. All the scheme and lineup changes in the world can't bring back that edge.
Scouts Inc. watches games, breaks down film and studies football from all angles for ESPN.com.
August, 7, 2008
8/07/08
8:07
AM ET
Posted by ESPN.com's Paul Kuharsky
Greetings from Houston, where I'll check out the Texans this morning. But first, a quick spin around the division...
Houston Texans
Andre Davis is looking to build on last year's strong finish, writes Megan Manfull.
Will Demps has made himself a nice career by refusing to take no for an answer, Steve Campbell says.
Back after missing time with a hamstring injury, cornerback Demarcus Faggins is back at practice. He took a lot of heat last year from fans and media. The Chronicle's notebook also says Andre Johnson (groin) probably won't play Saturday night against Denver.
Dale Robertson says Sage Rosenfels is doing just fine accepting his status as Houston's No. 1A quarterback.
Indianapolis Colts
Three of the four starters in the Colts secondary were pretty much inseparable during the offseason, Mike Chappell tells us. Bob Sanders was busy rehabbing his shoulder. For the first time since 2000, Indianapolis is heading into a season with the same secondary as the year before.
Owner Jim Irsay is excited about the new stadium and says a fast start is imperative for the Colts. The Indianapolis Star's notebook also tells us because the team is so thin at linebacker right now, it's playing a lot of nickel defense.
Gijon Robinson in largely unknown but the tight end could be a significant piece of the Colts, writes Colts.com.
Jacksonville Jaguars
Here's an incredibly detailed account of the back and forth between the Jaguars and Derrick Harvey's agent. Great reporting by Vito Stellino.
Stellino shares his pluses and minuses so far for the Jaguars. He sees the offensive line as a concern.
Michael C. Wright chats with former defensive coordinator Mike Smith, who's now head coach I Atlanta.
Defensive coordinator Gregg Williams worried that TV cameras at yesterday's practice were filming defensive signals, according the Times-Union's "Observation Deck."
When he decided where to sign, rookie Lamar Myles decided experience with the Jaguars' linebackers was more important that the opportunity for a roster spot, Wright reports.
Tennessee Titans
I watched the Titan defense work against the Ram offense at yesterday morning's practice, then was en route to Houston. The Tennessean's Jim Wyatt focused on the other side of the ball and says Vince Young had a very good day.
Fan favorite Drew Bennett felt the love as he returned to Nashville as a Ram, according to Jessica Hopp. Click on the screen to the right for a video on Bennett.
Game-day shuttles in Nashville will continue, as a private company will take over for the city, The Tennessean reports. It'll now cost $10 instead of $7.
Eddie George watched a practice and said Chris Johnson reminds him of a Marshall Faulk, says The Tennessean's notebook.