AFC South:

Mike Vanderjagt
November, 14, 2013
Nov 14
11:32
PM ET
NASHVILLE, Tenn. – A few thoughts on the
Indianapolis Colts
'
30-27 victory
over the
Tennessee Titans
at LP Field:

What it means:
The Colts continue to roll the dice with slow starts. They went into the half trailing 17-6 to bring their first-half deficit over their past three games to 66-9. But instead of waiting until the fourth quarter to get back into the game, the Colts got it going in the third quarter. Indianapolis used an 11-play, 74-yard drive that ended with running back
Donald Brown
scoring from 6 yards. The Colts got the ball back seconds later when
Devon Wylie
fumbled the ensuing kickoff and
Dan Herron
recovered the ball, and they took the lead for good two plays later when quarterback
Andrew Luck
, seeing Titans defensive lineman
Derrick Morgan
jump into the passing lane, tucked the ball and ran in from 11 yards. Luck spiked the ball with force once he got into the end zone. Brown outplayed teammate
Trent Richardson
, finishing with 14 carries for 80 yards and two touchdowns. Tight end
Coby Fleener
had eight catches for a career-high 107 yards. The Colts are in control of the AFC South now, ahead by three games with six games remaining.
Walden loses his cool:
Colts linebacker
Erik Walden
should expect to hear from the league office after he gave a helmetless
Delanie Walker
a head-butt following a play in the second quarter. It was surprising that Walden wasn't ejected because the league has taken a stand on protecting players. Walden tried to redeem himself with a sack in the third quarter, but it doesn't make up for his classless play in the first half. The league will at least fine Walden and could suspend him.
The ageless wonder:
Colts kicker
Adam Vinatieri
nailed a 50-yard field goal in the third quarter to give him four field goals of at least 50 yards this season. He's two shy of the Colts' single-season record established by Dean Biasucci in 1988 and equaled by Mike Vanderjagt in 1998.
What's next:
The Colts play at the
Arizona Cardinals
on Nov. 24. The Cardinals are coached by Bruce Arians, who coached the Colts last season while Chuck Pagano was out battling leukemia.
February, 1, 2011
2/01/11
3:09
PM ET
Peyton Manning's words can have major implications. That's why, when I sometimes find myself frustrated with how careful he can be, I should remember this post.
[+] Enlarge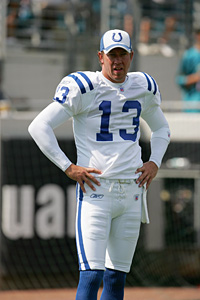 Jamie Squire/Getty ImagesFormer Colts kicker Mike Vanderjagt has been out of the NFL since being cut in 2006.
I had no beef when he took a shot at Mike Vanderjact at the Pro Bowl in 2003, calling his Colts teammates an "idiot kicker" who got "liquored up."
I had no beef, either, with Vanderjact's comments that sparked it, except for the part where he didn't understand a kicker isn't the guy to get a football team fired up, and choosing his words more carefully might have had proved far more effective and carried far fewer consequences.
Writes Eric Adelson:
"[Idiot kicker and liquored up] were famously uttered in one sentence at the Pro Bowl in 2003 by Colts quarterback Peyton Manning. You remember: Vanderjagt had gone on Canadian TV and said he was down on his Colts team because Manning and the head coach at the time, Tony Dungy, weren't fiery leaders. 'I'm not a real big Colts fan right now, unfortunately,' Vanderjagt said. 'I just don't see us getting better.'"
While everyone remembers the exchange, most don't recall the two were Colts together for four more seasons.
So what happened to Vanderjagt after Bill Parcells cut him from the
Dallas Cowboys
in 2006?
"The shining truth is this: If you are great at your job -- and even if you're only better-than-average -- you will get chance after chance in the NFL.

"Unless you're Mike Vanderjagt."
He's in hiding, working at his family pizza parlor in a remote storefront at a well-hidden Florida beach. His biggest beef is about the "liquored up" line. He's not a drunk. Manning's insult stuck. We haven't, and likely won't, hear why that's where he chose to go. But a different insult, a two-word change, might have changed Vanderjagt's life.
Colts fan or not, Vanderjagt hater or not, there are things you should know about him. To find out the rest, head to Adelson's great piece
here
.
Does it change what you think of him?
May, 29, 2009
5/29/09
8:23
AM ET
Posted by ESPN.com's Paul Kuharsky
Houston Texans
Indianapolis Colts

Jacksonville Jaguars
Tennessee Titans
May, 3, 2009
5/03/09
10:00
AM ET
Posted by ESPN.com's Paul Kuharsky
The way coaches will experiment with different ways to use him, James Casey may end up feeling like a lab rat, writes John McClain.
McClain's blog on Casey, which includes some good links.
Reliant Stadium's name appears to be safe for now, says Alan Burge.
A rundown on the Colts' undrafted free agents, from Mike Chappell.
Jim Caldwell says it's about more than size on the interior defensive line, writes John Oehser.
Pat McAfee hopes he can match the play of the franchise's last kicker from West Virginia, Mike Vanderjagt, says Chappell.
Caldwell's first impressions of the rookie class on the field, from Oehser.
The Colts have had no conversations with Marvin Harrison about returning, writes Oehser.
Freddy Keiaho's role is TBD, says Oehser.
Rookie uniform numbers, courtesy of Oehser.
Gene Frenette says the Jaguars must repair their defense first.
Derek Cox isn't reading much that's written about him now, says Michael C. Wright.
Wright examines the shifting landscape of the offensive line for veterans Tra Thomas and Tony Pashos.
Ex-Jags assistant coach Joe DeCamillis was among those injured in the Dallas Cowboys' practice bubble collapse.
Rookie receivers Mike Thomas and Jarett Dillard come in with a reputation as polished receivers, according to Wright.
Some at minicamp don't even rank as undrafted rookie signees yet. They are just vying for a spot, writes Wright.
In the one rookie practice open to the media, Kenny Britt and Jared Cook made some impressive catches, says Jim Wyatt.
On first impression, Cook was as impressive as Britt, blogs Wyatt.
Learning the system is a rookie's major hurdle, writes Gary Estwick.
Ryan Mouton needs a little time for his hamstring to be fully recovered. A notebook from Wyatt and Eswick.
July, 18, 2008
7/18/08
8:30
AM ET
Posted by ESPN.com's Paul Kuharsky
A quick trip around the division this morning. Did I miss something good? Have a question? Hit my mailbag.
Houston Texans
Indianapolis Colts
Tony Dungy told The New York Times that "I'm a little bit more on the team's side" in the rift between Brett Favre and the Packers.
Former Colts kicker Mike Vanderjagt is enjoying life back in the CFL. He prefers it in many ways to the NFL where he was "walking on eggshells" and told the Toronto Star he doesn't care what people in the NFL think of him.
Tennessee Titans
With the league expressing concern about gang signs, David Climer of The Tennessean says "these guys edit more film than Spielberg." You can find something sinister in just about everything, he writes, in a very good caution about going too far.
July, 2, 2008
7/02/08
8:17
AM ET
Posted by ESPN.com's Paul Kuharsky
For those who, on rare occasion, actually ponder the differences between the NFL and CFL, we have an addition to the larger playing area, the 12th player on both sides, the one less down to gain a new set and the rouge: The ability to prepare for a game without having a set of goalposts for the kicker.
Mike Vanderjagt may famously carry the "idiot kicker" tag once put on him by Peyton Manning, but it seems Vanderjagt's Toronto Argonauts rookie head coach Rick Stubler is making a bid for a similar, sticky nickname.
The former Colts kicker, who didn't make it as a Dallas Cowboy in 2006, missed his first three field goal attempts in his first game back in the CFL, where he was kicker and punter for Toronto in 1996-97. He did recover to hit his last two tries in a 23-16 win in Winnipeg last Friday.
The Toronto Sun's Frank Zicarelli explains in his notebook that field goals in the CFL are attempted from wider hashmarks, then lets Stubler make the stunning admission about the team's camp practice site being without goalposts, something he promises to address.
"We had two days all of camp where we went some place that had goal posts," Stubler said. "That's a coaching fault and I'll take that."
Don't be too hard on yourself coach. Most kickers are at least 80 percent after significant practice without goal posts. OK, maybe 75 percent.
AFC SOUTH SCOREBOARD
Thursday, 12/5
Sunday, 12/8