September, 15, 2013
9/15/13
4:36
PM ET
INDIANAPOLIS -- Some quick thoughts on the
Miami Dolphins
'
24-20
win over the
Indianapolis Colts
from Lucas Oil Stadium.

What it means
: It was no secret that Dolphins receiver
Mike Wallace
would get a fair share of balls thrown his way after he complained last week then tried to clear it up the next day. Wallace was effective all game, but his best catch led to the game-winning score for the Dolphins. Colts cornerback
Greg Toler
fell for Wallace's fake, then tried -- and failed -- to grab the Dolphins receiver as he ran by him. Wallace made the 34-yard catch at the Colts' 1-yard line. Dolphins fullback
Charles Clay
ran it in on the next play to give Miami a 24-20 lead. Wallace finished with nine catches for 115 yards.
Stock watch
: The Colts were on their way, driving down for possibly the go-ahead score when quarterback
Andrew Luck
tried to force the ball to receiver
Reggie Wayne
in the end zone. Dolphins cornerback
Brent Grimes
stepped in front of the pass for the interception. The ball shouldn't have even been thrown by Luck. He was trying to make something out of nothing on the play. The interception snapped a streak of 164 passes without a pick for Luck. The streak was the sixth longest in franchise history. The Colts shot themselves in the foot most of the game. Luck had completed a touchdown pass to tight
Coby Fleener
in the third quarter. That's what the Colts thought, at least. The touchdown was voided because the Colts were called for an illegal shift. They ended up having to settle for a field goal.
Taking a hit with injuries
: Colts starting left guard
Donald Thomas
had to be carted off with a right knee injury.
Hugh Thornton
replaced him in the lineup. Then starting receiver
Darrius Heyward-Bey
left the game and didn't return because of a rib injury.
What's next
: The Colts play their first road game of the season when they travel to San Francisco to take on quarterback
Colin Kaepernick
and the 49ers' read-option offense next Sunday.
September, 13, 2013
9/13/13
8:00
AM ET
INDIANAPOLIS – The
Indianapolis Colts
have gone from facing a mobile, do-whatever-it-takes-to-make-a-play quarterback in Oakland's
Terrelle Pryor
in Week 1 to the Week 2 prospect of a more traditional quarterback in Miami's
Ryan Tannehill
.
Tannehill
"(Tannehill) can still run," Colts defensive coordinator Greg Manusky said. "He's a guy that still feels the pocket. He has a good pocket sense. I didn't know (Pryor) was that dang big. He was fast, too."
Tannehill, who is trying to close the gap between him and some of the rest of the quarterbacks drafted in 2012, has the ability to create with his feet when he has to, but he beat the
Cleveland Browns
with his arm last weekend. He was 24-of-38 for 272 yards and a touchdown.
"He has the arm to make all the throws," Colts coach Chuck Pagano said. "He's got some skill guys around obviously that can make plays. Given time, he can burn you."
All the Colts have to do is look back at last season's game against the Dolphins if they need a reminder about Tannehill. The then-rookie passed for 290 yards and a touchdown in Miami's loss to the Colts.
"He's more of a pro-style quarterback," Colts cornerback
Vontae Davis
said. "So right now we got our hands full against a good Miami team that's coming into Indy."
Davis and
Greg Toler
will get their first test of the season against receivers
Mike Wallace
and
Brian Hartline
.
You can expect Miami to try to get the ball to the speedy Wallace at receiver. My ESPN.com colleague James Walker, who covers the Dolphins, wrote in our "
Double Coverage" breakdown
Thursday that Wallace will be the fastest player on the field. Wallace was a hot topic after he got frustrated and whined over only catching one pass against Cleveland. He cleared up his comments to the Miami media Monday.
"Mike Wallace, he's a stretch-the-field guy," Toler said. "He wants that deep ball a lot, so we have to keep him from that. He doesn't want short passes, pretty much."
Hartline was Tannehill's favorite target last week. He caught nine passes for 114 yards and a touchdown against the Browns.
"Everybody knows Mike can run," Davis said. "He's a fast guy, got a lot of ability and I'm pretty sure they're looking forward to using Mike to make different mismatches. We got a challenge ahead of us with Mike Wallace and also Brian Hartline."
September, 12, 2013
9/12/13
12:01
PM ET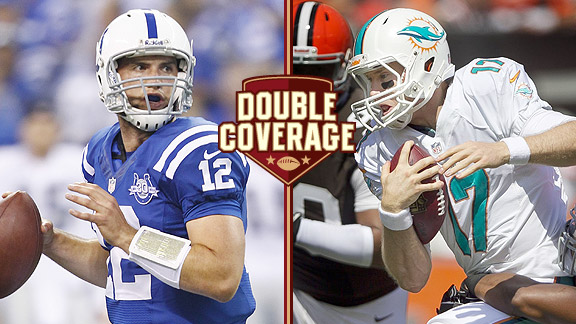 Getty ImagesSecond-year quarterbacks Andrew Luck and Ryan Tannehill face off in Indianapolis on Sunday.
The
Miami Dolphins
and
Indianapolis Colts
are two undefeated teams trying to establish themselves in the AFC. Both have young quarterbacks with promise and solid second-year head coaches.
Indianapolis beat Miami last year, 23-20, in an exciting matchup in which quarterbacks
Andrew Luck
and
Ryan Tannehill
both played well.
But who will win this season's matchup? ESPN.com Colts reporter Mike Wells and ESPN.com Dolphins reporter James Walker weigh in.
Wells:
Sunday will come down to which quarterback from the Class of 2012 -- Luck or Tannehill -- can limit his mistakes. And I'm sure we'll talk about them before we end this conversation, but before that, James, we have to address the
Mike Wallace
situation. It seems like Wallace was being selfish by making Sunday's win over Cleveland all about him because he only had one catch. For a Dolphins team that's had only one winning season since 2006, Sunday should have been about getting a nice road victory to open the season. Not about Wallace. I know Wallace cleared up his comments Monday, but it shouldn't have gotten to that point. Is that a sign of things to come out of Wallace, the $60-million man?
Walker:
The situation was not ideal, but I thought the Dolphins did a masterful job putting the Wallace issue to bed during the week. Miami's coaches supported Wallace's competitiveness and desire to make an impact. Wallace also clarified that he was more upset at himself, and I expect he will be extra motivated to have a big game. Speed kills in domes, and I don't think there will be a faster player in Sunday's game than Wallace. Look for Miami to find more creative ways to get him the football in the event the Colts consistently double Wallace, which was Cleveland's strategy. Speaking of strategy, I was surprised to see how much Indianapolis struggled last week with the
Oakland Raiders
. The Colts trailed Oakland at home with less than 6 minutes left in the game. Was this first-game jitters and what needs to be fixed?
Wells:
You weren't the only one surprised. I think most people were, especially when you look back at the Colts' first two offensive series. They scored with ease and all indications pointed to Luck having a special day after he started 11-of-11 with two touchdowns. But you have to give credit to Oakland quarterback
Terrelle Pryor
. He did an excellent job creating with his feet. He kept the Colts off balance and his team in the game until Luck became the hero. Tannehill is a more traditional quarterback. Luck,
Robert Griffin
III and
Russell Wilson
are the quarterbacks everybody talks about from 2012 -- and they should be talked about after they led their teams to the playoffs -- but do you get a sense down there in South Florida that Tannehill has the tools and work ethic to close gap on the three QBs I just mentioned?
Walker:
I really like Tannehill's tools, Mike. He can make all the throws, has good mobility and feet as a former college wide receiver, and he doesn't get rattled often. Those are all qualities you want in a quarterback. He looks the part, but I still need to see him win consistently. What was interesting about last week's win over Cleveland is Tannehill took over the game in the third and fourth quarters. Last year Tannehill played not to lose games. Last week Tannehill went out and won the game. That's probably the biggest thing that separates Tannehill from Luck and other members you mentioned from the 2012 quarterback draft class. Tannehill can certainly learn from Luck and his fourth-quarter comebacks. Mike, where is Luck in his development in Year 2?
Wells:
Everybody talks about sophomore slumps with players. You should go ahead and look elsewhere because that won't be the case with Luck. He refuses to settle. The only thing he wants to talk about is getting better. That's what you like to hear from your franchise player. Luck likely won't pass for as many as yards this season because the Colts are putting an emphasis on the running game with
Vick Ballard
and
Ahmad Bradshaw
. Those two players should take a significant load off Luck's shoulders. But it won't be easy for Luck this weekend. Miami's defense looked pretty good last week against the Browns. Six sacks and three interceptions. What makes the defense so dangerous?
Walker:
The Dolphins focused in the offseason and training camp on forcing turnovers and pressuring the quarterback. The work clearly paid off with the stats you mentioned. But perhaps the most impressive stat is Miami hit Browns quarterback
Brandon Weeden
16 times, which included the six sacks. The Dolphins' front seven is both fast and physical. They have a deep rotation on the defensive line. For example, No. 3 overall pick
Dion Jordan
is a backup who only gets limited snaps. Dolphins defensive coordinator Kevin Coyle has done a good job and really likes the group he has. I think the best way for Miami to beat the Colts is the rattle Luck, force turnovers and try to make it a low-scoring game.
March, 7, 2013
3/07/13
9:06
AM ET
Let's not go so far to rate wide receiver as a non-need for the
Tennessee Titans
.

Kenny Britt
is heading into the final year of his initial contract and hasn't shown he can be counted on.
Nate Washington
is going to be 30 this season and has cap numbers of $5.1 million this season and $4.8 million in 2014. They just spent a first-round pick on
Kendall Wright
.
But the Titans are in a do-or-die mode for this fall, and they have plenty of other areas they have to deal with.
Here at the AFC South blog we're not putting stock into Sport Illustrated's Peter King's mention of the Titans as a dark horse contender for
Mike Wallace
, the explosive receiver from Pittsburgh who is about to be a free agent.
I don't think they should pursue him. I don't believe they will pursue him.
Costly, high-profile, free-agent receivers are risky business in the NFL.
We hit this theme often: There aren't many who have fared better for their second team than their first.
Plaxico Burress
helped the Giants win a Super Bowl.
Vincent Jackson
did awfully well in his first year in Tampa Bay. The list isn't big after that.
Tennessee is talking about finding shorter, easier throws for
Jake Locker
to make, and a deep-threat wideout like Wallace doesn't fit with that at all.
The Titans should be active in free agency. I'm confident Wallace isn't on the list of people they are prioritizing.
February, 28, 2013
2/28/13
9:38
AM ET
Reading the coverage ...
Houston Texans

J.J. Watt is starting a
charity softball game
that will pit the Texans' offense against the defense and will be played for the first time on April 27, says John McClain of the Houston Chronicle.
Measuring
production versus price
. Nathan Jahnke of Pro Football Focus shows us who was undervalued and overvalued on the Texans. Houston is among the best teams for getting value for their players.
Yards per target
were down for everyone but Andre Johnson on the 2012 Texans, says Nate Dunlevy of Bleacher Report.
Indianapolis Colts

The Colts
shouldn't pursue
Pittsburgh receiver Mike Wallace in free agency, says Ben Savage of Colts Authority.
Jahnke of Pro Football Focus shows us
who was undervalued and who was overvalued
on the Colts.
Indianapolis GM Ryan Grigson knows a couple of recently released
defensive linemen
from Philly. Since the Colts need help at end and tackle, odds are they'll look at Mike Patterson and Cullen Jenkins, says Brad Wells of Stampede Blue.
Jacksonville Jaguars

New running backs coach Terry Richardson says there's
no reason
the Jacksonville ground game shouldn't get back on track, writes Vito Stellino of the Florida Times-Union.
Offensive lineman Guy Whimper, who was released Wednesday, was due to make
$1.6 million
this season, says Stellino.
There aren't many guys the Jaguars got their
money's worth
from in 2012, when just about everything that could go wrong did go wrong, says Jahnke of PFF.
Tennessee Titans

The offseason positional analysis from Tom Gower at Total Titans wraps up with a look at
special teams
. Return units should improve as the roster improves.
The Titans were
close to breaking even
on their investments in 2012. Jahnke says the five most undervalued players on the roster played on defense.
January, 23, 2013
1/23/13
9:38
AM ET
Reading the coverage ...
Houston Texans
While Kareem Jackson made great strides, the Texans'
defensive backfield
gave up a lot of plays and yards, says Tania Ganguli of the Houston Chronicle.
With J.J. Watt and Antonio Smith up front, "defensive end was perhaps the Texans'
strongest position
and certainly the defense's strength," says Ganguli.
Indianapolis Colts
Bruce Arians
was the reason
the Mike Wallace to Indy talk started, and Arians' departure should also be the reason that it ends, says Josh Wilson of Stampede Blue.
To which I say:
That's a very good point. And Wilson also points out that T.Y. Hilton's production is much like Wallace's.
Jacksonville Jaguars
Ryan O'Halloran of the Florida-Times Union tracked Gus Bradley at the Senior Bowl. "I have this image that we're going to be
extremely tough
and play with a lot of poise. That keeps popping into my mind -- guys that are passionate about the game."
Coordinators Jedd Fisch and Bob Babich face
tough challenges
, but will feed off of Bradley's energy, says O'Halloran.
Tennessee Titans
The safeties might be
the strongest group
at the Senior Bowl, and that's good for the Titans, says John Glennon of the Tennessean.
Breaking down snaps with Tom Gower of Total Titans
on offense
and
on defense
.
To which I say:
Very interesting to look at the offensive numbers where he breaks down the differences in playtime when Chris Palmer was offensive coordinator and when Dowell Loggains took over.
April, 15, 2012
4/15/12
9:37
AM ET
Darrick Seymore from Jacksonville, Fla., writes:
The way our new owner, Mr. Khan, rolled into Jacksonville, I was expecting some really flashing things to be happening by now. Not sure if this is the quiet before the storm or something else. What's your take in the apparent lack of activity here in J-Ville?
Paul Kuharsky:
Shad Khan is not about flashing things, so far, and that's fine. Certainly he's got a general manager and a coach who are not flashy.
Teams who are about flashing, or flashy things, generally don't fare well. Who's the last team that won the offseason and the Super Bowl? (That said, Khan could have tempered the big talk about being "all in." It made agents expect that GM Gene Smith was going to be out there with rolls of money, shopping.)
The Jaguars could have done better in free agency, but they retained their key people, added a receiver they like in
Laurent Robinson
, got a backup/alternative quarterback in
Chad Henne
and hope for a big draft.
I don't know what storm you can still anticipate this long after the top free agents are gone.
---
Graham from Montreal writes:
With Koppen re-signing with the Patriots, what's the Titans' potential opportunities to improve at center in free agency? Is it more likely that we'll see a middle-round pick being used to try to develop a center and maybe also to be used as a long-snapper?
Paul Kuharsky:
There was never any evidence the Titans had any interest in
Dan Koppen
after they lost out on
Chris Myers
,
Scott Wells
and even
Jeff Saturday
.
I think your scenario is the likely one now. It's quite possible the Titans will go forward with
Eugene Amano
still in place, or with a rookie or
Fernando Velasco
;
Kevin Matthews
could even fight his way into the lineup.
---
Jonathan from Fort Wayne, Ind., writes:
Find it interesting you question why Irsay would want to be coy with the Luck pick. While I agree it's obvious based on what I've read/heard that the Colts will select Luck, Irsay not sharing has incentive - it keeps the Colts in the spotlight for a little bit longer. After the draft, the Colts will quickly fall from a team that garnered a ton of press the past few years to another struggling team with a promising future. For the first game or two the Colts will once again be thrust in the spotlight as people judge Luck. So, the team needs as much press as possible right now. I think it is mostly a PR move to keep analysts (even if they are 99.99% sure) to at least discuss the decision and the team. Even more so now with the CBA because the team won't need extra time to negotiate the contract. After this draft the Colts won't be talked about very much for awhile based on a roster that should struggle, even with a possible once-in-a-generation quarterback.
Paul Kuharsky:
As I've written, the team isn't obligated to reveal anything and can milk it if it likes.
The Colts aren't getting any huge public-relations advantage leading up to the draft that they wouldn't be getting if the verdict was made public early that they are taking
Andrew Luck
. When Bill Polian is out there saying it's who team owner Jim Irsay wants, Irsay being coy doesn't really work.
Either way, I would have written
this piece
that was published Friday, for example. They didn't gain anything from mystery there. And there really is no mystery.
April 26 -- the first day of the NFL draft -- is going to wind up being more about who goes third and what happens with
Ryan Tannehill
than it will be about Luck or
Robert Griffin III
, because there is no mystery about them.
Interest in Luck will last all season, no matter how bad the Colts are.
---
Matt from Berkeley, Calif., writes:
What do you think of Jags fullback
Greg Jones
? He's been a low-profile player at a low-profile position, but I've only ever read positive things about him - especially from opposing defensive coordinators. Today, I realized he'll be remembered (if people really remember fullbacks) for blocking for both Fred Taylor and MJD. Taylor arguably had a HoF career - at least by the numbers, and MJD is on pace to make an argument as well. What other positions in football have silent contributors stalwartly working to help their team week after week? We as fans often miss such players between the highlights.
Paul Kuharsky:
He's a good player, but Jack Del Rio's love of him was overboard and he's been dinged a lot in his career.
The difference between an average fullback and a really good fullback – which Jones is usually rated as being – is not that extreme or significant to me or to most. While the AFC South is now a division with four fullback teams, I prefer teams that have more versatile tight ends serve as the extra blockers.
I wouldn't exactly call fullback an under-recognized spot, either. When a back has a big season like
Maurice Jones-Drew
did, the fullback typically gets his accolades.
Vonta Leach
certainly reaped huge benefits (in a big free-agent contract from Baltimore) after
Arian Foster
broke through in Houston.
There are a ton of offensive linemen and interior defensive lineman who do dirty work on all or most of the snaps – as compared to the typical third of the snaps of a fullback – with even less notoriety.
---
Bobby from Buffalo, N.Y., writes:
Just a general NFL question here. If a team with no first-round picks signs a player with a first-round tender such as
Mike Wallace
, what do they give up or is it even allowed?
Paul Kuharsky:
You have to have your original first-round pick to give up. You can't sign a guy with a first-round tender to an offer sheet unless you have it or make a deal to get it back.
---
March, 24, 2012
3/24/12
10:43
AM ET
Josh from Jacksonville writes:
What where the Jags thinking going into free agency? At multiple Team Teal rallies Shad Khan said we were "All In" and we were really going to improve through FA and the draft. What happened? I don't think we fixed anything through FA and we still have the same needs going into the draft as we did going into free agency. Fans are frustrated and feel lied to. I'm not saying we should have signed everyone with a big name but we didn't even take a swing at a playmaker. I didn't realize "all in" was
Laurent Robinson
and
Chad Henne
. I'm all out of excuses for Gene Smith.
Paul Kuharsky:
You raise good points, and I think your feelings reflect those of many Jaguars fans. The other key thing here is that free agency will never be this good again under this CBA. It mandates spending, and teams that have to spend will spend to keep their own players. And that means fewer good players make it to free agency.
But consider where you aim your disappointment. Is it Smith, or did Khan not fund a bigger foray in to free agency?
Matt in Indianapolis writes:
What are the Colts going to do at the RB position?
Paul Kuharsky:
I don't know. But if they are a better run-blocking team, I can see
Donald Brown
and
Delone Carter
being a functional combo platter.
LuvYaBlue77 from Camden, Del., writes:
So Paul if you were the Titans GM would you be done in FA? I thought
Tracy Porter
/
Jason Jones
were worth a 1 yr contract. Lastly, where would you look in the draft?
Paul Kuharsky:
Still look for cheap depth, maybe an offensive line candidate. Jones has a knee issue that scared them, and he was free to choose to go. I would have left too, after they couldn't figure out my position. I like Porter, but I like
Alterraun Verner
too. Defensive end remains the top priority. But they could go a lot of different ways at No. 20.
Joey from San Antonio, Texas, writes:
I know he isn't a current AFC South player, but I don't see why certain teams in the division shouldn't target him... So my question is why isn't the market bigger for
Mike Wallace
from the Steelers? He would be a nice target for Andrew Luck in Indy, and Jacksonville could use the help as well. Houston still needs a reliable #2 behind Andre, and as a Titans fan, I certainly wouldn't turn him down either.
Paul Kuharsky:
Wallace isn't an unrestricted free agent, he's a restricted free agent. The Colts can't get him to help Luck, because the compensation for him would be the first-round pick they'll be using to draft Luck. The process for an RFA like Wallace: Sign him to an offer sheet, which will be expensive. If the Steelers don't match, give up your original first round pick as compensation. Other AFC south teams: Jaguars have the seventh pick and might use it for a pass rusher, though they certainly need a receiver. Titans think they are OK at WR and have other needs. Texans have cap restrictions that would make it hard to entice Wallace.
Jeff Oxford from Denver writes:
Hate to say I told you so, but I told you so. I love being right.
Paul Kuharsky:
Hearty congrats!
Now can you please tell me what it is you were right about?
March, 2, 2012
3/02/12
10:34
AM ET
In this Insider
piece
, K.C. Joyner lays out a four-point rationale for a team to pursue
Mike Wallace
, who will be a restricted free agent.
Their level of need for a dominant vertical wide receiver
Their salary-cap situation
The level of first-round pick they would have to give up
Their incentive level for making life tougher for the Steelers (from a salary-cap and/or personnel perspective)
He concludes the Patriots, Niners, Ravens and Bengals would be the best teams to pursue Wallace with an offer sheet. If Wallace signs one and the Steelers don't choose to match, the team that gets Wallace would surrender its first-round pick as compensation.
Two teams in the AFC South are receiver-needy and would at least have to discuss Wallace.
Jacksonville has the money, but holds the seventh pick, which would be a steep price to pay. Maybe Wallace is worth it. But the Jaguars can add a high-quality free-agent or two at no draft-pick cost, then add another very good player at No. 7.
Houston doesn't have the money, but the 26th pick is a far more reasonable price. A dominant vertical receiver would really help the offense, and making life tough on the Steelers would be a bonus in a fight for playoff spots and positioning over the next several years.
Said Joyner when I asked him about Wallace and Houston: "Texans + Wallace = AFC Super Bowl favorites. Wallace & Johnson would be hands down best 1-2 WR tandem in NFL."
It will take a big contract to get Wallace, however.
Mario Williams
is probably gone, because they can't afford him, and they are attempting to lock up
Arian Foster
,
Chris Myers
and probably
Mike Brisiel
.
I don't expect Houston will go for Wallace.
But they don't have a ton of needs, even if they lose most of their free agents. If they can create the cap room, in part by parting with
Jacoby Jones
and
Kevin Walter
, why not seriously consider it? Then they'd have
Andre Johnson
, Wallace, a kid like
Jeff Maehl
and a couple draft picks at receiver.
What do you think? Please chime in with this handy poll.
September, 21, 2011
9/21/11
11:26
AM ET
Our teams see some of the most productive skill players in the league this weekend. To notch a win, the Colts, Jaguars, Texans and Titans will have to slow some formidable people.
Indianapolis hosts the Steelers. Pittsburgh receiver
Mike Wallace
has been excellent so far. His 16 receptions are the second most in the NFL. He's tied for fourth in yardage with 233 and his three third-down catches have averaged 22.7 yards.
Jacksonville will need to limit the
Cam Newton
-to-
Steve Smith
connection that has torched the Panthers' first two opponents. Smith had 178 receiving yards and two touchdowns in the loss at Arizona, the biggest receiving yardage day so far in the NFL. And he followed that up with 156 receiving yards against Green Bay.
Houston faces the Saints, who are loaded with weapons. You won't find
Darren Sproles
on the list of the league's leading running backs. He's only got six carries for 24 yards. We need to look at receiving leaders to find his big impact. He's tied for third in the league in receptions with 13 catches, and is a threat on every play. His seven third-down catches are the most in the league.
Tennessee hosts Denver, and the Broncos have not shown themselves to have an especially dangerous weapon so far. Their most productive threat right now might not be on offense, but on special teams. But
Eric Decker
has two receiving touchdowns and a return touchdown and ranks as the second-leading punt return man in the league with a 25.6-yard average. He's slated to start at receiver at LP Field on Sunday.
Who's the guy that must be stopped above the others in order for his team to win?
Chime in on the poll.
December, 22, 2010
12/22/10
5:18
PM ET
With
Austin Collie
on injured reserve, just how much will
Peyton Manning
and the Colts miss the reliable receiver?

According to ESPN Stats & Information, Manning has a 142.3 passer rating when throwing to Collie this season. That's the best quarterback passer rating when targeting a specific wide receiver in the NFL -- by a margin of 17.2 points.
Collie was targeted 71 times this year. He caught 58 passes for 649 yards and eight touchdowns, and none of those throws turned into interceptions.
The next best receivers who've been targeted at least 20 times:
Kenny Britt
(125.1),
Mike Wallace
(120.7),
Dwayne Bowe
(120.5) and
Deion Branch
(117.4).
"I'm disappointed for him," Manning said of Collie at a Wednesday news conference in Indianapolis. "I know how hard he's worked all offseason. I know how excited he was to be back the other day and how well he was playing. I wish him a recovery...
"It's one of the worst parts about football when you see guys get injured and get put on injured reserve, especially a guy that loves football as much as he does and how much he wants to be out there. I just wish him a quick recovery."
September, 11, 2009
9/11/09
2:46
AM ET
| | |
| --- | --- |
| | |
| | Jason Miller/US Presswire |
| | Vincent Fuller can't watch after Jeff Reed's game-winning field goal Thursday night. |

Posted by ESPN.com's Paul Kuharsky
PITTSBURGH -- For a good share of opening night at Heinz Field, it sure felt like the Tennessee Titans were in control.
The Pittsburgh Steelers barely tried to run the ball. Tennessee's defense was finding its way to
Ben Roethlisberger
. The Titans' offense was effective in spurts and at least gaining position for field goals.
But in a way that felt eerily similar to the Titans' last game, January's
divisional round playoff loss
to the Baltimore Ravens, the scoreboard didn't reflect the feel of the game.
And in the end when the
Titans lost 13-10 in overtime
, it was fair to wonder if finishing against a good team is an issue that held up over eight months.
"This team needs learn how to finish then," linebacker
Keith Bulluck
said. "Maybe that's the missing piece then to get over the hump. The last two games, we were in control, had ourselves in position to win and we didn't come out on top.
"To play great football for that long and not come out on top two games in a row, two pretty big games in a row, it might be something to look at. But that's something for us as a team to adjust as players."
When it was over, after I'd made my way through the locker room and fleshed some things out, it still felt like there was one question lingering for each unit.
Offense
: Scoring is the obvious issue, but the offense gained position for two makeable first-half field goals that could have changed the complexion of the game. We'll cover those situations under special teams.
Quarterback
Kerry Collins
hung in against a super-difficult defense. Running backs
Chris Johnson
and
LenDale White
ran it well enough, combining for a functional 3.4 yards a carry. Receivers made plays, too, with
Kenny Britt
accounting for the game's longest gain when he slipped free for a 57-yard catch on the Titans' touchdown drive.
Justin Gage
scored on a 14-yard throw.
But the upgraded passing game got three catches for 1 yard from former Steeler
Nate Washington
. It saw Britt misplay a deep ball from Collins. Britt could only watch in vain as Pittsburgh safety
Troy Polamalu
made an acrobatic interception.
"I misread the ball when I was coming out. ... I need to make a play on the ball," Britt said. "It was a great catch by him. A rookie mistake. You learn, 'if I can't get it, nobody gets it.'"
Gage, a member of the old guard who stands to be a bigger and more consistent contributor, made some nice plays. But on a third-and-10 from their own 30, the Titans were desperate for a fourth-period conversion just before the two-minute warning. Collins threw for Gage down the middle. The ball was hardly perfect, but Gage got his hands on it. He might have heard safety
Tyrone Carter
-- who replaced an injured Polamalu -- closing in search of a kill shot. The pass skidded away. A completion there could have set the Titans on course to move down the field for a winning field goal in regulation.
"Anytime you get your hands on the ball, there is a play to be made," Gage said. "If I can touch the ball, I can catch it. I just didn't come up with it ... I don't think we showed ourselves to the fullest. I think we showed glimpses of what we can do. We left some plays out there and didn't finish some drives."
Can they make the clutch catch at the game's biggest moment?
Defense:
The pass rush was spectacular at times and finished with four sacks and eight hits against Roethlisberger.
Defensive coordinator Chuck Cecil said the team rushed four, blitzed and faked, mixing things up to be unpredictable.
"When you bring people, he's got answers, so are you willing to live with the answers?" Cecil said of the Steelers' quarterback. "We didn't go one way. We basically tried to play a little bit of both. I thought we were successful for a lot of the game and obviously didn't get it done late in the game or in overtime because you've got to get off the field and we didn't do that."
On Pittsburgh's fourth-quarter drive to tie the game at 10-10 and the overtime march to win it, there were some plays where Roethlisberger threw quickly into spaces that didn't seem to close quickly enough once the ball arrived.
In those two drives, up until to the 22-yard pass to
Mike Wallace
that set up the winning kick, Roethlisberger's passes went like this: 7 yards, 5, 9, 3, 10, 15, 8, incomplete, 11, 8, 8, 11 and incomplete.
"It's kind of like a helter-skelter offense where he pretty much baits you to try to make a play to where they can run a route off of it," said
Chris Hope
, a one-time teammate of Roethlisberger's.
What's the answer to the little stuff?
Special teams:
Place-kicker
Rob Bironas
missed a 37-yard field goal attempt wide right. Later, he saw a 31-yard attempt blocked by
Aaron Smith
.
"I had a field goal blocked and a field goal missed," Titans head coach Jeff Fisher said, offering more when prompted. On the block there was penetration inside, on the miss the snap was low and despite a good hold Bironas was thrown off, Fisher said.
A team that is built for close games and relishes winning that way needs to be more dependable in such situations. It can't afford a 28-yard shanked punt by
Craig Hentrich
in crunch time, either.
Shouldn't a team with five preseason games of work be sharper in those departments?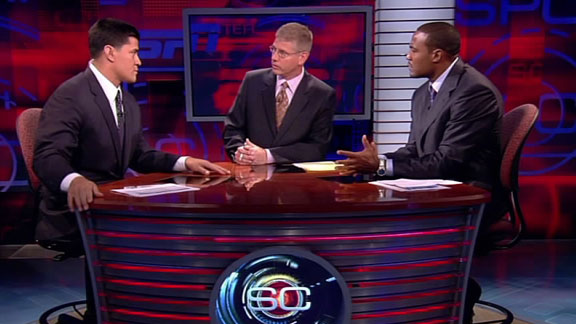 February, 23, 2009
2/23/09
6:18
PM ET
Posted by ESPN.com's Paul Kuharsky
After 2007 the Titans said they needed to get faster, particularly with playmakers on offense. The Texans added veteran offensive line coach Alex Gibbs to their staff and hoped to add a player who could help him renovate their running game.
The transformational player the Titans found at No. 24 in last year's draft was Chris Johnson. The Texans' huge third-round find was Steve Slaton.
The AFC South rivals landed speed at running back, speed that helped alter their offenses.
Of course combine 40 times need to be kept in context, and we need to remember plenty of players who post great 40s can't translate that success onto the field. Some players play much faster than they run.
That said, we've since seen that Johnson's and Slaton's 40 times were meaningful.
Johnson's time of 4.24 seconds in the 40-yard dash at least year's combine was the best by a running back between 2000 and 2009. And now we know that Slaton's 4.45 would have matched Virginia's Cedric Peerman for the best running back mark at this year's combine based on NFL.com's lists of the top 10 40 times by position.
I'm not one to get super excited about these numbers. But it's hard not to say if you wanted to add major speed to your backfield, you had a better chance last year than you will this year.
The Texans should now be aiming their high picks at defense. But the Titans may doubly benefit from landing a backfield blazer last year. (Side note: They tried to add a blazer in the second round in 2006, too. Chris Henry's 4.40 time in 40, 10th best for a back since 2000, has not translated to on-the-field performance. He's played in eight games, earning all of 32 carries.)
Now the always receiver-needy Titans find a group of prospects at the position with great speed -- the top 10 receivers ran 4.44 or better. Four receivers broke 4.4: Darrius Heyward-Bey (4.30), Mike Wallace (4.33), Johnny Knox (4.34) and Deon Butler (4.38).
Of course that in no way ensures the Titans will get a game-breaker in this draft, and we have to see how those times translate.
But Tennessee was fortunate, as was Houston, to land an especially fast back in 2007 and not be searching for one now.