AFC South:

Munchak fired by Titans
January, 6, 2014
1/06/14
9:10
AM ET
NASHVILLE, Tenn. -- After packing up his office and leaving a team headquarters that has long been a second home, fired
Tennessee Titans
coach Mike Munchak made it clear he didn't lose his job because he wouldn't fire his pals.
"It's not like 'Munch isn't here anymore because he wouldn't fire two guys,'" Munchak
told Jim Wyatt of The Tennessean
. "In my eyes, that's not what we disagreed on. There was more to it than that. Obviously they made it easy. They fired all of us so they could start over."
Munchak was asked to fire a good share of his staff in order to stay, including those "two guys," offensive line coach
Bruce Matthews
and linebacker coach Chet Parlavecchio, two of Munchak's closest friends.
At least two other assistants had to go in the plan laid out by president and CEO Tommy Smith and general manager Ruston Webster.
Mark Howard of The Wake Up Zone in Nashville reported that offensive coordinator Dowell Loggains was the final straw for Munchak, who didn't believe a change for the offense and quarterback
Jake Locker
would be helpful.
"It wasn't just about Chet or Bruce," Munchak said. "People say, 'Those are Munch's guys.' It was about the big picture. A lot of guys were going to be affected. If it was the right thing to do, I would do it. I have fired offensive coordinators (Chris Palmer) before. And I let go of a special teams coach (Alan Lowry)...
"I can't fire someone when I don't believe they should be fired. Firing someone is awful. Too many people were going to be affected. I didn't do anything to look like I was a great, loyal guy who went above and beyond the call of duty by not firing coaches. I did what you should do and what I thought was right. For me to maintain a job and a lot of guys lose jobs on a plan I didn't think was right, I couldn't do that.
"I'll make tough decisions, but not if they're not right."
In a tweet that didn't make the story, Wyatt also has this from Munchak:
Munchak: "I stand up 4 guys who are good coaches. It bothers me when people say I'm not here because I didn't want to fire my friends."

— Jim Wyatt (@jwyattsports) January 6, 2014
Here's a write up of an interview Munchak did Sunday night
on WKRN in Nashville
.
January, 5, 2014
1/05/14
1:22
PM ET
NASHVILLE, Tenn. -- So Mike Munchak's choice boiled down to this: lose his job as head coach of the
Tennessee Titans
or fire a large contingent of assistant coaches in exchange for an extension and raise.
He chose Option A, and it's understandable.

Munchak
Saturday, general manager Ruston Webster answered all the questions during a 20-minute news conference, but said he didn't have a comment about whether an extension was discussed as things were sorted out with Munchak.
The extension would have helped Munchak hire replacements for the fired staff -- which was going to include defensive coordinator Jerry Gray (who wouldn't have been fired, he just would not have been renewed), offensive coordinator Dowell Loggains, offensive line coach Bruce Matthews and linebackers coach Chet Parlavecchio.
"I think [Munchak] is a guy that people like to work for and I'm sure we would have been able to attract some coaches," Webster said of a lame-duck scenario.
Assistants were more likely to join Munchak's staff given two- or three-year contracts.
I initially presumed any extension would have amounted to an additional, papier-mache year.
But
per Chris Mortensen
, Munchak was offered "a multiyear extension at almost double his $3 million salary, conditional upon Munchak making more than a dozen staff firings and demotions."
While Munchak's loyalty was admirable, coaches who joined him last year on short-term deals -- receivers coach Shawn Jefferson and running back Sylvester Croom -- may now lose their jobs as a result of their boss' commitment to other assistants.
Yes, they'll be in line to still collect their salaries if they don't work elsewhere next year. But it's not only about the money.
One example: Jefferson's son, Van, is a rising senior receiver at Ravenwood High School in Brentwood, Tenn. A receiver like his dad was, he's
a top college recruit
. If his dad's job is elsewhere next year, the family will face time apart or an awkward move. That's life-altering stuff.
The biggest thing is, if president and CEO Tommy Smith and Webster were telling Munchak which coaches he had to fire, they would have certainly expected to approve those he went on to hire.
That would have effectively neutered Munchak going forward no matter his salary or length of his deal.
A four-year coaching contract in the NFL is set up for a determination to be made after three years. After three years, the body of work should indicate the coach is deserving of a second contract or needs to be replaced.
Munchak did not deserve an extension based on his 22-26 record, a 6-12 AFC South record and a 3-20 record against teams that finished with a winning record.
The Titans may have dressed things up for him. I'm unimpressed that Smith and Webster saw a scenario in which a multiyear extension and a raise were good ideas.
Ultimately Munchak didn't have much of a choice. He couldn't have stayed and maintained the level of control an NFL coach should expect, so he told them to fire him and saved them from a bad situation.
January, 4, 2014
1/04/14
8:37
PM ET
NASHVILLE, Tenn. -- So who's next in line to be coach of the
Tennessee Titans
?
My first choice would be Stanford coach David Shaw, but I don't think the Titans could lure him away from Palo Alto.
General manager Ruston Webster is connected to a lot of coaches who could be candidates from his time in the front offices in Tampa Bay and Seattle.
[+] Enlarge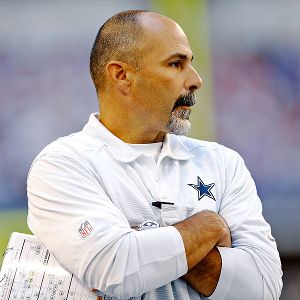 AP Photo/James D. SmithCowboys special teams coordinator Rich Bisaccia is a possible candidate for the Titans' head job.
I pondered many of
those connections
on Christmas Eve. Lovie Smith is off the board, hired by the
Tampa Bay Buccaneers
. His ties to ownership there would have made it tough for the Titans to get involved even if they had fired Munchak earlier and liked him. Jim Mora appears set on staying at UCLA.
But a few other coaches Webster knows could surface.
Dallas Cowboys
special teams coach Rich Bisaccia is a name I've already heard Webster will consider.
Cincinnati Bengals
offensive coordinator Jay Gruden or
Chicago Bears
offensive coordinator and line coach Aaron Kromer might be of interest.
Vanderbilt coach James Franklin, whose current office is only a couple miles from LP Field, is a high-energy coach who's very popular in Nashville. He has a bit of NFL experience. Adam Schefter says Franklin interviewed with the
Houston Texans
before they hired Bill O'Brien.
A Pennsylvania native, Franklin is reportedly in line to talk to Penn State about its opening. I feel he's a better fit with college kids than the NFL, but Webster certainly could feel differently.
Like Jim Wyatt of The Tennessean before me, I've heard Bisaccia and Seattle Seawhawks defensive coordinator Dan Quinn are guys Webster is likely to interview.
Before the Titans hired Munchak in 2011, I wrote about why I thought Bisaccia would be
a good candidate
for the job. It included a rave review from Jon Gruden and
Derrick Brooks
. (And a bad assessment by me of Raheem Morris.)
From what I've heard about Bisaccia, I think he might be a Franklin-type in the energy department. He'd bring far more experience coaching guys in the pro ranks. Already on Twitter some are crushing the idea. I'm asking them if John Harbaugh was a bad hire for the
Baltimore Ravens
. He won the Super Bowl with Baltimore last year and was hired by the Ravens with a resume that was predominantly overseeing special teams with the
Philadelphia Eagles
. A top special teams coordinators should have head coaching qualities, and it's an outside-the-box idea worthy of consideration.
Arizona Cardinals
defensive coordinator
Todd Bowles
and
Cleveland Browns
defensive coordinator Ray Horton have been popular names with regard to remaining openings and it would be no surprise if Webster considered them.
Greg Roman of the San Francisco 49ers is among the most popular offensive coordinators in the NFL right now.
One guy I do not think will draw Webster's attention:
San Diego Chargers
offensive coordinator Ken Whisenhunt, the former coach of the Cardinals. I don't think Webster is a big fan.
Mike Mularkey (not working this season) and
New York Giants
defensive coordinator Perry Fewell interviewed with the Titans when Munchak was hired in 2011. Mularkey got the
Jacksonville Jaguars
job in 2012 and was a one-year disaster.
January, 4, 2014
1/04/14
7:04
PM ET
NASHVILLE, Tenn. --
Tennessee Titans
general manager Ruston Webster will be the central figure in selecting the team's new head coach.
Working for a new president and CEO, Webster will have a great degree of power.
Tommy Smith took over the franchise in late October, after his father-in-law, the team's founder and owner Bud Adams, died.
Webster and
Mike Munchak
went home Friday evening after returning from a meeting with Smith in Nashville and slept on it. They spoke by phone Saturday and concluded Munchak could not continue as coach.
"In the end we were not able to agree on the future or direction of the franchise and I felt it was time to make a change," Webster said. "So we move ahead into the next phase of the Tennessee Titans and look for the next coach and for great things."
To a follow up question about that answer, Webster said he and Smith decided.
Webster is hardly a power monger. And maybe it was just a default word choice. But I thought his use of "I" was significant here. It, and his tone through 15 minutes at a podium alone for the first time, says Webster was the key decision-maker. I believe that to be the case given Smith's inexperience.
Now Webster will make his first coaching hire, calling on the situation he's watched in Tampa Bay, under Rich McKay, and Seattle, the two places he worked before joining the Titans front office in 2010.
He said a person in his position will always have a list of potential coaches in case this situation arises. At least one is part of a staff in the playoffs, he said, and there could be an in-house candidate interviewed. That would almost certainly be senior assistant/defense Gregg Williams.
Two outside candidates for the job, according to Jim Wyatt of The Tennessean, will be Seattle defensive coordinator Dan Quinn and Dallas special teams coach Rich Bisaccia.
Munchak's staff has not been told anything, and Webster intends to talk to them Monday.
January, 4, 2014
1/04/14
6:58
PM ET
NASHVILLE, Tenn. -- The
Tennessee Titans
just issued the following statement from Mike Munchak:
"This is a day I hoped would never come, but there is a reason for everything. Words cannot express the sadness for leaving this organization that I have been a part of for over 30 years.
"My goal as head coach was to do things the right way with the right people and I felt confident that the results would follow. Sometimes rebuilding a team and its culture takes time, but I truly believe we were on the verge of great things. Unfortunately my vision did not match that of the organization, so we will part ways.
"My family and I would like to thank the Adams family for all of the opportunities that they have given me over the last three decades.
"I also would like to thank my players and staff for their on-going support and I wish them all the best.
Also, to the fans that have hung with me, I want to say 'thanks.'"
January, 4, 2014
1/04/14
5:17
PM ET
NASHVILLE, Tenn. -- The Titans have great affection for Mike Munchak, who had been with the organization since he was the Houston Oilers' first-round draft pick out of Penn State in 1982.

Team president and CEO Tommy Smith said early on a decision on Munchak's fate would be torture.
So after Munchak and GM Ruston Webster met a bunch this week, Smith and the GM met with Munchak in Houston on Friday.
Munchak was told of the changes he'd have to make in order to remain on, and returned to Nashville to ponder them.
Saturday he apparently declined, resulting in his firing.
Perhaps the way the Titans played this was a masterstroke?
They didn't outright fire one of the most beloved and important figures in the team's history. They put him in a situation where he was the one making a decision. But without an extension, having to replace several assistants, including, presumably, two of his best friends, was untenable.
How could Munchak have made big changes, including with offensive line coach Bruce Matthews and linebacker coach Chet Parlavecchio, when all he had to sell new assistants would have been a year?
The guys Munchak may have gotten fired over will still be fired themselves, just not by Munchak.
I thought Munchak would have a hard time with cutting members of a staff he crafted just to his liking a year ago. Still, the lure of the job usually outweighs such things in the NFL.
In Munchak's case, it appears he stood up for his people.
A commendable end for him and a fresh start for a team that needs one arrive in one move.
January, 4, 2014
1/04/14
3:53
PM ET
NASHVILLE, Tenn. -- Former Titans head coach Mike Munchak was a likeable, sincere guy who didn't don pom-poms, make a lot of public appearances or do a lot to help the team sell itself.

There are a number of ways the Titans can go in an opposite direction from Munchak now, but I think his replacement is highly likely to be a high-energy guy who's very visible.

He'll be ready and willing to spend extra time at a Kiwanis Club if that's what team brass feels is needed to give the franchise a jolt and energize a lagging fan base.

Munchak did well selling himself to Bud Adams, the late owner who promoted him to the top job in 2011.

He didn't do nearly as well selling himself or his team to the public. His biggest shortfall was in performance -- the Titans were 22-26 in his three years, 3-20 against teams that finished with a winning record. His inability to sell himself and his vision to fans might have been second on the list of his shortcomings.

The Titans' next coach needs to be a top-flight communicator who can connect with fans.

I bet he will be.
January, 4, 2014
1/04/14
3:18
PM ET
NASHVILLE, Tenn. -- The
Tennessee Titans
just issues this statement from general manager Ruston Webster:
"First I want to thank Mike Munchak for his professionalism through this process and thank him for his years of dedication to the Titans/Oilers organization. He is first-class and I wish him and his family nothing but the best. I also want to praise Tommy Smith for his involvement during the weeklong process. He was thorough and thoughtful.
"The last week has been a difficult time trying to navigate through many issues to find the best resolution for this franchise moving forward. Tough choices were presented to all sides and the end result was to part ways and move forward without Mike.
"We will immediately begin a search for a new head coach.
I am confident that we will find a coach that can continue our growth as a team and lead us to sustained success."
January, 4, 2014
1/04/14
2:54
PM ET
NASHVILLE, Tenn. -- Mike Munchak is an admirable, dignified and honest man. He's been a loyal employee of the Oilers and Titans since 1982.

Munchak
But the Pro Football Hall of Fame offensive lineman is a position coach who was given the job as head coach of the
Tennessee Titans
because he was tight with late owner Bud Adams. He reveled in talking with Adams about the franchise's history and glory days, and that was a big part of him getting the job. It was not because he showed some behind-the-scenes promise as a coach with no experience as a head coach or coordinator.
Now he's a former NFL head coach
, fired by Adams' son-in-law, team president and CEO Tommy Smith, per a report from Chris Mortensen.
Munchak was fresh air at the start, talking about how he expected guys to know and do their jobs and preaching about how everyone on the team needed to "be a pro."
But his team full of pros in his third season lost to a Houston team that won only twice, managed a loss to the 0-8 Jaguars and finished 7-9 after pledging a dramatic improvement following 2012's 6-10 disaster.
This year's team was better. It didn't get blown out. It didn't stop fighting. But it was not better enough.
Quarterback
Jake Locker
, who missed nine games this season because of injuries, has not established himself as a franchise player at the position. Munchak was fully on board with selecting Locker eighth overall in the 2011 draft.
Now a new coach will have a year to sort out what Locker is while Munchak is likely to wind up a highly coveted offensive line coach with multiple options to move to another team if he wants to. He could also be in play for the vacant head coaching job at his alma mater, Penn State.
While he maintained the respect of his players, Munchak and his staff were poor at adjusting to game circumstances that strayed from the initial plan.
In that regard he seemed like many very successful professional athletes who didn't fare nearly as well when they became head coaches.
As an NFL offensive guard, he could formulate a plan and execute it because he was so good.
As an NFL coach he didn't have anything close to the same advantage.