AFC South:

Music City Miracle
July, 11, 2014
Jul 11
10:00
AM ET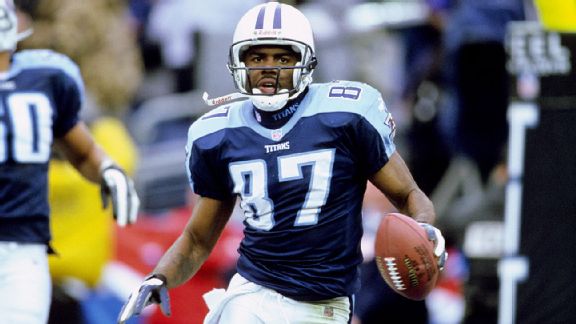 Allen Kee/Getty Images
Score:
Titans 22, Bills 16
Date:
Jan. 8, 2000
Site:
Adelphia Coliseum
ESPN.com readers rated the Music City Miracle the franchise's most memorable play in a landslide vote, and they got it right.

Mike Renfro's non-catch catch in the 1979 AFC Championship Game influenced the creation of the instant replay system and hurt the Oilers badly. Had it gone the other way, maybe the Oilers would have won the game and a Super Bowl. Maybe Bum Phillips would have coached them for more than one more year. Maybe they never would have moved.
Kevin Dyson's fruitless reach for the end zone that came up 1 yard short on the final play of Super Bowl XXXIV is an iconic NFL play, but much more for the Rams and Mike Jones, who made the tackle.
But two "negative" plays never stood a chance against a phenomenal positive play.
The Music City Miracle is a prominent fixture in lists and videos of all-time great finishes in the NFL and in sports.
It was a creative surprise. It pulled a win out of a loss. It sparked a playoff run.
It made or enhanced reputations for coach Jeff Fisher; play architect Alan Lowry; Lorenzo Neal, who fielded Steve Christie's squib kickoff; Frank Wycheck, who threw the lateral; and Kevin Dyson, who fielded the lateral and scored a 75-yard touchdown.
Although it seems clear that the throw didn't go forward, good luck convincing anyone in Buffalo of that.
The lasting controversy over that only helps to make it more memorable.
The most memorable play in the franchise's history.
July, 8, 2014
Jul 8
10:00
AM ET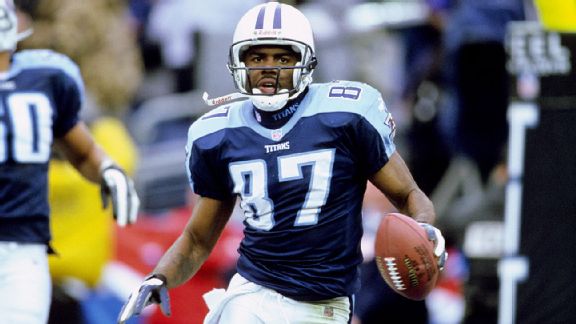 Allen Kee/Getty Images
»
VOTE HERE
»
NFC Plays:
East
|
West
|
North
|
South
»
AFC:
East
|
West
|
North
|
South
This is one of three nominations for the most memorable play in team history. We've already looked at Mike Renfro's non-catch catch in the 1979 AFC Championship Game. We will also feature Kevin Dyson's desperate, unsuccessful reach for the end zone that came up a yard short of forcing overtime as time expired on Super Bowl XXXIV. Please vote for your choice as the Oilers/Titans' most memorable play.
Score:
Titans 22, Bills 16
Date:
January 8, 2000
Site:
Adelphia Coliseum
As a head coach, Jeff Fisher prided himself on having his team ready for everything.
In a playoffs-or-pink-slips season, the franchise's first as the reinvented
Tennessee Titans
, Fisher got to offer the best possible example of that.

The Titans fell behind 16-15 with 16 seconds left in a wild-card playoff game after Steve Christie hit a 41-yard field goal.
The Titans responded with "Home Run Throwback," a play designed by special teams coach Alan Lowry. It called for Frank Wycheck to field an expected squib kick, sell the coverage team he was returning it to the right, and then whirling and throwing a lateral to Derrick Mason.
Mason was out with a concussion, however, and his backup for the play, safety Anthony Dorsett, was also unable to play.
Kevin Dyson was quickly coached up to take on the role.
It wasn't Wycheck, but Lorenzo Neal who fielded the kick. He handed it back to Wycheck, who sold the fake and made the throw. Dyson came back to collect the low throw, turned and sprinted into wide-open space with a convoy of blockers ahead of him. He pulled up and eased into the end zone for a 75-yard touchdown.
It withstood a replay review by referee Phil Luckett, and provided the winning margin for a team that went on to make the franchise's lone Super Bowl appearance.
The Music City Miracle added to the lore of Buffalo sports teams coming up short, while creating an incredible story in Tennessee in just the ninth meaningful game played in the stadium built to draw the Oilers from Houston to Nashville.
May, 20, 2011
5/20/11
1:02
PM ET
Examining the most crucial event in the history of every team in the division.
Peyton Manning
melded a team and a town, resurrected the once-proud horseshoe and will finish up as a contender for the greatest of all time on the quarterback list.
There is no minimizing his impact.
Said DaveatIU: "Without drafting Peyton Manning... they would be the Los Angeles Colts right now. 'Nuff said."
The Blog Network offered four choices per team, plus the option to vote "other." And out of 160 total options, the drafting of Manning got a higher percentage of votes on his team's ballot than anyone or anything else.
As of Thursday afternoon, Manning had a whopping 87 percent of the Colts' vote. He didn't win by a little. He outpointed the next three biggest Flash Points in your eyes by 18 percent: Joe Namath's guarantee for the Jets, the Broncos trade for
John Elway
and the Packers' hiring of Vince Lombardi were all at 69 percent.
In general, AFC South voters went modern. With the Jaguars and Texans, there is no other choice. With the Colts and Titans, you chose not to hearken back to Baltimore and Houston, respectively.
I understand many of you don't regard Baltimore/Indianapolis and Houston/Nashville as single histories. But we don't get to decide. The Irsay and Adams families did.
As edutil21 wrote: "The question is asking about the colts FRANCHISE, not the cities of Indianapolis or Baltimore, and with that in mind it is perfectly plausible to include anything that occurred during the Franchise's time in Baltimore."
And so, as big a moment as drafting Manning was in setting his franchise's course, I think my vote has to go to The Greatest Game Ever Played, the 23-17 overtime win over the Giants in the NFL Championship Game at Yankee Stadium in 1958.
Without that game, are we certain the league turns into an entity where Manning has the chance to make the impact he has?
j_sleik83 was disgusted with the balloting: "And the idiots voting reign supreme. It's the 58 title game. In NFL history it's number 1, much less Colts history. And btw, Johnny Unitas is still the greatest QB in Colts history."
Added CPCaesar: "Do Colts fans have zero sense of history?! I can understand a strong showing for Peyton, but to have him blowing out the game that made the NFL into a televised sport is ridiculous! This team has a legacy that includes Don Shula and Johnny Unitas, but it seems as if their impact on the game is lost on a modern fan base…"
There was also a pretty good other mentioned by a few, including krankor: "The actual Colts Flash Point didn't even involve the team. It was in 1955 when the
Pittsburgh Steelers
brilliantly decided that it would be a shrewd move to cut Johnny Unitas."

TITANS: Epic playoff collapse set stage for relocation
With the Titans, modern also ruled. I understand why 52 percent of voters clicked the button for The Music City Miracle.
For Nashville sports fans to get a play like that in the team's first year as the Titans, in the city's first playoff game, was absolutely remarkable. It put the team's claws into everyone with any sort of interest that day for the long haul. Quite frankly, it spoiled them, too.
With apologies to greenlawler and the majority of voters, I've got to go a different direction again.
The Oilers/Titans are, historically, average at best. Since the AFL-NFL merger, the team has had 18 winning seasons, 17 losing seasons and six .500 seasons. It's 14-19 all-time in the playoffs even counting the AFL days when it won a couple of titles. Since the Music City Miracle season, the team is 2-5 in the playoffs. What was transformed?
Put the MCM aside, and the biggest historical moments for the franchise are generally not wins: A yard short of overtime in its one Super Bowl appearance; back-to-back AFC Championship Game losses in Pittsburgh to end the 1978 and 1979 seasons; and the firing of Bum Phillips after an 11-5 year in 1980.
And the mother of bad playoff moments, that epic playoff collapse in Buffalo on Jan. 3, 1993, when the Oilers blew a 35-3 lead to lose 41-38 in overtime.
That's the Flash Point to me.
What if that team or the 12-4 team a year later (that was scarred by that disaster), went to a Super Bowl? What if it won a Super Bowl?
Surely Bud Adams would have maintained a better standing in the city, which would have been more willing to build a new stadium. Take away that loss, and there still could be a team in Houston wearing powder blue and an oil derrick. (And a guy like me, who got his big break in sports writing because Nashville got an NFL franchise, might be an admissions director at some private high school.)
So I align with mag5011ad: "If they don't blow that 32 point lead, I think they represent the AFC in the Super Bowl, not the Bills. With that excitement in the city, they get the support to build a new stadium, which keeps the team in Houston. Most defining moment. . ."
JAGUARS: Quick Final Four appearance boosted city
A trip to the AFC Championship Game in the Jaguars' second season of play had quite an impact on the market in 1996. It got 52 percent of your votes as the Jaguars' Flash Point, and I am in agreement.
But your comments were mostly about the 1999 season, when the Jaguars hosted the AFC Championship Game. They lost to the Titans for the third time that year, in a season which they lost to no one else.
Said markpark64: "I would say the 1999 AFC Championship Game. It was the last home playoff game and ended a run of four straight playoff appearances. The Jags' history can really be divided into pre-1999 (2 AFC Championship Game appearances in 4 years) and post-1999 (only 3 playoff games and 1 playoff win in over 10 years). The team has not been the same since the 1999 loss."
You also wanted to spin forward, which isn't the game we're playing but was understandable.
Said SeattleJaguar: "It may be too soon to say, but I think the promotion of Gene Smith to GM will be looked at as the most significant turning point for this franchise. The fan base is starting to become more mature and a unique football culture is beginning to establish itself. We are seeing a young, die-hard, fan base emerge from the 'Jaguars babies' of the 90s. If you go to any games, its remarkable how young the fans are and they will stay loyal to the Jags, unlike the old farts that abandoned the team after the 90s. Go Jags!"

TEXANS: Controversial draft choice proved correct
Texans fans voted, narrowly, for the drafting of
Mario Williams
in 2006 over the awarding of the franchise in 1999.
The Texans got crushed for the selection, but history shows they knew exactly what they were doing. He's a superior player to
Reggie Bush
or
Vince Young
.
The decision to draft Williams did not transform the team, but there is nothing that's boosted a nine-season-old team in such a dramatic fashion.
Said vonstev1668 "Though I voted for the win against the Cowboys [in the franchise's first game], the truth is the Texans haven't had their defining moment yet."
Said EMajorwitz: "Trick question, hasn't happened yet. [Dom] Capers and [Charley] Casserly essentially ruined this team with their horrible drafting and free-agent signings. Other than
Andre Johnson
, I don't like a single first-round pick. Nearly a decade into the franchise's history and we still haven't made the playoffs while recent expansion teams like Carolina and Jacksonville have been deep into the playoffs."
May, 11, 2011
5/11/11
1:04
PM ET
What key event significantly changed the fortunes of the Titans -- for better or worse? Give us your take and we'll give you our definitive moment on May 20.
Do you lean happy or sad, positive or negative?
The Houston Oilers/
Tennessee Titans
have extreme moments on both sides of the ledger. So as we look to select only one as decisive, do we turn to the good or the bad?
The Luv Ya Blue Oilers were a wonder, and in 1978 and 1979 they may well have been the second-best team in the NFL. Unfortunately for them, they resided in the same division as the best team, the
Pittsburgh Steelers
. When they fell short of a third consecutive trip to the AFC Championship Game in 1980, owner Bud Adams regrettably fired coach Bum Phillips.
But if you're looking for a tough turning point -- one that might now even outscore the other Houston option -- there's the famous playoff collapse in Buffalo in January 1993, when the Oilers blew a 35-3 lead. Rare is a significant collapse in an NFL game, or a playoff game in any sport, where the Bills' comeback on the Oilers isn't referenced.
Perhaps for Houston, even that was topped by the Oilers' departure, but of course in Nashville that qualified as a happy occasion.
And while the appearance in Super Bowl XXXIV was the franchise's football high point, it became possible thanks largely to the Music City Miracle, an improbable, last-second trick kickoff return that beat Buffalo in the 1999 playoffs.
You're invited to do better than I've done here.
If you vote Other, give us your suggestion in the comments area below.
June, 29, 2010
6/29/10
11:15
AM ET
Notable players:
LG
Bruce Matthews
, QB Steve McNair, RB
Eddie George
, DE
Jevon Kearse
, CB
Samari Rolle
, WR
Derrick Mason
, S
Blaine Bishop
, TE
Frank Wycheck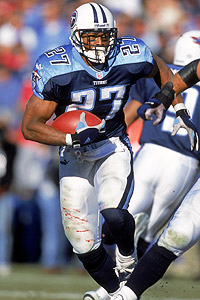 Scott Halleran/Getty ImagesEddie George rushed for 1,509 yards and 14 touchdowns in 2000. He also caught 50 passes for 453 yards and two scores.
Analysis:
While the Titans were transformed by reaching the franchise's first Super Bowl during an improbable run in 1999, most insiders -- and this observer -- believe the follow-up team was better.
Fred Miller
wasn't as good as
Jon Runyan
at right tackle, but
Randall Godfrey
was a significant upgrade over
Barron Wortham
at middle linebacker. The defense allowed 133 fewer regular-season points than the year before. The addition of offensive coordinator Mike Heimerdinger also qualified as an improvement. These Titans weren't discovering they were good, they knew they were good, rolling to a 13-3 season.
An opening-night loss at Buffalo was a grudge match over the Music City Miracle, but Tennessee responded with an eight-game winning streak. The Titans won in a variety of ways. They beat the Giants 28-14 and the Steelers 9-7, adapting to what a certain Sunday may have demanded.
They also lost close games to Baltimore and at Jacksonville. The total margin of their three losses was seven points.
With the NFL's best record and as the No. 1 seed, the Titans felt primed to return to the Super Bowl and win it. But they were undone by the rival Ravens, who upset the Titans in Nashville with big defensive and special-teams performances that sparked a run to a championship. Jeff Fisher says the 2000 Titans are the best team he's coached, which made the loss to the Ravens all the harder to swallow.
Most impressive win:
The Giants were ranked as the NFC's best team in 2000, and the Titans beat them by two touchdowns on Oct. 1.
Research room:
While it was the Ravens' year, and they are regarded as an all-time defense, it was the Titans who finished the year as the NFL's No. 1-rated defense.
Honorable mentions:
1993:
This edition of the Houston Oilers, which had two Hall of Fame offensive linemen in
Mike Munchak
and Matthews and a Hall of Fame quarterback in
Warren Moon
, rattled off 11 consecutive wins to conclude the regular season and finished 12-4. But they lost their first playoff game to Kansas City.
1961:
The Houston Oilers were 10-3-1 and won their second AFL championship in a row with 13 players who were in the AFL All-Star Game.
1999:
The Music City Miracle came to define a gritty, prepared, never-say-die team. They won their first playoff game thanks to the last-second trick play and came a yard short of forcing overtime on the final play of the franchise's lone Super Bowl appearance.
February, 20, 2010
2/20/10
3:47
PM ET
NASHVILLE, Tenn. --
Frank Wycheck
and
Kevin Dyson
, both Nashvillians after football, have answered question about the Music City Miracle for more than 10 years now.
But the guy who got the play started,
Lorenzo Neal
, has always been a missing piece here.
Until today.
At "SPORTSFEST," an event hosted by 104.5 The Zone (the radio station I do some work for on Wycheck's show), the three took the stage together and discussed the play for an hour. And Neal's take was what an excited crowd wanted most to hear about.
Dyson said he was sick of taking calls from people looking for Neal, and was the first of the three to note how "the other eight guys on the field did their job to make the thing work." It was a nice nod to guys like
Terry Killens
,
Greg Favors
and
Perry Phenix
, who were all eventually mentioned.
Here's Neal on fielding the kick. The lighting wasn't great and my hand wasn't steady, but I thought Titans fans would like to see this snippet even so:
A few other notes:
Neal was heartfelt talking about his feelings concerning the impact of the play and how it still brings people together. He was the star of the show, and fairly so. He was an immensely popular player in 1999 and 2000 when he was with the Titans. Wycheck joked about how many people attended just in hopes of landing "the third autograph" on their memorabilia.
Wycheck talked about how the Titans never kicked the ball to Neal when they practiced the tricky kickoff return.
Dyson said he had no idea what all the fuss was about after the play in terms of Wycheck's lateral. The way he moved to get the ball he thought it was clear cut. Only when he got home and saw replays did he realize how close it was.
January, 8, 2010
1/08/10
12:56
PM ET
A year ago, a bit confused about which anniversary it was, I wrote something about the meaning of the Music City Miracle.
When I realized it was the ninth anniversary, not the 10th, I stashed it. An easy post in a year, I told myself. Just working ahead. (Yes, I have trouble counting sometimes.)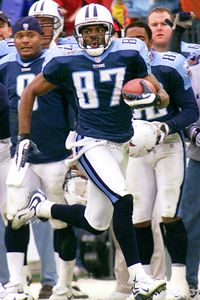 AP Photo/Wade PayneFriday marks the 10-year anniversary of Kevin Dyson's touchdown and the Music City Miracle.
Then a few months ago it disappeared when my hard drive fizzled. (Yes, I know, I now have Mozy.)
I can't reconstruct the magic for you, the second version of a lost file is never as the first good for me.
But here's the gist:
Two years ago I spent a significant amount of time piecing together a book pitch, and I'm realizing now as I start to look for it that it also disappeared with that hard drive. I did email myself a copy, so thankfully it lives on for posterity.
"Makings of a Miracle: How one historic, game-winning play transformed a team and tied together a town" didn't really take off. The one publisher I had look at the proposal, which was good, and a sample chapter, which didn't match the quality, passed.
And as other things -- like a certain job at ESPN.com came about -- I didn't pursue it further.
Part of the reason, too, was that as I researched things to write the proposal, and I looked back on the 1999 Titans and the Music City Miracle, I concluded that a big piece of my premise was probably off.
The play was an incredible thing for everyone involved and everyone who was invested in that team.
It was transformative for the franchise, and it did tie together a town.
It would have been very interesting for that audience, and perhaps to one extending beyond, to learn how exactly it came together and played out, and how it impacted the lives of those involved in it.
But it didn't hardly turn into the Immaculate Reception or Christian Laettner-to-Grant Hill, or Bobby Thompson off Ralph Branca.
And it didn't have to.
While people here still talk of where they were when it unfolded and how they reacted, it wasn't a necessary ingredient for a place to become a "legit" NFL city.
While it certainly served as an accelerant, Nashville would be just fine without it. Ten years later, I am not sure I really believe that much would have changed had it not happened.
That said, it's hard to imagine I'll ever be in such close proximity to a sports moment that tops it. I was at the 10-yard line as Kevin Dyson slowed and entered the end zone, sharing my disbelief with an entire city and most of a state.
Book or not, we'll always have that.
So cheers today to Lorenzo Neal, who fielded Steve Christie's kickoff and handed it back to Frank Wycheck, to Wycheck who threw the lateral, to Dyson who caught it and took it 75-yards for an incomprehensible last-minute touchdown that pushed the Titans into the divisional round of the playoffs. Here's to Perry Phenix, Greg Favors and Terry Killens, who led the blocking caravan. Here's to Alan Lowry, the assistant who drew up the play, and Jeff Fisher, who had his team ready to run it.
You're all officially old.
December, 2, 2009
12/02/09
9:40
AM ET
Houston Texans
Bob McNair wants to see how Gary Kubiak
handles this critical time
, writes John McClain.
McNair backs Kubiak
, says Mark Berman.
"They commit penalties at the worst time. They can't make a big play when it's needed the most. They have this false bravado that turns to falsetto when the pressure's on." McClain says the Texans' finish is
crucial for Kubiak
.
Dunta Robinson
hasn't played like
a top-five corner, says Alan Burge. Robinson plays a prominent role in
this play I detailed
.
Indianapolis Colts
The
revolving door
continues for Josh Thomas, says Phillip B. Wilson.
Let's appreciate what the Colts have done
so far
, says John Oehser.
Pierre Garcon is
on the rise
, says Deshawn Zombie.
Jacksonville Jaguars
Rashean Mathis
won't play
against the Texans, says Jay Gray.
The Jaguars have one of the toughest
remaining schedules
for wild-card contenders, says Michael C. Wright.
A
Q&A
with Marcedes Lewis, from Wright.
All teams go through
cycles
, says Vic Ketchman.
Tennessee Titans
Chris Chase says
the Music City Miracle
was the play of the decade. Thanks to the Music City Miracles blog for the link.
A look at
Chris Johnson's pace
.
Merril Hoge's opinion
on Vince Young is evolving, says Jim Wyatt.
An improved defense has helped
key the turnaround,
says Terry McCormick.
Five things
Wyatt knows about the Titans, including Kenny Britt being the best option at kick returner.
Young is AFC offensive
player of the week
, says McCormick.
Stampede Blue is
not sold
on Young, yet.
Joe Biddle is
unimpressed
with special teams.
November, 13, 2009
11/13/09
9:59
AM ET
Houston Texans
Indianapolis Colts
Jacksonville Jaguars
Tennessee Titans