December, 3, 2012
12/03/12
2:03
PM ET
Matt Ryan
's slipped out of contention, and I'll be hugely surprised if
Peyton Manning
,
Tom Brady
or
Aaron Rodgers
doesn't wind up NFL MVP.
All year I've thought the idea of
J.J. Watt
, or any defensive player, winning the MVP award was beyond a long shot.

But I have come to this: If a guy having the disruptive season Watt is having doesn't win it, I wonder if we will ever see a defensive player win more than defensive player of the year again.
(Mike Sando's most recent
MVP Watch
had Watt fifth.)
Against the Titans, Watt had a sack, a batted ball and a tipped pass that resulted in an interception. Those three pass disruptions give him a league-high 30.5 drop-backs disrupted this season. Watt has disrupted 6.0 percent of opponent drop-backs, also the best mark in the NFL.
With 15.5 sacks and 15 deflected passes, Watt's done something never done before -- and there are still three games remaining.
Gary Kubiak said what Watt's doing is "off the charts."
At that pace, he'll finish with 20.5 sacks and 20 batted passes.
Those are giant numbers. They aren't 4,669 passing yards (which Manning is on pace for) or 38 passing touchdowns (the pace of Manning and Rodgers), though, and they probably won't result in more than defensive player of the year honors.
January, 9, 2010
1/09/10
9:55
AM ET
Mike Chappell was
first to report
that
Peyton Manning
won his fourth MVP award.
[+] Enlarge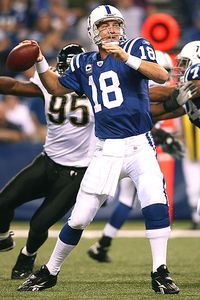 Tim Umphrey/Getty ImagesPeyton Manning won his fourth MVP in a landslide.
No player has ever won it four times before.
The AP story
, now out as well, says he got 39.5 of the 50 votes, with
Drew Brees
getting 7.5.
In a season in which Manning relied on two inexperienced receivers to go with
Reggie Wayne
and
Dallas Clark
, he had his best year with accuracy ever (a 68.8 completion percentage) while throwing to rookie
Austin Collie
and second-year man
Pierre Garcon
.
He led the Colts to a 14-0 record and a super-early clinching of the division title, the bye week and home-field advantage throughout the playoffs while making fourth-quarter comebacks look routine.
It's hard to imagine him leading more and doing more to set the tone for the franchise, but he made gains in both departments during Jim Caldwell's first season as head coach.
I was fortunate enough to see the Colts in person nine times this season and gained even more of an appreciation for Manning's play and precision.
During the Colts' 35-31 win at Jacksonville on Dec. 17, I never felt any doubt about who was going to win, even though the Jaguars did some great work and made plays that helped create a thriller.
I compared it to the movie "Apollo 13." You knew the astronauts were going to make it back, but it was still compelling and entertaining to see how NASA and the guys in the capsule were going to find a way. Manning and the 2009 Colts had much the same feel.
I think he's the best player in the league right now, and he would have gotten my vote.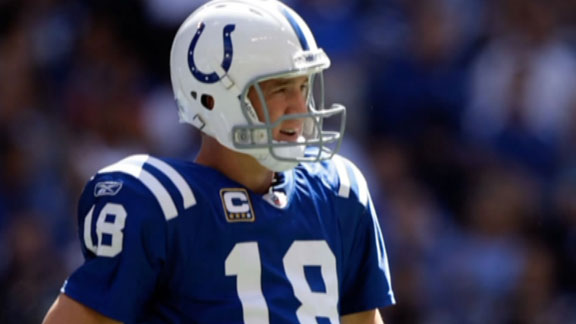 January, 4, 2010
1/04/10
12:17
PM ET
A rare re-post:
This may have gotten lost in the New Year's Eve shuffle for some of you, and since ballots for MVP and season-end awards are due today, I think it's still pertinent in case you missed it.
I show you the whole list of 50 voters and get into the construction and geography of the panel.
If you want my take on how some permutations can help the Browns but hurt the Jaguars, please head
here
.
If you've seen it already, my apologies for doubling up.
December, 31, 2009
12/31/09
4:35
PM ET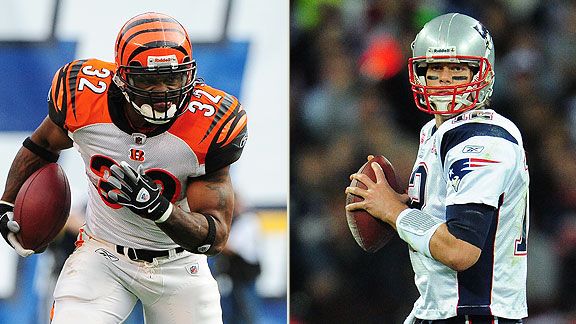 US Presswire, Getty ImagesCedric Benson and Tom Brady are both top candidates for comeback player of the year, but is Benson at a disadvantage because no one on AP's panel of voters covers the Bengals?
Peyton Manning
is expected to win the NFL MVP award, which will come to light Jan. 9.
Like the three he's won before, the MVP award won't come with the support of Indianapolis Star reporter Mike Chappell or any other reporter from any medium who has seen all of Manning's games. That's because no one who covers the Colts has a vote.
Manning's win will be primarily a testament to his performance, and perhaps a bit of a testament to voter habit. It also speaks to the national scope of the league the voters cover and the neutrality of the panel put together by the Associated Press. Still, I believe the system can be seen as somewhat flawed.
The 50 voters will submit their ballots Monday and the news of the seven individual awards and the All-Pro team will start coming out Tuesday.
I've voted once, in 1995 when I covered the Raiders for the Oakland Tribune. Back then it was my understanding that there was one voter from each NFL market among the panelists. I am told that hasn't been the case for some time even though many people, including several voters I've spoken with, still believe it is. AP says it has not fueled that impression.
"It's really pretty tough to put a panel together," AP sports editor Terry Taylor said. "… We have a core who does a very, very good job -- who are conscientious, who call, who ask questions, whose jobs really haven't changed that much. If you look at the list, it is pretty much a national list. That's not the end-all be-all, but we don't tinker with it too much."
"… If you look at some of the names on here, we're very proud of this panel. There wasn't a lot of, 'Let's build another contraption.' "
AP is quick to provide the list of voters (see below; it includes three people who work for ESPN: Chris Berman, John Clayton and Chris Mortensen) and I've given it a thorough look this week.
Barry Wilner, AP's football writer, oversees the panel and manages the votes and results. He and AP are not focused on balance, either in terms of voters' primary focus on their jobs or where they live and work.
"We try to get the most informed vote that we can get," Taylor said. "That's not only for this panel, that's for the polls that we have. It's folks who pay attention to the game, who cover the game, who make it their business not to focus on just one team but are informed about the sport of pro football."
The emphasis is on national reporters and analysts who watch multiple games or travel the country getting close looks at numerous teams over the 17-week regular season.
I understand that and think it's a reasonable approach for the individual awards, though maybe not the most effective way to determine the All-Pro teams. It's the smattering of local reporters that causes me some concern.
There are 21 by my count who may follow the league but are locked in on one team all season, following a team home and away. Their presence has the potential to throw things off for the 12 teams whose markets don't have such a focused representative.
It's complicated, of course. In these economic times, a "national" NFL newspaper writer often isn't heading to see a different game every week. Instead he can be cast as a home-team columnist on game day or he can report to work one day to find out he's become part of the coverage team on the local beat. At least a dozen panelists fit that category.
Two voters the AP considers national cover the
Cleveland Browns
full time, including home and away games. I suspect if a left guard from the AFC South or NFC South -- divisions that have only one voter tied to them -- lost an All-Pro spot narrowly to a member of the Browns, there could be fair grounds for debate.
"What would we tell somebody if he lost out to a guy from Cleveland?" Taylor said. "We're pretty transparent. We'd call the voters. You got the list. We don't keep that a secret. We can ask them what they thought."
Seeing a player more often in person doesn't necessarily sway an opinion or a vote. I believe all these people strive to be impartial, following the entire league more than well enough to fill out a fair ballot.
It takes reporting beyond what they do for their jobs to do it well, and if they do it well the AP holds on to them tight. They are unlikely to be praised for getting it right, and very likely to be bashed if something comes to light where they are perceived to be wrong. All for free.
But each person is on the panel because of his specific expertise, which surely has a bearing on his opinion. And through networks that connect them, semi-formally and informally, they exchange thoughts on candidates and make the case for or against players or coaches they cover.
National or not, the fact that the AFC East has a voter connected to each of its teams means more visibility through voters' lenses for a player on a team in that division than for one in the AFC South or NFC South.
In 2003, when Manning and
Steve McNair
split the MVP award, there was a voter who covered the Titans, but not one who covered the Colts. The Titans writer backed McNair. If there had been a vote out of Indy, it could have offset that and McNair might not have won his half of the trophy.
That's an extreme example, and we can pick apart any vote in any variety of ways. But when we're talking league history, Hall of Fame résumés and contract bonuses, perhaps the potential for such things needs to be minimized.
Geography is not a big factor for AP when considering national voters.
Why should their location be an issue?
Well, I lean toward Cincinnati running back
Cedric Benson
for comeback player of the year, but
Tom Brady
is a popular candidate as well. Maybe with TV and the Internet, no one really qualifies as local anymore. Still, I'd feel better about Benson getting a fair shake against such a notable name and story if a Cincinnati representative were in position to make a case for him in the chatter building up to the voting.
It seems most fair to me to have a voter from each of the 32 markets plus national folks, but the days where that's feasible are probably ending as the media landscape continues to evolve. There were about six spots that changed hands this year.
We shouldn't expect a perfect distribution, and it shouldn't be the AP's goal. It's not realistic to seek national NFL reporters or analysts who are based in San Diego or Kansas City or Indianapolis.
Still, that 20 percent of the voters are New York-based or 32 percent come from New York, Baltimore, Washington and Philadelphia lends itself to complaints of East Coast bias -- an issue I am usually loath to give any credence. For a league that extends from San Diego to Miami to Minneapolis, could things be better dispersed?
"You're looking at this regionally, and I've just never looked at it regionally," Taylor said. "You can see there are voters from the West, the South, the East. I just never broke it down geographically."
I've seen no huge controversy erupt out of AP award results, and I hope one doesn't come up. If it did, I suspect we'd revisit much of this again.
I also can't remember a conversation hashing this out, and thought it wouldn't be a bad thing if we started one here as you check out the 50 people who will cast ballots Monday.
November, 25, 2009
11/25/09
3:56
PM ET
Peyton Manning
's candidacy for his fourth MVP award remains very strong.
But Mike Chappell reported this week that the Colts are the first team in league history to win four consecutive games in the same season by a total margin of 10 points or fewer, and during that stretch, Manning's not been nearly as productive as he was in the Colts' first six games.
I'm not a huge fan of season-long MVP rankings. Establishing a leader in Week 7, 8 and 9 can have an influence on people's thinking after Week 17, when we need a long view that takes in everything.
But if you're looking at the possibilities now, as Mike Sando does
here
, it's reasonable to say Manning's case is slipping a bit while Brett Favre's is on the rise.
Courtesy of Mark Simon of ESPN Stats & Information, here's a statistical breakdown of Manning in his first six games and the four since.