January, 22, 2014
Jan 22
8:39
AM ET
NASHVILLE, Tenn. -- Ken Whisenhunt is down to two position coaching vacancies.
While they are all important, these may be the two most important: The offensive and defensive lines.
Offensive line was supposed to be rebuilt into a strength last season as the Titans signed veteran guard
Andy Levitre
, drafted guard
Chance Warmack
10th overall and drafted center
Brian Schwenke
in the fourth round.
[+] Enlarge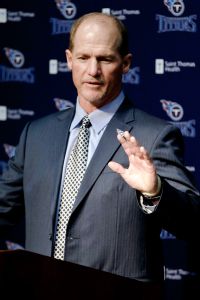 AP Photo/Mark HumphreyOffensive line coach and defensive line coach will be two of Ken Whisenhunt's most critical hires.
But a rebuilt interior didn't jell quickly or play consistently even with mentoring from two Pro Football Hall of Fame offensive linemen, head coach Mike Munchak and line coach Bruce Matthews.
One of the criticism of Whisenhunt during his six years as head coach in Arizona was the Cardinals' failure to develop young offensive lineman. Another Hall of Famer, Russ Grimm, was Whisenhunt's line coach for his entire tenure in Arizona.
Grimm didn't coach in 2013, but I do not expect he will be joining the Titans' staff.
Offensive line was generally a strength for the Titans when Munchak was the position coach before he was elevated to the top job in 2011.
The Titans used to thrive on defense because they developed pass-rushers,
Jevon Kearse
and
Albert Haynesworth
, both first-round draft picks, head that list, but it also includes
Kyle Vanden Bosch
, a huge hit as a reclamation project.
Jim Washburn, recently retained by Detroit as the Lions' line coach, was a big part of that. Tracy Rocker followed him as Munchak's line coach, and for two years he had the assistance of Keith Millard, the team's pass-rushing coach.
The Titans really developed just one pass-rusher in that time, and defensive tackle
Jurrell Casey
is the sort of player who I think would play well under anyone.
Defensive coordinator Ray Horton will run a hybrid front that will feature 3-4 and 4-3 elements. The Titans have been a 4-3 since before the franchise relocated to Tennessee in 1997.
Whisenhunt, Horton and a new line coach will have a voice in drafting a guy – or a couple – who fit what they are looking for up front. It's imperative the team adds a quality edge pass-rusher, and the line coach Whisenhunt hires will be largely responsible for developing him.
Ron Aiken was Whisenhunt's defensive line coach for all six years in Arizona. He is now coaching the line at Oregon.
Whisenhunt is at the Senior Bowl in Mobile, Ala., where he is likely interviewing candidates for his remaining staff positions.
Jim Wyatt of The Tennessean reported Tuesday evening that the Titans will hire John McNulty as quarterbacks coach.
I reported early on that McNulty had an inside track on the offensive coordinator post, which wound up going to Jason Michael.
Whisenhunt's staff at this point, with holdovers in italics.
Offensive coordinator: Jason Michael
Quarterbacks: John McNulty
Running backs:
Sylvester Croom
Tight ends: Mike Mularkey
Wide receivers:
Shawn Jefferson
Defensive coordinator: Ray Horton
Linebackers: Lou Spanos
Secondary: Sigismondo "Louie" Cioffi
Assistant secondary:
Steve Brown
Special teams:
Nate Kaczor
Assistant special teams:
Steve Hoffman
Strength and conditioning:
Steve Watterson
November, 15, 2013
11/15/13
12:28
PM ET
A review of four hot issues from the
Tennessee Titans
' 30-27
loss
to the
Indianapolis Colts
at LP Field:
Foku
Missing Fokou:
When linebacker
Moise Fokou
hurt his knee Oct. 13 at Seattle, some of us believed the Titans might be better off with
Colin McCarthy
plugged in at middle linebacker. It's not as though McCarthy's been terrible, but three of the four games without Fokou have been run-defense disasters -- 153 yards to San Francisco, 160 to St. Louis and 137 to Indianapolis. (There was a 54-yard game against Jacksonville, too.) Getting Fokou back might not be the answer, but this was a better defense when he was running it.
Special teams:
Of all the moves Mike Munchak made, firing Alan Lowry might have been the biggest. Current special teams coach Nate Kaczor isn't making the mistakes, and his units have been hard-hit by the injuries, but the Titans have been far more likely to commit a gaffe on special teams than produce a play. Every team in the league should have a guy they can call up from the practice squad who can field kicks and punts and secure the ball.
Devon Wylie
's kick return fumble -- which was the result of him bumping into a teammate -- was an absolute killer.
Fitzpatrick
Third and short:
I'm fine with the Titans' willingness to throw in an unconventional situation. They converted an early third-and-1 with a 12-yard pass to
Delanie Walker
. But the second time they faced third-and-1, when they were running the ball well,
Ryan Fitzpatrick
threw incomplete for
Kendall Wright
to stall a drive after just three plays. Shouldn't a team trying to create a we-can-run-when-we-want MO at least allow for the possibility of running it by not going with the empty backfield? They went empty on a third-and-2 a bit later, and converted thanks to a roughing call against
Robert Mathis
.
Covering Coby Fleener:
The tight end wound up with eight catches for 107 yards and was a key to the Colts' win. The Titans have been far better against tight ends this season than the past couple years, mostly because safety
George Wilson
's been part of the dime and three-safety nickel packages. Wilson played one snap on defense, and the Titans defended Fleener with base and regular nickel personnel. The three top cornerbacks, free safety
Michael Griffin
and strongside linebacker
Akeem Ayers
were all involved in tackling him.
August, 14, 2013
8/14/13
5:19
PM ET
NASHVILLE, Tenn. --
Jackie Battle
had a 19-yard catch-and-run for the
Tennessee Titans
in their preseason opener against Washington. It converted a third-and-16.
That play created more buzz than anything
Jalen Parmele
did, though Parmele had four more touches. Parmele was coming off a bit of a knee issue, so he didn't play any special teams. Battle played five special-teams snaps.
From what I've seen, both are better running backs than
Darius Reynaud
, who could still make the team as a return specialist. The winner of Parmele vs. Battle for the No. 3 job, however, won't get carries if
Chris Johnson
and
Shonn Greene
are healthy, and so will need to stand out on special teams.
[+] Enlarge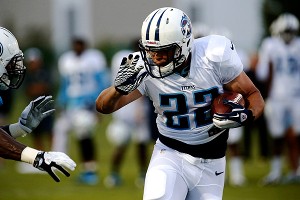 AP Photo/Mark HumphreyJackie Battle (above) is up against Jalen Parmele for a place in the Titans' backfield and, more important, a key role on special teams.
"They are both similar in the fact that they are both extremely hard workers and bring a nice size body type; they are not small scat backs," said Nate Kaczor, the Titans' special-teams coach. "Any time you have a third back that has a linebacker-type body, they could play the role of a linebacker [on teams] if you ever got down in depth at linebacker."
Battle is 6-foot-2, 240 pounds. Parmele is 5-11, 225.
Battle has more momentum, having played with the starters in a couple special teams phases. In all, he worked on two punts, two punt returns and a kickoff return.
"I think I have to perform on offense, but I think most of it is determined by how I do on special teams," Battle said.
Parmele has plenty of time to gain momentum of his own. He played for Titans running back coach Sylvester Croom in Jacksonville last season, which was a big reason why Tennessee grabbed him in favor of
Jamie Harper
. Parmele expects to work on all special-teams units except field goal and field-goal block.
"We have a lot of veteran running backs, which is good, we all have game experience," Parmele said. "It makes it that much better."
Kaczor needs to get them their work on teams early if he wants to guarantee he's got them.
"You might have planned on playing them, but if the offense is kind of riding one of them, you can't," he said. "If they're running the ball, they need to be out there running the ball."
I asked ESPN.com's resident scout, Matt Williamson, to compare and contrast the two backs as candidates for the No. 3 spot.
"Parmele is a do-it-all guy that can run, catch, block and help out quite a bit on special teams," Williamson said. "Battle is a big banger who isn't real agile but can run after he gets going. Battle offers little in passing game or on special teams. For that battle, give me Parmele, but Battle is more like Greene, if Greene were to go down."
June, 17, 2013
6/17/13
10:42
AM ET
Reading the coverage…

Houston Texans
The five
biggest questions
that are still unsettled as the Texans head into their summer hiatus, says Tania Ganguli of the Houston Chronicle.
These Texans have
a better Super Bowl chance
than last year's version, says Jerome Solomon of the Houston Chronicle.
Undrafted rookie linebacker Willie Jefferson could follow
a path blazed
by Bryan Braman, says Ganguli.
Guard Brandon Brooks and defensive end Jared Crick are in position to be
breakout players
in 2013, says Lance Zierlein of the Houston Chronicle blogs.
July 17 is
a key date
for Brian Cushing, who expects to get a green light from his doctor regarding his surgically repaired ACL, says Nick Scurfield of the team's website.

Indianapolis Colts
His high school coach rates Colts' first-round pick Bjoern Werner as "
a force of nature
," writes Phil Richards of the Indianapolis Star.
Will the Colts be better in 2013? They could be better but not have as good a record, says Bob Kravitz of the year after Chuck Pagano's battle with leukemia gave them something to rally around. "I want to see us make the transition
away from me
and toward our players,'' Pagano said. "ChuckStrong still exists because I have this unique platform now where I can help raise money and awareness, and I've been doing that and I'm going to continue to do that. But I'm not the story anymore. Even last year, I didn't want to be the story. The story is the players on this team. That's the way it should be."
The inside linebackers are
a great value
, says Kyle Rodriguez of Colts Authority.
An early stab at
the Colts' 53-man roster
from Brad Wells of Stampede Blue.
Darius Heyward-Bey arrived in Indianapolis with a
catch rate
of 14.6 on balls thrown 20 yards or more downfield, says Josh Wilson of Stampede Blue.

Jacksonville Jaguars
An early attempt to shape
the 53-man roster
of the Jaguars, from Ryan O'Halloran of the Florida Times-Union. He sees the team carrying only two quarterbacks.
Former Jaguars defensive end Austen Lane was
claimed off waivers
by Kansas City, says O'Halloran.
Some Jaguars fans enjoyed
a Father's Day brunch
at EverBank Field, says Roger Bull of the Florida Times-Union.
The offseason is over, but the Jaguars are hardly finished revising their roster, says O'Halloran. GM David Caldwell said: "I expect some
more movement
. I don't know where and at what position, but everybody will have ample opportunities to claim one of those positions."
Not having most of their draft picks signed yet is
not a big deal
at all for the Jaguars, says John Oehser of Jaguars.com.
A getting-to-know-you
video
with Denard Robinson from the team's website.
Julian Stanford
may push
Geno Hayes for a starting outside linebacker spot, says Alfie Crow of Big Cat Country.

Tennessee Titans
Receiver Nate Washington is in great shape and is
ready to fight
for his role among a bunch of high draft picks, says Jim Wyatt of The Tennessean.
Mike Munchak is doing some
hands-on work
with the offensive line again, says David Climer of The Tennessean.
New special teams coach Nate Kaczor is
injecting life
into his units, says Marc Torrence of The Tennessean.
Kicker Rob Bironas is aiming for
better accuracy
in 2013, says Tyler Whetstone of The Tennessean.
Single game tickets
go on sale
July 12, says The Tennessean.
Steelers tight end Heath Miller
may not be healthy enough
to play on opening day against the Titans and Music City Miracles reflects on what his absence could mean.
May, 30, 2013
5/30/13
9:54
AM ET
Reading the coverage...

Houston Texans
According to Gary Kubiak, Ed Reed will be with the team for minicamp
in mid-June
, says Dale Robertson of the Houston Chronicle.
To which I say:
He won't be the only veteran watching if history holds. The Texans traditionally don't practice the bulk of their key veterans in minicamp.
T.J. Yates and Case Keenum
ran practice
for the Texans while Matt Schaub had a day off, says Robertson.
Kubiak intends to
pace things
with nine-year veteran fullback Greg Jones once camp starts and people are in pads, says Robertson.
Arian Foster's calf strain means he
won't work
for the remainder of OTAs and minicamp, writes John McClain of the Houston Chronicle.

Indianapolis Colts
With a closer view, Matt Hasselbeck is
even more impressed
with Andrew Luck, says Mike Chappell of the Indianapolis Star.
With all the new guys, Phillip B. Wilson of the Star refers to
his roster
a lot while watching the Colts practice.
A thorough breakdown of
how quarterbacks fared
in the red zone in 2012, from Kyle Rodriguez at Colts Authority.
The Colts'
top players
of all time, according to approximate value numbers, from Rodriguez.

Jacksonville Jaguars
The NFL draft in 2014 will be
the same weekend
as the PGA's Player Championship near Jacksonville, says Ryan O'Halloran.
Ninety percent
of the Jaguars' offense has been installed, says John Oehser of Jaguars.com. Here's Oehser's Q&A with offensive coordinator Jedd Fisch. One interesting point about increased quarterback freedom to change plays: "I want them to go from being a (resident) to being a full-time surgeon."
Oehser thinks a healthy Cecil Shorts
could gain
1,200 yards in 2013.

Tennessee Titans
Defensive tackle Antonio Johnson brings the Titans
additional size
on the interior, says Jim Wyatt of The Tennessean.
The Titans
struck deals
with four of their draft picks, says Wyatt.
New special teams coach Nate Kaczor is looking to
put a stamp
on the unit, says Wyatt.
Cornerback Jason McCourty and receiver Nate Washington said the first day of OTAs ranked as
intense
, per this video from Amie Wells of the team's website.
January, 22, 2013
1/22/13
5:41
PM ET
Three of four AFC special teams coaches lost their jobs after the season.
Marwan Maalouf was out after just one year in Indianapolis (replaced by Tom McMahon).
John Bonamego was out after just one year in Jacksonville (replaced by Mike Mallory,
today
.)
Alan Lowry was out after 14 years in the position in Tennessee (replaced by Nate Kaczor who was promoted from on staff.)
Houston's Joe Marciano has been in the post since the Texans came into existence in 2002.
Rick Gosselin of The Dallas Morning News annually ranks every teams' special teams. In 22 kicking game categories he awards one point for the best and 32 for the worst. Minnesota grabbed the No. 1 spot with 253.5 points, and Carolina was worst at 486.
The AFC South
scored quite poorly here
, offering some rationale for the three ousters. Parenthetically, I've added Football Outsiders rankings, an explanation of which you can find
here
.)
16. Tennessee, 358.5 (19th)

24. Houston, 402 (32nd)

26. Jacksonville, 418 (25th)

27. Indianapolis, 423 (12th)
A team like the Jaguars suffers more from bad special teams than Houston and Indianapolis, I'd argue. Any team can get a big boost from special-teams play, but a bad team needs that boost more because it's less likely to get major plays from offense or defense. (That doesn't, however, mean they should be spending a third-round pick on a punter who punts 91 times all season.)
Solid, disciplined, well-coached play and schemes can do more to overcome average personnel in special teams than on offense or defense. Building teams are likely to be younger, and younger guys are generally more willing and able to sell out to cover a kickoff or block for a punt returner.
A good team like the Colts of the Bill Polian/Tony Dungy/Jim Caldwell era showed for a lot of years that, with a quarterback the caliber of
Peyton Manning
, disregarding or de-emphasizing coverage and return teams can be completely survivable.
Houston and Indianapolis were playoff teams this season, despite bad special teams. The playoff field was all over the map in Gosselin's ratings -- from the Vikings (No. 1) to the Redskins (No. 31).
The Titans ranked in the middle of the pack and special teams helped them more than they hurt them. That's a goal the other three teams can aspire to, at least to start an upward swing.
January, 17, 2013
1/17/13
6:35
PM ET
For a good while I've said I wasn't sure defensive coordinator Jerry Gray was safe.

Now I'm pretty sure he is.
The Titans announced their staff changes this evening and Gray isn't among them.
In are:

Shawn Jefferson as wide receivers coach, George Henshaw as tight ends coach and Sylvester Croom as running backs coach.

Solidified is:

Dowell Loggains as offensive coordinator

Moving are:

Dave Ragone to quarterbacks from wide receivers, Nate Kaczor to special teams coach from assistant offensive line and Chet Parlavecchio to linebackers from special teams assistant.

Gone as previously reported

by Jim Wyatt of The Tennessean are: Frank Bush (linebackers), Alan Lowry (special teams), Jim Skipper (running backs) and John Zernhelt (tight ends).
"Over the last two weeks I have spent my time reviewing our coaching staff and interviewing numerous candidates from the college and pro ranks at a variety of positions in order to improve our coaching staff," said Titans coach Mike Munchak in a statement. "The goal in every decision I have made has been to do whatever I believe puts us in the best position to win this year. I believe with the new coaches that we have added and some shuffling of the current coaches, we have made our staff better. We were able to add proven coaches and by moving others around, it will change the dynamic in the meeting rooms and on the field. We still have some spots remaining to fill and I am always looking to improve our staff, so it is still a work in progress."
Notes on a few of the guys involved in the changes:
Ragone was one of the big surprises on Munchak's initial staff. He came with fired offensive coordinator Chris Palmer from Hartford of the UFL and deserves a great deal of responsibility for the maturation and production of Nate Washington. Now he'll shift to the position he played and work with Jake Locker, making room for Jefferson, who's been with the Lions the past five seasons where Calvin Johnson set a new single-season record for receiving yardage in 2012.

Henshaw returns to the Titans coaching staff where he spent nine seasons working with the tight ends from 1997-2005. Jeff Fisher pushed him off the staff over issues not related to the play of the tight ends.

Croom has been head coach at Mississippi State and has worked as an offensive coordinator and running back coach in the NFL. He was part of the Jacksonville staff last season coaching backs.

The fiery Parlavecchio spent the past two seasons with the Titans as the Assistant Special Teams coach. He coached linebackers at Temple from 1992-93 but after that worked as a high school coach before his Penn State teammates Munchak brought him into the NFL.
The biggest move, however, is one not made with Gray. While Munchak was quick to point out after the season that not all the points scored against the Titans were scored against the defense, the Titans gave up a franchise-record 471 points, most in the NFL.
If Munchak felt Gray did a good enough job to remain defensive coordinator, then Munchak must really feel the Titans had insufficient personnel on that side of the ball. The team needs an infusion of talent there and it can't come strictly from the draft.
They need a free-agent class like they signed in 2006, when safety
Chris Hope
and linebacker
David Thornton
joined Tennessee from successful franchises and brought heavy doses of leadership and production.
Munchak has two years remaining on his contract. Presumably the Titans have to make the playoffs in 2013 for him to get an extension and see that last year.
He now has assembled the coaching crew with which he wants to try to meet that goal.
I suspect he's going to be left with regret over now taking larger chances on defense.