December, 12, 2014
Dec 12
8:00
AM ET
When
: 4:05 p.m. ET, Sunday
Where
: LP Field, Nashville
TV
: CBS
Two of the NFL's five worst team's square off Sunday at LP Field.
Big changes are coming for the
Tennessee Titans
and the
New York Jets
, two teams that are a mess and carry 2-11 records into the game.
Young players will gain experience, and coaches will see how willing their players remain to give them their all.
But a win in this game could be unhealthy for the long-term forecast, because the high draft pick to come should have a big bearing on the potential for a turnaround in 2015 and beyond.
ESPN Jets reporter Rich Cimini and Titans reporter Paul Kuharsky got together to chat about the New York-Tennessee game.
Paul Kuharsky:
Chris Johnson
spoke before the season as if his new offensive coordinator was going to have all the answers and he was going to prove the Titans wrong for moving on. I saw some good runs when they were on national TV, but how's the body of work been?
Rich Cimini:
Suffice it to say that offensive coordinator Marty Mornhinweg hasn't had all the answers. This has been a frustrating year for Johnson, who has expressed his feelings on a few occasions. This will be the first time he doesn't reach 1,000 yards. He got off to a slow start, probably because of the surgically repaired knee. He has been more elusive in recent weeks, looking more like the Johnson of old. Your Titans' followers might find this hard to believe, but he's third in the league in yards-after-contact per rush with 2.29. I thought he'd be a bigger factor in the passing game -- so did the coaches -- but he had a couple of early drops and they forgot about him. Johnson will be highly motivated for this game. He's been talking about it since he signed nine months ago.
What happened to
Shonn Greene
? He was a tough, workmanlike back with the Jets, but he seems to be off the radar now.
Paul Kuharsky:
He is. Last week he was a healthy scratch as the Titans tried to get a look at rookie
Antonio Andrews
, who's a similar back. But Andrews, like Greene so many times before him, didn't get much action as the game steered the Titans in a different direction. Greene hurt a knee in the 2013 opener, missed five games and was never the same. He still got 19 carries in a game with Mike Munchak as the coach. This year he's maxed out at 15 in the opener and hasn't had more than 11 since. Since Week 5, he has 16 carries total. He's not a bad situational back, but the worst third-down offense in the NFL isn't in third-and-short a lot. They gave him a three-year, $10 million deal. I don't think he's going to see Year 3.
The Titans are beat up on the offensive line and got torched for eight sacks by the Giants. The Jets look to have a more formidable front than the team they share their stadium with. How's the pass rush?
Rich Cimini:
The pass rush looked good early in the season, but like most everything else on the Jets, it faded -- only nine sacks in the past five games. That said, the defensive line is the strongest unit on the Jets. The Titans should pay attention to
Sheldon Richardson
, who is coming off the Jets' first three-sack game since 2009. The 2013 NFL Defensive Rookie of the Year is making a Pro Bowl push. There's a chance that
Muhammad Wilkerson
, sidelined the past two games with turf toe, could return this week. He has a specially designed shoe and is planning to test it in practice. Their pass-rushers are hungry, and there could be plenty of eats against the Titans' woeful line.
Some in New York are calling this the Mariota Bowl. Clearly, the Jets will be in the quarterback market. What about the Titans? Would
Marcus Mariota
, or even
Jameis Winston
, be a no-brainer pick?
Paul Kuharsky:
I don't think so. Mariota is a good player, but running around is a big part of what he does, and Ken Whisenhunt is big on pocket passers. Winston would bring some potential to have Vince Young-style issues, and the Titans are not that far removed from that headache and the setbacks it caused the franchise. Anything is possible. But I think they'll probably go forward with
Zach Mettenberger
as the starter. He's shown some promise and is just the style Whisenhunt likes -- a tall guy who can stand in against the rush and has a big arm to deliver the ball. If they stick with him, perhaps they can trade back a bit and land more picks to address their giant list of needs. A pass-rushing threat at outside linebacker in the 3-4 is a must.
Is Rex Ryan down to his final three games in New York? How about general manager John Idzik? Who deserves the most blame for the state of the team?
Rich Cimini:
Yes, Ryan's days are numbered. He knows it and everybody in the organization knows it. When you miss the playoffs four straight years, especially in a market like New York, it's tough to make a strong case for him to stay. Idzik's future is less certain. My sense is there's a chance that he, too, will be fired. This is only his second year, but nothing has gone right. He inherited a 6-10 team and turned it into a 2-11 team. I'd say he's probably more at fault than Ryan. Idzik did a poor job of drafting and attacking needs in free agency. He also has turned off people in the organization with his stubborn, closed-door style of management. They could use a good house cleaning.
Obviously, this isn't a stellar matchup, but I think the Jets are still playing hard for Rex Ryan. Can the same be said for the Titans and Ken Whisenhunt?
Paul Kuharsky:
I'm not so sure. They are so overwhelmed so quickly these days, there is a resignation that runs through the team as the familiar pattern unfolds. Neil O'Donnell, who quarterbacked the Jets and the Titans, still lives in Nashville and said on the radio this week that he
doesn't believe
guys want to play for Whisenhunt. It's a complete mess, and while no current players are critiquing the coach and his staff, there have been some hints they have questions. And they should. The Titans don't have much talent, but Whisenhunt has done a poor job of making the most of what he has. There will be big roster turnover in the offseason, but if a roster filled more with Whisenhunt guys doesn't show significant improvement, his job could have just a two-year tenure.
September, 29, 2013
9/29/13
2:30
PM ET
By
ESPN.com staff
| ESPN.com
Join our ESPN.com NFL experts as they break down the New York Jets' visit to the Tennessee Titans. Contribute your thoughts and questions beginning at 4:05 p.m. ET. And, be sure to visit our
NFL Nation Blitz page
for commentary from every game, as well as fan photos and the latest buzz from Twitter. See you there.
December, 4, 2012
12/04/12
11:19
AM ET
Rex Ryan is being coy about who he'll play at quarterback for the Jets on Sunday in Jacksonville
He could go back to
Mark Sanchez
. He could stick with
Greg McElroy
, who won Sunday against Arizona in relief. Or he could turn to
Tim Tebow
, who's recovering from rib injuries and was inactive this past Sunday.
[+] Enlarge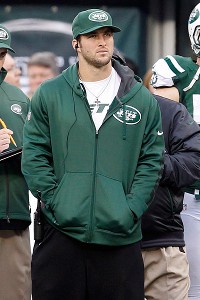 William Perlman/THE STAR-LEDGER via USA TODAY SportsNew York Jets quarterback Tim Tebow watched Sunday's game from the sideline.
The storyline will be massive if Tebow gets the call. He's from Jacksonville and he won a Heisman Trophy and two national championships in nearby Gainesville. When Denver signed
Peyton Manning
and looked to shed Tebow, the Jaguars were in the mix with the Jets. But given an option, Tebow ultimately steered the Broncos to New York's offer.
The Jaguars' defense has the regular incentive to play well. Jobs are certainly on the line for a 2-10 team that regularly gets shredded.
If Tebow plays, the Jaguars' defense can do the organization a huge favor by playing well against him. They can do wonders to silence the Tebow crazies by showing him to be the gimmick he is. If they allow a productive game, or, worse, one of those anemic performances that then finishes with a magical ending, they'll be pouring gas on a fire.
Quarterbacks
Blaine Gabbert
and
Chad Henne
, GM Gene Smith, owner Shad Khan and a slew of others connected to the team and beyond will be left to say, "Thanks a lot, fellas."
A new round of talk about how Tebow is the savior the Jaguars need will kick off. The fans who back the guys who are actually on the team -- and will support those who will join them -- will be heading to the medicine cabinet for Tylenol.
I feel certain the bulk of the Jaguars respect Tebow for what he's done and think he's a swell guy. Everyone should feel that way about him. The debate is over the quality of his quarterbacking.
That he's not been able to get on the field for the Jets this year tells us a great deal more about him. If the best a team that wanted him can do is tell us how well he practices, it doesn't say much for his NFL quarterbacking capabilities.
His fan base remains passionate, however. Any chance for the story to actually get some football carbonation and bubble back up won't be of any benefit to the Jaguars.
If he starts or appears in relief, it's in the hands of Jacksonville's defense to limit the next round of Tebow talk.
If they get a chance, they've got to make him what he is.
October, 8, 2012
10/08/12
11:45
PM ET
EAST RUTHERFORD, N.J. -- Thoughts on the
Houston Texans
'
23-17 win
over the
New York Jets
at MetLife Stadium Monday night.


What it means:
The Texans withstood a tough challenge on the road, lost star linebacker
Brian Cushing
to a knee injury, and held on for a win to improve to 5-0, remaining the AFC's only unbeaten team.
What hurt:
Joe McKnight
's 100-yard third-quarter kickoff return could have been a killer. It cut the score down to 20-14 and made it feel like the momentum has swung. But the Texans recovered an ensuing onside kick and kicked a field goal that got them back up 23-14. While the Jets hung around and kept making it feel like they'd move to a big score, the Texans kept doing enough to prevent it from happening. They converted a couple fourth downs, but then punted after three more plays each time.
Big plays:
J.J. Watt
killed one Jets rally with a sack, and the Jets' last real threatening possession ended with big back-to-back defensive plays -- a sack by cornerback
Brice McCain
and a pick of a tipped ball by cornerback
Kareem Jackson
, his second interception in as many weeks.
Big game:
The Jets don't defend the run well and the Texans made sure that stayed the case.
Arian Foster
carried the ball 27 times for 156 yards and a touchdown. He had 100 yards at the half. For the third game in his career, Foster got to triple digits in just 30 minutes. He also became the third-fastest running back in NFL history to get to 5,000 career yards from scrimmage -- trailing only
Edgerrin James
and
Eric Dickerson
.
Beneficiaries:
The clumsy Jets had troubles with personnel and substitutions on offense, burning a couple second-half timeouts and racing to get the ball snapped in time. The Texans didn't have such issues, but they also weren't without a bunch of key people because of injuries. When they got a break, like cornerback
Antonio Cromartie
breaking open deep as a wide receiver,
Mark Sanchez
underthrew him.
What's next:
The Texans host The
Green Bay Packers
on "Sunday Night Football" at Reliant Stadium in another chance to show off to a national television audience.
October, 7, 2012
10/07/12
10:40
AM ET


The NFL Live crew makes its predictions for Texans-Jets on Monday Night Football.
March, 21, 2012
3/21/12
9:46
PM ET
Adam Schefter reports that before the Broncos finalized the trade of
Tim Tebow
to the Jets, they allowed Tebow to
share his preference
between the Jets and Jaguars.
If it had gone another way, I'd have a different stance.
But that Tebow picked the Jets did the Jaguars a great, two-part service.
1) They aren't saddled with a guy at least a share of the organization does not believe can play.

2) They'll always be able to say they wanted him and he picked someone else.
The Jets now employ a huge proponent of Wildcat formations in offensive coordinator Tony Sparano, and the Jets surely will use Tebow in such situations from game to game depending on the defenses New York sees and the success its base offense has.
The Jaguars won't be forced to employ such things, which are not the favored approach of general manager Gene Smith or coach Mike Mularkey and his staff. (I applaud those who frown upon gimmicks. It's just a default setting I have.)
Look,
Blaine Gabbert
was terrible as a rookie. But one season is far too soon to label a quarterback with his arm a complete bust. The Jaguars think the new coaching staff will improve his play a great deal.
If that happens, they will look smart. If that doesn't happen, well, they'll be in a tough spot. That spot could have been even tougher had Tebow been in the mix with an organization that didn't fully believe in him.
Tebow was Josh McDaniels' guy, which is why he was a first-round pick in Denver. Tebow wasn't John Elway's guy or John Fox's guy, which is why the Broncos dealt him at the first opportunity.
Tebow was not Gene Smith's guy or Mike Mularkey's guy.
Which is surely a big reason why, if he had a say, he chose to go be Rex Ryan's guy and Sparano's guy.
July, 21, 2011
7/21/11
2:21
PM ET
By
ESPN.com staff
| ESPN.com
The New York Post reports the Jets have
hired longtime Colts offensive coordinator Tom Moore
as a consultant.
From the Post:
Moore, who spent 12 years running the Indianapolis offense, was one of several coaches the Jets brought in during the lockout to meet with the coaching staff. Moore came to New Jersey in April and June. After the second session, Rex Ryan offered him a job with the team.

"Rex and I go way back," Moore said Thursday. "We've had some great games against each other. I just have so much respect for Rex and his staff and the organization. When he made the offer, I couldn't refuse it."
Paul Kuharsky wrote about
the Jets courting Moore
last month.
January, 21, 2010
1/21/10
1:00
PM ET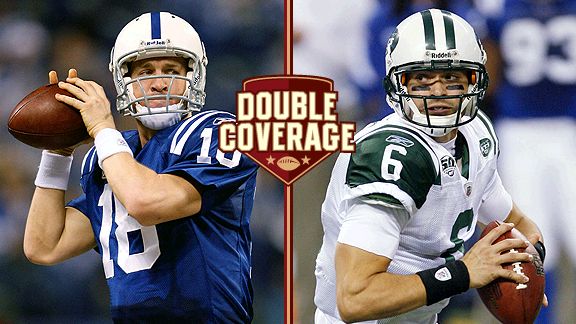 Getty ImagesQuarterbacks Peyton Manning and Mark Sanchez are expected to play different roles in their respective offenses in Sunday's AFC Championship Game.
No matter what style of football gets your blood pumping on Sunday afternoons, the AFC Championship Game should quicken your pulse.
The
New York Jets
call their approach "ground and pound." The
Indianapolis Colts
own one of the NFL's more prolific aerial attacks.
In that spirit, AFC South blogger Paul Kuharsky and AFC East blogger Tim Graham tried their bloggerest to break down Sunday's matchup in Lucas Oil Stadium. It's a quasi-rematch of what transpired in Week 16 between the sorta Colts and the full-go Jets. New York prevailed 29-15 over what amounted to Indianapolis' reserves in the second half.
Paul Kuharsky
: OK, we have to start with the Jets' identity, and that's not just defense, but an attacking defense. Rex Ryan's guys blitz more than anyone in the league.
That isn't a good match against the Colts. I know New York just dispatched the Chargers and a quarterback in
Philip Rivers
who is quite good against the blitz. But Rivers is a neophyte compared to
Peyton Manning
, and it's long been held that the quickest way to get beat by Manning is to send people at him. ESPN Stats & Information says he posted a 101.4 passer rating when teams sent five or more pass-rushers during the regular season.
He simply won't hold the ball long enough to be sacked, and with fewer numbers in coverage, he will find the favorable matchup to attack. (Shameless plug: I wrote about how
quickly the ball is out of his hand
earlier this week.)
I know the Jets don't have any give-up in them. Still, I think the longer you go at the Colts in that fashion without success, the more dispiriting it can be. That's the case even if the Colts have to dink and dunk. Let Manning hit a home run to
Reggie Wayne
,
Dallas Clark
,
Pierre Garcon
or
Austin Collie
and it's even worse.
Tim Graham
: All right. Everybody knows I don't like you, and you don't like me. But let's see if we can get through this without any name-calling.
There's a myth about the Jets' defense that because defenders always go, go, go after opposing quarterbacks, they rack up a lot of sacks and get quarterbacks rattled. Not so. The Jets registered only 32 sacks all year, more than only 10 other teams. The
Buffalo Bills
had 32 sacks.
[+] Enlarge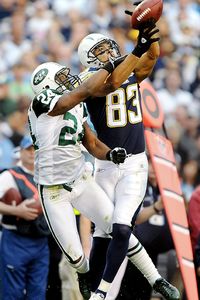 Kirby Lee/US PresswireThe Jets moved Darrelle Revis around in coverage last Sunday against the Chargers.
What makes the Jets' attacking defense work is the confusion it creates. Quarterbacks don't know where the pressure will come from or which defenders will handle which receivers. Against the
San Diego Chargers
last week, Jets cornerback
Darrelle Revis
would be on No. 1 receiver
Vincent Jackson
one play and tight end
Antonio Gates
the next. The Jets' defensive mission is to get a quarterback to second-guess what he's seeing. They're just as interested in forcing an incomplete pass as they are in the big quarterback hit.
That's why the Jets are so masterful at managing down and distance. They routinely get teams into unfavorable situations. No defense allowed a lower percentage of third-down conversions or overall first downs, a measly 14.8 a game.
PK
: Manning didn't win MVP No. 4 by getting confused. If Revis is on Wayne, Manning will look to Clark or Garcon. If Revis is on Clark, Manning will look to Wayne or Collie. He's not going to put his hands on his helmet and called a panicked timeout over the sort of switcharoo that sent
Chad Henne
or
Josh Freeman
into a spiral. The Jets weren't that masterful while losing seven games.
January, 20, 2010
1/20/10
4:48
PM ET
INDIANAPOLIS -- Eighteen players are on the first Colts injury report of the week.
Three were bigger concerns than the rest.
Rookie cornerback
Jerraud Powers
didn't practice with a foot injury.
Safety
Antoine Bethea
(back) and tight end
Dallas Clark
(illness) were limited.
If Powers couldn't start at right corner, rookie
Jacob Lacey
would work in his place, with
Tim Jennings
moving into the nickel package.
These players were full participants in practice but also made the report: Running back
Joseph Addai
(shoulder), defensive end
Ervin Baldwin
(shin), linebacker
Gary Brackett
(calf), safety
Melvin Bullitt
(shoulder), tackle
Ryan Diem
(elbow), defensive end
Dwight Freeney
(foot), linebacker
Cody Glenn
(back), defensive tackle
Antonio Johnson
(shoulder), tackle
Charlie Johnson
(foot), defensive end
Robert Mathis
(knee), guard
Jamey Richard
(shoulder), tight end
Jacob Tamme
(ankle), tackle
Tony Ugoh
(knee), kicker
Adam Vinatieri
(right hip) and receiver
Reggie Wayne
(knee).
Three Jets missed practice: defensive end
Shaun Ellis
(hand/knee), running back
Thomas Jones
(not injury related) and running back
Tony Richardson
(rib).
January, 3, 2010
1/03/10
11:05
PM ET
Even when the Texans make things work, break through, and get the tough win, something goes awry.

They'll say they should have won one more, and they should have. But in the days when they mourn the end of their 2009 season, the can also lament the schedule maker and be upset with the Colts.

That schedule maker gave the Jets not one, but two opponents in position to lose and not feel bad about it. And as the Jets are on their way to beating the Bengals Sunday night, they clinched the AFC's final playoff spot.

If the Colts had played to win a week ago, things could be different.

If the Bengals had played to win tonight, things could be different.

But on the long list of other things that could have changed the Texans' season in a big way is this: The Texans could have beaten the Jets on opening day in Houston instead of losing 24-7.

Once the Texans got to 8-8, incremental improvement has been the rule. Their 9-7 was hard earned, but just not enough.
April, 17, 2009
4/17/09
7:06
PM ET
Posted by ESPN.com's Tim Graham
The NFL has switched the kickoff of the Sept. 27 game between the Tennessee Titans and New York Jets at the Meadowlands to 1 p.m. ET.
The game originally was scheduled to start at 4:15 p.m. ET, but Jewish fans took umbrage with the decision because Yom Kippur, the Jewish day of atonement, begins at sundown.
"By changing the time of the Tennessee game from 4:15 p.m. to 1 p.m., the NFL has provided the best compromise to resolve our scheduling conflict," Jets owner Woody Johnson said in a statement. "I want to thank commissioner [Roger] Goodell and [NFL schedule-maker] Howard Katz for quickly responding to our request to accommodate our fans of Jewish faith."
The Jets' home opener against the New England Patriots falls on Rosh Hashanah, the Jewish new year.
When the schedule was revealed Tuesday, Johnson fired off a letter to the NFL to ask that the games be reconsidered.
"I am extremely disappointed with the league's decision to schedule us to play at home on consecutive Sundays that are in direct conflict with the Jewish High Holy Days," Johnson wrote. "There has long been an understanding that neither the Jets nor the Giants fans should have to bear completely the brunt of this issue since we are in the largest Jewish market in the country."
November, 20, 2008
11/20/08
9:00
AM ET
Posted by ESPN.com's Paul Kuharsky and Tim Graham
In advance of the New York Jets vs. Tennessee Titans on Sunday in Nashville, AFC East blogger Tim Graham and AFC South blogger Paul Kuharsky debate what this November showdown means. The Jets could make a statement by ruining the Titans' hopes of a 16-0 regular season. Graham and Kuharsky debate other factors that should be considered.
| | |
| --- | --- |
| | |
| Collins | Favre |
Which graybeard quarterback will carry the day?
Paul Kuharsky: Well, Timothy, it's hard to argue against Brett Favre's contagious enthusiasm, but Kerry Collins is asked to provide something entirely different for the Titans. He's calm and cool, which fits a Jeff Fisher team perfectly. Odds are he throws for under 200 yards. Odds also are he doesn't get picked off or make a big mistake that puts his defense in a tough spot.
Tim Graham: I hear you loud and clear, Brocephus. But the Jets seem to have located their offensive happy place with Favre. Offensive coordinator Brian Schottenheimer has reached a comfort level in calling plays for the type of quarterback the Jets weren't used to. Favre appears to be settling into his role -- somewhere between swashbuckler and game manager. I like to call him a swashmangler.
PK: Very wordsmithy of you. I know Farve's enjoyed joining a team that upgraded the offensive line before he arrived. One key to the Titans' success has been that they consistently get pass pressure from their front four. Kyle Vanden Bosch expects to be back from a groin injury that's pretty much cost him five weeks. Side-by-side with Albert Haynesworth, they'll look to overpower and outwork the left side of the Jets' line.
TG: The Jets' offensive line has been sensational. Alan Faneca has performed as advertised. Nick Mangold is turning into an elite center. But the New England Patriots, without Adalius Thomas and Ty Warren, got to Favre three times last week. Favre went down Strahan-style.
| | |
| --- | --- |
| | |
| | Jeff Hanisch/US Presswire |
| | New York's run defense will be tested by Tennessee's Chris Johnson on Sunday. |
How will the Titans' running game fare against the Jets' 3-4 defense?
TG: The element of Sunday's game I'm most fascinated to see unfold is how New York's run defense handles Tennessee's running backs. Two of my favorite players to watch this year have been Jets nose tackle Kris Jenkins and Titans rookie Chris Johnson. The Jets have the fourth-ranked defense against the run. The Patriots didn't even bother last week, choosing to let Matt Cassel throw 50 times. The Jets' front seven are scary.
PK: Collins threw it 41 times in Chicago, but the Titans will be determined to hand the ball off. Still, the Titans likely will continue to look to get Johnson additional touches in the passing game, trying to set him free in space against favorable matchups. I certainly wouldn't be looking to get him up the middle against Jenkins. If offensive coordinator Mike Heimerdinger sees the Jets selling out to reduce the risk of big-plays by Johnson, then he'll give somebody else like Bo Scaife, Justin Gage or LenDale White more chances.
TG: I wonder how much of this game will hinge on Collins' arm. The Jets have a couple of stars in their secondary. Cornerback Darrelle Revis is one of the NFL's best, and safety Kerry Rhodes is Pro Bowl-caliber. But they were concerned enough with rookie cornerback Dwight Lowery's shaky play that they signed Ty Law, who hadn't played in 11 months.
PK: The Titans will be content to dink and dunk against that crew if that's what they have to do. Patience won't be a problem. And I suspect they'll like their chances of getting Favre to try to force a couple against their own group of rising DBs who are establishing names for themselves. Cortland Finnegan, Michael Griffin and Chris Hope each rank at the top of the AFC with four picks. If they can get one or two here, I like the Titans' chances. If they can't, this could be loss No. 1.
Which team has more to prove?
PK: It takes a 10-0 start and Favre coming to town with the hot Jets for Jim Nantz and Phil Simms to call a game for CBS in Nashville for the first time. The Titans love to cast themselves as the under-the-radar underdogs. They know they'll be drawing a lot of eyeballs Sunday and that
if they lose, there will be people who say the Titans weren't worthy the hype.
TG: One of the more nauseating sports phenomena is when teams try to underdog each other. Every team wants to enter a game feeling as though they're not being taken seriously. But the Jets feel that way, Paul. I mean, they were so emotional last week they actually were shedding tears before and after beating the Patriots. The Jets come into Sunday's game with a chip on their shoulder even though they're from the nation's biggest media market. Don't forget, the reason they went out and made all these splashy offseason moves was because they were sick of being in the New York Giants' shadow.
PK: The Titans would take a loss to this New York team if they could trade it for a Super Bowl matchup against the other New York team. I'm with you on the artificial underdog and faux disrespect stuff. Griffin played good defense against the Jaguars, then got all twisted up in the postgame locker room. He said people get tired of teams or athletes who win all the time, that they are rooting against the Titans just like they rooted against Michael Phelps. Yeah, nobody wanted to see that guy with all those gold medals around his neck.
TG: If Mercury Morris is OK with the notion you might go undefeated, then you're not exactly Public Enemy No. 1. In my travels around the AFC East, I haven't heard any negative talk about those dastardly Titans. I think the Patriots still lead the conference in haters. But if that's how the Titans are getting themselves jacked up, so be it. As Crash Davis once scolded Annie Savoy: "A player on a streak has to respect the streak." Whatever the Titans are doing to get mentally prepared, it is working.
PK: Even the truest Titans fan has to admit there would be at least one upside to a loss: Morris would disappear for another year.
AFC SOUTH SCOREBOARD
Thursday, 12/18
Sunday, 12/21