January, 27, 2012
1/27/12
3:33
PM ET
Ray Lewis
finished atop ESPN.com's
NFL Any Era poll
, and he's certainly a guy whose game would have worked in any point in time of professional football.
The AFC South finished with just two players in the list of 20, with Colts quarterback
Peyton Manning
at No. 20 and Colts defensive end
Dwight Freeney
at No. 18.
I have no major beef with the exclusion of anyone else.
But if we wanted to pick three more guys and present a top five of NFL Any Era players from the AFC South, who would they be?
Here are my candidates, one from each of the other three teams. I welcome your input in the comments section.
Jaguars running back Maurice Jones-Drew
-- A very powerful runner who can find space between the tackles and willing to take on contact. He runs effectively against stacked boxes in the modern day, he'd have been able to do the same in more rough and tumble times.
Texans linebacker Brian Cushing
-- Sure, it's not smart that he gashed the bridge of his nose head-butting someone with his helmet off. But the picture from this season with blood streaming down his face is the sort you'd see in black and white from back in the day.
Titans right tackle David Stewart
-- He's not concerned with any of the trappings of modern professional football outside of blocking the guys coming at him and providing a mean streak. He doesn't need fluffy towels.
January, 25, 2012
1/25/12
10:51
AM ET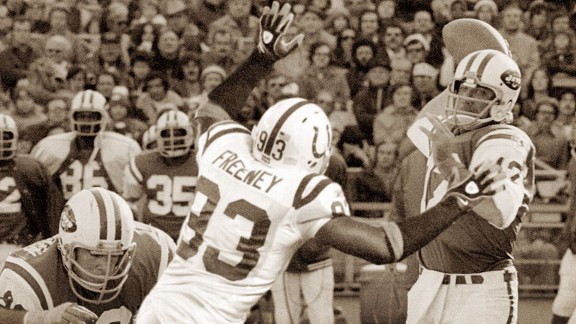 ESPN.com IllustrationWould Hall of Famer Joe Namath have a chance against Dwight Freeney's speed?
MATCHUP GALLERY
ESPN's NFL Any Era project is counting down 20 current players a panel of Pro Football Hall of Famers believe could have played at any point in NFL history.
The panel is an
impressive collection
of men.
The countdown is on, and so far we've seen two members of the AFC South make the list, with Tennessee running back
Chris Johnson
getting an honorable mention.
Colts quarterback
Peyton Manning
came in
20th
.
MIKE DITKA: "Because he's a quarterback, people don't look at him as a tough guy, but he is a tough guy. He could have played in any era. I'm surprised he's No. 20. I was probably a part of that because I didn't pick him high, but you take a guy like that for granted. Great football player. He's a combination of [Johnny] Unitas and Bart Starr to me. Peyton's a cerebral guy, and I look at Starr as smart as anyone who played that position. He had the ability to make the throw, and that's something that Peyton has always done."
Colts defensive end
Dwight Freeney
placed
17th
.
FLOYD LITTLE: "Dwight Freeney is absolutely relentless. When he was hurt two years ago before the Super Bowl, he played hurt because his team needed him there. The fact that players want to play when they are hurt demonstrates that they could play in any era because in my day you had to literally hide a guy's uniform to keep them from playing. Because when it was time to play, we went out and played. I think he's the greatest defensive end of his era. He's not only fast but proficient; he wreaks havoc on the offensive line. When he gets off that ball, he is relentless to get toward the QB. I've never seen someone that focused."
It's hard to argue against either.
Manning's ability to manage his offense and get out of bad plays and into good ones qualifies as old school. Freeney's relentlessness and ability to create moves to get to the quarterback would surely be effective against pass protectors of any period.
Follow the conversation about the countdown of Any Era players via Twitter, where we're hashtagging it all with #NFLAnyEra.