AFC South:

NFL coaches 010211
January, 5, 2011
1/05/11
6:24
PM ET
The Texans shot down a report Tuesday that Wade Phillips had been hired. Crazy, the tone was. He hasn't even interviewed.

So today he interviewed and he's hired.
How could anyone have jumped the gun like that?
I poured out my thoughts on Phillips as the Texans defensive coordinator last week when his name was first reported. That's
here
.
He's obviously steeped in 3-4 defenses, but it sounds like he and Gary Kubiak will look at what the Texans have and decide what kind of team to be. Phillips is known as 3-4 guy but has worked some 4-3. I'd envision them staying in a 4-3 only as part of a transition.
Houston radio guy and blogger Lance Zierlein had a good line recently about the decision. Paraphrasing, he asked what does it matter if they don't have the personnel for a 3-4 when they don't have the personnel for a 4-3 either?
Mario Williams
isn't ideally suited for it. But people probably said the same thing about
Bruce Smith
, and I don't remember a major career derailment when he played for Phillips in Buffalo.
While the change could take some time, it might be a good thing. Give
Peyton Manning
and the rest of the division something different to dissect, be the one team deploying people differently.
January, 3, 2011
1/03/11
9:33
PM ET
Jeff Fisher's in limbo.
Owner Bud Adams met with Titans executives Steve Underwood and Mike Reinfeldt in Houston Monday as Fisher sent the Titans into the offseason and then faced the press.
[+] Enlarge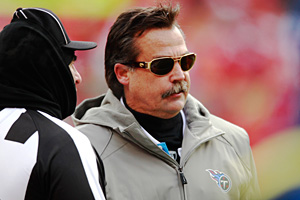 AP Photo/Orlin WagnerThe Tennessee Titans are taking their time deciding Jeff Fisher's future.
He was apologetic that he couldn't offer many answers and said he understood the intense curiosity about his future. But he didn't sound impatient.
I believe he should be. If Adams decides to make a change, other jobs in the league -- like San Francisco or Denver where Fisher could be a prime candidate -- might get filled.
Adams released a statement on his 88th birthday:
"There are several things that need to be considered in this evaluation process, including Jeff's history with our team, the labor situation and other challenges. I have been at this for a long time, and these decisions take time and thoughtful consideration. I will make the decisions that I feel are in the best interest of the team. I do understand the time element involved and would expect to make these decisions in the near future.

"In the meantime, I will continue to be in contact with Jeff and the senior staff for any additional information that I may need.''
Though being too slow won't be healthy for the organization, there are several reasons why Adams may be inclined to take his time:
As a younger man, Adams could rush to emotional judgment. He has talked in detail about regretting Bum Phillips' ultimate fate. I am confident that watching Fisher succeed elsewhere would eat at Adams. If the owner makes a change, he wants to be sure he has sound reasons that would minimize his potential for regret.
Moving slowly also reduces opportunities for Fisher. It can serve to remind a powerful head coach who's had a bad stretch that he's hardly infallible. Coaches on bad teams who've been fired, including Eric Mangini who was dropped in Cleveland early Monday, are not coveted the same way Fisher would be. While Fisher didn't sound like he has a problem with how things are moving, he might not appreciate it.
Underwood, the team's senior executive vice president and Adams' most long-standing and trusted advisor, is a meticulous lawyer who prefers to reason things out. I believe both he and Reinfeldt are in Fisher's camp and may need some time to sell their boss on their position. That's amplified by the fact that Fisher wants to move away from Adams' beloved quarterback, Vince Young. Making a case for Fisher and arguing against Young is a lot of work for the executive and the GM. If Adams needs a plan for replacing Young, that could take Reinfeldt and Fisher some time to piece together. Fisher said "we have some difficult decisions to make." Maybe he simply defaults to "we" after such a long term. Or maybe the use of the word indicates he does not feel like a party in a divorce or a guy who feels like he's about to be let go, but more of a guy trying to engineer some change.
There isn't anybody Adams loves as an alternative to Fisher that he feels needs to be hired right away. Adams also likely has not had a lot of insider input on just how weak Fisher's replacement would be if the new coach was beholden to Young the moment he walks in the door.
January, 3, 2011
1/03/11
9:04
PM ET
Two out of three verdicts are in, and in the AFC South the status quo is in vogue.
And a couple owners won't be paying multiple coaches.
Opponents of Gary Kubiak and Jack Del Rio aren't happy and are voicing opinions about endorsements of mediocrity. Their owners have pushed for magnifying the good and altering the bad of the incumbent.
Houston coach Gary Kubiak's has been
retained
as we came to expect starting with the previous week's Houston Chronicle report. Four defensive assistants, including much maligned defensive coordinator Frank Bush, have been let go. Kubiak is charged with hiring his third defensive coordinator since 2006 and has to hit a home run with it.
He knows he's got a monstrous degree of faith from owner Bob McNair, one many aren't so certain he deserves. It sounds like McNair laid out the sort of change he expects and challenged Kubiak, who's now determined to prove he's worthy of the endorsement coming off a 6-10, third-place finish.
"We visited and decided on a new direction," Kubiak said. "Obviously, him giving me a chance to move us in that direction, I'm very thankful for that. But I know I've got a lot of work to do and a lot of problems to fix."
I like that tone, but I suspect McNair had underestimated the size of his team's issues and is overly hopeful that it's on a good track.
In Jacksonville, owner Wayne Weaver met with a bunch of players, asked Del Rio to give up control of the defense and offered a playoffs or pink slips
ultimatum
. Assistants will operate on their remaining one-year contracts.
That's something I don't think happens often enough, and should serve as motivation rather than undue pressure. Critics would suggest, as often as Del Rio has altered his staff, they're all only assured of a year at a time on the job. But now we're talking about salaries at stake.
Weaver also spoke about how the team was not too far removed from dismantling the roster when Gene Smith took over as general manager in 2009 and used Smith language as he talked about an "ascending team."
Del Rio will talk to the media Tuesday.
January, 3, 2011
1/03/11
5:41
PM ET
By
ESPN.com staff
| ESPN.com
Texans coach
Gary Kubiak will return next season
, but defensive coordinator Frank Bush has been fired, the Associated Press reports.
On Monday, Houston also fired secondary coach David Gibbs, linebackers coach Johnny Holland and assistant linebackers coach Robert Saleh.
AFC South blogger Paul Kuharsky is traveling and will have more on the situation later.
January, 3, 2011
1/03/11
4:34
PM ET
By
ESPN.com staff
| ESPN.com
Jaguars coach
Jack Del Rio's job is reportedly safe
, the Associated Press reports. Del Rio has compiled a 65-63 record through eight seasons in Jacksonville.
AFC South blogger Paul Kuharsky is in transit and will have more on the situation soon.