December, 8, 2012
12/08/12
1:30
PM ET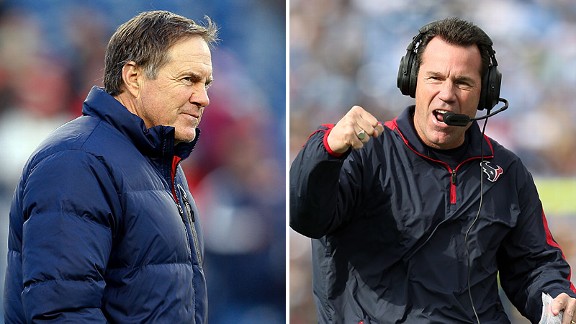 Getty ImagesBill Belichick has steered the Patriots to the top of the AFC, but Gary Kubiak and the Texans are now gunning for the conference's perennial top team.
It's been a while since the
New England Patriots
won a Super Bowl, but they remain the standard-bearers in the AFC.
They've been to two of the past five Super Bowls, including the most recent one. They've been in five of the previous 11 Super Bowls and won three in four years from 2001 to 2004.
For teams looking to become consistent AFC powers, the Patriots are the target. One of those teams, the
Houston Texans
, is heading to New England for "Monday Night Football."
No matter the result, the Texans will still have at least a one-game lead for home-field advantage throughout the playoffs. This could be an AFC Championship Game preview.
Can the Texans overtake the Patriots?
"I think they can," one AFC executive said. "They have the talent, they have the consistency of scheme on both sides of the ball to do it. The wild card is their health, particularly on defense."
"That's going to be a tough one," said Rosevelt Colvin, who played six of his 10 NFL seasons as linebacker with the Patriots and spent a training camp with the Texans. "Patriots are the closest thing to consistency you will find in this era of NFL ball. Two big reasons: Bill Belichick and
Tom Brady
."
New England's coach and quarterback have the skins on the wall and the credibility that come with them. That doesn't mean someone new can't break through, though only three other teams have represented the AFC in the Super Bowl since the Patriots came to prominence: Oakland once, Indianapolis twice and Pittsburgh three times.
Are the Texans poised to break through?
"Everybody would like to do what they've done over a long period of time," Texans coach Gary Kubiak told Houston reporters. "This league's about consistency. I think I learned a lot about that in my time in San Francisco and Denver. Doing things right all the time.
"We're trying to become a very consistent organization here and put a consistent product on the field week in and week out and do things the right way. We're very young in the process, but we have a lot of respect for what they do."
One major similarity: Patriots owner Robert Kraft and Texans owner Bob McNair are widely regarded as two of the best owners in the NFL. They are willing to spend to make things first-class, and they back their coaches.
Let's look at some other ways the Texans are similar to the Patriots and some ways they are different:
[+] Enlarge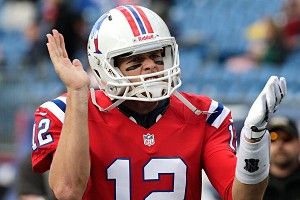 AP Photo/Charles KrupaTom Brady's consistent play has made the Patriots annual Super Bowl contenders.
Scheme:
The Patriots morph as required, not just season to season but sometimes week to week.
They drafted two high-quality tight ends when they saw
Rob Gronkowski
and
Aaron Hernandez
available and shifted their offense to be predominantly two-tight. When both missed time because of injury -- Gronkowski won't play Monday -- they easily shifted to three-wide. They've been a 3-4 team. They've been a 4-3 team.
Belichick adapts to what he has and the circumstances.
The Texans don't morph.
They've updated and improved Kubiak's offensive system since he took over in 2006, but the principles are the same. The zone-blocking line cuts defenders down, and the back is asked to make one cut and go. They run a ton of play-action and ask quarterback
Matt Schaub
to roll out and run bootlegs off that. It's not a common scheme, which makes it a bit tougher for defenses to handle.
Defensively, they struggled to find an identity until they brought in defensive coordinator Wade Phillips. As leader of the defense, he installed his brand of 3-4 and stamped the Texans with a personality they had been lacking. Now they are locked into a defensive system that same way they are locked in on offense.
They are both top-eight rushing teams, but running is less important to New England because its passing game is more straight drop-back and shotgun while the Texans rely on far more play-action.
Leadership:
Belichick is the team's authority, although while the Patriots came to prominence much was made of how he worked in tandem with Scott Pioli in the front office. If they didn't agree on a player, they would move on to the next one.
Pioli left to become the general manager in Kansas City in 2009. Belichick remains the powerful agenda-setter, but he has resources when he wants them -- including director of player personnel Nick Caserio and senior football adviser Floyd Reese.
Although the Texans have always stayed mum publicly about who has final say, Kubiak was hired first and general manager Rick Smith joined him. League insiders see the Texans as a coach-steered franchise. Kubiak and Smith have an excellent relationship and get good input from front-office personnel, coordinators and assistants.
Kubiak and Belichick have vastly different public personalities. Belichick is gruff and controlling. Kubiak is personable and agreeable.
Belichick wields more power, but the setups for both coaches in their organizations are comparable.
Depth:
Belichick once lost Brady in the Patriots opener. He plugged in
Matt Cassel
and won 11 games.
Overall, New England has done exceedingly well plugging reserves in when needed and getting sufficient production. The Patriots also move guys around with success. We've seen them play receiver
Troy Brown
at corner. Currently,
Devin McCourty
can line up at cornerback or safety.
Although veterans generally want to stay in their winning atmosphere, the Patriots have not been sentimental about keeping guys. If a player gets too old or too expensive, they'll let him walk.
The Texans went to the playoffs for the first time in franchise history last season with rookie quarterback
T.J. Yates
playing because starter Schaub and backup
Matt Leinart
both got hurt. Outside linebacker
Mario Williams
was out after five games, and receiver
Andre Johnson
missed nine. Houston showed off its depth in overcoming the absences.
The team let Williams leave as a free agent, traded inside linebacker
DeMeco Ryans
and released right tackle
Eric Winston
in the offseason while fitting other pieces under the cap. They got Schaub and left tackle
Duane Brown
locked up with long-term contracts before the season kicked off.
Houston is showing off its depth again this season. Inside linebacker
Brian Cushing
went down after five games, and
Tim Dobbins
has played well in his place.
Brooks Reed
missed last week and will be out a few more, and the team has first-rounder
Whitney Mercilus
to insert into a shuffled linebacker corps.
"Keeping the talent pool full of younger guys that can run that system is key, as well as coaching consistency," Colvin said. "They have a good mix right now."
November, 18, 2010
11/18/10
12:12
PM ET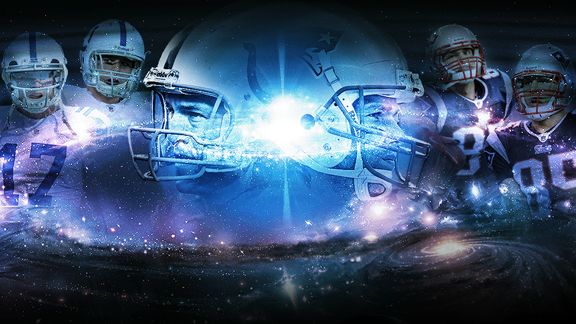 ESPN.com IllustrationPeyton Manning and Tom Brady have been at the center of arguably the best rivalry of the past decade. Who will carry it on when they step away from the game?
The annual AFC showdown is upon us, and with it come the recurring storylines.
That's right, the
Indianapolis Colts
will meet the
New England Patriots
on Sunday for an eighth straight season. The NFL's greatest ongoing interdivisional rivalry showcases two of the great organizations of this generation and renews the discussion about
Peyton Manning
's stats versus
Tom Brady
's championships.
We've decided to rekindle the debate, but before you throw your head back and groan in anticipation of the clichés, hold your horseshoes.
The purpose of this debate is to eliminate Manning and Brady and look into the future.
Which team has the better long-range outlook once Manning and Brady move on?
For the purpose of this discussion, we've set the target for 2015 -- one year beyond the length of Brady's latest contract extension -- to examine which team has the better infrastructure to cope with life minus its iconic quarterback.
Tim Graham:
Time to get after it, Paul. But no weapons this time, please. I've just recently completed the physical therapy from our last debate.
Paul Kuharsky:
Well, this back-and-forth will be less physically taxing, and since there is so much forecasting, you may actually be able to put your Jedi training to use.
Graham:
Get this debate started we shall, hmmm?
Kuharsky:
So what do the Colts and Patriots have now that's going to be a big factor for them in five years?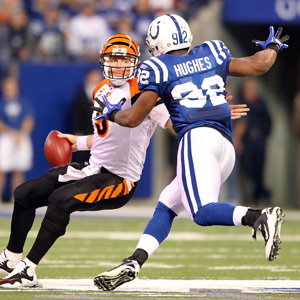 Andy Lyons/Getty ImagesWill 2010 first-round pick Jerry Hughes develop into a cornerstone on the Colts' defense?
I count eight guys who are in their first, second or third year with the franchise who I expect will still be prime contributors in 2015. But only three of the eight fit into the framework of the four most important positions on the field -- quarterback, left tackle, defensive end and cornerback. Those players would be corners
Jerraud Powers
and
Jacob Lacey
and defensive end
Jerry Hughes
.
Hughes is still unproven, but it's early and Colts president Bill Polian saw the potential for him to ultimately replace a
Dwight Freeney
or a
Robert Mathis
.
Others who may still be staples when Manning is gone: receiver
Austin Collie
, linebacker
Pat Angerer
, tight end
Jacob Tamme
, tight end
Brody Eldridge
and punter
Pat McAfee
. Can that group be the core of a team that continues to win? I wish I could offer a solid yes or no instead of a tepid maybe.
Beyond that, we've got five drafts to consider, right? And Polian regularly finds undrafted gems. I don't doubt the Colts will have talent. But they'll need new Freeney-,
Dallas Clark
- and
Reggie Wayne
-caliber stars, plus the replacement quarterback.
Graham:
Patriots overlord Bill Belichick has drawn deserved criticism for his draft failures. He has swung and missed at his share of Terrence Wheatleys and Kevin O'Connells and Chad Jacksons in the early rounds.
But when you accumulate as many picks as the Patriots have and have elite football minds evaluating the talent, those bad decisions are going to even out eventually. The Patriots appear to be warming up when it comes to successful drafting.
[+] Enlarge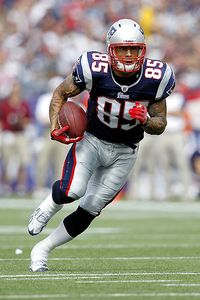 AP Photo/Paul Spinelli Rookie tight end Aaron Hernandez ranks second on the Patriots in catches and receiving yards.
The Patriots went into Heinz Field and manhandled the
Pittsburgh Steelers
with four rookies in their starting defensive lineup (defensive end
Brandon Deaderick
, outside linebacker
Jermaine Cunningham
, inside linebacker
Brandon Spikes
and left cornerback
Devin McCourty
) and a rookie tight end (
Rob Gronkowski
), who caught three touchdowns. Another rookie tight end (
Aaron Hernandez
) ranks second on the team in catches and receiving yards. Their punter is a rookie.
They don't have as many second- and third-year contributors, but inside linebacker
Jerod Mayo
was defensive rookie of the year in 2008. Among the sophomores are starting right tackle
Sebastian Vollmer
and receivers
Brandon Tate
and
Julian Edelman
, who also handle return duties.
Without question, there will be a drop-off at quarterback when Brady retires, but the Patriots are loaded with core youth.
Kuharsky:
The Colts may draft better, but they also draft less. Polian's not the draft pick wheeler-and-dealer Belichick is. Are those the guys who will be lining up the Manning and Brady successors?
It's a quarterback-driven league, and teams minus Manning and Brady will have major voids. We've got to talk about the replacements for the iconic quarterbacks, but it's hard to offer much conjecture on what kind of guy that will be without talking about who will be finding him.
Polian is 67 years old, and the last time I asked him about any sort of plan for retirement he gave me a head tilt and an uncomfortable expression.
Graham:
I've noticed a lot of people do that around you.
Kuharsky:
If things are neat and tidy, the suspicion is he and Manning -- the guy he hit the jackpot with when he picked him over
Ryan Leaf
-- will exit together. The next generation is waiting in the wings. Chris Polian is Indianapolis' vice president and general manager.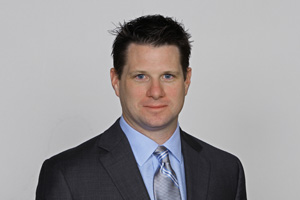 AP PhotoCurrent Colts VP Chris Polian is likely play a key role in finding Peyton Manning's successor.
I'd expect Bill Polian will have a strong hand in selecting the Colts' quarterback of the future. But it will ultimately be Chris Polian who's connected to that signal-caller the way Bill Polian is connected to Manning. The younger Polian has a good reputation and good football genes, but it's hard to know how much of his father's personnel judgment he's inherited and how much he's learned. And having to replace a guy many will argue is the greatest quarterback of all time will be an awfully difficult assignment.
Graham:
I don't know how long Belichick plans to coach, but even if he were to get tired of the week-to-week grind of getting his boys ready to play, it's fathomable he'll stick around to run the operation, handpicking his successor and overseeing football operations.
It would be silly to give Belichick more than a smidgen of credit for drafting Brady in the sixth round a decade ago. If Belichick truly knew what Brady was capable of, the Patriots wouldn't have passed on him until the 199th pick. So it's not like Belichick will simply wait until Brady's on the verge of retirement and automatically snag a replacement.
Kuharsky:
True. But they knew more than everybody else when they finally did take him.
Graham:
Belichick trusted his scout, and they unearthed a gem.
I believe Belichick's support staff is stronger than Polian's. Senior adviser Floyd Reese oversaw the Houston Oilers and
Tennessee Titans
' drafts when they picked
Steve McNair
and
Vince Young
. Player personnel director Nick Caserio, like a lot of Belichick's sidekicks over the years, will develop the tools to run his own show someday.
Kuharsky:
I don't know that Belichick's got better support. It's just more well known and visible support.
Graham:
And a high-profile owner who is willing to trust his front office, will spend money and doesn't dare meddle. That's another key component to New England's success over the past decade.
Kuharsky:
Moving onto the replacement quarterback himself,
Curtis Painter
is Manning's current backup. But based on his work in a couple of regular-season games the team didn't care about winning at the end of last season and some preseason work, most people aren't forecasting anything special from him. And that would amount to quite a lengthy apprenticeship anyway.
Graham:
You wouldn't think the Patriots have Brady's successor on the roster either.
Brian Hoyer
is an undrafted sophomore with virtually no experience so far. But you never can tell how these guys will develop while working alongside Brady for a few years. This is the team that identified
Matt Cassel
, a seventh-round draft choice who hadn't started a game since high school, as its top backup for 2008. He ended up going 11-5 when Brady blew out his knee.
Kuharsky:
The Colts will need a guy for a super-tough replacement job. It would be awfully difficult for them to land in a
Aaron Rodgers
for
Brett Favre
or
Michael Vick
for
Donovan McNabb
replacement situation.
After hitting a grand slam with the No. 1 pick in 1998, odds would suggest that it will be tough for them to line up with the right guy at the right pick at the right time. The way they build, odds are Manning's heir will be a guy who plays a full college career. So he's a college freshman or a high-school senior right now, depending on their plan for easing him in.
Graham:
The Colts and Patriots finish too high in the standings every year and don't get to pick until the 20s. That will make it nearly impossible to snag some golden-armed top prospect in their assigned draft positions. But the Patriots frequently go into drafts with other teams' picks -- and an abundance of them. They often have copious draft assets to move up if they want to. Or maybe the Patriots will obtain that big-ticket pick waaaaay in advance. A year ago, Belichick traded
Richard Seymour
to the
Oakland Raiders
for their 2011 first-round selection. That's the kind of creative investing that could pay off with a high-quality quarterback prospect down the road.
Kuharsky:
It will definitely be more difficult for the Colts to get to the top of a draft to get a premier guy. And there may need to be a post-Manning down-cycle for the team to get up there and find the guy. Scribes in Indianapolis often wonder aloud what happens to the Colts' crazed support if they turn into a 5-11 rebuilding project. The rest of the AFC South certainly hopes that's how it works, and that the division is a lot more wide open once Manning's not in it.
And while we're forecasting five years out, I have two questions: Will Manning still be a deadpanning TV commercial superstar? And will Brady have had a haircut?
Graham:
There's one unwavering prediction I can make about hair, Paul, but it's not about Brady's.
January, 27, 2009
1/27/09
1:53
PM ET
Posted by ESPN.com's Paul Kuharsky
The New England Patriots just announced they've hired ESPN analyst and former Titans general manager Floyd Reese as senior football advisor.
The announcement said Reese "will be involved with various football-related assignments, including contracts" while Nick Caserio will manage the daily operations of the personnel department as director of player personnel.
"We consider ourselves fortunate to have the opportunity to add someone with Floyd Reese's NFL experience and expertise to our staff," said Patriots Chairman and CEO Robert Kraft in a statement. "Floyd will be a tremendous asset serving coach [Bill] Belichick in an advisory role."
"Floyd and I go back a long way, practically to the beginning for both of us," said Belichick. "He has handled as much as one person can possibly handle in this league and, to a certain extent, so has Nick. In Nick and Floyd, we have two outstanding men who each bring a wealth of knowledge and flexibility to this organization. I look forward to joining with both of them and working toward the common goal of our team's improvement and success."
Reese lost out with the Titans after the 2006 season when owner Bud Adams did not renew his contract and eventually hired Mike Reinfeldt to replace him. Part of the reason Reese was let go was that Jeff Fisher had better standing with the owner, who it appeared felt the two couldn't work effectively together any longer.
Reese has been eager to get back to work for a team. He was quoted quickly in Detroit after Matt Millen finally resigned last season and even talked about the Cleveland GM job while Phil Savage still held it. Recently he'd been quieter and now he lands in a situation that may be the best imaginable in terms of being part of a winning set up, if not in the power he will wield.