January, 9, 2011
1/09/11
5:47
PM ET
The timeout debate lingers.
With 29 seconds left, Jim Caldwell used the Colts' final timeout with the Jets at the Indianapolis 32-yard line. There is much debate about what the Jets were going to do from there. If they were content to run it again to try to set up
Nick Folk
for a long field goal and use their final timeout, then Caldwell's call was questionable at best.
To hear Gregg Doyle
tell it
, that's what would have happened. But the Colts timeout provided the Jets with bonus time to sort out a play, and that play -- an 18-yard
Mark Sanchez
to
Braylon Edwards
pass up the right side that beat
Jacob Lacey
-- lowered the possibility of a Folk miss.
My immediate reaction was "What are they doing?" Postgame, Caldwell talked of forcing the Jets to snap the ball as many times as possible, as each snap created a possibility for something bad to happen. But it seemed he bunched field-goal range into one big category rather that judging a more difficult attempt against the potential for an easier one.
He certainly didn't know the Jets' plan at that point.
It's a pressure situation for the New York offense with a kicker who hardly had a sterling season from long-distance. I don't sign off on a timeout that creates even the possibility for any additional opportunity for the Jets. Don't give them discussion time.
What's more likely, a fumble, a pick, or a sack? Or some gain that raises the percentages for Folk, or a Folk miss from long-range?
I say the Folk scenarios, so I let the Jets handle the clock there and take my chances. Maybe Caldwell thinks everyone's got an
Adam Vinatieri
.
Sunday, the coach defended himself further.
Here's his exchange with the Indianapolis press:

On if he regrets calling the timeout on the Jets' last drive:

"No. You can look at it a number of different ways. One of the things, I guess it was when (WR-Santonio) Holmes caught that pass, they were in field goal range at that point in time. You make a determination on what you want to do. We try to do a decent job at taking a look at the field goal kicker and see how they are doing in warm-ups, what is their range, all those types of things. We don't only do our own, but we do the opposition as well. We take a good look at that. It's probably not much different than the week before. They were in field goal range, use your timeouts, make them take another snap. In some cases, they will run it. If they do, then obviously they'll run the clock down and they'll take a stab at it from there. In other cases, they'll throw it and that gives us some other opportunities, a sack, tackling them out of field goal range, sack-fumble, interception, tipped ball, a lot of things can happen in that situation. That is what our thinking was in that situation. They were able to make a play and it gave them a little bit shorter field goal."

On if he thought the Jets would run the ball again following the time out.

"That's typically what you see, but there are no guarantees. You have to live with either result. You have to make a play or they will make a play in that situation."

On if he thought the Jets were prepared to settle for a 50-yard field goal on their last possession:

"You don't know what they are thinking. That would be very, very easy if you knew exactly what they are thinking. You've got to weigh both options, 'Okay, maybe they are just trying to set it up. The next one is going to be a run into the middle of the field.' But you don't know. You also know that a team can pass. That's why the defense we called, we were anticipating that it would be a pass, get up and press, don't let them throw a little hitch on the outside, that kind of thing. They made a play and so be it."
January, 7, 2011
1/07/11
4:00
PM ET
»
Wild-card Final Word
:
NY Jets-Indy
|
Baltimore-K.C.
|
N.O.-Seattle
|
G.B.-Philadelphia
Three nuggets of knowledge about Saturday's Jets-Colts wild-card game:
[+] Enlarge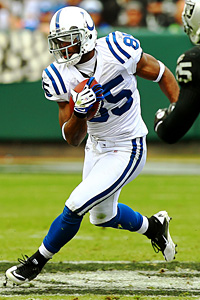 AP Photo/Kevin TerrellColts wide receiver Pierre Garcon caught 11 passes for 151 yards in last season's AFC Championship Game against the Jets.
Will the Colts target Drew Coleman?
Peyton Manning
's going wherever he finds an open receiver. But the Jets emphasized adding cornerbacks after
Pierre Garcon
had a huge game against them in the AFC Championship Game. ESPN Stats & Info says that Manning really took off in that game when he started attacking the middle of the field. Surely
Reggie Wayne
and Garcon will run routes that take them there. But if
Darrelle Revis
and Cromartie do well on Wayne and Garcon, respectively, we're going to see how the linebackers can handle
Jacob Tamme
and how the nickel, Coleman, can handle
Blair White
. I suspect there will be at least a couple of moments when Colts' fans grimace and wonder how much of a difference
Austin Collie
would have made. But Indianapolis has enough to still be effective.
Can the coverage contain Brad Smith?
The Colts can't let a big special teams play be a factor, and Smith can be exceptionally dangerous as a kick returner. Indianapolis should take a touchback every chance it gets. Seriously. There are two significant categories where the Colts and Jets are night and day. This is one of them. The Jets' average drive starts at the 31.5-yard line, the best spot in the league. The Colts start at the 22.7, the worst. It's fair to cringe every time Indianapolis fields a kick, and that's not a knock on
Dominic Rhodes
, who's been handling the job. There is just nowhere for him to go.
What happens inside the 20?
The other night and day contrast between these teams is in red zone production. The Colts don't have to call on
Adam Vinatieri
a lot because they are busy scoring touchdowns. When they get close, they get touchdowns 67.9 percent of the time, the best percentage in the league by a good margin. New York doesn't play great red zone defense. The Jets allow TDs 60.5 percent of the time with Indy's defense faring better (52.1). On offense, the Jets punch it in only 40 percent of the time. That's a lot of numbers to get to my point: A lot of
Nick Folk
on the field isn't going to win this game, I don't expect.