December, 19, 2013
Dec 19
10:00
AM ET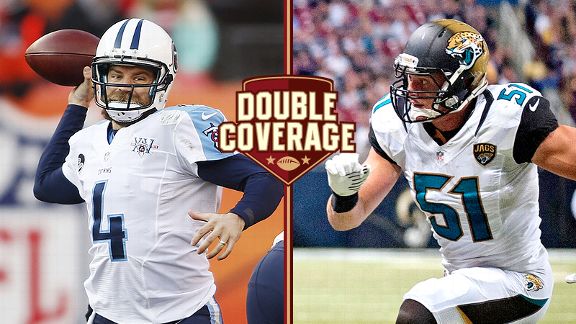 USA Today SportsPaul Posluszny and the Jags are aiming for a season sweep of Ryan Fitzpatrick and Tennessee.
JACKSONVILLE, Fla. -- Maybe
Delanie Walker
shouldn't feel so bad now.
The Titans tight end said he was embarrassed after the Jaguars won 29-27 in Nashville on Nov. 10 to pick up their first victory. Since then, the Jaguars are 3-2 with victories over Houston (twice) and Cleveland. The Titans are 1-4 with a victory over Oakland.
There seems to be much more stability in Jacksonville, too, because of the uncertain status surrounding Tennessee coach Mike Munchak.
Jaguars reporter Michael DiRocco and Titans reporter Paul Kuharsky break down Sunday's matchup at EverBank Field.
DiRocco
: Some Titans players were pretty vocal about being embarrassed due to becoming the first team to lose to the Jaguars. Is that something that still stings, and how have they rebounded from that loss?
Kuharsky
: It definitely left a mark. They are only 1-4 since then. It kind of set a bar for how bad they can be and re-established their propensity to lose to teams that are really struggling. The Jaguars are on an upswing since that game, and the Titans are on a downward spiral. If Tennessee losses to the Jaguars again, the Titans will be in line to finish in third place in an awful division, which is well short of their goals and expectations. The Titans are a better team than they were last year. But losing closer isn't a really big difference in the really big picture.
Let's turn that around. How has life changed for the Jaguars since that Nov. 10 breakthrough?
DiRocco
: I could go into a lot of stats that show how much better the Jaguars are playing, but that's not what's really important. The past six games have been more about the validation of the process, establishing the foundation of the franchise's rebuild, and confidence in the new regime. Coach Gus Bradley never wavered from the plan that he and general manager David Caldwell established. His message stayed the same throughout the eight-game losing streak to start the season: trust in the process, work hard, and focus on improving and not victories, and the victories will eventually come. Because that has happened, the players appear to have completely bought into what Bradley and Caldwell want to do, and there's a confidence in the locker room that the franchise is headed in the right direction.
We talked about
Jake Locker
the last time these teams met, but that was before he suffered a season-ending injury to his foot. How does that change the Titans' outlook on him and are they in the market for a quarterback in the offseason, too?
Kuharsky
: Locker is certain to be on the 2014 Titans. His fourth year isn't that costly and it's guaranteed. But they can't execute a spring option for his fifth year that would line him up for over $13 million. A lot of his fate depends on whether Munchak is back as the head coach. It's possible they go forward with Locker,
Ryan Fitzpatrick
and just-signed
Tyler Wilson
as their quarterbacks. It's also possible they'd draft a new guy, and depending on how high of a pick he could land in competition to start. I think it's less likely they chase a free agent like
Jay Cutler
if he comes free, but they have to assess all the possibilities. How can they completely commit to Locker based on his injury history?
One side effect of the Jaguars' surge is they aren't going to be in position to draft the first quarterback taken. What's your sense of what Bradley and Caldwell want in a quarterback and do you expect one to arrive in the first round?
DiRocco
: Offensive coordinator Jedd Fisch said something interesting last week. He said he wants his QB to scramble around, take off running to get yards and take some chances throwing the football. To me, that sounds like a pretty accurate description of Johnny Manziel. I'm not sure how that reconciles with the ideas of his bosses. Bradley comes from Seattle, which has the mobile
Russell Wilson
. Caldwell comes from Atlanta, which has the considerably less mobile
Matt Ryan
. My sense is that Bradley and Caldwell probably lean more toward the Wilson end of the spectrum. People think that eliminates Teddy Bridgewater, but that's not the case. He's not a runner but he can run if needed. If he's around, I'd expect them to take him. If not, then I would still expect them to go quarterback. It's their most glaring need.
You mentioned Munchak's job status. What's your take on whether he will be back next season -- and should he be?
Kuharsky
: He's shepherded improvement, but his team lacks an ability to finish. He's 0-4 in the worst division in football, 1-9 in the past two years. His teams have lost to the previously winless Jags in 2013 and the previously winless Colts in 2011. He's 4-18 against teams with winning records when the Titans played them and 2-19 against teams that finished the season with a winning record. To me, three years is a sufficient sample size to know what you've got and those numbers are the most telling thing on his resume. Keep him and they deal with all the limitations connected to a lame duck coach. I don't know what Tommy Smith, the head of the new ownership, will do. But the fan base overwhelmingly wants change, if that's worth anything. People still pay for tickets because they've got investments in personal seat licenses they do not want to throw away. But a lot of people are staying home on Sundays now.
Cecil Shorts
is done and
Maurice Jones-Drew
is uncertain. How can the Jaguars threaten on offense without their two best weapons?
DiRocco
: They were able to put up 20 points and post their second-highest yardage total of the season, including a season-high 159 rushing, in last Sunday's loss to Buffalo. Running back
Jordan Todman
stepped up big time and ran for 109 yards (Jones-Drew cracked 100 only once in the first 13 games) and tight end
Marcedes Lewis
was more involved in the passing game than in previous weeks (four catches for 54 yards and a touchdown). But I'm not sure that is sustainable. Teams will certainly concentrate on stopping Lewis and make quarterback
Chad Henne
move the ball with three receivers who have a combined 75 career catches. Todman doesn't scare anyone, either. The Jaguars will have to be creative on offense (they've run gadget plays the past three weeks) and capitalize on every opportunity they get.
April, 27, 2012
4/27/12
11:26
PM ET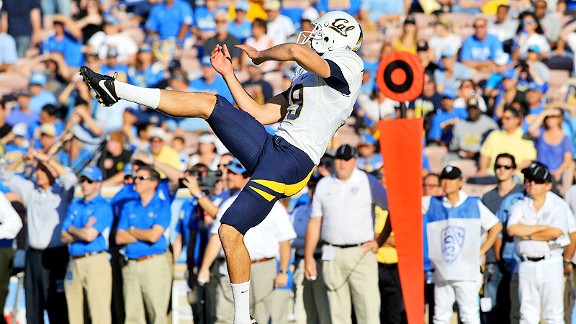 Cal Sport Media/AP ImagesUsing the 70th pick on Cal punter Bryan Anger hurts the Jaguars more than it helps them.
The
Jacksonville Jaguars
have been accused (occasionally by me) of not doing well enough in assessing how the rest of the league's teams value some players the Jags draft.
Some personnel people around the league say the Jaguars simply don't care about that. In a way, I admire them for it. Don't be overly concerned and influenced by the forces around you, by the competition. Do your own thing. Bank on your convictions.
But when it comes to taking Cal punter
Bryan Anger
in the third round, the Jaguars absolutely should care about league context.
I know at least one other team had him rated as a fifth-rounder.
Anger is the first punter to go in the top 100 picks since 1995, when Todd Sauerbrun went in the second round to Chicago, 56th overall.
There is a reason for that.
It's important that you don't punt terribly. But it's not so important that you punt fantastically, certainly not important enough that you sacrifice the chance to improve at a position that could be on the field for three downs a game.
"I think it will be evident when you get a chance to see him punt: He's got a strong history which I feel will transfer to this level in helping us defensively with the yardage we can gain in field position," general manager Gene Smith said.
"… He's the player in that round at your pick that you feel can upgrade your football team. I think that's an easy decision for me, to get a starter in the third round."
Calling a punter a starter is beyond a stretch.
The Jaguars' defense played 970 plays in 2011. The Jaguars' offense played 958 plays. The Jaguars punted 99 times.
"I think it's first downs that you gain," Smith said in a further defense of the pick. "And I feel like in the third round it's not a round that you always get proven starters."
Really?
In Smith's three previous drafts, he picked four times in the third round. Guard
Will Rackley
, defensive tackle
Terrance Knighton
and cornerback
Derek Cox
are starters. The only nonstarter, defensive tackle
D'Anthony Smith
, has missed his first two seasons with injuries.
The Jaguars averaged 41.9 yards per punt last season, 31st in the NFL. They averaged 36.5 net yards per punt, 28th in the NFL. Those numbers were, in part, a testament to the team's foolish conclusion that greybeard
Matt Turk
was the man to replace
Adam Podlesh
, who left for Chicago as a free agent.
The Jaguars cut Turk after five games, going with
Nick Harris
the rest of the way. Harris was 3 yards (and 5.1 net yards) better per punt than Turk had been.
A longer punt is easier to cover, so this is too simple.
Nevertheless, here is my counterproposal to drafting Anger 70th:
Jacksonville uses an average punter and boosts its net average to what was the midpoint for 2011. By my calculations, that would give the Jaguars an extra 15.5 net yards a game. Then use the 70th pick on an offensive lineman who, as part of a better scheme, could help cut the Jaguars' sack yardage in half. That would give the team an extra 10.3 yards a game, and also help young quarterback
Blaine Gabbert
not worry so much about getting crunched.
The overall gain from my plan -- not just estimating the average that will come with a big leg, but actually factoring in context -- would be better.
The goal is not to punt, and you drafted a punter. That was the first thing a reporter in Jacksonville said to coach Mike Mularkey after the pick.
"And hold, hold for extra points," Mularkey said. "If you want to write about him, he's a really good holder for extra points and field goals, and he just so happens to be a difference-maker when it comes to punting."
Oh, he holds, too? Well, that changes everything.
No, actually, any guy on offense with good hands, starting with your backup quarterback, should be able to function as a holder.
Maybe Anger is the league's best punter and holder for 15 years.
Even if he is, it says here there will be at least three dozen players among the picks after Anger who have more impactful careers than he will. And that's a modest 20 percent of the 183 guys we're talking about. If the Jaguars missed on him by two rounds, maybe it's 64 players. It could be more.
Are the Jaguars, coming off a 5-11 season, good enough that they can pass on such potential people? They are not. Perhaps they are expecting Gabbert to be terrible again, knowing they'll be punting a ton and being proactive?
They need more guys who can score touchdowns or stop touchdowns. Get more guys who can get you first downs and you'll punt less, kicking more field goals and scoring more touchdowns. Get more guys who can stop a third-down run or break up a third-down pass and you'll be fielding punts, not covering them.
Do those things, and getting a few additional yards when you have to kick the ball away doesn't mean so much.
Know where you have a chance to add guys who fit that bill?
With the third-round pick you just used on a punter.
Too often the Jaguars are a punching bag or a punch line.
This time, they deserve it.
February, 16, 2012
2/16/12
3:11
PM ET
Early thoughts on the Jaguars scheduled to become unrestricted free agents come March 13, with thanks to
Mac's Football Blog
, where you can find complete team-by-team lists that include exclusive right and restricted free agents.

QB Luke McCown --
I would think they will look to upgrade the backup so they have a fallback plan and better mentor for
Blaine Gabbert
.
OT Guy Whimper --
He was banged up and streaky in 2011. He's OK as a third tackle, but doesn't rate as a priority.
DE Jeremy Mincey --
Had a breakout year and is a high-energy pass-rusher who will be better as they add a big-time end. Probably wants more than they'll pay.
DE Matt Roth --
They got him cheaply on a one-year deal. As they look to add a premier guy at the spot, it seems they'd like him back as part of the rotation at the right price.
S Dwight Lowery --
The No. 1 priority among their free agents. He transitioned very well from corner to safety and fixed a problem they don't want to have to address again.
CB Rashean Mathis --
Combination of torn ACL and age (31) means they will be looking to replace him. Though he could be back late if he's cheap.
K Josh Scobee --
A very solid kicker I feel sure they'd love to retain.
Other UFAs:
December, 6, 2011
12/06/11
1:44
AM ET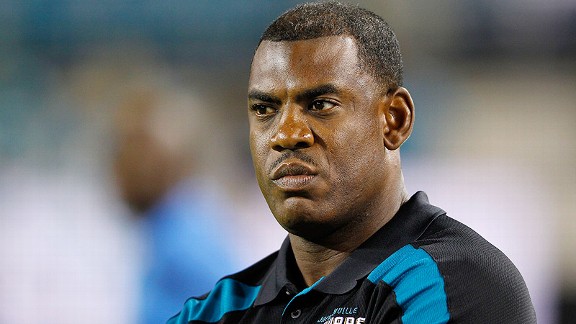 Mike Ehrmann/Getty ImagesThe Jaguars, who haven't scored more than 20 points this season, managed 14 in interim coach Mel Tucker's debut.
JACKSONVILLE, Fla. -- After a news-filled week with change, the Jaguars took the field for "Monday Night Football" and promptly proved talent trumps everything.
Depleted at cornerback and ineffective rushing quarterback
Philip Rivers
, Jacksonville allowed the Chargers' quarterback to find big plays all night. He missed on only 6 of 28 passes and threw for 294 yards and three touchdowns in a
38-14 win
that ended San Diego's six-game losing streak and snapped the Jaguars' hopes that a new coach could quickly change their course.
All the promise the Jaguars brought into the first game under interim coach Mel Tucker with a national audience watching flamed out Monday night at EverBank Field.
Tucker preached to his team that just because it didn't see immediate results didn't mean the changes they'd adopted weren't the right ones, and asked them to rededicate and recommit.
With four games left, they may have the right roster character to do so, but the improvements and dividends are likely to be small.
"We did improve as a football team this week in a lot of areas," Tucker promised. "Those are some things that didn't show up for the entire game, but they will give us a chance to win and sustain winning in the future."
Tucker's in a tough spot, trying to sell hope and change with only so much he can do and no influx of talent walking into team headquarters.
I want to believe his belief, but at the same time it's hard to buy into a predictable offense that lacks anything dynamic beyond
Maurice Jones-Drew
, and into a defense that's too injured to cover against quality receivers being targeted by an accurate quarterback.
Jacksonville rookie quarterback
Blaine Gabbert
and the offense pieced together a nice second quarter, when they turned a 10-0 deficit into a 14-10 lead. It was his first game with two touchdown passes, but an interception resulting from a miscommunication with receiver
Mike Thomas
late in the second quarter positioned San Diego to retake the lead before intermission.
And a team that hasn't scored 21 points in a game all season never threatened to do so from that point forward.
"We executed well in the second quarter, but the biggest thing we've got to take out of this game is that we've got to execute like that the whole game," Gabbert said. "We've got to play four quarters of football. We can't just have one great quarter."
I'd rather not carve up Tucker's postgame comments, but how they squared with the game that came before them was somewhat striking to me.
He said playing from behind, the team remained confident in its game plan. "I didn't see confusion, I saw an element of sharpness and crispness, I saw a confidence as guys broke the huddle," he said.
I saw two Keystone Cops moment, with Gabbert simply dropping the football on a scramble before batting it out of bounds to earn a penalty, and with long snapper
Jeremy Cain
sending holder
Nick Harris
in wild pursuit of a well-wide snap on what was to have been a long field goal attempt.
Tucker said he did see a sense of urgency, but the Jaguars never really stepped up their tempo. Had they, things might have gotten worse, not better. But as with many things at this stage of a bad season, you have to ask: Why not try?
Tucker said "we did what we could," and that I believe.
This is a limited team that needs a new coaching staff and its young quarterback to spend an offseason together, re-crafting an offense to be less predictable and feature more explosive pass catchers -- like San Diego receiver
Vincent Jackson
, who scored a 35-yard touchdown and is heading for unrestricted free agency.
Jacksonville doesn't get to shop for such players yet, it's got to make do with the ones it has.
Like undrafted rookie corner
Kevin Rutland
, who had good position against
Vincent Brown
in the end zone on a 22-yard touchdown reception, but failed to turn his head to locate the ball and make a play on it.
Rutland's been with the Jaguars since the start of camp, he's gotten sufficient work as an understudy and he should have been ready, he said.
"There should have been no slack," he said. "I imagined my first start going a lot different. This is step one and I can grow from here."
He and a lot of people.
October, 13, 2011
10/13/11
10:02
AM ET
October, 12, 2011
10/12/11
10:28
AM ET
Reading the coverage …
Houston Texans

Writes John McClain of the Houston Chronicle: "A victory over the Ravens, who lead the AFC North with a 3-1 record, would convince many in the Texans' loyal legion of fans that Sunday's stinker against Oakland was a mirage. It would show the NFL they were capable of
flexing their muscles
and finishing the toughest part of the schedule 4-2 and owning first place in the AFC South."
My take:
It's always dangerous to think success in one setting can serve to erase a failure in another. A win in Baltimore would be gigantic, but it wouldn't absolve the Texans for what happened against Oakland.
Jeffrey Martin of the Chronicle writes that Brooks Reed is
trying to be smart
about replacing Mario Williams. "I'm not saying I have to produce the same as Mario or I fail."
My take:
Sounds like a smart approach. He's a good player and I expect him to be productive. It's just that he is unlikely to be Mario Williams-productive and I am not sure the Texans can withstand the drop-off.
Indianapolis Colts

Ben Stockwell of Pro Football Focus liked
the offensive line's effort
against the Chiefs.
My take:
The question is, can it be duplicated? A banged up group that's constantly being shuffled is going to have troubles with consistency.
Cathy Kightlinger of the Indianapolis Star says Gary Brackett is out for the season with a shoulder injury, but still
heavily involved
in community work.
My take:
I'd expect nothing different from him.
Anthony Schoettle of the Indiana Business Journal says if the Colts can't win at least three or four games this year, the heat might be
too much
for Jim Caldwell to handle.
My take:
Certainly Caldwell's status will be reviewed like everything else. And Chris Polian taking more power could be a factor in Caldwell's future.
Jacksonville Jaguars

Mark Woods of the Times-Union liked the way the Jaguars
responded
to a big gaffe at the end of the loss to Cincinnati.
My take:
People said the right things and that's nice. But they need to do the right things so they don't have to say the right things.
Tania Ganguli of the T-U looks at defensive end Jeremy Mincey. "Although the Jaguars have struggled to a 1-4 record, the defense clearly has improved. Mincey has been
a bright spot
and had one of his best games Sunday against the Bengals."
My take:
The guy can be electric. But the next step is a big one, and it's to be consistently productive.
Ganguli writes that Matt Turk is out and Nick Harris is in as
the Jaguars' punter
.
My take:
Turk was not the right guy when the team lost Adam Podlesh in free agency. Here's hoping Harris is an upgrade.
Tennessee Titans

Jim Wyatt of The Tennessean says Matt Hasselbeck will spend the time off for the bye week
relaxing
and spending time with his family. It's his first real down time since he signed.
My take:
He needs it at this point and has a long haul in line after the Titans get back to work.
David Boclair of The City Paper says Titans coaches will
self-scout
during the bye and focus in more on what identity their new systems give them.
My take:
They need to hope there are some revelations that help them going forward, particularly with regard to the running game.
Tom Gower of Total Titans looks at Damian Williams and Lavelle Hawkins as they get
increased opportunities
in the receiver mix.
My take:
Mike Munchak has said Williams needs to stop playing like a young guy. A lot of the Titans' potential for success rests with Williams and Hawkins being able to contribute.