December, 19, 2013
Dec 19
10:00
AM ET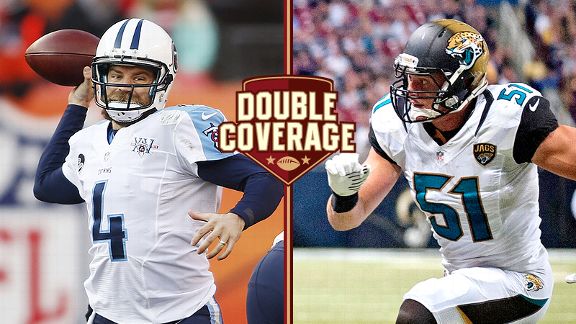 USA Today SportsPaul Posluszny and the Jags are aiming for a season sweep of Ryan Fitzpatrick and Tennessee.
JACKSONVILLE, Fla. -- Maybe
Delanie Walker
shouldn't feel so bad now.
The Titans tight end said he was embarrassed after the Jaguars won 29-27 in Nashville on Nov. 10 to pick up their first victory. Since then, the Jaguars are 3-2 with victories over Houston (twice) and Cleveland. The Titans are 1-4 with a victory over Oakland.
There seems to be much more stability in Jacksonville, too, because of the uncertain status surrounding Tennessee coach Mike Munchak.
Jaguars reporter Michael DiRocco and Titans reporter Paul Kuharsky break down Sunday's matchup at EverBank Field.
DiRocco
: Some Titans players were pretty vocal about being embarrassed due to becoming the first team to lose to the Jaguars. Is that something that still stings, and how have they rebounded from that loss?
Kuharsky
: It definitely left a mark. They are only 1-4 since then. It kind of set a bar for how bad they can be and re-established their propensity to lose to teams that are really struggling. The Jaguars are on an upswing since that game, and the Titans are on a downward spiral. If Tennessee losses to the Jaguars again, the Titans will be in line to finish in third place in an awful division, which is well short of their goals and expectations. The Titans are a better team than they were last year. But losing closer isn't a really big difference in the really big picture.
Let's turn that around. How has life changed for the Jaguars since that Nov. 10 breakthrough?
DiRocco
: I could go into a lot of stats that show how much better the Jaguars are playing, but that's not what's really important. The past six games have been more about the validation of the process, establishing the foundation of the franchise's rebuild, and confidence in the new regime. Coach Gus Bradley never wavered from the plan that he and general manager David Caldwell established. His message stayed the same throughout the eight-game losing streak to start the season: trust in the process, work hard, and focus on improving and not victories, and the victories will eventually come. Because that has happened, the players appear to have completely bought into what Bradley and Caldwell want to do, and there's a confidence in the locker room that the franchise is headed in the right direction.
We talked about
Jake Locker
the last time these teams met, but that was before he suffered a season-ending injury to his foot. How does that change the Titans' outlook on him and are they in the market for a quarterback in the offseason, too?
Kuharsky
: Locker is certain to be on the 2014 Titans. His fourth year isn't that costly and it's guaranteed. But they can't execute a spring option for his fifth year that would line him up for over $13 million. A lot of his fate depends on whether Munchak is back as the head coach. It's possible they go forward with Locker,
Ryan Fitzpatrick
and just-signed
Tyler Wilson
as their quarterbacks. It's also possible they'd draft a new guy, and depending on how high of a pick he could land in competition to start. I think it's less likely they chase a free agent like
Jay Cutler
if he comes free, but they have to assess all the possibilities. How can they completely commit to Locker based on his injury history?
One side effect of the Jaguars' surge is they aren't going to be in position to draft the first quarterback taken. What's your sense of what Bradley and Caldwell want in a quarterback and do you expect one to arrive in the first round?
DiRocco
: Offensive coordinator Jedd Fisch said something interesting last week. He said he wants his QB to scramble around, take off running to get yards and take some chances throwing the football. To me, that sounds like a pretty accurate description of Johnny Manziel. I'm not sure how that reconciles with the ideas of his bosses. Bradley comes from Seattle, which has the mobile
Russell Wilson
. Caldwell comes from Atlanta, which has the considerably less mobile
Matt Ryan
. My sense is that Bradley and Caldwell probably lean more toward the Wilson end of the spectrum. People think that eliminates Teddy Bridgewater, but that's not the case. He's not a runner but he can run if needed. If he's around, I'd expect them to take him. If not, then I would still expect them to go quarterback. It's their most glaring need.
You mentioned Munchak's job status. What's your take on whether he will be back next season -- and should he be?
Kuharsky
: He's shepherded improvement, but his team lacks an ability to finish. He's 0-4 in the worst division in football, 1-9 in the past two years. His teams have lost to the previously winless Jags in 2013 and the previously winless Colts in 2011. He's 4-18 against teams with winning records when the Titans played them and 2-19 against teams that finished the season with a winning record. To me, three years is a sufficient sample size to know what you've got and those numbers are the most telling thing on his resume. Keep him and they deal with all the limitations connected to a lame duck coach. I don't know what Tommy Smith, the head of the new ownership, will do. But the fan base overwhelmingly wants change, if that's worth anything. People still pay for tickets because they've got investments in personal seat licenses they do not want to throw away. But a lot of people are staying home on Sundays now.
Cecil Shorts
is done and
Maurice Jones-Drew
is uncertain. How can the Jaguars threaten on offense without their two best weapons?
DiRocco
: They were able to put up 20 points and post their second-highest yardage total of the season, including a season-high 159 rushing, in last Sunday's loss to Buffalo. Running back
Jordan Todman
stepped up big time and ran for 109 yards (Jones-Drew cracked 100 only once in the first 13 games) and tight end
Marcedes Lewis
was more involved in the passing game than in previous weeks (four catches for 54 yards and a touchdown). But I'm not sure that is sustainable. Teams will certainly concentrate on stopping Lewis and make quarterback
Chad Henne
move the ball with three receivers who have a combined 75 career catches. Todman doesn't scare anyone, either. The Jaguars will have to be creative on offense (they've run gadget plays the past three weeks) and capitalize on every opportunity they get.
December, 15, 2011
12/15/11
2:00
PM ET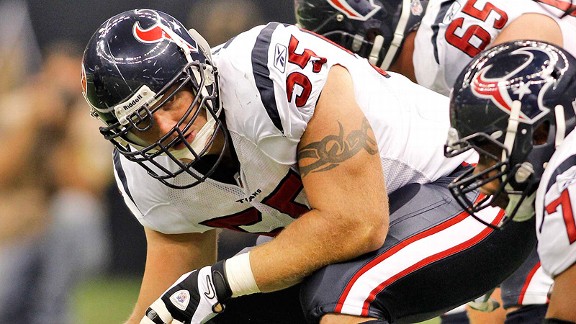 Crystal LoGiudice/US PresswireCenter Chris Myers has been a steady presence for the Texans this season.
At the core of the Houston Texans' steady, methodical play this season in the face of a ridiculous injury list has been the offensive line.
Right tackle Eric Winston is a talker with a profile, but the rest of the group seems to revel in a degree of obscurity, no one more than center
Chris Myers
.
"I think he goes unnoticed for the kind of player he is," Titans coach and Pro Football Hall of Fame offensive lineman Mike Munchak said. "He understands the system, understands what he's supposed to do and he goes out and does it. It's not about how big and tall he is or what his measurables are. He's efficient, and he's successful the way he does his job."
Matt Williamson of Scouts Inc. says Myers is the second-best center in the NFL this season, behind only
Nick Mangold
of the Jets.
"Myers is a great technician," Williamson said. "He's got great movement skills. He plays the game with excellent leverage. He's the linchpin of the best offensive line in the NFL."
Myers was pleased to learn of Munchak's compliment, but he clearly isn't concerned with what people outside of team headquarters think of him, the line or the Texans.
In that regard, he's an old-school offensive lineman. He trained under five-time Pro Bowler Tom Nalen in Denver and is perfectly happy operating quietly in the background, allowing his play to do most of his talking and pleased if his running back is getting attention.
"It just comes with the territory of being an offensive lineman," he said. "When you get to the higher level, once you become successful in the league you learn those accolades will come when warranted."
They should be warranted this season, with the Texans winning the AFC South despite a slew of injuries to key players.
Myers was originally a sixth-round pick by Denver in 2005, 200th overall out of Miami. He spent the first month of his first season on the practice squad, then backed up Nalen and played special teams.
The Texans traded a sixth-round pick in 2007 to get Myers after coach Gary Kubiak and general manager Rick Smith moved to Houston from jobs with the Broncos. Myers became a torch-bearer for both the sort of locker room culture and offensive line scheme the Texans wanted to establish. Houston has started him in every game.
There is less noise than there used to be about the Texans' zone-blocking scheme, a philosophy that features backside cuts that put defensive linemen on the ground. A lot of defenders hate it, and many say it puts their knees at risk. But it's a legal technique that plenty of teams use, just not, perhaps, with the regularity and proficiency of the Texans.
It's a scheme that serves to spring one-cut-and-go backs
Arian Foster
and
Ben Tate
, and syncs up perfectly with the Texans' play-action and bootleg passing attack.
"You put them all together and they are pretty darn good at what they do," Munchak said. "The five of them together, they've got it going. They've been doing the same thing now since [offensive line coach Alex] Gibbs went in there [in 2008]. They kept the same concept, they stuck with the same system and they've gotten good at it."
There is a psychological aspect to the scheme as well.
"I can't lie, it definitely plays into the defense's mind," Myers said. "When you're pounding and pounding on guys throughout the game and you keep cutting them on the backside, they can play the cuts for a long time, but at a certain point either they are going to forget about it or get tired of having to play off of it. Once you kind of grind on them, it ends up playing out in the fourth quarter."
Left tackle
Duane Brown
, left guard
Wade Smith
, Myers, right guard
Mike Brisiel
and Winston make up what has been one of the league's best and most reliable lines this season. Brisiel just finished playing in the win at Cincinnati on a broken leg and had surgery, so
Antoine Caldwell
will step in for a stretch.
When the line and offense are playing well, the Texans' attack can be a beautiful operation.
"So much about the way we run the ball is tied to coordination, there is a real rhythm to this offense," Smith said.
"To the degree that you can get five guys and in a lot of cases six guys with the tight end and then seven with the fullback on the same page and execute that coordinated effort, that's where you start to get the big runs and the cutbacks and you start to see the success in the system. They've got that coordination, they've got that rhythm together, and I think that's why you see us running the ball effectively."
As the Texans make their first venture into the playoffs, there will be talk of the line's solid play, but far more focus on the league's top defense, Foster, receiver
Andre Johnson
and rookie quarterback
T.J. Yates
.
Myers will have a great vantage point on it all, watching and working.
"Obviously his position is a natural position of leadership on the line," Smith said. "He's done a nice job of keeping our guys coordinated and he's playing at a high level at this point.
"More often than not it's a position where people don't talk a lot, so maybe people don't recognize how important or how strong a leadership position the offensive line commands within a team, but it's significantly important. That's where games are won and lost, up front."
January, 22, 2010
1/22/10
1:30
PM ET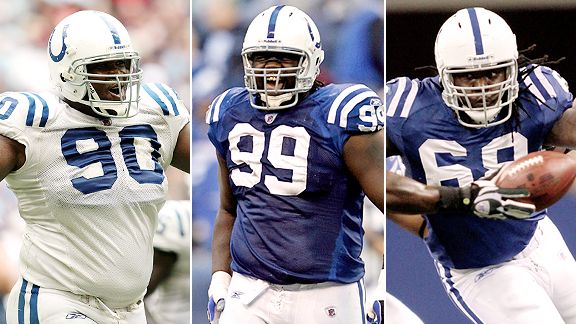 US Presswire/Getty Images/AP PhotoDaniel Muir (left), Antonio Johnson and Eric Foster will face the league's best rushing offense Sunday.
INDIANAPOLIS -- The 2009
Indianapolis Colts
needed to be stouter.
Item No. 1 on virtually every team's list of needs after the 2008 season was defensive tackle. A new head coach with a new defensive coordinator would still want quick interior linemen, but a little more beef would help the team better tamp down the run.
Thus, the Colts selected
Fili Moala
out of USC in the second round of the 2009 draft. They grabbed Terrance Taylor from Michigan in the fourth round. They recruited Adrian Grady from Louisville as an undrafted free agent. They ultimately brought back veteran
Ed Johnson
, who had been waived early in the 2008 season.
Things were going to appear a whole lot different between veteran defensive ends
Dwight Freeney
and
Robert Mathis
.
Months later, here stand the Colts, a game away from their second Super Bowl in four seasons. The three defensive tackles who will key the run-stopping efforts Sunday against the
New York Jets
in the AFC Championship Game are... the same three guys they intended to replace with upgrades.
New York has a Pro Bowl center in
Nick Mangold
and a Pro Bowl left guard in
Alan Faneca
, two key pieces of an offensive line that blocks for the NFL's top rushing team. The Colts will counter with starting defensive tackles
Antonio Johnson
,
Daniel Muir
and
Eric Foster
as the primary changeup.
Of all the "upgrades," only second-rounder Moala stuck -- and he's inactive when the guys ahead of him are healthy.
The three holdovers are used to beating long odds. Antonio Johnson was signed off the
Tennessee Titans
' practice squad in early November 2008 and played eight games with the Colts that season. Muir was a waiver claim from the
Green Bay Packers
in late August 2008. Foster was an undrafted free agent from Rutgers signed in 2008.
And so it's no-names versus big-names in the trenches when the Jets have the ball at Lucas Oil Stadium, and it could be the matchup most telling in who wins the AFC title and advances to the Super Bowl.
January, 22, 2010
1/22/10
11:41
AM ET
I asked Ken Moll, Doug Kretz and Matt Williamson of Scouts Inc. to give me one, non-obvious, key matchup in the AFC Championship Game and to tell me how they envision things panning out in that area. (You can find biographical in fo on these three fine men
here
.)
Here's what they said:
Moll:
"Here is something that I thought was very subtle in last week's game that the Jet were trying to do. Get the old man
Tony Richardson
more involved only early downs. Not so much in the running game (though he did average over 6 yards per carry this year/ regular season, only seven attempts) but as a receiver out of the backfield. Obviously the Colts will stack the line of scrimmage (eight in the box, etc. especially on early downs) and slipping Tony out of the backfield off of play action will likely put him WIDE OPEN in the flat where he can turn up field. They (Brian Schottenheimer) tried to get him the ball versus the Chargers (two catches and he dropped at least one) where he only had three catches all of the regular season."
"I don't think this will be a BIG part of the game but I do think he could play a part in giving the Jets young quarterback some easy throws on early downs in a hostile environment."
"Tony only has four catches in the two seasons but he does have good hands and usually is reliable as a receiver out of the backfield (career catches 205-- and nine TDs). "
"Again not a big part of the game (though he will blocking a bunch) but this matchup between the oldest man on the field (Tony Richardson) and the Colts linebackers (both in the running game as well as defending him off of play action) could be a factor in keeping the Colts defense off balance."
Kretz:
"I'd look at the play of the two interior lines. A lot of attention is being focused (and rightly so) on New York's two offensive tackles being able to contain
Robert Mathis
and
Dwight Freeney
and their ferocious pass rush. New York NEEDs to establish a strong ground game, especially up the middle. Center
Nick Mangold
and guards
Alan Faneca
and
Brandon Moore
allow the Jets to do a lot of running between the two tackles an area that has traditionally been a weakness for the Colts' defensive front."
"The play of DTs
Daniel Muir
and
Antonio Johnson
has been a huge lift to Indianapolis' defense. If the Colts can't contain New York on the ground and force them into a lot of obvious passing situations (third and long) all that speed on Indianapolis' defense will be negated. In years past the Colts were extremely undersized up the middle, on defense, but both Muir and Johnson are legitimate 300 pounders and have done a lot to improve the Colts' run defense."
"Look for the Colts to focus a lot of their attention to stopping
Thomas Jones
and
Shonn Greene
before they can get to the second level and produce explosive run plays or simply keep moving the chains. I'd expect the Jets to struggle with their ground game."
[Side note: Stay tuned for a column by yours truly on those defensive tackles in just a bit.]
Williamson:
"I fully expect
Darrelle Revis
to matchup with
Reggie Wayne
for the majority of this game. It should be noted that Revis did usually line up over
Antonio Gates
last week when
Vincent Jackson
went to the slot and Indy might try similar tactics to free up Wayne. But all in all, the Colts do what they do and they do it extremely well."
"They will not differ much from their norm -- nor should they. So, that will often leave
Pierre Garcon
on
Lito Sheppard
. Sheppard has more big-game experience and is probably the bigger named player, but I tend to give this advantage to Garcon -- if
Peyton Manning
isn't under too much duress.
"Also, the further that Indy goes into their wide receiver corps, namely
Austin Collie
, the harder and harder time New York will have matching up with their cover men. Many thought this was the case last week. But while
Malcolm Floyd
is extremely talented, he is also inconsistent and often just misses on big plays. I expect Garcon to convert."