January, 13, 2010
1/13/10
10:41
AM ET
Gene Frenette asked an excellent question about Wayne Weaver's press conference Tuesday:
Where was
coach Jack Del Rio?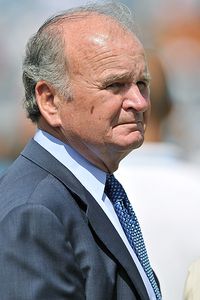 Fernando Medina/US PresswireJaguars owner Wayne Weaver described the team's recent body of work as "average."
It seemed natural that at a state-of-the-team address on a day in which it was established that Del Rio would remain in place, an appearance by the coach to say he's pleased to be around and to touch on the USC stuff once, officially, would have been prudent.
Accountability was perhaps Weaver's biggest theme, and in that light the press conference included this exchange:
In talking about accountability, do you think you could get Jack to come out here and talk to us?
Wayne Weaver
: I think right now Jack, he had his day planned. He's really in some deep meetings with his staff. You'll have a chance to get with him.
Do you think it's important that he repairs his image publicly?
WW
: I think Jack will be in front of you as he always is and he'll answer any of your questions, but I think right now with what he's got on his plate, on his agenda today … Personally I didn't feel like it was a press conference for Jack and I to sit together, (singing) Kumbaya.
And later:
Don't you think the fans would like to hear Jack say he's here and he's committed?
WW
: That's what he will say when he gets in front of you.
I think Del Rio could have altered his schedule pretty easily to make an appearance, and since he didn't, he needs to be very visible, just once, very soon.
After reviewing the transcript of Weaver provided by the team, I thought it sounded like general manager Gene Smith is almost under more pressure than Del Rio.
Weaver ran through the failures of the team and said any blame should be pointed first at him, but clearly it was also another indictment of former personnel chief James "Shack" Harris.
"We've had some good seasons but if you look at the body of work we've been average," he said. "And I think you have to go deeper than that and much of that responsibility belongs right on this guy's shoulders, is that when you look at missing first-round draft choices in multiple years, it hurt this football team; it set us back.
"Had we hit on two or three of those draft choices, we'd be a different football team than we are today. So I have to accept responsibility for that along with Jack and Gene Smith, but I have to tell you sitting here today I feel good about my meeting this morning. I feel good that Jack and I are on the same page, I feel good that the team of Gene Smith and Jack Del Rio is going to take this franchise to an elite level. I'm energized with what I saw in our last draft and the way our young players played. We've got a core of veterans and young players here that we can build around. I think (with) another meaningful draft in 2010 that my expectation is this team will compete for the playoffs next year. "
Smith had a great first draft and there is no reason to expect he won't do as well in 2010. But drafting isn't an exact science. Harris resigned in December 2008, Smith was put in place and has gotten good reviews.
It's Del Rio's 58-57 record which started that conversation about being average, and he's been the constant in the power mix.
Weaver suggested accountability and personnel are the two big issues.
It will be interesting to see how Del Rio's able to make any changes in the team's culture on the first issue, while he chimes in to help Smith on the second.
October, 2, 2009
10/02/09
10:39
AM ET

Posted by ESPN.com's Paul Kuharsky

Houston Texans
Indianapolis Colts
Jacksonville Jaguars
Tennessee Titans