August, 4, 2014
8/04/14
7:17
PM ET
FLOWERY BRANCH, Ga. -- A daily review of the hot topics coming out of
Tennessee Titans
training camp:
The Titans got no one injured Monday in a joint practice with the Falcons at their facility, always the best development to come out of a preseason practice. Defensive linemen Antonio Johnson and Mike Martin and tight end Dorin Dickerson came in with injuries and didn't practice.
The first fight turned out to be the only big fight. It came as the Titans and Falcons worked on punt returns and Coty Sensabaugh swiped a helmet off Robert McClain and a lot of players from both teams came onto the scene to get involved. It may have settled itself down, but Tommie Campbell came flying in to shove two Falcons, Bernard Pollard got involved and Ri'Shard Anderson came in with helmet in hand and swung it into Atlanta's Ricardo Allen "We got it over and out of the way and moved on," coach Ken Whisenhunt said. "We thought it might come, it came early and we settled down." Whisenhunt doesn't fine players for practice fights, but Anderson should be fined for a foolhardy and dangerous move.
Later, Falcons center Joe Hawley got tossed by officials for his role in a smaller scrap with Michael Griffin.
Whisenhunt was audibly upset when Falcons defensive end Osi Umenyiora hit Jake Locker's arm on a pass. "He grabbed his arm, he hit his hand," Whisenhunt said. "Osi apologized. He knows he can't do that."
Marqueston Huff looked like he's got the potential to be a quality gunner on punt returns. I saw him quickly burst between Kimario McFadden and Jordan Mabin to get en route in a hurry.
On a very early snap in one-on-ones matching Titans defensive backs against Falcons receivers, Jason McCourty was right with Roddy White on a quick throw from Matt Ryan, got an arm in and watched the ball pop loose. Another pass for White with McCourty on him was overthrown. McCourty was very solid in that period. The rest of the defensive backs were not as good. Griffin drew two flags for contact. (Khalid Wooten made a nice play and had a near pick of a Jeff Matthews pass for Tramaine Thompson. I think Wooten is steadily improving though he's not playing against the high-caliber guys.)
In one-on-ones, the Titans' offense connected on a big play early as Justin Hunter ran away from corner Robert McClain, collecting a throw from Charlie Whitehurst. Hunter caught another deep one from Zach Mettenberger.
Locker didn't throw deep much, as the Falcons seemed to be offering open stuff underneath far more often. Some plays worked great against it. Locker hit Kendall Wright out of the slot and Wright ran away from Josh Wilson for what would have been a touchdown. On another play, Dexter McCluster worked into open space in the short middle and had a ton of space from there. Whitehurst found room for some shots. One of them connected up the right side with Derek Hagan over corner Javier Arenas and safety Sean Baker.
In many practices Locker still seems to have one moment that could be deadly. He held the ball and shuffled left as the pocket began to collapse and threw for Delanie Walker. But Desmond Trufant got to it and dropped what should have been a pick. "For any quarterback, there is always at least one you wish you could have back," he said when I asked him about that specific play.
Both of the Titans' kickers attempted field goals against the Falcons field goal defense from 33, 36, 39, 42 and 46 yards. Travis Coons made them all, Maikon Bonani missed his attempt from 46 wide right.
Andy Levitre took three snaps in each team period before rookie Taylor Lewan replaced him. Levitre had his appendix removed on July 24. He still didn't participate in the high contact one-on-one pass-rush drills.
In one team period, the offense worked exclusively in "penny," its three-cornerback, one-safety package.
Falcons receiver Harry Douglas made a catch over Sensabaugh after the Falcons had the Titans jumping around before the snap. Derrick Morgan started with his hand down at left end, stood up and backed out, then returned to his initial position while multiple defenders shouted out multiple signals and waved each other around in what appeared to be confusion.
Akeem Ayers made a couple plays, including batting down a pass from Sean Renfree. In one-on-ones he made a great spin move against tackle Lamar Holmes that got him to the quarterback. But in a seven-on-seven period, T.J. Yates threw to running back Devonta Freeman and Ayers had no chance against him in space.
Avery Williamson impressively ran step for step with running back Josh Vaughan on a deep route and the pass glanced on the rookie linebacker's helmet.
Moise Fokou worked as high in the linebacker rotation as I can remember, pairing with Zaviar Gooden as the inside tandem with the second team at least some.
On a snap where DaQuan Jones and Al Woods were the two defensive linemen, neither put a hand on the ground. The Titans played that one with everyone starting off standing up.
On one snap of nickel where nose tackle Sammie Hill came off the field, the standing up, off-the-line outside linebacker Kamerion Wimbley actually lined up inside of right end Jurrell Casey.
There were a bunch of penalty flags on both sides. The most popular offense was illegal contact by defensive backs. The second biggest was offside. More to come on that
It's always amazing to see how many guys know each other when two rosters of 90 and their coaching staffs combine. Titans linebacker Zach Brown saw Yates and exclaimed, "T.J, what's up buddy?" Atlanta offensive coordinator Dirk Koetter chatted with Hagan. Falcons owner Arthur Blank got off his cart to hug Titans tight ends coach Mike Mularkey, who used to be Atlanta's offensive coordinator. A lot of it was pre-practice, a lot was during the kicking period when non-special teamers had time to chat. I watched Chris Spencer and Griffin talk with Devin Hester as Pollard shouted to the Titans, "Y'all be careful with making friends right now."
Find pictures at pkuharsky on Instagram.
The Titans are off Tuesday, then have an open practice at 9:20 a.m. CT Wednesday.
April, 27, 2012
4/27/12
2:26
PM ET
What I'd like to see happen tonight as the second and third rounds of the NFL draft unfold...
Houston Texans
I'd love to see
Rueben Randle
at No. 58 if the LSU receiver is still on the board. An offensive lineman or a receiver is the need at this point, and it would be big if the Texans came out of the evening with at least one from their two picks. They also have pick No. 76 in the third round.
Indianapolis Colts
Stanford tight end
Coby Fleener
seems too good to be true at No. 34, the second pick of the second round. The Rams need a receiver and missed out on
Justin Blackmon
. But someone in love with Fleener could come to their spot. If the Colts have a weapon for
Andrew Luck
they prefer, that would work, too. Can they bear to hold off until pick 64 in the third for defensive help?
Jacksonville Jaguars
Todd McShay is a big proponent of Marshall defensive end
Vinny Curry
, and that would be an interesting pick. Really, if the Jaguars can land a pass rusher they like who will produce with the sixth pick tonight, 38th overall, we can call this draft a success and the rest is gravy. I also think they should consider what I am about to suggest for the Titans below: pursuit of Giants defensive end
Osi Umenyiora
.
Tennessee Titans
I understand the trend is to devalue veterans from elsewhere and the appeal is inexpensive rookie contracts. But the Titans should ask the Giants if they'd take a fourth, No. 115, for Umenyiora. Craft a good contract offer for the 30-year-old defensive end who's got one year left on his deal worth $3.975 million and if he likes it, do it. There is no way a fourth-round pick will be better than Umenyiora for Tennessee. The Titans' last 10 fourth rounders:
Colin McCarthy
,
Jamie Harper
,
Alterraun Verner
,
Gerald McRath
,
Troy Kropog
,
William Hayes
,
Lavelle Hawkins
,
Stanford Keglar
,
Leroy Harris
and
Chris Davis
. Which one wouldn't you trade for Umenyiora? I'd consider upping it to the third rounder if that's what it takes. The Giants don't have to deal him, of course. But the Titans should be exploring the possibility.
March, 22, 2011
3/22/11
1:06
PM ET
Do I overrate
Dwight Freeney
?
The seven others who cast votes in ESPN.com's balloting for the
pass-rusher Power Rankings
think so.
I ranked the Colts defensive end first in what I thought was an impossible ballot in which I found 17 players worthy of spots and where I might have leaned a little less on total sack numbers than some of my colleagues. A rusher can certainly be consistently disruptive and dictate a blocking scheme without always notching big sack numbers.
My rationale for Freeney over the Dallas Cowboys'
DeMarcus Ware
, who got all the other first-place votes?
Here's what I told NFC North blogger Kevin Seifert, who wrote the main piece on the results.
"I've had coaches and scouts I trust tell me, repeatedly, that Freeney is the best pure pass-rusher in the league. They say he's the guy they'd want if they could have anyone and the most difficult guy to stop because of the way he plots out his game. That's stuck with me and was a big factor for me as I put together my ballot."
Crush me for being a homer if you must -- and I've obviously seen Freeney way, way more than I have seen Ware, so it's inevitable I get slanted there -- but I'll stand by that.
Still, on a different day with Ware highlights running on my computer screen, I could certainly have made things unanimous.
Here's my entire ballot:
Dwight Freeney
DeMarcus Ware
I was miserable about leaving off
Julius Peppers
,
Osi Umenyiora
,
Trent Cole
,
James Harrison
,
Terrell Suggs
,
Cameron Wake
and
Elvis Dumervil
.
If I re-voted right now, I could second-guess myself as much as you and do a lot of shuffling.
As for AFC South guys -- I absolutely believe Mathis is worthy of a spot here. He's a terror. I may have scored Williams too high based on all the potential he has and the attention he draws. Others have that and more production.
Peppers was my toughest call. I'm big on constant effort from my pass-rushers and I am not sure he gives it.
I also agree with NFC West blogger Mike Sando that the proliferation of 3-4s complicates things, because we sifted through so many players. This year's
Houston Texans
will be the first 3-4 defense I ever cover, and I am sure my judgment of outside 'backers will evolve because of it.
That 4-3 bias didn't hurt Hali, but I'm sorry if Matthews, Woodley, Harrison, Suggs, Wake and Dumervil suffered for it.
September, 21, 2010
9/21/10
3:00
PM ET
»
NFC High Energy
:
East
|
West
|
North
|
South
»
AFC
:
East
|
West
|
North
|
South
A look at a player who gave his team a significant boost in Week 2.
[+] Enlarge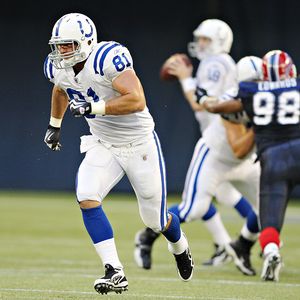 Luc Leclerc/US PresswireRookie tight end Brody Eldridge has opened a few eyes in the early part of the season.
This category doesn't amount to a player of the week for us here at AFC South HQ, so we don't look to skill guys with gaudy numbers or sack specialists dragging down quarterbacks.
I would have liked to have gone with the whole Colts' offensive line here, but I am told the guidelines demand I single out one player. So I choose the guy who supplemented the line in the first significant action of his career: rookie tight end
Brody Eldridge
.
He made a real difference for the Colts in their biggest ground yardage production since 2006. A week after not seeing much action as the Colts went with a lot more three-wide than two-tight end, Eldridge chipped in to block Giants defensive ends.
On
Donald Brown
's 7-yard touchdown run that completed the Colts' opening drive and gave them a 7-0 lead, Eldridge lined up next to left tackle
Charlie Johnson
. Eldridge drove defensive end
Osi Umenyiora
outside before leaving him for Johnson and moving on to knock safety
Antrel Rolle
out of the play.
"I think he has a chance to be a good, solid football player," Jim Caldwell said. "He is tough. He's developing into a good in-line blocker, but he can also give you something in the pass game, as well. But he's young yet. The jury is still out. It's two ballgames, and the first one I think he played nine plays. We'll see how he develops."