September, 9, 2012
9/09/12
11:45
AM ET
NASHVILLE, Tenn. -- Greetings from LP Field where the AFC South blog is very excited about getting the season kicked off.
The Titans will take on the Patriots without defensive tackle
Sen'Derrick Marks
. Rookie
Mike Martin
will start in his spot. Also out is No. 2 running back
Javon Ringer
(elbow). Look for
Darius Reynaud
to get some work when
Chris Johnson
is out of the lineup, perhaps on third downs.
The Titans will have no advantage from warm weather -- it's currently 70 degrees and the forecast says it will top out at 86.
The full list of inactives follows.
Titans:
Patriots:
September, 7, 2012
9/07/12
8:37
AM ET
Reading the coverage …
Perhaps the best ESPN
commercial
ever. A must watch and must share.
Houston Texans

The guy coaching up rookie quarterback Ryan Tannehill is a close friend of Gary Kubiak's -- former Texans assistant Mike Sherman. John McClain of the Houston Chronicle looks at
the friendship
, which dates back to 1992.
How did we get to a place where everyone is questioning Andre Johnson, asks Jerome Solomon of the Chron. "Johnson, 31, might not be an NFL youngster, and he admits the championship 'window is not as big as it used to be,' but he is
hardly on his last legs
."
Arian Foster and Brooks Reed
ended practice early
, says Dale Robertson of the Chron.
Key matchups
for the Texans against the Dolphins, from Houston Diehards.
Indianapolis Colts

Phillip B. Wilson of the Indianapolis Star profiles Chuck Pagano, who is "…an emotional guy with an indefatigable work ethic, a man who
balances football with family
while not losing sight of the importance to respect and connect with people,"
These Colts should remind us of
the 1998 team
with Peyton Manning as a rookie, says Bob Kravitz of the Star.
Guard Mike McGlynn
adds some nastiness
to the Colts' offensive line, says Wilson.
Jacksonville Jaguars

Blaine Gabbert and Christian Ponder, who square off this weekend, struck up a friendship at the draft and
get together to fish and golf
, writes Vito Stellino of the Florida Times-Union.
The Jaguars need Andre Branch to be
a difference-maker
in the mold of Tony Brackens, says Gene Frenette of the T-U.
"Often during staff meetings, [Bob] Bratkowski and the offensive staff would discuss ways to utilize (Maurice) Jones-Drew …
once he showed up
," writes Ryan O'Halloran.
Tennessee Titans

Bill Belichick's plan will seek to make Jake Locker uncomfortable and
confused
, writes Jim Wyatt of The Tennessean. The Patriots coach is 4-2 against quarterbacks making their first start.
Tennessee center Fernando Velasco will be challenged by
two big interior defenders
in Vince Wilfork and Kyle Love, says John Glennon of The Tennessean.
Defensive end Pannel Egboh
almost gave up
, but now he'll play in his first NFL game, says Glennon.
How should New England
attack Tennessee
? Nate Dunlevy of Bleacher Report asks and answers.
How much respect
will the Patriots show Jared Cook in the way they cover the tight end, asks David Boclair of the Nashville City Paper.
September, 2, 2012
9/02/12
7:37
AM ET
Rosters have already been shuffled a bit, but before we get too far removed from the initial cutdown to 53, I wanted to look at them as they pertained to the unofficial depth charts of our four AFC South teams.
No one listed as an offensive or defensive starter on the Colts, Jaguars, Texans or Titans was let go.
I set out to gauge how many second-teamers disappeared and how many third stringers remained. (To be clear, I didn't count a fourth-stringer. If you were listed lower than a third-stringer, you counted as a third-stringer. So there were more than 22 third-stringers.)
My thinking was the smaller the first number (cut twos), the more accurate the depth chart was and the bigger the second number (kept threes), the less accurate.
It's hardly scientific, as injuries factor in, and a draft pick destined for a chance -- who might nevertheless be listed as a third-teamer based on seniority -- probably had a good chance of sticking.
Nonetheless, here are results based on my count:
Some exploration of the numbers...
The Texans have a pretty set starting lineup with a lot of secure backups. It was no surprise that it took a surprise -- the release of safety
Troy Nolan
--to dent the listed second team. The other cut was fullback
Moran Norris
, and the team traded to upgrade at No. 2 fullback. This was a pretty accurate depth chart.
The Colts kept a third quarterback, a fourth running back and a sixth receiver, growing the third-string number. That three of the second-stringers now gone were second stringers at all served was a testament to the Colts' lack of depth: tackle
George Foster
is finished, guard
Mike Tepper
is probably not an NFL player and
Greg Lloyd
was too cheaply included as a piece of a trade for a guy that was cut in Philadelphia.
Jacksonville is thin on the offensive line, and had two unworthy/unready guys listed as backups in
D.J. Hall
and
Daniel Baldridge
. Same with backup middle linebacker
J.K. Schaffer
, an undrafted rookie not as good as the other linebacker backups. Second-team safety
Courtney Greene
lost out to third-string undrafted rookie
Antwon Blake
.
The Titans, meanwhile, had first-round draft pick
Kendall Wright
listed as a third-teamer though he's been starting preseason games and is expected to start the opener with
Kenny Britt
suspended. Keeping four running backs and putting two second-team defensive ends on injured reserve boosted threes onto the roster. Tennessee can reward veterans on paper where they might hold down a rising kid with or without no draft status. See concussed end
Dave Ball
, who wound up on IR, and
Pannel Egboh
.
August, 31, 2012
8/31/12
9:42
PM ET
Click
here
for the complete list of Tennessee Titans' roster moves.

Most significant move:
Al Afalava
didn't stick with the Colts when they were thinned out in the secondary, but he's the Titans' fourth safety at the start. Another former member of the Indianapolis secondary,
Aaron Francisco
, had done some great special teams work and I thought he would win that job. Afalava may be sturdier, which could have helped his case. With end
Dave Ball
(concussion) and
Leger Douzable
(shoulder) put on IR, there was room for an additional tackle. But the Titans cut
Zach Clayton
in favor of
DaJohn Harris
on the inside rather than keeping both.
Onward and upward:
Running back and returner
Darius Reynaud
was a big story in camp, and may have been destined to stick even before return man
Marc Mariani
suffered a terrible broken leg. The running back can do nice work in the screen game and should be a pretty good returner. On defense,
Pannel Egboh
, has floated around the practice squad circuit. Now he gets the big payoff and should get some work as the third end who takes some snaps on clear run downs while giving
Derrick Morgan
or
Kamerion Wimbley
a rest.
What's next:
The Titans third corner,
Tommie Campbell
, is in his second season. And beyond him cornerback depth is very inexperienced, with rookie
Coty Sensabaugh
and
Ryan Mouton
(who missed his second season hurt). A veteran corner could be a quality addition. The team is heavy at running back with
Chris Johnson
,
Javon Ringer
,
Jamie Harper
and Reynaud plus fullback
Quinn Johnson
. I'm skeptical of the need for a fullback who's not an ace special teamer, and Quinn Johnson is not one.
August, 21, 2012
8/21/12
12:05
PM ET
NASHVILLE, Tenn. -- Titans coaches might be serving
Derrick Morgan
very well by playing practice-squad journeyman
Pannel Egboh
ahead of him some and stoking his competitive fires.
I don't think they served him well with their explanations of the move. Mike Munchak talked of it simply being part of seeing more guys in the mix. Funny how the Titans feel compelled to test the mix there, but not so much with right guard
Leroy Harris
or No. 2 cornerback
Alterraun Verner
?
[+] Enlarge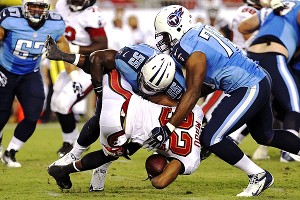 Mark LoMoglio/Icon SMIPannel Egboh, right, doesn't care what his role is, as long as he makes Tennessee's 53-man roster.
Defensive coordinator Jerry Gray went with a different kind of copout. He talked about how he had five starters at defensive end.
A 2010 first-round pick not qualifying as a clear-cut starter would amount to a negative development, no matter the spin. But Morgan started against Tampa Bay, played plenty on first-and-10 and notched a sack of Bucs backup quarterback
Dan Orlovsky
, so maybe the mixing it up at his spot is over.
I've heard from someone who would know that Egboh against the run serves Gray's theme of getting guys on the field for the situations they are best at, and that the Titans view Egboh as a guy who needs encouragement and Morgan as a guy who might need a kick in the backside.
To his credit, while complimenting Egboh, Morgan disagrees entirely with idea that they need different treatment to maximize their production.
"I don't need extra motivation, I have enough motivation from within and my own expectations," Morgan said. "I don't know what they were doing, but I'm just worried about getting better. … I want to be on the field. I'm not here to be a specialist. I'm an all around player. I feel like I'm solid against the run."
Said Egboh of my theory that there is psychology involved in what the Titans have done with him and Morgan: "You're getting way too deep for me."
Here's another concern I have with the idea of Egboh as a first-down run-stuffer. The NFL ran the ball 52 percent of the time on first down last season, and 51.1 percent of the time on first-down against the Titans. (Thanks to Katie Sharp of ESPN Stats and Info for the numbers.)
If the Titans want Egboh to give Morgan a break on run downs, then maybe they ought to consider pulling Morgan when a second-and-short comes up.
Egboh did say his feedback from coaches has been all positive.
Asked if he thinks he's the starter, he said "absolutely not."
But he did allow for the possibility that he's going to make the 53-man roster. He spent part of 2009 on Houston's practice squad, and part of 2010 on the practice squad in Philadelphia. Then 2011 he worked the whole season on Tennessee's practice squad.
If he breaks through this time …
"It'll mean everything, but I've thought about it, and when I do it, it's just the beginning," he said. "It's one little accomplishment, but I'll have a whole season to play. My No. 1 goal right now is to make the 53. But after that I've got to celebrate it quickly and move on and get ready to play 16 games."
August, 15, 2012
8/15/12
8:03
AM ET
Reading the coverage ...

Houston Texans
Whitney Mercilus has
caught on quickly
to what the Texans are doing, says John McClain of the Houston Chronicle.
The Texans are
talking contract
with Connor Barwin and Duane Brown, says McClain. There's no telling how serious negotiations are or the likelihood of getting something done before the start of the season, when they'll put any talks on hold.
Andre Johnson is
a veteran guy
for young receivers to look up to. He didn't really have one of those when he was a kid, says Tania Ganguli of the Chronicle.

Indianapolis Colts
With inside linebacker Pat Angerer out for a while, we see how easily depth can be
an issue
for the Colts, says Mike Chappell of the Indianapolis Star.
Andrew Luck's expecting
a different kind of test
in Pittsburgh, says Michael Pointer of the Star.
Donald Brown is only now
emerging
, says Phil Richards of the Star.
Things are
looking better
at backup quarterback, says Conrad Brunner of 1070 The Fan.

Jacksonville Jaguars
The Jaguars continue to plan for life
without
Maurice Jones-Drew, as Montell Owens is now officially the backup to Rashad Jennings, says Vito Stellino.
Cornerback Mike Holmes, a local product, is thrilled to be
getting a chance
with the Jaguars, says the T-U's notebook.
Olympic track star Jeff Demps could
energize
the Jaguars, says Hays Carlton of the T-U blog.

Tennessee Titans
A first-round pick, Derrick Morgan finds himself
in a fight
for a starting defensive end job with unknown Pannel Egboh, says John Glennon.
Linebacker Zach Brown reacts to the idea that he's
allergic to contact
, via David Climer of The Tennessean.
Don't panic
over his carries
in Seattle, says Chris Johnson via Glennon. The running back did say a lack of focus caused a couple drops.
August, 14, 2012
8/14/12
12:15
PM ET
NASHVILLE, Tenn. -- Like everyone in the NFL, the 2011 Titans were hurried together.
Unlike most other teams, they were hurried together by a new coaching staff.

Mike Munchak's coordinators -- Jerry Gray on defense and Chris Palmer on offense-- had to show patience and restraint. They brought exciting new ideas to Nashville, but they weren't able to implement much of them in the wake of the lockout. The personnel could only be revamped so much, but more importantly they didn't have much time.
No offseason, no organized team activities and no minicamps meant sticking mostly to basics.
Now, they say, after a full offseason together, they'll show us far more.
Whether
Matt Hasselbeck
or
Jake Locker
is at quarterback, we'll see Palmer implement run-and-shoot concepts while using two tight ends or a fullback. He'll look to regularly threaten teams deep with what can be a great compliment of pass-catchers:
Kenny Britt
(presuming he's healthy and available),
Nate Washington
, rookie
Kendall Wright
,
Damian Williams
,
Chris Johnson
,
Jared Cook
and
Taylor Thompson
.
If the evolution into more of a passing offense pans out, Johnson should get more space when he takes a handoff, and that should help him rebound from a disappointing 2011 season. He's looked better after participating fully in the Titans' offseason activities for the first time.
Defensively, Gray is looking to allow some players to excel in narrow roles in specific situations.
Akeem Ayers
, for example, should get to show off his rush skills by lining up as an end in a special rush package. Ideally, free safety
Michael Griffin
will play more in center field, where he's best.
Do Palmer and Gray have enough people to do what they want? And does what they want to do work? Progress seemed steady in the first couple weeks of camp, but there are still questions to answer.
THREE HOT ISSUES
The quarterback battle:
It hasn't drawn the spotlight one might have expected, because
it's friendly
and doesn't pit good versus evil on any level.
The Titans drafted Locker eighth overall in 2010 to be their starter -- for a long time, they hope. It's not a matter of if he gets into the lineup, but when. If he can take advantage of game situations to show improved accuracy and make plays from the pocket as well as on the move, Locker certainly has a chance to displace Hasselbeck now. He was better by at least a bit in the preseason opener and will start the second game Friday night at Tampa Bay.
But the team feels it's going to compete for a playoff spot now, and the younger, less experienced quarterback comes with a learning curve. If coaches feel Hasselbeck has a mastery of the offense and is playing effectively, it might be difficult to make the switch heading into an opening month that looks very challenging.
[+] Enlarge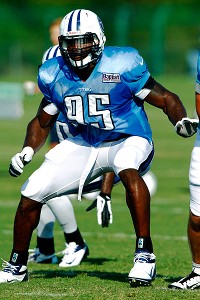 AP Photo/Wade PayneLinebacker Kamerion Wimbley looks to be an asset on the field and in the locker room.
The pass rush:
Everything the Titans' defense wants to do can blossom out of a more productive pass rush. Gray came to the team determined to beef up the D and get back to run-stopping basics. The Titans certainly want to maintain that theme, but they need a better pass rush to go with it.
They hired Keith Millard to coach not a position but a skill: rushing the passer. I like the concept, but Millard was in Tampa last year and they were a bad pass-rush team. It also has to make you wonder a bit about the pass-rush education defensive linemen were getting from position coach Tracy Rocker.
Kamerion Wimbley
looks like a potential difference-maker, but the other projected/expected starter at end,
Derrick Morgan
, is hardly locked in as a threat yet. He's been working behind 2011 practice-squader
Pannel Egboh
recently.
The interior includes very intriguing rush guys in
Karl Klug
and rookie
Mike Martin
, and has some depth. Ayers is slated to scoot up and work as an end in some nickel situations, perhaps shifting Morgan inside. However, what hear about Ayers' versatility and what I see from him don't match up yet.
Britt:
A suspension under the personal-conduct policy is looming for Britt after a DUI arrest at a military base. He has not shown he's learned from mistakes and turned into a better decision-maker. And he's still on the physically-unable-to-perform list, recovering from a torn anterior cruciate ligament suffered early last season and subsequent cleanup procedures. When healthy and available, Britt is an absolutely tantalizing receiver who can make everyone else's matchups more advantageous.
His recent rehab work makes him look close to ready. His recent meeting with the commissioner makes us expect an announcement soon about some time on the shelf. Once that's over, he has to settle down and show up every week while not giving the team cause for concern when he's away from the facility.
REASON FOR OPTIMISM
One big reason the Titans didn't think cornerback
Cortland Finnegan
was worth the money he got as a free agent from St. Louis is that his brand of professionalism didn't match up with the team's. Finnegan was beyond feisty at times, and a surly mood and an ego that prompted him to leave the team for a day during camp in 2011 in a contract dispute weren't things the Titans could overlook.
Know what to do and do it. That's Munchak's basic requirement of his players. In guard
Steve Hutchinson
and Wimbley, the Titans added two more standard-bearers of a message other players should continue to respect and respond to.
REASON FOR PESSIMISM
Estimating who will be good and who won't in advance of a season is fraught with peril, but it's hard not to do. Look at the Titans' first four games and it's hard not to foresee trouble. The Patriots visit on opening day; any game against Bill Belichick and
Tom Brady
is a major challenge. Then a trip to San Diego, where the Titans have long struggled. Detroit brings burgeoning quarterback
Matthew Stafford
to Tennessee before the Titans travel to Houston to face the division favorite.
With their current questions, it's hard to envision the Titans ripping off a good start against that early schedule. But the league's unpredictability is its best feature, so the quality of that four-pack is not written in permanent marker.
OBSERVATION DECK
The Titans have invested a lot of time and energy into Rusty Smith, and I don't doubt they like their third quarterback. It'll be hard to justify a roster spot for him, though. Third quarterbacks are a luxury, and both Locker and Hasselbeck should be on the team in 2013.

Johnson seemed to be back to form in practices, but it's hard to gauge running backs in practices. He was awful in limited action in the preseason opener at Seattle, failing to press the hole and appearing completely disinterested in the passing game, where he had two drops. That was enough to officially put him back in the "major concern" department for me.

Dave Ball contemplated retirement after dealing with another concussion last year. He had another early in camp and is likely fading on the depth chart while missing time. Egboh should be the third end, and guys like rookie Scott Solomon and veterans Leger Douzable and Keyunta Dawson give the Titans some alternatives.

[+] Enlarge

Jim Brown/US PresswireRookie Mike Martin helps with pass rushing depth -- and could yet displace veteran Shaun Smith.

Beau Brinkley is in line to be the long-snapper. The rookie right end out of Missouri takes over for veteran Ken Amato, who was not re-signed after filling the role since 2003. So far, so good for Brinkley, who's been invisible through camp and a preseason game, which is what you want from a guy in that role.

Martin, a third-round pick from Michigan, has gotten some work with the first team and figures to be another piece in a talented group of interior linemen. Though he gives up nearly 20 pounds to Shaun Smith, he could help knock the veteran off the roster. Smith has worked hard at becoming more of a penetrator and turned quiet rather than being the boisterous guy of last season, but his changes may have come too late. The Titans brought him in last year as they tried to get bigger, but had to know he was a space-eater who wasn't programmed to get into the backfield the way they want tackles to.

If Britt is healthy and somehow avoids suspension for his off-field transgressions, he certainly should be an opening-day starter. But if Britt isn't available, I won't be surprised if Williams is ahead of first-round pick Wright against the Patriots on Sept. 9 at LP Field. Williams has become increasingly assertive and knows what to do, while Wright could need some time to bring an expanded repertoire onto the field.

Cook is the more explosive receiver, so he gets talked about. But the Titans' other top tight end, Craig Stevens, is underrated. He's a good blocker who may not have receiver speed, but can get open and make some catches when called on.

Weakside linebacker Will Witherspoon is a quality veteran guy in the locker room. But he comes and goes as a playmaker. Second-round pick Zach Brown brings tremendous speed. I don't think he'll dislodge Witherspoon from the job at the start. He may earn a role in covering tight ends like Rob Gronkowski, Antonio Gates, Brandon Pettigrew and Owen Daniels -- players the Titans will be game-planning against in their first month. Tennessee has had some major issues recently covering top tight ends.

The Titans have a find in cornerback Jason McCourty, who is going to be good as their lead guy and will help reshape the tone of the defensive backs meeting room. I actually feel better about him and Alterraun Verner as the team's starting cornerbacks than I do about Griffin and Jordan Babineaux as the safeties. My suspicion is that good offenses are going to find plays down the middle of the field.
August, 11, 2012
8/11/12
3:10
PM ET
Three things to pay special attention to in Titans at Seahawks tonight:


The quarterbacks, of course:
In my thinking,
Matt Hasselbeck
won't alter his standing much unless he's bad in his starting stint against his former team. It's
Jake Locker
who has more to gain in this circumstance -- he needs to show huddle command, accuracy and move the team well if he finds the offense in the red zone or a two-minute drill situation. Watch if he's able to deliver short stuff to maximize the chances of the pass-catcher to turn and go, and if he throws as well to the left as to the right.
Tommie Campbell:
He's kind of in place and unquestioned as the third cornerback so far, and it's good that the team feels confident in him. But we need to see the Titans in nickel, with
Alterraun Verner
shifted inside and Campbell taking his place playing with confidence, making good decisions and sticking with receivers or following his zone rules. Tied to that, do we see any of the guys behind him --
Terrence Wheatley
,
Coty Sensabaugh
,
Chris Hawkins
,
Ryan Mouton
-- play well enough to be considered to be putting pressure on him.
Who rushes well?
Coaches have downplayed the meaning of
Pannel Egboh
working ahead of
Derrick Morgan
with the starters. Morgan needs to play well in preseason chances and show he should be an unquestioned starter. Egboh's in good shape, but translating practice success into games is a significant jump.
Dave Ball
won't play, so rookie
Scott Solomon
and veterans
Leger Douzable
and
Keyunta Dawson
have chances to separate themselves for the fourth spot at defensive end.
August, 8, 2012
8/08/12
7:27
PM ET
NASHVILLE, Tenn. -- Three thoughts following Titans' training camp practice this afternoon:


Relative unknown Pannel Egboh has been working at least some with the first team at defensive end, at the expense of Derrick Morgan. Sure, it's a partial reward for Egboh, who's been "awesome" according to pass rush coach Keith Millard. But it can't come without a dig at Morgan, a first round pick from 2010 who's healthy and should be entrenched as a starting spot even if he's more of a pass rush specialist at this point. Mike Munchak said it's an example of the team continuing to mix up the lineup and roles and defensive coordinator Jerry Gray went the route of selling that the Titans have five starters at defensive end, apparently unfamiliar with space and lineup restrictions. If Egboh's great, that's great. But Morgan's got to be good enough to get a bigger share of the work.
Odds are high that Matt Hasselbeck will get the start Saturday night in Seattle, at least in part for sentimental reasons. He played from 2001 through 2010 for the Seahawks and the league clearly scheduled the game in part because the Titans are loaded with connections to the Seahawks and Washington connections. That includes Hasselbeck's competition, Jake Locker, who played collegiately at Washington. As for what a guy getting the start in the preseason opener will mean in the quarterback competition, Munchak said "nothing."
Fernando Velasco is now the lead guy at center with Eugene Amano gone for the year. Velasco, Hasselbeck and Munchak all fielded questions about the most important adjustment the quarterback have to make to the new guy snapping the ball. The answers varied from the center-QB exchange, to making silent counts work to the line calls. Velasco said he wants to authoritatively make calls, even if they include an occasional mistake. "Go with the call, if it's wrong, we're wrong together," he said. "Don't be scared of pulling the trigger on certain calls."
August, 3, 2012
8/03/12
9:22
AM ET
Reading the coverage …
See my amateur snapshots from my AFC South training camp tour by following me on Instagram, where I'm "pkuharsky."
Houston Texans

Gary Kubiak said the Texans
dodged a bullet
when J.J. Watt's elbow injury was not more serious, says Dale Robertson of the Houston Chronicle.
T.J. Yates is settling back into
his backup role
, says Jose de Jesus Ortiz of the Chon.
Rookie guard Brandon Brooks had
trouble with the heat
, says Robertson.
At the Chronicle blog, offense rules Stephanie Stradley's list of who's
looked the best
at Texans camp so far.
Indianapolis Colts

Vick Ballard took a tumble when he ran his 40 at the combine, but the Colts' rookie running back is
a steady guy
, says Mark Ambrogi of the Indianapolis Star.
Once he met offensive coordinator Bruce Arians, rookie tight end Dwayne Allen knew exactly
where he'd fit
into the Colts' offense, says Zak Keefer of the Indianapolis Star.
Jim Irsay has guaranteed that the Colts' two home games in the preseason will
be on local TV
, says Mike Chappell of the Star.
The Colts are
moving on quickly
from guys they don't think can help them, as we've seen with the waiving of Ben Ijalana and the trade of Kevin Thomas, says Phillip B. Wilson of the Star.
Looking at
the two linebackers
, Moise Fokou and Greg Lloyd, the Colts got for Thomas, with Josh Wilson of Stampede Blue.
Jacksonville Jaguars

Cornerback Aaron Ross has shifted into husband/cheerleader mode, watching his wife compete in
the Olympics
, says Vito Stellino.
Mike Mularkey and the Jaguars intend to make their annual scrimmage
a big event
, says Stellino.
The Jaguars are talking with Justin Blackmon's agent as the rookie receiver, and veteran back Maurice Jones-Drew,
continue their absences
, says Stellino.
The Jaguars see
a gradual step
each day from Blaine Gabbert, says John Oehser of the team's website.
A super-detailed
practice report
from Big Cat Country.
Running through
the first week
of Jaguars' camp with Jessica Blaylock, who's doing practice reports for 1010XL.
Tennessee Titans

Jake Locker has
cooled down
as Matt Hasselbeck has heated up, says Jim Wyatt of The Tennessean.
Keith Bulluck, now working for Sirius NFL Radio, will
officially retire from the NFL
at Titans camp Friday, says Wyatt.
Pannel Egboh has earned some
first team snaps
at defensive end, says John Glennon of The Tennessean.
Several members of the organization will attend O.J. Murdock's
funeral
this weekend, says Wyatt.
Pondering fullbacks
with Tom Gower of Total Titans.
August, 27, 2011
8/27/11
3:23
PM ET
Three things to look for in tonight's preseason game for the Titans against the Bears at LP Field, where kickoff is set for 7 p.m. CT.


The Titans need some plays
from receivers
. Through two games they've been without
Kenny Britt
and he won't play tonight either. Their other top four --
Nate Washington
,
Justin Gage
,
Damian Williams
,
Lavelle Hawkins
and
Marc Mariani
-- don't have a play of more than 28 yards. Gage doesn't have a catch and Washington has only one.
Kevin Curtis
was just added yesterday, so odds are he doesn't play.
Matt Hasselbeck
may key on
Jared Cook
, but he's got to develop some feel with receivers too. Playing beyond the half will afford that chance. Red zone efficiency is an area that can improve.
The running backs
will be led, again, by
Jamie Harper
. With
Chris Johnson
holding out and
Javon Ringer
(hip) hurt, the Titans will still be looking to run. Harper made great strides from his first game to his second. Now he's got a great chance to give the team even further assurance that if Johnson's not around, he can be the alternative to Ringer on offense.
Defensive end depth
will have a chance to make an impression. The Titans want to be bigger there, but with the injured
Derrick Morgan
and
Jason Jones
they lose their top big ends.
Pannel Egboh
(6-6, 287) will have a tough time making the roster because there is little room. But he was good last week and will probably have a chance to impress again. If you don't see him much it means they hope to get him on the practice squad.