August, 30, 2013
8/30/13
7:45
PM ET
Click
here
for a full list of
Jacksonville Jaguars
roster moves.

Most significant move:
The Jaguars' No. 3 quarterback has yet to practice with the team.
Matt Scott
and
Mike Kafka
were among the 21 players the Jaguars cut on Friday, meaning the team will begin preparations for the Sept. 8 season opener against Kansas City with
Blaine Gabbert
,
Chad Henne
and
Ricky Stanzi
as the quarterbacks. Neither Kafka nor Scott played well in the preseason: Kafka completed 13 of 29 passes with one touchdown and one interception while Scott completed 18 of 40 passes with one interception. Scott also had a fumble returned for a touchdown.
The Jaguars signed Stanzi on Tuesday after he was released by the Chiefs and cleared waivers. The former fifth-round draft pick in 2011 spent the past two seasons on the Chiefs' active roster. He never appeared in a regular-season game, but Jaguars coach Gus Bradley said he got a good report on Stanzi from Jaguars scout Kyle O'Brien, who spent the 2012 season with the Chiefs.
"We liked what we saw on film of him, I can tell you that," Bradley said. "We really did. We liked him. We were evaluating him out in warm-ups [on Thursday night], you know, when he was throwing the ball. So we did like him, and one of our scouts was with Kansas City and was intrigued by him and I think it passed on to us."
It's still unclear whether Gabbert (hairline fracture in his right thumb) will be able to start the season opener. If he can't, Henne would get the start and Stanzi would be No. 2. If Gabbert can play, Stanzi would likely be inactive.
One extra spot:
The Jaguars will receive a roster exemption on Saturday for receiver
Justin Blackmon
, who will serve a four-game suspension for violating the NFL's substance abuse policy. That allows the Jaguars to keep a 54-man roster, but it also means that the Jaguars have only five receivers on the roster right now: Blackmon,
Cecil Shorts
,
Mike Brown
,
Ace Sanders
and
Jordan Shipley
. That's an area that the Jaguars likely will address this weekend from the waiver wire.
Onward and upward:
CB
Marcus Trufant
is an 11-year veteran who played well in the preseason, but he doesn't fit into the Jaguars' youth movement in the secondary. Plus, the signing earlier this week of
Will Blackmon
made him expendable because of Blackmon's age (28, four years younger than Trufant) and special-teams ability. Still, Trufant is an experienced, heady player who could find himself on a roster. The Jaguars liked defensive end
Pannel Egboh
but his production didn't match his measurables (6-foot-6, 277 pounds). It wouldn't be surprising if he ended up on another roster within the next few days. The Jaguars' roster may be one of the thinnest in the league, so it's unlikely that there will be much interest in most of the players cut.
What's next:
The Jaguars certainly aren't anywhere close to being done with cutting and adding players. Bradley and GM Dave Caldwell have both said they plan on continuously scouring the waiver wire in an effort to improve the bottom part of the roster, so expect more moves over the weekend. Most of the impending signings will likely center around their ability to help on special teams. The units have struggled during camp and in the preseason, which is why linebackers
Brandon Marshall
, Michael Zimmer and
Julian Stanford
were released. The Jaguars added linebacker
Andy Studebaker
in mid-August and linebacker
Kyle Knox
and cornerback Blackmon, both of whom were released by Seattle, earlier this week. Blackmon was signed on Wednesday and played well in the Jaguars' 20-16 victory over Atlanta on Thursday night, returning a punt for 21 yards.
August, 26, 2013
8/26/13
3:15
PM ET
JACKSONVILLE, Fla. -- The Jaguars are a young team with little depth, so news that starting left guard
Will Rackley
should be ready for the regular-season opener against Kansas City was a relief for coach Gus Bradley.
"That's what we're hearing, that he has a good chance [to play against the Chiefs]," Bradley said after Monday's practice. "The one good thing for the offensive linemen, you see them play with that type of injury. First [we thought] it was a knee, then it was a high ankle sprain, and they ruled both of those out.
"Now I think he's heading in the right direction and I feel like he has a chance to be back."
The 6-foot-3, 310-pound Rackley was hurt early in the Jaguars' 31-24 loss to Philadelphia last Saturday night.
Mike Brewster
, a second-year undrafted free agent out of Ohio State, took his place against the Eagles and would start in his place should Rackley be unable to play on Sept. 8.
Brewster started seven games at left guard last season and is the Jaguars' top interior reserve. He's one of only three reserves who have played in more than three games, which is an indication of the Jaguars' lack of depth along the offensive line.
Guard
Pat McQuistan
is in his eighth season and has played in 72 games (11 starts) in his career. Tackle
Cameron Bradfield
has played in 23 games in his two seasons. The only other reserve lineman with game experience is tackle
Austin Pasztor
, who has played in three.
That lack of depth is not surprising for a team that is in the early part of a roster overhaul, but it's an issue the Jaguars will have to battle throughout the season. Bradley has said the team will be active on the waiver wire and offensive line is an area to expect some additions when teams make the final cut to the 53-man roster later this week.
It helps that the team has some versatility among the players. Brewster, for example, can play guard or center. So can Rackley. Bradfield can play right or left tackle.
But that only helps so much. The Jaguars have to upgrade the line of scrimmage to have enough depth to withstand a minor injury that would keep a starter out for a few games.
September, 1, 2011
9/01/11
5:16
PM ET
The big storyline or two for the AFC South preseason finales, all of which will be played tonight…
Colts at Bengals
It would be silly for
Kerry Collins
not to start, and Jim Caldwell has said the new quarterback will play "a lot." They should give him a reasonable amount of time with the starting line and the weapons he needs to sync up with if he's starting on Sept. 11 in Houston. That would stray from the typical philosophy in the fourth game, but the change of circumstances dictates a change in approach. Unfortunately, Collins won't have a chance to work with
Austin Collie
(foot) or
Anthony Gonzalez
(hamstring).
Titans at Saints
Depth decisions are the big story for Tennessee at this point. It's a big night for wideouts
Lavelle Hawkins
and
Kevin Curtis
, defensive tackle Sen'Derrick Marks, offensive tackles Mike Otto,
Troy Kropog
and
Pat McQuistan
, linebackers
Rennie Curran
and
Patrick Bailey
and safeties
Vincent Fuller
,
Robert Johnson
and
Anthony Smith
.
Jake Locker
should see significant time and it would be nice to see him cap the preseason with a performance that shows his growth since the starts of camp.
Rams at Jaguars
Running back
Maurice Jones-Drew
and defensive end
Aaron Kampman
are both coming back from knee injuries and they will see their first action of the preseason. Odds are we don't get great reads on either, but it's a significant thing for them to be involved in a bit of live action. A sack, at any time, by anyone, would really help in dealing with pass rush concerns.
David Garrard
will only get a series or two. He can do a lot for himself and the team but putting together an effort that helps create confidence.
Texans at Vikings
We'll see some kids play a lot, a whole game in some instances.
Matt Leinart
will have a big chance to show why Gary Kubiak is so high on him, and it would be good if he could connect some with newcomer
Bryant Johnson
. Like the Texans, the Vikings are expected to have a bunch of guys in street clothes. So while I'd like to see guys who've shined for Houston in a great preseason -- like
Xavier Adibi
,
Jesse Nading
,
Troy Nolan
-- fare well early in this game, it won't mean much more than them faring well a bit later in previous games.
My plan
From AFC South blog HQ, I expect to watch the first hour of the Colts and the first hour of the Titans and post something on those two games when they are over. The Jaguars and Texans may need to wait until morning depending on how things unfold. Odds are against me seeing all four games start-to-finish by the time I post some thoughts on them. And by "odds are against," I mean it can't happen.
August, 9, 2011
8/09/11
11:45
AM ET
NASHVILLE, Tenn. -- The Titans severed ties with their coach and quarterback and set about for a fresh start.

They'll suffer from time lost with the lockout, but in Mike Munchak, a largely new staff and a new combo of quarterbacks in
Matt Hasselbeck
and
Jake Locker
, the franchise hasn't just turned a page.
It's opened a new book.
The early chapters could well be choppy and rough.
Defensive coordinator Jerry Gray is looking for a bigger defense that will stop the run first, and offensive coordinator Chris Palmer is bringing a scholarly approach to a group used to being screamed at. The Titans have new signal-callers on offense and defense (middle linebacker
Barrett Ruud
was signed as a free agent from Tampa Bay), so there is a lot of new stuff to cover.
But external expectations are low. If the Titans can get their best player,
Chris Johnson
, on the field and make strides on defense, it's not impossible to improve on last season's disastrous 6-10 record.
Munchak preaches the virtues of being a true professional -- know what to do and do it. The question is, does he have enough talented guys who can win football games following that mantra?
THREE HOT ISSUES
1. Will Johnson be around?
It's hard to imagine his sitting out the season. The flamboyant running back loves the NFL stage and is one of the league's most dynamic players. He's certainly scheduled to be underpaid at $1.065 million, though. The Titans won't negotiate if he's not at camp, but he won't come to camp without a new deal. There are no signs of any real movement.
Johnson is not fired up about a compromise that would have him join the team but not practice until a deal is reached. Someone will bend. But in the meantime, we're likely to see a much less threatening offense.
"It's tough to tell how long it takes to become an issue," left tackle
Michael Roos
said. "Once he's here he's here, and we start working with him. We'll be a different team without him. He's definitely one of the top two if not the best running back in the league. A special player, very dynamic. It makes for a different kind of offense when he's not in there.
"The plays wouldn't change. Just without having his speed in there, people would play us differently. I wouldn't say it would necessarily be a worse offense. It would just be someone else running it,
Javon Ringer
or the rookie (
Jamie Harper
). It wouldn't have CJ's dynamic and people having to worry about his speed."
[+] Enlarge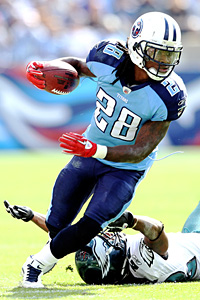 Andy Lyons/Getty ImagesThe Titans will be a different team if they are without Chris Johnson, who rushed for 1,364 yards and 11 touchdowns last season.
If defenses aren't worrying about that speed, things will be far more difficult for Hasselbeck and the team's other best weapons, receiver
Kenny Britt
and tight end
Jared Cook
.
2. How will Munchak's style translate?
He's a Hall of Fame player, and he's been a top position coach for years. Odds are Munchak can coach a football team.
"He's his own man," linebacker
Gerald McRath
said. "Everybody is going to have to sit back and watch, but it's definitely going to be different. He has that personality. He wants to establish something that's his, something that he's worked hard for. I feel like it's a great opportunity. It's a privilege just to be involved in that, to be able to put into some of that."
The question really is about his CEO role. How does he deal with the late-night calls about DUIs or the overeating defensive lineman? How does he react to the city calling for the starting quarterback's head or the player enduring stuff at home that's hurting his play?
Munchak has talked about accountability and discipline and consequences, things that all had slipped at the end for Jeff Fisher. Can he enforce all that effectively?
One other thing: Fisher was great with rules and clock management. In Munchak's first turn in the primary headset, it will be interesting to see how he fares in those departments.
3. Can the Titans stay healthy up front?
Part of the Titans' push to be bigger up front on defense is about being better against the run. Part of it is about being more rugged deep into the season. Some of Tennessee's speed rushers in recent years wore down late, and the Titans suffered for it.
Tracy Rocker has big shoes to fill as defensive line coach, where Jim Washburn had a great run of success. Can Gray and Rocker show the discipline to pace the linemen the way they are talking about doing now?
"I think we have to be real smart this year because our [defensive linemen], for some reason, get hurt quite a bit," Munchak said. "We have to limit their plays not only in games but in practice so you don't lose guys. ... We have to find a way to keep them healthy. You can't control all that, but we have to be smart."
BIGGEST SURPRISE
It's early, of course. But the team is talking up Cook again, and this time, he seems prepared to live up to it. The tight end is running plenty of routes that take him deeper than most tight ends, and the quarterbacks are thrilled to have such a big target stretching the field. He seems to be responding better to Palmer's mellow approach than he did to Mike Heimerdinger's high intensity.
BIGGEST DISAPPOINTMENT
Britt's offseason was filled with off-the-field issues. The Titans gave him a clean slate coming in, but hamstring problems have kept him out of camp so far. He said that he thought yoga was going to help him solve such problems but that
his instructor apparently took the money and ran with it
. The Titans are already without their most dynamic player in Johnson. With Britt sidelined, they are also missing No. 2.
OBSERVATION DECK
McRath is probably the odd man out in the linebacker shuffle unless he makes a charge to overtake Will Witherspoon on the weak side. McRath knows he didn't make enough plays last year, but he's saying the right things and carrying himself the right way. Maybe he'll be a special-teams stud if he isn't playing defense.

[+] Enlarge

Don McPeak/US PRESSWIRENew coach Mike Munchak, a Hall of Fame offensive lineman, will have high expectations for his interior line.

The pressure is on the Titans' interior offensive line. Munchak and O-line coach Bruce Matthews, both Hall of Fame linemen, expect Leroy Harris, Eugene Amano and Jake Scott to play better in their second season all together. If they don't, we'll call it part missed assessment and part blown confidence. Keeping Hasselbeck upright and healthy is a huge deal.
I'm not sure how the Titans will distribute their tight ends without tipping their intentions. Cook is the receiver and Craig Stevens is the blocker. Veteran addition Daniel Graham can do both but is more of a blocker.
Jordan Babineaux was lured to the Titans from Seattle largely because of his relationship with Gray when both were with the Seahawks. They shouldn't do anything that entails Michael Griffin playing anything but center field. And Babineaux is more a free than a strong safety, but the Titans will blur the distinction. Can he challenge for Chris Hope's job? If he does, will Hope take a pay cut to stay?
The Titans actually have reasonable depth at cornerback. Cortland Finnegan needs to produce big in a contract year, and Alterraun Verner and Jason McCourty are up-and-comers. Ryan Mouton was lost for the year with an Achilles injury, but veteran addition Frank Walker made a nice early impression.
This team always has an undrafted receiver who creates buzz early. This time it looks to be Michael Preston out of Heidelberg. He has nice size and athleticism.
There's not enough evidence to know whether seventh-round CB Tommie Campbell can play yet. But he certainly had physical attributes that make receivers take notice. Receiver Yamon Figurs recently went against him and came away muttering that Campbell was the biggest corner he's seen. Figurs said Campbell, who is 6-foot-3, was "like a giraffe."
Jake Locker has shown steady improvement and has been far better early on that I expected he would be.
If the Titans are going to be a lot better on defense, second-year end Derrick Morgan and second-round pick Akeem Ayers, a strongside linebacker, will have a lot to do with it. Morgan is a very good player, and Ayers brings the Titans size they've not had at linebacker since the franchise relocated.
Leadership was a giant issue last season. There was hardly any when things got tough. The Titans' additions could solve that. Hasselbeck, Graham, Ruud and Ayers are going to be big in that department.
Even if Justin Gage has a huge preseason, the Titans should consider moving on if everyone else is healthy. He's simply not been a steady enough playmaker, and if his presence is going to keep the team from exploring the upside of someone like Damian Williams, it's not the right move.
Where does recently added, versatile veteran offensive lineman Pat McQuistan fit in? The Titans have a lot of young linemen they like, but his case for edging somebody out will include his experience at every position but center. That could increase their flexibility on the bench.