September, 9, 2012
9/09/12
9:35
PM ET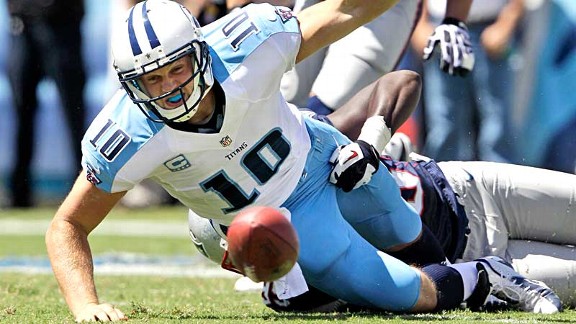 AP Photo/Wade PayneJake Locker and the Titans made too many mistakes to keep up with the defending AFC champs.
NASHVILLE, Tenn. -- One of the things that made critics wary of the five-year, $35 million contract
Michael Griffin
signed in the offseason was the safety's propensity for missed tackles.
We saw a picture perfect "Griff whiff" with 7:17 left on the clock in the second quarter at LP Field on Sunday, when New England Patriots running back
Stevan Ridley
took a carry wide right. He ran through what seemed to be a meager effort from Griffin, who had arrived relatively quickly, and Ridley ripped off 15 yards.
It was symbolic of a defensive struggle Tennessee simply couldn't afford in a first start for quarterback
Jake Locker
. As New England racked up 390 net yards and benefitted from big Locker gaffes, the Titans saw just how much distance lies between them and the defending AFC champs in a
34-13 loss
.
"This was our first real, live test," cornerback
Alterraun Verner
said. "And obviously we failed."
One of the things that moved the Titans to sign Griffin, whom they had designated their franchise player, to the long-term deal was a transformation in his attitude. Rather than moping about being kept from free agency, he showed new resolve, dedication and accountability.
Although the Titans are
doing him a disservice
playing him close to the line of scrimmage as the strong safety instead of as a roaming free safety, a player deemed worthy of that kind of deal simply has to do more than wave at people or get run over. (He offered no comment when asked about being asked to play in the box.)
He spoke very softly after the game, but showed more accountability regarding his tackling troubles and performance than he has on poor Sundays in the past.
"Ain't nobody got to tell me right now, I know I played a terrible game," he said.
"I know I was missing tackles. I'm on myself right now about missing tackles and what not. That was one of the things that I preached and preached and preached going into the season. Got to get better, try to get bigger. I gained like five, six pounds to try to be stronger in the run game. I guess I just need to work on my tackling. My focus right now is just to try to get better at tackling."
He's clearly got the physical qualities needed to bring ball carriers down and he often shows the football sense to be in the right place.
So why the struggles?
"It's trying to get there," he said. "Coach tells me all the time, a lot of times I get there and I try to shoot my gun rather than trying to make a sure tackle. It's just my nature. When you shoot your guns sometimes you're going to miss tackles like that. In the NFL, we don't tackle during the week. I'll see if I can talk to the coaches about trying to work on, trying to make open-field tackles and things like that."
He also looked to be responsible and at fault on a handful of big pass plays involving
Brandon Lloyd
and tight end
Aaron Hernandez
.
But Griffin was hardly the lone offender for the Titans when it came to a failure to make plays.
The pass rush got one big sack from
Kamerion Wimbley
, but otherwise hardly bothered Tom Brady as he completed 74 percent of his throws en route to a 117.1 passer rating.
And Ridley had a great day, seemingly surprising the Titans with the sort of decisive and determined running they don't see from their own back,
Chris Johnson
, anymore. Ridley had 21 carries for 125 yards and scored a touchdown while Johnson had 11 carries for 4 yards.
"They ran the ball better than they should have been able to," Titans coach Mike Munchak said.
Meanwhile, Locker made a couple of poor choices just the way you imagine he might against a Bill Belichick-coached defense.
From near midfield at the start of the second quarter, he threw a wobbly ball for
Nate Washington
with two defenders nearby. Corner
Kyle Arrington
tipped it and safety
Tavon Wilson
picked it off.
It stopped an offense that had moved the ball reasonably well to that point, but the mistake didn't lead to any points for the Patriots.
The next one was a crusher.
Rookie defensive end
Chandler Jones
slapped the ball out of Locker's hand near the Titans' goal line, and rookie linebacker Dont'a Hightower scooped it up and took it 6 yards for a touchdown that put the Patriots up 14-3.
The Titans were never closer than 11 points again.
"The first one was a bad decision," Locker said. "They were just in a soft coverage. I shouldn't have thrown it. The fumble, I have to take better care of the ball in the pocket."
Locker was knocked out of the game early in the fourth quarter
as he tackled
safety
Patrick Chung
and hurt his left, non-throwing shoulder.
He and his coach lamented missed opportunities.
"They didn't make many mistakes," Munchak said. "They didn't turn the ball over, they didn't do some of the things we did, have crucial penalties that hurt them like we did. That's what the separation is. It's us consistently getting better and making plays and not helping the other team. And that's kind of where the gap is right now."
September, 9, 2012
9/09/12
3:51
PM ET
NASHVILLE, Tenn. -- Here's a replacement official wrinkle I hadn't thought about.
A pass that's actually incomplete is initially ruled a fumble on the field. As a defender makes a big return, an offensive player is hurt making a tackle.
And while the play is overturned and ruled an incomplete pass, that offensive player is knocked from the game.
That's what happened at LP Field in the fourth quarter, when
Jake Locker
hurt his left, non-throwing shoulder while bringing down safety
Patrick Chung
on a fumble recovery that, in effect, never happened.
Nate Washington
, the receiver who didn't hold on to the ball, suffered a leg contusion and was knocked out. That was unavoidable no matter the call.
Matt Hasselbeck
replaced Locker, who should have never been in position to be hurt if the officials got the call right.
Not to say regular officials would have nailed it.
Locker's been fitted with a sling, but he doesn't look like he's coming back in.
August, 11, 2011
8/11/11
10:52
PM ET
Welcome to
David Garrard
's world,
Blaine Gabbert
.

Jacksonville's rookie quarterback started in New England on Thursday night.
He made some good and quick decisions. But he was ultimately undone by rookie inexperience and, in part, by the same things that often helped undo the veteran he is expected to sit behind. Gabbert's protection broke down and allowed three sacks and his targets -- including
Mike Thomas
,
Tiquan Underwood
and
Zach Miller
-- dropped passes.
The Patriots beat the Jaguars
47-12 in the preseason opener
for both teams as Gabbert played the first half, completing 9 of 16 passes for 85 yards.
New England defensive back
Patrick Chung
also got in on the drop action, sparing Gabbert an interception on a poorly thrown ball behind and over
Jarett Dillard
in the second quarter.
At least one other problem from last season resurfaced, poor tackling by cornerbacks. Second-string corner
David Jones
flailed on a couple tackles in key spots and rookie
Rod Issac
had a bad miss early in the third quarter. Another corner, undrafted rookie
Terrence Wheatley
, got lost in coverage a couple times before intermission.
Gabbert was the most significant Jaguars' story, though. When he left the game it was 19-9. The Patriots poured it on from there.
He showed composure considering it was his first action in an NFL game setting, playing with first-stringers (minus some key guys) against a team that sat a large share of front-liners. He also held the ball too long at times and made some bad throws that had nothing to do with protection or the hands of his targets.
All in all, it was the sort of outing you'd expect.
It's likely his work comes later next week against Atlanta, presuming Garrard's back is better.
February, 5, 2009
2/05/09
9:30
AM ET
Posted by ESPN.com's Paul Kuharsky
I asked Rob Rang, NFLDraftScout.com's senior analyst, to share his thoughts on the Houston Texans in the first round given these parameters -- their primary needs are safety, defensive end and cornerback.
Here's what Rang had to say in our e-mail exchange:
Safety: Unfortunately, there simply is not a safety worthy of this high of a selection. In fact, at this point, there isn't a safety likely to be taken in the first round, though a sparkling workout from Louis Delmas or Patrick Chung could change things by April.

Defensive end: The Texans would be wise to look for a pass-rusher opposite Mario Williams. Local product Brian Orakpo makes sense, as he -- while not explosive off the edge -- is a high-effort player with excellent strength and technique. He may never be a superstar, but he's solid and opposite Williams, that may be all they need. The Texans may be hesitant to invest yet another first-round pick in the position, however, meaning that the club might look toward an outside linebacker like Brian Cushing might make sense.

Cornerback: If Vontae Davis is available, his athleticism makes him an obvious candidate. The underrated D.J. Moore also makes sense due to his size and athleticism.