May, 31, 2014
5/31/14
8:00
AM ET
Got questions about the
Jacksonville Jaguars
? I'll try to answer a representative selection of them every Saturday. Submit your questions via Twitter to
@ESPNdirocco
.
April, 29, 2014
4/29/14
10:55
AM ET
JACKSONVILLE, Fla. -- Taking an offensive tackle in the first round for the second year in a row is a real possibility for the
Jacksonville Jaguars
.
According to a league source, Texas A&M offensive tackle
Jake Matthews
visited
the Jaguars last week
and he is one of the players who general manager David Caldwell may target with the No. 3 overall pick on May 8.
The 6-foot-5, 305-pound Matthews -- the son of NFL Hall of Fame offensive tackle Bruce Matthews -- spent last Thursday at the Jaguars' facility. It was an under-the-radar visit by one of the draft's top prospects, who at one point was regarded as the best offensive lineman in the draft.
Most draft analysts have Matthews rated behind Auburn offensive tackle
Greg Robinson
, who was among the 16 players who visited the Jaguars during the week of April 6-11, but he still is projected to be a top-10 selection.
"With Jake Matthews' pedigree and his ability, he could be the best value in the draft that nobody's talking about," the league source said.
If the Jaguars were to take Matthews, it would reunite him with his former college teammate
Luke Joeckel
, whom the Jaguars took with the No. 2 overall pick in last year's draft. It also would give the Jaguars the chance to solidify the edges of the offensive line for years. Though Matthews played left tackle as a senior, he spent his first three seasons playing at right tackle while Joeckel started at left tackle.
The Jaguars certainly aren't one player away from making a run at the playoffs, and while their needs at pass-rusher, quarterback and receiver are more pressing than right tackle, this is a draft deep on offensive talent. The Jaguars spent most of their 2013 draft picks on defense, and Caldwell and coach Gus Bradley have said this year's draft would be more focused on offense. There are no other elite offensive tackles outside of Robinson and Matthews but the Jaguars can find quality receivers and quarterbacks in the second and third round.
There is a precedent for building an offensive line with a pair of high draft picks at offensive tackle. The
San Francisco 49ers
took
Joe Staley
with the second of their two first-round picks in 2007 (28
th
overall) and he has started 98 games at left tackle. Three years later San Francisco took
Anthony Davis
with the 11
th
pick and he has started every game since at right tackle.
Adding Matthews also would allow the Jaguars to move
Austin Pasztor
, who started 12 games at right tackle in 2013, to right guard and shore up a spot that was a weakness last season. The team signed
Zane Beadles
in free agency and installed him as the starter at left guard, so the only position that would be questionable is center.
Bradley said last week that third-year player Mike Brewster is the No. 1 center but he'll be pushed by several players -- including
Patrick Lewis
, another former Texas A&M player whom the Jaguars claimed off Cleveland's practice squad last December.
The Jaguars have been transparent and open regarding their visits, so the secrecy surrounding Matthews' visit is intriguing. If they are indeed interested in taking Matthews, keeping his visit quiet may have been an attempt to keep teams that also may be considering offensive tackles -- Buffalo, Atlanta and Oakland -- from making a move to trade up. If Houston were to take Robinson with the No. 1 overall pick -- unlikely, but not out of the question -- and those other teams knew the Jaguars were going to take Matthews at No. 3, they may try to work out a trade with St. Louis, which has the No. 2 pick.
March, 26, 2014
3/26/14
3:30
PM ET
ORLANDO, Fla. -- Finding a new center to replace the retired
Brad Meester
is one of the
Jacksonville Jaguars
' top priorities this offseason, but the fact that they didn't sign one during the first few weeks of free agency isn't a concern for general manager David Caldwell or coach Gus Bradley.
They're confident they can find a starter among the players already on the roster, beginning with third-year player Mike Brewster.
"We felt like going through our end-of-season evaluations that Brew could hold the fort down," Caldwell said during the NFL owners' meetings this week. "This is a big year for him. He's going into his contract year and it felt like that it could be a year for him to really excel and be the guy. I know the players feel comfortable with him. I know our coaching staff feels comfortable with him.
[+] Enlarge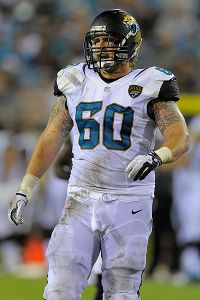 AP Photo/Scott A. MillerMike Brewster has played in 26 games with 10 starts since making the Jacksonville Jaguars as an undrafted free agent in 2012.
"If we found one that we really liked that we felt like could come in and be an appreciable upgrade then we'd go that route, but if not we felt like between the draft and between Brew and even a guy like Pat Lewis, who we have some feeling for that we claimed off Cleveland's practice squad, that one of those guys could come in and be the starter for us."
Jacques McClendon
, whom the Jaguars claimed last September and ended up playing in five games (two starts) at guard, also can play center. But Brewster, who was a four-year starter and Rimington Award finalist at Ohio State, gets the first chance. He missed the final two games of the season after suffering a fractured left ankle, but is expected to be healthy in time for OTAs in April.
Bradley said Brewster has worked hard in rehab alongside left tackle
Luke Joeckel
, who missed 11 games after suffering a fractured right ankle, and appears to have gotten bigger and stronger.
"I think that he's in the mindset that he has the opportunity right in front of him and he's really going to take advantage of this opportunity," Bradley said. "We'll see. He looks the part, coming off of his injury very well, but it's going to be competitive. We have confidence in him to play that position. We've talked in our offensive staff meetings and our overall staff meetings specifically about that one position, and his name keeps coming up."
The 6-foot-4, 305-pound Brewster, however, has yet to play a snap at center in his first two seasons. He has played in 26 games with 10 starts since making the team as an undrafted free agent in 2012, but all have been at left or right guard.
In fact, only one of the Jaguars' other current options at center has taken a snap. McClendon snapped once against Tennessee when Meester moved to tight end so he could catch a pass in his Jaguars finale. McClendon, a fourth-round pick by Indianapolis in 2010, has played in just nine games, five of which came with the Jaguars last season.
The Jaguars signed Lewis from Cleveland's practice squad on Dec. 17. He has yet to play in an NFL game.
There are still 13 free-agent centers available -- led by
Kyle Cook
,
Brian de la Puente
,
Mike Gibson
and
Rich Ohrnberger
-- so the Jaguars might still add one on a bargain contract before the draft. Even if they do, however, they'll still likely draft one in May. Starting a rookie center is not ideal because of the responsibilities of making line calls and adjustments, but signing veteran guard
Zane Beadles
and re-signing quarterback
Chad Henne
makes it more palatable, Bradley said.
"The center spot is always dangerous," Bradley said. "If you start with a rookie center and a rookie quarterback, I think that makes it difficult. But if you have a veteran quarterback and it happens to be a rookie center, you'll still go through some growing pains, but it's not to the extreme of both being rookies."
It's Brewster's job for now, but the Jaguars are obviously keeping their options open.
February, 28, 2014
2/28/14
12:00
PM ET
Here is the fifth of a 10-part series breaking down the Jacksonville Jaguars' free-agency needs, position by position:
Offensive line
Who is on the roster:
OT
Cameron Bradfield
, G/C Mike Brewster, OT
Luke Joeckel
, C
Patrick Lewis
, OT
DeMarcus Love
, G
Jacques McClendon
, G
Stephane Milhim
, G
Drew Nowak
, G
Uche Nwaneri
, OT
Austin Pasztor
, G
Will Rackley
, and OT
Sam Young
.
Joeckel
Analysis:
Injuries hurt the unit early in the season and really impacted it late. The group struggled in the transition to a zone-blocking scheme early in the season as well, which is why the Jaguars finished the first eight games last in the NFL in rushing. Joeckel, whom the Jaguars took with the No. 2 overall pick, spent the first four weeks of the season at right tackle before moving to his natural spot at left tackle following the trade of
Eugene Monroe
. He played less than a quarter against St. Louis before suffering a fractured ankle, but he was handling
Robert Quinn
(who finished with 19.0 sacks) pretty well before he got hurt. His injury forced Bradfield and Pasztor into the lineup, and Pasztor played surprisingly well. The team is encouraged by his potential. The biggest issue is the interior of the line.
Brad Meester
retired, so the Jaguars need a center. Nwaneri was solid at right guard, but left guard was an issue because Rackley played hurt all season and the Jaguars could never generate much push in the middle of the line.
NFL free agents of interest:
C
Alex Mack
, C
Ryan Wendell
, C
Brian De La Puenta
, G
Jon Asamoah
, G
Geoff Schwartz
, and G
Rich Ohrnberger
.
Need meter: 9.
After quarterback and leo, the interior of the offensive line is the Jaguars' biggest need. GM David Caldwell has said the team would like to address that in free agency, and it would be a surprise if the Jaguars didn't sign at least two starters, including a center, within the first few weeks of free agency. It's unlikely the Jaguars would target the big names that are available, mainly because of cost, but if those players linger on the market and the price drops, the Jaguars would get involved. Even though Joeckel is talented and seemed to thrive in the very limited time he spent at left tackle, there are still questions about him, so the Jaguars might opt to add some experienced depth at tackle. Competition for roster spots on the line will be among the more interesting training camp battles.
January, 10, 2014
1/10/14
11:00
AM ET
Each day for the next two weeks we'll review how each position group performed in 2013, and take an early look at 2014. Today we'll examine the offensive line. We did quarterbacks on Monday running backs on Tuesday, tight ends Wednesday, and wide receivers on Thursday. We will do the defense next week.
Offensive line
Breakdown of starts:
C
Brad Meester
(16), G
Uche Nwaneri
(16), T
Austin Pasztor
(12), T
Cameron Bradfield
(11), G
Will Rackley
(11), T
Luke Joeckel
(5), T
Eugene Monroe
(4), G
Mike Brewster
(3), G
Jacques McClendon
(2).
Recap
: The Jaguars finished 31st in rushing (78.8 yards per game) and gave up the second-most sacks in the league (50). All the blame for those poor stats doesn't fall on the offensive line, but a good bit does. Injuries played a large role because several players started the season banged up and three ended up finishing the season on IR.
Only two players who started the season opener were in the starting lineup for the season finale: Meester and Nwaneri.
The group really struggled in the first month adjusting to the new zone-blocking scheme and it wasn't until Monroe was traded that things started to get better. The timing was a bit unusual because Monroe is regarded as one of the better young tackles in the game and Joeckel lasted less than a half at left tackle because of a season-ending ankle injury.
Nwaneri and Rackley were banged up with knee issues early in the season but as they got healthier the middle of the line played better.
The biggest surprise, though, was the play of Pasztor. Bradfield had started 12 games at right tackle in 2012 so he was experienced enough to handle things at left tackle after Joeckel got injured. Pasztor had started just three games at left guard as a rookie in 2012 but he did a solid job at right tackle over the final 12 games of the season. He was promising enough that coach Gus Bradley and GM
David Caldwell
are willing to give him a further look at that spot to see if he can develop into the team's answer at right tackle.
Rackley missed the final four games because of a concussion. Brewster was supposed to be his replacement but he suffered a fractured ankle as well and that forced McClendon into the lineup.
Looking ahead to 2014
Players under contract:
Nwaneri, Joeckel, Rackley, Brewster, McClendon, G
Stephane Milhim
, C
Patrick Lewis
, G
Drew Nowak
, T
DeMarcus Love
, C
Matt Stankiewitch
.
The skinny
: The top priority is finding a center because Meester retired after 14 seasons. It may be someone already on the roster -- McClendon also can snap -- but it also may be someone the Jaguars sign in free agency (Cleveland's
Alex Mack
is regarded as the top center that could be a free agent).
Upgrading at left guard and making sure things are settled at right tackle are on the list as well. Pasztor may end up being the starter against but he has to show progress and prove he can handle the quicker rushers.
There are still questions about Joeckel. He looked good in his first game at left tackle (his natural position), but he was only on the field for less than a half before he got injured. He should be healthy in time for OTAs.
The Jaguars are likely going to add several free agents and draft picks in the interior. The run game has to improve and that starts with the center and guards.