AFC South:

Patrick Peterson
November, 20, 2013
11/20/13
12:30
PM ET
JACKSONVILLE, Fla. --
Clay Harbor
wasn't the intended target, nor was he even touched on the play, but he played a critical role in the Jaguars' successful fourth-down touchdown against Arizona last Sunday.
The 6-foot-3, 255-pound Harbor was one of three tight ends the Jaguars used on the fourth-and-1 play from their own 38-yard line early in the first quarter. His pre-snap motion -- in which he went right, left, and back right again -- confused the linebackers and safeties and was the reason Noble was able to get wide open.
"The most important thing was the motion," quarterback
Chad Henne
said. "Yo-yoing the motion and getting him to sprint out right kind of threw the defense off guard. They thought we were going to go right and we went left with it."
[+] Enlarge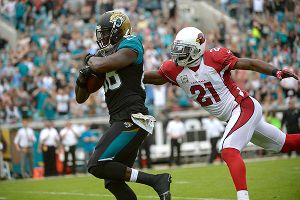 AP Photo/Phelan M. EbenhackDanny Noble took his first career reception 62 yards for a score against the Cardinals.
A look at the film shows exactly what happened:
The Jaguars went with three tight ends, fullback
Will Ta'ufo'ou
, running back
Maurice Jones-Drew
and no receivers.
Danny Noble
, whom the team signed to the practice squad Oct. 9, and
Marcedes Lewis
lined up tight on the left and right side of the formation, respectively. Harbor lined up one step behind the line of scrimmage off Noble's left hip.
When Harbor went in motion to his right, cornerback
Patrick Peterson
and safety
Tyrann Mathieu
slid across the formation with him. Harbor then went back to his left for two steps before turning around and going back right. You can see the reversal caused confusion between linebackers
Karlos Dansby
and
Daryl Washington
, with Washington pointing and waving his left hand.
At the snap, Noble releases and brushes by linebacker
John Abraham
and heads up the hashmarks before curling toward the numbers. Henne play-fakes the ball to Jones-Drew, who goes low to block Abraham while Ta'ufo'ou heads into the flat.
Henne looks at Ta'ufo'ou, which causes Mathieu and Washington to make a beeline for the flat. Peterson, who was simply backpedaling after the snap, never sees Noble until he catches the ball. At that point it becomes a footrace.
Peterson eventually catches Noble at the 12-yard line but he grabs high and slides off Noble's hip at the 5-yard line.
Coach Gus Bradley said Henne deserves credit for not taking the quick throw to Ta'ufo'ou, who was open and would have made the first down and instead going to Noble. That's a decision he may not have made earlier this season.
"I think earlier in the season Chad may have thrown it to Will in the flat and we would have all been sitting here saying, 'Oh, if he would have just throw it to Noble we had a chance for an explosive play,' and he did it," Bradley said. "He was looking at the fullback but he hung in there and threw it to Nobes and we got a big play off of it."
November, 17, 2013
11/17/13
7:25
PM ET
JACKSONVILLE, Fla. -- The
Jacksonville Jaguars
' offense hasn't had any trouble starting fast the last two weeks.
It's the rest of the game that has been the problem.
It happened in a 29-27 victory over Tennessee on Nov. 10 but the Jaguars were able to hang on and get their first victory over the season. They couldn't overcome it against the
Arizona Cardinals
on Sunday at EverBank Field, however, and lost
27-14
.
[+] Enlarge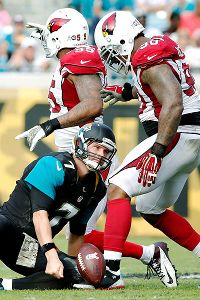 Sam Greenwood/Getty ImagesChad Henne
The Jaguars scored two touchdowns -- their first at EverBank this season -- and racked up 111 yards in the first quarter. But penalties, an injury to an already-depleted receiving corps, and the lack of a running game crushed the early momentum. The result was the ninth loss of the season and sixth consecutive loss at EverBank Field.
"After those scores we struggled," head coach Gus Bradley said. "We had quite a few three-and-outs. I know we had some second-and-longs, some penalties that showed up in the second half, a couple interceptions. We've got to overcome that. We've really got to continue to challenge our guys to step up and make plays."
The Jaguars (1-9) managed just two first downs in the second quarter and two more in the third. They managed just 163 yards in the final three quarters and 58 came after the Cardinals took a 24-14 lead. Why such a poor performance?
Penalties hurt. A false start on third-and-8 by receiver
Ace Sanders
in the second quarter. Early in the fourth, center
Brad Meester
and guard
Uche Nwaneri
had false starts on the same drive. A holding penalty on tackle
Cameron Bradfield
wiped out a 21-yard reception by
Maurice Jones-Drew
.
The running game was non-existent, too. That's not surprising considering the Cardinals entered the day with the NFL's third-ranked rush defense, but Jones-Drew and the offensive line really struggled. The Jaguars ran for just 32 yards on 16 carries and Jones-Drew ran 14 times for 23 yards, which is the second-lowest total of his career in games in which he's had double-digit carries.
The Jaguars were already short at receiver with the suspension of
Justin Blackmon
and
Stephen Burton
missing the game with a concussion, but
Mike Brown
left the game in the second half with a shoulder injury. That meant the Jaguars had to use
Kerry Taylor
, whom the team claimed off waivers from Arizona on Nov. 4, in a bigger role.
Sanders, Brown, Taylor and tight ends
Marcedes Lewis
and
Clay Harbor
were pretty much quarterback
Chad Henne
's only options because No. 1 receiver
Cecil Shorts
was being shadowed by Arizona cornerback
Patrick Peterson
. Until the final four minutes of the game, Henne targeted Shorts just once. In those final four minutes, Henne threw to Shorts four times.
Shorts was clearly frustrated.
"There was opportunities throughout the game I should have been involved in," Shorts said. "But, you know, it is what it is. I can't control what the … We can do better as an offense."
Henne wasn't particularly effective, either. Though he completed 27 of 42 passes for 255 yards and one touchdown, he threw two interceptions and didn't challenge the Arizona secondary. As noted, he didn't look for Shorts until the game was well in hand and there were instances where he was open against Peterson.
He settled for shorter passes too often, too, especially on several third downs. It seemed as if he was overly concerned with Peterson and safety
Tyrann Mathieu
.
"It was tough," Henne said. "Patrick Peterson's a great corner and we knew we were going to have some problems with him. But Cecil, I thought, in some of his one-on-one routes did some really good things with it. They were playing a high safety. Their guys up front are good pass rushers, so we wanted to get the ball out quick, get it out on time, and I think we definitely accomplished some of that."
It was a typical Henne game. Several good throws, several bad, and a mixture of safe stuff. But he couldn't lead the offense to any points despite starting possessions at his own 40, the Arizona 42, midfield, and his own 42. Punt, punt, punt, interception.
"Field position was outstanding," Bradley said. "We had a couple times we started on the 50 and there in. Those we have to come away with some points. We have to. Even if it's a field goal, to get it down there inside the 35. We took a sack on one. We were on the 36 yard line, the 38-yard line, trying to get it to the 35, we take a sack. Throw it away and give it a chance. We'll continue to grow on those decisions."
It's not all on Henne, Shorts said.
"I felt like we had a lot of momentum at the beginning of the game," said Shorts, who caught just two passes for 22 yards. "We had penalties. When we're in their territory we need to at least get three points. We're on their side of the 50, we can't have a penalty, first-and-15, and we get a positive play, then another penalty, first-and-20. We can't have stuff like that. We need to at least get three every time we're in their territory. We've just got to do better. We need to execute."
November, 17, 2013
11/17/13
4:07
PM ET
JACKSONVILLE, Fla. -- A few thoughts on the
Jacksonville Jaguars
' 27-14
loss
to the
Arizona Cardinals
.

What it means:
The Jaguars were trying to achieve something that hasn't happened since 2010: win back-to-back games. They beat Tennessee and Oakland in consecutive weeks in December that season but have won just eight games since. There is a silver lining in the loss, though. Tampa Bay was routing the Falcons, which leaves the Jaguars as the league's only team with a single victory and puts them in the lead for the No. 1 overall selection in the 2014 draft.
Stock watch:
Punter
Bryan Anger
had perhaps his best game of the season, averaging nearly 50 yards per punt and pinning the Cardinals deep in their own territory. In the third quarter alone he forced the Cardinals into starting drives on their 9-, 10- and 2-yard line. Anger kept the Jaguars in the game while the offense sputtered in the second half. Cornerback
Alan Ball
had a solid game, too, by breaking up four passes in the first half -- three of which were intended for
Michael Floyd
.
TOs overturned:
The Jaguars had what appeared to be two turnovers deep in Arizona territory wiped out.
Patrick Peterson
fumbled a punt at his own 10-yard line. Three Jaguars pounced on the ball but somehow Peterson came out with it and the Cardinals retained possession. Replays appeared to show long-snapper
Carson Tinker
coming out of the pile with the ball and the Jaguars challenged the play, but officials upheld the ruling on the field. Two plays later, middle linebacker
Russell Allen
intercepted
Carson Palmer
's pass to
Larry Fitzgerald
, but officials announced after the play that the Cardinals had called timeout before the snap.
Sneaky:
The Jaguars scored their first touchdown on an interesting fourth-and-1 call. They lined up at their own 38 with extra tight ends. The Cardinals played run all the way, and the play-action fake allowed recently acquired tight end
Danny Noble
to get behind the first level of defenders.
Chad Henne
hit him with a good pass and Noble broke a tackle to score a 62-yard touchdown. What made the play work is the fact that Noble is a blocking tight end who had played in only five games and never had a catch until Sunday.
What's next:
The Jaguars will play at Houston on Sunday.
November, 16, 2013
11/16/13
8:00
AM ET
Here are five things to watch in Sunday's
Jacksonville Jaguars
-
Arizona Cardinals
game at EverBank Field in Jacksonville, Fla.
Peterson
Shorts vs. Peterson:
Cardinals cornerback
Patrick Peterson
usually shadows the opposing team's best receiver. In the Jaguars' case, that's
Cecil Shorts
(48 catches, 607 yards). Can the 6-foot, 202-pound Shorts handle the 6-1, 219-pound Peterson? Shorts cannot get completely taken out of the game, because the Jaguars' other receivers aren't good enough to carry the passing game.
Mike Brown
is a solid No. 3 receiver but the only other healthy receiver is
Kerry Taylor
.
The Honey Badger:
Tyrann Mathieu
was a ballhawk at LSU, and he's doing the same with Arizona. He has two interceptions and 10 pass breakups. He starts at safety, and he's also talented enough to cover slot receivers man-to-man. The Jaguars need to be aware of where he is pre-snap, because he's also a decent blitzer.
Who's in the middle:
Jaguars middle linebacker
Paul Posluszny
is questionable because of a concussion. He's by far the defense's best player (88 tackles, two interceptions, two forced fumbles), so not having him on the field would be a huge loss. Outside linebacker
Russell Allen
would take his place. Though he has played all three spot in his five-year career, Allen hasn't started a game in the middle since his rookie season (2009). Allen's replacement would be rookie
John Lotulelei
, who has played in just two games this season.
Can Mojo get going?
The Jaguars have struggled to run the ball all season, and now they'll be facing the No. 3 run defense in the league. The Cardinals are allowing only 86.9 yards per game on the ground. Jones-Drew has rushed for 432 yards, and is averaging 3.0 yards per carry, more than a yard less than his career average. The offensive line might be without starting left guard
Will Rackley
(concussion), too.
The end zone:
The Jaguars haven't been in one in EverBank Field this season. The last TD the team scored there came in the first quarter of a Week 16 loss to New England in 2012. The Jaguars have been out-scored 89-11 in three games at EverBank this season.
February, 26, 2012
2/26/12
4:15
PM ET
INDIANAPOLIS --
Morris Claiborne
is largely regarded as the top cornerback available in the draft.
The Jaguars may be drafting a bit too late at No. 7 to get him, but he'd sure be a great fit. Jacksonville has a quality young corner in
Derek Cox
. But veteran
Rashean Mathis
is about to be an unrestricted free agent and is coming off a torn ACL. Even if he's re-signed and recovered for opening day, the Jaguars need their next starting corner on the roster.
Not long ago, Claiborne wasn't even a cornerback. He said he was recruited to LSU as an "athlete" and teammate
Patrick Peterson
, drafted fifth overall by Arizona last year, convinced him to try corner.
He was quickly hooked.
Regarding the combine, Peterson told Claiborne to "go up and take over."
Claiborne is an admirer of
Darrelle Revis
and rates himself a technician who funnels receivers rather than being especially physical with them.
He'd be a great piece for the Jaguars. But it may be difficult for him to get beyond Tampa Bay at No. 5.
April, 28, 2011
4/28/11
4:21
PM ET
Todd McShay's
final mock draft
has a big surprise early that could change the picture for the AFC South. He's got Missouri defensive end/ linebacker
Aldon Smith
, who we've identified as a candidate for Houston and Jacksonville, going fifth to Arizona.
McShay goes seven rounds. I'll only share three.

No. 8 -- Tennessee Titans
Nick Fairley, DT, Auburn
"Fairley is the best interior pass-rusher in the 2011 class, has tremendous overall upside and fills a major need."
No. 39
--
Ryan Mallett
, QB, Arkansas
No. 77
--
Marcus Gilchrist
, CB, Clemson
PK says:
Virtually every time they've talked about quarterbacks, they've talked about the ability to rollout and move. Good offensive line or no, I don't see them going with the least mobile of the top eight quarterbacks.

No. 11 -- Houston Texans
Patrick Peterson, CB, LSU
"There has been talk about the Texans possibly trading up to get Peterson and significantly upgrade their secondary, but in this dream scenario they stay put and get one of the four elite players in this class."
No. 42
--
Stephen Paea
, DT, Oregon
No. 73
--
John Moffitt
, G, Wisconsin
PK says:
A first-round dream scenario becomes possible thanks to the ascension of Smith and
J.J. Watt
. I hope they think they need an interior defensive linemen like Paea.

No. 16 -- Jacksonville Jaguars
Ryan Kerrigan, DE, Purdue
"Kerrigan is the kind of safe pick GM Gene Smith likes, a player who works hard and can contribute right away with solid skills and a high motor."
No. 49
--
Torrey Smith
, WR, Maryland
No. 80
--
Edmond Gates
, WR, Abilene Christian
PK says:
Gene Smith has attacked key positions in bunches, so he could nab a couple receivers. But no quarterback until the second of the team's two fourth-round picks?

No. 22 -- Indianapolis Colts
Gabe Carimi, OT, Wisconsin
"Carimi would provide more protection for QB Peyton Manning but, more importantly, would be a significant upgrade for a running game that struggled mightily in 2010."
No. 53
--
Clint Boling
, G, Georgia
No. 87
--
Terrell McClain
, DT, USF
PK says:
It's hard to imagine no skill position guys with the value picks, but it could be healthy for the roster.
April, 25, 2011
4/25/11
12:00
PM ET
We know you've been mocked and mocked. We all give you divisional takes on Todd McShay and Mel Kiper. We often link to other mocks. Maybe you're to your breaking point. Maybe you need one more.

We spent three days last week emailing back and forth and compiling a mock put together by eight divisional bloggers. John Clayton stood in for the NFC East.

Perhaps we add some different insight to the speculation. Perhaps we echoed prevailing wisdom. (I can raise my hand on that, as you will see.)

At any rate, we know we're mostly wrong, and we're eager to write names in draft slots in ink instead of pencil when things kick off Thursday evening. Here's hoping this helps tide you over.


April, 25, 2011
4/25/11
10:16
AM ET
Texas cornerback Aaron Williams might qualify as
the best safety
in a terrible safety draft, says Jeffrey Martin. Every team in the AFC South can use a safety.
Houston Texans
The Texans
need to trade up
for Texas A&M linebacker Von Miller or LSU corner Patrick Peterson, says Jerome Solomon.
Aldon Smith is
still the pick
at 11 in John McClain's newest mock.
A blueprint
for the Texans' success from Lance Zierlein. Excellent stuff in here. The only piece I disagree with is moving Glover Quin to safety. I think it's too early to make that decision and the team can still find a couple of quality safeties, particularly if the team is willing to shop in free agency when it arrives.
Is Amobi Okoye conceding he
can't play nose
in the 3-4? Alan Burge examines.
Letting Vonta Leach leave
might not be all bad
, says Rivers McCown. I'm not so sure Leach will get a big deal elsewhere.
Indianapolis Colts
Best available player or an offensive lineman? That's
the question
for the Colts, says Mike Chappell.
Chappell on the Colts and
quarterback possibilities
in the draft.
The Colts are looking through
a broader lens
for this draft, writes Chappell.
Blair White is working to
build chemistry
with Peyton Manning, says Joe Rexrode. Hat tip to Nate Dunlevy.)
Linebacker options
for the Colts from Brett Mock.
Jacksonville Jaguars
The Jaguars are
in flux at linebacker
, says Tania Ganguli.
Pass defense is
a big issue
, says Vito Stellino.
Tennessee Titans
Late-round finds are great, but first-round choices can
make or break
a team, says John Glennon.
Would the Titans, should the Titans, take Cam Newton
if he slides
, asks Jim Wyatt.
Tracy Rocker gives the Titans
a big resource
on Nick Fairley, says Jim Wyatt.
Fairley says his
sleep apnea
is under control, says Glennon.
Who might want to
trade up
to No. 8?
April, 20, 2011
4/20/11
5:03
PM ET
While Todd McShay makes an official pick in
his newest mock

, he also provides a three-for-one, with two alternate scenarios for each team.
Here's what he's got the AFC South doing.

Tennessee Titans, No. 8
Nick Fairley, DT, Auburn
Scenario 1:
Fairley makes the most sense at this point and he has tremendous upside. He's worth the pick from a talent standpoint, but there are legitimate questions about his football character and if the Titans pass, that will be the reason.
Scenario 2:
[Prince] Amukamara is worth the pick and would fill one of the Titans' top five needs.
Scenario 3:
If [Julio] Jones were to fall this far, Tennessee would consider taking him given Kenny Britt's recent off-field issues, or if he were available it might provide an opportunity to trade back with a team like the
St. Louis Rams
and perhaps address need at quarterback with someone like Washington's
Jake Locker
.
My thoughts:
I'm on board with Fairley if things unfold as expected with the top seven players. If
Blaine Gabbert
or
Patrick Peterson
somehow slip, I think they'd pounce. Among players likely available, I think Locker is second-most likely to Fairley, with Jones next.

Houston Texans, No. 11
Robert Quinn, DE/OLB, North Carolina
Scenario 1:
Taking Quinn is the best-case scenario outside of [Von] Miller somehow falling this far. Quinn would be a nice complement to fellow OLB Connor Barwin, one of the best ILB tandems in the league in DeMeco Ryans and Brian Cushing, and difference-maker Mario Williams up front.
Scenario 2:
If Quinn is gone, then a 5-technique like [J.J.] Watt or California's
Cameron Jordan
would be the pick.
Scenario 3:
The Texans could be forced to weigh value against philosophy here if the players above are gone. Amukamara would be the value pick, but I tend to think they would lean toward Missouri DE
Aldon Smith
because new defensive coordinator Wade Phillips is determined to upgrade the front seven.
My thoughts:
Quinn would feel like a home run. If he's gone, I feel like one of those more rugged ends who could play in a 3-4 would be the value, though Smith would fill the more the outright need. Amukamara would surprise me.

Jacksonville Jaguars, No. 16
Ryan Kerrigan, DE, Purdue
Scenario 1:
General manager Gene Smith likes safe, high-motor, strong-character picks who can contribute right away, and Kerrigan fits that mold perfectly.
Scenario 2:
If the Jaguars were to take a chance with this pick, it could be on Clemson DE
Da'Quan Bowers
and his knee issues.
Scenario 3:
Their three other top needs are reaches here, so reaching for Locker or moving back for another quarterback might be a possibility.
My thoughts:
Kerrigan is an easy match to make, but he's not the only high-motor, hard-worked Smith is going to have a crack at here. They already have a DE with knee questions in Aaron Kampman, and I suspect they'd fear Bowers. Watt or Smith are possibilities.

Indianapolis, No. 22
Nate Solder, OT, Colorado
Scenario 1:
Solder is a no-brainer. The Colts gave up the fewest sacks in the league last year, but that was mostly due to QB Peyton Manning getting the ball out quickly. But Solder has the athleticism to help in protection when he's ready to step into the lineup. More importantly, he's already a monster at 6-foot-8 and 319 pounds and would help upgrade a running game that finished 29th in the league (92.7 yards per game) last season.
Scenario 2:
Liuget is the higher-ranked prospect and is a strong possibility as the kind of quick, penetrating defensive lineman the Colts like.
Scenario 3:
If the top four offensive tackles are off the board, Indianapolis could reach for Mississippi State OT
Derek Sherrod
.
My thoughts:
As soon as a player or a position is deemed a no brainer for the Colts, I get scared. One of the top four offensive tackles sure looks like a match. I don't see them looking to Sherrod as he seems a bit like Tony Ugoh. I could certainly see Liuget. Is there a receiver value here?
April, 18, 2011
4/18/11
10:44
AM ET
Reading the coverage ...
Peter King says the Texans are
in love
with Patrick Peterson and has details of Jeff Fisher's upcoming climb.
An autographed "
Luv Ya Blue
" Oilers helmet sold for $2 million at a charity auction.
The
second round
of mediation is mostly for show, says Mike Freeman.
Houston Texans
The
directions
the Texans can go at No. 11, from John McClain.
Taking a quarterback high is
risky business
, says McClain.
Greg Cosell
assesses Aldon Smith
, via Alan Burge.
Indianapolis Colts
The NFL is prepared to
move the date
of Indianapolis' Super Bowl if needed.
Bill Polian's
being honored
by Marian University.
Some possibilities
at center in the draft, from Brett Mock.
Jacksonville Jaguars
Even with more blackouts it would be
too early to worry
about the Jaguars leaving, says Vito Stellino.
Are prospects
rising or falling
or are reporters just catching up to values? John Oehser discusses.
Tennessee Titans
The Titans' draft approach
can't help but change
because of the lockout, says John Glennon.
Pondering
Ryan Mallett with Jim Wyatt.
David Boclair wonders about how Mike Munchak will
deal with
Kenny Britt.
February, 28, 2011
2/28/11
2:07
PM ET
Mike Mayock of the NFL Network has become the official final word at the combine -- he's the last guy at the podium after four days of interviews because he's great at summarizing things.
I just listened to a tape of his talk, and pulled out some things I thought you'd find interesting. I'll have his voice in a piece or two still to come as well.
"The defensive line in general is phenomenal. I've got nine defensive ends with first-round grades. Typically 3.8 to four go in the first round."
He believes tight end is the weakest spot in the draft and that the safety class is below average. (Bad news for Texans, Jaguars and even Titans.)
Patrick Peterson vs. Julio Jones was his favorite tape of the year to watch.
He like the depth of the first couple rounds at offensive tackle and thinks there could be a plug-and-play guy at the spot who would be a fit for the Colts at No. 22.
Ryan Mallett is a first-round talent he doesn't think will get drafted in the first round.
Oregon inside linebacker Casey Matthews is not explosive like his brother Clay, but he is instinctive and will play better than his measurables suggest.

AFC SOUTH SCOREBOARD
Friday, 8/22
Saturday, 8/23