April, 13, 2009
4/13/09
4:31
PM ET
Posted by ESPN.com's Paul Kuharsky
New mock drafts from the National Football Post and NFL.com. We hit the AFC South highlights for you here, but you can find West Bunting's three-round draft here, and Steve Wyche's first round here. Also included, Don Banks' mock from late last week.
Bunting, interestingly, has defensive tackles as the first three picks in the AFC South.
You can still drag and drop guys into our draft list to do your own mock.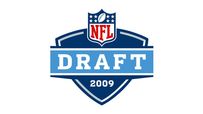 No. 8: Jacksonville Jaguars
Bunting: Defensive tackle B.J. Raji, Boston College
Wyche: Receiver Jeremy Maclin, Missouri
Banks: Maclin
No. 15: Houston Texans
Bunting: Defensive tackle Peria Jerry, Mississippi
Wyche: Defensive end/linebacker Aaron Maybin, Penn State
Banks: Cornerback Malcolm Jenkins, Ohio State
No. 27: Indianapolis Colts
Bunting: Defensive tackle Evander Hood, Missouri
Wyche: Hood
Banks: Linebacker James Laurinaitis, Ohio State
No. 30: Tennessee Titans
Bunting: Cornerback Vontae Davis, Illinois
Wyche: Receiver Hakeem Nicks, North Carolina
Banks: Davis
February, 17, 2009
2/17/09
11:11
AM ET
Posted by ESPN.com's Paul Kuharsky
A pre-combine rundown of what mock drafters have the teams of the AFC South doing.
Jacksonville Jaguars, No. 8
Pete Prisco, CBSSports.com: Eugene Monroe, OT, Virginia.
Wes Bunting, National Football Post: Jason Smith, OT, Baylor
Rob Rang, NFLDraftScout.com: Michael Oher, OT, Ole Miss
Chad Reuter, NFLDraftScout.com: Monroe
My thoughts: The early consensus is there will be a left tackle worth the pick for the Jaguars to insert in place of the disappointing Khalif Barnes, a free agent who won't be brought back. But if they don't love who's left, they could look to defensive tackle or corner.
Houston Texans, No. 15
Prisco: Vontae Davis, CB, Illinois
Bunting: Michael Johnson, DE, Georgia Tech
Rang: Brian Cushing, OLB, USC
Reuter: Cushing
My thoughts: Cushing could be a bigger and more durable outside linebacker, but Davis and Johnson would do more to fill needs. A pass rusher to work opposite Mario Williams is one of them, and Johnson could be the guy. And corner will become an even bigger need if the Texans are unable to re-sign Dunta Robinson.
Indianapolis Colts, No. 27
Prisco: Peira Jerry, DT, Ole Miss
Bunting: Percy Harvin, WR, Florida
Rang: Harvin
Reuter: Jerry
My thoughts: If Jerry is as good as people are saying, I don't know that he'll be on the board here. Is Harvin the crisp route runner and quick learner the Colts require? While defensive tackle and wide receiver are the clear needs, in a best-player-available scenario they could go virtually anywhere position-wise.
Tennessee Titans, No. 30
Prisco: James Laurinaitis, LB, Ohio State
Bunting: Jerry
Rang: Johnson
Reuter: Alphonso Smith, CB, Wake Forest
My thoughts: Unless they see Laurinaitis as an outside guy, the Titans won't spend even a low first-round pick on a middle linebacker as it's a situational role for them. Smith may make sense as an heir to Nick Harper in 2010. Jerry probably won't last this long and if they lose Albert Haynesworth it doesn't mean they have to have a tackle -- they drafted Jason Jones last year.