January, 4, 2014
Jan 4
8:37
PM ET
NASHVILLE, Tenn. -- So who's next in line to be coach of the
Tennessee Titans
?
My first choice would be Stanford coach David Shaw, but I don't think the Titans could lure him away from Palo Alto.
General manager Ruston Webster is connected to a lot of coaches who could be candidates from his time in the front offices in Tampa Bay and Seattle.
[+] Enlarge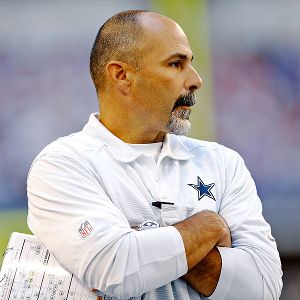 AP Photo/James D. SmithCowboys special teams coordinator Rich Bisaccia is a possible candidate for the Titans' head job.
I pondered many of
those connections
on Christmas Eve. Lovie Smith is off the board, hired by the
Tampa Bay Buccaneers
. His ties to ownership there would have made it tough for the Titans to get involved even if they had fired Munchak earlier and liked him. Jim Mora appears set on staying at UCLA.
But a few other coaches Webster knows could surface.
Dallas Cowboys
special teams coach Rich Bisaccia is a name I've already heard Webster will consider.
Cincinnati Bengals
offensive coordinator Jay Gruden or
Chicago Bears
offensive coordinator and line coach Aaron Kromer might be of interest.
Vanderbilt coach James Franklin, whose current office is only a couple miles from LP Field, is a high-energy coach who's very popular in Nashville. He has a bit of NFL experience. Adam Schefter says Franklin interviewed with the
Houston Texans
before they hired Bill O'Brien.
A Pennsylvania native, Franklin is reportedly in line to talk to Penn State about its opening. I feel he's a better fit with college kids than the NFL, but Webster certainly could feel differently.
Like Jim Wyatt of The Tennessean before me, I've heard Bisaccia and Seattle Seawhawks defensive coordinator Dan Quinn are guys Webster is likely to interview.
Before the Titans hired Munchak in 2011, I wrote about why I thought Bisaccia would be
a good candidate
for the job. It included a rave review from Jon Gruden and
Derrick Brooks
. (And a bad assessment by me of Raheem Morris.)
From what I've heard about Bisaccia, I think he might be a Franklin-type in the energy department. He'd bring far more experience coaching guys in the pro ranks. Already on Twitter some are crushing the idea. I'm asking them if John Harbaugh was a bad hire for the
Baltimore Ravens
. He won the Super Bowl with Baltimore last year and was hired by the Ravens with a resume that was predominantly overseeing special teams with the
Philadelphia Eagles
. A top special teams coordinators should have head coaching qualities, and it's an outside-the-box idea worthy of consideration.
Arizona Cardinals
defensive coordinator
Todd Bowles
and
Cleveland Browns
defensive coordinator Ray Horton have been popular names with regard to remaining openings and it would be no surprise if Webster considered them.
Greg Roman of the San Francisco 49ers is among the most popular offensive coordinators in the NFL right now.
One guy I do not think will draw Webster's attention:
San Diego Chargers
offensive coordinator Ken Whisenhunt, the former coach of the Cardinals. I don't think Webster is a big fan.
Mike Mularkey (not working this season) and
New York Giants
defensive coordinator Perry Fewell interviewed with the Titans when Munchak was hired in 2011. Mularkey got the
Jacksonville Jaguars
job in 2012 and was a one-year disaster.
June, 21, 2011
6/21/11
1:05
PM ET
Power Rankings turn to an important, relatively unknown bunch this week: assistant coaches.
But we're not ranking the top 10 assistant coaches, we're ranking the top 10 up-and-coming assistant coaches. Who are guys who have not been head coaches before (interim stints didn't disqualify anyone) who we expect will ultimately be patrolling the sideline in the primary headset?
It's an interesting list that has a lot of debatable votes. For example, I didn't vote for Giants defensive coordinator Perry Fewell, who wound up No. 1.
I explain why in
Kevin Seifert's piece
unveiling the overall rankings (and here's
the column
relating to it all). I also make the case for Jacksonville offensive coordinator Dirk Koetter, who got my third-place vote and finished fifth overall.
Considering that I am on record selecting Koetter as my head coach if I assembled a staff from the AFC South pool of coaches, including the four head coaches, my vote should be no surprise. Indications were he was great in his interview with Denver, and only John Fox's prior experience got him the job ahead of Koetter.
He was the No. 1 selection for agent Bob Lattinville, who represents a lot of coaches and put together
a top 10 list for me
.
Here's my ballot, which I remind you counted just one-eighth of the overall result:
Rob Ryan
Winston Moss
Dirk Koetter
Greg Olson
Bill O'Brien
Darren Perry
Brian Schottenheimer
Rich Bisaccia
Mike Zimmer
Mike Waufle
February, 7, 2011
2/07/11
8:56
AM ET
He was the favorite the day Jeff Fisher and the Titans parted ways. According to The Tennessean, long-time offensive line coach Mike Munchak held on to the top slot and could be
named head coach
as early as Monday.
Nashville's been abuzz about the coaching search since the Titans and Fisher decided a lame-duck season was too complicated going forward and reached a settlement.
The team interviewed only four candidates: Munchak, offensive coordinator Mike Heimerdinger, Atlanta offensive coordinator Mike Mularkey and New York Giants defensive coordinator Perry Fewell.
Was that a deep enough pool for the team to give itself a chance to find the best coach? Or was it the minimum it could get away with in an attempt to appear to be taking a broad look while intending to go with Munchak?
I think there is a difference between having a leader going into interviews and being set on who your next coach will be as you start the process.
I wish they looked at more candidates. The team's senior executive vice president, Steve Underwood, and general manager Mike Reinfeldt are a deliberate duo. Their timetable and determination in this search appears different than their MO, and certainly came at the behest of owner Bud Adams, who's long been a Munchak admirer.
What kind of coach will Munchak be?
We'll learn a lot more when he's introduced. But we know he's a thoughtful, focused, quietly intense and very smart guy. Like any new coach, he deserves a chance to make his changes and put his program in place.
It's inevitable that fans will jump to conclusions. I'll urge patience as we watch how he operates.
It'll start with staff decisions. He'll inherit 13 assistants under contract, and most believe that Munchak will keep most of them. I think that's presumptuous, and I suspect he will make more changes than many expect.
February, 3, 2011
2/03/11
10:52
AM ET
February, 2, 2011
2/02/11
3:27
PM ET
The Titans are broadening their pool of coaching candidates.
Chris Mortensen
reports
one-time Titans defensive coordinator Gregg Williams will interview on Friday and that the Titans have been granted permission to talk with Atlanta offensive coordinator Mike Mularkey.
Look, it's a parade of former Buffalo Bills' head coaches!
Both will fare far better in their second stints as head coaches if and when those chances arrive.
Williams would return the franchise to the sort of super-aggressive defense it played back when it made a run to the 1999 Super Bowl and posted the league's best record in 2000. He spent 11 years with the organization.
His son Blake, an assistant with the Saints, could become an issue for the Titans if Williams is determined to bring him along. The team has a
long-standing rule
against hiring the children of employees in supervisory roles. Adams can make an exception, but did not two years ago when Williams was in play for the defensive coordinator job.
Mularkey has a good history with young quarterbacks and helped
Matt Ryan
make an instant impact once the Falcons spent their top pick on him in 2008.
Bud Adams recently used the number five in talking about coaching candidates with Jim Wyatt. Too many people have pounced on the numerical memory of the 88-year old owner as gospel.
Two members of Jeff Fisher's staff, Mike Munchak and Mike Heimerdinger, have already interviewed and a third, Dave McGinnis could be interviewing today.
Those two plus Williams and Mularkey would make five, and unless Adams wants to pay a hefty fine, the team will still need to speak to a minority to address the Rooney Rule.
Schefter tweeted early this week that Mortensen reported that Ray Sherman will fill that interview slot. The most recent indications, however, still say Sherman has still not been contacted.
I don't believe the Titans would be wasting the time of veteran coaches like Williams and Mularkey if Munchak's hiring is as as mush a certaintly as we've been hearing. And I don't think either would travel to Nashville if he did not think he had a legitimate chance at the post.
The Titans are announcing interviews at the end of the day on which they are conducted.
UPDATE: 4:42 pm:
Several sources now say Giants defensive coordinator Perry Fewell has been given permission to talk to the Titans. The Titans will meet the Rooney Rule requirement by interviewing him.
Like Williams and Mularkey, Fewell has served as head coach of the Bills -- he coached seven games in 2009 after Dick Jauron was fired.
UPDATE II: 5:25 pm:
Schefter now says Gregg Williams has withdrawn. Jim Wyatt said it's unclear if, while the Titans received permission to talk to him, Williams ever agreed to an interview.
I reached Williams around 6:15 and he said: "Yes, I withdrew. The timing is just not right. I love the organization, I love the city of Nashville."
January, 31, 2011
1/31/11
5:43
PM ET
When Ray Sherman left the
Tennessee Titans
staff, he was viewed as a coach with a bit of wanderlust: He always thought the next job he got would be better, and might position him for the big step to a head coaching job.
Sherman was on Jeff Fisher's staff in 2005 and 2006, hardly a monumental time for receivers with the team. He was on the Oilers' staff in 1988 and 1989 as well. So Bud Adams knows him from two stints.
Now he's a candidate for the Titans' head coaching vacancy (somehow Adam Schefter tweeted that Chris Mortensen is reporting it).
Sherman interviewed with the Cowboys, fulfilling their requirement under the Rooney Rule to discuss a head coaching vacancy with at least one minority. Skeptics will say he's a token interview in Nashville, particularly if Mike Munchak is hired quickly as Fisher's replacement. Munchak interviewed Monday.
John Wooten is chairman of the Fritz Pollard Alliance, an organization that works with the NFL promoting diversity among front office executives, coaches and scouts.
He said he spoke with Titans general manager Mike Reinfeldt Monday to let him know of the group's "ready list." Sherman is one of seven remaining minorities the group promotes as ready to be head coaches. Three others from the earlier version of the list – Leslie Frazier, Ron Rivera and Hue Jackson – have attained head coaching jobs.
Wooten said he'd love to see Giants defensive coordinator Perry Fewell and Packers assistant head coach/inside linebackers coach Winston Moss get a look from the Titans. Moss cannot interview until after the Packers play in Super Bowl XLV Sunday.
I know Jim Wyatt's conversation with Bud Adams that
I cited in this morning's RTC entry
indicated the owner sees things happening quickly. Maybe they will.
But general manager Mike Reinfeldt and senior executive vice president and general counsel Steve Underwood are sorting out the pool and doing the interviewing.
They are deliberate guys who emphasized Friday that they would take as long as they need to. That makes me think we learn the new coach later rather than sooner.
Of course, this franchise has not been in this position for some time, its lead by an eccentric owner and anything can happen.
As for minority presence: of the four assistants that are gone from Fisher's 2010 staff, running backs coach Craig Johnson and receivers coach Fred Graves, are African American.
Now only two of the 14 assistants who are under contract to the team are minorities -- secondary coach Marcus Robertson and defensive assistant/quality control coach Rayna Stewart.
Whoever the new head coach is, he will have to consider diversity as he pieces together his staff.
September, 20, 2010
9/20/10
2:30
AM ET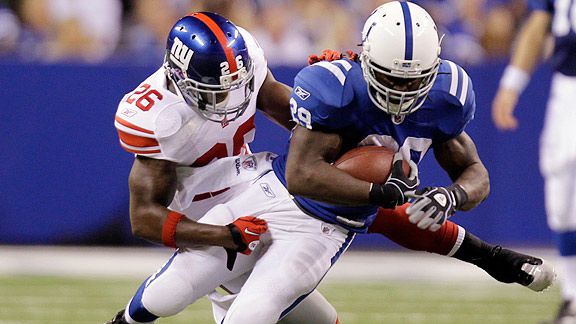 AP Photo/Michael ConroyJoseph Addai and the Colts took advantage of a Giants defense that was guarding against the pass.
INDIANAPOLIS -- By leaning heavily on a scheme thick on defensive backs and thin on linebackers, the
New York Giants
invited the
Indianapolis Colts
to run the ball.
The Colts were happy to accept.
Peyton Manning
is always focused on taking what a defense offers, and those defensive backs were on the field thinking pass, not run.
So
Joseph Addai
turned 20 carries into 92 yards and
Donald Brown
took 16 chances 69 yards. A week after
Peyton Manning
threw 57 passes, he needed to drop back only 26 times in a
38-14
blowout at Lucas Oil Stadium.
The Giants and their new defensive coordinator, Perry Fewell, learned more than a bit about how the Colts' offense operates. Fewell probably would rather be beat by the Colts running it than the Colts throwing it, but it appeared he severely overestimated the brawn of his defense.
"We really ran the ball well, that was really a point of emphasis," Manning said. "Houston really came into the game last week and played five DBs and six DBs, a lot of pass defense and we didn't know what the Giants were going to do, but they ended up taking that route, playing five DBs and sometimes six DBs on first and second down.
"So it's obvious they're playing pass coverage. In the past, there've been times we've haven't been able to run against that. Which was frustrating because you sort of play into their hands. It was nice to be able to run the ball versus that look. There were a lot of DBs and obviously they're not used to be involved in the run game."
Addai got only 10 carries in the Colts' Week 1 loss in Houston. At Reliant Stadium, I thought his carries were good ones. He was more important in pass protection, where he can be a big-time asset in keeping Manning upright.
[+] Enlarge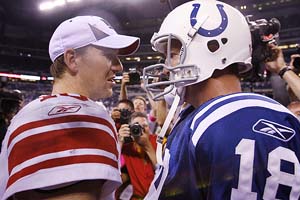 Brian Spurlock/US PresswirePeyton Manning outplayed his younger brother Eli and threw for 255 yards and three touchdowns.
Against the Giants, I thought he was decisive and determined as he darted in and through holes. By being so, he produced his best yardage total in 25 regular-season games.
"It looked like he was real quick, it seems like he has his feet," said veteran Giants linebacker
Keith Bulluck
, who lost a lot of potential snaps to Fewell's personnel plan. "He's not as good as a
Fred Taylor
, but he has a similar style. He can run, stop, jump-cut and stuff and get in and out of holes quickly. I thought he did that well.
"They ran great and executed their game plan and they were able to control the game from the beginning."
The Colts' 23 first-half runs were the most before halftime since 1991. They haven't had a run-pass discrepancy as big as this (17 more runs) since 2006. The 160 rushing yards were their most since 2007. The Colts' 43 rush attempts were the most in a game since Manning joined the team in 1998.
Brown has had trouble gaining the coaches' confidence as a pass blocker. Either the second-year back gained confidence there or they were willing to put him in more when they knew they'd run -- or most likely both. He set career highs in carries and yards.
"I thought Donald and Joe really ran smart, ran hard," Manning said.
Part of the offseason plan was to be three-quarters of a yard better per carry. The number was 3.5 yards last season, and 3.7 against the Giants, 4.5 when Addai or Brown got the ball.
With a 7-yard scoring run from Brown and a lovely 50-yard Manning-to-
Dallas Clark
connection that came thanks to play-action built on the run, the Colts raced to a 14-0 lead.
The game was in the Colts' mold in short order, which meant
Eli Manning
was under siege. The Giants quarterback was taken down twice each by
Dwight Freeney
and
Robert Mathis
. The sack-strip artists each produced a turnover, Freeney's deep in the Giants' end where
Fili Moala
plucked it and went a yard for a touchdown.
"It was a confidence-builder going into next week [in Denver]," Addai said. "You have that much more confidence in having a game like this ... I think if you give us the opportunity we will be able to do it, and it showed. We all came together, we know what we can do as a unit and we were able to do it."
Not to make too much of one word choice, but Clark didn't talk about the Giants daring the Colts to run, he spoke of them forcing the Colts to run.
"They were forcing us to run a lot," he said "And the offensive line did a phenomenal job of blocking and the backs did a tremendous job of making cuts and making guys miss, just lowering their shoulders and making some big hits and just really wearing down their defense."
Heavy doses of nickel are likely to keep showing up for Indy. Regular opponents may have a better feel for how to make that work against the Colts, and the other three NFC East foes may learn from this game that planning to be physical with Manning's gang isn't enough.
If you can't hem the backs in, get the offense in third-and-long and find ways to hit the quarterback, the Colts are the Colts -- no matter what happened opening day.
September, 15, 2010
9/15/10
5:12
PM ET
It was a double Manning day in Indianapolis, as Peyton made his weekly visit with the media and the primary topic was the opposing quarterback in this week's game against the New York Giants, his brother Eli.

Some highlights of that news conference, courtesy of the Colts public relations department:

On what it is like to see his brother, Eli, in an NFL game:

Peyton Manning: "It's a different feeling. It's a different feeling for both of us. I'll be playing against their defense, which I'm not very familiar with. It really is a pretty unfamiliar opponent. They've had a lot of changes since we played them four years ago, including a new defensive coordinator [Perry Fewell], which you saw against Carolina. They brought out some things that they had not shown in the preseason. Anytime you see a new coordinator it takes, I think, four, five, six weeks to get a feel for what he really is all about. He is an excellent coach and you can see that he has so many more weapons in New York than he had in Buffalo, and he is using those weapons. That will be the biggest challenge. Certainly, I know Eli and I are both glad this thing was Week 2. Four years ago it was the first week of the season and talked about it all preseason during training camp. Now, it's Week 2, we'll just have to talk about it one week. There is no question that it is an honor and a privilege to be on the same field as your younger brother. It's a special situation."

On what it's like to have Dwight Freeney chasing after his brother:

PM: "It evens out because [Justin] Tuck and Osi [Umenyiora], those guys get their chance as well. I think once Eli was drafted and you started doing the math, we knew this would be an every four-year thing. I hope to make it to that 2014 game. I'll probably be out of eligibility by the time 2018 comes around. It's unique. I think we try to enjoy it. There is no question it's an important game for both teams. [The] Giants are coming off a big win, we're coming off a disappointing loss. I think it will be a really good ballgame."

On four years ago seeing Eli at the game and it setting in that he and his brother were going to be facing each other as starting quarterbacks in the NFL:

PM: "I can't tell you until Sunday, but I remember seeing him before the game and remember coincidentally for the National Anthem we just happened to be on the same yard-line kind of across (from each other). That was a pretty unique feeling, being up there in New York, singing the National Anthem and seeing your younger brother straight across from you, knowing that he is about to be the starting quarterback for that team. That seems like a long time ago. A lot has happened since then. It's a different team for the Giants. Eli has won an unbelievable Super Bowl, and he's established himself as a top NFL quarterback. It's a game and the preparation is the same, but I'm not going to sit here and say that I don't take one moment to reflect that it is pretty special."

On if he looks forward or dreads the games against Eli:

PM: "This year, like I said, this is really the only week that we've had to talk about it. Four years ago it was a lot different, we had to do a lot more, but we haven't had to do the sit-down interviews or anything like that, so it's been much shorter and easier on us this year. No, I probably don't look forward to it all that much. One thing I can do, and I know he does too, once you get out there playing you truly are competing against that defense and trying to win against that defense. But all that other stuff, I'm glad it's only once every four years."

On if he'll talk to Eli before the game:

PM: "I will. I haven't yet, I'll probably talk to him maybe tonight or tomorrow. I think four years ago it was about a five-minute visit out there before the game, but usually you get there before the game and he has things he needs to do, I have things I need to do. Maybe a quick visit and then a handshake at the coin toss. I know he's a captain. Those are all things I look forward to."
November, 19, 2009
11/19/09
11:56
AM ET
Houston Texans
The
spotlight beckons
Mario Williams again, says Richard Justice.
Matt Schaub sees Monday night as a chance to
showcase the Texans
, writes John McClain.
Vince Young is
a double threat
for the Texans, says McClain.
A replay of
McClain's chat
.
Indianapolis Colts
Surpassing John Mackey
humbles Dallas Clark, says Mike Chappell.
Gary Brackett is
quite familiar
with Ray Rice, says Phil Richards.
A knee injury means
Terrell Suggs won't play
against the Colts on Sunday.
The Colts are missing Anthony Gonzalez, are watching Jerraud Powers gain confidence and are
relentless on defense
, says John Oehser.
The
standard is high
for Clark, there's accountability on the offensive line and Reggie Wayne is as good as there is, says Oehser.
Thirteen players
missed practice Wednesday, writes Oehser.
The league is looking into
a postgame incident
where Bill Belichick's security guy and a cameraman came into contact, says Tom Spalding.
Yes, the failures of Tony Ugoh and Mike Pollak are bad, but the Colts have been
able to replace them
, says Stampede Blue.
The Colts and Saints are the league's two best teams, but one of them
probably won't make the Super Bowl
, says Clark Judge.
Jacksonville Jaguars
Perry Fewell will make his head coaching debut against the Jags, a team he
used to work for
, says Vito Stellino.
Rashean Mathis is out of the Buffalo game
with a groin injury
, says Michael C. Wright.
Is there a segment of Jaguars fans that spend time searching for
signs of disrespect
? Vic Ketchman wonders,
Clint Ingram is
not what he should be
, says big Cat Country.
Jimmy Smith
got probation
after a guilty plea to a drug possession charge.
Tennessee Titans
With Chris Johnson and Young, the Titans are
double trouble
running the ball, says Jim Wyatt.
David Letterman
saluted Bud Adams
, says Jim Wyatt.
Adams is making the weekend
a reunion of the original Oilers
, says Terry McCormick.
Chase Stuart looks at
Johnson's numbers
.