December, 23, 2012
12/23/12
4:52
PM ET
Thoughts on the
Indianapolis Colts
'
20-13 victory
over the
Kansas City Chiefs
at Arrowhead Stadium:


What it means:
A year after they suffered through a 2-14 season the Colts are already back in the playoffs, having clinched a wild-card berth with their 10-5 record.
Andrew Luck
surpassed the rookie record for passing yardage set last year by the
Carolina Panthers
'
Cam Newton
. Interim coach Bruce Arians, expected to hand the reins back to Chuck Pagano on Monday, led the Colts to a 9-3 mark while Pagano endured treatment for leukemia.
Two big stops:
While the Chiefs had a 507-288 advantage in yards, Kansas City was simply unable to translate yards into points. The Colts made a big fourth-down stop of a
Brady Quinn
sneak late in the fourth quarter, setting the offense up for a 73-yard drive that ended with a 7-yard Luck-to-
Reggie Wayne
touchdown pass that provided the winning points with 4:08 left in the game. The defense then forced a three-and-out for KC and the offense killed out the clock.
Up-and-down:
Luck was 10-for-18 for 123 yards in the first half, and he hit Wayne for a 33-yard gain on his first throw of the second half. Then he missed on 10 straight throws. He followed that up by connecting on his final six throws of the game. Overall, he was 17-for-35 for 205 yards and the touchdown.
Big concern:
The Colts simply won't survive playing a defensive game like this in the playoffs. Kansas City ran 44 times for 352 yards, as both
Jamaal Charles
and
Peyton Hillis
topped 100 yards. Charles went for an 86-yard touchdown on the first play from scrimmage in the second half.
What's next:
The Colts host the Texans, who beat them 29-17 in Houston a week ago. The result could determine if the Texans get home-field advantage throughout the AFC playoffs and whether the Colts will be the fifth or sixth seed.
September, 18, 2011
9/18/11
5:20
PM ET
Thoughts on the Colts' 27-19 loss to the Browns at Lucas Oil Stadium:


What it means:
The Colts are 0-2 and struggling. While things were better with Kerry Collins than in the opener, he couldn't get the Colts into the end zone until the very end when it was too late. He finished 19-of-38 for 191 yards with a touchdown, a pick, a lost fumble and a 62.5 passer rating.
Disappointing:
The Colts took drives into the red zone early in the second quarter and early in the third quarter. In six plays in side the Browns' 20-yard line, they moved the ball a total of four yards before settling for field goals. Meanwhile Cleveland scored touchdowns on its first two forays into the red zone.
Better, but…
The Colts ran for 109 yards and a 4.2 yard average and held the Browns to 106 yards and a 3.1 yard average. But Peyton Hillis ran for two scores, one through a weak-effort arm tackle by Melvin Bullitt, and that was a huge difference in the game.
Reason for concern:
The Colts pass rush should be able to bother an inexperienced quarterback like Colt McCoy, but he hit on 22-of-32 throws for 211 yards and a TD while he was sacked just once and hit just four times. He produced a passer rating of 97.3.
What's next:
The Colts host the Steelers for Sunday Night Football, and a national TV audience will get to see what they look like without Peyton Manning.
September, 16, 2011
9/16/11
5:11
PM ET
New AFC North blogger Jamison Hensley did not have enough on his plate Thursday, his first day with ESPN.com. So I maneuvered to steal some of his time to talk about two key matchups in games pitting our teams against his on Sunday. It produced this post.
Call it rookie hazing.


PK:
For starters, I'm curious about the Browns' plan to slow down
Robert Mathis
, I know they've got some issues at right tackle.
JH:
They haven't even settled on one guy, they're going to go with a rotation with
Artis Hicks
and
Oniel Cousins
. For the chemistry and to get into a rhythm with the offensive line, that's just not an ideal situation. So I think the best way for them to negate Mathis is through strategy.
Colt McCoy
is going to take a lot of three-step drops, get rid of the ball very quickly. Because if he holds the ball like he did last week against Cincinnati, he's going to get hit.
They feel very confident in
Joe Thomas
on the left side with
Dwight Freeney
, but the big question is how they stop Mathis. I think they just can't let Mathis get a shot on McCoy, I think they have to be smart. Because right now that's the biggest matchup problem they have.
PK:
And if the Browns can get ahead, like Houston did last weekend, the biggest way to make both those defensive ends non-factors is to run the ball. So I'm sure Cleveland is hoping for a big day from
Peyton Hillis
.


How about with the Ravens, I know they've got some questions on the secondary and their defense is keyed around their front.
Kenny Britt
has shown himself to be, perhaps, the Titans' most dangerous guy. If he gets loose in that secondary and they can protect
Matt Hasselbeck
, what happens back there?
JH:
That's going to be a big question. The Ravens thought they had a deep secondary coming into the season. Then they lost first-round pick
Jimmy Smith
to a high ankle sprain, he's going to be gone for a month. Then you have
Chris Carr
who hasn't practiced this week because he aggravated a hamstring injury.
So you have
Cary Williams
, a former Titan, starting for the Ravens, and
Lardarius Webb
, who was very inconsistent last year but who's coming off a good, strong game. I think they're going to have to do this by committee because Kenny Britt is a talented receiver. I think they're going to have to use a lot of
Ed Reed
shading his way.
I don't think they can honestly go into this game thinking they can put one guy on him and really take Kenny Britt out of this game. Whatever side Kenny Britt goes to, I think that's where Ed Reed follows.
PK:
Britt and Hasselbeck still have some timing issues. That can be just the sort of thing Ed Reed finds an opportunity to pounce on.
September, 16, 2011
9/16/11
1:30
PM ET
»
NFC Final Word
:
East
|
West
|
North
|
South
»
AFC
:
East
|
West
|
North
|
South
Five nuggets of knowledge about Week 2:
[+] Enlarge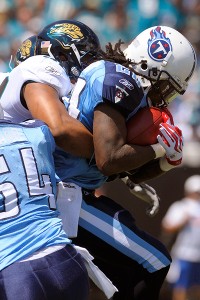 AP Photo/Phelan M. EbenhackThe Jaguars limited Titans running back Chris Johnson to 24 yards rushing in Week 1.
A focus on Chris Johnson:
The Titans are semi-desperate to get their star running back going. But Mike Munchak emphasized this week that they can't force it. It's hard to be patient waiting for the big play, but they can't call 10 rush plays in a row for him. The Titans need to show some creativity on offense and maybe turn themselves inside-out with some passes to set up the run.
Matt Hasselbeck
said they need to be in third-and-manageable to get off to a better start and to get the sort of possession they need to find an offensive flow. One good omen for Johnson: ESPN Stats & Info says he's been very effective against 3-4 defenses, averaging about 6 yards per carry running outside against them.
Can the Colts rush?
The Browns can neutralize Indianapolis' pass rush by jumping ahead and
riding Peyton Hillis
. But when
Colt McCoy
is looking to throw, the matchups on
Dwight Freeney
and
Robert Mathis
will be compelling. Freeney is a speed guy, and if
Joe Thomas
has any weakness, it might come against a guy like that. (See Pete Prisco on the matchup
here
.)
Tony Pashos
is out, so Mathis will go against some sort of rotation of backups
Oniel Cousins
and
Artis Hicks
. Mathis came out of the opener with a neck issue, but he should have a big advantage here.
Big plays in Jaguars-Jets:
The Jaguars are not necessarily a big-play team in the passing game, and if they aren't going to find big plays, they have to be sure not to give them up, either. Stats & Info says
Plaxico Burress
was the only Jets receiver to be targeted more than twice on throws of 15 yards or more in Week 1. Last season, the Jaguars allowed the most completions and yards per attempt on throws of at least 15 yards. The offensive line will have to sort through constant blitzes to allow
Luke McCown
to find people, and we could see
Cecil Shorts
get some big opportunities along with
Mike Thomas
.
Reggie Bush and the run:
The Texans are 5-0 against the Dolphins, but the average margin of victory has been just three points. Houston might be more ready to face Miami than usual after spending a lot of camp time working against its own 3-4 defense. Reggie Bush was on the field more than any other starting running back in the league, and Miami will try to spread the Texans out and create space for Bush to make plays. A big, early lead was the Texans' best run defense in the win against the Colts. But they were run on in the preseason, and we'll see Sunday whether things have tightened up or whether there is still a run defense concern.
Replenished D-line:
The Titans' revamped defense was a disappointment in the Week 1 loss at Jacksonville. Why might it be better this week? Because two guys who didn't play against the Jaguars --
Jason Jones
and
Derrick Morgan
-- will be in the mix. They should be the team's top defensive ends. Baltimore's tackles, the resurrected
Bryant McKinnie
and
Michael Oher
, started strong against the Steelers. Can the Titans' young rushers find some cracks?
March, 15, 2011
3/15/11
1:00
PM ET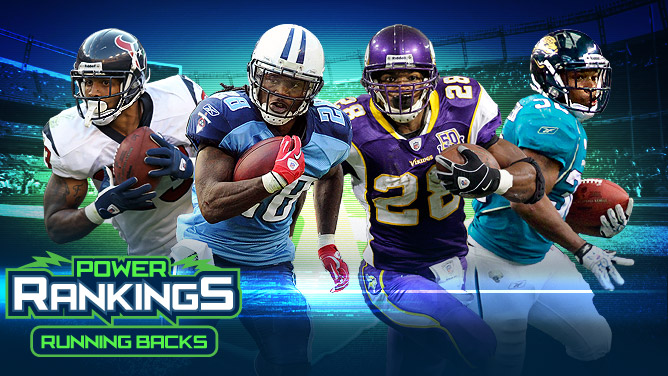 ESPN.com IllustrationThe voting for the NFL's top running back was a tight one between Tennessee's Chris Johnson and Minnesota's Adrian Peterson.
ESPN.com's NFL writers rank the top 10 running backs in the league today. Next week: Top 10 pass-rushers.
When it came to deciding who we think is the NFL's best running back, everyone representing the NFL Blog Network chose between
Chris Johnson
and
Adrian Peterson
at the top of the ballot.
Everyone except AFC West blogger Bill Williamson, that is.
Williamson's second-place vote for Kansas City's
Jamaal Charles
bumped Peterson to third on his ballot. So instead of Peterson splitting the top spot with Johnson, he came in second by a mere point -- 76 to 75.
Johnson joins Houston receiver
Andre Johnson
as
tops at his spot in our positional power rankings
.
"I squeezed Charles in between Johnson and Peterson because I think Charles may be rising some and Peterson may be falling just a tad," Williamson said. "We all know running backs have short shelf lives, so any little indication of slippage could be significant.
"I know Johnson slipped some in 2010, but this is still a highly productive player who has plenty left in the tank. I think Johnson gives defensive coordinators more Tuesday night headaches than any tailback in the league right now. I get to see Charles quite a bit, and he is simply explosive. He truly can score any time he touches the ball."
Full disclosure: I very nearly put Charles second, too, though had I made the move it would have pushed back Johnson, not Peterson -- and given us that tie. Ultimately, I put Peterson first because I think he's largely resolved his biggest issue, fumbling, while Johnson regressed in 2010 as a pass-catching threat. I think Charles is fantastic, but he hasn't approached the workload of AP or CJ yet, so I put him third.
The overall ballot created a tie for third between two other top-flight backs, Jacksonville's
Maurice Jones-Drew
and Houston's
Arian Foster
, giving the AFC South three of the top four backs in the poll.
Foster was dinged by an eighth-place vote by me (love him, but one year is not a big enough sample size for a lead back), while Jones-Drew was hurt by an eighth-place vote by NFC North blogger Kevin Seifert.
"Maybe next time MJD will think twice about crossing an NFC North player," Seifert said. "Seriously, his Twitter criticism of
Jay Cutler
played no role in my decision. As I did last week with Andre Johnson, I'll plead unfamiliarity. I don't have anything against Maurice Jones-Drew. As an NFC North divisional blogger, I haven't had many opportunities to see him play. First-person observations tend to have a bigger impact on your judgment. Plus, I wanted to give the Jaguars' fan something to get upset about."
Charles finished fifth, with the second-place vote from Williamson and No. 10 vote from NFC South blogger Pat Yasinskas, who also cast the lone vote for Charles' backfield partner,
Thomas Jones
.
Yasinskas put Jones, who was with the
New York Jets
in 2007-09, two spots ahead of Charles.
Yasinskas said he didn't want to give too much weight to flavor-of-the-year candidates and still wants to see more from Foster and Charles before really anointing them.
[+] Enlarge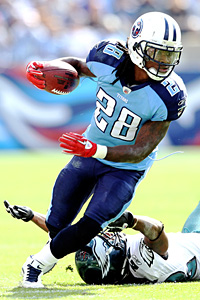 Andy Lyons/Getty ImagesTennessee's Chris Johnson rushed for 1,364 yards and 11 touchdowns last season and topped the list of four of our eight panelists.
"That's why I based my ballot mainly on looking independently at combined rushing totals of the last two years and the last three years and then drawing conclusions," Yasinskas said. "Foster's had one good year and Charles has had two. I tried to focus on guys who have been consistently productive for at least two years and preferably the last three years.
"That thinking led me to cast the lone vote for Thomas Jones, who didn't make our top 10. I've got no regrets about that vote. Jones' numbers dipped last season and there is no doubt he's nearing the end of his career. But his numbers in the previous two seasons were outstanding, and when you combine them with his numbers from last year he still stacked up well compared to most running backs over two- and three-year spans, which were the time periods I tried to focus on."
Jones, 32, and
LaDainian Tomlinson
, 31, were the oldest backs to draw votes. Seifert placed Tomlinson 10th.
Otherwise the panel leaned to youth.
Among the 12 backs who made our top 10 list, based on ties,
Michael Turner
(29),
Steven Jackson
(27) and
Frank Gore
(27) rank as the old men. The other nine are 25 or younger.
Turner edged Jackson for sixth, making every ballot. AFC East blogger Tim Graham didn't include Jackson in his voting.
"I couldn't bring myself to vote for Jackson because he averaged only 3.8 yards a carry, scored six touchdowns and had little impact in the passing game," Graham said.
Ray Rice
has a big cushion for eighth while
Rashard Mendenhall
finished ninth, with two seventh-place votes but three voters not including him.
Gore,
LeSean McCoy
and
Darren McFadden
finished tied for 10th, while Jones,
Peyton Hillis
and Tomlinson got votes but didn't make the final list.
I found it tough to pass on Gore, but he played in only 11 games in 2010 before landing on IR with a hip injury. There was such stiff competition, so I leaned on guys who were more durable.
"Gore has certainly played at a high level longer than Rice, Turner or McFadden," NFC West blogger Mike Sando said. "He's produced across systems for a team that has had a different offensive coordinator every season of his career.
"He's never had a quarterback to take pressure off him. Defenses have known what was coming, and Gore has kept coming anyway. It's bitten into his production and taken a toll on his body, but he has produced."
November, 24, 2010
11/24/10
2:15
PM ET
Since the
Kansas City Chiefs
ran over them for 236 rushing yards on Oct. 24, the
Jacksonville Jaguars
have played far better run defense. It's coincided with a three-game win streak.
In wins at Dallas, over Houston and over Cleveland the Jaguars have allowed a total of 219 rushing yards and an average of 3.17 yards a carry.

In Sunday's win over the Browns, quarterback
Colt McCoy
got 39 yards on four carries. But the Jags put the clamps on running back
Peyton Hillis
, who didn't take a single carry more than six yards.
It's started with defensive tackles
Terrance Knighton
and rookie
Tyson Alualu
.
"If you remember back when we were talking about explosive runs and how they happen, it's typically you lost leverage or missed a tackle, and we didn't have any of that that allowed [Hillis] to get out," Jack Del Rio told Jacksonville media. "He's a good player, he's been very productive in this league. In the first part of the season he's run on some good defenses and gotten away a little bit and that was a challenge for our front."
"I think we did the things you need to do to play the run defense better: shed blocks, tackle, leverage, force it and do it with attitude, and I thought we were doing pretty good. I think we've been doing pretty good the last few weeks and I still see room for improvement. There are some things we've got to do better, we talked about that [Monday]. There are some three- and four-yard runs that I don't find acceptable. We've got to do better so we'll do what we can to continue to shore it up and be stingy and grow. I think we're growing a little bit there on that side with guys understanding where they belong and getting there more consistently."
The Jaguars' next three games will present stiff run-game challenges.
It starts with the Giants and the league's fifth-ranked rushing offense. Then they'll see
Chris Johnson
and
Darren McFadden
. If they keep bottling things up, they may just stay in the AFC South title conversation a lot longer than we expect.
November, 23, 2010
11/23/10
1:02
PM ET
»
NFC Decisive Moments
:
East
|
West
|
North
|
South
»
AFC
:
East
|
West
|
North
|
South
The Jaguars turned the ball over for a sixth time with 11:18 left in the fourth quarter and the defense was in a bad spot yet again.
But Jacksonville's defense got off the field in four plays, holding up and allowing only a missed 51-yard field goal attempt by
Phil Dawson
.

After David Garrard's pass for
Marcedes Lewis
was intercepted by
T.J. Ward
and returned for 23 yards,
Kirk Morrison
made two stops of
Peyton Hillis
, the first for no gain, the second after two yards.
On third down,
Colt McCoy
threw incomplete for
Brian Robiskie
, and after Dawson's miss, the Jaguars took over and marched 59 yards in 12 plays to a Garrard-to-Lewis 14-yard TD that knotted the game at 17-17.
That stop after the Jaguars' final turnover was symbolic of a tremendous defensive effort from Jacksonville.
Maurice Jones-Drew's fumble was returned by
Abram Elam
for an 18-yard touchdown.
But in the five other sudden change situations, the defense was remarkable. Here's what the Browns managed after each:
Three plays, minus-5 yards, no points
Three plays, minus-4 yards, no points
Four plays, minus-1 yard, 3 points
Three plays, minus-1 yard, no points
Four plays, 2 yards, no points