January, 11, 2013
1/11/13
12:20
PM ET
Interior defensive lineman
Vince Wilfork
was extraordinarily disruptive in New England's regular-season win against Houston.
Wilfork
For the rematch, in matchup graphics, we're seeing right guard
Ben Jones
vs. Wilfork as a key matchup. But the rookie Jones will leave the field for some series with
Brandon Brooks
taking over. Brooks is also a rookie. He's 15 or 20 pounds heavier than Jones.
The two are sure to get a lot of help from the team's scheme and play calls. Wilfork can move around, so center
Chris Myers
and left guard
Wade Smith
will play a role in blocking him, too.
"Vince Wilfork was a tremendous problem for Houston in the first game," CBS analyst Phil Simms said in his preview of the game. "What will Houston's plan be this week to maybe change Vince Wilfork's production? What will Houston do on the defensive side? When you give up 42 points, you have to try something different. Because whatever they did last time, it didn't work. That's what NFL coaching is about. And that is why coaches are so important in the NFL. They have to change game plans in order to change the performance and thought process of all the athletes they're asking to do these things."
The Texans rely on lateral movement in their zone-blocking scheme, and they try to cut guys to the ground. By the fourth quarter, a big defensive lineman who's been repeatedly cut to the ground can grow awfully tired.
Houston hopes they are able to wear Wilfork down.
"He's extremely tough," Texans left tackle
Duane Brown
said. "I had one encounter with him where I pulled inside and didn't really get much movement. He's a big guy, creates great leverage, very smart player, can read a lot of stuff.
"When running away from him, it can be very important to get him on the ground so he's not able to pursue and get tackles for losses. They've got a very talented interior defensive line, and can rotate in a lot of big guys. If you're able to run the ball effectively for the majority of the game, it'd be nice to wear them down a little bit. We weren't able to get that accomplished in the last game."
November, 4, 2010
11/04/10
7:03
AM ET
Thoughts on
Randy Moss
as a member of the
Tennessee Titans
from Showtime's Inside the NFL, with some of my thoughts interspersed:

Phil Simms:
"I think it's a good move. You think about the teams, there is nowhere for him to go. I thought it was a good pick-up by the Tennessee Titans. They lost
Kenny Britt
. They run the football and when they throw it, they throw it down the field. Just what I know, my son played at Tennessee, if there is a coach out there that can handle Randy Moss, Jeff Fisher knows how to handle players. He does it very well. That's the reason why he's been there so long."
PK:
A lot of national analysts are going with the Fisher-handles-players stance. I understand it. And Moss is not Pacman Jones. But Fisher didn't handle Pacman Jones well. He signed off on it with an "I-can-handle-him" bravado, then in a lot of ways he babied Jones and enabled him. Now Moss isn't getting arrested like Jones was, but the two players do share an issue as locker room distractions. The Titans aren't too far removed from dealing with that and here's "I-can-handle-him" again. We'll see.
Cris Collinsworth:
"Kenny Britt is out so it does makes some sense from that standpoint. And it's a team once again with a tremendous running back in
Chris Johnson
. Just like they had [in Minnesota] with
Adrian Peterson
. So there are a lot of things that make sense here. I still wouldn't do it. I have seen enough. The press conferences, he seems to be disruptive within the locker room. I don't see the talent and the effort on the game tapes. I've called one and I've been studying the tapes. I just don't see it. I am an effort guy. I think that football teams are built around great effort and people looking at each other in the eye and saying, 'This guy is giving me everything he's got.' And it's just not him. And I wouldn't do it."
PK:
And the focus for offensive coordinator Mike Heimerdinger now turns into, "how can we get that effort." And if things don't go well early, what's different here that keeps Moss from doing the things he's done in two other places recently that helped contribute to him being sent away?
Simms:
"Minnesota wasn't designed for Randy Moss...It's the West Coast offense.
Brett Favre
only knows how to go to this guy, this guy and that guy. Because he's been doing the same offense his whole career. You look at the Tennessee Titans. Randy Moss, you don't have to worry about the route running. It is raise it up, it is down the field. That is what it is. Look at how they played against the
San Diego Chargers
. When they throw it, the Tennessee Titans now, they have found the formula. Throw it deep down the field. And Randy Moss, he can go get it."
Collinsworth:
"I think it's a great question, whether or not he is going to be into it. What I saw in Minnesota I thought….this guy is a Hall of Fame player. He is one of the greatest players that have ever been in the position. But you have to be passionate about the game. And he's going to Tennessee and is he going to be willing to run those slants on occasion, to run a couple of in-cuts, to do something to draw some coverage away from just the deep ball? I don't think he has the physical skills now to just line-up in one route and just go down the field. Maybe he still can. I don't think so though."
PK:
This is at the heart of the will-it or won't it work debate. No, Tennessee's system isn't as dictatorial to receivers as the West Coast offense, so Moss won't be confined by the system in Tennessee.
Vince Young
gets good protection and throws a nice deep ball. Still, if all he wants is streak down the field on snaps when he thinks it's heading to him, that's a problem too. And a quick pass to him to get the ball in his hands quickly after the snap, that's not something Young throws well.
Michael Lombardi:
"The other reality is that Randy Moss has to be a free agent at the end of the year. They will be awarded Minnesota's contract, which says the franchise tag cannot be placed on him. So therefore, he'll enter free agency, assuming we have a free-agency period. And Tennessee not only gets a vertical threat, they could get a compensatory pick next offseason if Randy Moss signs a big contract with someone else. So it's a smart play for Tennessee because of where they are, Kenny Britt's injury and the style of team."
PK:
There is certainly a something-for-nothing-element here. If Moss is a quick miss, the Titans didn't give up a third-round pick for him, they could cut him and move right along and not get crushed for it or have suffered much for it and be able to say they tried. If it goes reasonably well or great, then they've got eight games plus a possible playoff appearance with him. Then they'd likely be unwilling to meet his price and would happily collect that compensatory pick in 2012 -- provided the compensatory pick element of the CBA exists as part of a new labor agreement.
December, 13, 2009
12/13/09
9:43
PM ET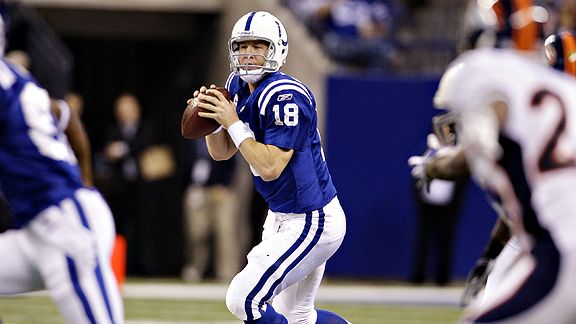 AP Photo/Darron CummingsWill Peyton Manning's chances at a fourth MVP title suffer if the Colts rest him?
INDIANAPOLIS -- His biggest accomplishment is leading his team to a place where he doesn't need to make a major contribution over the next three weeks.
For that distinction,
Drew Brees
,
Brett Favre
,
Chris Johnson
and
Philip Rivers
surely would trade situations with
Peyton Manning
.
But after the
Indianapolis Colts
' 28-16
victory
over the
Denver Broncos
at Lucas Oil Stadium Sunday, we might have seen the last full game of the regular season from Manning.
And if the regular-season final image of Manning depicts him with a dangling earpiece and under a poncho in Buffalo in Week 17 -- helping substitute quarterback
Curtis Painter
cope with the Bills -- how will that affect MVP voters?
Will they reflect upon Manning's accomplishments leading the Colts to a 13-0 start? Will that three-week-old memory have any impact while they're watching, say, Brees cap an undefeated regular season, or Favre carry the Vikings into the playoffs, or Johnson crack 2,000 rushing yards?
When that Associated Press panel submits its MVP votes Jan. 4, could Manning fall victim to omnipresent what-have-you-done-for-me-lately thinking?
"I would say you can't count it against him if he's not out there,"
Dwight Freeney
said. "It's about the team first, nothing else matters. …If it came down to that, it would be a shame."
"The effect that he's had on a team, I don't know how you could match that," said Colts kicker
Matt Stover
, who's played with
Phil Simms
,
Jeff Hostetler
,
Bernie Kosar
,
Vinny Testaverde
and a slew of other quarterbacks in 20 NFL seasons. "What he does in practice, what he's replicated on the field, warrants an MVP to me.
"I have never seen anything like it in my 20 years and that's playing with a lotta, lotta, lotta quarterbacks. To me it's 'What has he done to give his team the best opportunity to win, to get his team to the playoffs?'"
With his play, Manning's helped put the Colts in position to ease up. They are expected to stay true to a long-standing philosophy of resting key starters once playoff position has been secured, a stance honed by former head coach Tony Dungy and expected to be adopted by his successor Jim Caldwell.
No other quarterback has put his team in such a spot so early, so to penalize him for it in any way wouldn't seem fair to me.
Colts executive Bill Polian made his traditional sour face when I asked him if MVP is important. He cares little for things voted on by media members and things he and his team cannot control, at least conversationally. Still, asked to make the case for his quarterback, it came easily.
"If you ask me is it comparable to the seasons that he's won, the answer is yes it is," he said. "Certainly beyond, because of the circumstances, because of the offensive line transition, the offensive line difficulties and the receiver transitions."
Manning has excelled even as the team's projected starters at left tackle and right guard (
Tony Ugoh
and
Mike Pollak
, respectively) were outplayed and replaced by understudies (
Charlie Johnson
and
Kyle DeVan
, respectively). And with Hall of Fame receiver
Marvin Harrison
gone and No. 2 target
Anthony Gonzalez
hurt, Manning's thrown to rookie
Austin Collie
and second-year man
Pierre Garcon
unhesitatingly, helping both become major contributors.
I skipped Manning's news conference after the Broncos game because I knew an MVP question would be fruitless and I'd fare better on this subject in the locker room.
But make no mistake, a fourth MVP would mean a great deal to Manning just as late yards in a blowout win at Tennessee on Oct. 11 meant something to him. Those yards got him over 300 yards for the fifth straight game at the start of the season. The milestone kept him on track to match or surpass the shared record of six, held by
Kurt Warner
and
Steve Young
. (He came up well shy of 300 a week later at St. Louis.)
That doesn't mean Manning is at all selfish or has any priorities out of whack.
I just believe he's acutely aware of the numbers and the history. He takes a great deal of personal pride in getting the first and making the other when he has the chance. None of that makes a second Super Bowl win any less important to him or the team he leads.
A year ago, en route to his third MVP, Manning and the Colts played at Jacksonville in a late-season Thursday night game. The Dec. 18 contest marked the Colts' 15th game. In a 31-24 victory, Manning was a pitcher with no-hitter control -- zipping balls through small windows, lofting them just over defenders' fingertips, throwing them with just the perfect touch.
That 29-for-34 passing for 364 yards and three touchdowns, broadcast nationally on NFL Network, clinched the award for him, I thought.
A week later in a meaningless game against Tennessee he threw early and often, and topped 4,000 yards. He helped get Harrison past Cris Carter into second place for career receptions, and then Manning left the game.
Certainly the Colts have many banged-up guys who need to heal. Some others can get the work they need to stay sharp during practice weeks. But the team's first playoff game isn't until Jan. 16 or 17, more than a month away. A month is too long to expect the engine to idle.

Nobody asked me but… I humbly propose the Colts set Manning loose on the Jaguars again in four days. Kelvin Hayden said even if the team takes its foot off the gas, it doesn't want to drop a game to a loathsome division rival.

Manning will do what he's asked to do. Still, he said he hasn't liked playing a bit and then taking a seat when he's been required to do it in the past. So don't ask him to do it three consecutive weeks while risking the honor that would come with being the league's first four-time MVP.

Let Manning be Manning in North Florida Thursday, with his stable of healthy weapons helping him stake his claim.

If Brees or Favre or Johnson or someone passes him from there as he plays only a couple series against the New York Jets (Week 16) and at Buffalo, so be it. At least the voters will have less time to forget what they should be sure to remember.

November, 27, 2008

11/27/08

7:39

PM ET
| | |
| --- | --- |
| | |
| | AP Photo/Paul Sancya |
| | Chris Johnson (28) and LenDale White both rushed for more than 100 yards on Thursday in the win over the Lions. |
Posted by ESPN.com's Paul Kuharsky
DETROIT -- Give the members of the Lions' defense credit for this: They run hard to the ball.
Rather, the Lions run hard to where they think the ball is heading.
As Titans coaches, working a short week, broke down Detroit, they saw opportunities for misdirections, bootlegs, play-action and anything that got the Lions started in one direction when the Titans actually planned to go somewhere else.
It started with a play-action fake and an end-around to Brandon Jones that went for 28 yards and it kept going from there, all the way to a 47-10 win. They've been playing football in Detroit on Thanksgiving since 1934, and they've never given up so many points or lost by so much.
"They flow real hard so the plan was to start out with every misdirection play we had to get them to slow down a little bit maybe," offensive coordinator Mike Heimerdinger said. "They all worked. They changed their defense. We hit them with a couple later, but we kind of took the air out of the ball and just ran some straight-up stuff."
"They bit a lot on the misdirection plays," running back LenDale White said. "And we figured as long as we kept running them we could get a lot of yards off them."
Yes, it was against the woeful 0-12 Lions.
But it still made me wonder if last week's loss to the Jets didn't amount to some sort of misdirection play, too.
November, 18, 2008
11/18/08
9:35
AM ET
Posted by ESPN.com's Paul Kuharsky
A significant note about CBS' broadcast Sunday of the Jets-Titans game at LP Field:
Jim Nantz and Phil Simms have never -- that's correct, never -- called a game in Nashville before, a fact that strikes me as bizarre and should be Exhibit A in any argument about how the networks cater to big market teams.
I've got a call out to Simms and if he's got time to get back to me I'll update this after I ask him about never having been to Music City for a game and about doing commentary on a game where his son is on a roster. Chris Simms is the Titans third-string quarterback.
I've heard that Phil Simms intends to alter his preparation this week in a way that would help him avoid any situations where it could be suggested he could pass anything pertinent about the Jets on to his son.