AFC South:

Plaxico Burress
March, 2, 2013
3/02/13
10:21
AM ET
September, 16, 2011
9/16/11
1:30
PM ET
»
NFC Final Word
:
East
|
West
|
North
|
South
»
AFC
:
East
|
West
|
North
|
South
Five nuggets of knowledge about Week 2:
[+] Enlarge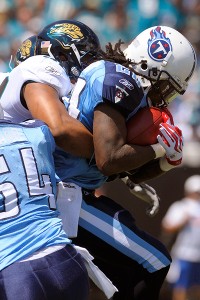 AP Photo/Phelan M. EbenhackThe Jaguars limited Titans running back Chris Johnson to 24 yards rushing in Week 1.
A focus on Chris Johnson:
The Titans are semi-desperate to get their star running back going. But Mike Munchak emphasized this week that they can't force it. It's hard to be patient waiting for the big play, but they can't call 10 rush plays in a row for him. The Titans need to show some creativity on offense and maybe turn themselves inside-out with some passes to set up the run.
Matt Hasselbeck
said they need to be in third-and-manageable to get off to a better start and to get the sort of possession they need to find an offensive flow. One good omen for Johnson: ESPN Stats & Info says he's been very effective against 3-4 defenses, averaging about 6 yards per carry running outside against them.
Can the Colts rush?
The Browns can neutralize Indianapolis' pass rush by jumping ahead and
riding Peyton Hillis
. But when
Colt McCoy
is looking to throw, the matchups on
Dwight Freeney
and
Robert Mathis
will be compelling. Freeney is a speed guy, and if
Joe Thomas
has any weakness, it might come against a guy like that. (See Pete Prisco on the matchup
here
.)
Tony Pashos
is out, so Mathis will go against some sort of rotation of backups
Oniel Cousins
and
Artis Hicks
. Mathis came out of the opener with a neck issue, but he should have a big advantage here.
Big plays in Jaguars-Jets:
The Jaguars are not necessarily a big-play team in the passing game, and if they aren't going to find big plays, they have to be sure not to give them up, either. Stats & Info says
Plaxico Burress
was the only Jets receiver to be targeted more than twice on throws of 15 yards or more in Week 1. Last season, the Jaguars allowed the most completions and yards per attempt on throws of at least 15 yards. The offensive line will have to sort through constant blitzes to allow
Luke McCown
to find people, and we could see
Cecil Shorts
get some big opportunities along with
Mike Thomas
.
Reggie Bush and the run:
The Texans are 5-0 against the Dolphins, but the average margin of victory has been just three points. Houston might be more ready to face Miami than usual after spending a lot of camp time working against its own 3-4 defense. Reggie Bush was on the field more than any other starting running back in the league, and Miami will try to spread the Texans out and create space for Bush to make plays. A big, early lead was the Texans' best run defense in the win against the Colts. But they were run on in the preseason, and we'll see Sunday whether things have tightened up or whether there is still a run defense concern.
Replenished D-line:
The Titans' revamped defense was a disappointment in the Week 1 loss at Jacksonville. Why might it be better this week? Because two guys who didn't play against the Jaguars --
Jason Jones
and
Derrick Morgan
-- will be in the mix. They should be the team's top defensive ends. Baltimore's tackles, the resurrected
Bryant McKinnie
and
Michael Oher
, started strong against the Steelers. Can the Titans' young rushers find some cracks?
July, 22, 2011
7/22/11
10:25
AM ET
By
ESPN.com staff
| ESPN.com
Reading the coverage ...
Houston Texans
Plaxico Burress has expressed interest in the Texans. But according to Pro Football Weekly's Arthur Arkush, citing a source close to the team,
Burress signing with the Texans is unlikely
.
Speaking to reporters Thursday night, Bob McNair said the
owners and players will have to make sacrifices
in the new labor deal. "We didn't get everything we wanted and the players didn't get everything they wanted," McNair said. "We got enough modifications in there so that we have a business model that works for the next 10 years."
Indianapolis Colts
Owner Jim Irsay is looking forward to
team doctors being able to meet with Peyton Manning
. Irsay: "We haven't seen him, and we haven't seen the medical records. We need to get that information as quickly as we can." Irsay said he already has made an offer to Manning that tops Tom Brady's contract, and he expects a five- or six-year deal to be completed shortly after a new CBA is ratified.
If the Colts cannot reach a long-term deal with Manning,
the team could theoretically retain Manning with the franchise tag
-- but that would be very costly. It's worth $23.1 million in 2011 and would cost the team $27.72 million in 2012 and $33.264 million in 2013.
Jacksonville Jaguars
Linebacker
Kirk Morrison says the players can't rush

into a new CBA deal until they understand all of the aspects of it, especially since it would be a 10-year agreement. Maurice Jones-Drew also stressed that
players have a lot at stake
in a 10-year deal.
More caution urged by Jaguars players
. Uche Nwaneri: "Honestly, I just feel like with any situation there has to be diligence about what it is that you want to do. You have to go through a process understanding where you stand as a group."
Tennessee Titans
Guard Jake Scott
isn't buying the owners' stated concern over player safety
. "For us, player safety was a massive issue and is a massive issue. And to the owners, honestly, I really don't think that they care that much because it doesn't affect their bottom line, you know, whether we do two-a-days or one-a-days or how many OTAs we have," Scott told SiriusXM Mad Dog Radio Thursday.
As the lockout appears to be winding down, several Titans players
expressed an eagerness to get back to work
.
July, 8, 2011
7/08/11
1:58
PM ET
Gary Kubiak recently told the Texans' web site that he is fine with the team playing
Kevin Walter
and free agent-to-be
Jacoby Jones
in combination as its second receiver.

But that doesn't mean Houston isn't looked at as a good destination by wide receivers. And one reclamation project --
Plaxico Burress
-- has listed the Texans and the Jets as places he'd like to land.
Here's what Burress said about the Texans,
per Jane McManus
:
"When you say Houston, all I can say is 'Wow.' "That's all I can say, because I give respect where respect is due. And I believe Andre Johnson is the best wide receiver in football. ... The way he's playing down in Houston, they're getting everything going in the right direction. Matt Schaub has really taken off as an elite quarterback. I think Arian Foster is one of the top-five running backs in this league. I think that team is bound for the playoffs this year and looking forward to great things."
Burress is more attractive than a Walter/Jones combination to me, particularly at a low salary with incentives.
But I expect the Texans' focus to be on the secondary in free agency and that's where it should be.
If Jones moves on and the market for Burress is limited, maybe he could sell himself to the Texans after they address their defensive backfield.
June, 6, 2011
6/06/11
2:17
PM ET
The automatic question today is whether
Plaxico Burress
fits your team.
We recently did
a team-by-team assessment
of where the former Steelers and Giants receiver could land after two years in prison.
I rank Houston as the most sensible landing spot if he were to head to the AFC South, which I do not expect he will.
It's a guessing game for sure. But field-stretching speed is what everyone wants, and Burress didn't really offer that even as a younger man. His game is about muscle and size.
I'd be intrigued at the idea of him lining up opposite
Andre Johnson
for the Texans, but don't forsee an aggressive pursuit.
Burress is too old for the Jaguars and Titans, who are both in the middle of youth movements and who likely steer clear of anyone coming out of jail, whether his sentencing was fair or not.
What about the Colts?
They have said they intend to be more active in free agency, and so we expect them to add a guy or two of some stature.
But he doesn't fit as he's not a sharp route-runner who adjusts to coverages the way Indianapolis asks its receivers to.
June, 4, 2011
6/04/11
10:18
AM ET
Joey Harvey from San Antonio, TX writes:
When considering physical demands, how can NHL players handle 80 games a yr and NFL players only 16?
Paul Kuharsky:
Hockey is very physical and the ability of players to endure the grind can be remarkable.
Still, I think even most hockey players would tell you the ability to bounce back from a hockey game and from a football game are different. I don't think a hockey player is taking the pounding in one game that a running back or lineman takes in one game. A hockey shift and a football series are two different things, too.
---
Rivers McCown from Houston writes:
Assuming that the Texans miss out on [Nnamdi] Asomugha because, well, they're the Texans, is signing someone like
Carlos Rogers
or
Ike Taylor
along with a safety such as
Gerald Sensabaugh
enough in your mind to get the Texans defense to average?
Paul Kuharsky:
I like the idea of Rogers or Taylor. But Sensabaugh is no big solution. Jaguars have all kind of safety issues and they dropped him a couple years back. Add one of those corners and find a safety and they could be on their way to average.
---
Ben from the UK writes:
After seeing
your response
on the
Plaxico Burress
issue, I must say I disagree with your assessment on the Colts' requirements. Your description of what the Colts need as a 'sharp route runner who reads coverage and adjusts' merely sounds like
Austin Collie
, and to an extent what we still have with
Reggie Wayne
. Do you not feel we need someone with game-breaking speed and utility around the offense (like for example
Reggie Bush
minus the ridiculous salary) as opposed to another slower route runner?
Paul Kuharsky:
Yes, they need game-breaking speed. I don't think Burress has it. (And even a speedster needs to run routes the way the Colts expect.)
I refer to someone more knowledgeable than me on such things, Matt Williamson of Scouts Inc.:
"It is Burress' movement skills that I worry about. Even a few years ago when he was in his prime, Burress was never a real quick-twitch guy. He is a long strider who had build-up speed, but he wasn't quick, elusive or explosive. Now, you just have to think that those movement skill qualities have lessened over the past two years.

"Although he might look great and probably spent a lot of time in prison lifting weights, I tend to think that keeping his explosiveness under the circumstances he was in was close to impossible. And he does turn 34 in August.

"Now, like [Michael] Vick, that isn't to say he can't get those skills back to some extent. But separating from defenders seems like the hurdle Burress is going to have the most difficult time getting over upon his return."
Doesn't sound to me like a guy who would give the Colts what they lack.
---
Adam C from Central Vermont writes:
Missed your chat yesterday Paul due to a busy spell at work. I read that you think the Titans should target a guy like
Carson Palmer
, but said a second round pick was too expensive to do so. Would Cincinnati really be willing to take less than that? What do you think is an offer the Titans should give to see if Cincy will actually accept?
Paul Kuharsky:
Once they spent No. 8 on
Jake Locker
, the option of giving up a value pick to get a veteran disappeared. They can't trade now for a guy who they may only stick with as the starter for six games.
So it's got to be a free agent:
Matt Hasselbeck
,
Kerry Collins
or one of the lesser names who will be on the market and cost nothing more than a contract.
---
@texantakeover writes:
Do you think that with the Texans defense vastly improved this year would allow them to overtake the Colts for the division?
Paul Kuharsky:
Vastly improved? We're basing that on a new coordinator, some new assistants and a draft class? I'm going to need to see it all result in better play before I declare the Texans D vastly improved. And even if it's vastly improved I have trouble seeing Houston winning the division.
---
Dan from Raleigh, NC writes:
The
Randy Moss
experiment was a failure but the Titans could still use some help on the outside. When FA starts, does Plax get a shot? Or are the Titans' sights aimed exclusively at a veteran QB?
Paul Kuharsky:
I don't see them chasing another big-name veteran receiver. And I can't imagine
Mike Munchak
and his staff -- who will put a premium on discipline and character -- are looking to start off with a big acquisition of a guy who just got out of jail.
April, 7, 2011
4/07/11
1:10
PM ET
»
NFC Draft Watch
:
East
|
West
|
North
|
South
»
AFC
:
East
|
West
|
North
|
South
Each Thursday leading up to the NFL draft (April 28-30), the ESPN.com NFL blog network will take a division-by-division look at key aspects of the draft. Today's topic: History in the spot.
Houston Texans

2010: OT
Anthony Davis
(49ers)
2009: LB
Aaron Maybin
(Bills)
2008: DB
Leodis McKelvin
(Bills)
2007: LB
Patrick Willis
(49ers)
2006: QB
Jay Cutler
(Broncos)
2005: LB
DeMarcus Ware
(Cowboys)
2004: QB
Ben Roethlisberger
(Steelers)
Last year at No. 11, the 49ers got Rutgers offensive tackle Davis, who started every game on the right side. Maybin, taken in the spot in 2009, is on the hot seat in Buffalo, where he's not come close to expectations. In 2007, the 49ers got the excellent middle linebacker Willis 11th, when the Texans took defensive tackle
Amobi Okoye
the spot before. The verdict on Cutler is still to be determined, while Ware is a superstar and Ben Roethlisberger has won two Super Bowls. Other hits since the NFL-AFL merger include
Michael Irvin
,
Dwight Freeney
and
Leon Searcy
. Other misses:
Ron Dayne
,
Michael Booker
.
Indianapolis Colts

2010: WR
Demaryius Thomas
(Broncos)
2009: WR
Percy Harvin
(Vikings)
2008: RB
Felix Jones
(Cowboys)
2007: QB
Brady Quinn
(Browns)
2006: LB
Manny Lawson
(49ers)
2005: WR
Mark Clayton
(Ravens)
2004: QB
J.P. Losman
(Bills)
Last year's 22nd pick, Denver receiver Thomas, caught 22 passes and scored two touchdowns. Minnesota grabbed receiver Harvin in the spot in 2009 and he's one of the game's most dynamic players already. Quinn didn't cut it in Cleveland and ranks third now in Denver, and Losman didn't solve Buffalo's quarterback issues. The last time the Colts were in this spot, they took receiver
Andre Rison
in 1989. He played only one season for the franchise, but in 12 years he amassed more than 10,000 receiving yards and caught 84 touchdowns.
Jacksonville Jaguars

2010: DE
Derrick Morgan
(Titans)
2009: LB
Larry English
(Chargers)
2008: CB
Dominique Rodgers-Cromartie
(Cardinals)
2007: DT
Justin Harrell
(Packers)
2006: CB
Jason Allen
(Dolphins)
2005: DT
Travis Johnson
(Texans)
2004: OT
Shawn Andrews
(Eagles)
Morgan went 16th to Tennessee last year, but suffered a season-ending knee injury early on. Rodgers-Cromartie had a big rookie season in 2008 as the Cardinals went to the Super Bowl. Pittsburgh safety
Troy Polamalu
was a huge find at the spot in 2003 and
Jevon Kearse
set a rookie record for sacks and led Tennessee to the Super Bowl in 1999. But others in the recent past like Allen, Houston's Johnson and Cleveland running back
William Green
hardly lived up to expectations.
Dan McGwire
, a big quarterback bust for Seattle, also went in the spot in 1991. But anyone thinking the Jaguars can't hit a home run should know that a guy rated by many as the greatest player of all time,
Jerry Rice
, was selected 16th in 1985.
Tennessee Titans

2010: LB
Rolando McClain
(Raiders)
2009: OT
Eugene Monroe
(Jaguars)
2008: DE
Derrick Harvey
(Jaguars)
2007: DE
Jamaal Anderson
(Falcons)
2006: S
Donte Whitner
(Bills)
2005: S
Antrel Rolle
(Cardinals)
2004: CB
DeAngelo Hall
(Falcons)
McClain went to Oakland eighth last season and was second on the Raiders in tackles his rookie year. Jacksonville had the spot the two years before that. The Jaguars think they got a long-term left tackle in Monroe, but Harvey might be done already.
Jordan Gross
is a topflight tackle for Carolina and receiver
Plaxico Burress
was a Super Bowl hero for the Giants. But receiver David Terrell busted for the Bears, receiver
David Boston
didn't fare much better in Arizona and running back
Tim Biakabutuka
was a dud for the Panthers. Sam Adams' long career clogging up the middle as a defensive tackle started in Seattle. The last time the Titans had this pick, they landed Hall of Fame guard
Mike Munchak
, who's now the team's coach.
March, 7, 2011
3/07/11
6:11
PM ET
Since this blog began, one of the most refreshing elements has been that Colts' fans don't come running every time a veteran name surfaces asking, "Will we sign him?"

Because even most peripheral followers of the team know it rarely looks to outsiders for help.
But with the Colt indicating since the end of the season that they would like to be a touch more active in free agency, that lovely roped off area is being trampled.
And so we field regular e-mails wondering about the potential for marriages between the Colts and Free Agent X, of Free Agent To-Be Y.
It's too early to know anything, of course, and while the Colts may have a list of guys they'd like at prices they can afford it'll likely be some time before we learn any of it.
Wide receiver questions have been popular recently based on news of availability. So let's take on the two names you're throwing at me.
Mike Sims-Walker: If he was anything close to the kind of receiver the Jaguars thought could be a play-maker for Peyton Manning, do we really think they'd have decided to allow him to walk? At his best, Sims-Walker was the best the Jaguars had. But he's not the sort of highly-polished receiver the Colts covet and need. He was a No. 1 by default for the Jaguars, and I think to be more than a role play part of someone's top three, he'll have to be part of another thin position group.
Plaxico Burress: He's due out of jail this summer. Who thinks the low-key Colts would embrace the sort of circus that will follow a guy looking to return to prominence in the league after a jail term? Raise your hand. If your hand is raised, please explain yourself below.
May, 16, 2009
5/16/09
1:05
PM ET
Posted by ESPN.com's Paul Kuharsky
Thomas from parts unknown writes: Kuharsky how do you know that other teams had Derek Cox rated lower on their draft boards. Did you see any teams actual draft boards? Or did you think teams had him rated lower because ESPN Faux-Scouts Kiper and Mcshay figured he was a late round selection because he wasn't invited to the combine. And that they might have overlooked him all together because he was from a small school. You should maybe get off the whole Derek Cox could have been had in a later round shtick, because in reality you aren't a scout and you don't know.
Paul Kuharsky: Here's how I know: I know people with other teams whom I trust and who help set their teams' draft boards.

So I said to them, "Hey, where did you have Cox that Jacksonville spent the 2010 second to take in the third?" And two different people with two different teams said, "Oh, sixth or seventh."

The days when teams don't pay attention to small-school guys and non-combine guys are largely over. People knew who this guy was. And he could turn out to be great. We'll have to wait and see -- the Jaguars will certainly have the last word. But we do have some context for where Cox was valued by other teams and it's hardly unreasonable to say so.
---
Larry in Washington, D.C., writes: I know the Colts are going to miss Howard Mudd tremendously, but with the rumors that Tom Moore may follow him into retirement scares me more. What are your thoughts on the transition should he actually retire? We know Peyton had more input in playcalling than most, if not all, QB's in the league. Do you see him actually taking over the full play-calling as opposed to choosing between the 2 or 3 plays Moore would "suggest"? Thanks, and I hope the offseason is treating you well.
Paul Kuharsky: Well, the retirements are official now, though the possibility of some sort of return as consultants hasn't been erased.
I would expect Clyde Christensen (or maybe Jim Caldwell himself) to work with Peyton Manning the same way Moore has. Manning will still need some additional, outside perspective.
---
Ross in Brentwood writes: I'm surprised you haven't addressed the Titans bringing in Drew Bennett for a physical yet Paul, I'd be curious to know your thoughts on them potentially bringing him back, especially in the wake of this "weakness" article on their passing game. I do agree with parts of that article, but I do think there's actually going to be improvement this year, and as I've said in my "mythbuster" response, they don't need an air-it-out offense to succeed. I do, however, think Bennett is not the missing piece here. They already tried bringing back a veteran wideout who began with the Titans, and that didn't work out too well for Justin McCareins. At this point they don't need to break the bank and/or trade away multiple draft picks (high ones at least) for a Boldin or Edwards, but Drew Bennett will just be another veteran presence who won't be a game-changer...although with the youngsters now at the position, maybe that is what they need.
Paul Kuharsky: I was away for two days when Bennett passed through Nashville.
If he's the fourth/fifth guy in case Hawkins still can't do anything or someone gets hurt, I could live with that. If he takes any opportunity away from Britt or Hawkins, then no thanks.
He's certainly not the playmaker or speedster they want, but at this stage Washington and Britt are those guys and it's unlikely they will be able to add any more. The question really is, do you want Bennett now as the fifth, or will you take your chances with what will come free at the end of training camps around the league?
---
Josh in Memphis writes:
Wouldn't the Titans be better off signing
Malcolm Floyd
RFA S. Diego than Drew Bennett? The two are the same size, Malcolm's younger 27 vs. 30-31, Malcolm's healthier, caught as many balls in SD last year than Bennett in STL in 2 years. Malcolm brother player WR for the Oilers back in the 94-97 years.
Paul Kuharsky: The period for signing restricted free agents to offer sheets ended April 17. Floyd had a second-round pick attached as compensation. Between that and the contract it would have taken to assure the Chargers didn't match the offer, he would have been a lot more expensive. Friday, Floyd signed his one-year deal with the Chargers.

As for where his brother was over 10 years ago, do you really think something like that would factor in to a team's personnel decision? Why?
---
Mauricio in Houston writes: If I may, three questions in one. Is the need for help at running back of my Texans real? If it is, would it be worth pursuing Jones from the jets and if so, what would be a reasanoble trade value in draft picks.
Paul Kuharsky: Absolutely it's real. They need someone to complement Slaton and to turn to if he's hurt.
Maybe Jeremiah Johnson or Arian Foster surprise -- I'm in Tennessee so have seen and heard a lot of Foster and don't have high expectations for him. Maybe Chris Brown can stay healthy for a stretch. Maybe they eventually add Ryan Torain or another outsider to the mix.
Thomas Jones from the Jets, I would expect, would be too expensive. If the Texans didn't spend a second-, third- or fourth-rounder on a running back in the draft, would they part with one for a back who will be 31 in August? I suspect not. Running backs over 30 are viewed as huge question marks by most teams.
---
Evan in Chattanooga, Tenn., writes: Paul, I enjoy the blog, keep it up. My question is about the Titans defensive line this upcoming season. With the loss of Haynesworth, will the line still have the same potency it had last year, or do you see the Titans having to start blitzing linebackers to keep the pressure on the qb? Kearse and KVB are getting older, do you see any of the Titans young DE's having the potential to be of the same caliber as these guys? I think Tony Brown is a great DT and will be starting this year, will Jovan Haye or Jason Jones be starting as the other DT? Thanks, Evan
Paul Kuharsky: Thanks, pal.
I wouldn't say the same potency. They'll miss automatic double teams and Haynesworth's size.

But a year ago they lost Antwan Odom and Travis LaBoy in free agency -- a tandem that combined fo
r 14 sacks the year before. And I can't remember once in 2007 watching the Titans and saying, "They are really missing Odom and LaBoy." I still expect them to rush the passer effectively with the front four.

I expect Brown and Jones will be the starters, but there is room and time for that to change.

They may blitz more, but I don't think it will be a lot more.
---
Weller Ross in Knoxville, Tenn., writes: I was wondering what your thoughts were on Tom Moore and Howard Mudd retiring. How big of a hit do you think this will be to the Colts offense if at all? Thanks, Weller PS: I also blogged about it and thought you might find it interesting.
Paul Kuharsky: I've done several posts on it. I think no matter how ready they were with guys to promote, that this could be a big hit, particularly from an offensive line perspective. Does Tony Ugoh, for example, get better without Mudd? I suspect not.
---
Dash in Nashville writes: Paul...love the blog. Who do you think will take the #3 RB roster spot for the Titans? A. Javon Ringer B. Chris Henry C. Rafael Little
Paul Kuharsky: A. I think it would take an upset for Ringer not to be on the roster. Little is an intriguing guy. Henry, in my eyes, has no chance to stick.
---
Farris in Nashville, Tenn., writes: Great blog Paul! I wanted to get your opinion on something. With the Titans finally giving Dinger a decent set of WR's that could possibly be a solid 4 deep, that he will open up the passing game and give Collins more opportunities to throw more vertical routes? I've got a gut feeling that Collins could possibly be in store for a 3,000 plus yard season and 20 plus TD's. It could possibly resemble the Co-MVP season of McNair. Dinger loves the deep routes and he finally has the speed to get it done. Thanks and I LOVE the blog and your segment on 104.5 The Zone!
Paul Kuharsky: Thanks very much, Farris.
Better and more open? Yes. Dramatically? I'd say no. The one big difference here is that in 2003 the Titans' 3.3 yards per carry was the worst for the franchise since 1974. Barring major injuries, this year's run game will be far better than that, reducing the need for Tennessee to open things up too, too much.
---
Pokerfitz in Jacksonville writes: Im not sure why you dont understand the reason they Jags love Greg Jones so much. When he gets the ball the guy has been productive. Including rushing for over a 100 yards in Pittsburgh when he was subbing for an injured Fred Taylor. He gets tough yards, Breaks tackles and can catch the ball. His only knock has been his health, not his ability.
Paul Kuharsky: Huge scouting bromide -- the best ability a player has is availability.
You know a guy who's even more proven? (And by proven I mean has more than 64 carries a year.) Taylor.
Jones has a 3.4-yard average. For comparison's sake, let's look around the division at secondary running backs: Houston's Chris Brown has a 4.3 average (but has bigger health issues than Jones); Tennessee's LenDale White has a 3.9 average (and gets the ball in extremely favorable situations); Former Colts running back Dominic Rhodes has a 4.0 average (and is now with the Bills).
That's not the be-all end-all, of course. But I'm not, or wasn't, really excited about them either. It's hardly unreasonable to say Jones is unproven as an every game, No. 2 commodity like they plan to make him. I will be interested to see him work.
---
Taylor in Murfreesboro writes: Hey Paul, I love the blog! But all I hear about Vince Young is the money the titans will have to be paying him for a back up QB is going to be way too much! So, why not try putting him on the field as a wide receiver, he has the skills, (6'5", athletic, fast) to be a great No. 1 wr if he were trained properly and was willing to "contribute" to the teams success instead of riding the bench, or he could run some Ohio State kinda of sets (Pryor and Boeckman in the fiesta bowl). What do you think about all of this?
Paul Kuharsky: I think it's crazy talk, really.
They spent good money on a free agent in Nate Washington and their top draft pick on Kenny Britt. Why not try to develop actual receivers? I am against anything that would take even a snap away from those two guys.

I can't understand the line of thinking that because Young is a good athlete he'd have to be a good wide receiver. You say he "has the skills" to be a great wide receiver -- then the first thing you list isn't a skill, it's his height, and the second and third things are "athletic" and "fast," qualities a ton of bad receivers possess, too.

Young's a good athlete and he's not a very good quarterback at this point -- and he's been focused on that position for his entire adult football life. But he's going to be a successful receiver?
---
cameron from parts unknown writes: Firstly, I want to say i am a huge fan of your blog and i am a constant reader. My question to you is that the texans are ready to make a run to the playoffs, i feel, but do you think trying to add a Plaxico Burress would to far of a reach to compliment andre johnson. Also do you think they should go after a chris mcallister because of his playoff experience and his career numbers.
Paul Kuharsky: Thanks and please keep clicking.
Burress still has legal issues to resolve and from what I've read and seen, he is unlikely to be immediately available. Complementing Andre Johnson isn't a huge issue for Houston. Kevin Walter had 60 catches and eight touchdowns last year.
You fall into a familiar trap with McAlister. He's recognizable so you think he'd help. The Texans, and every team, evaluate a guy like that based more on what he can do going forward than than "playoff experience and career numbers." I don't love their secondary, but I don't feel like McAlister would qualify as an addition that could fix their issues. He only played in six games last year and he's about to turn 32.
---
Paul in Iowa City writes: As far as Titans myths go, one I'd like to discuss is something of a non-myth. Its the whitewashing of the 99 draft, where we picked Kevin Dyson over Randy Moss. Dyson of course has a mythical position within the organization because of the MSM, but without that play the refusal to draft Moss stands out as a colossal mistake (which it still should). By and large though, the Titans draft well.
Paul Kuharsky: The posts with responses to AFC South myths are coming soon. This one wouldn't fit there, but seemed good for the mailbag.
By and large they draft well. Unless, of course, botching No. 6 and No. 3 overall picks in consecutive years counts against them.

Did they choose the wrong guy talent-wise for the receiver position at No. 16 in 1998? Absolutely.

But taking your logic and extending it, then I expect you'd absolutely defend their choice of Pacman Jones in 2006. He was, after all, a superior football talent to Antrel Rolle. (As then-Titans GM Floyd Reese predicted at the time, Rolle didn't even stay a corner.)

Now Jones turned out to be far more of a headache and troublemaker than Moss and couldn't keep himself eligible to play.

But if you rip the Titans for not taking Moss, by the same logic you would have had to applaud them for taking Jones.

So how's that stance working out for you?
---
Sam in Nashville writes: 2 comments. First, does anyone else but me think that Haynesworth isn't really that important to our defense? While he is a very good player, he is injured often and has a tendency to be unmotivated. Also, Washburn seems to turn everyone into a star DT. Second, Vince has shown that he is not the quarterback of the future through his skills. His skill set does not include good footwork or accuracy. Because of this, do you see the Titans drafting another quarterback soon? And since we'll probably be in the 20-30 pick range, who would you see as a possible fit next year?
Paul Kuharsky: I'm sure there are others who think as you do. I think you are overreaching on Haynesworth not being that important. He was very important, often the best player they had on the field and made life easier for the other 10 guys.

If he took plays off, as a Titans beat guy named Terry McCormick has pointed out, the defenses assigning double teams to him didn't know which ones they would be. Haynesworth looked plenty motivated to me over the last two years. That doesn't make him worth the contract he got, and it doesn't mean he's irreplaceable.

The Titans are now a smallish interior D, at least among their best guys.
Washburn turns a lot of guys into good players, absolutely. You might be overstating just a little to say he turns "everyone into a star DT." Randy Starks ring a bell? Antonio Johnson? Jesse Mahelona? Jared Clauss?

I would expect the Titans will be looking to draft a QB next year. He doesn't have to be a first-rounder, and I can't pretend to know who would fit.
---
Nathan in N.Y. writes:
How are the Texans going to break .500 if glass-jawed
Matt Schaub
can't manage to start 16 games and they replaced maligned but halfway decent
Sage Rosenfels
with a guy last seen running out the back of his own endzone?
Paul Kuharsky: Schaub staying healthy is a must for the Texans. I wasn't big on the Dan Orlovsky signing either -- even if you love him, you overpaid and messed up the backup quarterback market. But ...
The "halfway decent" Rosenfels you mentioned wasn't regarded as much when he arrived in Houston, either. Gary Kubiak is pretty good with signal-callers, and gets the benefit of the doubt here that he will be able to turn Orlovsky into something better and the Texans will still have a chance to win a game if Schaub can't go.
April, 23, 2009
4/23/09
8:45
AM ET
Posted by ESPN.com's Paul Kuharsky
Concluding our periodic look at the history of the relevant first-round draft slots, we examine No. 8 before Jacksonville drafts there for the second year in a row.
Here are the previous entries on Tennessee at No. 30, Indianapolis at No. 27 and Houston at No. 15.
The No. 8 Pick Since 1999
Year
Pos.
School
Player
Team
Comment
2008
DE
Florida
Derrick Harvey
Jacksonville
Contract dispute killed
chance at a big start
2007
DE
Arkansas
Jamaal Anderson
Atlanta
Has missed only one game;
just two sacks
2006
S
Ohio State
Donte Whitner
Buffalo
Has started 42 of 48 games
2005
CB
Miami
Antrel Rolle
Arizona
Has moved to safety
as some projected
2004
CB
Virginia Tech
DeAngelo Hall
Atlanta
Is he worth big contract
from Skins?
2003
OT
Utah
Jordan Gross
Carolina
Pro Bowler is a key cog
for Panthers
2002
DB
Oklahoma
Roy Williams
Dallas
Weak in coverage, now a
free agent
2001
WR
Michigan
David Terrell
Chicago
Five-year career,
128 catches
2000
WR
Michigan State
Plaxico Burress
Pittsburgh
Troubled but very productive
1999
WR
Ohio State
David Boston
Arizona
Nine years, four teams,
315 catches, 25 TDs
March, 9, 2009
3/09/09
6:20
PM ET
Posted by ESPN.com's Paul Kuharsky
Last week I posed this question: What one philosophical tendency, trend, tenet or practice would you like to see the Titans change, and why?
As opposed to some previous questions you've encountered here, I wasn't looking to reach any sort of consensus, just to stir some debate. Based on your responses, I think we got that.
So here's the best of what you had to say with some of my thoughts interspersed. Thanks for all the quality feedback.
Matt in New York: I know a lot of people would like to see a change in offensive philosophy, but the #1 thing I'd like to see the Titans change is the preference of under-performing vets over inconsistent rookies. I generally like the offensive philosophy, I think Heimerdinger has the right balance of sticking with the high-percentage plays but taking shots when it's right. I think for a team that is known as shying away from FAs, they've quietly built the core of their defense with some great free agents. I think moves like replacing Fowler with Tulloch are the types of moves the Titans need to do more often to get over the hump.
Nate in Burns: If I could change one thing about the Titans, I would make them more willing to play rookies. Think of some of the players that have come through that have sat for too long... I mean weren't you a little shocked when they started playing Chris Johnson? - The coaches consistently said Tulloch was always in the right spot... but they went out and paid for a free agent because they were scared to start him. - Vincent Fuller should've been on the field a year before he was. - I'm trying to remember a Titans WR that played significant time his rookie year... Kevin Dyson? - Kieth Bulluck sat for how long? - Micheal Griffin was a huge upgrade at safety... and yet he didn't see the field nearly enough. - David Stewart took over at right tackle a year to late. I know B-hop was still at left tackle, but Big Country should've started at guard. How infuriating is it that the one rookie they threw into the fire, was the one who needed the bench the most? Yes. I'm bitter.
Kannan in Pittsburgh: It would be nice for a change if the Titans were aggressive in their use of the younger players, especially rookies and not only on the running back position (Jeff's love for the running game means even if you are or I tried out, we would get a shot!!!). It is a mirror image to the policy Phil Fulmer had at UT with his freshmen!!Weird, how similar the philosophy of the two coaches are .... Rookies will make mistakes mental and physical, but have the potential to being a visible energy to the team. Veterans seem secure in the knowledge that they wont be pushed for another year or two by the rookies. The only exceptions as far as I can remember are CJ, VY, JK, maybe Bo ....
Paul Kuharsky: Matt, Nate and Kannan make excellent points here. While select rookies have played early -- Chris Johnson, Michael Roos, Tank Williams, Jevon Kearse -- far more often, the Titans choose to ease guys in or give them a year or more to get up to speed. That's understandable in some cases. In others, it shows Jeff Fisher and his staff to be overly loyal to a veteran who's proved effective but unspectacular when a rookie or youngster with more potential sits, viewed as an unknown and a risk.
Rookie receiver Lavelle Hawkins didn't know his stuff as well as he should have in 2008 and couldn't be relied upon to be in the right spots. So the Titans used him very little. But couldn't they have given him a very narrow package and found a way to try to use him? Wouldn't 10 snaps of that have been better than whatever the supposedly-reliable Justin McCareins wasn't doing on those plays? Reliable is great, but if you're reliably not explosive, it's not such a tremendous trait.
Another reader, anarklay, was talking mostly about the lack of chances for rookie receivers when he put it this way, which I really liked: "experiments with no tests yield no results."
Gunter: One tendency I'd like to see the titans change is to have a throwing QB for a long time. Steve wasn't ... VY isn't .. KC won't be around forever - we let Simms slip away.. We didn't get Jay Cutler.. I know we emphasis the run.. but .. the run works the best when complimented with a good passing game. We just can't keep people honest.
Philip in Bowling Green, KY: Apparently the Titans don't need to change much, 13-3 speaks for itself. Lots of Titans fans are looking for a WR first round this year, but I think if the Titans try to feature a receiver in their offense, it will hinder them in the long run. I would like to see them start building some depth at Linebacker, to replace those guys that are getting up there in years. I could be wrong, but if it aint broke dont fix it.
John in Toms River, NJ: Paul- i would love for the titans to make bigger splashes in F.A....we have a chance 2 get canty..but tennessee cancells the visit...dont get me wrong i love that they signed nate w. nd haye....but we could of had canty or houshmandza.
Erika in Nashville: I'd love to see the Titans be a bit more aggressive in getting some big names. Obviously, the no names aren't winning them Superbowls, and that is the goal, isn't it??
Paul Kuharsky: I disagree with you, John and Erika, for the most part. Please name all the teams and all the guys who've lived up to expectations after a big free-agent splash. Reggie White in Green Bay, Plaxico Burress in New York and who else? Far, far more misses than hits.
The Titans don't make a splash for a splash's sake and more and more teams are doing the same. I touched on this issue in a blog entry here and again here.
Would you prefer a big name to All-Pros like Cortland Finnegan and Michael Roos, or are you OK with them being on track to becoming big names? Guys like Kyle Vanden Bosch and Kevin Mawae are well known and consistently productive. How many running backs would you take ahead of Johnson? Not too many, I don't suspect.
Who is it they've missed out on that you think would put them over the hump?
Clark from Lexington: Titans Magic Wand... I would like to add some aggresion on defense... and by aggresion I mean, 99
Titans Defense, 85 bears, or just some 46 blitzing crazyiness. What is the good of with all our speed on Defense if we don't use it. Against the Ravens flacco's numbers were horrible WHEN we blitzed. I know we didn't have to blitz as much with Fat Al, but the raven's center Brown is getting a fat check from the Rams because of mainly his great games against Albert. I know swartz and his analytically statisticall analysis of defense never blitzed, but cecil is here... and with him, I HOPE, will come some of his famous aggresion. So... we have to blitz and trust our secondary, and if we do... I think we won't miss Albert as much as you think.
Paul Kuharsky: I do think we will see more blitzing with Cecil in place and Haynesworth gone. But you can be an aggressive defense even if you don't blitz a lot. I think the word still fits the style the Titans played last season.
Daniel in Boston, MA: I had to chime in with two thoughts. First, the philosophical tenet that I would change is their approach to wide receivers. I don't know where that change needs to come because I don't trust whoever they have evaluating wide receivers, and I don't know whether it's the same person from, say the Dyson draft (aka the oops-why-didn't-we-pick-Moss draft), or if it keeps changing, but this team needs a better wide receiver corps. I have no faith that Washington will work out because they've missed the boat so often in the past (McCareins, Calico, Dyson, etc.). Second, though, is that I actually like Fisher's loyalty. He seems like an actually decent human being who doesn't want to see this sport descend to mere business. You might argue that that's impractical, but some impracticalities are worth it just to be human. I try to support that in life, and I support it in sports too. Better Fisher's aggressive loyalty than Belichikian indifference.
Paul Kuharsky: Belichick certainly strikes me as loyal too, I just don't think he'd ever keep a dud like Lamont Thompson or DeRon Jenkins on the field just to prove it. As I've said about Fisher for years, if the worst complaints a city has about its coach are that he's overly loyal and too conservative -- well, a lot of other cities would love for that to be all they had to cry about on Monday talk radio.
I'm with you on receivers. They've made it clear they don't value the position like others do. But still, spending all the mid to late draft picks on the spot, the hit rate has to be better. A lot better.
Adam in Alexandria, VA: Hey Paul, I would like to see the Titans alter their approach to the draft. I would like to see more of a focus on college production as opposed to combine stats. Likewise I would like to see them take the best player available more often. I know that's easier said than done, and easier done when you don't have a lot of holes. They have a history of both throwing picks at a position of need, and reaching on players. This has happened under both Floyd Reese and Mike Reinfeldt. The way that they have filled in holes in free agency the past couple of years has given them the opportunity to draft BPA. Two years ago they still reached in the 2nd & 3rd. Last year they seemed to take a more solid approach. I hope they stick to it.
Paul Kuharsky: More of what found them Johnson and Michael Griffin and Roos and less of whatever led them to Pacman Jones, Vince Young and Chris Henry. Easier said than done, certainly.
Michael Pablo: The Titans are simply too conservative in all aspects as a franchise. It would be nice if the front office stopped believing that every player on the roster is replaceable.
RocketsForever3: The Titans really need to add some deep routes to their mix. They are extremely strong on the run and fairly good with the short pass, but unless the wideouts make a move past the linebackers, they very rarely threaten opposing teams' long safeties. This could change with the excellent addition of Nate Washington and possibly Henderson, but at the moment, the Titans are way too predictable when it comes to play making, which in turn results in low offensive outputs and losses to solid passing teams (i.e. the Jets last year).
someone53927: I'd like to see the offense opened up more, it's an easy response to the question cause I think most Titans fans would like to see it...but look at some of the past Super Bowl winners/losers and you won't see many one-dimensional teams in there, and even the ones that you would consider one-dimensional lean towards the passing game (Cardinals, Colts).
I like Jeff Fisher, I like the approach to free agency and how they don't overspend, I like the emphasis on defense. I just wish they would open up the playbook and emphasize the passing game a little more. We all know Chris Johnson is a beast and is going to get the ball 20 times a game, but if you had a passing game that was more potent and emphasized by the coaching staff, that could do wonders towards causing opposing defenses to have to gameplan for an aerial attack, thus making Johnson all the more effective.
Maybe it goes back to that other entry talking about the Titans' lack of receiver development and whether it's poor drafting, scouting, coaching, whatever. I'm hopeful that with the addition of Nate Washington and the re-signing of Collins the passing game will be emphasized more. It was in those couple years when Heimerdinger was last coordinator, and look what happened then, Derrick Mason blossomed, Drew Bennett blossomed, and Steve McNair was co-MVP one year. I don't expect a Colts/Cardinals attack...just more emphasis on the passing game.
Paul Kuharsky: It took Eddie George's drop-off as he tried to come back from a toe injury for the Titans to really open things up with McNair. I think they want to do more in the passing game, but as long as it is Jeff Fisher's team, it's going to lean heavily to the run and on the defense.
Titanfan109: I feel like the front office is a place that needs to be changed. I like that the Titans give kids at small schools a chance to develop, but look at all the wasted draft picks we have had in the past 2 years. I think that if you can draft a player from a school that is more suited to the NFL than you should look there.
I love the run first offense philosophy and play tough straight up defense. However, I feel at times it is taken to the extreme. Some more blitz packages would be beneficial to our secondary. I will admit there were a few games that we let the ball fly on first down, which was good to mix up the defense.
Also, I'm hoping the Titans will find players in the draft to replace some of our mainstays this year. I love Bulluck but we need to start grooming a OLB. KVB and the Freak need to have some protege's behind them as well. As much as this pains me, the Titans front office should try and emulate the Steelers and Patriots. We had a huge drop off for about 4 seasons, and you never see that from those two teams.
I love you Titans and I
will be cleaning out the garage as usual come draft day to relieve stress!