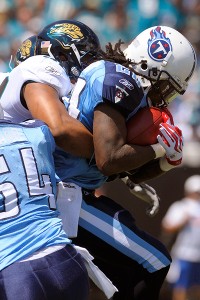 Five nuggets of knowledge about Week 2:A focus on Chris Johnson: The Titans are semi-desperate to get their star running back going. But Mike Munchak emphasized this week that they can't force it.
Reading the coverage ...Houston TexansPlaxico Burress has expressed interest in the Texans. But according to Pro Football Weekly's Arthur Arkush, citing a source close to the team, Burress signing with the Texans is unlikely.
Gary Kubiak recently told the Texans' web site that he is fine with the team playing Kevin Walter and free agent-to-be Jacoby Jones in combination as its second receiver.
The automatic question today is whether Plaxico Burress fits your team.We recently did a team-by-team assessment of where the former Steelers and Giants receiver could land after two years in prison.
Joey Harvey from San Antonio, TX writes: When considering physical demands, how can NHL players handle 80 games a yr and NFL players only 16?Paul Kuharsky: Hockey is very physical and the ability of players to endure the grind can be remarkable.
Each Thursday leading up to the NFL draft (April 28-30), the ESPN.com NFL blog network will take a division-by-division look at key aspects of the draft.
Since this blog began, one of the most refreshing elements has been that Colts' fans don't come running every time a veteran name surfaces asking, "Will we sign him?
Posted by ESPN.com's Paul Kuharsky Thomas from parts unknown writes: Kuharsky how do you know that other teams had Derek Cox rated lower on their draft boards.
Posted by ESPN.com's Paul Kuharsky Concluding our periodic look at the history of the relevant first-round draft slots, we examine No. 8 before Jacksonville drafts there for the second year in a row.
Posted by ESPN.com's Paul Kuharsky Last week I posed this question: What one philosophical tendency, trend, tenet or practice would you like to see the Titans change, and why?