AFC South:

Quintin Mikell
July, 27, 2011
7/27/11
4:08
PM ET
We don't know if the Colts made any sort of inquiries about another safety to pair with
Antoine Bethea
.

But as two top guys,
Quintin Mikell
and
Eric Weddle
, disappeared from the market, Indianapolis locked up its own guy before he started getting more attention from teams still in need.
Melvin Bullitt
has struck a new deal with Indianapolis, according to 1070 the Fan, and he returns as a starter instead of a guy capable of taking over for
Bob Sanders
when he gets hurt. (Sanders was released after the 2010 season and signed with San Diego.)
Bullitt is a smart, steady player who fits the Colts mold. An undrafted free agent out of Texas A&M in 2007, he made the most of an opportunity. But he was part of the injury parade last season, missing the final 12 games of the regular season with a shoulder injury.
While they likely attempt to trim the hefty salary of cornerback
Kelvin Hayden
, I think he will remain.
That would give the Colts a starting secondary of Bethea and Bullitt between Hayden and
Jerraud Powers
, with
Justin Tryon
and
Jacob Lacey
as situational cornerbacks. That's a strong group and might also include sixth-round pick
Chris Rucker
.
Bullitt is slated to join The Ride with JMV shortly. You can listen
here
. I will come back into this post to add some highlights from the interview.
UPDATE:
Bullitt said he heard from the Rams, the Cardinals, the Texans and a couple other teams.
Some quotes...
On deserving the deal:
"I feel like I've done enough for this team, the organization to show my worth and to show that I want to be here. There have never been any problems out of me. I am going to go out there and produce and try to help the team win."
On his health:
"I'll be ready for the first preseason game. I'm ready now. I told you before if there were different rules I could have played in January."
On Eric Weddle's five-year, $40 million contract with San Diego, with $19 million guaranteed:
"If that's what they want to do, that's up to them. Congratulations to him. If you look at my stats and Eric Weddle's stats, I haven't started nearly as many games and have the same amount of turnovers and have just as many tackles as him without the amount of starts he's had in the regular season. ...I don't understand how you can pay him more than Antonie [Bethea's] paid or even more than Bob [Sanders] was paid when he was defensive player of the year. But if that's what San Diego believes. Eric Weddle's a good player, he's a great player, actually. But that's just the way it is."
July, 26, 2011
7/26/11
8:56
PM ET
The market at one of the AFC South's most needy positions has been set by a team outside the division.
According to a report by ESPN's Adam Schefter, St. Louis has agreed to pay former Eagles safety
Quintin Mikell
$28 million over four years. Mikell is a quality player and a quality leader. That he's already off the market weakens a pool at the position that is not especially deep. Scouts Inc. had Mikell as the top-rated safety in free agency. But
Eric Weddle
is close behind and he's 26 years old to Mickell's 30.
[+] Enlarge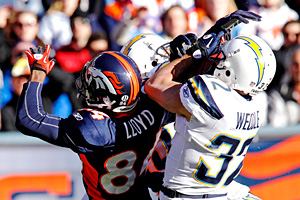 AP Photo/ Ed AndrieskiJacksonville and Houston have shown interest in safety Eric Weddle.
So Weddle could command even more money.
Both the Jaguars and the Texans have, at the very least, made inquiries about Weddle, who can cover in space and step up to hit a running back. That sort of versatility in a safety is exactly what both Jacksonville and Houston need as they try to play better defense.
While the Texans could look to make an even bigger splash by signing Oakland free-agent corner
Nnamdi Asomugha
, Weddle could be the Jaguars' best pick up if they pursue and land him.
I'm not on the Weddle camp's pay roll, but I have been touting him for month.
The AFC South has one great safety in Indianapolis'
Antoine Bethea
and one up-and-down safety who can be very good in Tennessee's
Michael Griffin
.
Glover Quin
is expected to move from corner to free safety for Houston and may fare well there.
Beyond those three, there are five question marks of varying degrees at the position in the division. (That's giving the Colts a blank at strong safety, where the steady
Melvin Bullitt
is a free agent too.)
Doesn't this review of Weddle from Scouts Inc. sound like a nice guy to fit one of those spots?
"Weddle is a little undersized [at 5-foot-11, 200 pounds] but plays bigger than he measures. He has an excellent nose for the ball and understands angles in run support and in deep coverage. He has great route recognition and does an excellent job of reading the quarterback's eyes from deep zone. He has good range and shows good ball skills. He may not blow ball carriers up, but he will wrap up and get the job done."
July, 11, 2011
7/11/11
1:00
PM ET
The Texans have been very aggressive in rebuilding their defense and transforming it into a 3-4 scheme. That aggression could continue during free agency. If that is to happen, though, some salary-cap manipulation will have to occur, as Houston looks to be pretty tight up against the expected cap.
The Texans are now loaded with young talent in the secondary, but the back end of their defense was historically poor last year. A stabilizing veteran presence whom everyone can truly count on would do wonders for this defense. Also, even though Houston seems high on
Earl Mitchell
, I have my doubts about the Texans' nose tackle position.
[+] Enlarge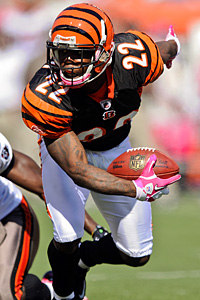 Jamie Sabau/Getty ImagesJohnathan Joseph would be a huge upgrade to the Houston secondary.
Nnamdi Asomugha
: Everyone knows what a great player Asomugha is. Everyone knows how awful the Texans were against the pass last year. Imagine how much better Houston would match up against the Colts if everyone in the stadium knew that
Reggie Wayne
would not be a factor in that particular game.
Johnathan Joseph
/
Ike Taylor
: If the Texans miss out on the crown jewel of free agency, adding another established corner should quickly be their next move. Both Joseph and Taylor can play bump-and-run, off man-to-man coverage or be effective in zone. Either would be an immediate upgrade.
Quintin Mikell
: Unlike most teams with a need at safety, strong safety is a bigger need for Houston than free, where
Glover Quin
will take over after moving from corner. Mikell is clearly the best of the crop. And if Houston can't land a whale like Asomugha at corner, maybe it can get the top strong safety available in Mikell. If the Texans choose to address their strong safety need with a lower-priced guy,
Gerald Sensabaugh
would be a logical choice. Sensabaugh played for Wade Phillips in Dallas and is very familiar with the system that is being installed.
Vonta Leach
: Finding pure blocking fullbacks is not a difficult thing to do. But finding ones as effective as Leach, who is the best at it in the NFL, is a whole different story. Leach is the perfect guy to lead
Arian Foster
through the hole and to pick up blitzing linebackers. Houston should lock him up pronto.
Darren Sharper
: Sharper isn't nearly the player he once was. But his leadership could be invaluable in such a young secondary. In fact, this team lacks elder statesmen in its locker room who possess the "been there, done that" factor that Sharper obviously has in spades. Even if he just contributed with the Texans' sub packages, Sharper -- or someone else of a similar ilk -- would be a wise addition to such a young team.
Scouts Inc. watches games, breaks down film and studies football from all angles for ESPN.com. Follow Matt Williamson on Twitter @WilliamsonNFL.
November, 7, 2010
11/07/10
9:08
PM ET
PHILADELPHIA -- Hours after their fallen teammate was diagnosed with a concussion and was moving around OK, a couple of Colts defensive backs said they were sympathetic to the Eagles defensive backs who combined on the hit that landed him there.
[+] Enlarge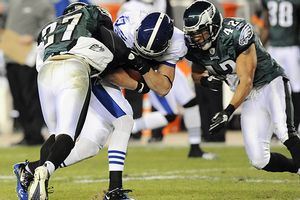 AP Photo/Miles KennedyColts wide receiver Austin Collie, center, is hit by Eagles safeties Quintin Mikell, left, and Kurt Coleman. Mikell was called for unnecessary roughness on a defenseless receiver.
Watch the replay enough and it becomes clear to me:
Quintin Mikell
put a shoulder into Collie, which pin-balled him sideways into a helmet-to-helmet hit from
Kurt Coleman
that seemed simply unavoidable. But Mikell was called for unnecessary roughness on a defenseless receiver.
"No, it didn't look like intent," said
Aaron Francisco
, who has started at free safety for Indianapolis since both
Bob Sanders
and
Melvin Bullitt
got hurt. "When a player gets hit by two guys, not really simultaneously but one after another, it's kind of hard as a defensive back to keep your head out of the way. That guy is getting hit towards you, you don't know where his head is going to be or whatever.
They have so many rules out there, it's tough to be a hitter nowadays, you know what I mean?"
Said cornerback
Jacob Lacey
: "It was a football play, it looked like a clean hit. You don't wish that on anybody, or want anybody to be hurt or anything like that. But it looked like a clean hit. The first guy kind of gave him that momentum to swing into the other guy."
After Collie was down on his back for an extended period of time, he was secured to a backboard that was wheeled off the field.
Peyton Manning
ran over to tell him everyone was praying for him.
"You hate to see that," Manning said. "Coach [Jim] Caldwell told us early it was a concussion, which you don't like to hear but it's certainly better news that what everybody feared at that point."
I interpreted replays as showing that Collie made a catch and had started to run with possession, which he lost when he was hit. But he was ruled defenseless and the pass was called incomplete.
Referee Carl Cheffers and back judge Todd Prukop told a pool reporter that the call should have been against Coleman, not Mikell but otherwise stood by the interpretation on the field. I suspect their bosses will feel differently with the benefit of video.
What the officials said in the pool report served to further complicate, rather than clarify, what unfolded.
Cheffers was asked about the definition of a defenseless receiver.
"Well, if he's completing the catch, his second foot is not down yet or it's just down, we still give the defenseless receiver protection," Cheffers said. "So, if it is a bang-bang type play, with his second foot coming down, he still gets protection on that play. The fact of the matter is, is that the ball was incomplete.
"So, he has protection throughout that entire process on that play because we don't even have a completion -- at no time did he has possession and become a runner to where he would have transitioned out of being a defenseless receiver."
Prukop further complicated things with this answer to what was the cause for the penalty call against Coleman: "So, he makes contact with the shoulder to the back of the helmet of the receiver." Which is what Mikell did, not Coleman.
Colts coach Caldwell said he thought there was "no question" that the proper call was made and that he was optimistic about Collie's recovery. He just returned from thumb surgery suffered Oct. 17 at Washington that kept him out of last week's win over Houston.
"I think he'll recover quickly," Caldwell said. "He'll do OK."
October, 24, 2010
10/24/10
2:46
PM ET
NASHVILLE, Tenn. -- Two plays of note concerning the Titans coming back to the ball in the first half . The
Eagles lead 13-7
at intermission.
On Kerry Collins' poorly thrown interception, he patted the ball several times and managed a pump fake before trying to find Nate Washington. Quintin Mikell got in front of Washington to make the play. Washington had a chance to turn into a defender, either getting in Mikell's way, batting it down or wrestling it from him as he collected it.
On the Eagles' trick play, Jeremy Maclin took the snap, gave it to LeSean McCoy and McCoy got the ball to Kevin Kolb who was wide left. Kolb was late throwing deep left and the throw was into a stiff wind. But Chris Hope stood and waited on the ball as if he were fielding a punt, completely unaware that Riley Cooper was still very much alive in the play. Cooper came in from Hope's right, cut in front of him and pulled in a 37-yard reception that set up a touchdown.
On offense or defense, players like Washington and Hope (who made a nice play a bit later to break up a deep ball for Maclin) need to be more aware of where they are and who's around them.
I expect a good second half and a close finish. Another miscalculation or two on balls in the air could spell doom for Tennessee.