AFC South:

Quinton Coples
September, 30, 2013
9/30/13
11:00
AM ET
NASHVILLE, Tenn. -- The NFL reviews a slew of plays from each weekend, and Adam Schefter reports they will review the hits by
Muhammad Wilkerson
and
Quinton Coples
on the play where
Tennessee Titans
quarterback
Jake Locker
injured his right hip.
My colleague who covers the Jets, Rich Cimini, spoke to Wilkerson after the game, and Wilkerson said an official told him
his hit was legal
.
There was no flag. But the league office deciding a game official didn't call something right hardly qualifies as a rarity anymore.

I think Wilkerson's hit was OK. He gets one step after the ball is released, and my reading of the play is that he used that one step. Maybe it was a step and a half, and maybe that draws a fine.
But as I review the play, it seems clear that Locker was hurt because he wound up in an awkward position and something freak happened, not because Wilkerson did something nefarious.
I've rewatched the play multiple times on NFL Rewind this morning.
As Locker let go and followed through, his body opened to the left sideline, and that's where Wilkerson was coming from. He hit him with his helmet in the right shoulder.
Locker kind of bounced off it, and spun around where he faced the left sideline and then wound up with his back to the line of scrimmage. His right foot was planted, perhaps with the foot pointed a bit to his left, and his left leg was bent and up in the air.
That's when Couples put his right shoulder into Locker's left shoulder -- the most unnecessary piece of the play and the one that should, in my opinion, earn a fine.
That hit prompted Locker's lower right leg to fold awkwardly, with his foot still planted wide of his body, and his knee going to the ground under him. He went to both knees, still facing backward, then his body opened up and as he started to roll over from his stomach onto his left side, he grabbed at the hip before he got to his back.
The medical staff was on the field very quickly, teammates circled around Locker worried, some praying, some looking up to see the replay and try to understand what happened.
Ryan Fitzpatrick
immediately began tossing a ball on the sideline.
There is no predicting league discipline.
In my eyes, Coples' hit was the most unnecessary part of the play and came well after the ball was released. He should be in line for a fine.
I don't know that Wilkerson really did anything wrong.
April, 26, 2012
4/26/12
2:00
PM ET
Thoughts on the Jaguars draft from two people involved in evaluating personnel for NFL teams:
Guy No. 1

"They are a wild card. A hard team to predict, and No. 7 isn't a great spot."
"Not
Quinton Coples
."
"I don't know if
Melvin Ingram
really is a fit. Gene Smith wants a defined position. Maybe they can find a defined position for Ingram. But part of the appeal is the versatility, you can move him around to different spots."
"
Justin Blackmon
if he fell, without a doubt, they'd take him in a second. Otherwise I'd say
Stephon Gilmore
of
Fletcher Cox
."
Guy No. 2
"They have a strange profile. They don't see the board and value the way others do. They always try to trade out. They don't care if they are regarded as taking a guy too high. They'd rather you think it's too high than miss him and be kicking themselves."
"If Blackmon falls to them, he helps the quarterback. He's pretty damn good. If he's not there, they can find a receiver later. There are a bunch of guys that can help them. The way to help
Blaine Gabbert
the most isn't necessarily with weapons. It's with the run game and a good defense that turns him into a game manager, maybe like
Mark Sanchez
."
"Ingram is pretty good, but it depends on how you use him. He's less than 6-2. He's not a fit for everybody. He's a little better for a 3-4 than a 4-3."
"Don't be surprised if it's Stephon Gilmore. He is squeaky clean. Kirkpatrick is more flamboyant, with more swagger. Gilmore's a lot like
Rashean Mathis
, he's the same size, he moves the same way. He's fast, he's productive, he tackles, he intercepts. What don't you like about him?"
April, 23, 2012
4/23/12
3:31
PM ET
The first six picks of
ESPN's Blogger Mock Draft
unfolded pretty much as expected.
That's when James Walker, our AFC East representative, put out the word: "I'm willing to make a trade back with Buffalo at No. 10."
Before anyone could respond, AFC South representative Paul Kuharsky announced he'd swung a deal with Dan Graziano of the NFC East. The Jaguars had traded the seventh overall choice and a sixth-rounder to Philadelphia for the 15th, 88th and 153rd selections.
The Eagles took defensive tackle
Fletcher Cox
at No. 7.
"By the way," I wrote in an email to the group, "Seattle would love to trade back from 12."
Then came the word from Walker, sent only to me, the NFC West rep: "Don't make your pick at No. 12 yet. I have an offer from New England coming. Working out the point chart. First, I have to figure out Buffalo's pick at No. 10."
A few seconds passed before the AFC West's Bill Williamson, unaware Walker had already made contact regarding the 12th pick, reached out to me in another email.
"If
Melvin Ingram
is on the board at 12," Williamson wrote, "I might have San Diego come up from 18."
This was intriguing. Seattle's actual leadership had swung a deal with San Diego for quarterback Charlie Whitehurst a couple of years ago, so trade talks for the 12th pick seemed realistic. But the Seahawks also have a working relationship with the Patriots, having traded Deion Branch to them not all that long ago.
"Sounds good," I replied to Bill. "James might also make an offer here."
The potential deal with Williamson and San Diego was fleeting. Walker executed a trade with himself, allowing the
New York Jets
to move into Buffalo's spot at No. 10. The Jets took Ingram, the player Williamson had wanted for San Diego.
The fun was only beginning.
Our eight divisional bloggers made four trades involving the seventh, 10th, 12th, 15th, 16th, 27th, 31st and 32nd overall choices, plus later considerations.
Five of our first-round selections in this mock failed to appear in our previous one.
Jerel Worthy
,
Kevin Zeitler
,
Chandler Jones
,
Shea McClellin
and
Coby Fleener
pushed out
Rueben Randle
,
Andre Branch
,
Peter Konz
,
Kendall Wright
and
Mike Adams
.
Courtney Upshaw
,
Dontari Poe
and
Stephen Hill
made double-digit drops from then to now.
Michael Brockers
,
Cordy Glenn
,
Stephon Gilmore
and Cox climbed at least eight spots since last time.
We drafted seven defensive ends/outside linebackers, six offensive linemen, five defensive backs, four defensive tackles, three receivers, three quarterbacks, two inside linebackers, one tight end and one running back.
Mostly, we had some fun with the process. Thanks for coming along.
***
ESPN.com's NFL bloggers went through one final mock draft leading up to Thursday's start of the NFL draft. Here is how
#ESPNbloggermock
played out.
April, 12, 2012
4/12/12
12:23
PM ET
Todd McShay's got a new
scenario-based mock draft

out.
I think he's mostly on target for two AFC South teams. I think he's a bit off target on a third, and misses the mark by a great degree on the fourth.
1) Indianapolis Colts
Andrew Luck
, QB, Stanford
Scenario 1:
(Andrew) Luck is a once-in-a-generation prospect, and adding him is the best option for a team that is starting over in the post-
Peyton Manning
era.
Scenario 2:
The Colts could pull one of the all-time draft surprises and take Baylor QB Robert Griffin III instead, but that doesn't seem likely after Griffin declined to work out for the team.
Kuharsky's thoughts:
Don't understand why Jim Irsay is being coy? Why not? What's to be gained by saying it's Luck? The contract part is simple with the new CBA.
7) Jacksonville Jaguars
Melvin Ingram
, DE/OLB, South Carolina
Scenario 1:
If (Justin) Blackmon should fall this far the Jaguars have to pull the trigger. They've gone far too long without a true No. 1 target in the passing game, and it's hard to fully evaluate second-year QB
Blaine Gabbert
without proper weapons around him.
Scenario 2:
Jacksonville would certainly like to take advantage of a team looking to get ahead of the
Miami Dolphins
to draft (Ryan) Tannehill. Moving back and adding picks would help a team that has plenty of needs.
Scenario 3:
If stuck here, the Jags go with the best available defensive end. General manager Gene Smith likes safer, more proven prospects, so Ingram fits better than North Carolina's
Quinton Coples
. Ingram is versatile, explosive and shows a knack for making big plays, while Coples has impressive tools but faces questions about his motor and work ethic.
Scenario 4:
If he falls in ahead of Ingram on their board, the Jaguars could take (Riley) Reiff and shore up their offensive line.
Kuharsky's thoughts:
I am in line with scenarios one, two and three and if I am a Jaguars backer I'd be happy with any of the three. Shoring up the offensive line? I don't love the depth, but if
Eben Britton
is healthy, they should have enough.
20) Tennessee Titans
Dre Kirkpatrick
, CB, Alabama
Scenario 1:
Cornerback is the team's top need and the Titans would take (Stephen) Gilmore if he were available.
Scenario 2:
Kirkpatrick is a good fit in Tennessee's zone-heavy scheme with his size, toughness and instincts.
Scenario 3:
Alabama ILB
Dont'a Hightower
is a possibility. The Titans have a need at the position, and while they like 2011 draft pick
Colin McCarthy
there is no other inside linebacker worth taking here.
Scenario 4:
Take the highest-rated available tackle offensive tackle on their board, whether that's (Jonathan) Martin or (Mike) Adams.
Kuharsky's thoughts:
I completely disagree that corner is the team's top need. Losing
Cortland Finnegan
doesn't automatically create a need as they have people to step up. They'd take one if they think he's the best player because other areas have dried up. They Titans don't like Colin McCarthy, they love him, just like they love their tackles,
Michael Roos
and
David Stewart
. I see a defensive lineman or maybe a value if
Mark Barron
or
David DeCastro
somehow lasts.
26) Houston Texans
Stephen Hill
, WR, Georgia Tech
Scenario 1:
The Texans would like nothing more than to see (Kendall) Wright fall to them and add a dynamic playmaker opposite
Andre Johnson
.
Scenario 2:
Hightower would also be an attractive option if he were available as a replacement for the departed
DeMeco Ryans
.
Scenario 3:
Hill offers a big, fast option who is raw but could form a dangerous tandem with Johnson.
Scenario 4:
Take the best available offensive tackle, in this case Adams, to fill the void left by the release of
Eric Winston
.
Kuharsky's thoughts:
I don't know how they stack Wright, Hill and Reuben Randle but another weapon is certainly a need. The inside spot vacated by Ryans is a part time spot that doesn't require a first-round pick. I'd take a receiver first, but if there is a run, tight end
Coby Fleener
would be attractive. Offensive tackle wouldn't be objectionable.
April, 2, 2012
4/02/12
11:14
AM ET
The NFL's transformation into a pass-happy league has sent teams scrambling for ways to keep up defensively.
Perhaps that explains why defensive linemen and 3-4 outside linebacker types dominated ESPN.com's first NFL Blog Network mock draft for 2012.
AFC West blogger Bill Williamson snapped up three of them for the division he covers. Six other defensive linemen and 3-4 outside linebackers found homes elsewhere in the first round.
Offensive linemen (seven), defensive backs (five) and wide receivers (five) accounted for most of the remaining first-round selections.
In keeping with the pass-oriented theme, Alabama's
Trent Richardson
was the lone running back selected, landing in Cleveland with the fourth overall choice.
And, of course, we kicked off the mock with a couple of quarterbacks.
March, 8, 2012
3/08/12
3:06
PM ET
Lost in a day that was busy thanks to Peyton Manning were new mock drafts from
Todd McShay

and
Mel Kiper Jr

.

Here's the second of four team by team reviews.
7) Jacksonville Jaguars
McShay: Melvin Ingram, DE/OLB, South Carolina
"North Carolina DE
Quinton Coples
is more naturally talented, but he's inconsistent. Ingram has explosive quickness and power and he brings it on every down, and you know what you're getting with him. That fits the philosophy of the organization under general manager Gene Smith, who in the past has taken high-character, high-motor players like DT Tyson Alualu over more highly-rated prospects."
Kiper: Quinton Coples, DE, North Carolina
"Coples wasn't quite as dominant as I thought he'd be during the 2011 season, but the draft process has reinforced what a lot of front office folks believed, which is that he's clearly the top 4-3 defensive end in the draft. The Jags need pass-catchers, but if Blackmon isn't available, Coples fits. Jacksonville sacked opposing quarterbacks fewer than two times a game in 2011, and Coples is a great fit for the scheme. He has great length at 6-foot-6, and the size to hold up in the run game, complementing his pass-rush skills. Jacksonville is another team that simply needs to upgrade its talent level, so the Jaguars shouldn't reach based on need."
Kuharsky:
If the Jaguars have the sort of questions about Coples that many analysts do, I can't imagine they'd go near him. McShay's thinking here makes a lot of sense.
February, 29, 2012
2/29/12
6:16
PM ET
This is an exercise with holes in it. Free agency can change everything. This is based on current needs and recent reviews.
Factoring in new overall rankings from
Todd McShay

and
Mel Kiper Jr.

(who goes 25 players deep), here are the options the teams of the AFC South could be facing when the first round of the draft rolls around at the end of April.
1) Indianapolis Colts
McShay
: "(Stanford QB Andrew) Luck's combine workout showed he is more athletic than most thought, and combined with his once-in-a-generation skill set he appears to be a lock as the No. 1 overall pick to the Colts."
Kiper
: "He didn't throw, but no complaints here. That's what his pro day is for. I expected him to surprise in testing, and I think he showed he's more than a thrower. Status quo remains. The total package: arm strength, size, smarts, demeanor. Ready to play."
7) Jacksonville Jaguars
Available on McShay board
: Oklahoma State WR
Justin Blackmon
, UNC DE
Quinton Coples
, Notre Dame WR
Michael Floyd
, Alabama CB
Dre Kirkpatrick
.
Available on Kiper board
: Coples, South Carolina DE
Melvin Ingram
, Floyd, Kirkpatrick.
Kuharsky thinks
: Blackmon's got to be tempting there, though first-round receiver history has to be scary. Coples' effort questions will hurt him with the Jags. I could see Ingram or Kirkpatrick.
20) Tennessee Titans
Available on McShay board
: Kirkpatrick, Georgia G
Cordy Glenn
, Baylor WR
Kendall Wright
, Michigan State DT
Jerel Worthy
, Clemson DE Branch, Wisconsin C
Peter Konz
.
Available on Kiper board
: Notre Dame safety
Harrison Smith
, UConn DT
Kendall Reyes
, Branch, Konz.
Kuharsky thinks
: The interior offensive line options are attractive to me, but I don't think the Titans will stray from their usual approach there, meaning they won't spend a first-rounder.
26) Houston Texans
Available on McShay board
: (Not in his top 32) LSU WR Reuben Randle, Georgia Tech WR
Stephen Hill
, UNC OLB
Zach Brown
, Nebraska CB
Alfonzo Dennard
.
Kiper only goes 25 deep.
Kuharsky thinks
: The guys between 26-32 for McShay don't really seem to fit the Texans. Read that as a bad thing in this exercise, or in anticipation of a well-stocked roster, get excited for a best-player available scenario.
February, 27, 2012
2/27/12
11:43
AM ET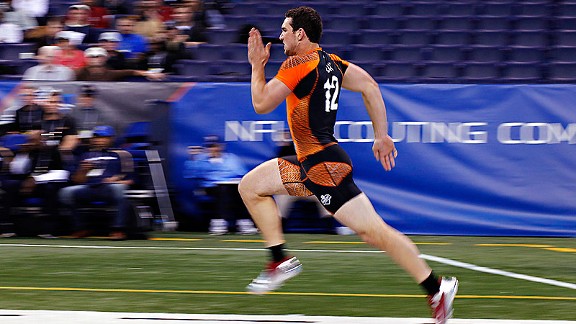 Brian Spurlock/US PresswireOne thing that didn't change after this year's NFL combine -- Andrew Luck is still going to the Indianapolis Colts at No. 1.
INDIANAPOLIS -- Let's hop around to seven things I took away from the NFL scouting combine with an AFC South takeaway on each:
1.
There are a lot of intriguing receivers, but some insiders don't expect even
Justin Blackmon
to be a quick, high-impact guy like
A.J. Green
and
Julio Jones
were last year. It's the beginning of hole-punching season and scouts and analysts will pick people apart. But while there are a lot of talented receivers coming out, if you are a team that needs immediate impact, one strong opinion says you'd be wise to shop in a pretty good free-agent market.
What it means to the division:
The Jaguars have to land at least one big-time guy in free agency. I nominate
Vincent Jackson
. The Colts need to hold onto
Reggie Wayne
or
Pierre Garcon
.
2.
The top guys seem like sure things: Stanford quarterback
Andrew Luck
, Baylor quarterback
Robert Griffin
III and USC left tackle
Matt Kalil
could go 1-2-3 if someone trades into St. Louis' No. 2 pick. I've not heard anyone raising any real issues with any of the three or with LSU cornerback
Morris Claiborne
. The quarterbacks are expected to be franchise guys, the tackle can protect a franchise guy and the corner can take away the franchise guy's top target.
What it means to the division:
There is no suspense at all about what the Colts are going to do and Luck's combine visit to Lucas Oil Stadium was the first of many. Claiborne could be irresistible if he is there at No. 7 for the Jags.
3.
Position values can be overrated. Historically, guards and safeties are not regarded as early first-round values. But this draft may feature singular guys at each spot, and it makes little sense to pass on Stanford guard David DeCastro or Alabama safety
Mark Barron
if you have a hole at the position. They are both drawing raves.
What it means for the division:
Both probably disappear after the Colts and Jaguars have picked first and seventh but before the Titans pick 20th.
4.
Quinton Coples
is going to be a scary pick. The North Carolina defensive end gets some people talking about
Julius Peppers
. But his effort in his final year with the Tar Heels was questionable at best. ESPN draft analyst Todd McShay said it looked like Coples "had a union deal" the way he went through the motions. The team that takes him won't have a guarantee joining its roster, it'll have a guy a defensive line coach will need to figure out.
What it means for the division:
The Jaguars could go into the draft still needing a rush end, but the knocks on Coples don't make him seem like a match with GM Gene Smith at all.
5.
There is a flurry of new information teams will be gathering for a couple more days. But when scouts and personnel executives get back to their offices Wednesday, the film will once again be the prevalent measure they put to work as they stack their boards. Forty times, bench press numbers, Wonderlic scores and interview notes will all factor into grades. But the most significant information gained in Indianapolis is typically the hands-on medical information training staffs gather. Details of issues there may also be the biggest secrets.
What it means for the division:
Nothing different than for anyone else. We don't know what we don't know, and the intrigue is a big part of why this whole process is so insanely popular.
6.
News nuggets from coaches and GMs are more and more difficult to pry loose at this stage of the year. We learned Jaguars defensive tackle
Tyson Alualu
had knee surgery, the Colts have made a contract offer to Pierre Garcon he didn't accept, the Texans still see
Matt Leinart
and
T.J. Yates
competing for the No. 2 quarterback job and the Titans might overpay for a veteran edge rusher. Beyond that? Not much. A lot of generalities as secrecy ruled the day.
What it means for the division:
Run through the AFC South coaches and GMs. Who's the most dynamic, chatty guy of the bunch? I think it'll be Colts coach Chuck Pagano in time. Five of the eight guys are in their first or second season in the job. Everyone is pretty reserved at this point, even the veterans of the group, Rick Smith and Gary Kubiak of the Texans.
7.
We need to go find the specifics of a different rule every year. Colts general manager Ryan Grigson and Pagano both said they had not seen
Peyton Manning
throw. They didn't say they aren't allowed to see Manning throw. As it turns out, though, NFL rules don't allow for executives beyond medical staff to watch even a rehabilitating player work at this point. While I don't believe there is a decision still to be made, it's interesting that the Colts' new duo at the top will only be able to hear reports from medical people and not see for themselves by the March 8th bonus deadline for Manning.
What it means for the division:
Every team in the division will have a question at quarterback heading into camp: Is Matt Schaub's foot healed? Can
Matt Hasselbeck
hold off
Jake Locker
? Does
Blaine Gabbert
get better? And how effective can Luck be from the start?
February, 23, 2012
2/23/12
7:11
AM ET
INDIANAPOLIS — With the NFL scouting combine under way, a look at some storylines that will develop at Lucas Oil Stadium and the meeting rooms in the Indiana Convention Center.
Hello Mr. Luck:
Stanford quarterback
Andrew Luck
was here briefly during Super Bowl week for a Gatorade promotion. But his podium session Friday will be viewed as the first of many times he will dissect his play at LOS, which everyone expects will become his home stadium when the Colts draft him first overall at the end of April.
[+] Enlarge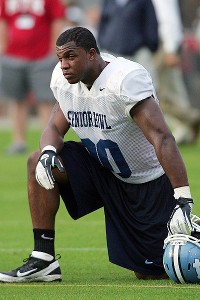 Cliff Welch/Icon SMI Defensive end Quinton Coples cemented his status as an elite draft prospect at the Senior Bowl.
Will the Jaguars fall in love with Quinton Coples?
A year ago, virtually every analyst had the Jaguars taking defensive end
Ryan Kerrigan
in the first round. And that's what they would have done if they had not jumped up with a trade to take
Blaine Gabbert
. Now it looks like the team will be paired with North Carolina defensive end Couples. Do the Jags develop the same affection for him that they did for Kerrigan a year ago?
Barron's health:
Mark Barron
is recovering from double hernia surgery. Does the lack of field work here and at the Crimson Tide's pro day affect his draft stock? And can that be a positive thing for the safety-needy Titans, who pick 20th and would have to consider him if he lasted that long? After Barron, the position doesn't offer a great deal in the draft.
Houston's needs:
The Texans are the least likely team in the division to add a significant outsider in free agency, because they have salary-cap issues. Their draft needs could be shaped by what happens with their own pending free agents. If
Mario Williams
leaves, they'll need another outside linebacker for their 3-4. If
Chris Myers
gets away, center becomes an issue. But more than anyone in the division, the Texans should set up to be able to draft the best players they see. Being unpressured by a giant need is always somewhat of a relief.
Learning philosophies:
Colts general manager Ryan Grigson and coach Chuck Pagano have been doing a lot of behind-the-scenes work to get their house in order and lay the groundwork for their plans. We should start to learn more about their philosophy and intentions in the coming days. How far can they take a hybrid 3-4 in the first year? What will an offense under a new staff look like? And what kind of players here can make those schemes go?
The influence of Khan:
Jacksonville general manager Gene Smith is now preparing for his first draft with a new boss. Shahid Khan has said he's all in, so the Jaguars could do some significant spending in free agency before the draft arrives. If Smith was lacking in any resources before, such things should not be an issue now.
Webster's influence:
A year ago, Ruston Webster had a big influence over the Titans' draft, and it produced a very good looking class. Now Webster has been promoted to general manager. So this draft won't only have his fingerprints on it, it'll have his signature on it. He's a highly respected personnel man who appears to be a steady, methodical guy who can find productive people who fit what Mike Munchak and his staff want to do.
Phillips' opinions:
In his first year as the Texans' defensive coordinator, Wade Phillips had a big influence on the Texans' draft. End
J.J. Watt
and outside linebacker
Brooks Reed
were giant contributors in their rookie seasons. The Texans showed great defensive depth, but can still stock up help at every level of the defense. Can Phillips help general manager Rick Smith and the front office tab a few more top-flight contributors?
Thin spots:
Matt Williamson of Scouts Inc. says he sees safety as the thinnest overall position and offensive line as less than stellar. That's bad for Tennessee and Indianapolis as both teams need help at both spots. That's good for Houston and Jacksonville, which did good work filling safety spots in 2011 and won't have a lot of offensive line work, though the Jaguars' pass protection needs to improve.
February, 15, 2012
2/15/12
3:34
PM ET
Mel Kiper Jr.'s
new mock draft

is out today, and we've received special permission to share AFC South picks.
Here's a look with some thoughts.

1) Indianapolis, Andrew Luck, QB, Stanford
Kiper:
"While the public relations drama continues between Jim Irsay and
Peyton Manning
, there's little drama surrounding whom the Colts will take with the No. 1 pick. I doubt Luck throws next week at the NFL combine, but his status among evaluators really isn't in question. Arm talent, strength, size, smarts, leadership, intangibles -- it's all there. The only question is whether he'll be serving an apprenticeship under Manning, but my guess right now would be that he won't have to."
Kuharsky:
He gets measured and tested next week in the city where he will wind up playing.

7) Jacksonville, Quinton Coples, DE, North Carolina
Kiper:
"If the Jags don't add help at wide receiver in free agency, they could look for help here, but they're also desperate for pass rush help. They sacked opposing quarterbacks fewer than two times a game in 2011, and Coples would fit in the scheme as the top 4-3 defensive end in the draft. He has ideal physical traits, with great length at 6-foot-6, and the size to hold up in the run game, complementing his pass-rush skills. Jacksonville is another team that simply needs to upgrade the talent level, so it shouldn't reach on offense at the cost of adding superior talent."
Kuharsky:
Is Coples going to wind up being the mock pick to the Jaguars in the first round as often as
Ryan Kerrigan
was last year?

20) Tennessee, Whitney Mercilus, DE, Illinois
Kiper:
"They've devoted some draft attention to it in recent years, but the Titans' pass rush still needs help. Only Tampa Bay had more of a struggle getting to opposing passers last year. People talk about the quarterback situation in Tennessee, but I think it was the lack of a pass rush that kept the Titans (barely) out of the playoffs last year. Mercilus is, quite simply, a pass-rusher. I like his athleticism and uncanny ability to beat blockers. He needs a good combine to cement his status, but he could move even higher, and might be a good value here. The Titans need someone who can breathe on an opposing quarterback."
Kuharsky:
If he's "quite simply, a pass-rusher" and he shows well at the combine and in a pro day workout, will he move up out of Tennessee's range?

26) Houston, Jerel Worthy, DT, Michigan State
Kiper
: "Houston did an exceptional job in last year's draft, locking up players who would fit in Wade Phillips' system. And even the injury
Mario Williams
suffered didn't derail them. Worthy, when he's on his game, can be really dynamic. He has a really good burst for his size, allowing him to penetrate and be really disruptive against both the run and the pass. He'll tie up blockers because he can be really hard to neutralize one on one. He just needs to be consistent, but if Houston can rotate him in, it'll get good production early."
Kuharsky:
I like the defensive tackle idea. If Worthy is what Kiper thinks he will be, imagine the benefit to
J.J. Watt
,
Antonio Smith
,
Connor Barwin
,
Brooks Reed
,
Brian Cushing
and, perhaps, Mario Williams.
February, 3, 2012
2/03/12
1:09
PM ET
Todd McShay's
newest mock draft
is up, and we've secured access to the AFC South elements.

1) Colts
Andrew Luck, QB, Stanford
McShay:
"The status of Colts legend
Peyton Manning
is still up in the air after multiple neck surgeries, and Manning will be 36 years old next season. Meanwhile, Luck is a once-in-a-generation prospect with the physical tools and mental makeup to start from Day 1. Given the financial considerations involved, the smart decision is to draft Luck and part ways with Manning."
Kuharsky:
Barring some bizarre career-threatening injury to Luck, I can't see how this does not happen.

7) Jaguars
Quinton Coples, DE, North Carolina
McShay:
"The Jaguars are desperate for help at receiver, but Blackmon is off the board and Coples presents great value at this point. He's the most talented defensive prospect in the 2012 class and showcased a versatile skill set and the potential to be a dominant player throughout Senior Bowl week."
Kuharsky:
You might think it would be hard for the Jaguars to go defense as needy as they are on offense. But they need an edge rusher, and they could well sign two receivers in free agency long before they go on the clock.

20) Titans
Nick Perry*, DE, USC
McShay:
The Titans have three defensive ends set to become free agents and need a dynamic pass-rusher to complement
Derrick Morgan
. While Perry is raw, he has good initial burst and natural pass-rush skills. Cornerback, safety and offensive line are also need areas, but Perry makes the most sense in this situation."
Kuharsky:
He'd certainly help fill a need, but we'll need to see what they do in free agency. It would be nice to get immediate impact, and the "raw" label always suggests there might be a long wait.

26) Houston
Coby Fleener, TE, Stanford
McShay:
"The Texans would rather get a wideout here to complement
Andre Johnson
, but Rutgers'
Mohamed Sanu
and South Carolina's
Alshon Jeffery
would be reaches at this point. A difference-maker at tight end would help, though, and Fleener is a reliable target with toughness, a competitive nature and underrated speed/athleticism. He could draw some attention to the middle away from Johnson, and with a deep wideout class Houston could find a quality receiver in the next couple of rounds."
Kuharsky:
The Texans could be in position to draft the best available guy. But they've invested a lot of picks in tight ends, and a healthy
Owen Daniels
is a premier guy. Beyond receiver, they could use outside linebacker depth and perhaps a corner.
December, 21, 2011
12/21/11
5:34
PM ET
Todd McShay's
initial 2012 mock draft

is out. He uses what would be the current draft order. It's an Insider file but we've receiver special permission to share AFC South details.
1) Colts -- Andrew Luck, QB, Stanford
McShay:
"Luck is a once-in-a-generation quarterback prospect, and Colts legend
Peyton Manning
will be 36 next season and is coming off multiple neck surgeries. Given the financial implications, it looks like the smart decision is to draft Luck and part ways with Manning."
Kuharsky:
I don't see any way around keeping and using the first pick in the draft on Luck. At season's end, let the dominoes begin to fall.
5) Jaguars -- Quinton Coples, DE, North Carolina
McShay:
"The Jaguars have a pressing need at defensive end, and while Coples is not a speed rusher, his blend of size, power and quickness allows him to be a productive pass-rusher (17.5 sacks the last two seasons) and disruptive against the run."
Kuharsky:
It will be tough to see them go defense, but this is a definite possibility. Oklahoma State receiver
Justin Blackmon
is on the board in this scenario, and while McShay doesn't see him as a true Top 10 pick, if the Jaguars like him and haven't hit a home run at receiver in free agency, he might be too tough to pass up.
14) Titans -- Andre Branch, DE, Clemson
McShay:
"Three of the Titans' top nine tacklers are from the 2011 draft -- LBs
Akeem Ayers
and
Colin McCarthy
and DT
Jurrell Casey
-- but Tennessee is still looking for reinforcements on that side of the ball. Given Branch's quickness, motor and strength, he is a perfect fit at right DE opposite former first-round pick
Derrick Morgan
. Tennessee also has a huge need at wide receiver, and this would be a good time to draft a young playmaker if Blackmon were to fall."
Kuharsky:
It's a shame the Titans need defensive line help. If Morgan was panning out and
Jason Jones
was effective after a move from tackle, they could turn elsewhere. But end is a definite need.
26) Texans -- Zebrie Sanders, OT, Florida State
McShay:
"Sanders isn't a massive mauler, but he is a perfect fit for the Texans because of his versatility -- he played both tackle spots at FSU and could move inside to guard if necessary -- and his experience in a zone-blocking scheme with the Seminoles."
Kuharsky:
He might be a great pick for depth on the line. But the team's solid on the front line with
Duane Brown
and
Eric Winston
and could do more to help themselves immediately at another spot if they see talent at defensive tackle or receiver.
November, 30, 2011
11/30/11
3:10
PM ET
If the season ended today, we know the
Indianapolis Colts
would have the No. 1 pick in the draft and be in line for Stanford quarterback Andrew Luck.
The
Jacksonville Jaguars
would draft fourth.
Their needs, in my eyes, regardless of who's their coach, will be a big-play receiver, a pass-rushing defensive end and a cornerback (as
Rashean Mathis
is not under contract and will be coming off a torn ACL.)
They could have a shot at the top player at each of those spots.
A quick, early look at the possibilities.
Oklahoma State WR Justin Blackmon
Ranked seventh by Scouts Inc, fourth by Mel Kiper, ninth by Todd McShay.
Kiper says:
He should surpass last year's 111 catches, which is remarkable. A better prospect than recent OSU star
Dez Bryant
. Versatile and explosive and really works to get open. Great ball skills; breaks tackles. Exceptional work ethic.
McShay says:
Blackmon continues to show off his ball skills, hands and body control. He's ultra-productive and also has strong character.
LSU CB Morris Claiborne
Ranked fourth by Scouts Inc, fifth by Kiper, third by McShay.
Kiper says:
"Just keeps showing up week after week. Big rise so far in 2011; now the top corner here. Exceptional pure cover corner with impeccable instincts at the position. Has solid ball skills for the position. Not a total burner but plenty quick."
McShay says:
"Size, speed, fluid hips and impressive ball skills make Claiborne the top draft-eligible cover corner in the nation. He is overshadowed some by playmaking teammate Tyrann Mathieu, but Claiborne is clearly a top-10 talent."
North Carolina DE Quinton Coples
Ranked sixth by Scouts Inc, ninth by Kiper, fifth by McShay.
Kiper says:
"Production is down, but skill set is hard to look past. The size and talent are there, but he'll need to add to his arsenal with increased blocking attention. Great size and length to hold the edge as a 4-3 defensive end."
McShay says:
"Coples has enormous upside and impressive physical tools, but he needs to play with more urgency over the remainder of the season to maximize his stock."
AFC SOUTH SCOREBOARD
Thursday, 12/18
Sunday, 12/21